Fluffy and light coconut flour pancakes, perfect for a relaxed breakfast. Best of all, these easy pancakes are Keto, grain free and sugar free!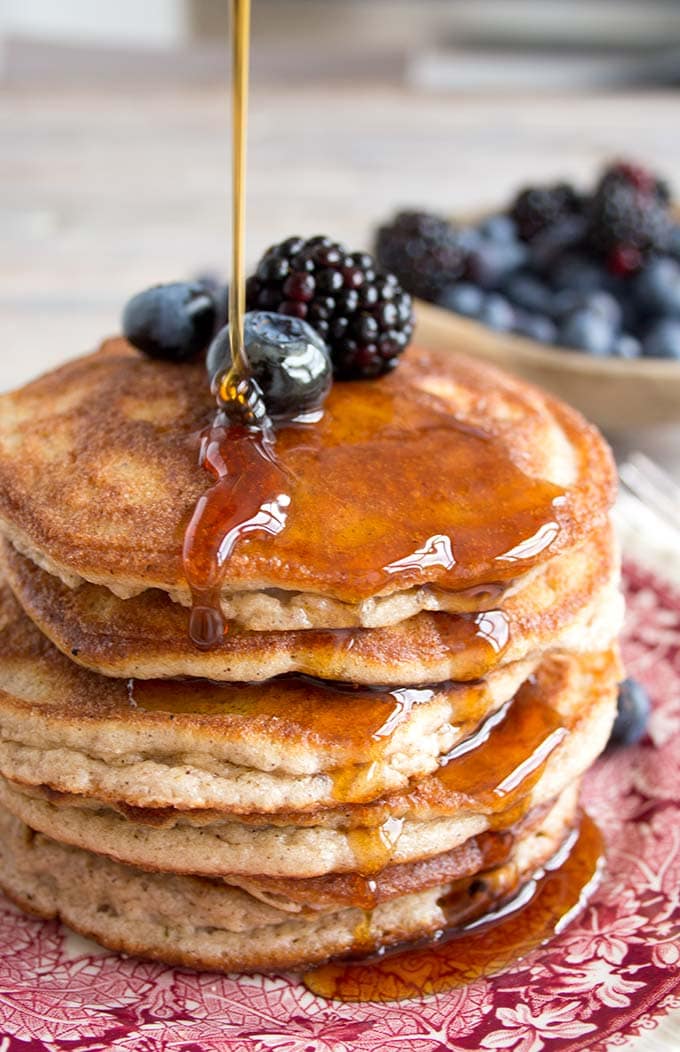 What is it about pancakes that makes them so irresistible?
The answer is simple. Pancakes, just like their very close relative, the waffle, are reserved for days you look forward to. They are signifiers of fun, relaxation, enjoying yourself.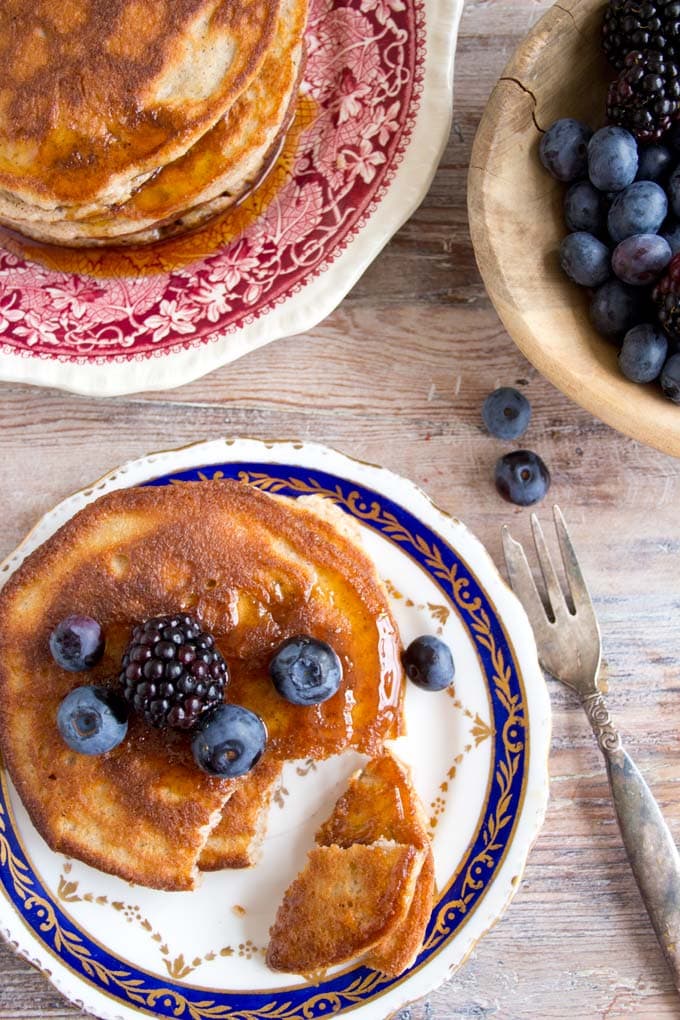 I have some awesome Keto pancake recipes on this website already - for example my almond cream cheese pancakes. They use, as the name suggests, almond flour and cream cheese and are one of my most popular recipes.
This time I wanted to make healthy grain free pancakes that were extra fluffy extra light and extra thick - and an alternative for my readers who are allergic to nuts.
Coconut flour pancakes!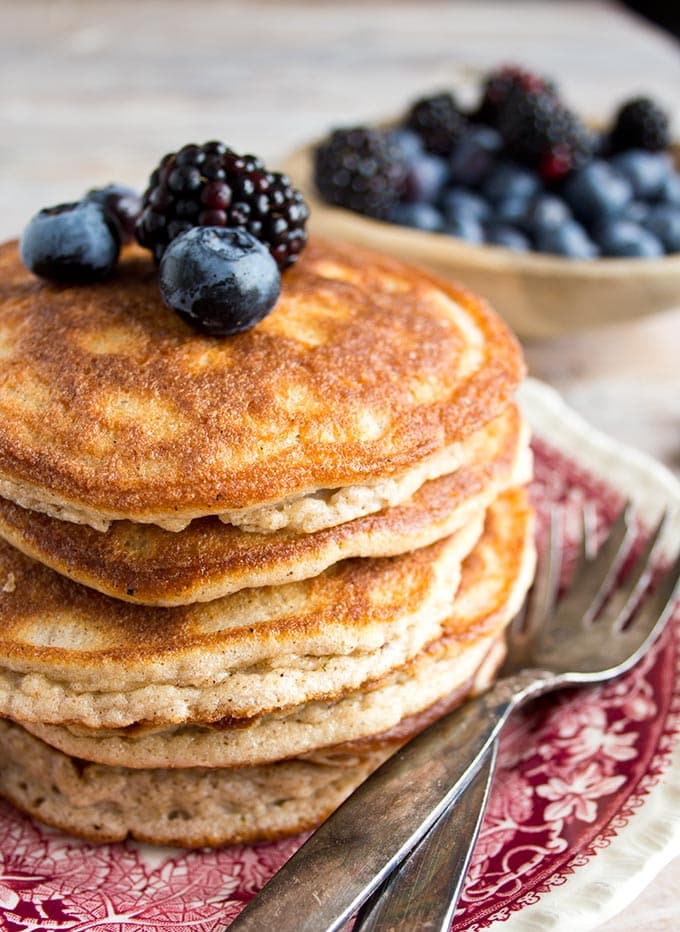 I'm sure you'll absolutely love these pancakes. Coconut flour is my absolute favourite grain free flour and, as an added bonus, very healthy. It is really high in fibre and has a lovely mild coconut taste.
How to make coconut pancakes fluffy
You have to beat the egg white until they form stiff peaks and fold them into the batter at the very end.
I used to think it was impossible to get egg whites stiff - until I discovered some very useful tips, listed in my post for this strawberry mascarpone tart. Follow the instructions and it'll ALWAYS work!
You can play with the sweetness and spices in this recipe as you wish.
I used 1 teaspoon of mixed spice (that's pumpkin spice for my US readers). Cinnamon or vanilla extract/powder would be great in this recipe too.
Recipe TOP TIP: The one thing to note with coconut flour pancakes is that you need to a lil' bit of patience when frying them. Keep your stove to a low or medium heat so they do not burn!
If you have a large non-stick (!!) pan, you can make 2 pancakes at a time. Watch'em with hungry eagle eyes and as soon as they start bubbling on top, turn them over.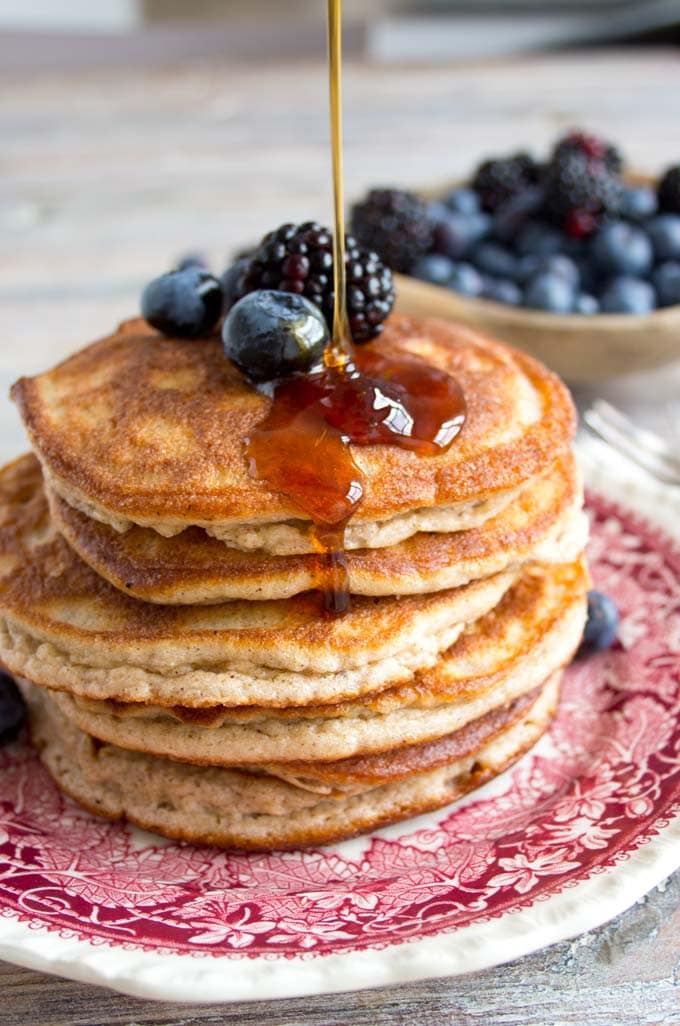 Best toppings for Coconut Pancakes
I slathered my pancakes with sugar free syrup (check out the Lakanto or Sukrin brands).
We also like to top them with sour cream and berries such as blueberries, raspberries, strawberries or blackberries.
Feeling a little decadent? Enjoy them with this  2 ingredient sugar free caramel sauce!
Want to keep it fruity? Add a spoonful of  sugar free blueberry jam, sugar free strawberry jam or try out this super simple no cook sugar free raspberry jam!.
Can you freeze them? 
Yes! I love to make a double batch and freeze some pancakes for later. Just pop them in toaster straight from frozen! Toasting is also a good way to re-vitalise leftover pancakes which you have stored in the fridge. This is where the small size of low carb pancakes comes in handy.
Can you use the pancake batter for waffles? 
Absolutely! If you want to mix things up a bit, simply use the coconut flour pancake mix in your waffle maker.
For a pancake recipe that does not include whipping egg whites try my easy low carb coconut flour pancakes!
★ STAY IN TOUCH on FACEBOOK, PINTEREST and INSTAGRAM for more great food and join my NEWSLETTER for the latest updates and a FREE EBOOK.★ 
Recipe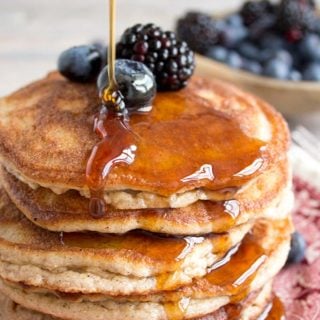 Fluffy Coconut Pancakes
from Sugar Free Londoner
You'll love these fluffy and light coconut flour pancakes! This easy recipe is low carb and sugar free.
Note: The servings slider only changes the first amount in each line and not any subsequent amounts. Please make your own calculations where necessary.
Ingredients
4

eggs

separated

½

cup

butter / coconut oil

melted (90g)

4

tablespoon

coconut flour

2

tablespoon

coconut milk

or almond milk

1

teaspoon

baking powder

1

teaspoon

Lakanto maple flavored syrup

or sweetener of choice (optional)

1

teaspoon

mixed spice/pumpkin spice or cinnamon
Instructions
Melt butter/coconut oil and mix with the egg yolks, coconut flour, coconut milk, baking powder and spice/sweetener, if using. I did this with a food processor, but you can use a stick blender, too. If you just use a fork, sift the coconut flour first so it does not clump and use some serious elbow grease to get the mixture nice and smooth.

In a clean metal or porcelain bowl, whisk the egg whites until stiff peaks form. The stiffer you get the whites, the fluffier your pancakes will be!

Fold the egg whites into the mixture.

Heat some butter or coconut oil in a non-stick pan. This mix makes 6 pancakes (ca 10cm diameter each) using 3 tablespoon of batter per pancake. Fry them over a low-medium heat so they do not burn. Turn over once the top starts bubbling.
Notes
These pancakes are filling - that's the nature of coconut flour. One was enough for me. If you have a teenager, a hungry husband or an active day ahead of you, you might want to calculate two per person. You know your crowd best, so do increase the amounts accordingly!
To keep things on the simple side, I have calculated the nutrition info per pancake.
Tip: Do invest in a quality pan when you're cooking low carb. Coconut flour pancakes, for example, are more fragile than wheat pancakes because they lack the gluten. You don't want them to stick! 
Update: These pancakes taste SUPERB with the Lakanto sugar free maple flavored syrup. 
I have negotiated a special discount for Sugar Free Londoner readers - if you enter the code SUGARFREE at checkout you get 20% off all non-sale Lakanto products!
Nutrition
Calories:
204
kcal
Total Carbohydrates:
3.7
g
Protein:
5.1
g
Fat:
18.9
g
Saturated Fat:
14.3
g
Polyunsaturated Fat:
0.9
g
Monounsaturated Fat:
2.1
g
Cholesterol:
124
mg
Sodium:
60
mg
Potassium:
49
mg
Fiber:
2.1
g
Sugar:
0.7
g
This post contains affiliate links. If you click on one of these links and purchase a product as a result, I may earn a small commission. This money goes towards the running costs of this website. Thank you for supporting Sugar Free Londoner.