Fluffy and light Paleo coconut pancakes, perfect for a relaxed weekend breakfast. Best of all, they are low carb, grain and sugar free!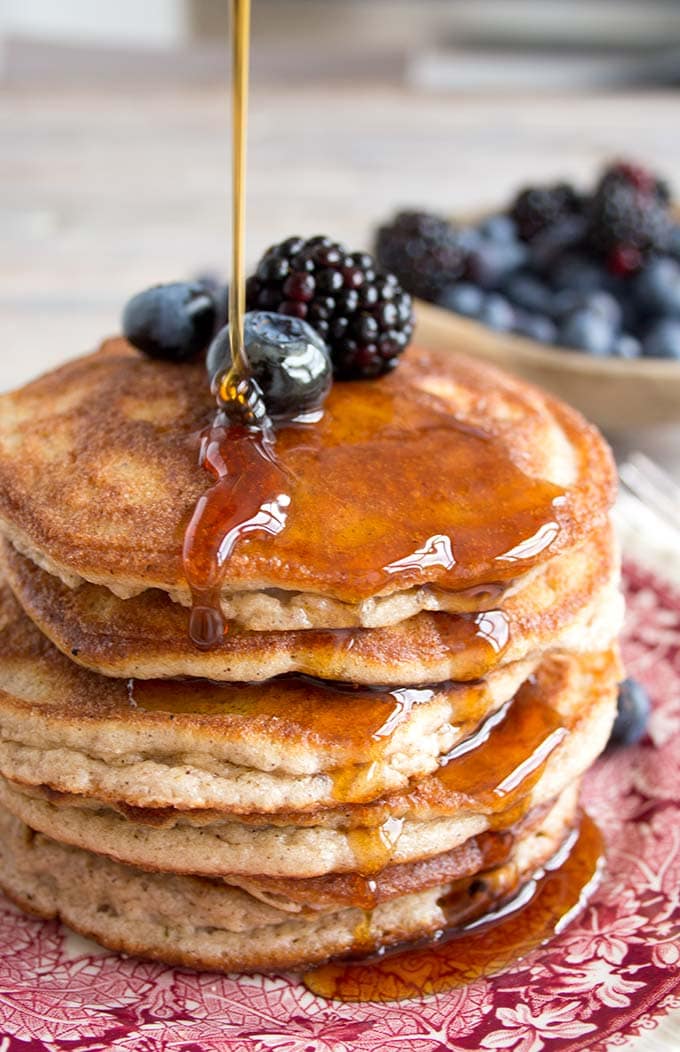 Find the recipe card with ingredients and instructions at the bottom of the page. Don't miss the extra tips in the post! 
What is it about pancakes that makes them so irresistible?
I think the simple reason is this: They are signifiers of a fun day.
Pancakes are normally reserved for weekends in this house, when we have time to enjoy a leisurely breakfast. Time to sit together. Have a good old chat. Drink those extra three coffees that make you feel jittery for the rest of the day and leaf through the papers.
Pancakes, just like their very close relative, the waffle, are reserved for the kind of days you look forward to.
I'm not trying to put down a regular Monday, friends (Bank holidays don't count here). These can be satisfying days indeed, especially in the evenings when your work is done and you're finally chilling wherever you like chilling best – that's bed for me.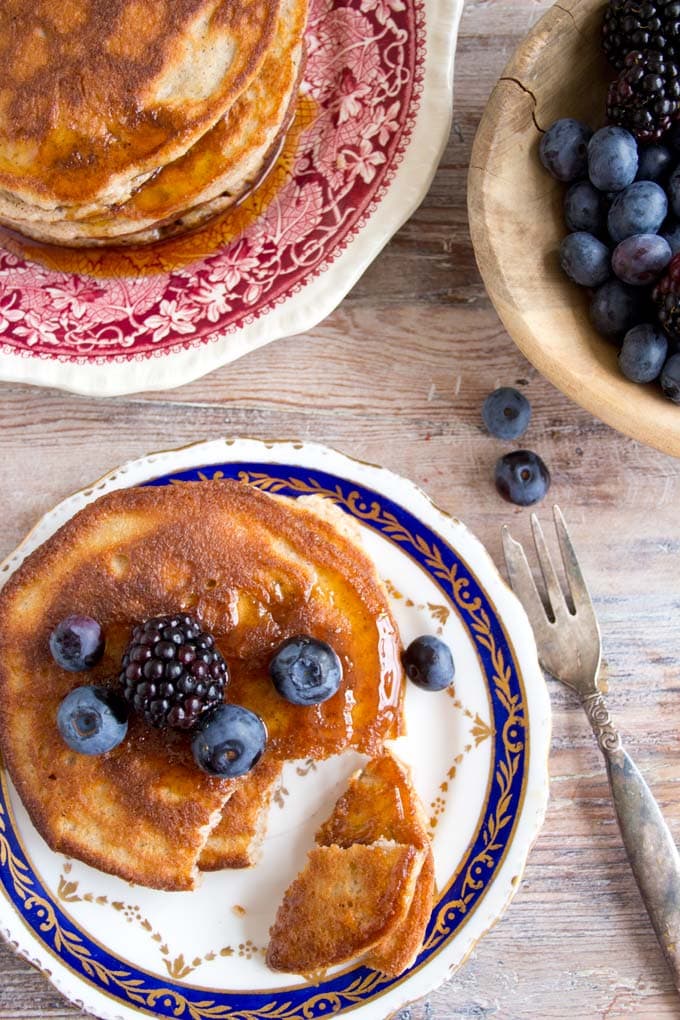 But let's face it. Monday is not a pancake day, is it?
You could get up extra early and start the week with pancakes, I hear you say. True. And if you do, you're probably a better mom than me.
In this household, if I manage to get everyone out of bed, shove a scrambled egg down people's throats and leave the house on time, I  feel like Wonderwoman. If you have 45 minutes between opening your eyes and slamming the door, pancakes cannot, sadly, be on the agenda.
But then, there is some pleasure in counting down the days until the weekend 🙂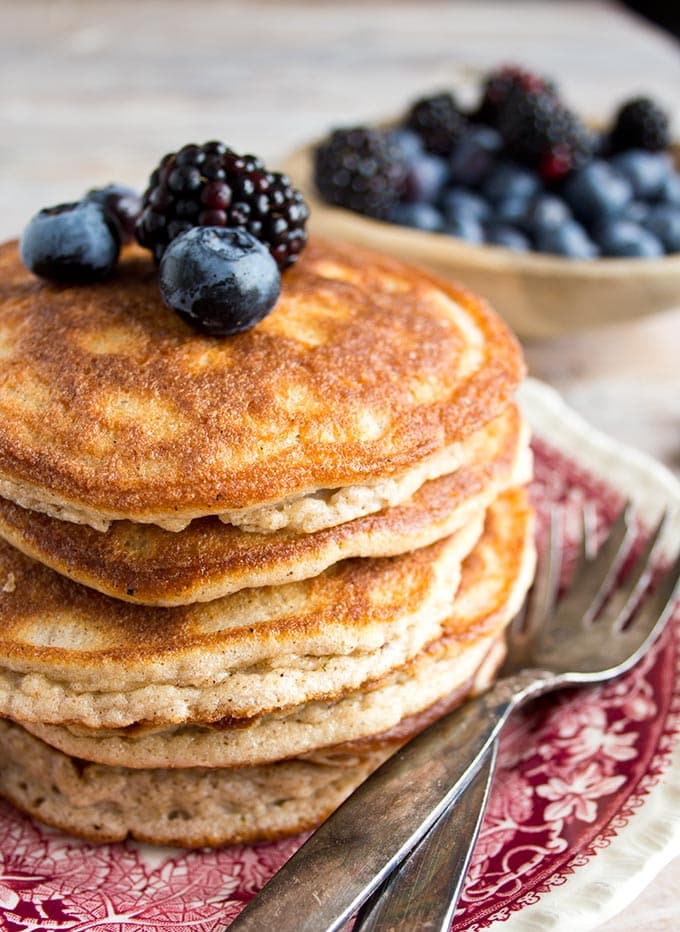 I have an awesome pancake recipe on this website already – my almond cream cheese pancakes. They use, as the name suggests, almond flour and cream cheese and are one of my most popular recipes.
This time I wanted to make pancakes that were extra fluffy extra light and extra thick – and an alternative for my readers who are allergic to nuts.
Hello, Paleo coconut pancakes!
I'm sure you'll absolutely love these pancakes. They are made with coconut flour, which is my absolute favourite grain free flour and, as an added bonus, super-healthy. It is really high in fibre and has a lovely mild coconut taste.
The secret to supreme pancake fluffiness? You have to beat the egg white until they form stiff peaks and fold them into the batter at the very end. I used to think it was impossible to get egg whites stiff – until I discovered some very useful tips, listed in my post for this strawberry mascarpone tart. Follow the instructions and it'll ALWAYS work!
I arrived at this recipe by adapting the amounts and ingredients of these low carb waffles, recipe courtesy of Ditch the Carbs, and my sugar free coconut blondies.

You can play with the sweetness and spices in this recipe as you wish.
I used 1 teaspoon of mixed spice (that's pumpkin spice for my US readers), because it's September now and I'm getting into the mood for all things autumn. If you do not have or like mixed spice, cinnamon or vanilla extract or powder would be great in this recipe too. I also sweetened with a bit of Sukrin Fibre Syrup Gold, which is in my opinion the closest you can get to a maple syrup taste without using, well, maple syrup. Keeping in line with the autumn theme here.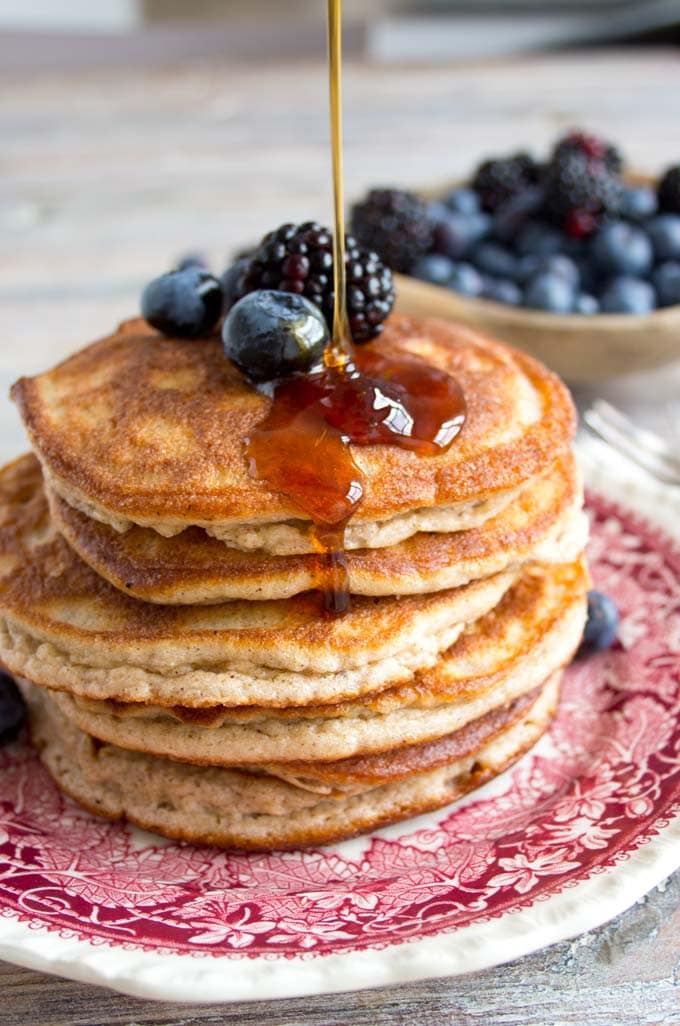 The one thing to note with these pancakes is that you need to a lil' bit of patience when frying them (another reason why you should leave the pancake making to the weekends). Keep your stove to a low or medium heat so they do not burn! If you have a large non-stick (!!) pan, you can make 2 pancakes at a time. Watch'em with hungry eagle eyes and as soon as they start bubbling on top, turn them over.
I slathered my pancakes with more Sukrin Fibre Syrup and we ate them with berries. If you have time, you could also make this very yummy 2 ingredient sugar free caramel sauce or have them with blueberry jam.
Last but not least I have more amazing news for you: I have successfully toasted leftover Paleo coconut pancakes on the next day.
See? Now you can turn your Monday breakfast into a weekend style fun feast!
Paleo Coconut Pancakes (Low Carb, Gluten Free)
Fluffy and light Paleo coconut pancakes, perfect for a relaxed weekend breakfast. Best of all, they are low carb, grain and sugar free.
Ingredients
4

eggs

separated

1/2

cup

coconut oil

melted (90g)

5

tbsp

coconut flour

2

tbsp

coconut milk

or almond milk

1

tsp

baking powder

1

tsp

Sukrin Fibre Syrup

or sweetener of choice (optional)

1

tsp

mixed spice/pumpkin spice or cinnamon
Instructions
Melt coconut oil and mix with the egg yolks, coconut flour, coconut milk, baking powder and spice/sweetener, if using. I did this with a food processor, but you can use a stick blender, too. If you just use a fork, sift the coconut flour first so it does not clump and use some serious elbow grease to get the mixture nice and smooth.

In a clean metal or porcelain bowl, whisk the egg whites until stiff peaks form. The stiffer you get the whites, the fluffier your pancakes will be!

Fold the egg whites into the mixture.

Heat some coconut oil in a non-stick pan. This mix makes 6 pancakes (ca 10cm diameter each) using 3 tbsp of batter per pancake. Fry them over a low-medium heat so they do not burn. Turn over once the top starts bubbling.
Recipe Notes
These pancakes are filling - that's the nature of coconut flour. One was enough for me. If you have a teenager, a hungry husband or an active day ahead of you, you might want to calculate two per person. You know your crowd best, so do increase the amounts accordingly!
To keep things on the simple side, I have calculated the nutrition info per pancake.
Nutrition Facts
Paleo Coconut Pancakes (Low Carb, Gluten Free)
Amount Per Serving
Calories 204
Calories from Fat 170
% Daily Value*
Total Fat 18.9g 29%
Cholesterol 124mg 41%
Sodium 60mg 3%
Potassium 49mg 1%
Total Carbohydrates 3.7g 1%
Protein 5.1g 10%
* Percent Daily Values are based on a 2000 calorie diet.