Enjoy these healthy low carb crepes with sweet or savoury fillings. They are grain free, gluten free, pliable and made with only 3 ingredients.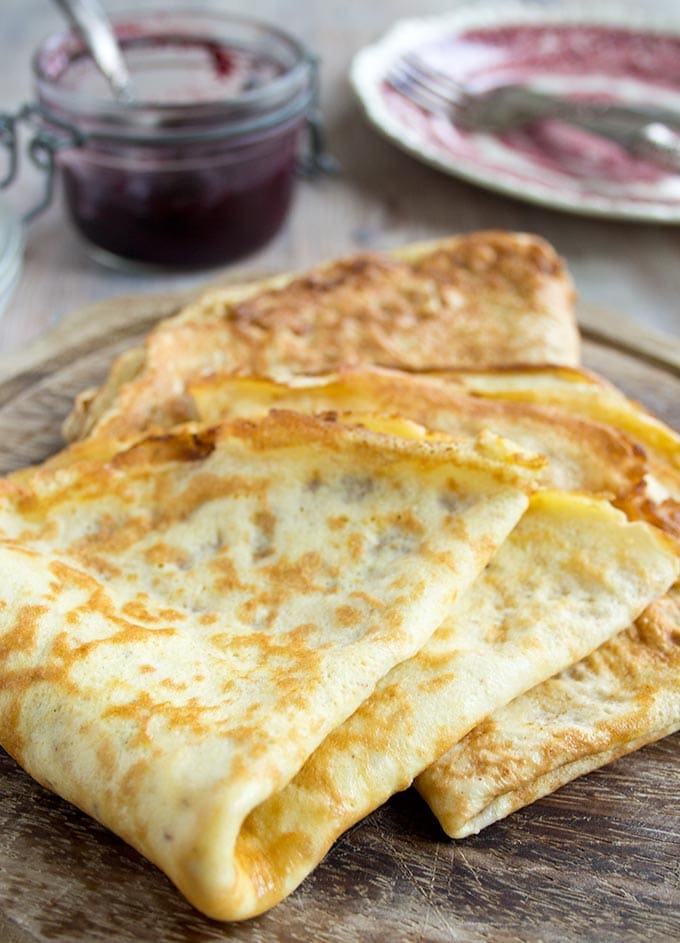 Friends, I have tried so many versions of healthy crepes I have considered applying for a research grant.
The simplest wheat free crepe recipe out there is using just two ingredients - eggs and cream cheese. This combination works well, the only thing is that it tastes a bit, well, eggy. I didn't mind it at all, but if you are looking for an old fashioned crepe experience, you might not feel satisfied.
It's a bit like substituting almond milk for milk. Almond milk tastes good, it just does not taste like milk. It's a different drink and you need to make peace with that.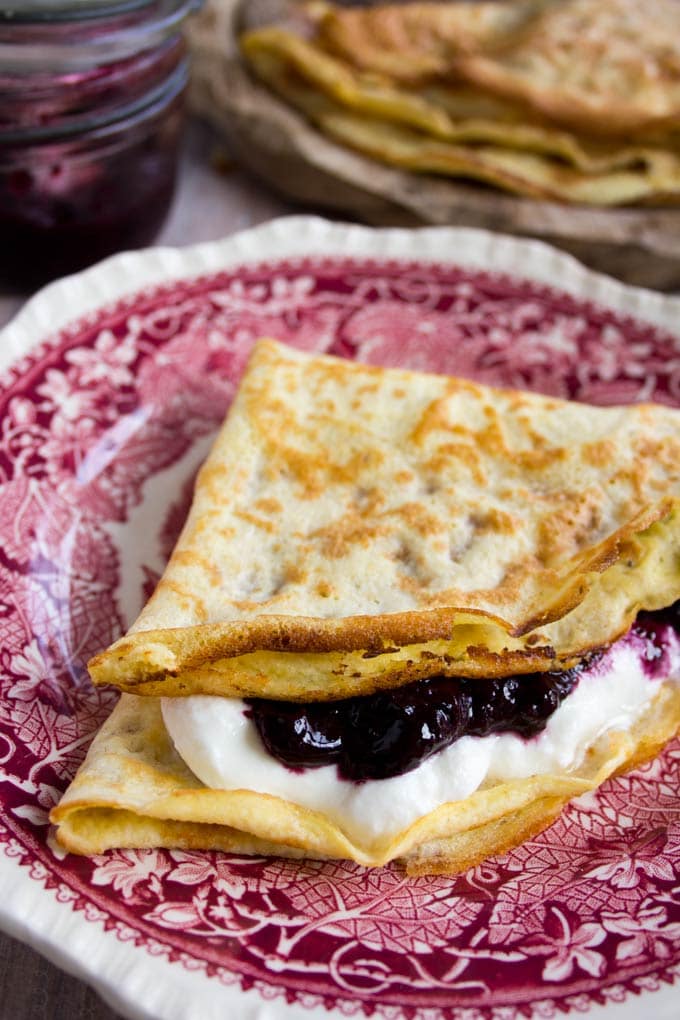 I then added coconut flour to my eggs and cream cheese mix, which makes a nice crepe, too. I found that this version tastes good if eaten straight away, though it was less pliable, especially when it cooled down.
Adding a bit of milk and butter to the recipe made a softer crepe that tasted great and more crepe-y, but was difficult to flip over in the pan.
These 3 ingredient low carb crepes are the result of me using up all my coconut flour for a batch of low carb rolls. I substituted with psyllium husk - and BINGO.
Keto crepes that taste like the real thing!
Psyllium is a soluble fibre made from the husks of the plantago ovata plant seeds. It sorts out your bowels and can lower blood sugar levels as well as cholesterol levels. Research also shows it is good for your heart.
It's easy to up your fibre intake by taking psyllium as a supplement in capsule form. You can also buy it as a powder to mix in smoothies, for example.
I love to use it as a thickener in low carb cooking (think sauces!!) and baking. For example, I've added it to my low carb pizza recipe and it worked a treat.
My children loved these low carb crepes, even my very critical 11 year old daughter. They are very pliable, even once they have cooled down.
You can customise them if you wish by adding sweetness, vanilla or cinnamon or experiment with savoury spices such as onion powder or paprika.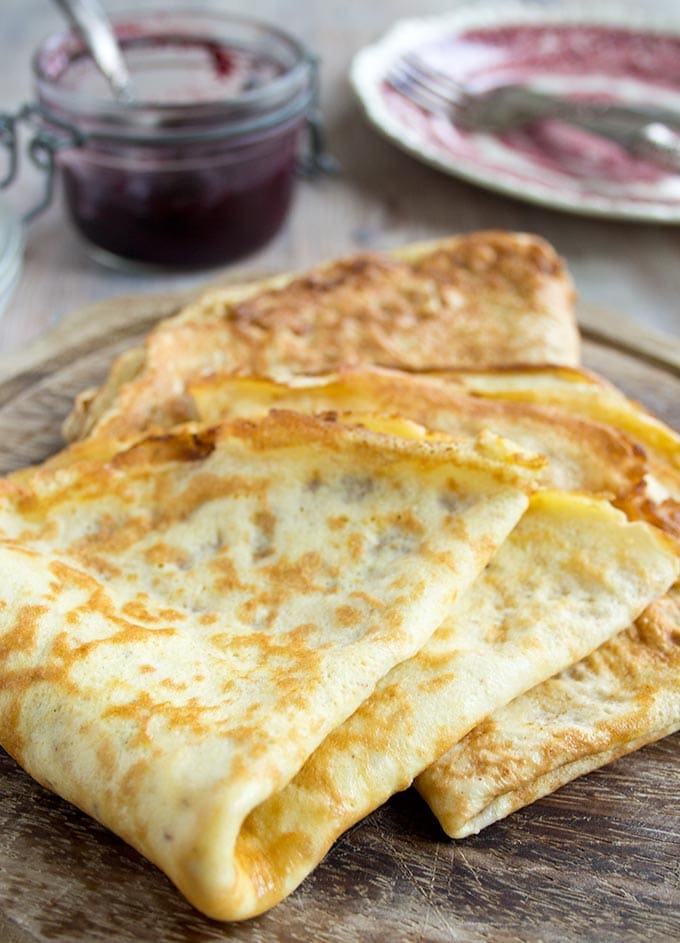 To make your life really easy, you can also just leave them as they are and let the filling do the flavour work. We had them with a ricotta/yoghurt mix and my sugar free blueberry jam.
Keto crepes and pancakes tend to be more fragile because they lack the gluten found in wheat.
That's why I've invested in a couple of decent pans since I've gone sugar free and low carb. I have to say they're life-savers. They don't scratch and NOTHING sticks to them.
More Keto crepes and pancakes
Keto Protein Crepes (Sugar Free) - Only 4 ingredients and ready in 10 minutes, these easy crepes contain just 0.7g net carbs.
Almond Cream Cheese Keto Pancakes - my most popular pancake recipe. Don't miss it!
Easy Low Carb Coconut Flour Pancakes - Perfectly fluffy pancakes for everyone who prefers coconut flour.
Tried this recipe? Give it a star rating below!
★ STAY IN TOUCH on FACEBOOK, PINTEREST and INSTAGRAM for more great food and join my NEWSLETTER for the latest updates.★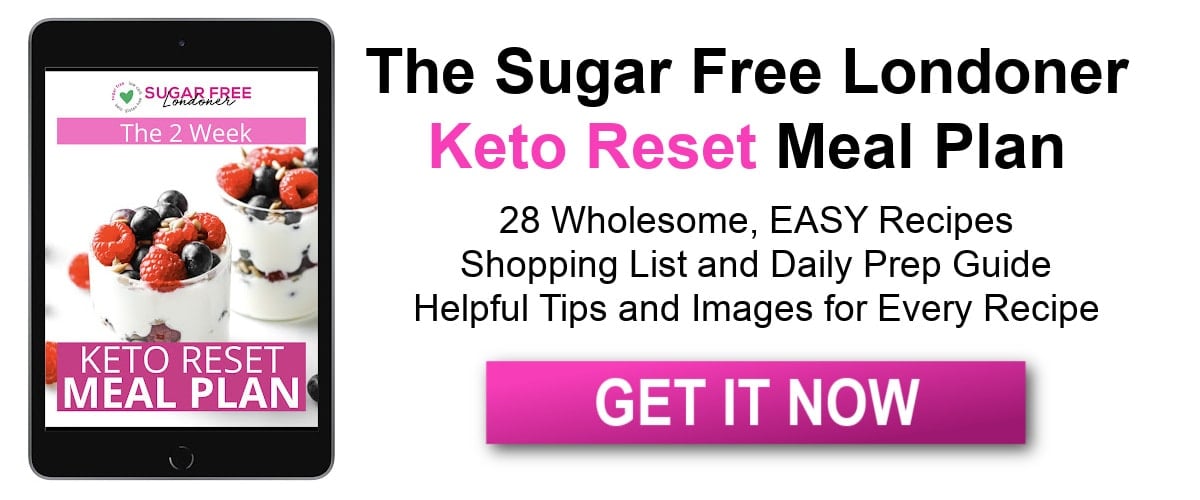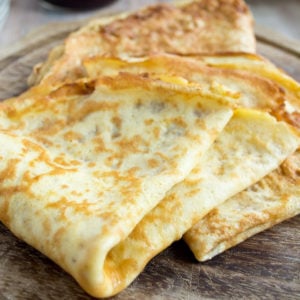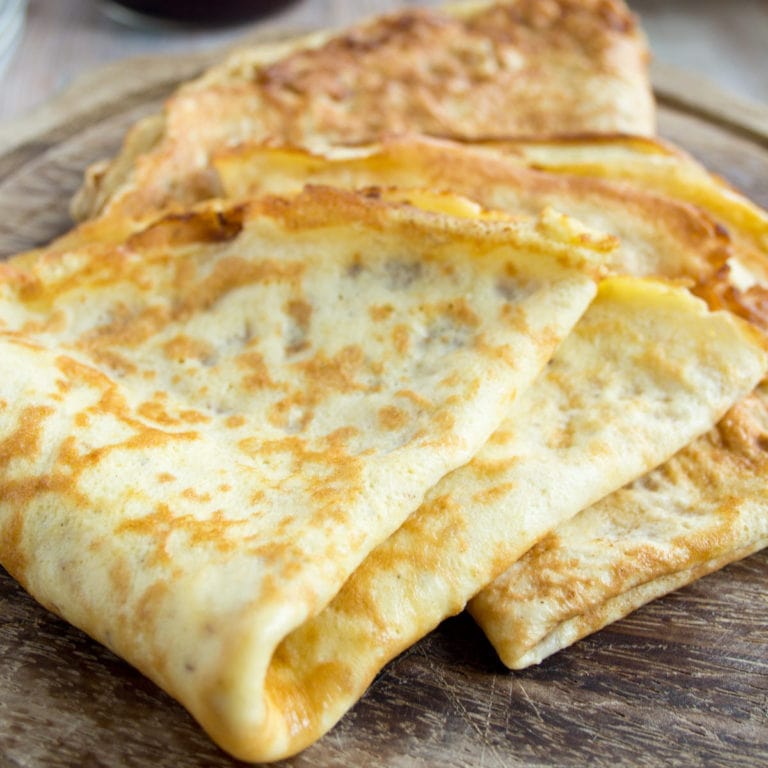 3 Ingredient Low Carb Crepes
from Sugar Free Londoner
Looking for an easy breakfast treat? Try these simple 3 ingredient fail-safe keto crepes!
Note: The servings slider only changes the first amount in each line and not any subsequent amounts. Please make your own calculations where necessary. ***As an Amazon Associate I earn from qualifying purchases.
Ingredients
4

eggs

4

egg whites

2

tablespoon

psyllium husks

or 1 tablespoon psyllium husk powder

4

tablespoon

cream cheese

full fat

butter

for frying
Instructions
Mix all ingredients with a stick blender or in a food processor/power blender. Your batter will be very liquid.

Heat some butter in a non-stick pan, pour in some batter and swirl it around until it is evenly distributed.

Fry on a medium heat until the top has firmed up. Flip over and fry the other side.

Continue until all batter is used up.
Notes
1. I used a crepe pan with a diameter of 20 cm. If your non stick pan is smaller, you could easily get eight crepes with your batter.
2. The crepes taste good as is, but if you like, you could add 5 drops of stevia glycerite and vanilla/cinnamon to complement sweet fillings or add a pinch of salt/onion powder/garlic/paprika for savoury ones.
3. Check the texture of your psyllium husk! The individual husk pieces are small, but not completely powdered - like tiny sticks. If your psyllium husk has the texture of icing sugar (or indeed is called "psyllium husk powder"), halve the amount stated in the recipe.
Nutrition
Calories:
103
kcal
Total Carbohydrates:
3.5
g
Protein:
7.3
g
Fat:
6.6
g
Fiber:
2.3
g
Sugar:
0.6
g
This post contains affiliate links. If you click on one of these links and purchase a product as a result, I may make a small commission. There's no extra cost for you. Thank you for supporting Sugar Free Londoner.