Sugar free low carb cookie dough – a no bake chocolate chip dough that's gluten free and a delicious guilt-free treat. Ready in one minute!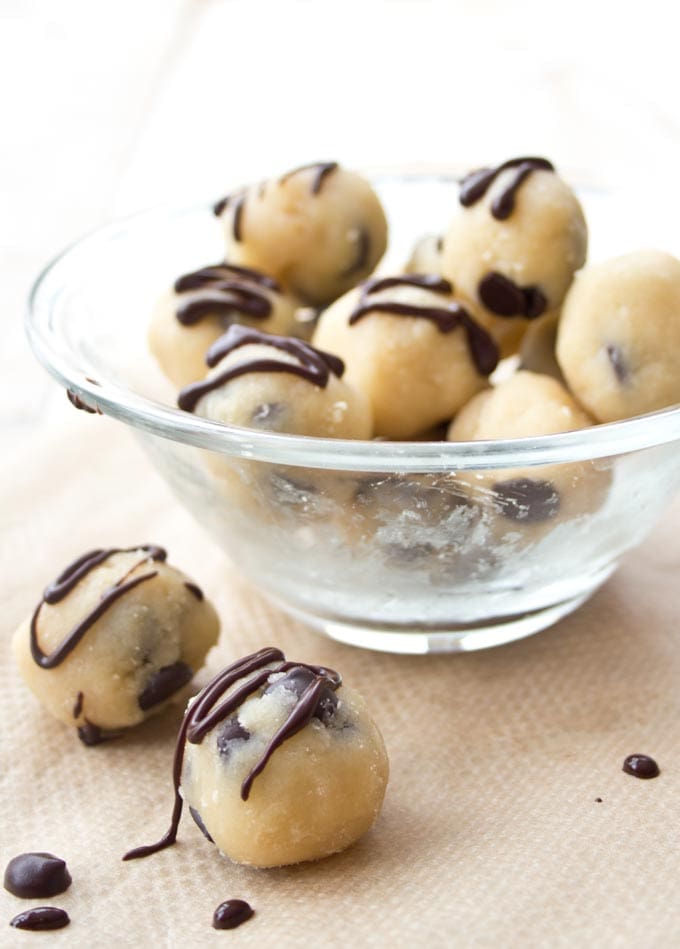 FIND THE RECIPE CARD WITH INGREDIENTS AND INSTRUCTIONS AT THE BOTTOM OF THE PAGE. DON'T MISS THE EXTRA TIPS IN THE POST! 
What's better than cookies? Cookie dough, of course!
And what's better than cookie dough?
Guilt free sugar free low carb cookie dough. With chocolate chips (gasp!)!
I know. That warm fuzzy happy feeing you're getting thinking about healthy cookie dough? Imagine how much better it feels when you're actually eating it.
Let me tell you why I needed cookie dough today.
Now that sensible January is long gone and we have schlepped ourselves through February, we've been rewarded with snow in London. In March.
In theory, I'm all up for snow. At Christmas, for example. Or even in January, to cheer ourselves up a bit.
But March? Gimme a break. I've got Easter eggs on my mind already. Bunnies and darling little flowers poking their heads out of the tired muddy soil. I've re-started the sit-ups in preparation for the next beach holiday!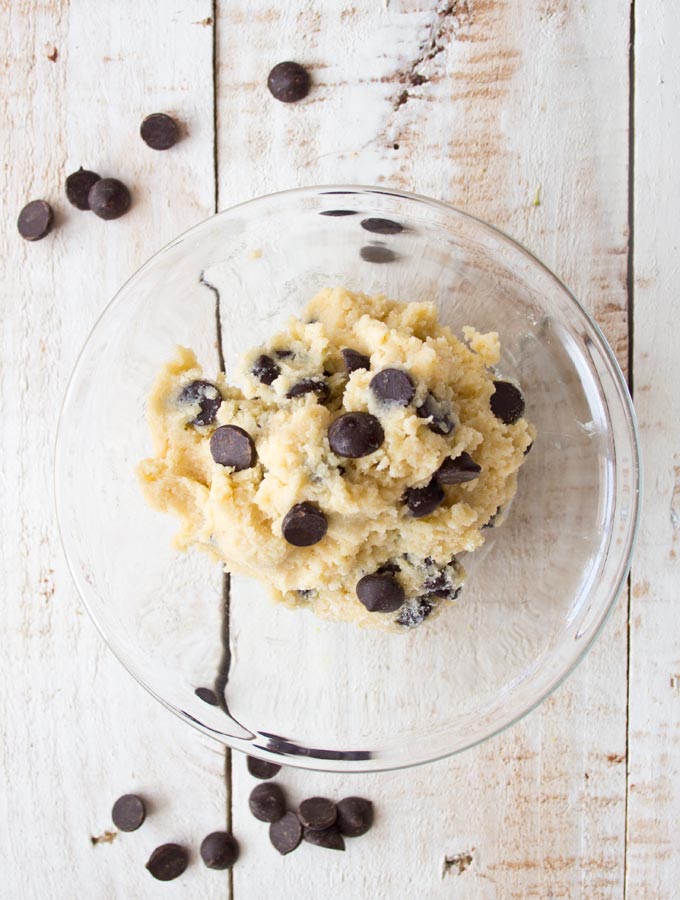 Snow in March is a serious setback.
Whether it's miserable outside wherever you are or you just NEED A BREAK FROM IT ALL, this  sugar free low carb cookie dough will seriously brighten your day. It's
ready in ONE MINUTE
indulgent
just the right side of soft and creamy
kind of marzipan-ey, with delicious notes of vanilla
stuffed with chocolate chips
basically, instant pleasure.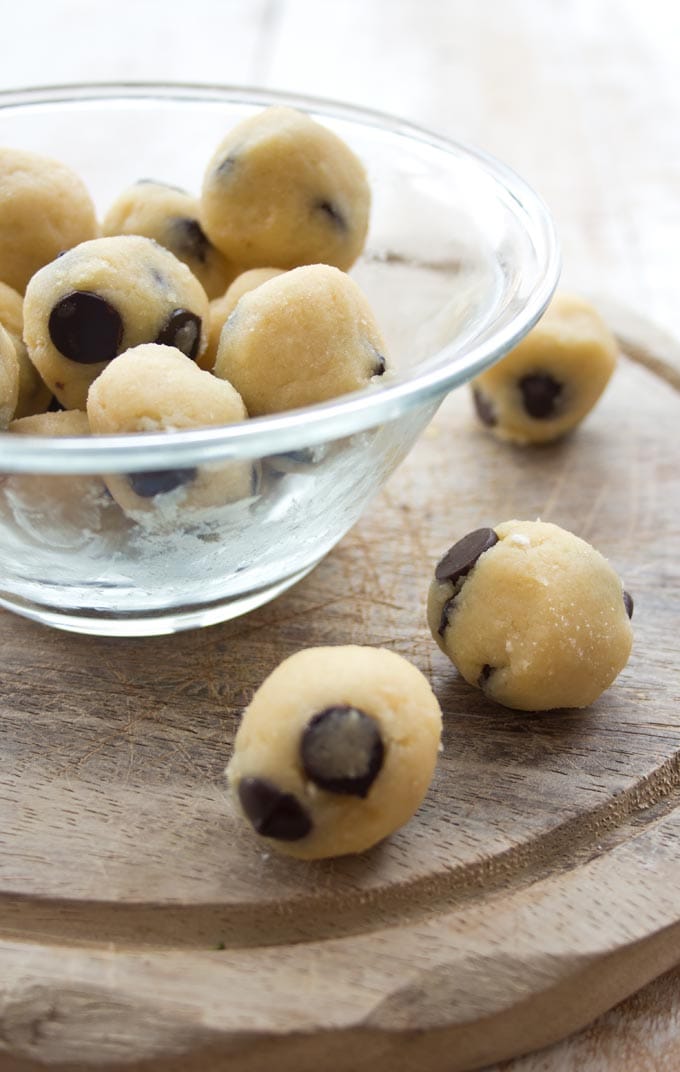 Whether you want to roll the cookie dough into little balls like I did and decorate them with a chocolate ganache is entirely up to you. Frankly, if I had not wanted to take a pretty picture of this cookie dough, I'd have eaten it straight from the bowl. After all, that's half the fun of eating cookie dough, right?
BTW, I have adapted this cookie dough from my chocolate chip cookies – obviously, as this is a no bake dough, I've omitted the egg.
Do you like no bake goodies as much as I do? Check out these almond butter chocolate pralines and these coconut tahini bliss balls!
Having this rather delicious cookie dough sitting around the house has given me a marvellous idea of how to take it to the next level…. cookie dough cheesecake! Comin' right atcha next week, so keep on checkin in 🙂
In a rush? Pin the image below to save for later:
This post contains affiliate links. If you click on one of these links and purchase a product as a result, I may make a small commission, at no extra cost to you. This money helps with the running costs of my website. Thank you for supporting Sugar Free Londoner. 
Starting out on low carb? Find out all about my top 10 essential low carb kitchen gadgets!
Sugar Free Low Carb Cookie Dough (Chocolate Chip)
Sugar free low carb cookie dough – a no bake chocolate chip dough that's gluten free and a delicious guilt-free treat. Ready in one minute!
Servings
14
cookie dough balls
Ingredients
1

cup

almond flour

(100g) (to my UK readers - ground almonds work here, too, just add an extra couple of teaspoons as they're coarser)

1/4

cup

double (heavy) cream

(60g)

1/2

tsp

vanilla extract

1

tbsp

powdered sweetener

or 2, depending how sweet you like it

1/4

cup

dark sugar free chocolate chips

(40g)
For the optional chocolate ganache:
20

g

sugar free or dark chocolate

1

tbsp

unsalted butter
Instructions
Mix all ingredients in a bowl, adding the chocolate chips last.

Don't forget to taste and adjust the sweetness to your taste!

Roll into balls.

If you're making the ganache, melt the chocolate and butter in the microwave (gentle heat!) or in a water bath. Mix. Fill into a plastic sandwich or freezer bag, pinch off a corner/poke a hole into it and get decorating. You can also fold baking paper into a triangular shape so it makes a funnel and pinch off the bottom. Alternatively, just dunk the balls in the melted chocolate mix.
Recipe Notes
My cookie dough balls weighed around 15 grams each. They were about 2 bites per ball.
I think 2 balls are a good portion for a dessert/snack.
To keep things simple, I have calculated the nutrition info for 1 cookie dough ball and not included the chocolate ganache.
If you cannot get hold of sugar free chocolate chips, you can use very dark chocolate (85%-90% cocoa solids) instead and just break it into small pieces.
For a drier/crumblier cookie dough add 1 tbsp of coconut flour
Nutrition Facts
Sugar Free Low Carb Cookie Dough (Chocolate Chip)
Amount Per Serving (15 g)
Calories 74
Calories from Fat 62
% Daily Value*
Total Fat 6.9g 11%
Cholesterol 5.9mg 2%
Sodium 1.6mg 0%
Potassium 3.2mg 0%
Total Carbohydrates 3g 1%
Protein 1.9g 4%
* Percent Daily Values are based on a 2000 calorie diet.