These easy almond butter truffles are decadently creamy in the centre and have a crisp chocolate coating. They are dairy-free, low carb, suitable for diabetics and contain only 5 ingredients.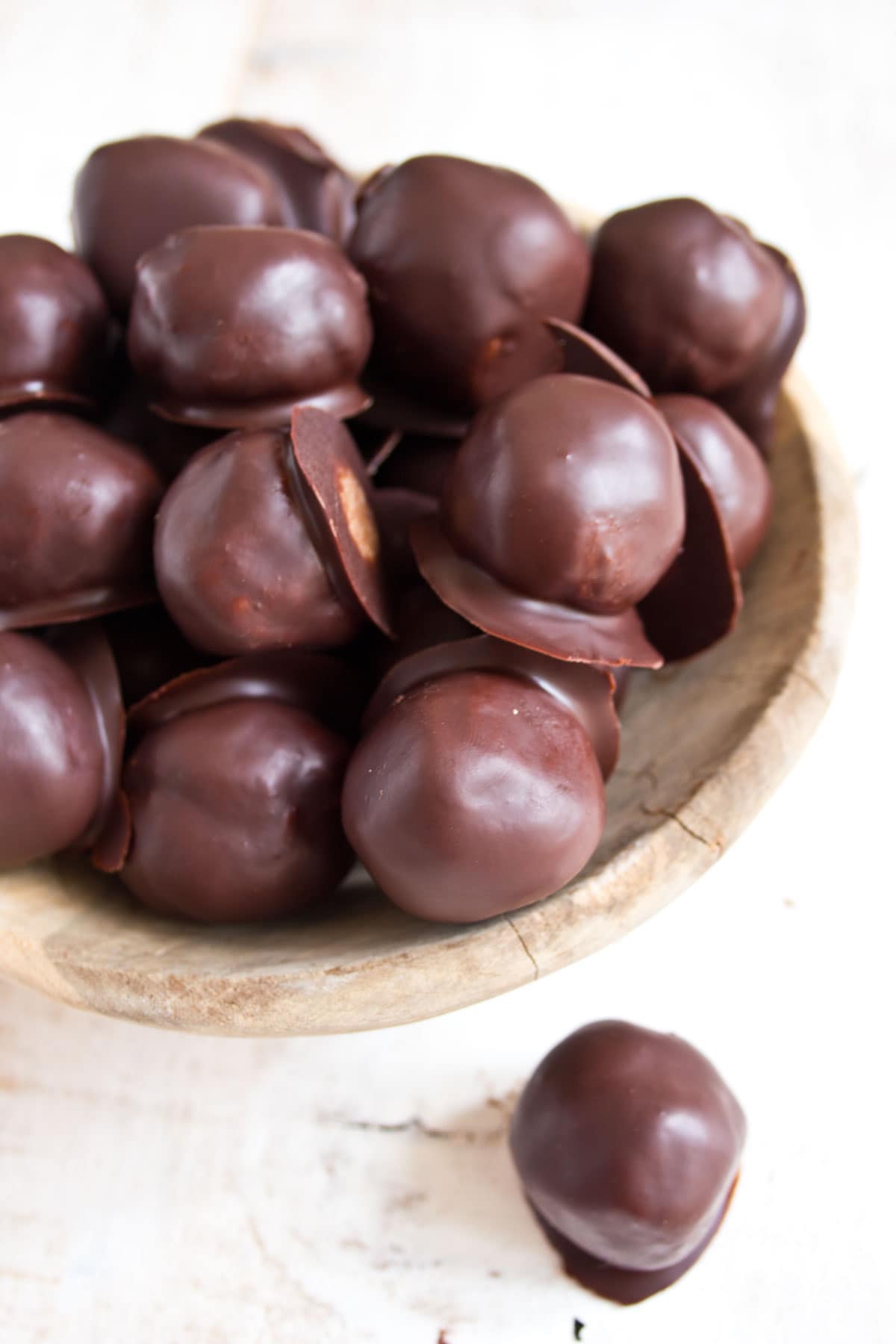 I have a sweet spot for truffles. I love these keto truffles or my healthy homemade Ferrero rocher with a cup of coffee in the afternoon. And I can't resist this sugar free fudge or chocolate coconut haystacks as an after-dinner treat.
Here is why you'll like almond butter truffles just as much as I do:
No bake
Delightfully creamy
Chocolatey
Easy - only 5 ingredients
Can be made ahead
Bite-sized (built in portion control!)
Freezable
Keto friendly - 1.1g net carbs per truffle
And of course, you'll love them because the combination of almond butter and chocolate is irresistible! (If you need more convincing, see my almond butter brownie cookies.)
Jump to:
Ingredients
You only need a handful ingredients to make this simple healthy candy:
Almond butter. I used Meridian.
Almond flour or ground almonds
Sugar substitute. I used stevia glycerite and sugar free syrup.
Chocolate. This should be sugar free chocolate or a dark chocolate with 90% cocoa solids such as Lindt.
I also added ground cinnamon for additional flavor, but this is optional.
Instructions
Below are the main steps to make the recipe. You can find the ingredient amounts and detailed method in the recipe card at the bottom of the post.
Step 1: In a mixing bowl, stir together the almond butter with the sweeteners, almond flour and cinnamon.
Step 2: Roll the mixture into almond butter balls.
Step 3: Coat the balls in melted chocolate and cool in the fridge until set.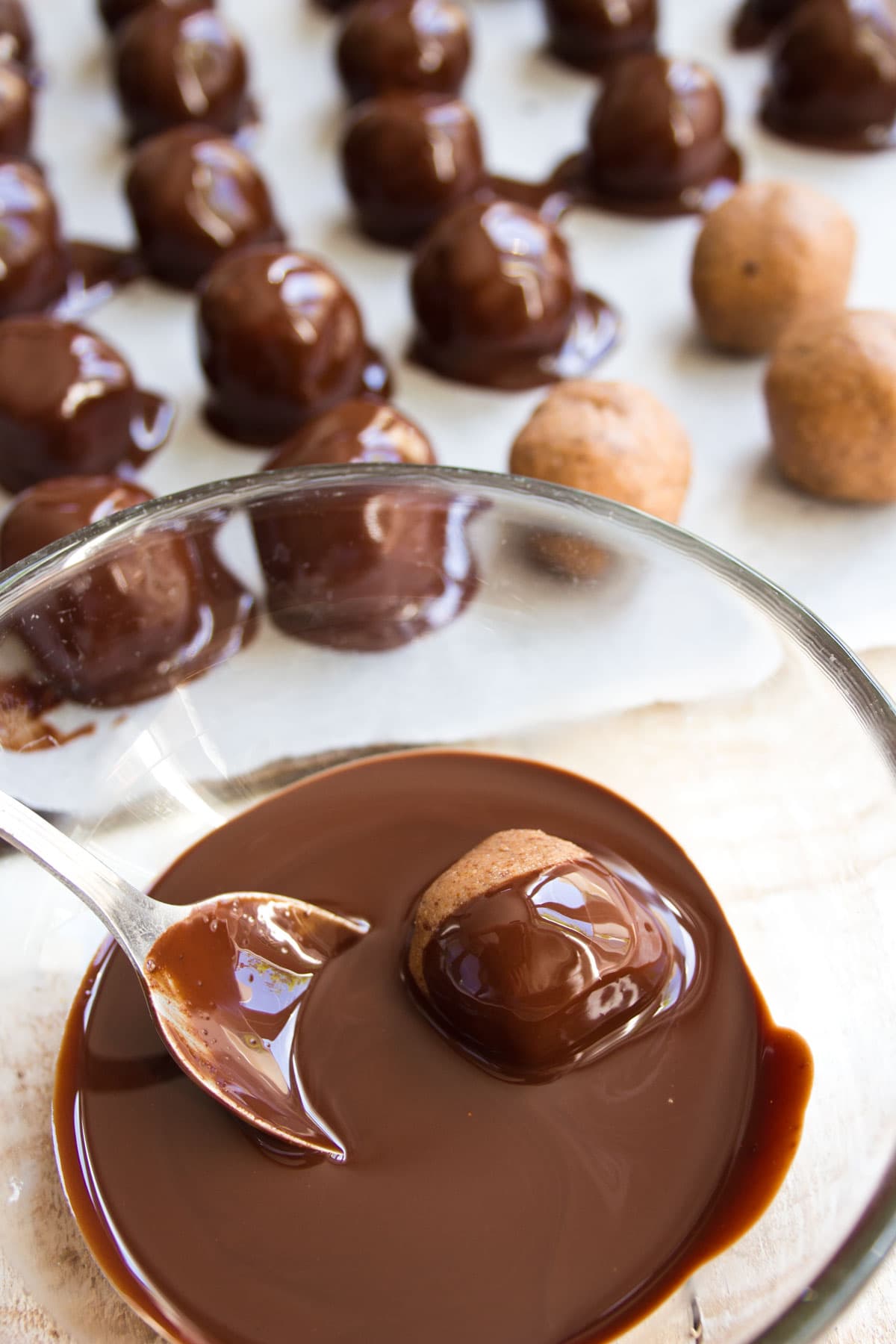 Top tip
If your almond butter is runny, add more almond flour - up to ¼ cup extra. You are looking for a dough-like consistency that can be easily rolled into balls without being squishy or falling apart.
FAQ
Can I use another sweetener?
Yes. You can use a powdered sugar substitute such as powdered erythritol. I recommend 3-4 tablespoons, depending on your sweet tooth. Swap out for maple syrup or coconut sugar to make Paleo truffles.
How do I make almond butter chocolate truffles?
Reduce the amount of almond flour and add 2-3 tablespoons of cocoa powder to the almond butter mixture.
Can I make these without the chocolate coating?
Yes. The chocolate coating is not necessary. For a quicker version, leave it out or roll the almond butter balls in unsweetened cocoa powder.
Can I use peanut butter instead?
Of course! The recipe works just as well with peanut butter or any other nut butter.
Do these work with coconut flour?
Yes. Use 3 tablespoons of coconut flour, adding more if necessary to achieve a workable dough.
Variations
Try different toppings. Instead of chocolate, roll the balls in chopped nuts such as hazelnuts or pistachios. Or, coat them in unsweetened shredded coconut.
Experiment with flavors. Add a teaspoon of brandy, vanilla extract, almond extract or a pinch of chili powder.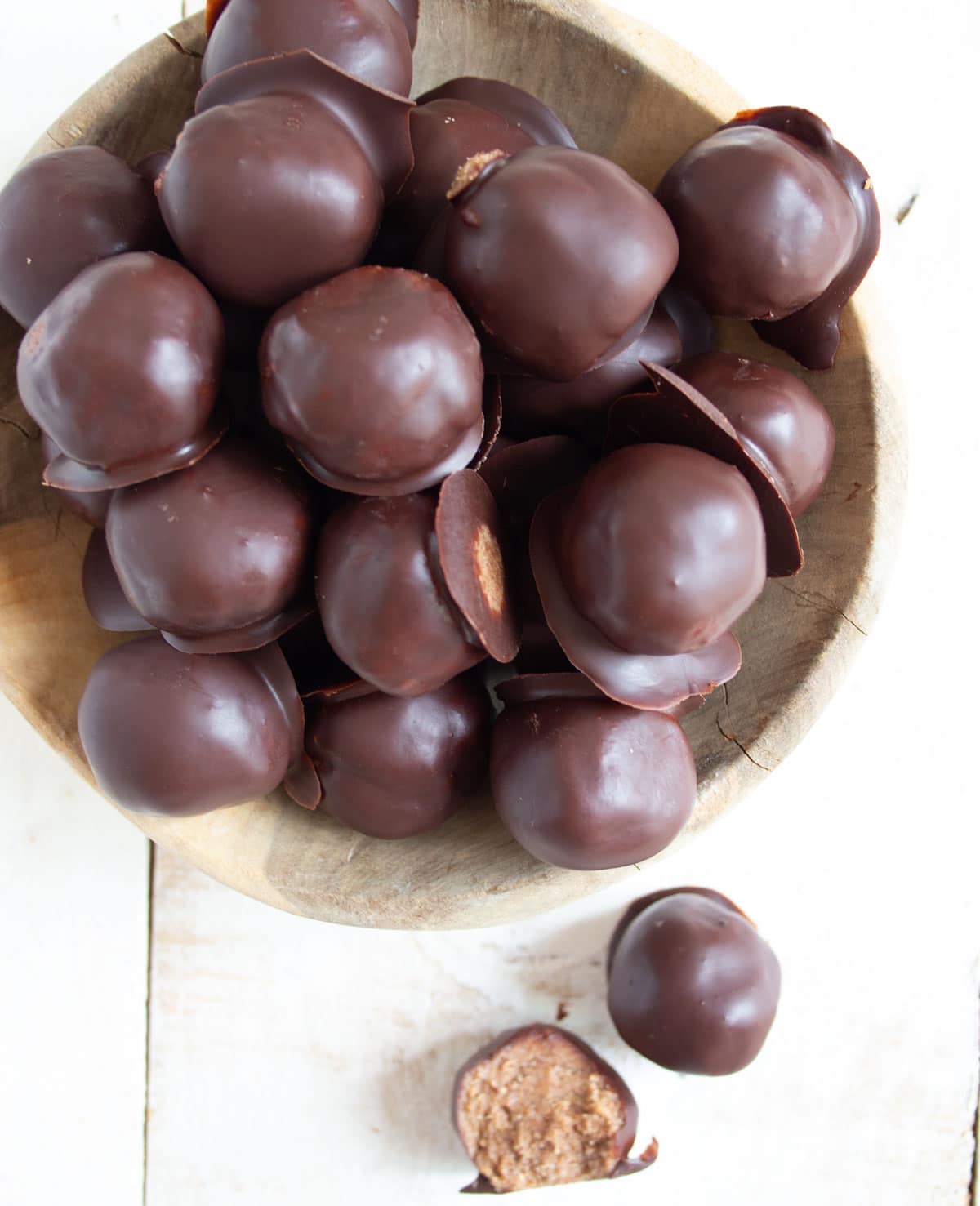 Storage
Almond butter truffles keep at room temperature for a week. I prefer to store them in the fridge. Simply pit them into an airtight container and they'll be good for well over a month.
You can also freeze them for up to 3 months.
Related recipes
★ Tried this recipe? Give it a star rating below!★
STAY IN TOUCH on FACEBOOK, PINTEREST and INSTAGRAM for more great food and join my NEWSLETTER for the latest updates and a FREE EBOOK.
Recipe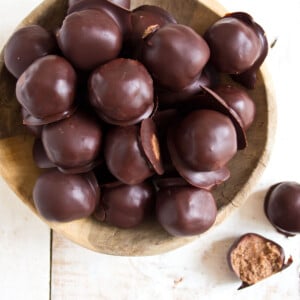 Almond Butter Keto Truffles
from Sugar Free Londoner
These Keto truffles are such a delightful treat and really simple to throw together. They are nutty and soft on the inside and covered in crunchy sugar free chocolate on the outside. There's no need to turn the oven on and they contain only 5 ingredients.
Note: The servings slider only changes the first amount in each line and not any subsequent amounts. Please make your own calculations where necessary.
Instructions
Blend the almond butter with the sweeteners and 50g (½ cup) almond flour. Check consistency. If your almond butter is quite runny, as was mine, add another 25g (¼ cup). You are looking for a dough-like consistency that can be easily rolled into balls without being squishy or falling apart.

Roll into balls weighing ca 10-12g. I got 25 from my mix.

Melt chocolate in the microwave (in 30 second bursts) or in a double boiler.

Using a spoon, coat each ball in chocolate. This adds ca 2g to the weight of the praline. I melted an 70g chocolate bar, but ended up using only around 50g.

Place the chocolate-covered pralines on a sheet covered with parchment paper and let them set in the fridge for ca 20 minutes.
Notes
You can use any sweetener you like in this recipe. Personally, I find that by mixing sweeteners you don't get that one overpowering taste which makes sugar free sweets taste like "diet food".
If you aren't a fan of stevia drops or you don't have a sugar free syrup in the house, simply sweeten your sugar free truffles with erythritol. Use 3-4 tbsp, depending on your sweet tooth.
You can use sugar free chocolate, 90% chocolate (stir in 1 teaspoon of powdered erythritol if you wish) or unsweetened chocolate (stir in 1-2 tablespoon of powdered sweetener) to coat. 
I calculated the nutritional facts on the basis that a sugar free chocolate is used. If you use a dark chocolate with 90% cocoa solids, the 50 g you will use will contain ca 5 grams of sugar. Divided between your 25 pralines, the amount of sugar per praline will only go up by circa 0.2 grams.
Nutrition
Serving:
13
grams
Calories:
77.5
kcal
Total Carbohydrates:
2.1
g
Protein:
1.6
g
Fat:
7.4
g
Saturated Fat:
1.6
g
Monounsaturated Fat:
3.2
g
Potassium:
58
mg
Fiber:
1
g
Sugar:
0.4
g
(This post may contain affiliate links. When you click on a link like this and purchase a product, I receive a small commission - at no extra cost to you. This money helps me with the running costs of my site.)