Almond butter chocolate pralines are perfect for those moments when only a decadently nutty bitesized treat will do. Low carb and sugar free.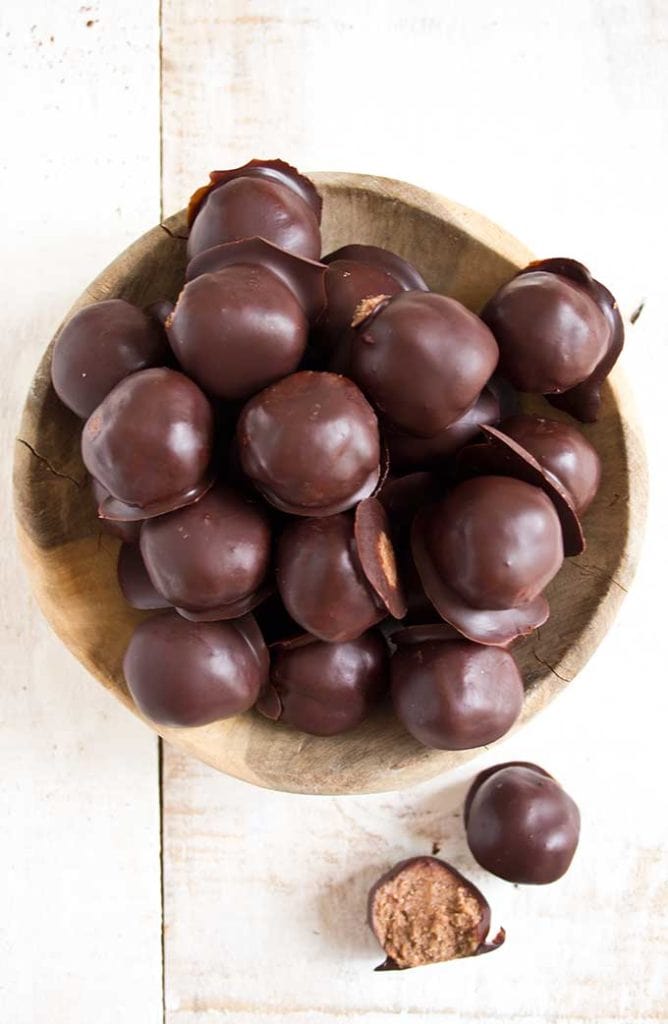 Find the recipe card with ingredients and instructions at the bottom of the page. Don't miss the extra tips in the post! 
Let's talk about decadence.
It's had a bit of a bad rep recently, poor old decadence. Sensible people frown upon it. It's the opposite of minimalism, which is all the rage currently. The opposite of frugal – which is, as we all know, also very "now". Decadence is seen as everything we don't actually need. It's over the top, unnecessary, shiny, crass nonsense.
In its purest form, decadence is sitting atop a gigantic yacht moored in Monaco drinking a Methusalem bottle of Dom Perignon. Or pouring its contents into the Med because it's not bubbly enough. Or showering with it whilst laughing obnoxiously loudly into the perma-blue skies and then stuffing your face with anything that's smothered in truffle shavings and gold dust.
You get the picture. The trendy minimalist, frugal lot want you to believe that decadence is a no-no.
I beg to differ.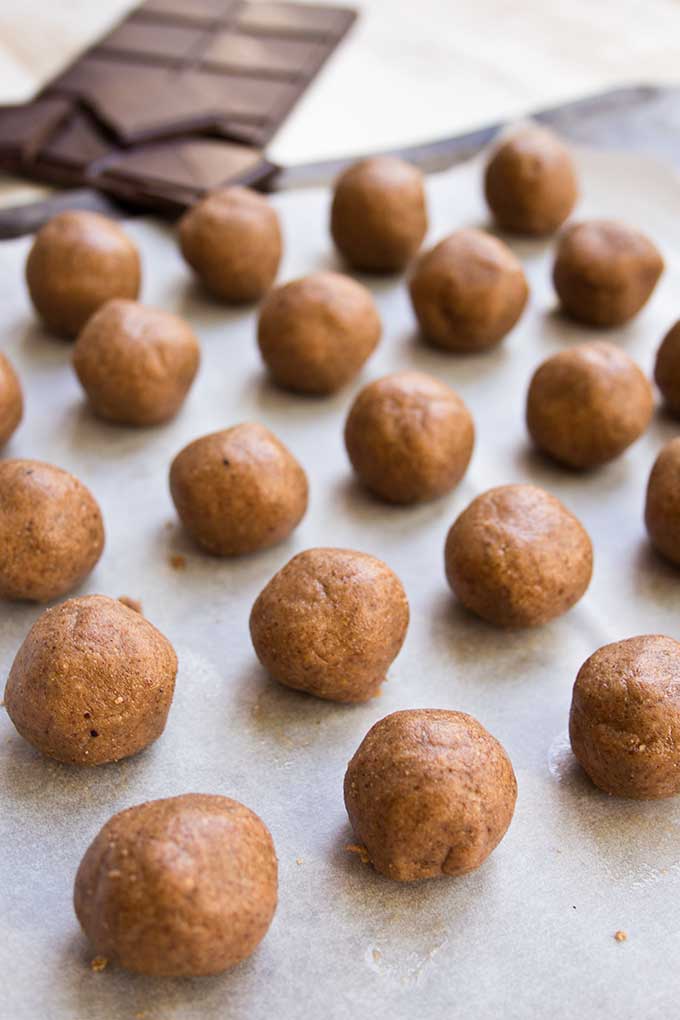 There is such a thing as GOOD DECADENCE.
Good decadence is clever, fun and never, ever bad for you. It is that little bit extra in your life that puts a smile on your face. Is good decadence ever naughty? No. How can it be? It's GOOD!
Good decadence does not necessarily have to be food. But one perfect example of good decadence in edible form are these Almond Butter Chocolate Pralines.
Let me prove it to you. Almond Butter Chocolate Pralines are…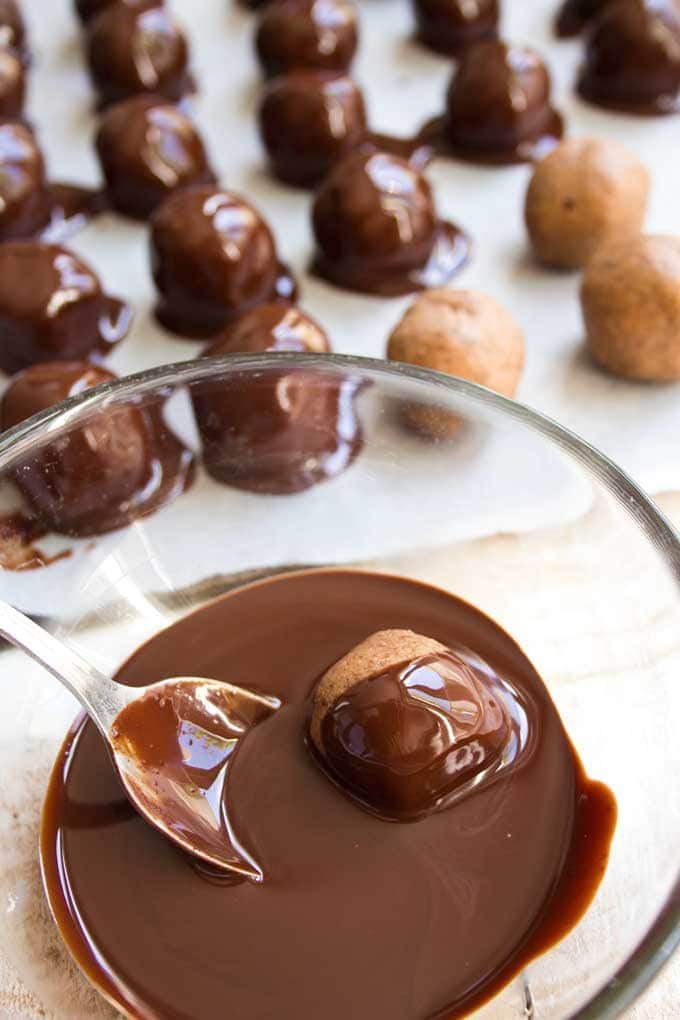 1. CLEVER. You do not need to be bake them and they have only 5 ingredients. That's minimal effort for maximum wow factor.
2. FUN. If you're like me you will actually have fun making these. You know that calming feeling you get when you're doing something with your hands (and I don't mean typing on a computer) – something tactile like pottery for example? Well, rolling those cute little balls, getting your hands dirty and possibly licking them before rinsing them off feels good. (Let me know if you think I'm crazy in the comments!)
If you're not with me on the prep part, imagine biting into a perfectly formed Almond Butter Chocolate Praline. There is the crunchy chocolate shell, delightfully dark. Then your teeth sink into the almond butter filling. It's soft and gooey, but with substance. You chew on it, and let yourself get swept away in a whoosh of buttery nuttiness. I'd say there are 3 bites in every praline – that's 3 times fun!
3. GOOD FOR YOU. What's actually in Almond Butter Chocolate Pralines? You've guessed it: mostly almond butter. I've added some almond flour to thicken things up and a bit of sweetener. I used some stevia and Sukrin fibre syrup, which just launched in the UK. I also added cinnamon because I think it makes everything taste better, but that's entirely optional.
Then the lot is covered in dark chocolate. If you can't source sugar free chocolate, use a variety with at least 90% cocoa solids. You could even make your own, like I did in my pistachio recipe ). This way we're  staying low carb and blood sugar levels are stable. This is a treat without drawbacks.
See? Good decadence!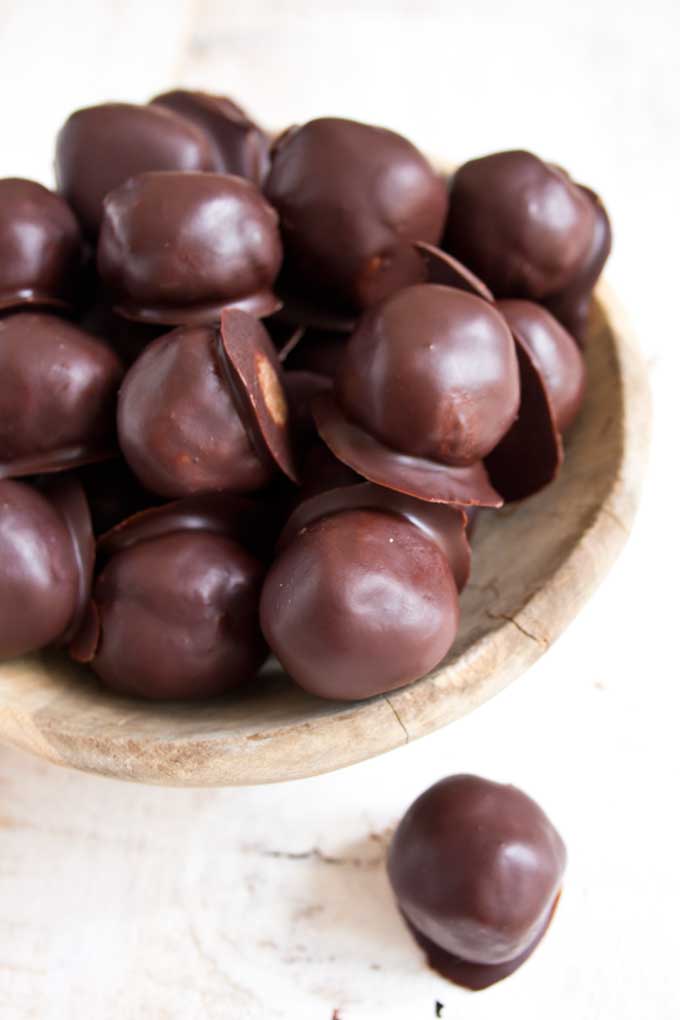 You might remember the coconut tahini bliss balls I posted last year. They are another bite-size morsel I like to make now and then. A lot of you have told me since that they prefer almonds to coconuts, so that's why I wanted to create a recipe so everyone can choose their favourite.
One of the benefits of no bake recipes is obviously speed. If you don't want to wait 20 minutes for the chocolate covering of your almond butter chocolate pralines to set, you could also just roll them in 100% cocoa powder. You can still call them almond butter chocolate pralines (how handy is that??). Again, you might like to add some cinnamon to it. Just saying.
Good decadence. It's the way forward.
(This post may contain affiliate links. When you click on a link like this and purchase a product, I receive a small commission – at no extra cost to you. This money helps me with the running costs of my site.)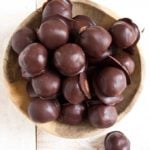 Almond Butter Chocolate Pralines
Almond butter chocolate pralines are perfect for those moments when only a decadently nutty bitesized treat will do.
Ingredients
200

g / 1 cup

almond butter

50-75

g / 1/2-3/4 cup

almond flour

depending on the thickness of your almond butter

8

drops

stevia

equivalent to 2 tsp sugar

2

tbsp

Sukrin Fibre Syrup

or another sugar free syrup

optional: 1 tsp cinnamon

Bar of dark chocolate with at least 90% cocoa solids

I melted 80g, of which I used ca 50g
Instructions
Blend the almond butter with the sweeteners and 50g (1/2 cup) almond flour. Check consistency. If your almond butter is quite runny, as was mine, add another 25g (1/4 cup). You are looking for a dough-like consistency that can be easily rolled into balls without being squishy or falling apart.

Roll into balls weighing ca 10-12g. I got 25 from my mix.

Melt chocolate in the microwave or in a non stick pan. Depending on the sweetness of your chocolate, you might want to add another 4 drops of liquid stevia (equivalent to 1 tsp of sugar).

Using a spoon, coat each ball in chocolate. This adds ca 2g to the weight of the praline (yes, I did weigh all of this out so I could give you an accurate nutritional breakdown later). I melted an 80g chocolate bar, but ended up using only around 50g.

Place the chocolate-covered pralines on a sheet covered with parchment paper and let them set in the fridge for ca 20 minutes.
Recipe Notes
You can use any sweetener you like in this recipe. Personally, I find that by mixing sweeteners you don't get that one overpowering taste which makes sugar free sweets taste like "diet food". However, if you decide to sweeten your chocolate, it's easiest to use either a liquid sweetener or, if using erythritol, make sure it's powdered. Erythritol does not melt like sugar does and the regular granules will just collect at the bottom of your chocolate.
I calculated the nutritional facts on the basis that a sugar free chocolate is used. if you use a dark chocolate with 90% cocoa solids, the 50 g you will use will contain ca 5 grams of sugar. Divided between your 25 pralines, the amount of sugar per praline will only go up by ca 0.2 grams. As always, if a nutritional breakdown is important for your health, don't forget to make your own calculations as well. I do my best, but I cannot guarantee they are 100% accurate as I use a free online calculator.
Nutrition Facts
Almond Butter Chocolate Pralines
Amount Per Serving
Calories 77.5
Calories from Fat 67
% Daily Value*
Total Fat 7.4g 11%
Potassium 58mg 2%
Total Carbohydrates 2.1g 1%
Protein 1.6g 3%
* Percent Daily Values are based on a 2000 calorie diet.