Bring summer vibes to your table with these cute strawberry shortcake trifle pots! This dessert classic is super-simple to put together and even better, it's sugar free, low carb and gluten free. The recipe is designed for two, but can easily be scaled up if you want to serve a larger crowd.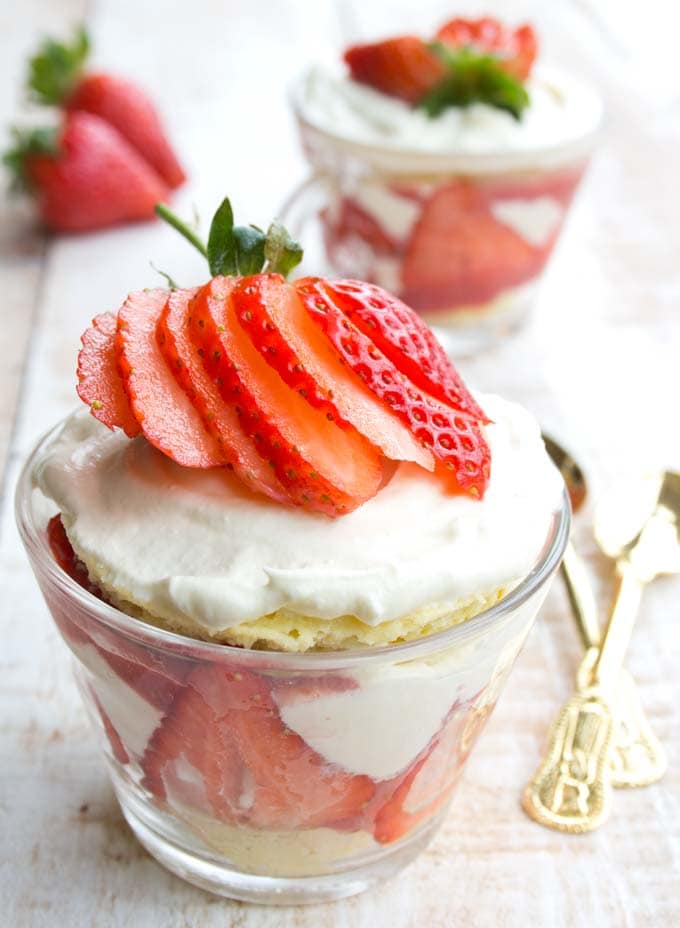 Strawberry trifle has got to be in my top ten of best desserts ever. Moist sponge cake topped with sugar free strawberry jam, topped with whipped double cream, topped with juicy strawberries, topped with more shortcake, topped with.... imagine a spoon driving through each layer, scooping up all that goodness. Oh my. Heaven!
It's quite easy to make a strawberry trifle recipe low carb and gluten free. First, you replace the sugar with powdered erythritol or your sweetener of choice. And of course, you use a grain free flour - in this case, coconut flour - to make the sponge cake gluten free.
At 9 net carbs, this trifle might not be ideal for people on a strict Keto diet, but it's a delicious treat for anyone who's in low carb maintenance. Strawberries are packed with vitamins and nutrients and, above all, they taste divine. Remember - it's always best to eat your dessert as part of a meal to avoid a blood sugar spike.
How to make a sugar free strawberry shortcake trifle - step by step: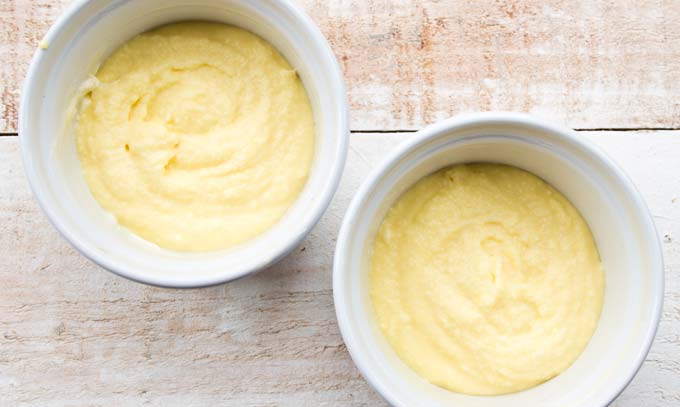 1.) Mix all ingredients for the shortcake in a bowl with a fork. Then fill the mix into two well-buttered ramekins and microwave on high for 90 seconds.
If you don't have ramekins, you can also use two cups. Just make sure you grease them well!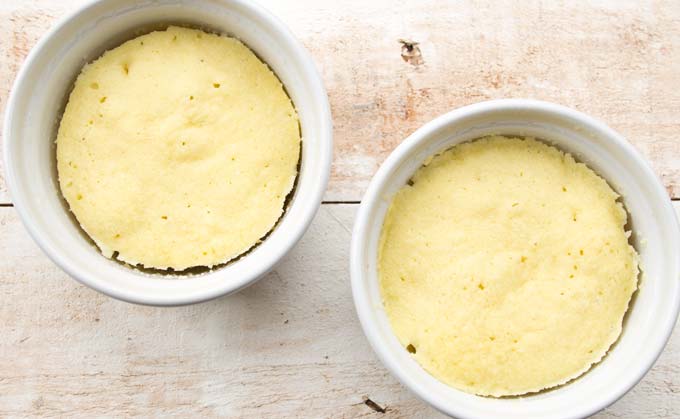 2.) After 90 seconds, you'll have two pretty little cakes. Wait until they have cooled down a bit so they're less fragile, then turn them out onto a plate or cutting board.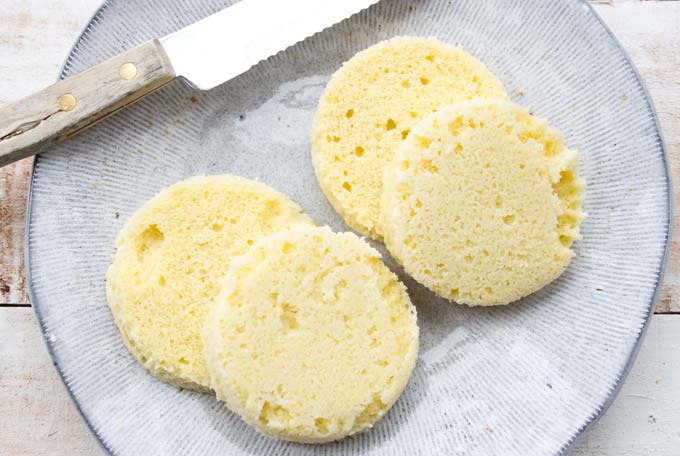 3.) Slice your shortbread into 4 fat discs.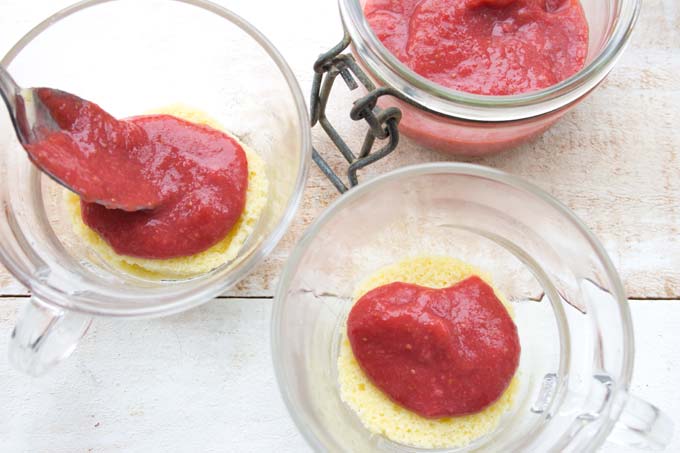 4.) Now it's time to assemble the trifle! Get yourself two cups, glasses or dessert bowls. Ideally, your vessel should hold 150 ml of liquid. (I used my Nespresso coffee cups, which have been gathering dust in the cupboard recently as I switched to green tea months ago).
Start with a layer of shortcake (cut it to size if necessary), then add ½ tablespoon of sugar free strawberry jam.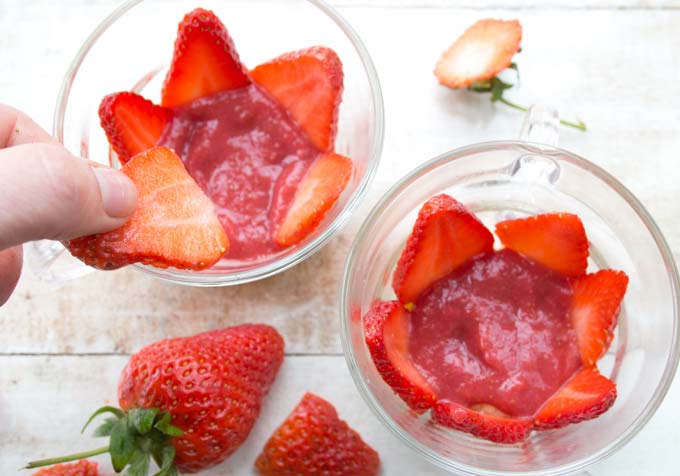 5.) Thinly slice 2-3 strawberries and place them against the glass, forming a circle.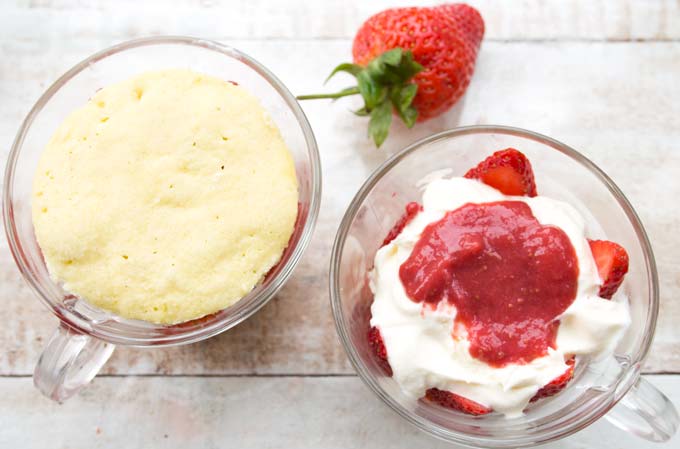 6.) Now whisk your double / heavy cream until stiff and stir in some Greek yoghurt with a splash of vanilla extract. I did not add any sweetener, but do add 1 tablespoon powdered erythritol or inulin (a gently sweet prebiotic fibre extracted from chicory root) if you prefer a sweeter cream.
Spoon about 3 heaped teaspoons of the mix into each glass, then top with another ½ tablespoon of strawberry jam and the second slice of low carb shortcake.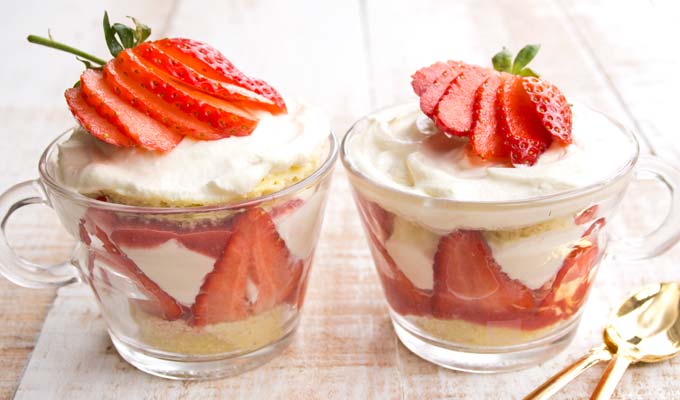 7.) And this is how the finished trifle pots look like! You smooth some more cream on top of the shortbread, then decorate with a strawberry.
Of course you can eat your strawberry trifle straight away. Or, even better, leave it in the fridge for a couple of hours so the jam can seep into the shortcake and the flavours mix.
If you plan to leave it overnight, I recommend to add the decorative strawberries on top just before serving, so they look nice and fresh.
Top tips and recipe variations for a perfect strawberry shortcake trifle
Prefer almond flour to coconut flour? Simply use 4 tbsp of almond flour instead of the coconut flour.
If you don't have a microwave, just bake the shortcake in the oven. 180 Celsius / 350 Fahrenheit and around 12-15 minutes should do the trick. Test with a knife - if it comes out clean the cake is done.
Want to make this recipe dairy free? You can use coconut cream in place of the heavy cream and coconut yogurt (such as by the Coconut Collaborative) instead of Greek yoghurt.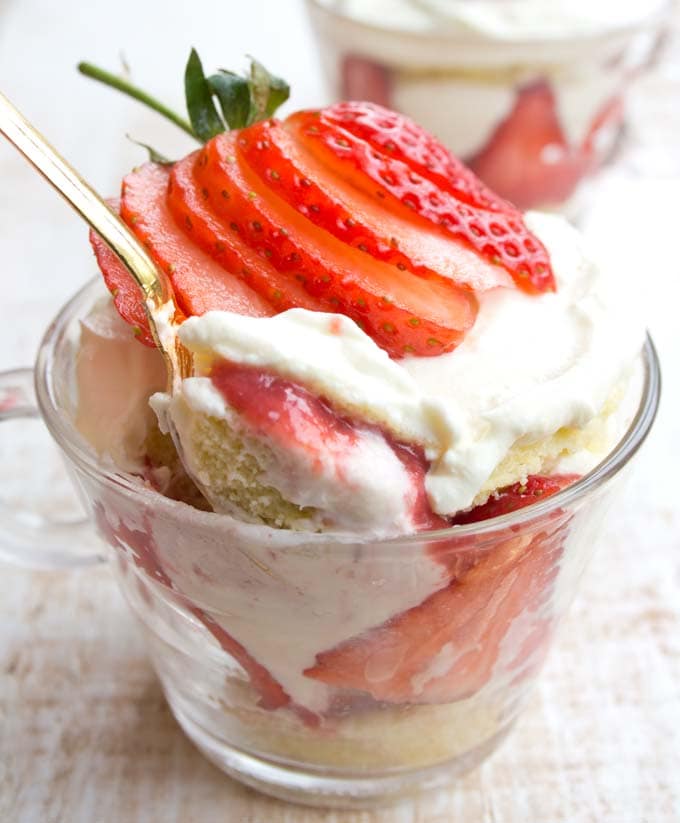 A quick word about the Greek yoghurt - I added it because I wanted the end result to taste fresh and also be a bit lighter. But if you don't have or don't like Greek yoghurt, you can either sub with sour cream or simply use only the cream.
The sugar free strawberry jam really makes the recipe taste amazing, so I do recommend you use it. As the liquid in the strawberries is reduced by cooking, the taste is super-intense. If you feel you CAN'T WAIT though, here's a quick substitution: Mash a few strawberries with a fork, add 1 teaspoon of powdered erythritol and add a pinch of xanthan gum or ground chia seeds to thicken.
Feel like making the cream topping super-summery and zingy? Instead of the vanilla, add a squeeze of lemon juice and grate some lemon zest into it! That'll make this recipe taste similar to these gorgeous low carb cheesecake treats by My Life Cookbook.
This trifle recipe also works well with mixed berries (raspberries, blueberries, blackberries).
Here are some of my other fruity recipes: 
Tried this recipe? Give it a star rating below!
★ STAY IN TOUCH on FACEBOOK, PINTEREST and INSTAGRAM  for more great food and join my NEWSLETTER for the latest updates and a FREE EBOOK.★ 
Recipe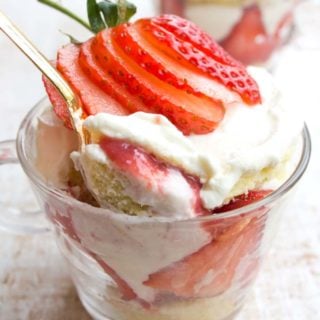 Sugar Free Strawberry Shortcake Trifle
from Sugar Free Londoner
This low carb strawberry trifle is a summer dessert favourite! Moist sponge cake, juicy strawberries, sugar free strawberry jam and velvety whipped cream - all at 9 net carbs per portion.
Note: The servings slider only changes the first amount in each line and not any subsequent amounts. Please make your own calculations where necessary.
Ingredients
For the low carb shortcake
...and for a bit of extra Wow
Instructions
Combine all ingredients for the shortcake in a bowl using a fork. Let the mix sit 2-3 minutes to thicken.

Fill the dough into 2 well-greased ramekins and microwave on high for 90 seconds. Once they have cooled down, turn the cakes out onto a plate and slice into 2 disks.

Whisk the double / heavy cream until stiff. Sir in the Greek yoghurt, vanilla and powdered erythritol, if using.

Assemble the trifle: Get yourself 2 pots/glasses/bowl holding circa 150 ml. Place a slice of shortcake at the bottom and line the outer edges of each pot with strawberry slices. Then add ½ tablespoon of sugar free strawberry jam, followed by 3 heaped teaspoons of the cream topping. Add another ½ tablespoon of strawberry jam, the second shortbread disk and top with the remaining cream. Decorate the top with another strawberry.
Notes
The recipe makes 2 generous portions. Nutrition is calculated for 1 pot/portion (in a glass that can hold 150ml of liquid). You could easily divide the amount between 3 portions of about 100g each. 
If you wish, swap out the coconut flour with double the amount of almond flour.
For dairy free, use coconut cream and coconut yoghurt in place of the cream and yoghurt. 
The sugar free strawberry jam really lifts the recipe. However, for a quick sub simply mash/blend some strawberries with 1 teaspoon powdered erythritol and add a pinch of ground chia seeds or xanthan gum. 
Nutrition
Calories:
413
kcal
Total Carbohydrates:
13.8
g
Protein:
7.2
g
Fat:
36.5
g
Fiber:
4.8
g
Sugar:
8
g
This post contains affiliate links. If you click on one of these links and purchase a product, I may earn a small commission, at no extra cost to you. Thank you for supporting Sugar Free Londoner.