A deliciously rich low carb chocolate lava cake with a gooey molten centre. Only 5 ingredients and sugar free! Keto and diabetic-friendly.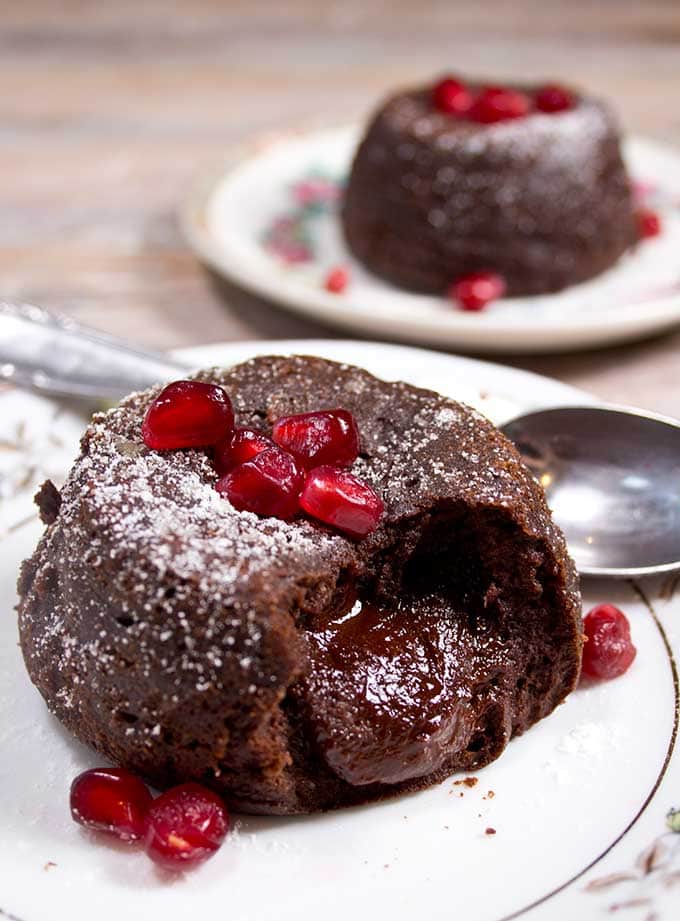 FIND THE RECIPE CARD WITH INGREDIENTS AND INSTRUCTIONS AT THE BOTTOM OF THE PAGE. DON'T MISS THE EXTRA TIPS IN THE POST!
Who doesn't like a chocolate lave cake? Especially when it's a totally guilt-free, sugar free low carb chocolate lava cake?
This cake, to me, is romance in the form of food.
Swoon!
With Valentine's around the corner, I've been thinking about romance, and, more specifically, romantic desserts.
I'll be totally honest here. I'm not into Valentine's Day. What is less romantic than being forced to be romantic?
It's a bit like New Year's Eve, where you are supposed to have the most fun, like, ever. You're on doctor's orders to be in a celebratory mood from 6 pm onwards the latest, sloshing back champagne and singing and dancing all night, preferably on tables. And if you don't, you feel guilty about being a bore. How stressful is that!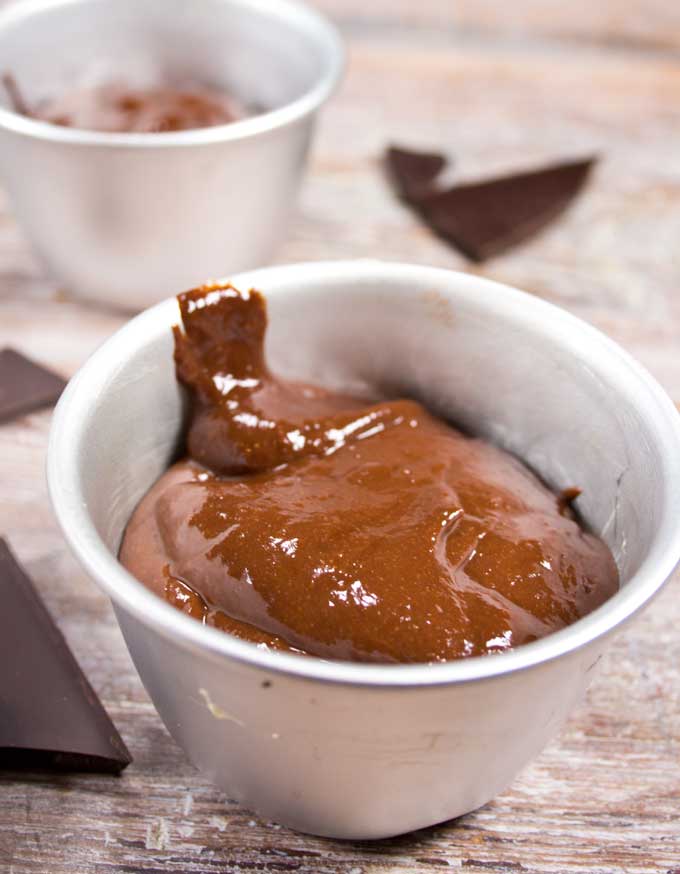 But I'm getting sidetracked. Just like I only like to stay up until after midnight when I happen to be in the mood for it, I just can't switch on the romance button.
The beauty about romance is that it takes you by surprise.
If you manage to book a table at a restaurant for Valentine's day, you're in for a set menu with hordes of other couples sat under red and white balloons. There's no surprise in that, there's no romance. This, my friends, is just cringe. I'd love to see a statistic on how many couples actually split up on Valentine's day. I bet you get a sharp spike on Feb 14th. Honest truth, it has happened to me!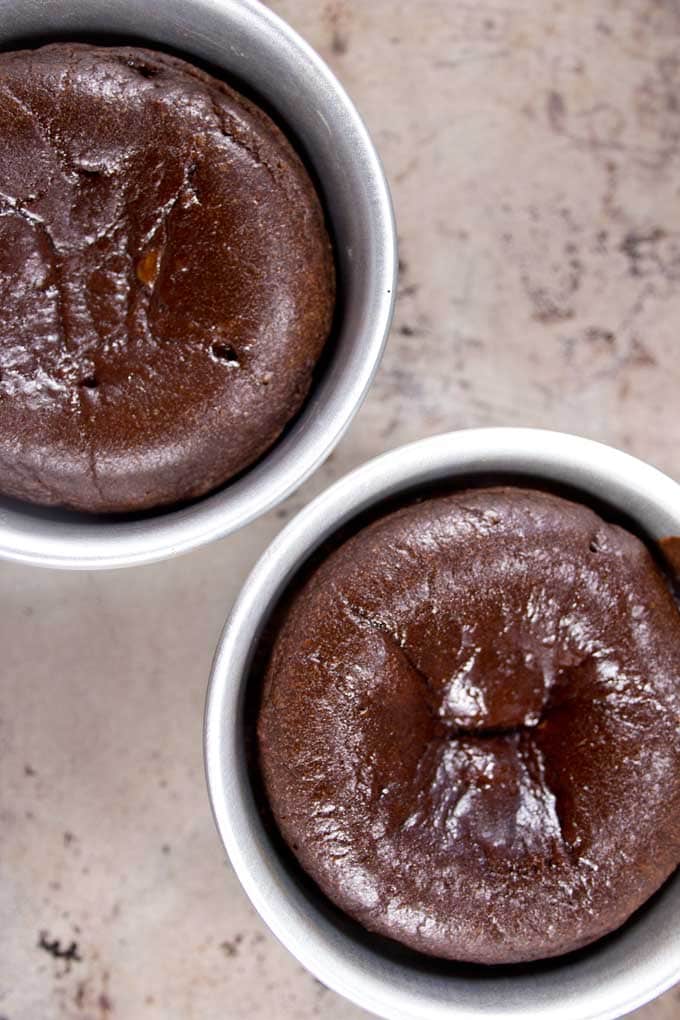 What do I think is romantic? Definitely not "that" dinner, nor a box of chocolates or a sad red rose.
Romance lies in unexpected gestures, however little they may be. It is thoughtful and kind and positively sexy and it does not have to cost a penny (though it can, I'm totally not opposed to it :)). How can you tell you're experiencing a romantic moment? Those butterflies in your stomach, which morph into a warm fuzzy feeling once you've been married a while. Aaaah.
Since we're talking stomach, here's the obvious thing: food is romantic. Seriously romantic.
Especially this low carb chocolate lava cake!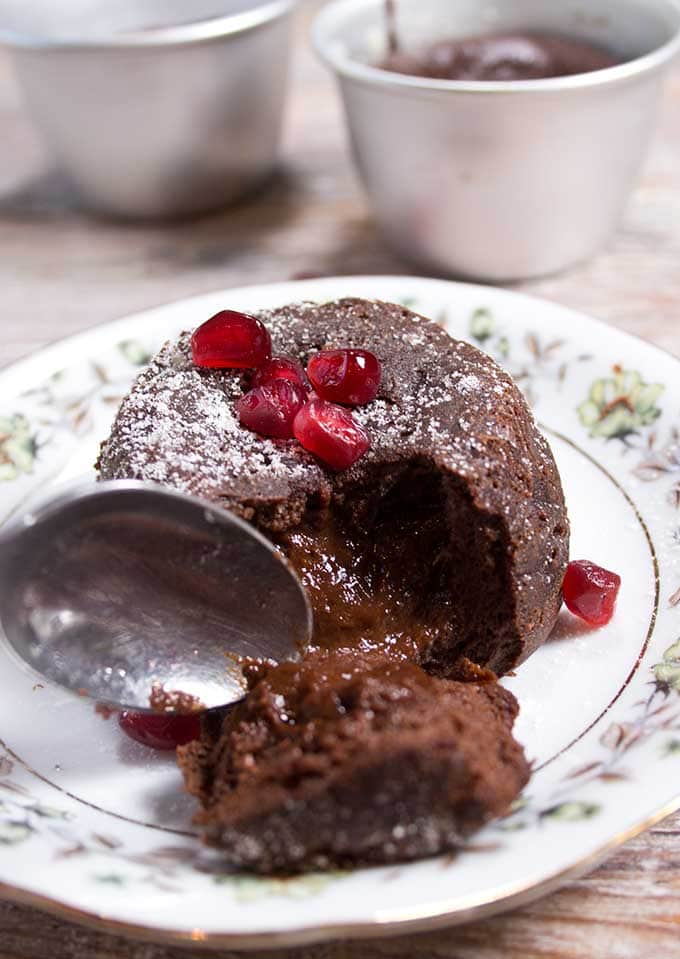 Let's delve right into the nerdy details of low carb chocolate lava cake-making. If you're only using 5 ingredients, make sure you use the best you can!
Chocolate.
Get the best you can afford, with a high cocoa solids content. 90% is great, or go the whole 9 yards and get 100% unsweetened chocolate. This is a generously sized dessert and if you're interested in keeping a low carb count, this will make a difference. It will also affect the taste – a cheap choccie full of vegetable oils just won't make you swoon.
Butter.
Organic, grass-fed is what we're looking for here. I love the buttery taste of this dessert. But if that's not your kind of thing, you can sub with virgin coconut oil.
Almond flour.
This should be super-fine. Almond meal or ground almonds are too coarse and will alter the texture (would still work though).
Eggs.
Beat them till they're FLUFFY!
Sweetener.
Make sure you choose powdered and not granulated. Stevia drops would work in this recipe too. Definitely taste your batter and adjust the sweetener according to the type of chocolate you're using. I've given my measurements in the notes. As we all have a different perception of what the perfect sweetness is, do whatever rocks your boat here.
The ramekin.
Not quite an ingredient, but rather essential. Firstly, butter the hell out of it. Otherwise your cake could get stuck – not a good thing if you're after the visual wow. But even more importantly, don't be afraid to take this cake out of the oven when it's still super-jiggly. It'll keep on cooking and firming up in the hot ramekin so serve it as soon as you can touch it with your hands to turn it out onto a plate. For me, 9 minutes in the oven was perfect (see above), while 12 minutes yielded a cake that was thoroughly cooked through.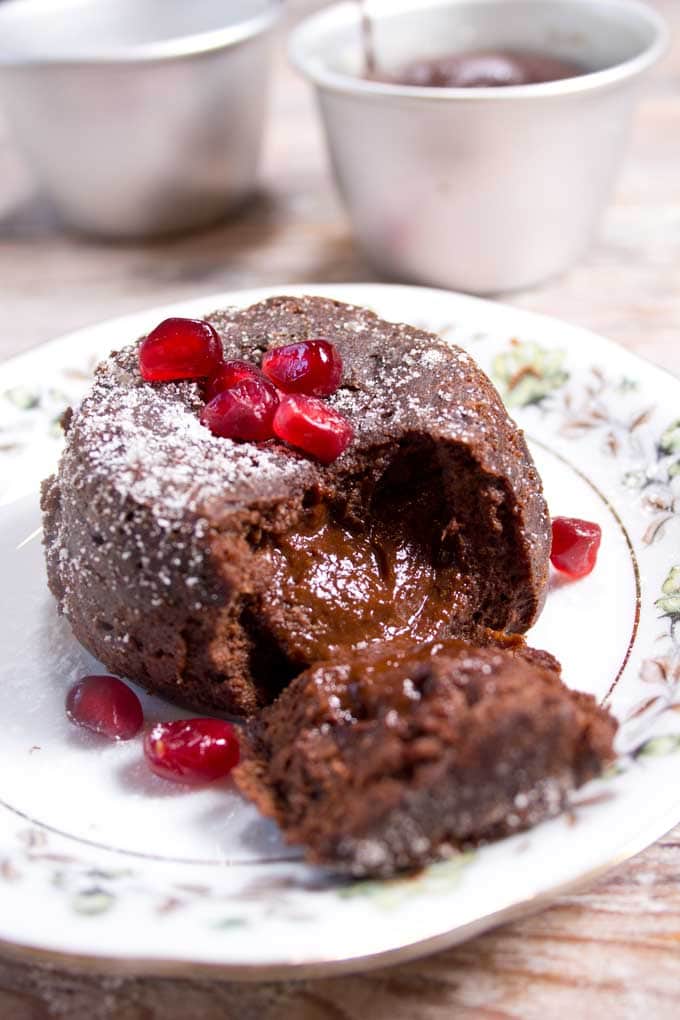 This low carb chocolate lava cake is delicious enough, gooey enough and wonderfully chocolatey enough to create a romantic moment any day of the year. I imagine it would be great with a scoop of sugar-free low carb ice cream.
If you're a chocolate lover like me, check out these chocolate walnut fat bombs or this super-fluffy low carb chocolate mousse. For the more creative, these heart-shaped eggs might be just the thing for you 🙂
(This post contains affiliate links. If you click on one of these links and purchase a product as a result, I may earn a small commission, at no extra cost to you. Thank you for supporting Sugar Free Londoner.)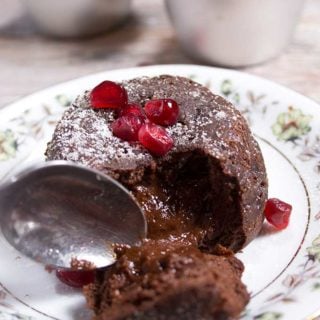 5 Ingredient Chocolate Lava Cake (Low Carb)
A deliciously rich low carb chocolate lava cake with a gooey molten centre. Only 5 ingredients and sugar free! Keto and diabetic-friendly.
Ingredients
2

oz

dark chocolate

(55g), at least 85% cocoa solids

1

tbsp

almond flour

super-fine

2

oz

butter

unsalted, plus more for greasing ramekins

2

eggs

2

tbsp

powdered sweetener

or more, depending on the chocolate you use - see notes
Instructions
Heat oven to 175 Celsius/350 Fahrenheit.

Grease 2 ramekins with butter.

Melt the chocolate and butter and stir to combine.

Beat your eggs well - best with a mixer.

Add to the chocolate/butter mix together with almond flour and sweetener and stir. You'll get a dough-like consistency that is pourable.

Pour into 2 ramekins.

Bake 9 minutes until the top is set but still jiggly. Do not over-bake!

Turnout onto plates and serve with a dusting of powdered sweetener and pomegranate seeds or a couple of raspberries. A mint leaf would round off the look nicely!
Recipe Notes
Chocolate: Use the best quality you can get hold of, with a cocoa solids amount of at least 85%. I used 100% unsweetened chocolate, so added 3 1/2 tbsp sweetener. If you use 90% chocolate, 2 tbsp sweetener works well. If your chocolate already contains sweetener, adjust accordingly.
If you're in the US, Lily's is always a good option The nutrition info is calculated using unsweetened chocolate. If you used 90% chocolate, the amount of net carbs increases to 4.7 per portion
If you want to turn your cakes out, grease your ramekins REALLY WELL! If you are only after the taste, there's no stress - just serve in the ramekins.
My ramekins measured 2 inch at the bottom and 3 at the top. If you want to make 1 larger portion, you might need to increase the time in the oven by 2-3 minutes.
Do not over-bake! The top needs to be set, but jiggly. My first round of cakes baked for 12 minutes and they were firm in the middle. Don't deprive yourself of that gooey centre 🙂
These cakes are best eaten straight out of the oven! If you leave them in the ramekins for long, they will continue to cook and set more than you might like.
Nutrition Facts
5 Ingredient Chocolate Lava Cake (Low Carb)
Amount Per Serving
Calories 460
Calories from Fat 392
% Daily Value*
Total Fat 43.6g 67%
Cholesterol 246mg 82%
Sodium 74mg 3%
Potassium 111mg 3%
Total Carbohydrates 3.4g 1%
Protein 11.7g 23%
* Percent Daily Values are based on a 2000 calorie diet.