Keto cheesecake fluff is one of the easiest desserts! It's a creamy and light low carb mousse that is ready in minutes. Keto fluff is a proper high-five treat - 5 ingredients, 5 minutes prep, 5 stars!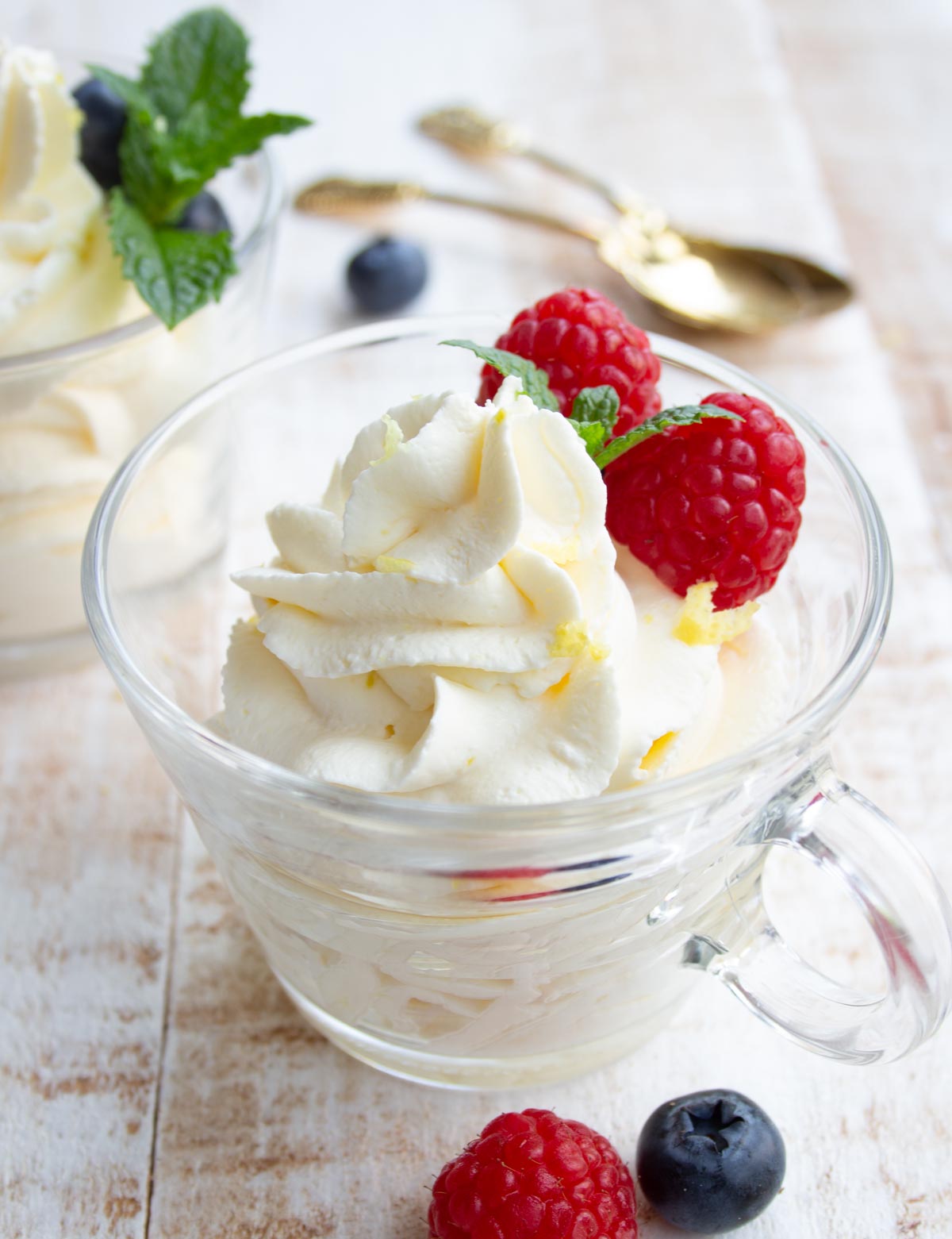 I love simple and quick sugar free sweets. The kind of desserts you don't have to turn the oven on for. Or wait 3 hours until they're ready.
Keto fluff is everything the name suggests: a fluffy, airy sugar-free mousse.
It tastes just like the filling of a no-bake cheesecake!
Jump to:
🌟 Why You'll Love This Recipe
Creamy, silky texture
Authentic classic cheesecake flavor
Only 5 ingredients
Ready in 5 minutes
Sugar-free, gluten-free and keto
Only 2g net carbs
Ingredients
Here are the 5 ingredients you'll need for this recipe:
Cream Cheese - I like Philadelphia. Use a fridge-cold full-fat cream cheese. As long as you blend with an electric mixer, there is no need to warm the cream cheese firm to prevent clumping.
Heavy Cream - This should also be straight from the fridge.
Powdered Sweetener - I used powdered erythritol. Powdered allulose, monk fruit sweetener blends or xylitol also work.
Vanilla Extract plus Lemon juice
See the recipe card for full information on ingredients and quantities.
Instructions
This is a very simple recipe. Here are the basic steps.
For detailed instructions, scroll down to the recipe card.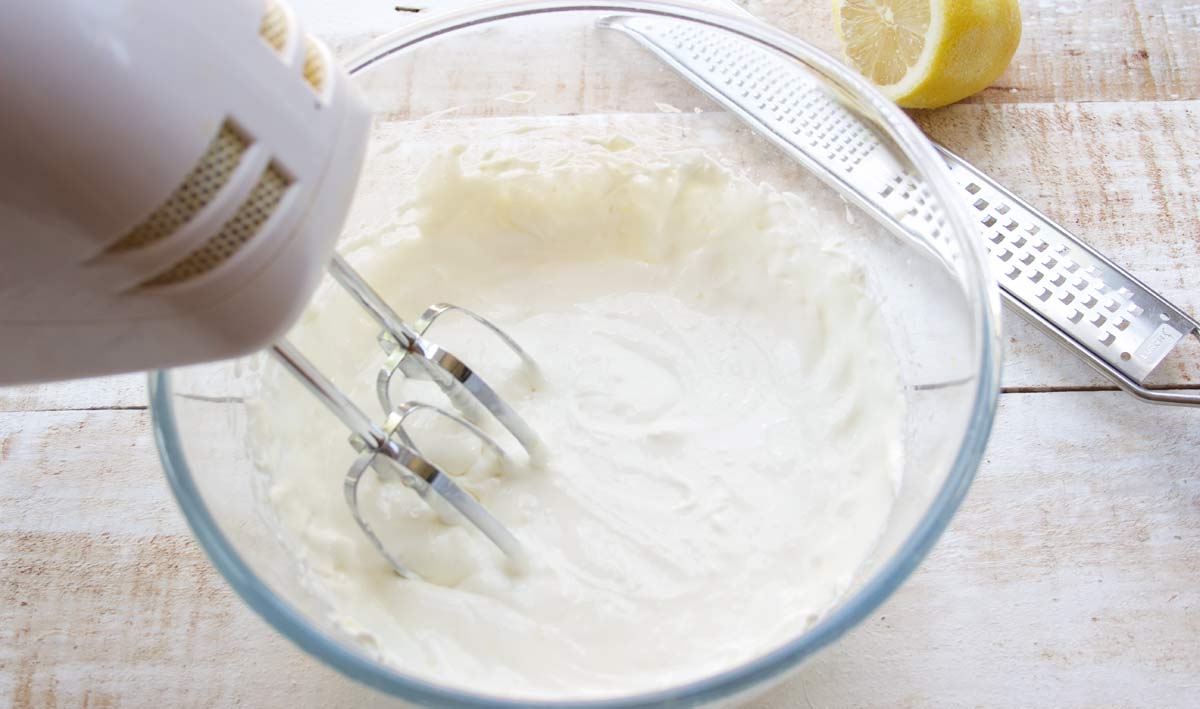 1.) In a large mixing bowl, blend the cream cheese, powdered sweetener, lemon juice, lemon zest and vanilla extract with an electric blender until smooth.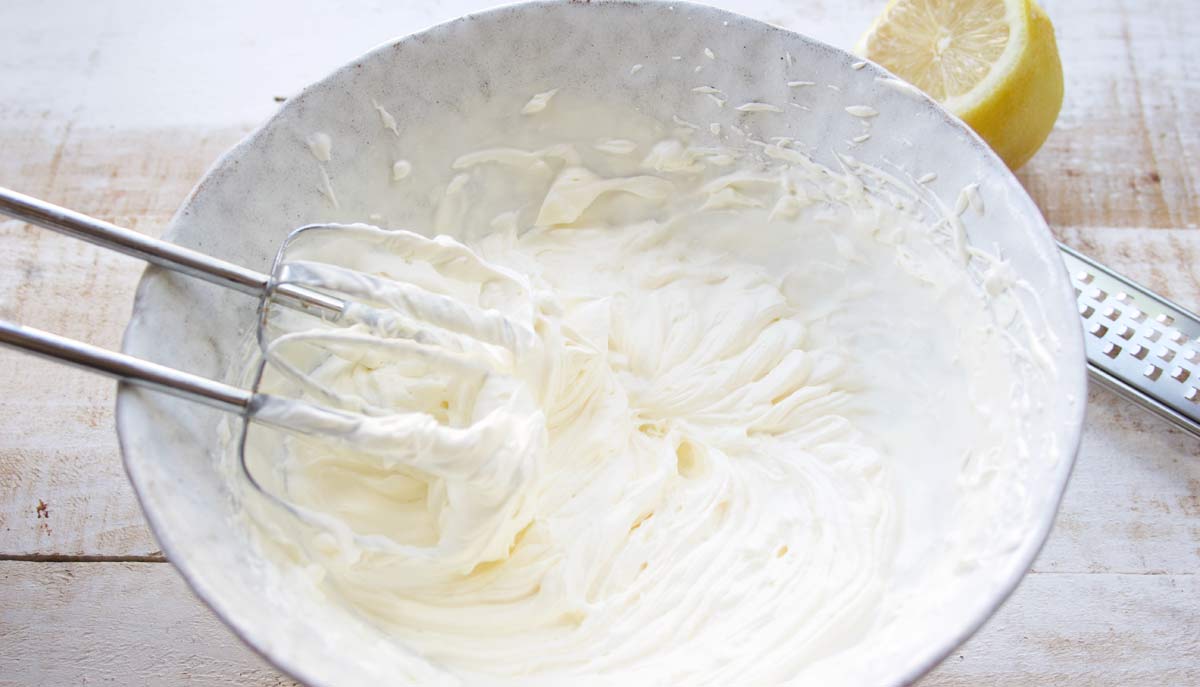 2.) In a separate bowl, blend the cream until it is firm but not stiff.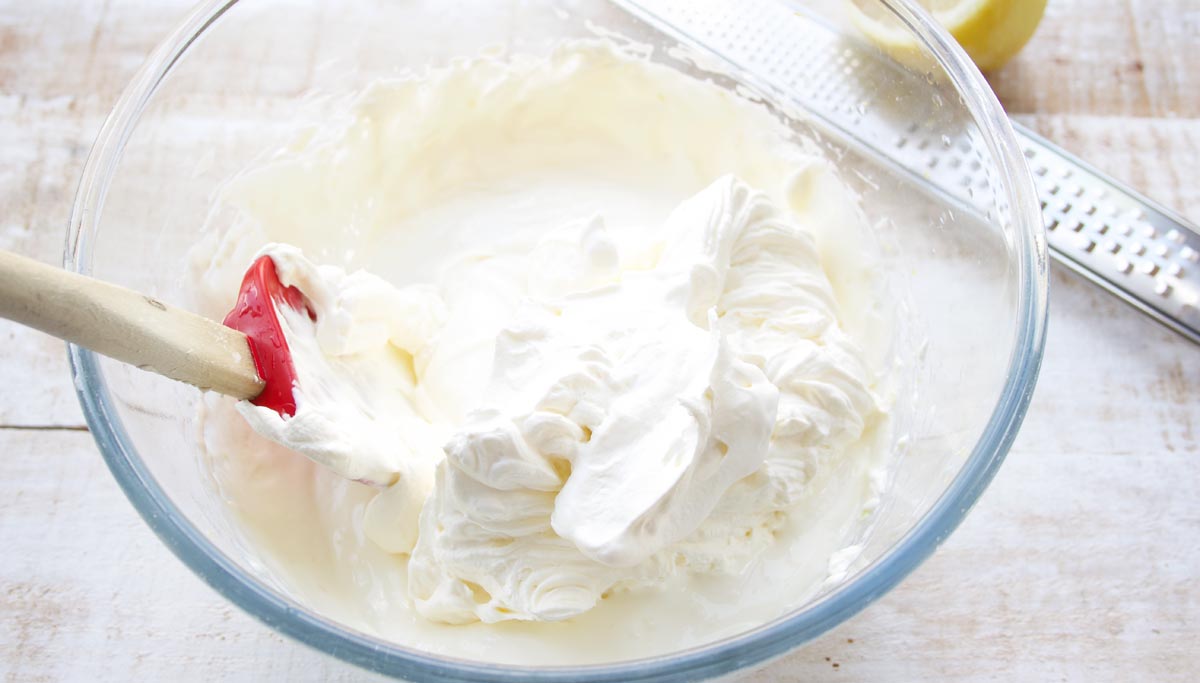 3.) Combine the cream cheese mix and the whipped cream with a spatula.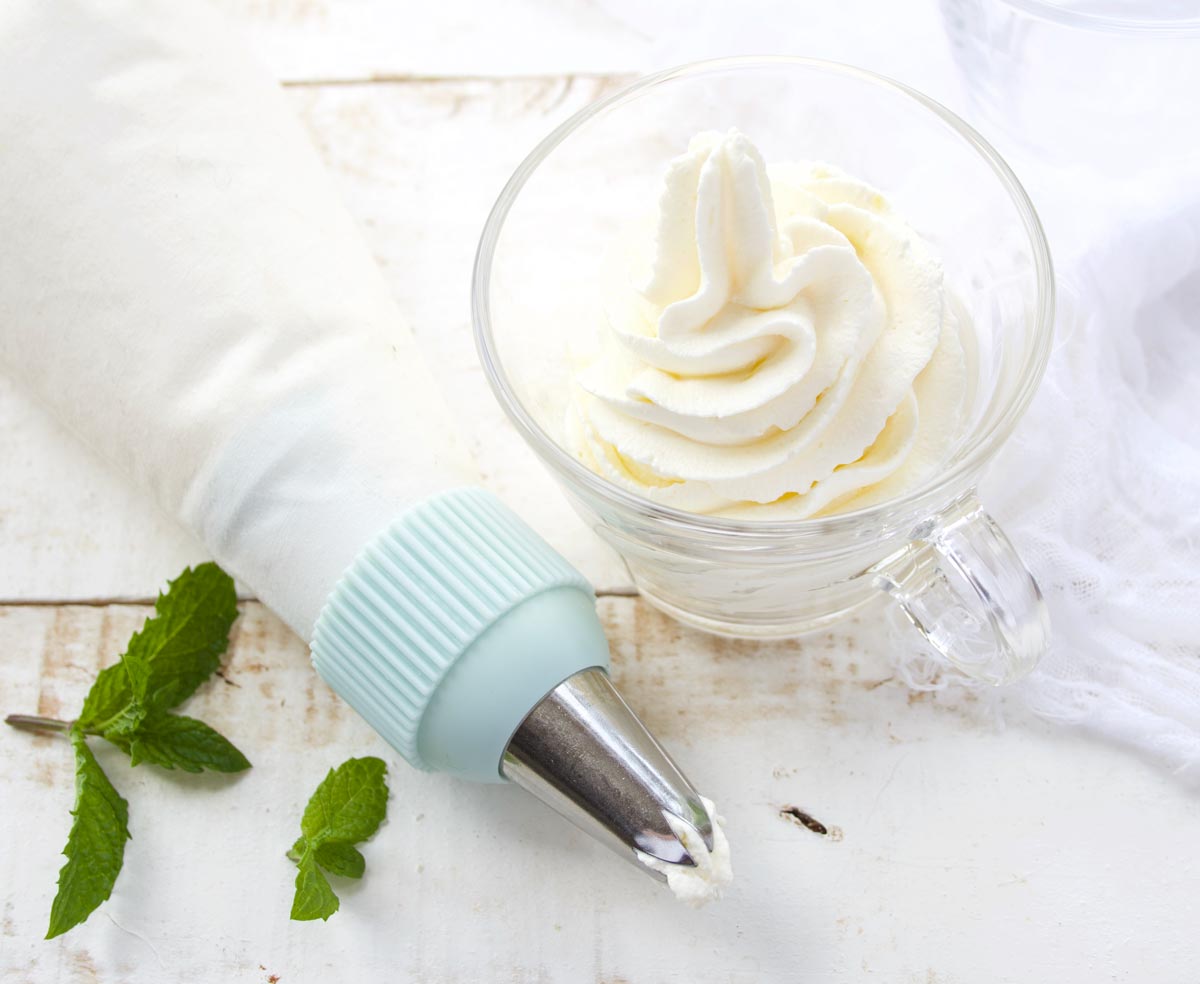 Fill the keto cheesecake mousse into a piping bag and pipe into 6 dessert bowls.
Tip: You can make a simple piping bag out of a sturdy ziplock plastic bag. Just cut off a corner and get piping!
Alternatively, spoon the mix into your bowls. Even less work, same great taste.
Expert Tips
Here is what you need to know to make the recipe perfectly:
Cold ingredients. I used my cream cheese and double cream straight from the fridge. This way, the keto cheesecake fluff recipe was firm enough for piping straight away. I did not need to chill it in the fridge before serving.
Electric blender. A handheld electric blender, food processor or immersion blender is essential for a creamy and airy yet firm mousse.
Don't over-beat the cream. Find the sweet spot when the cream is firm but still fluffy. If you beat too long, it will suddenly become hard. Make sure you stop whipping in time.
Sweeten to your own liking. For me, ¼ cup or 40 grams was the perfect amount of sweetener. Increase the sweetener to your liking - there is no right or wrong here!
Toppings
I went for raspberries and blueberries (plus additional lemon zest and mint leaves). Here are more ideas:
Use other fruit such as strawberries or blackberries. Berries are the lowest-carb fruits, so they are a good option.
Love chocolate? I have a recipe for homemade sugar free chocolate chips which you could scatter over the mousse.
Alternatively, make a simple chocolate sauce. Melt sugar-free or 90% dark chocolate with a tablespoon of cream or coconut oil.
Another idea is my keto caramel sauce. If you've ever eaten a salted caramel cheesecake you'll know cheesecake and caramel are a match in heaven!
If you're after extra zing, may I recommend my sugar free lemon curd?
Or add a simple almond flour crumble (mix ½ cup almond flour, 2 tablespoons melted butter and 1 tablespoon sweetener). Add it to the bottom of the serving cups as a gluten-free crust or spoon it over the top.
More basic toppings: chopped nuts (walnuts, hazelnuts, pecans), coconut flakes, a teaspoon of runny almond butter (thin with coconut oil if necessary) or a sprinkle of my low carb granola.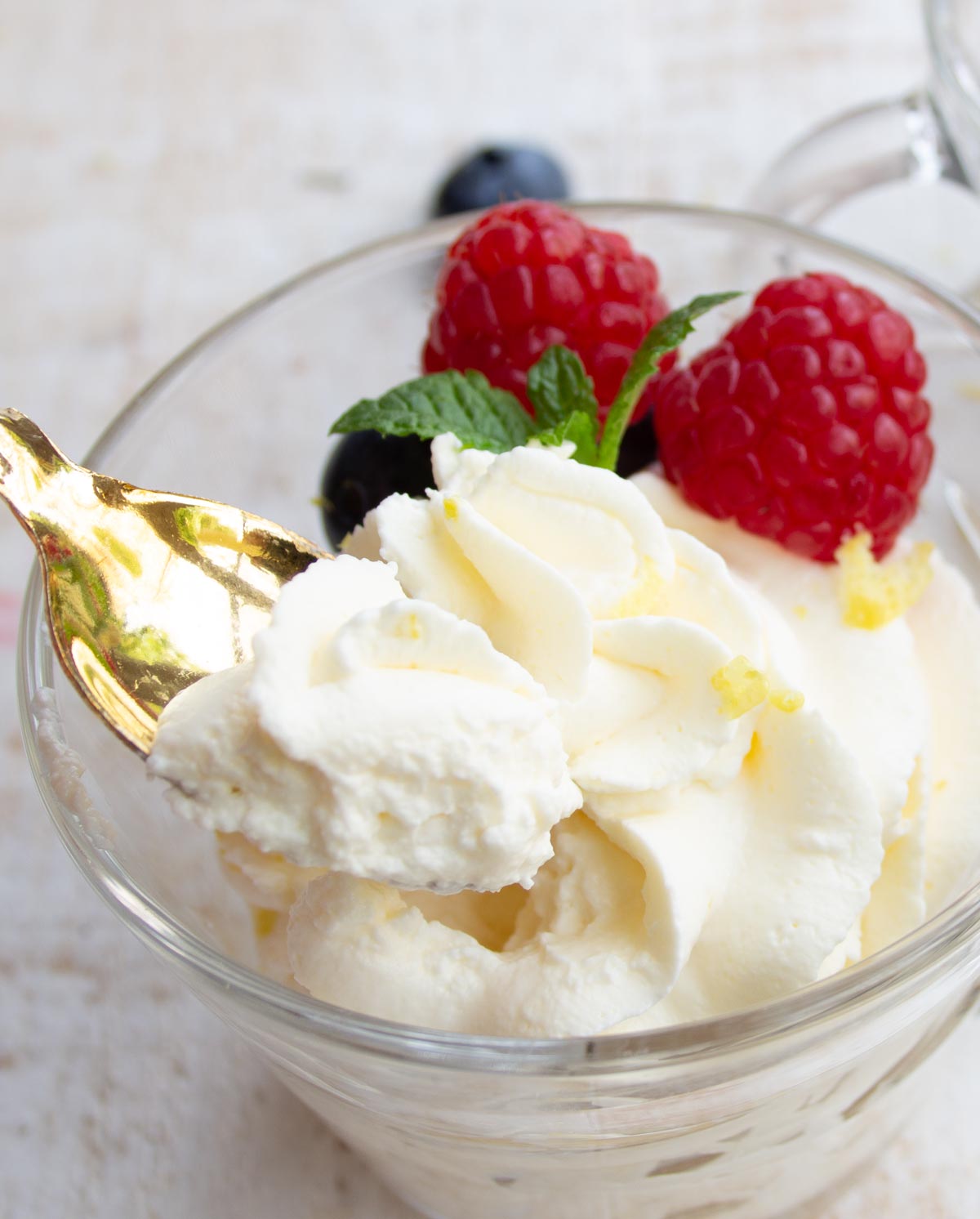 Recipe Variations
It is possible to use mascarpone instead of the cream cheese. This would make the mousse even creamier as mascarpone is higher in fat.
You can also play around with the flavours. For example, add 2 tablespoons of peanut butter for a keto peanut butter mousse.
Or, add cocoa powder to make a low-carb sugar-free chocolate mousse. In both cases, I recommend omitting the lemon juice and zest and only using vanilla extract.
A fruity mousse would also be delicious. Blending ¼ cup of strawberries directly into the cream cheese mix would add a lovely colour and taste.
Be aware that if you add fruit the mix will become softer and you may need to add gelatin as well. This would mean you'd have to let it firm up in the fridge before serving.
Recipe FAQs
How many carbs are in keto cheesecake fluff?
Without toppings, a portion of keto cheesecake fluff comes in at just 2g net carbs!
Which sweetener is best for keto fluff?
Any powdered sweetener works well, ranging from erythritol to allulose. Or, use stevia glycerite. Start with 20 drops and then taste.
Can I make this recipe ahead?
Yes. You can prepare the cheesecake mousse a day or two in advance. I recommend that you pipe it into individual cups directly before serving. That way, you won't mess it up when you cover it with cling film.
How long does it keep in the fridge?
You can store keto cheesecake fluff in the fridge in an airtight container for up to 5 days.
Can I freeze keto cheesecake fluff?
Yes. You can freeze the fluff for up to 3 months. Simply pipe bite-sized "keto fluff fat bombs" on a baking tray and freeze. Alternatively, fill the mixture into an ice cube tray for easy individual portions.
Related Recipes
Tried this low-carb dessert recipe? Give it a star rating below!
★ STAY IN TOUCH on FACEBOOK, PINTEREST and INSTAGRAM for more great food and join my email NEWSLETTER for the latest updates and a FREE EBOOK.★
Recipe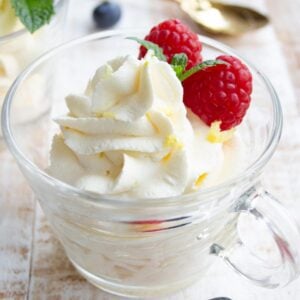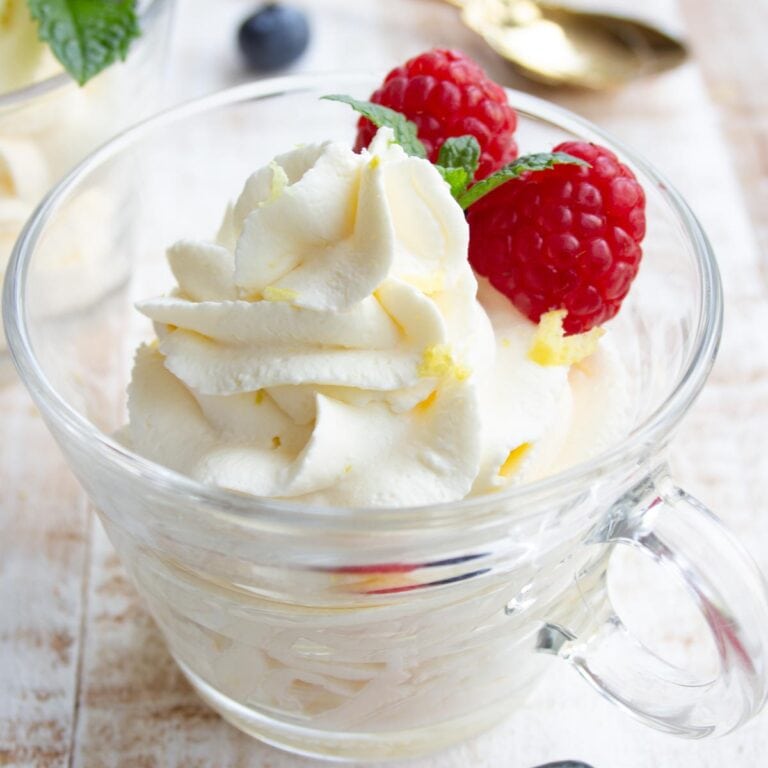 Sugar Free Keto Cheesecake Fluff
from Sugar Free Londoner
You only need 5 minutes prep and 5 ingredients to make this fragrant keto cheesecake fluff. It's everything the name suggests - it tastes of fluffy, airy, silky-creamy cheesecake, served as a mousse. Low carb, gluten free and sugar free. Only 2g net carbs per portion!
Note: The servings slider only changes the first amount in each line and not any subsequent amounts. Please make your own calculations where necessary.
Ingredients
1

cup / 250g

cream cheese

1

cup / 240ml

double cream / heavy cream

¼

cup / 40g

powdered sweetener

use ⅓ cup / 60g if you like sweeter desserts

1

teaspoon

lemon juice

1

teaspoon

vanilla extract

zest

of 1 lemon

½

cup / 60g

raspberries or other berries

optional
Instructions
In a bowl, blend the cream cheese, powdered sweetener, lemon juice, lemon zest and vanilla extract with an electric blender until smooth.

In a separate bowl, blend the double cream (that's heavy cream in the US) until it's firm but not stiff.

Combine the cream cheese mix and the whipped cream with a spatula.

Spoon or pipe the cheesecake fluff into 6 dessert bowls.

Optional: Decorate with berries, mint and more lemon zest.
Notes
Net carbs: 2g per portion without toppings. Makes 6 portions.
Net carbs per portion with raspberry decoration:  2.5g
Other topping ideas:
blueberries / strawberries / blackberries
Store in the fridge for up to 5 days.
Nutrition
Serving:
90
g
Calories:
287
kcal
Total Carbohydrates:
2.1
g
Protein:
3.4
g
Fat:
31.4
g
Saturated Fat:
19.8
g
Fiber:
0.1
g
Sugar:
1.9
g