An incredibly moist and healthy almond flour cake with creamy mascarpone frosting and berries. Gluten free, sugar free, low carb and so nutritious you could eat it for breakfast.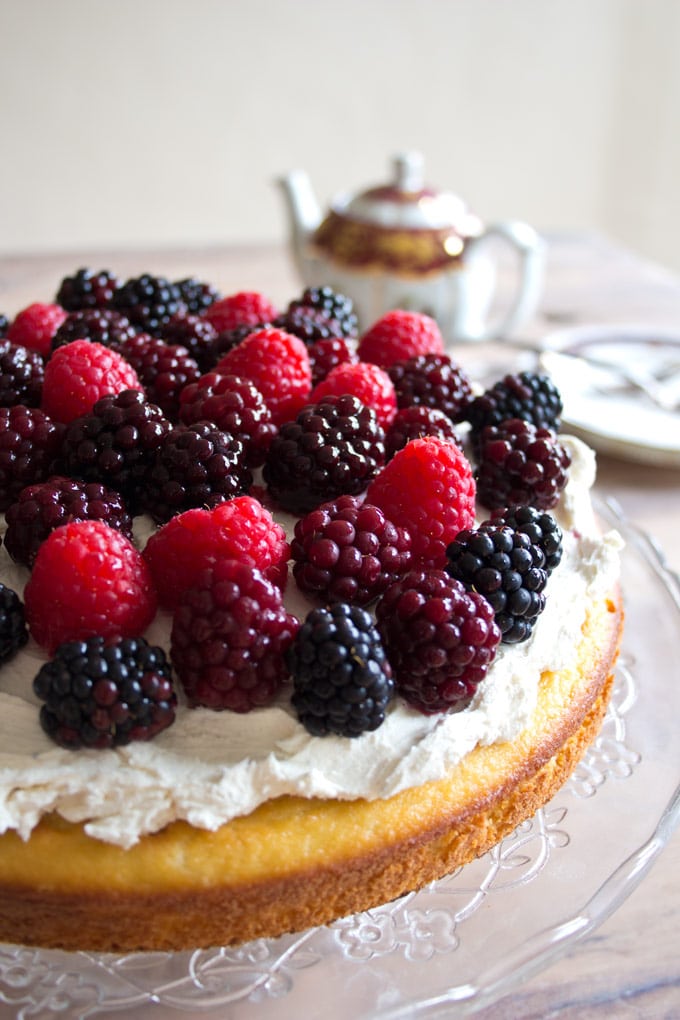 Self-depreciation. We are all good at it here in England because we fundamentally consider it as decent manners. No-one of a sane mind in this country wants to come across as a show-off or as Donald Trump. So when someone pays us a compliment about a new outfit, we'll say something like "Oh, but the shoes really don't match".
Let's say we have our hair done and someone says something nice about it. Our answer? "I had no choice, had to cover the greys" or "It really is so thin and horrible, I can never make it look like my hairdresser does". When we serve food, we're like, "I made this earlier, but you'll probably hate it" or "it did not turn out like I wanted it to".
Rings a bell?
The thing is, it's a very fine line between constant self-depreciation and low self esteem. Because if you put yourself down constantly, you might just end up believing it yourself. I say it's time to forget your inner critic and secret self-doubt and embrace it when others compliment you.
After all, you love that new outfit too – it was you who bought it. Once you found a hairdresser who does your hair the way you like it, you'll be happy when you leave his salon. Thin hair? Not until the next time you wash it. And who cares anyway. But most of all, you KNOW your trusted and tested recipes are awesome.
What is the benefit of denying compliments? To be honest, I cannot see a single one. And consider this: When people have second helpings and you still tell them how horrible your cooking is you end up coming across as fishing for praise. Shock horror!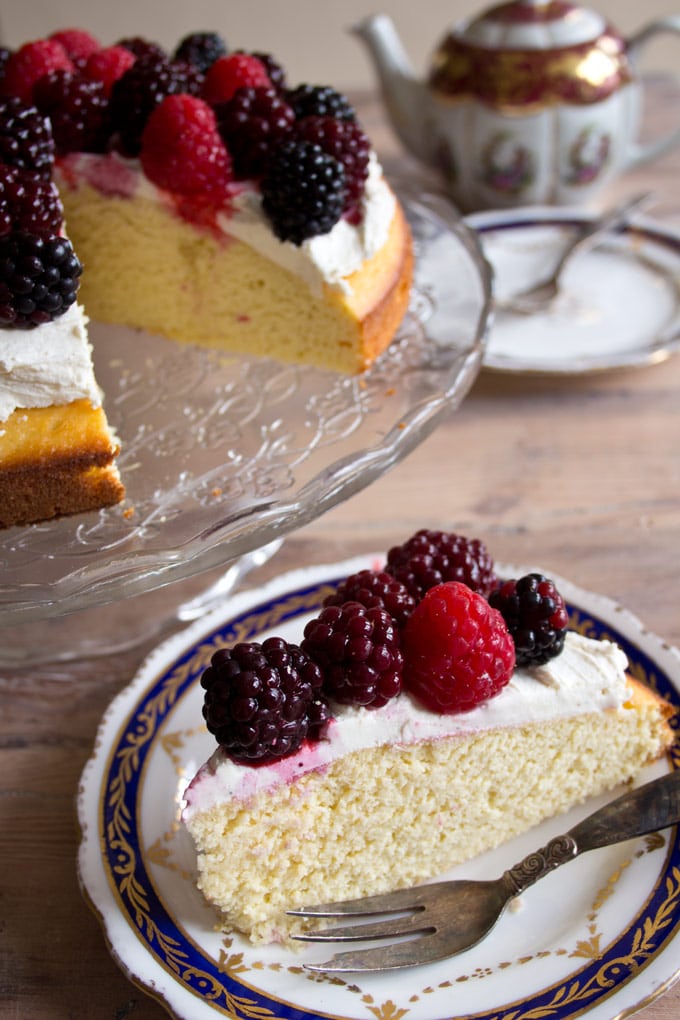 I started thinking about this mostly female dilemma because I baked this healthy almond berry cake and I think is possibly the best cake I ever made. It is moist. And it is satisfying. Even better, it has the most incredible mascarpone icing – why did I ever try to ice a cake with anything else? – and with all the berries on top, it is quite a looker, too.
The sponge is adapted from this muffin recipe by the low carb blog All day I Dream About Food. The reason why the mixture turns out so moist and light at the same time is because it uses yoghurt and only a little bit of butter. Healthy Almond Berry Cake is the mother of all gluten free, low carb, clean eating cakes.
In a perfect world, I would like everyone to make an almond flour cake this week.
Here's the deal. The next time someone compliments you, don't rubbish yourself. Try accepting it with grace. Just enjoy it. And return the compliment. Now that's a win-win. Everybody's happy.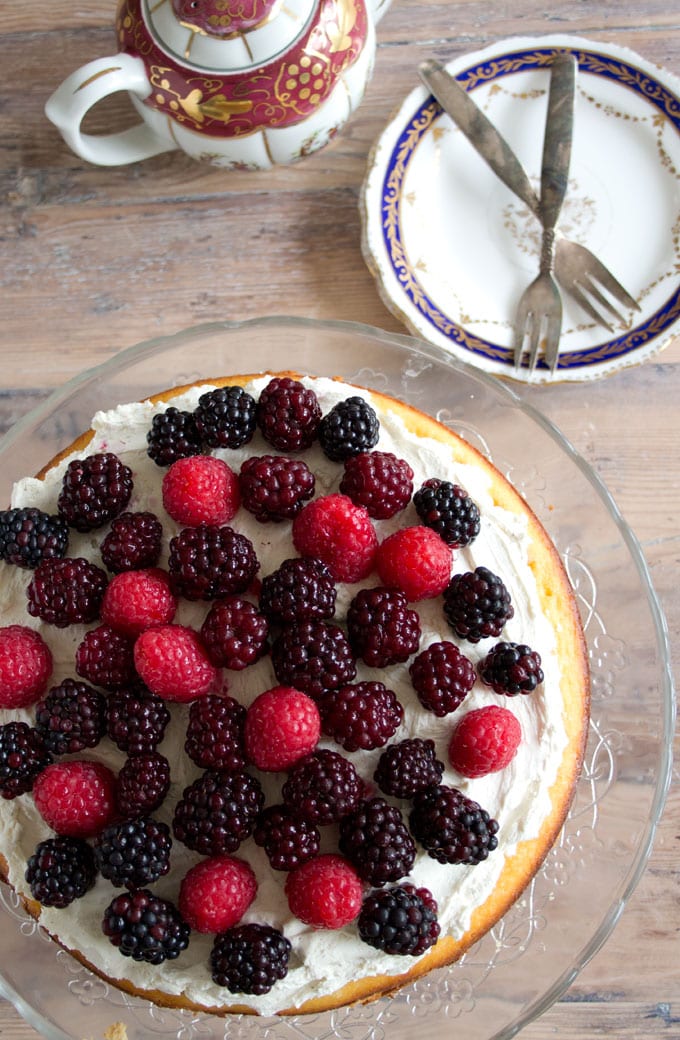 By the way, any compliments on this almond flour cake will be received warmly.
★ Tried this recipe? Give it a star rating below!★
★ STAY IN TOUCH on FACEBOOK, PINTEREST and INSTAGRAM for more great food and join my NEWSLETTER for the latest updates and a FREE EBOOK.★
Almond Flour Cake with Berries and Mascarpone
An incredibly moist almond flour cake with creamy mascarpone icing. Gluten free, low carb, sugar free and so nutritious you could eat it for breakfast.
Ingredients
300

g

natural yoghurt

full fat (1 1/5 cup)

350

g

almond flour

3 1/2 cups

6

medium eggs

4

tbsp

butter

melted

2

tsp

baking powder

3

tsp

vanilla extract

3

tbsp

granulated erythritol

250

g

mascarpone

1 cup

handful of raspberries

150

g

blackberries
Instructions
Preheat the oven to 180 Celsius.

Grease a springform baking tin with butter

Mix your yoghurt, eggs, 2 tsp vanilla and butter well.

Then add the baking powder, ground almonds and 2 tbsp of sweetener.

Bake for ca 30 minutes or until the top is browned and a knife inserted in the centre comes out clean.

Blend the mascarpone cheese with 1 tbsp of sweetener and 1 tsp vanilla

Once the cake has cooled, spread the mixture on top and garnish with berries.
Nutrition Facts
Almond Flour Cake with Berries and Mascarpone
Amount Per Serving
Calories 225
Calories from Fat 160
% Daily Value*
Total Fat 17.8g 27%
Cholesterol 78mg 26%
Sodium 71mg 3%
Potassium 328mg 9%
Total Carbohydrates 8.3g 3%
Protein 9.7g 19%
* Percent Daily Values are based on a 2000 calorie diet.
This post contains affiliate links. If you click on one of these links and purchase a product, I may earn a small commission, at no extra cost to you. Thank you for supporting Sugar Free Londoner.