These super healthy low carb zucchini muffins are a tasty snack or grab & go breakfast. Grain free and sugar free!
These days, I've been thinking about mother's love (bear with me - I'll get to these delish healthy zucchini muffins shortly).
My daughter has just come back from a week long school trip abroad, during which I made worrying one of my favourite pastimes. The 11-hour-long bus trip. Caving. Rock-climbing. Kayaking through rapids. Imagine all the things that could have happened!
Friends, I always thought I was a cool mom (most of the time, at least). And while I tried to keep up that relaxed facade, deep down I did not like her being away one little bit.
Not cool at all.
On a rational level it's obvious that kids need to find their own way, grow more independent each day and our job as mothers and parents is to let go bit by bit. I remember well those times I used to claim more freedom than I was given when I grew up. When the world starts to open up, you are growing into yourself and you just cannot wait to get older, life just keeps on getting better.
No-one had prepared me that growing up is way more difficult for parents than it is for children! On the one hand, the enjoyment and pride of seeing your child mastering life is immense. But there is this darn bittersweet tinge that you just feel you shouldn't have lurking in the background. That's the uncool bit us wannabe cool moms try to hide from them. Let's call it the clingy-clucky-mom-reflex. It can be rather overwhelming!
Obviously, there is another way to channel your unconditional mother's love - through food. Good food!
Maybe that's why I made low carb zucchini muffins today.
They are basically super duper healthy muffins injected with an extra dose of mother's love - in the form of grated zucchini.
As my regular readers will know well, my muffin pan sees a lot of action. Some of my breakfast favourites are these grab & go low carb muffins and my chocolate banana muffins. I love pure egg muffins such as my slightly confusingly named spinach & chive mini quiches or these chorizo egg muffins. Don't get me started on the dessert front - the list would be endless.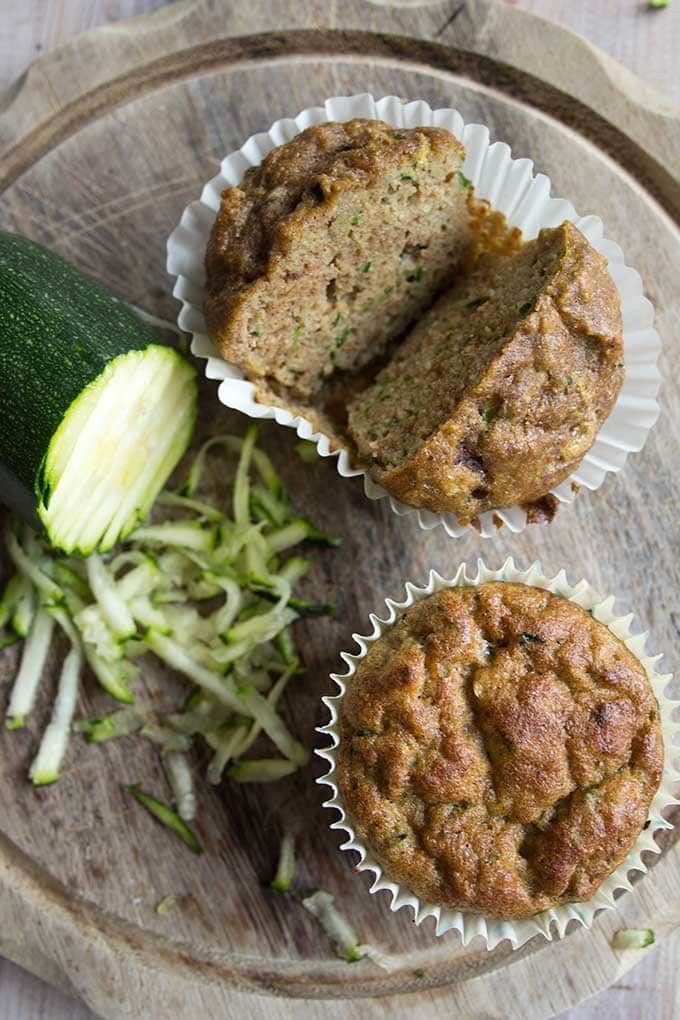 Low carb zucchini muffins are the bomb!
Zucchini aka courgette is such an easy-going veggie. I love it in salads, sliced and fried in a little oil and garlic as a side and I hide it in practically any tomato-based sauce.
Its slightly sweet, unassuming taste makes it a perfect ingredient in muffins. It gives just the right amount of moisture and, weirdly, FRESHNESS. Not sure whether this is because of KNOWING I'm eaten a vegetable or whether the individual taste is actually shining through. Plus, you get the added benefit of feeling slightly smug/clever for adding a veggie into the mix, a bit like when you make chocolate avocado ice cream.
Baker's Top Tips
I use cinnamon and nutmeg in this recipe, which works really well. Don't miss out the nutmeg (unless you truly detest the taste of it). Whilst the zucchini is the secret star, it's the nutmeg that seeks attention - in all the right ways. I got the idea from this paleo coconut zucchini bread recipe from Detoxinista.
In my first attempt, I used less coconut flour. If you do this, you'll get a lighter muffin that tastes good, but is ever so slightly on the eggy side.
To get your muffin lighter, you can also separate the eggs, whip up the egg whites and fold them in after mixing the rest of dough.
And one more note - if you have kids with a keen anti-vegetable radar, simply peel the skin off before grating the zucchini. That way you don't see the tell-tale green specks when you dig in.
Healthy zucchini muffins - that's clever mother's love!
Don't miss my Keto zucchini bread - it's made with almond flour instead of coconut flour.
★ Tried this recipe? Give it a star rating below!★
★ STAY IN TOUCH on FACEBOOK, PINTEREST and INSTAGRAM for more great food and join my NEWSLETTER for the latest updates.★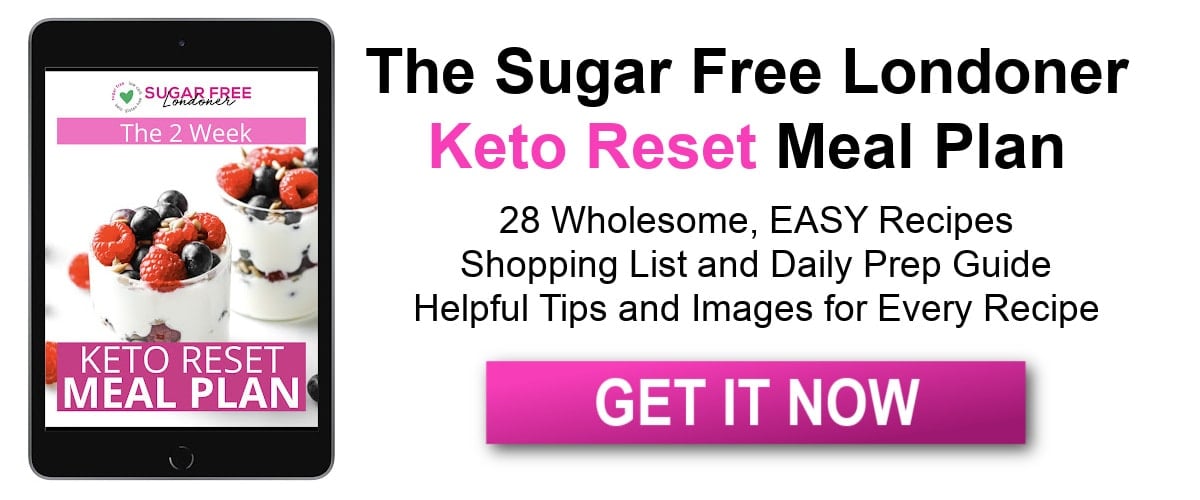 Low Carb Zucchini Muffins
from sugarfreelondoner.com
Low carb zucchini muffins are a tasty snack or grab & go breakfast. Grain free and sugar free.
Note: The servings slider only changes the first amount in each line and not any subsequent amounts. Please make your own calculations where necessary. ***As an Amazon Associate I earn from qualifying purchases.
Instructions
Preheat the oven to 180 Celsius/350 Fahrenheit.

Grate the zucchini and melt your coconut oil in a pan or the microwave. If you do not want to see green specks in your muffins, peel the zucchini first. There is no need to squeeze any liquid out of the zucchini.

Beat the eggs with an electric mixer or in a food processor until pale and about double in size. This takes around 3 minutes.

Add all other ingredients except the zucchini and mix well.

Stir in the zucchini.

Line a muffin pan with paper cups and fill each cup with the dough.

Bake at 180 Celsius for 25-30 minutes or until lightly browned on top and a skewer inserted comes out clean.
Notes
2.8g net carbs per muffin. Makes 8 muffins. 
Suitable for freezing. Store in the fridge for up to 5 days or freeze for up to 3 months. 
Nutrition
Calories:
175
kcal
Total Carbohydrates:
6.6
g
Protein:
5.7
g
Fat:
13
g
Saturated Fat:
9.5
g
Cholesterol:
122
mg
Sodium:
68
mg
Potassium:
102
mg
Fiber:
3.8
g
Sugar:
1.2
g
(This post may contain affiliate links. When you click on a link like this and purchase a product, I receive a small commission – at no extra cost to you. This money helps me with the running costs of my site.)