These super healthy low carb zucchini muffins are a tasty snack or grab & go breakfast. Grain free and sugar free!
My daughter is away on a week long school trip abroad, and worrying has been one of my favourite pastimes. The 11-hour-long bus trip. Caving. Rock-climbing. Kayaking through rapids.
I've had to find a way to distract myself and channel my unconditional mother's love sensibly - through baking!
Since I had a big bag of zucchini in the fridge, I decided to make a batch of keto zucchini muffins.
Best idea of the day!
😍Why you'll love them
These coconut flour zucchini muffins are such a treat. They are
moist yet fluffy
perfect as a nutritious breakfast or snack
gluten-free
low in carbs - only 2.8g net carbs per muffin
easy to make even for baking novices
ready in just 35 minutes!
🛒Ingredients
Here are the ingredients you'll need to make the recipe:
Coconut flour - Coconut flour is high in fiber and low in carbs. It also absorbs more moisture than any other grain free flour. This means a little goes a long way, and your pack of coconut flour is going to last you a long time.
It's always best to measure coconut flour with digital scales rather than in cups. It is more exact and will yield a better result.
Zucchini - Can be used with or without the skins.
Eggs - I used 6 medium eggs, but you could use 5 large eggs. Make sure they are room temperature.
Coconut oil - This could be substituted with butter.
Low carb sweetener - Any granulated sugar substitute works. I like using erythritol monk fruit sweetener blends (a brown sugar substitute such as Lakanto Gold would be delicious), but you can also use other sweetener such as xylitol, allulose, Swerve or Bocha Sweet.
Baking powder - Always check that it is fresh to ensure a good rise.
Spices - I used cinnamon, nutmeg and vanilla extract.
👩‍🍳Instructions
It's just a few simple steps to make keto zucchini muffins:
Grate the zucchini and set aside.
In a large mixing bowl, beat the eggs until pale and about double in size. This takes around 3 minutes.
Add all other ingredients and mix until combined.
Stir in the shredded zucchini.
Fill into a muffin tin lined with paper cups
Bake in the oven until lightly browned on top and a skewer inserted comes out clean.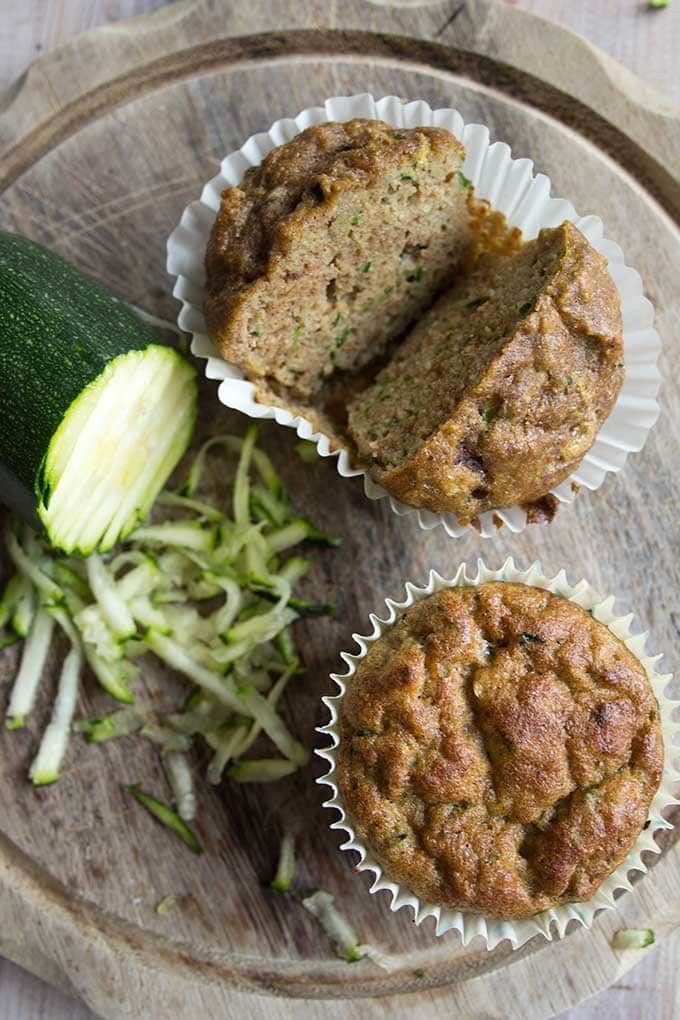 ❓Frequently asked questions
Are zucchini keto?
Yes, zucchini is keto friendly. Zucchini contains just over 3 grams of carbohydrates per 100 grams. It is a very versatile low carb vegetable and I eat it regularly. You can cook, fry and grill it and I even use it to thicken sauces.
When you add zucchini to cake or muffin batter, you'll end up with a most wonderful moist result.
You'll also add additional nutrients to your bakes. It's a double win!
Don't I need to squeeze out the zucchini liquid?
This is the best part about the recipe: You do not need to squeeze the excess water from the zucchini!
Zucchini is a watery vegetable. This is why most zucchini muffin recipes require that you put the grated zucchini into a cheesecloth or a dish towel and squeeze as much of the water out as possible.
However, I have found the perfect ratio of coconut flour to zucchini. My low carb zucchini muffins have a light and fluffy texture WITHOUT this step.
It makes this recipe so easy and much, much quicker.
Can I bake the batter in a loaf pan?
Yes. Line the loaf pan with parchment paper and bake for around 40-50 minutes.
✅Recipe tips
Peeling the zucchini is optional. I did not bother. However, if you have kids with a keen anti-vegetable radar, simply peel the skin off before grating. That way you don't see the tell-tale green specks when you dig in.
Whip the egg whites for an even lighter muffin. Separate the eggs and whip the egg whites to stiff peaks. Then, fold the egg whites in after mixing the rest of muffin batter. This means you'll have more air bubble in the batter and the muffin texture will be lighter.
Use all the spices. I use cinnamon and nutmeg in this recipe, which works really well. Don't miss out the nutmeg. Whilst the zucchini is the secret star, it's the nutmeg that seeks attention - in all the right ways. I got the idea from this paleo coconut zucchini bread recipe from Detoxinista.
🔄Swaps
Almond flour zucchini muffins
You'll need to use around 3 x more almond flour than coconut flour as it absorbs less moisture. Note that I have not tried this myself yet.
Savoury zucchini muffins
It's easy to make this recipe savoury! Simply omit the sweetener, cinnamon and nutmeg and replace it with pinch of salt, black pepper and grated cheese or nutritional yeast. Spices such as turmeric or herbs like thyme or rosemary would also work well.
Optional add-ins
How about jazzing up your keto zucchini muffins with sugar free chocolate chips and crushed nuts such as walnuts, hazelnuts or pecans?
You could even add a tablespoon of lemon juice and lemon zest plus a handful of blueberries.
⏲Storage
Refrigerator: I like to store these muffins in the fridge for up to 5 days.
Freezer: You can also freeze them for up to 3 months. Freeze on a tray so they do not stick. Then, transfer to a freezer bag.
Thawing and reheating: Defrost overnight in the fridge or on the kitchen counter. Option to gently reheat in the microwave on a low power level.
More keto zucchini recipes
First of all, don't miss my Keto zucchini bread - it's made with almond flour instead of coconut flour. And here are my favourite savoury low carb zucchini recipes:
Keto Zucchini Grilled Cheese Sandwich
Crispy Baked Keto Zucchini Fries
Unmissable keto muffin recipes
★ Tried this recipe? Give it a star rating below!★
★ STAY IN TOUCH on FACEBOOK, PINTEREST and INSTAGRAM for more great food and join my NEWSLETTER for the latest updates.★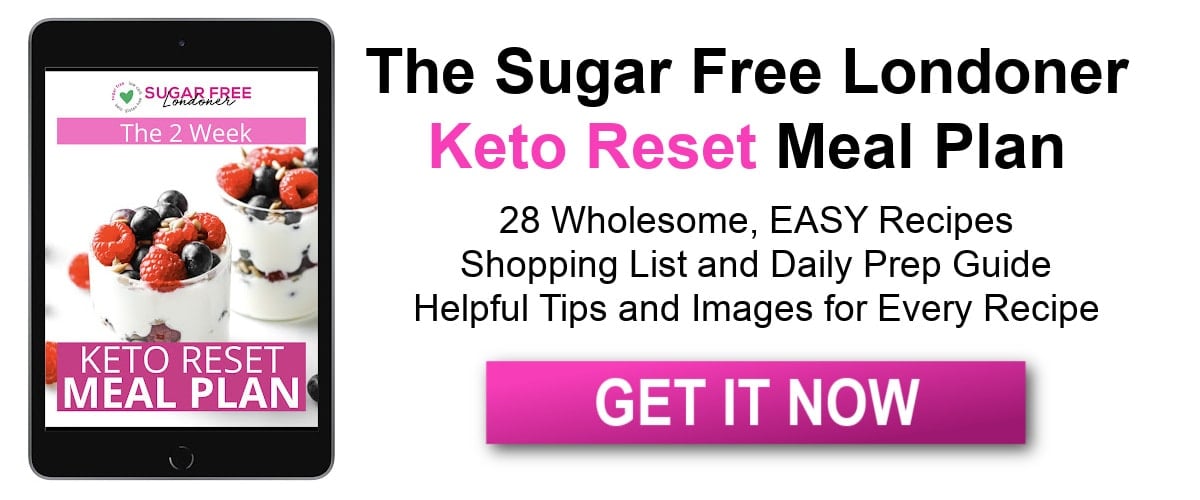 Low Carb Zucchini Muffins
from Sugar Free Londoner
Low carb zucchini muffins are a tasty snack or grab & go breakfast. Grain free and sugar free.
Note: The servings slider only changes the first amount in each line and not any subsequent amounts. Please make your own calculations where necessary. ***As an Amazon Associate I earn from qualifying purchases.
Instructions
Preheat the oven to 180 Celsius/350 Fahrenheit.

Grate the zucchini and melt your coconut oil in a pan or the microwave. If you do not want to see green specks in your muffins, peel the zucchini first. There is no need to squeeze any liquid out of the zucchini.

Beat the eggs with an electric mixer or in a food processor until pale and about double in size. This takes around 3 minutes.

Add all other ingredients except the zucchini and mix well.

Stir in the zucchini.

Line a muffin pan with paper cups and fill each cup with the dough.

Bake at 180 Celsius for 25-30 minutes or until lightly browned on top and a skewer inserted comes out clean.
Notes
2.8g net carbs per muffin. Makes 8 muffins. 
Suitable for freezing. Store in the fridge for up to 5 days or freeze for up to 3 months. 
Nutrition
Calories:
175
kcal
Total Carbohydrates:
6.6
g
Protein:
5.7
g
Fat:
13
g
Saturated Fat:
9.5
g
Cholesterol:
122
mg
Sodium:
68
mg
Potassium:
102
mg
Fiber:
3.8
g
Sugar:
1.2
g
(This post may contain affiliate links. When you click on a link like this and purchase a product, I receive a small commission – at no extra cost to you. This money helps me with the running costs of my site.)