This zucchini grilled cheese sandwich is extra cheesy and secretly healthy. How? Because the bread in the recipe is made with grated zucchini! A deliciously satisfying lunch or simple dinner.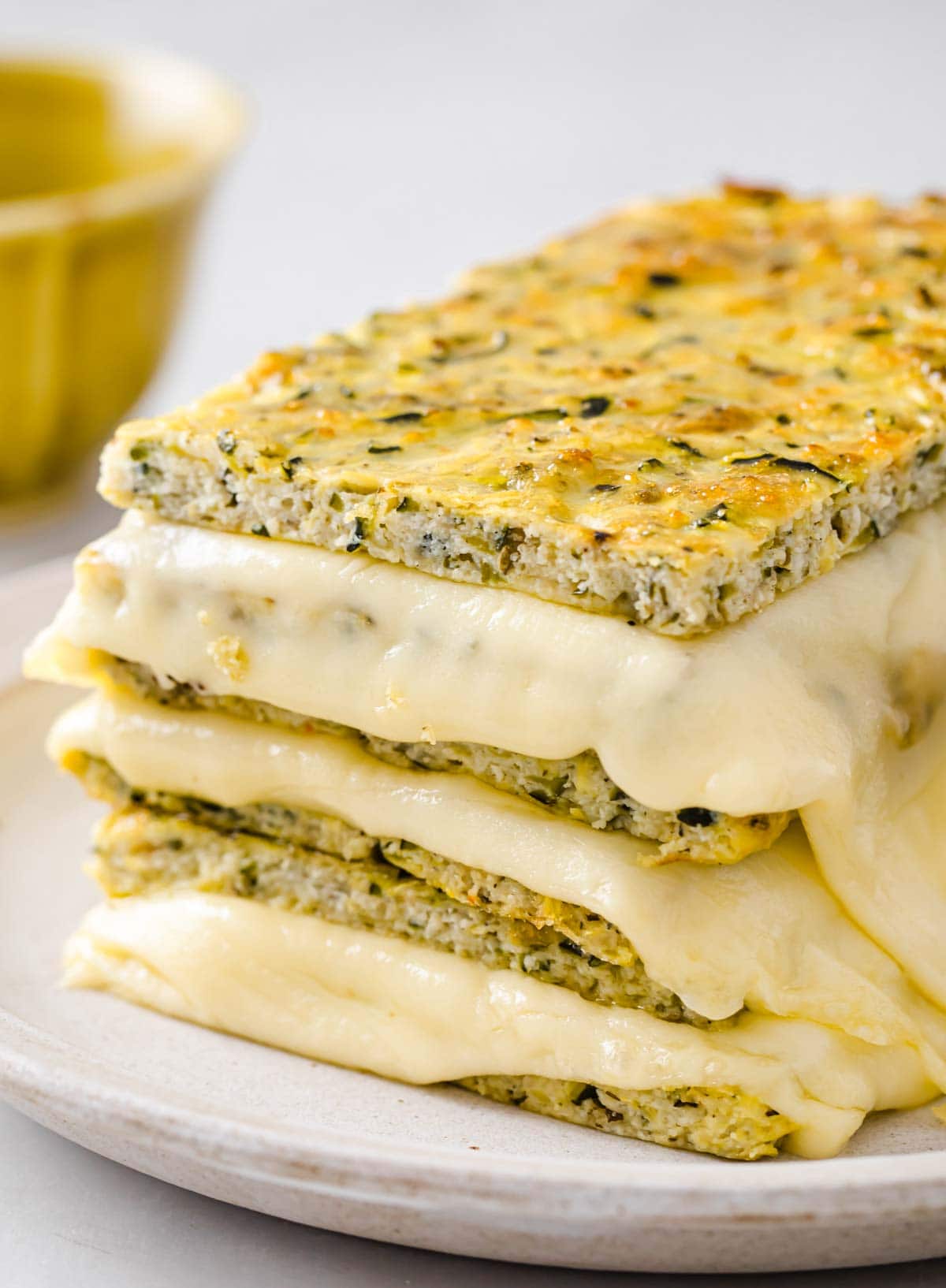 Zucchini grilled cheese is a fun and easy recipe for those days when you have a few zucchini to use up.
We all know that it is healthier to eat vegetables rather than bread. However, there is nothing like a crusty, cheesy sandwich, right?
And this is what I love about the recipe. We don't need white sandwich bread to make a grilled cheese sandwich. I'm going to show you how to make a quick, tasty zucchini bread that is packed with goodness.
These crispy sandwiches make a filling lunch or simple dinner. You could absolutely add in ham, parma ham, pepperoni, cooked bacon or chorizo as well!
Jump to:
🌟 Why You'll Love This Recipe
Healthy! This sandwich is nutritious and allergy-friendly. The homemade bread is gluten-free, grain-free and naturally keto.
Satisfying! The bread has fluffy, crispy texture and is packed with flavor. Plus, it is filled with lots of gooey melted cheese.
Family-friendly! This is a great way to add extra veggies to your diet, and kids enjoy them, too. My children always ask for seconds. It's easy to meal prep a large batch, so you can have yummy, healthy sandwiches on tap.
Ingredients
Here are the ingredients you'll need for a healthy zucchini grilled cheese:
Zucchini - Make sure they are fresh.
Eggs - I always use large eggs in my recipes, this one included.
Almond flour - I use ground almonds, which is the same as regular almond flour in the US. Super fine almond flour also works.
Grated parmesan cheese - We are adding this to the zucchini bread dough for additional flavour.
Seasonings - Italian herbs, garlic powder, onion powder, salt and pepper.
Cheese of choice - For the melted cheese filling. I used pre-sliced cheddar cheese.
Instructions
Let's get started with the recipe! It is really easy to make grilled cheese with zucchini bread.
This section contains step-by-step instructions and photos that show how to make this recipe. See the recipe card for full information on ingredients and quantities
STEP 1
Grate the zucchini either in a food processor or with a box grater.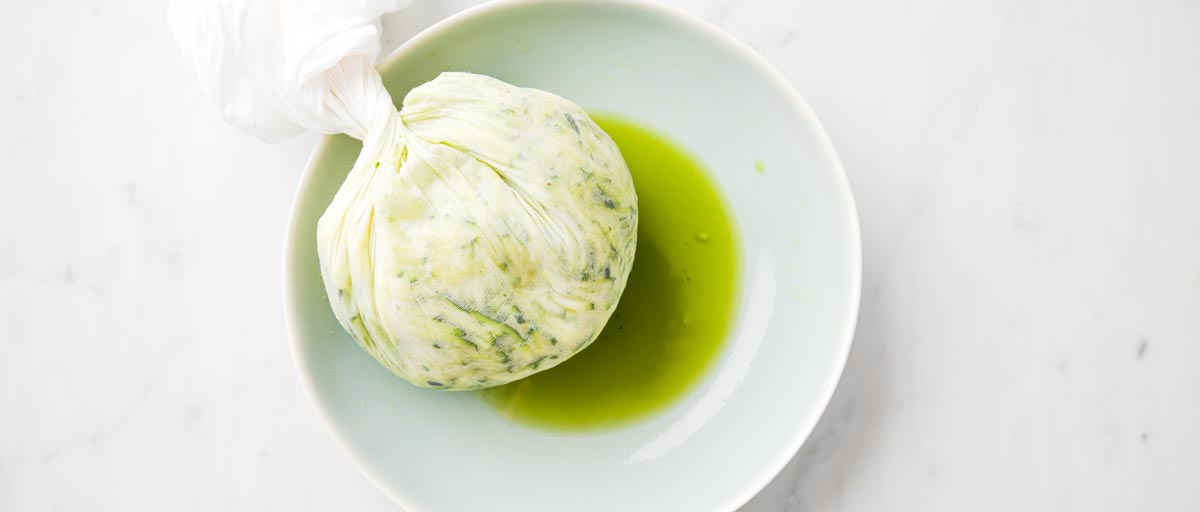 STEP 2
Place the zucchini into a muslin cloth or fine tea towel and squeeze out the water. Drain the water.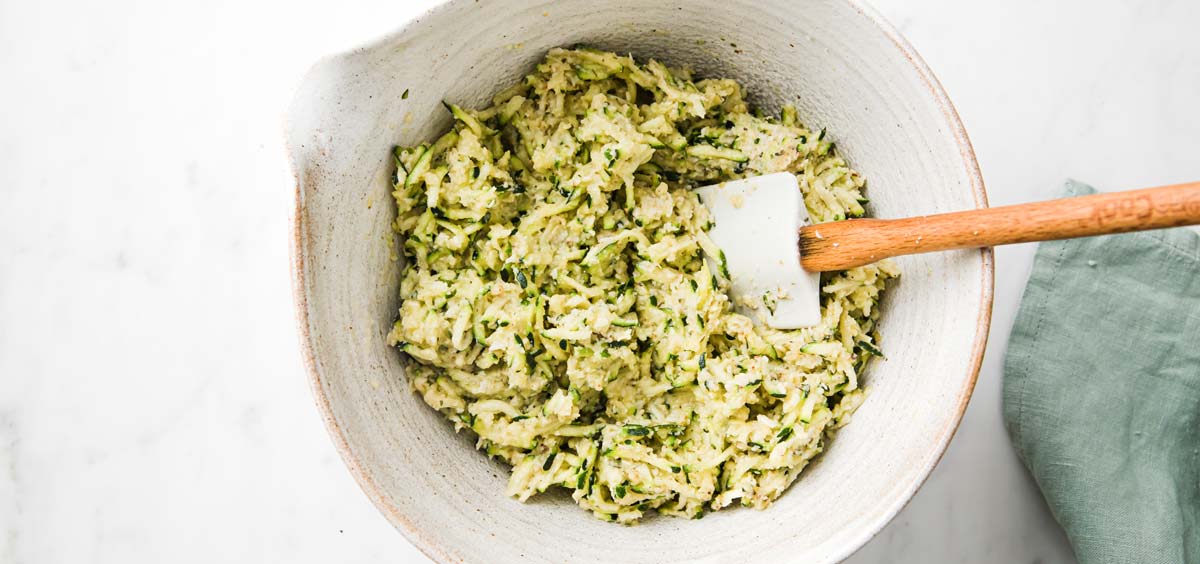 STEP 3
Combine the zucchini in a mixing bowl with the eggs, almond flour, parmesan, spices and seasoning.
STEP 4
Press the zucchini mixture into your baking pan so it is level and about ¼ inch thick. Bake until golden.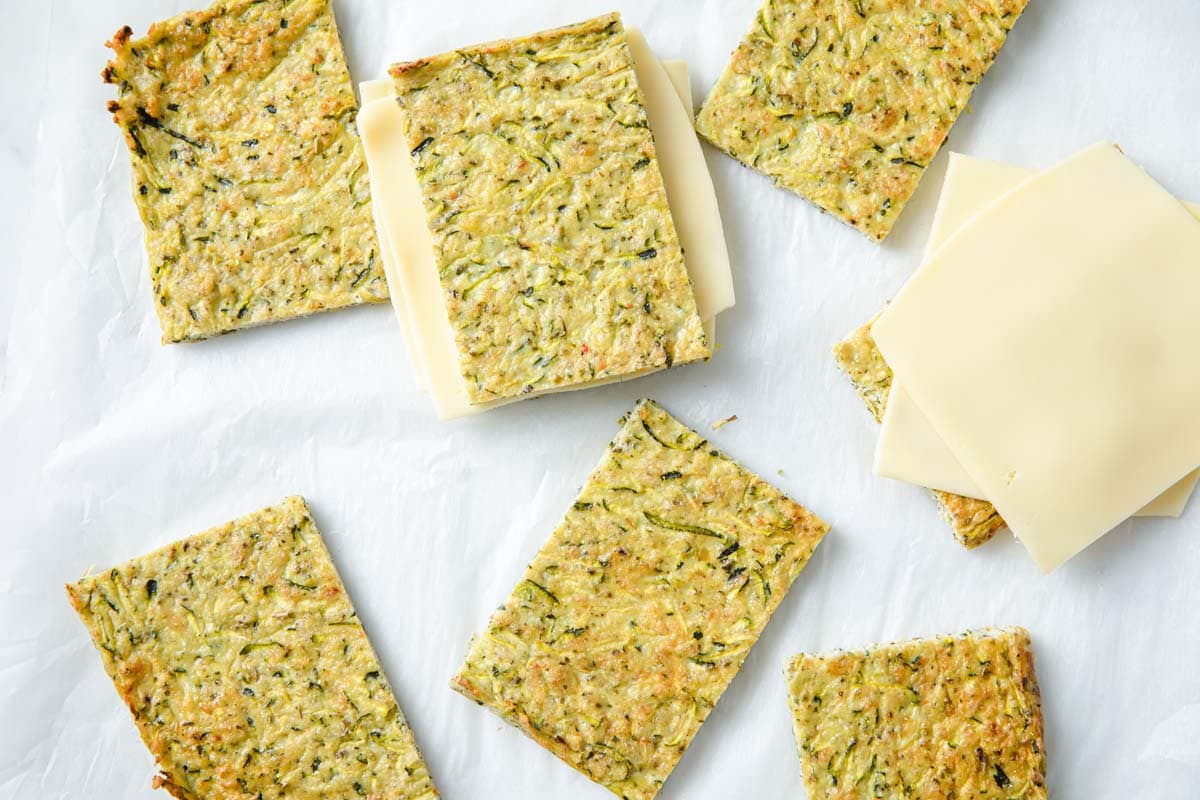 STEP 5
Slice the bread into 8 squares. Place cheese in the middle of the base and grill until it has melted. Top with the other slice and serve.
Expert Tips
Squeeze as much water as possible out of the zucchini. Squeeze, and squeeze some more! You should end up with roughly 3 US cups of grated zucchini.
For the best stringy cheese filling, pre-sliced cheese works best. I went for a cheddar because I like its salty taste, but gouda would also work well. Or use mozzarella, it makes the stringiest grilled cheese ever.
Recipe FAQs
How do I make a dairy-free version?
To make this recipe dairy free, replace the parmesan cheese with nutritional yeast and choose a vegan sliced cheese.
Can I make zucchini grilled cheese in a frying pan?
Yes. Form patties with the zucchini dough and fry these first. Fry them from both sides over medium heat until they are golden brown. Then, add a slice of cheese between 2 patties. Turn down the stove to low heat and put a lid on the pan. Let the sandwiches sit until the cheese filling has melted.
Can I use cauliflower instead of zucchini?
Yes, you can make the recipe with cauliflower. Break the cauliflower into florets and steam or microwave until tender. Then, squeeze all liquid out of the cauliflower and proceed as per the recipe.
How do I make the recipe nut-free?
Replace the almond flour with ⅓ the amount of coconut flour.
Variations
This grilled cheese recipe is a starting point for endless flavour variations.
Cheese
First of all, you can mix up the cheese. Provolone, Gruyere, Edam and Gruyere all melt well. Or how about adding Camenbert, Brie or Roquefort for a more grown-up sandwich?
Meat
Next up, feel free to add any deli meat of your choice. I am thinking salami, parma ham, chorizo, grilled chicken or even pulled pork.
Vegetables
Of course, there is always the option to add more vegetables to a grilled cheese sandwich, even one that already contains a veggie in the bread!
Grilled red peppers or eggplant slices are wonderful in any sandwich, this one included. Or, add sliced tomatoes, avocado, finely diced red onion, cucumber slices and of course, lettuce leaves.
Condiments
Since we are discussing fancy zucchini grilled cheese sandwiches right now, let's go the whole 9 yards and add condiments. Pork or salami pair well with Dijon mustard. Mayonnaise complements any melted cheese sandwich.
If you are brave enough for a fiery kick, add a splash of hot sauce!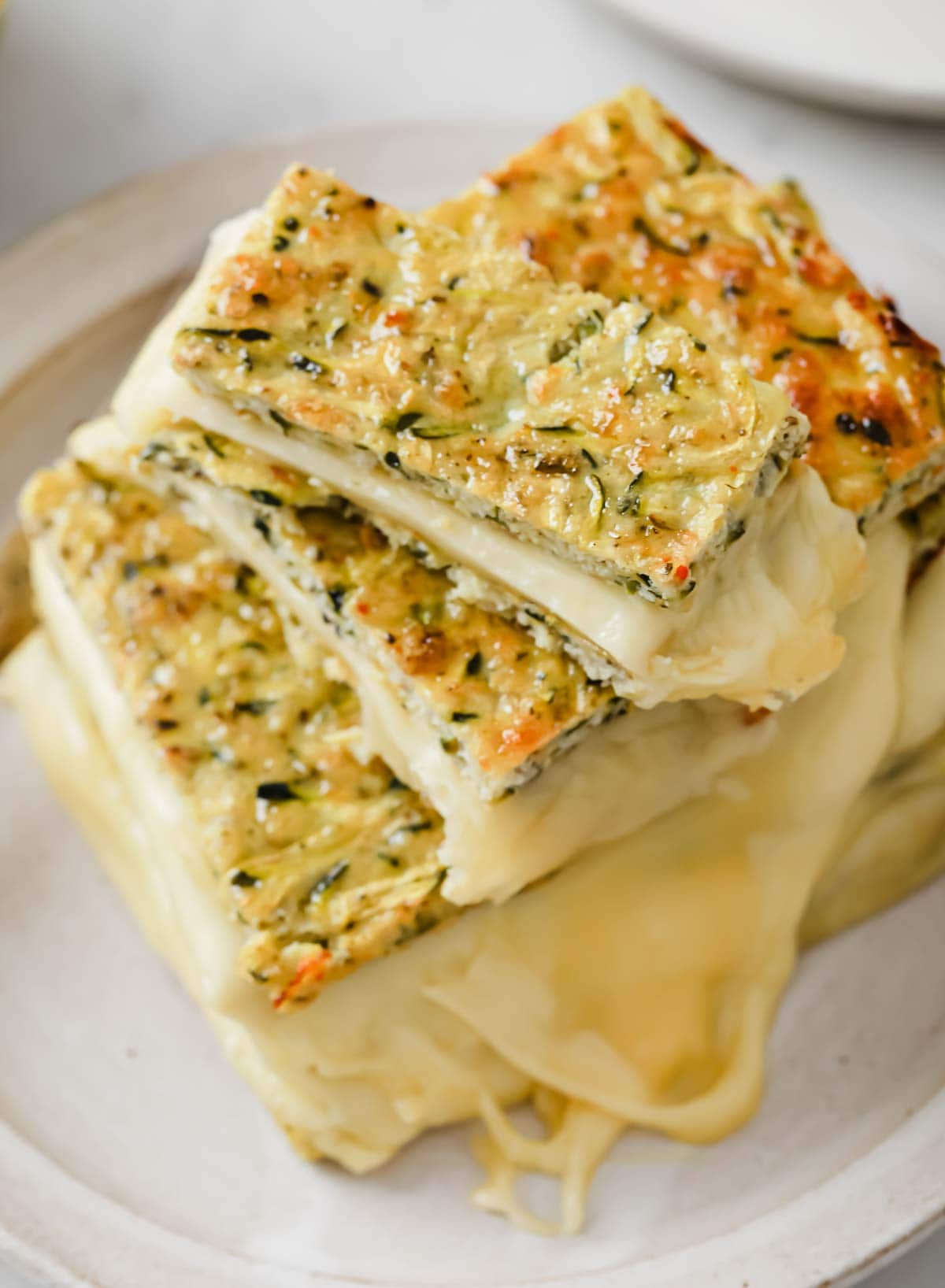 Serving Suggestion
The best dish to pair with this zucchini grilled cheese is soup. For a filling and satisfying lunch, I recommend trying it with my low carb tomato soup or this keto mushroom soup.
During Spring and Summer, I also enjoy it with a salad. Either make a crisp green salad or try this keto Caesar salad!
Storage
Fridge: Store any leftovers in an airtight container in the refrigerator for up to 3 days. It helps to place the sandwich on paper towels to absorb any excess moisture.
Freezer: It is possible to freeze this bread for up to 3 months.
Reheating: The bread loses its crispness in the fridge. That's why I recommend reheating leftover zucchini grilled cheese in the oven or in a frying pan. This way, the cheese in the middle can melt again and the zucchini bread crisps up nicely.
If you are storing the zucchini bread without the cheese, you can simply pop the bread in the toaster for a bit to crisp it up. Then, add the cheese and grill until the cheese has melted.
More Healthy Bread Recipes
Tried this recipe? Give it a star rating below!
★ STAY IN TOUCH on FACEBOOK, PINTEREST and INSTAGRAM  for more great food and join my NEWSLETTER for the latest updates and a FREE EBOOK.★ 
Recipe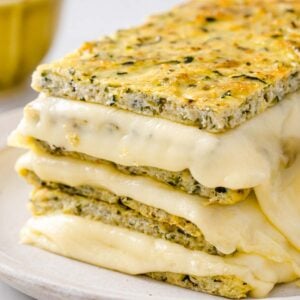 Zucchini Grilled Cheese
from Sugar Free Londoner
If you're partial to a good grilled cheese, then this zucchini grilled cheese sandwich is a must-make! Instead of bread, we're using a zucchini and egg combination slice that's super tasty. Sandwiched in between is melted cheese. Yum and healthy at the same time.
Note: The servings slider only changes the first amount in each line and not any subsequent amounts. Please make your own calculations where necessary.
Ingredients
3

zucchini

600g - roughly 3 grated cups after squeezing

2

eggs

large

⅔

cup

almond flour

67g

½

cup

grated parmesan

30g

1

tablespoon

Italian herbs

¼

teaspoon

garlic powder

1

teaspoon

onion powder

½

teaspoon

salt

¼

teaspoon

ground black pepper

7

oz / 200g

grated mozzarella or cheddar / gouda / gruyere slices
Instructions
Preheat oven to 200C / 180 fan / 400F. Line a large baking tray with parchment paper. Dimensions 30 x 23 x 2 cm.

Grate the zucchini either in a food processor or by hand. Place into a muslin cloth or fine tea towel and squeeze out the water. Discard the water.

Add the compressed zucchini to a mixing bowl along with the eggs, almond flour, parmesan, spices and seasoning. Mix until all ingredients are thoroughly combined.

Press the zucchini mix into your baking tray so it is level and about ¼ inch thick.

Bake for 20 - 25 minutes or until golden on top. Remove from the oven and tray and allow to cool slightly.

Slice into 8 squares (4 bases and 4 tops). Place cheese in the middle of the base and grill for about 30 - 60 seconds or until melted. Top with the other slice and serve. Option to pop the top on and grill that too for about 30 seconds to warm through but careful not to burn it.
Notes
6.9g net carbs per grilled cheese sandwich. Makes 4 sandwiches. 
Make sure you squeeze out as much water as possible. This will make the 'bread' nice and firm.
Cheese slices work best for the middle. Mozzarella, cheddar and gruyere all melt well.
Storage: The zucchini "bread" can be stored in the fridge for up to 3 days. Best to melt the cheese fresh.
Nutrition
Calories:
372
kcal
Total Carbohydrates:
10.5
g
Protein:
23.9
g
Fat:
27.3
g
Saturated Fat:
11.6
g
Fiber:
3.6
g
Sugar:
5.8
g