Enjoy scrumptious keto French toast made from scratch in just 10 minutes! This low carb French toast is perfect for a leisurely sugar free breakfast or brunch.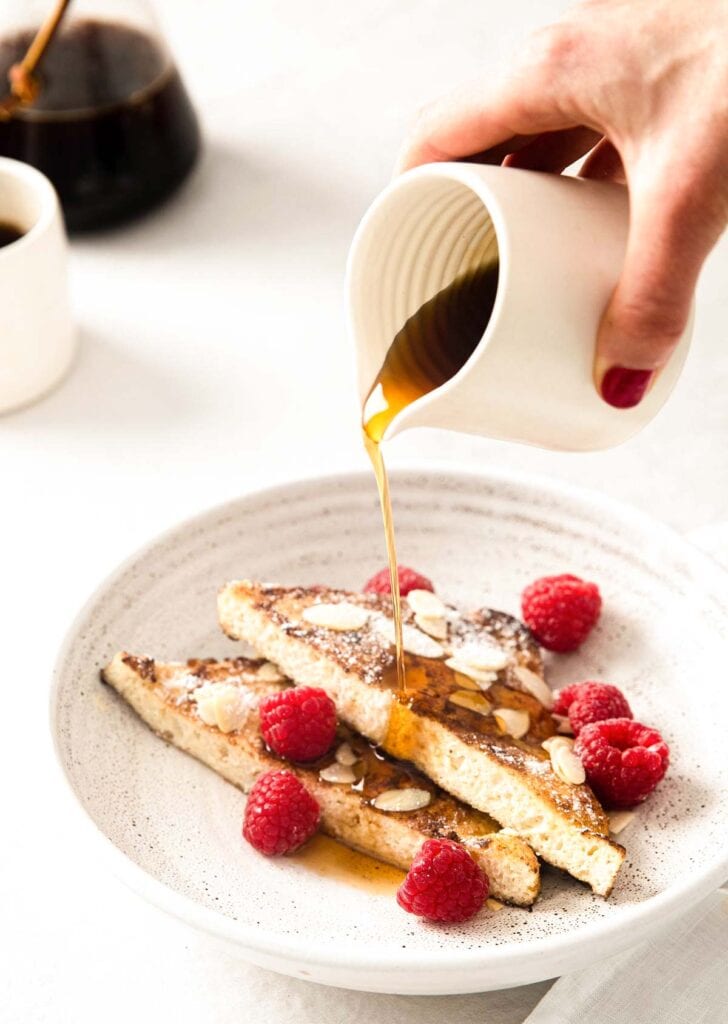 During the week, I like to keep my breakfast simple. Sometimes it's just a cup of coffee and sometimes I may add a quick bowl of low carb porridge or this granola with yoghurt.
But weekends are different. We take our time in the mornings and then have a proper treat. Have you tried my keto pancake recipes? These almond flour pancakes are amazing (just read the reader comments!!) and my coconut flour pancakes are out of this world fluffy.
But now I have a new passion: easy keto French toast! You'll be pleased to hear that this recipe is not only crazy delicious, but also SO SIMPLE. Because we're using my 90 second keto bread! You make it in the microwave in, you guessed it, 90 seconds flat.
The bread is super soft and has large air pockets, which soak up the egg mixture like a dream!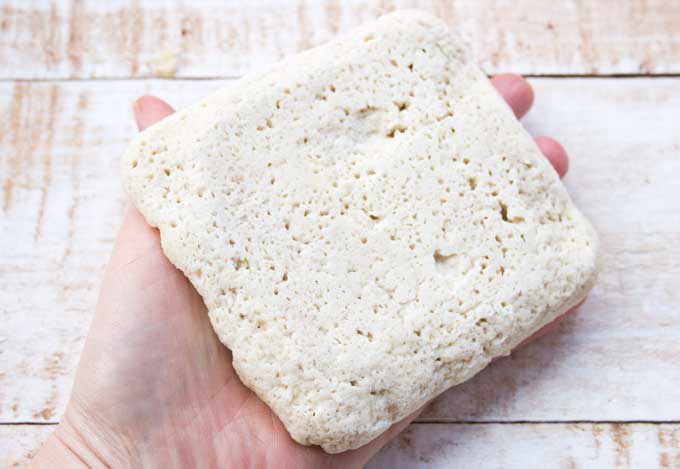 Carbs in French toast
Regular homemade French toast is a double whammy in terms of carbs. First, there's the carbs from the wheat bread, plus the sugar required to make the toast taste sweet and yum. One portion can easily contain 36g of carbs.
My low carb keto microwave bread uses almond flour instead of wheat. Almond flour is incredibly nutritious and low in carbs. Read more about the benefits of almond flour here.
And of course, we're using sugar free sweetener instead of table sugar. This way, we're reducing the net carbs in this low carb French toast recipe to just 4.7g net carbs!
And let me tell you, the portion size is GENEROUS.
How to make keto French toast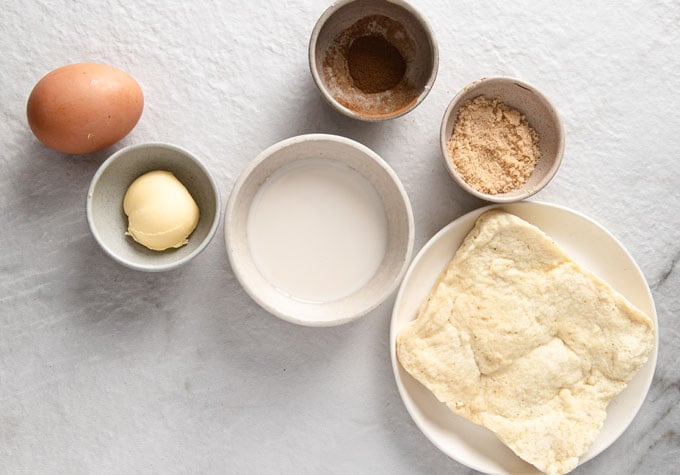 First, make a thick slice of my 90 second keto bread. A 5 x 5 inch container works well for this.
This gluten free bread contains almond flour, psyllium husk powder, egg white, baking powder and water. That's it!
Note - I decided to double the ingredients in the original recipe to get an extra thick slice of keto bread. The microwave time remains the same - 90 seconds.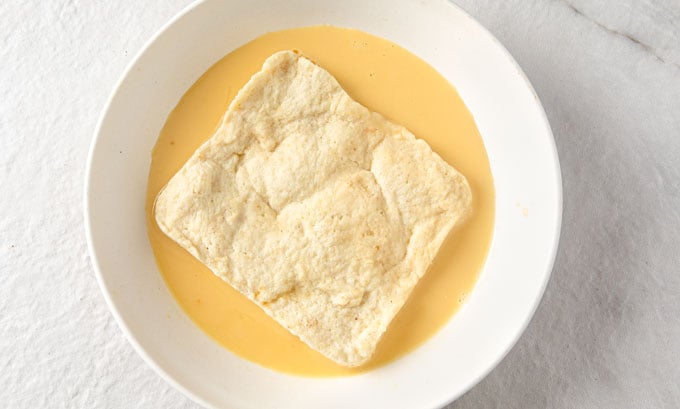 Now stir together the egg mixture - one whisked egg and almond milk. Dunk the bread into the mix so it's coated everywhere.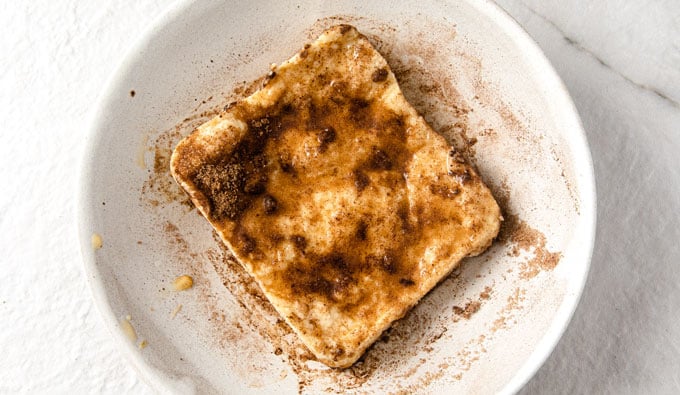 After that, sprinkle it all over with brown erythritol (I like Lakanto Golden, Sukrin Gold or SoNourished) and cinnamon...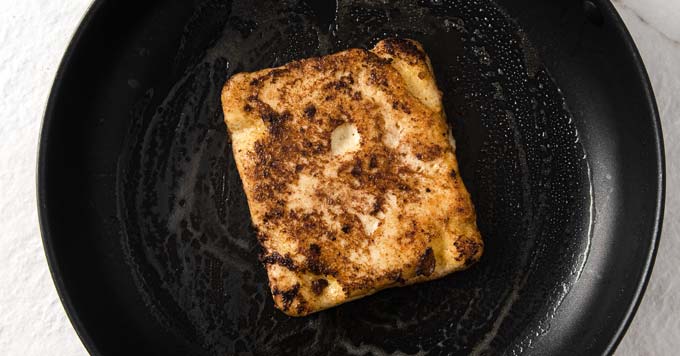 ...and fry it in a skillet or non stick frying pan with butter. Be sure to keep the heat low to avoid burning!
How to serve low carb French toast
Here are some ideas how you could enjoy your keto low carb French toast:
dust with powdered sweetener
pour over sugar free syrup (I like the Lakanto sugar free maple syrup)
add a knob of butter or heavy whipping cream
top with ¼ cup of berries - blueberries, raspberries, blackberries or strawberries
douse in keto caramel sauce
sprinkle over more golden erythritol and cinnamon
add slivered almonds or other nuts!
90 second French toast variations
So many possibilities! How about cutting your toast slice into sticks before frying and make keto French toast sticks? That way you would get more sweet and crunchy edges. (My plan for next time!)
Serving a larger crowd? Quadruple the bread recipe and make a keto French toast loaf bake! Slice the bread and butter it. Place in an oven proof dish and pour over the egg mix. Then bake in the oven for about 15-20 minutes at 180 Celsius / 350 Fahrenheit until the egg is set and the top is browned.
If you don't have a square toast-sized container, you can also make the 2 batches of 90 second keto bread in 2 ramekins or mugs. Then slice each in half and continue, making smaller keto french toast.
Recipe tweaks
On a nut free diet? You can replace the almond flour in the toast with 2 tablespoon coconut flour.
The egg mix can be made richer by replacing the unsweetened almond milk with double / heavy cream.
Add 1 teaspoon vanilla extract to the egg mixture.
For a different flavour, add a pinch of nutmeg or cardamom.
More keto breakfast ideas
Tried this recipe? Give it a star rating below!
★ STAY IN TOUCH on FACEBOOK, PINTEREST and INSTAGRAM for more great food and join my NEWSLETTER for the latest updates and a FREE EBOOK.★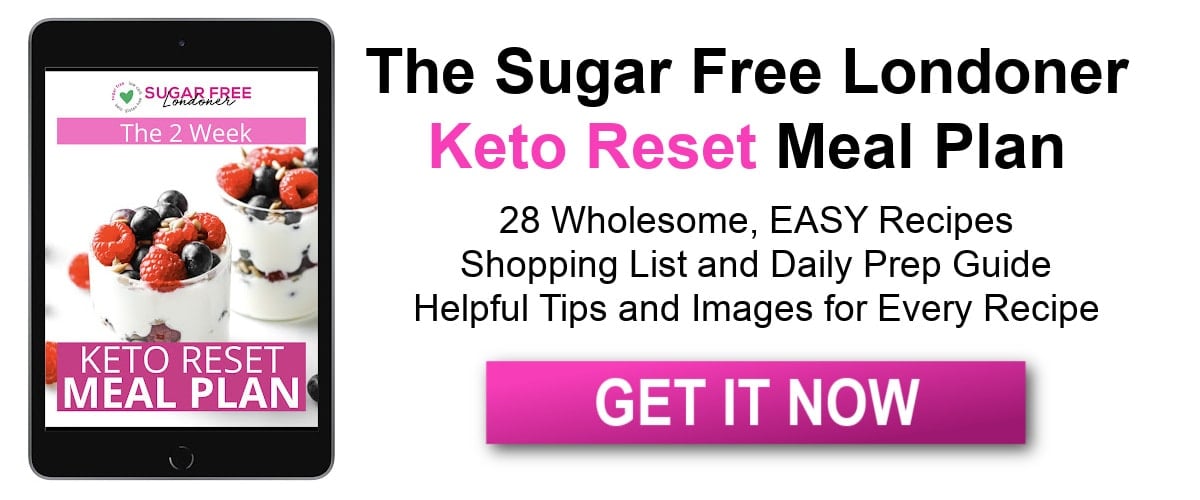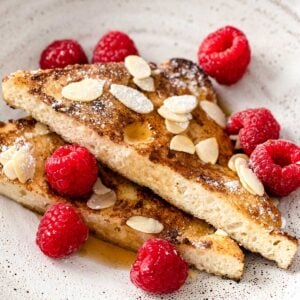 Low Carb Keto French Toast
from Sugar Free Londoner
Treat yourself to this seriously delicious keto French toast! This easy low carb French toast recipe requires only 8 ingredients and is 4.7g net carbs per generous portion!
Note: The servings slider only changes the first amount in each line and not any subsequent amounts. Please make your own calculations where necessary. ***As an Amazon Associate I earn from qualifying purchases.
Instructions
Make the 90 second keto bread, but double the ingredients to make the bread thicker. For this recipe I used a 14 x 12 x 5 cm microwaveable container. Simply stir together all ingredients and microwave for 90 seconds on high.

Prepare the egg mix. In a mixing bowl whisk the eggs and almond milk with a fork. Option to add orange zest too.

Once the keto bread is cooled, soak in the egg mix. Mix the cinnamon and erythritol in a small bowl and sprinkle over both sides of the soaked bread.

Melt the butter in a skillet / not stick frying pan over a medium / low heat. Fry until golden brown (about 1 - 2 minutes on each side). Keep checking it so the cinnamon doesn't burn.

Slice into triangles and serve with toppings of your choice.
Notes
4.7g net carbs per portion. Makes 1 (very generous!) portion. 
Add toppings of your choice - dust with powdered sweetener, pour over sugar free syrup such as by Lakanto or even
sugar free caramel sauce
and enjoy with ¼ cup fresh berries.
If you don't have a square toast-sized container, you can also make the 2 batches of 90 second keto bread in 2 ramekins or mugs. Then slice each in half and continue, making smaller keto french toast.   
Nutrition
Calories:
427
kcal
Total Carbohydrates:
9.3
g
Protein:
21.5
g
Fat:
35.7
g
Saturated Fat:
10.2
g
Fiber:
4.6
g
Sugar:
2.4
g
This post contains affiliate links. If you click on one of these links and purchase a product, I may earn a small commission, at no extra cost to you. Thank you for supporting Sugar Free Londoner.