Is it possible to make tasty waffles without grains and sugar? Oh yes, it is. Keto low carb waffles – not just as good, but better than the real thing!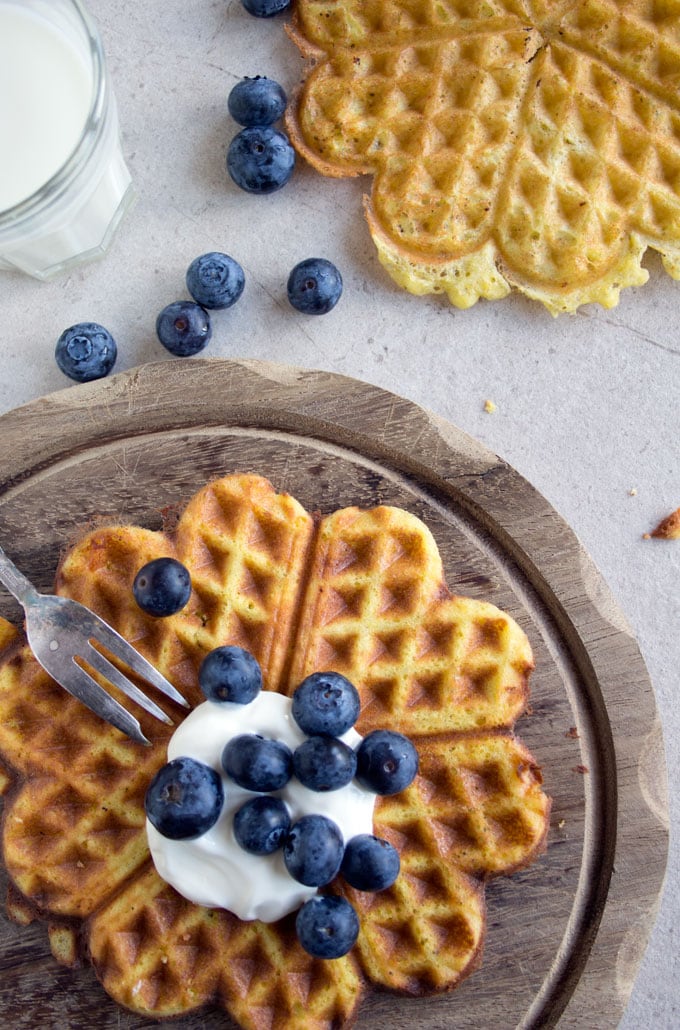 We do not have a sandwich maker at home. But I have inventive children with a wild, mad love for cheesy panini. So every once in a while the poor old waffle maker is dragged out and in goes some sliced bread with a gigantic stack of ingredients wedged in between. What comes out looks a bit tortured, but tastes great all the same.
As of yesterday, our waffle maker will be put to use a whole more often. For actual waffles, friends. For I have discovered a recipe that actually tastes better than the full-on wheat-and-sugar version. Who'd have thought that some eggs, butter, a few spoonfuls of coconut flour and a few other magic ingredients could make a whole noisy family quiet in astonishment for… well, at least five seconds. You want some happy silence? Make low carb waffles! Thank you for this one, DitchtheCarbs..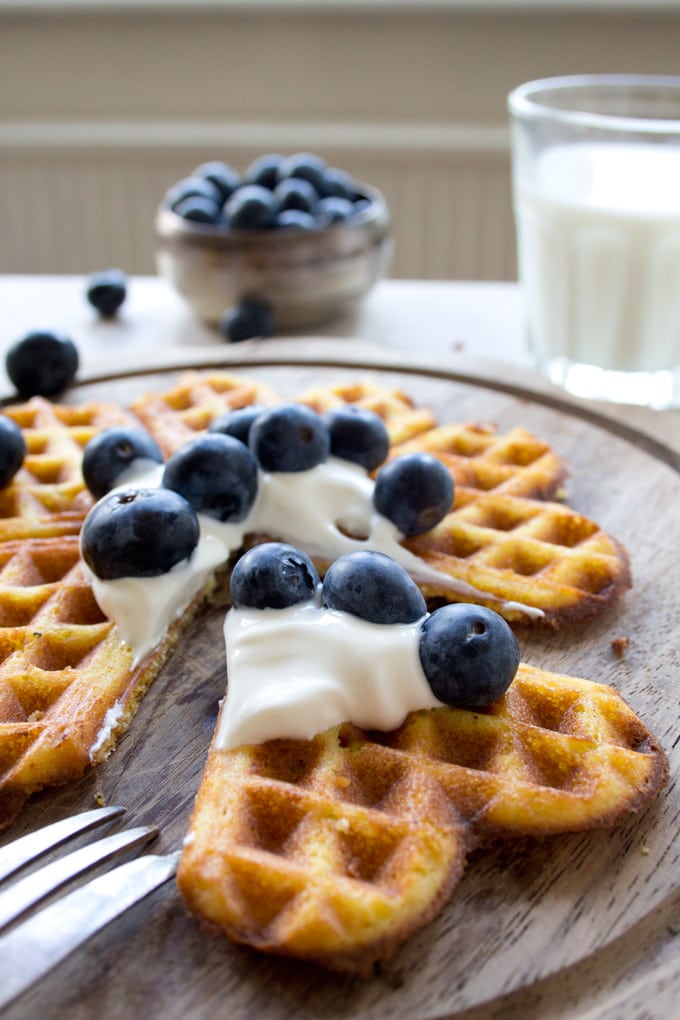 As you can see, I like my waffles with creme fraiche and blueberries – but any berry combination, whipped cream or a dollop of coconut cream would work well. Do you do school lunches? Make little heart-shaped waffle sandwiches filled with cream cheese and berries!
Friends, these low carb waffles are
light
fluffy
tasty
grain free
sugar free
freezable (between sheets of baking paper)
without protein powders or other complicated ingredients
fail-safe
delicious hot or cold
adaptable – add cinnamon or mixed spice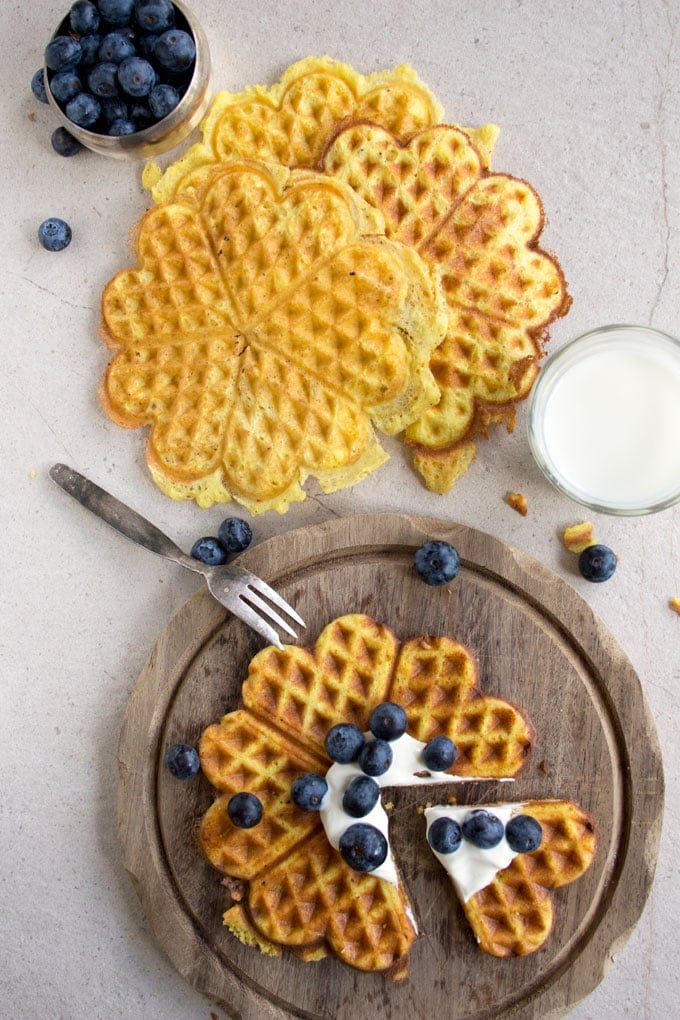 The secret to supreme waffle fluffiness is to separate the egg whites and the yolks and beat the egg whites until they form stiff peaks. This mixture is then folded gently into the batter. I can assure you though that even if you do not manage to get your egg whites perfectly stiff – I find they can be a bit temperamental – the waffle will still turn out fabulous. As long as you manage to beat some air bubbles into your egg whites (i.e. make them turn white), you're good to go.
If you do not have a waffle maker, just make low carb pancakes instead. They won't look as pretty (I am a sucker for the little heart shapes), but definitely more handsome than my childrens' tortured cheese sandwiches.
Enjoy!

Low Carb Waffles
Grain free, sugar free, superbly fluffy and extremely tasty: Low Carb Waffles. You'll never look back.
Ingredients
5

eggs

separated

4

tbsp

coconut flour

1

tbsp

xylitol

or sweetener of choice, to taste

1

tsp

baking powder

1-2

tsp

vanilla

2

tbsp

single cream

125

g

1/2 cup butter, unsalted and melted

1

tsp

cinnamon

(optional)
Instructions
Whisk the egg whites until they are firm and form stiff peaks. You have to use a clean, non-greasy bowl for this and be a bit patient.

In a second bowl, mix the egg yolks, coconut flour, sweetener and baking powder.

Add the melted butter slowly and mix well to ensure your batter is nice and smooth.

Add the milk and vanilla, mix well.

Gently fold spoons of the whisked egg whites into the yolk mixture. Try to keep as much of the air and fluffiness as possible.

Place enough of the waffle mixture into the warm waffle maker to make one waffle. Cook until golden. You might have to "grease" your waffle maker with a bit of butter so the waffles do not stick. They have a more delicate consistency than wheat waffles, so take extra care when removing them.

Repeat until all the mixture has been used.
Nutrition Facts
Low Carb Waffles
Amount Per Serving
Calories 279
Calories from Fat 236
% Daily Value*
Total Fat 26.2g 40%
Cholesterol 240mg 80%
Sodium 85mg 4%
Potassium 73mg 2%
Total Carbohydrates 4g 1%
Protein 7.7g 15%
* Percent Daily Values are based on a 2000 calorie diet.