Making homemade keto chocolate is easy, quick and much cheaper than buying ready-made sugar free chocolate. This delicious 3 ingredient dark chocolate recipe is ready in just 10 minutes.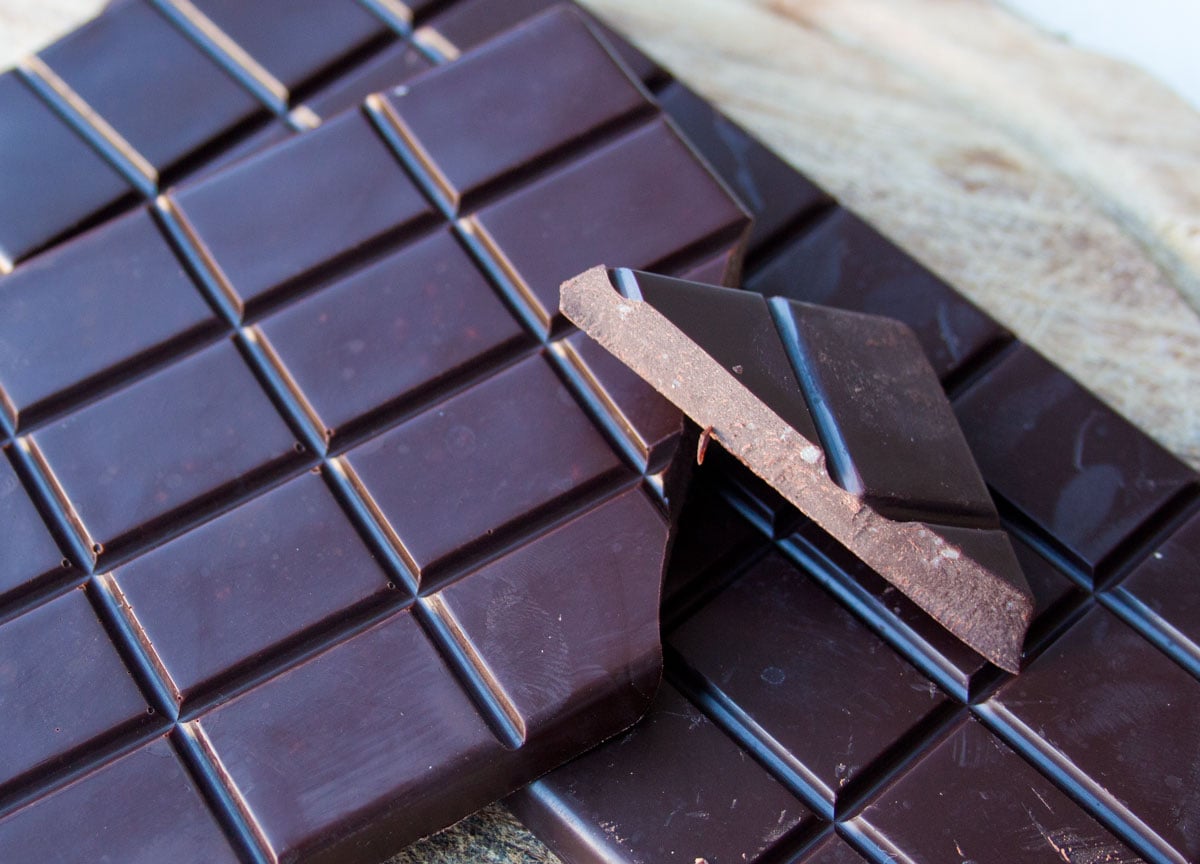 Hands up who else loves chocolate? I always have some in my fridge. To me, it is one of the best keto desserts ever invented.
I regularly buy 90% Lindt. But this homemade keto chocolate is even better because it is completely sugar free and tastes just as delicious.
Also, don't miss my keto milk chocolate and this sugar-free white chocolate.
Jump to:
Ingredients
You need just 3 ingredients to make keto chocolate:
Cocoa butter - also called cacao butter
Unsweetened cocoa powder
Powdered sweetener - I used powdered erythritol in this recipe. For a super-smooth chocolate, use powdered allulose. Allulose melts just like sugar and does not recrystallise. Erythritol does re-crystallise as it cools. That's why using powdered sweetener is essential so the chocolate is smooth and not grainy.
Recipe Tip: Blend granulated sweetener in a high-speed blender to powder it.
Instructions
This section contains step-by-step instructions and photos that show how to make this recipe. See the recipe card for full information on ingredients and quantities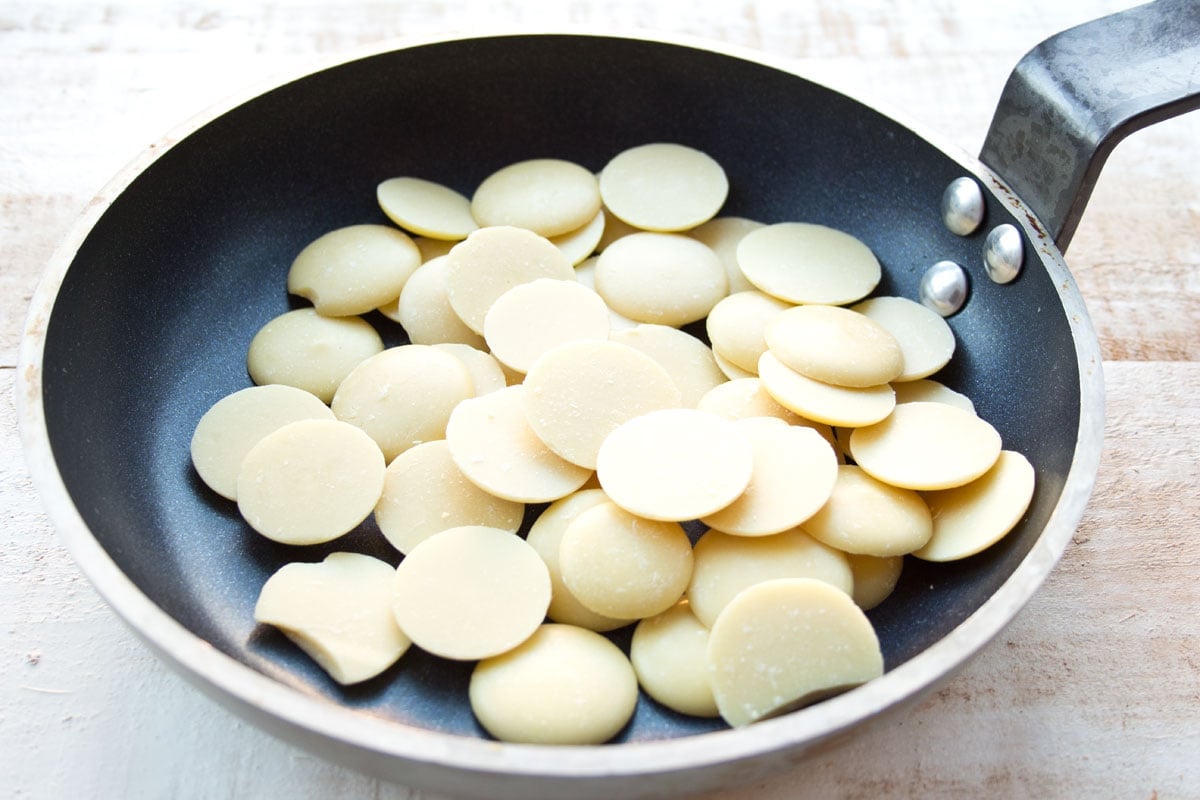 1.) Warm the cacao butter in a pan over low heat until it is just melted. Or, use a double boiler.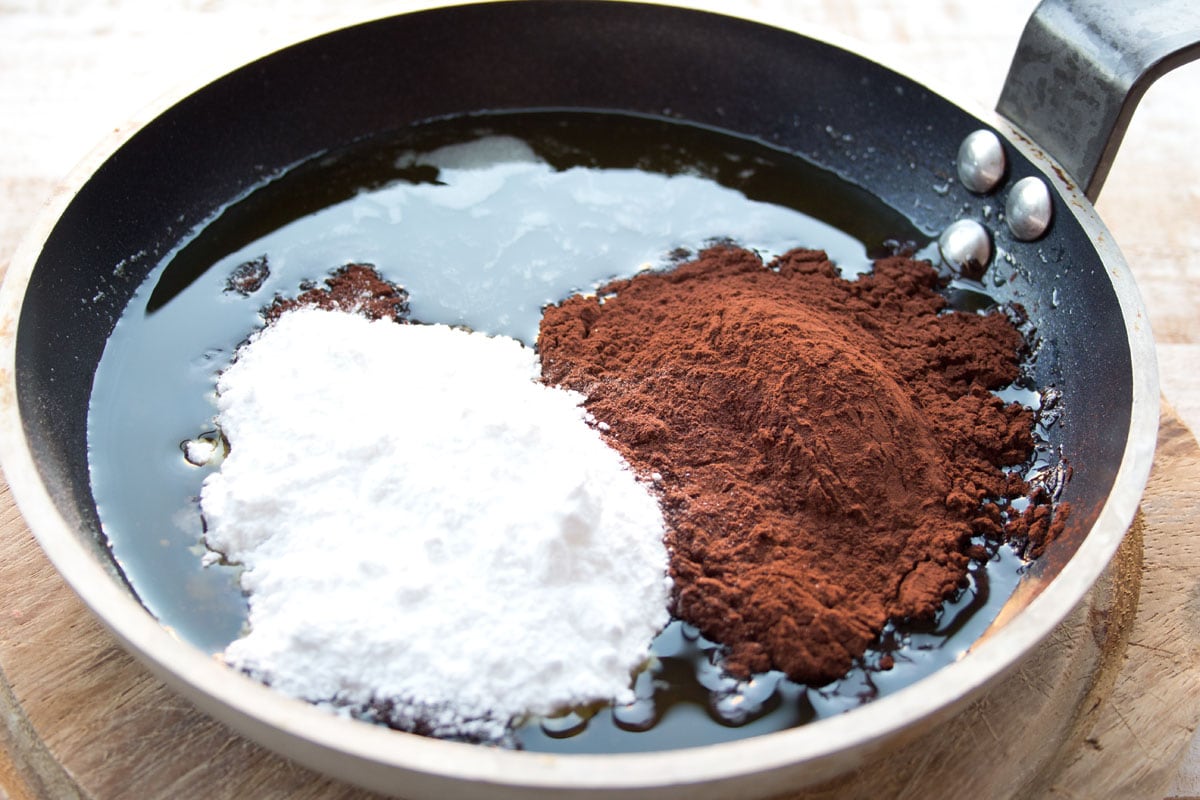 2.) Take the pan off the heat and add the cocoa powder and powdered erythritol.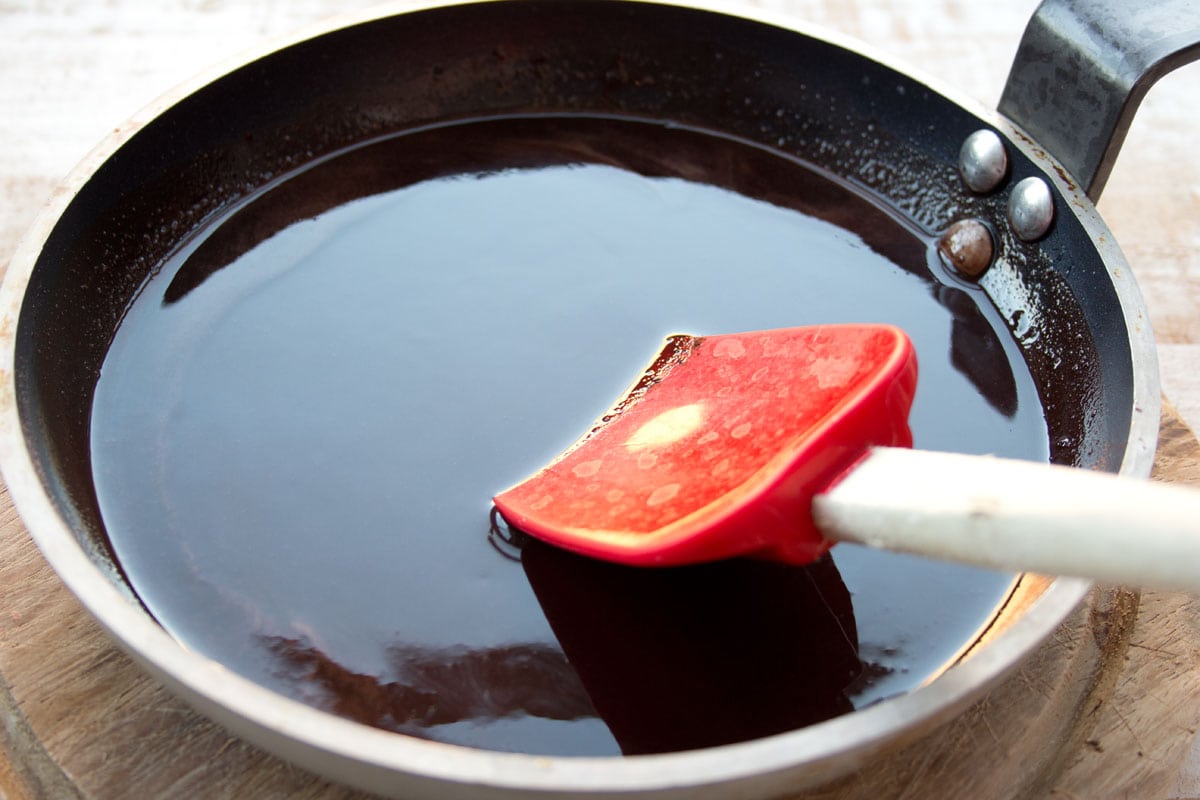 3.) Stir until dissolved!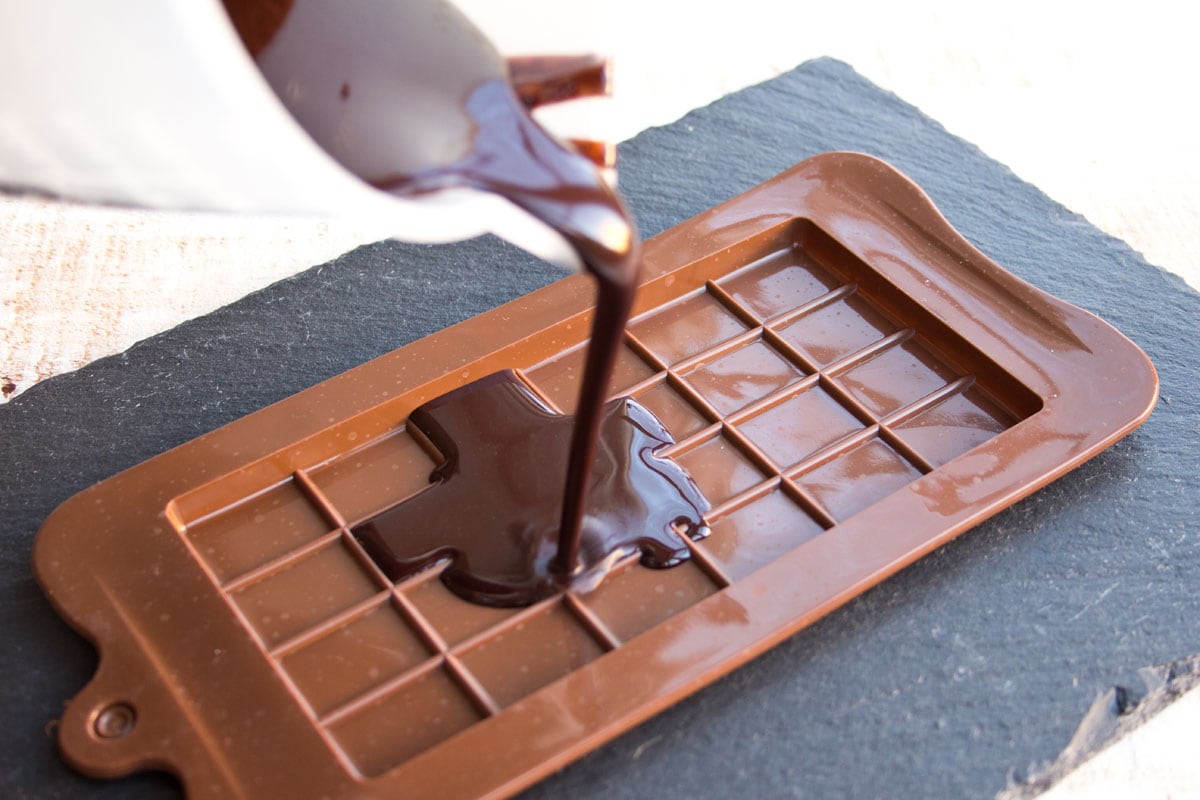 4.) Pour into silicone chocolate moulds and cool in the freezer or fridge until set.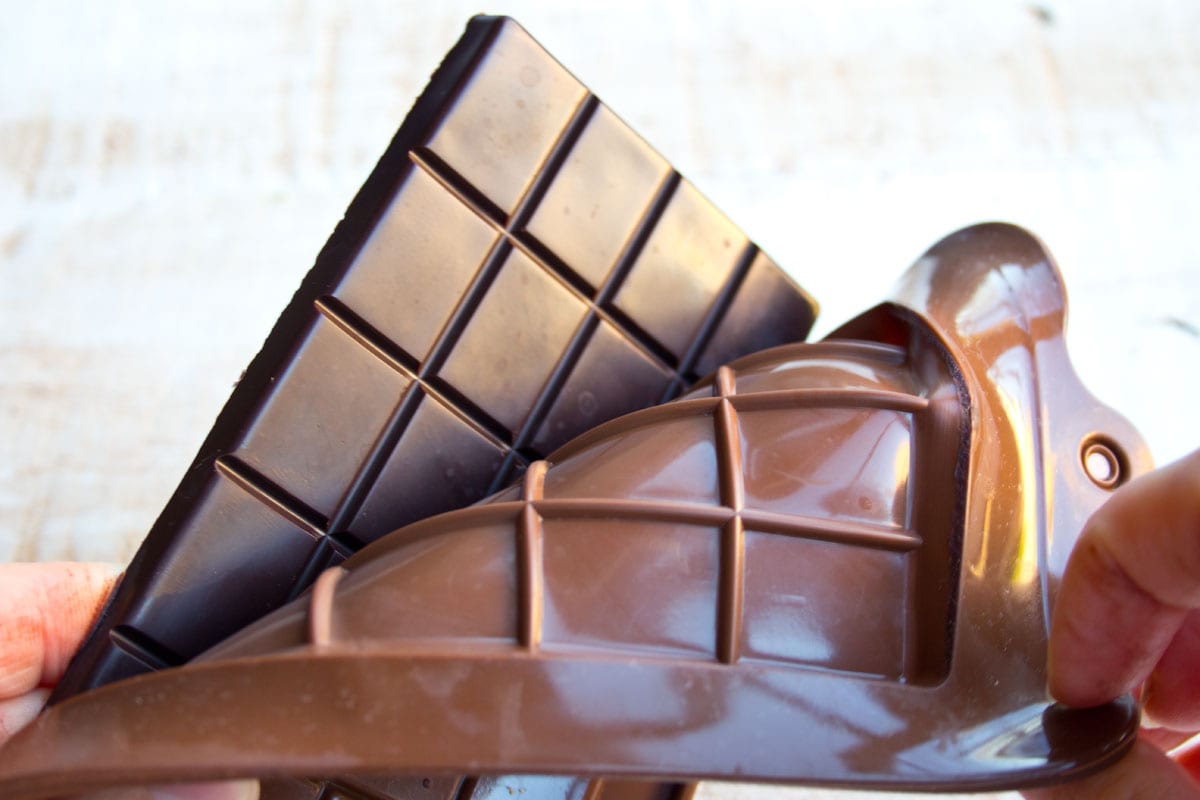 Expert Tip
Place the silicone moulds on a firm surface such as a tray. This way, you can transfer them to the freezer once you have poured in the low carb chocolate mix. 
Flavor Variations
Here are ideas how you can change up the flavor of this keto chocolate recipe:
1 teaspoon orange zest (which is absolutely delicious)
cinnamon, nutmeg and cardamom for a wintery vibe
pinch of chilli for a fiery kick
sprinkle of sea salt
vanilla scraped from a vanilla pod (I tried vanilla extract, but did not like it - you can taste the alcohol)
a handful of low carb granola or sugar free granola or...
any nuts and seeds you like - pecans, almonds, walnuts, hazelnuts!
It's also not necessary to own a chocolate bar mold to make homemade chocolate. I want to show you 2 easy ways how you can make sugar free chocolate without it.
4a.) Add any chopped nuts and seeds or ⅓ cup homemade granola to the molten low carb chocolate mix. I used my peanut butter granola.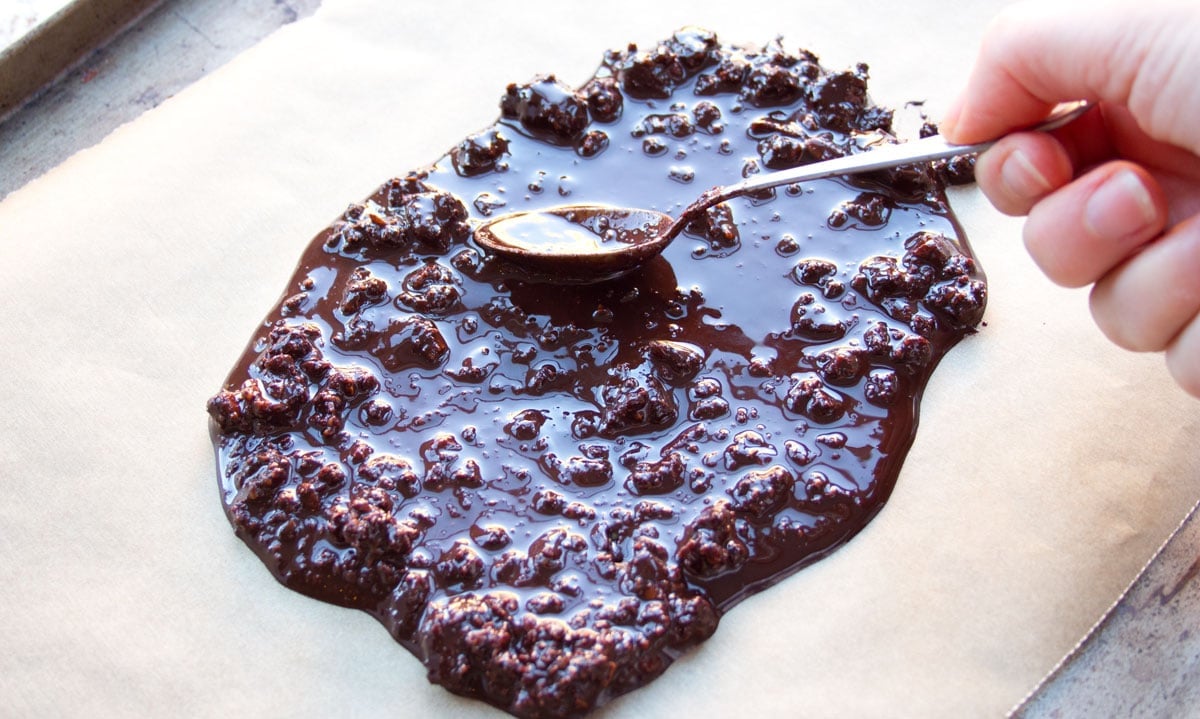 5a.) Spread the mix on a firm surface lined with parchment paper. Cool in the fridge or freezer until set....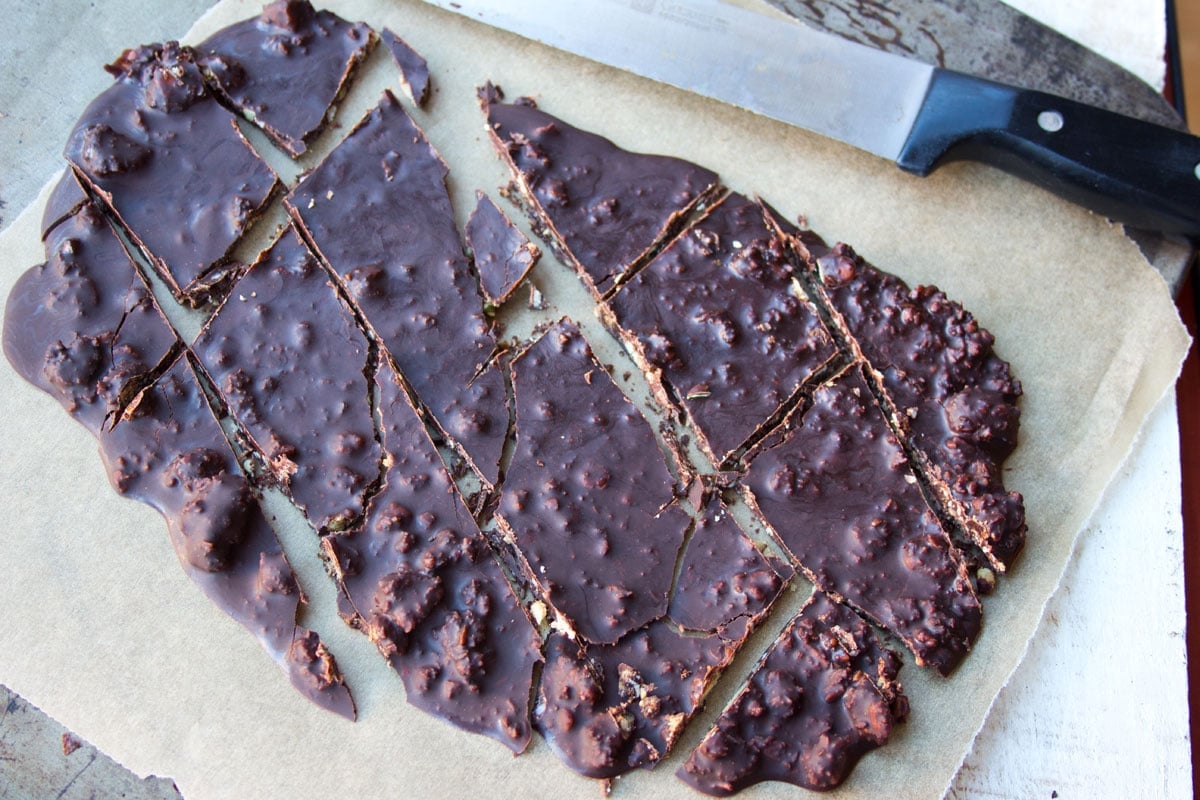 6a.) ......and you've got chocolate bark.
If you're after something a bit more showy, you could also go for this option: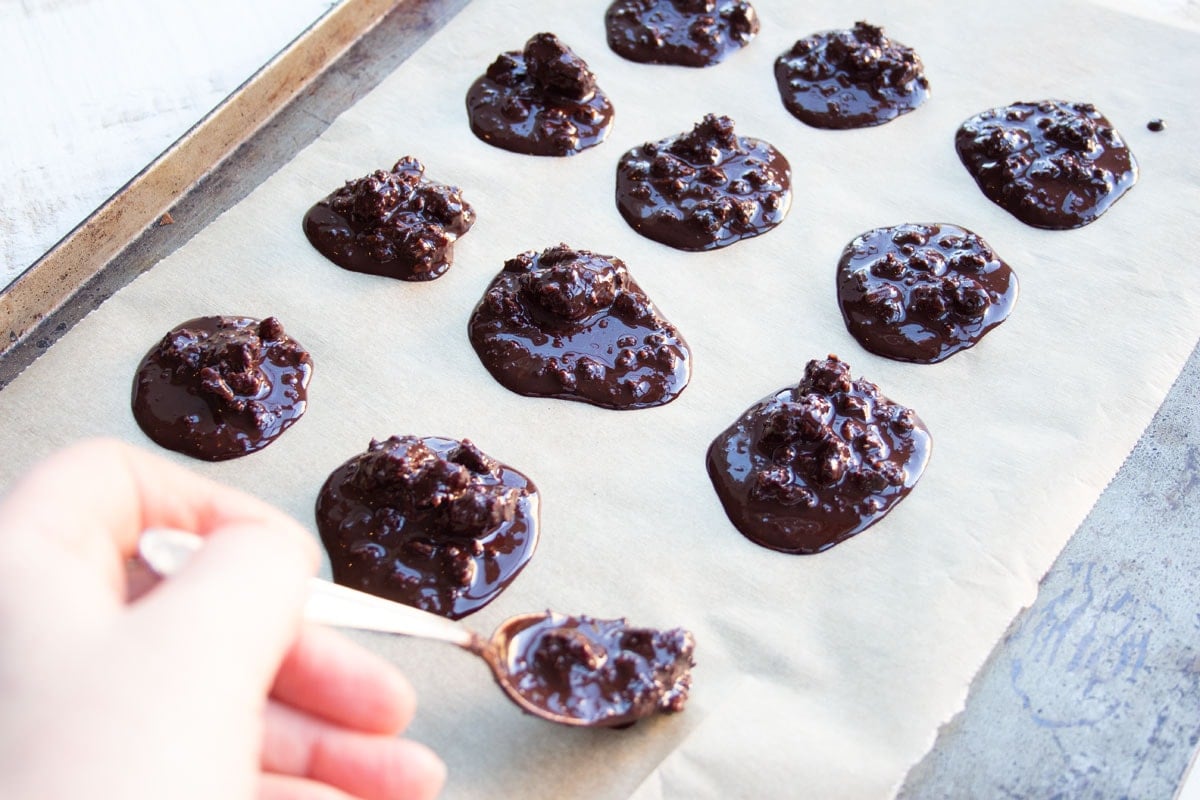 5b.) Using a spoon, drop little blobs of the low carb chocolate mix onto parchment paper, freeze or refrigerate until set...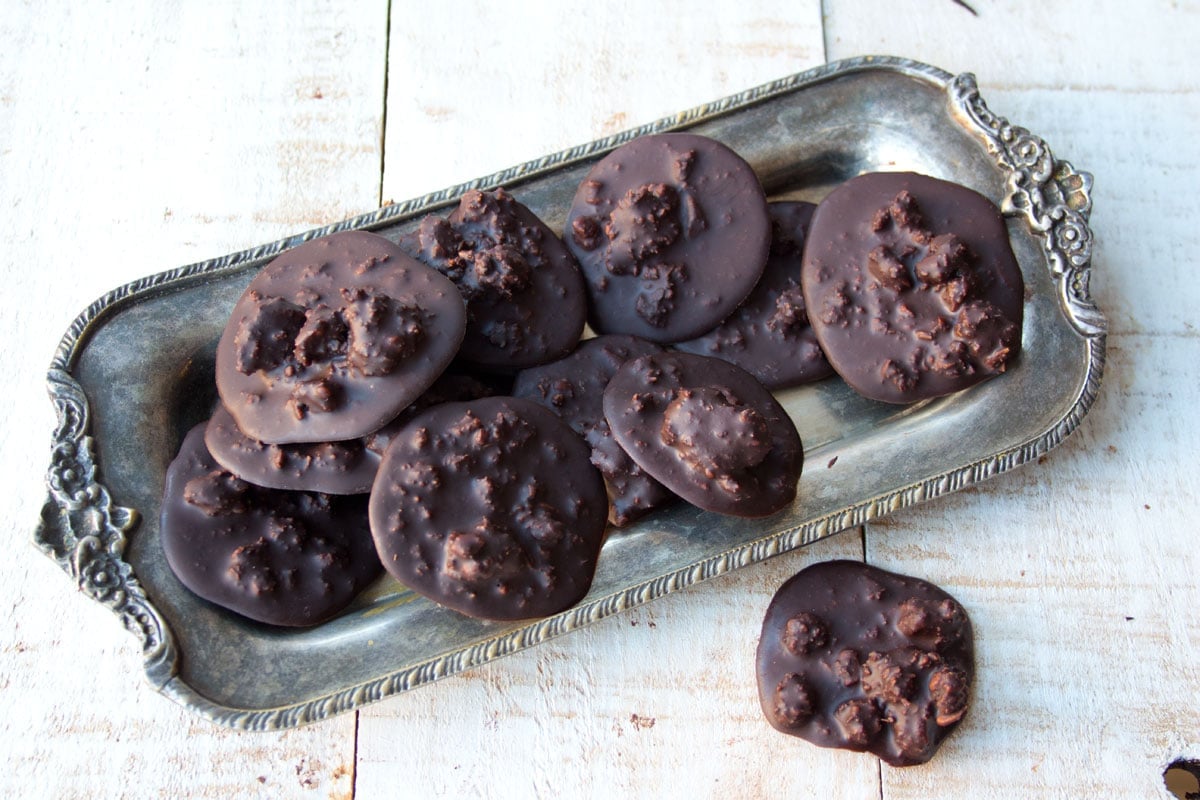 6b.) ...and in just a few minutes you could be munching on one (or two) of these gorgeous low carb chocolate clusters!
Whichever variation you decide to go for, homemade keto chocolate is a life-saver when the need for a sweet treat strikes.
Recipe Variations
Coconut Oil Chocolate
I often get asked if you can make this keto chocolate with coconut oil rather than cacao butter. The answer is yes - but it will not taste as good. There will be an undeniable coconut flavor. Also, the texture won't be as creamy and you'll have to keep the chocolate in the freezer. It will not be firm at room temperature.
Unsweetened Chocolate
Another variation is to melt store-bought unsweetened chocolate and stir in powdered sweetener. This is possible, however, I have found that it seizes when you add too much powdered sweetener. Using the cacao butter is a much safer option.
Sugar Free Chocolate Chips
Another fun thing to do with this recipe is to make sugar free chocolate chips! I have an ingenious hack on how to make them.
Chocolate FAQs
Here, I am answering general questions about chocolate on a keto diet.
Is chocolate healthy?
Science has proven that chocolate has a whole host of health benefits. It is a powerful source of antioxidants, can lower blood pressure and reduce the risk of heart disease, to name a few. Here is an article about the health benefits of dark chocolate. Of course, not all chocolate is good for you. Shop-bought milk chocolate generally contains over 50% sugar and is therefore not a healthy choice AT ALL.
Is dark chocolate keto friendly?
It can be, if you are using unsweetened chocolate, sugar-free chocolate or dark chocolate with a very high cocoa content.
In my recipes, I use either unsweetened chocolate such as Montezuma (8g of carbs for an entire bar of 100g/3.5 oz) or dark chocolate with a cocoa content of 90% such as Lindt. A whole bar of this chocolate (100g) contains only 7 grams of sugar.
Can you buy keto chocolate?
I have tried several brands that make low carb chocolate. Nicks is a good choice in the UK, my personal favourite is the Kexbar. In the US, Lily's is a popular brand. However, store-bought keto chocolate is expensive.
Storage
It keeps forever in the fridge if you store it in an airtight container or simply have it on the kitchen countertop.
Personally, I like to store my chocolate in the freezer. It has the best snap that way.
More Keto Chocolate Recipes
Tried this recipe? Give it a star rating below!
★ STAY IN TOUCH on FACEBOOK, PINTEREST and INSTAGRAM  for more great food and join my NEWSLETTER for the latest updates and a FREE EBOOK.★ 
Recipe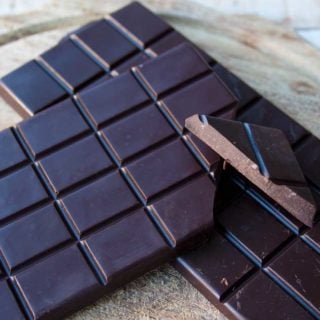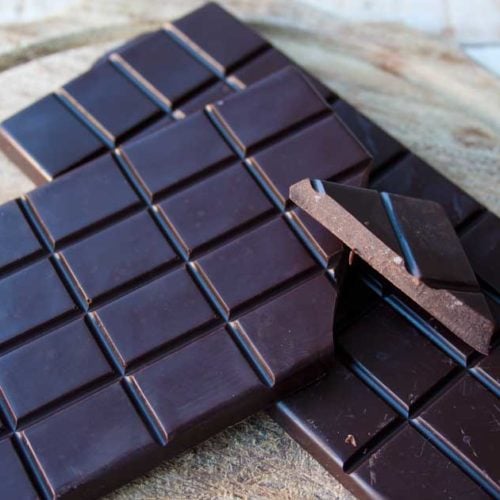 Keto Chocolate
from Sugar Free Londoner
You only need 3 ingredients to make your own delicious keto chocolate from scratch. Check out the post for plenty of recipe tips and variations!
Note: The servings slider only changes the first amount in each line and not any subsequent amounts. Please make your own calculations where necessary.
Instructions
Heat the cacao butter in a pan over low heat until just melted, stirring continuously. Remove from the heat.

Add the cocoa powder and powdered sweetener and stir until combined. (***see notes)

Add any optional extra (1 teaspoon orange zest/pinch cinnamon/pinch of sea salt/pinch of chili/1/3 cup (50g) low carb granola/handful of nuts and seeds and stir

Fill into a silicone chocolate mould to make chocolate bars. Or pour onto parchment paper to make chocolate bark/clusters.

Freeze 5 minutes until set.
Notes
0.6g net carbs per serving. Makes 12 servings.
** I have made this recipe with both powdered erythritol and allulose. Allulose makes smoother chocolate because it does not recrystallise. 
*** Optional step: Blend the cocoa powder and sweetener in a high-speed blender to a very fine powder before adding it to the melted cacao butter. This reduces any graininess. 
I calculated on the basis of 12 generous portions. My recipe made 2 chocolate bars with 24 squares each. Each portion of 4 chocolate squares weighed around 12 grams.
If you add the ⅓ cup (50g) of peanut butter granola as I did in the second round when I made the bark and the clusters, the nutrition increases to 103 calories and 0.9 net carbs per portion.
Nutrition
Calories:
81
kcal
Total Carbohydrates:
1.5
g
Protein:
0.5
g
Fat:
8.7
g
Saturated Fat:
5.5
g
Fiber:
0.9
g