These chocolate walnut fat bombs are a simple, delicious way to satisfy your sweet craving. A yummy keto snack that is perfect for a quick-fix energy boost.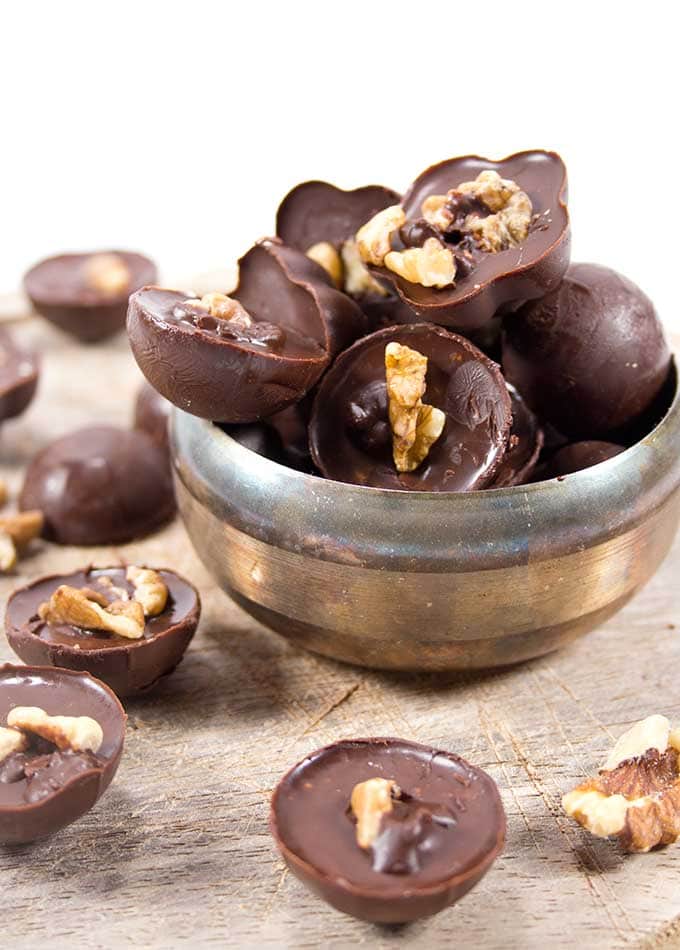 This recipe is inspired by a reader who emailed me this week, sharing his health story and asking if I had a favourite fat bomb or fudge recipe using chocolate and walnuts.
Of course I do!
You guys, your feedback and your opinions make all the difference. Tell me what you want to see on this blog. Let's do this sugar free low carb thing together!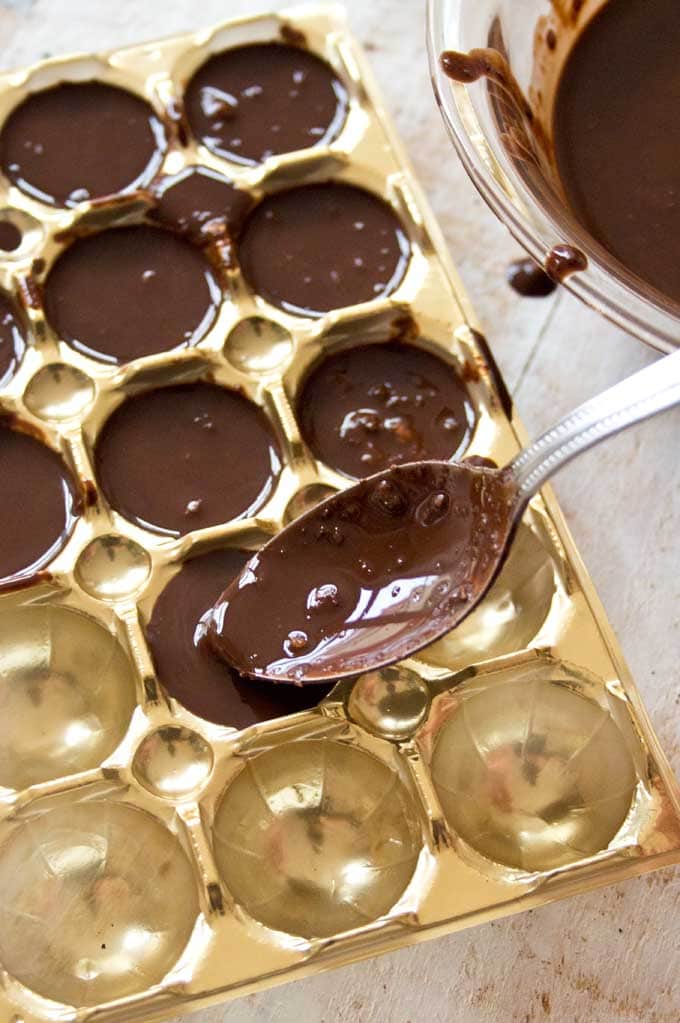 WHY should you make these chocolate walnut Keto fat bombs?
Because they are chocolatey, nutty, velvety-creamy and just on the right side of sweet.
Aaaaand…. they are perfect when you need a little pick-me-up! These fat bombs contain good quality chocolate, coconut oil and walnuts. The fats – cocoa butter and coconut oil – will provide much longer-lasting energy than a sugary candy bar could ever provide. Fat bombs are a popular snack if you're following a Keto or low carb diet – read more on the Keto diet here.
WHAT equipment do you need?
Simply use what you have. You can make the recipe in moulds or in ice cube trays. If you don't have either, pour the liquid into a parchment-lined tray like you would a fudge. You then cut it into pieces once set.
One of the moulds I used is actually a tray that contained Toffifee – a popular German candy that my kids were given by friends for Christmas and sadly devoured. I'm pleased to get some good use out if it at the end 🙂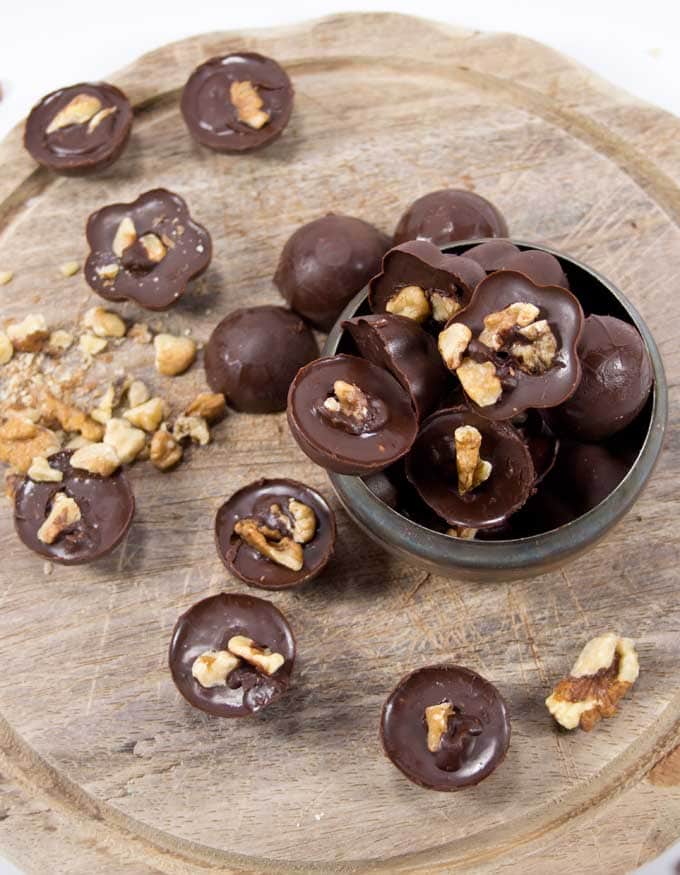 HOW do you make chocolate Keto fat bombs?
It's so simple!
Melt chocolate and coconut oil in a water bath/microwave/on the stove.
Add crushed walnuts, cinnamon and stevia to the mix
Pour into a mould
Freeze for 5 minutes until the top is just set
Press larger walnut pieces on the top
Return to the freezer or fridge until firm.
Recipe TOP TIP:
Use the best ingredients you can afford. I have tried cheap coconut oil before, which may be fine for frying, but will never be as tasty or indeed healthy as extra virgin coconut oil. Same with the chocolate – go for a high quality dark chocolate brand. It'll be creamier, has a high cocoa butter content and does not contain vegetable fats.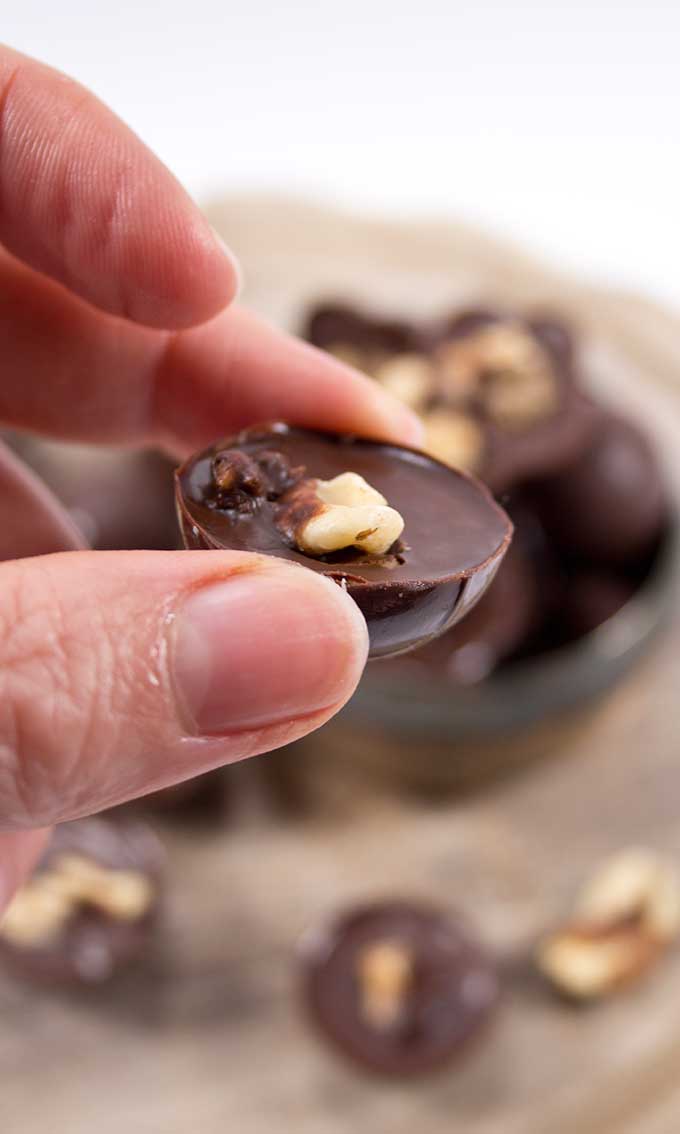 RECIPE VARIATIONS
You can easily adapt these Keto fat bombs. If you wanted, you could add a couple of spoonfuls of walnut butter to the mix. If you have a soft spot for orange chocolate, try adding a tablespoon of orange zest. You can swap out the walnuts for hazelnuts or even sunflower seeds or pumpkin seeds, or add a pinch of sea salt. Next time I'll toast the walnut pieces before I add them.
WHAT is a good portion size?
Depends on how big a treat you need :). My mix made 30 fat bombs, which weighed between 5 and 8 grams because I used 2 different-sized moulds. If your fat bombs are a similar size to mine, I'd say 2 is a good portion. The nutrition in the panel below is calculated for one fat bomb weighing an average of 6.6g.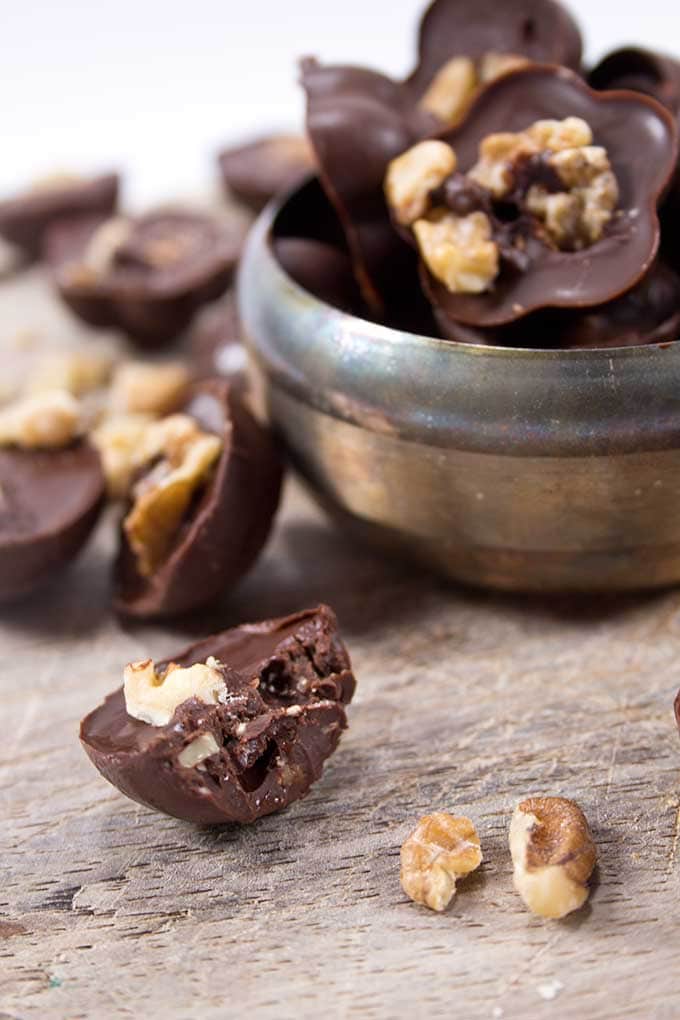 HOW should you store Keto fat bombs?
Unlike other fat bomb recipes, these little beauties stay firm at room temperature. Even so, I recommend to store them in the fridge – if you hold them in your hand for too long you've go some finger-licking to do! Alternatively, you can also store them in the freezer.
Need more Keto snack inspiration? Try this chocolate peanut butter fudge or these cacao nut butter bombs!
★ Made this recipe? Give it a star rating below!★
★ STAY IN TOUCH on FACEBOOK, PINTEREST and INSTAGRAM for more great food and join my NEWSLETTER for the latest updates.★
Chocolate Walnut Fat Bomb Recipe (Keto)
Chocolate walnut fat bombs are a delicious way to satisfy your sweet craving. This keto snack is perfect for a quick-fix energy boost.
Ingredients
100

g

3.5 ounces dark chocolate, min. 85% cocoa solids (I used 90%)

55

g

1/4 cup coconut oil

50

g

1/3 cup small walnut pieces

1

tsp

cinnamon

8

drops

stevia
Instructions
Melt chocolate and coconut oil. You can do this in a water bath like the pros do it, in a coated pot on the stove (gentle heat! ) or in the microwave. If you can get hold of sugar free chocolate such as

Lily's

in the USA, go for it. I used 90% Lindt, but I have come across unsweetened (100% cocoa solids) chocolate as well, here in the UK there is a brand called

Montezuma

, for example. If you use unsweetened chocolate, adjust the amount of sweetener accordingly.

Crush your walnuts - I used a food processor - until you have small pieces. Keep a few larger ones to decorate the fat bombs.

Add the crushed walnuts, cinnamon and stevia to the melted chocolate/coconut oil mix.

Pour into silicone moulds or ice cube tray and freeze for ca 5 minutes until the tops are just set.

Remove from freezer and press the larger walnut pieces on top.

Place in the fridge for another 20 minutes or so until the fat bombs have set.
Recipe Notes
My mix made 30 fat bombs, which weighed between 5 and 8 grams because I used 2 different-sized moulds. The nutrition is calculated for an average fat bomb weighing 6.6g.
If you do not have moulds, you could also line a small tray with baking paper and pour the fat bomb mix in it. After it's firmed up you can either cut or break it into small pieces.
Chocolate walnut fat bombs are best kept in the fridge. They stay firm at room temperature, but do melt in your hand when you pick them up. 
I used caramel-flavoured stevia. I imagine a vanilla-flavoured one would be good in this recipe, too. 
Nutrition Facts
Chocolate Walnut Fat Bomb Recipe (Keto)
Amount Per Serving
Calories 46
Calories from Fat 43
% Daily Value*
Total Fat 4.8g 7%
Potassium 7.3mg 0%
Total Carbohydrates 0.7g 0%
Protein 0.3g 1%
* Percent Daily Values are based on a 2000 calorie diet.
This post contains affiliate links. If you click on one of these links and purchase a product as a result, I earn a small commission – at no extra cost to you. This money helps me with the running costs of this website. Thank you for supporting Sugar Free Londoner.