It's quick and easy to make creamy keto milk chocolate at home! All you need for this simple sugar free chocolate recipe are 4 ingredients and a silicone chocolate mould.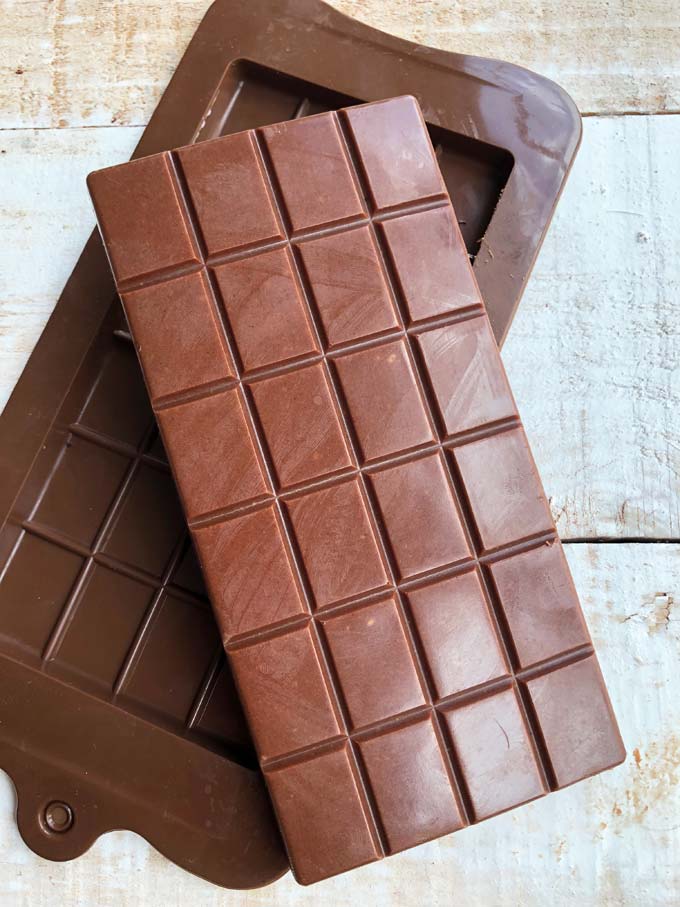 Since going sugar free a few years ago, I've been opting for dark and darker chocolate. Chocolate with 90% cocoa solids contains only 7 grams of sugar for a whole 100g/3.5 oz bar - perfectly fine for a low carb diet.
I then started to make my own, TOTALLY sugar free dark chocolate (sweetened it with powdered erythritol) and posted my recipe for low carb chocolate on the blog. Check it out - it's delicious and the post includes plenty of recipe variations!
But. Sometimes it's just got to be milk chocolate, right?
Jump to:
Can you have milk chocolate on keto?
Shop-bought milk chocolate contains around 50% sugar. Not a good idea for anyone, basically. And all the shop-bought sugar free milk chocolate bars I have tried so far have been more or less disappointing. Firstly, they are expensive, And secondly, they may be sweetened with stevia or erythritol, but the taste.... meh.
So. Here's my homemade version. Simple, rich and super-milky!
Ingredients
Here are the ingredients you'll need:
Cacao butter - do not substitute this with coconut oil or regular butter. It has to be cacao butter.
Thick heavy cream or double cream - can be subbed with coconut cream for dairy-free chocolate.
Unsweetened cocoa powder
Powdered sweetener - I used powdered erythritol, but for a completely smooth chocolate use powdered allulose. With erythritol based sweeteners there is always a residual graininess as it re-crystallises as it cools.
Instructions
This section contains step-by-step instructions and photos that show how to make this recipe. See the recipe card for full information on ingredients and quantities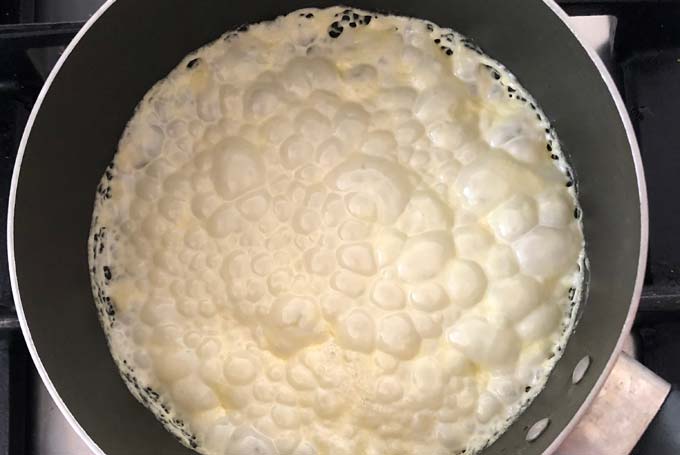 1.) Heat double cream / heavy cream in a frying pan until it stats to bubble, thicken and reduce.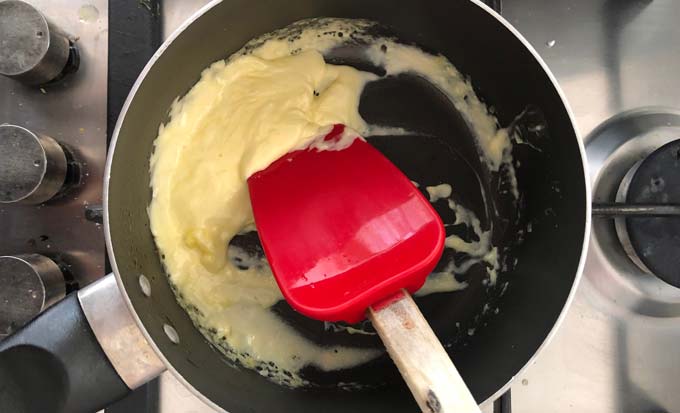 2.) Keep stirring with a spatula so the cream does not burn. I used ¼ cup / 60g of cream. After a few minutes, my cream had reduced by half and I was left with 2 tablespoon / 30 grams. Can you see how thick it has become?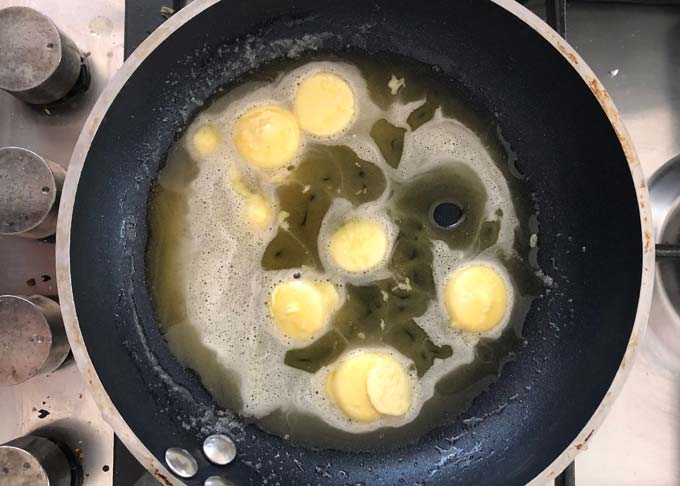 3.) While the cream cools in a bowl, melt your cacao butter.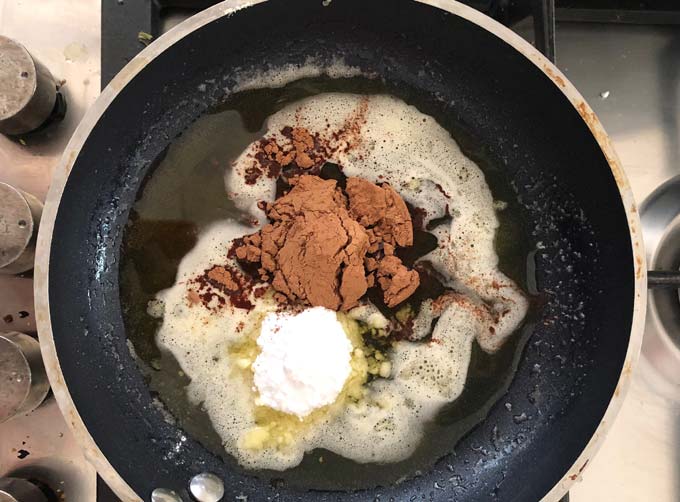 4.) Add in the powdered sweetener and cacao powder and stir until combined.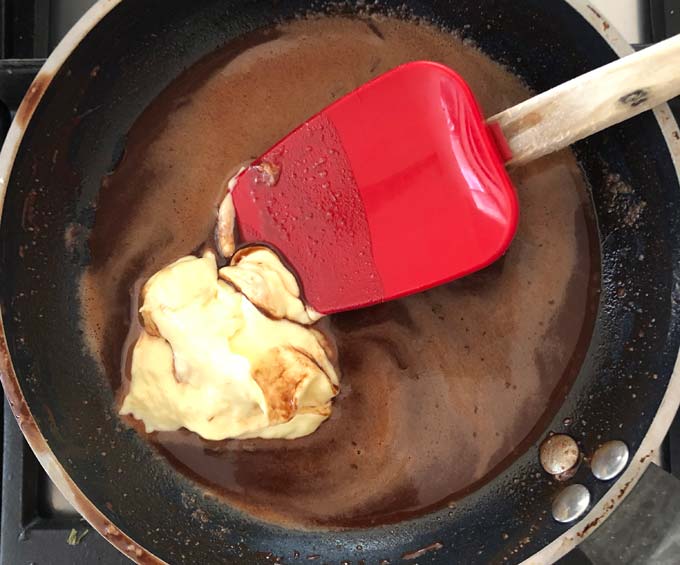 5.) Here's a CRUCIAL step. You have to wait for the cacao butter / cocoa mass to COOL DOWN. You want the reduced cream and the cacao butter to be of a SIMILAR TEMPERATURE. Stir and combine them...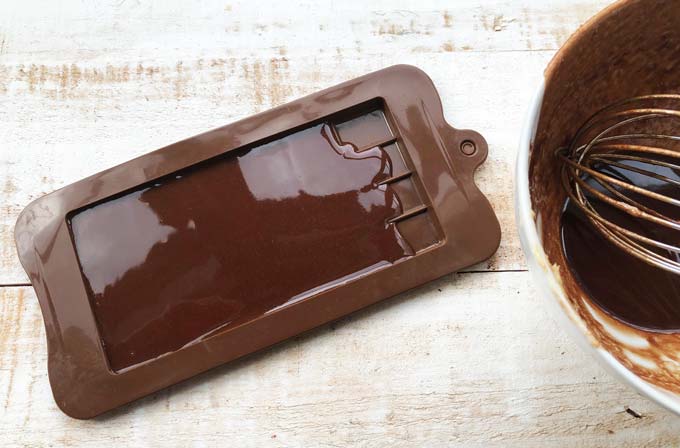 6.) .... and pour the mixture into a silicone chocolate mould. Chill in the fridge or freezer until set.
Tips and tricks
The key ingredient in regular milk chocolate is whole milk powder. There are Keto chocolate recipes out there that use heavy cream powder, which has less carbohydrates. Cream powder is a specialist ingredient and not cheap. And I did not want to buy a huge pot of milk powder that I KNOW I will NEVER use again.
Therefore, I settled on using REAL double / heavy cream in this recipe and simply reduced the liquid by half. It does make the chocolate softer. I don't recommend keeping it at room temperature - it turns into the consistency of a creamy praline. Store it in the fridge or freezer!
I've mentioned above how important it is that the chocolate mix and the cream need to have a similar temperature when mixed. This is ESSENTIAL! I have made the mistake for you here, guys. If the temperature difference is too great, THE CHOCOLATE WILL SEIZE AND SEPARATE!!!!! You don't need fancy equipment - just test with your finger and combine the two when the time is right.
The amounts given will make you only 1 chocolate bar. Which is not a lot, but I thought it's better for you to try first before making a larger batch. Double or triple the recipe as you wish.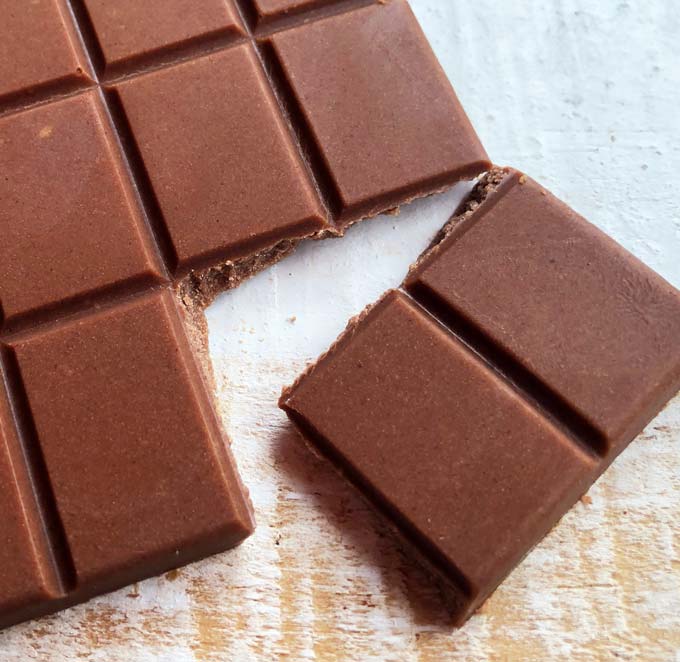 You can use either cacao powder or cocoa powder in this recipe. Cacao has the added benefit that it contains more antioxidants and nutrients as it is not roasted.
If you wish, you can add vanilla to the recipe. As it's a no-bake recipe, I'd go for quality here. Regular vanilla extract contains alcohol, which you would be able to taste. Go for a vanilla powder instead, or even splash out on a vanilla bean and scrape out the seeds.
A chocolate bar mold is great for this recipe, but not essential. Just put parchment paper on a plate and pour in your chocolate. Freeze, then break into pieces. Voila - keto milk chocolate bark. Alternatively, make pralines with a silicone ice cube tray!
Reader Tip
Update October 2023: A reader who used allulose shared this tip, which is useful for anyone who has experienced issues with chocolate seizing.
Instead of adding the allulose to the warm cacao butter, he dissolves the allulose in a little bit of water. He then stirs the allulose solution into the completed chocolate mixture as the last step. This way, he does not experience any coagulating which he did on his first try. 
This is not necessary with erythritol or other sweeteners, but will work well with allulose since it dissolves easily. I'll try it next time and report back here!
Storage
Store this chocolate in the fridge for up to 1 week or in the freezer for up to 3 months.
If you store it in the freezer, you'll get a great snap.
More Sugar Free Chocolate Recipes
Tried this recipe? Give it a star rating below!
★ STAY IN TOUCH on FACEBOOK, PINTEREST and INSTAGRAM  for more great food and join my NEWSLETTER for the latest updates and a FREE EBOOK.★ 
Recipe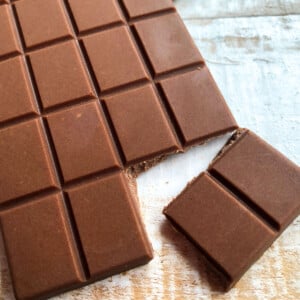 Creamy Keto Milk Chocolate Recipe
from Sugar Free Londoner
Don't waste your money on expensive shop-bought Keto milk chocolate! You can make your own sugar free milk chocolate with only four ingredients. It's melt-in-the-mouth creamy and totally addictive.
Note: The servings slider only changes the first amount in each line and not any subsequent amounts. Please make your own calculations where necessary.
Ingredients
1.5

oz / 40g

cacao butter

¼

cup / 60g

thick double cream / heavy cream

1 ½

tablespoon

cacao powder

unsweetened

1

tablespoon

allulose

powdered (use an additional ½ tablespoon if you like your chocolate sweet), or use powdered erythritol
Instructions
Heat the cream in a pan until it bubbles. Lower the heat and stir regularly so the cream does not burn. Cook it until it has reduced by half and has become thick and slightly yellow in colour. Pour into a bowl and set aside to cool. 

Melt the cacao butter in a pan until just melted. Remove from the heat. Stir in the cacao powder and the powdered sweetener **see notes.

Once the cream and the cacao mix have the same (lukewarm!!) temperature, combine them and stir. Pour into a chocolate bar mould and place in the freezer or fridge until set. 
Notes
0.6g net carbs per portion. My sugar free chocolate bar had 24 squares, so I calculated 4 squares per portion = 6 portions in total.  
You can use cacao or cocoa powder in the recipe - just make sure it is unsweetened. 
You could use stevia drops instead of the powdered sweetener - I'd use 6 drops. 
Powdered allulose is recommended in this recipe because it does not recrystallise. However, I originally made the recipe with powdered erythritol, which also works fine. 
*** A reader who used allulose shared this tip: Instead of adding the sweetener to the warm cacao butter, he dissolves the allulose in a little bit of cold water. He then stirs the allulose solution as the last step into the completed chocolate mixture. This way, he does not experience any coagulating which he did on his first try. 
Store the chocolate in the freezer or in the fridge. Because of the added cream, it is not firm enough at room temperature. 
If you have milk powder to hand, you could use this in place of the cream. This would make the chocolate stable at room temperature, but also add on a few carbs. 
Nutrition
Calories:
100
kcal
Total Carbohydrates:
1
g
Protein:
0.5
g
Fat:
10.9
g
Saturated Fat:
6.8
g
Fiber:
0.4
g
Sugar:
0.3
g