Learn how to make sugar free white chocolate with just 5 ingredients! This recipe for homemade keto white chocolate is super simple and tastes deliciously creamy. Dairy free option provided!
Let me have a little rant about sugar free chocolate. Why does it have to be so expensive to buy? That is, if you can even get one that doesn't contain maltitol as a sweetener! There really is a gap in the market here. Chocolate companies, please take note!
The good news is, making homemade healthy chocolate is actually really simple. I already have two recipes on my site - this low carb chocolate, which is dark and glorious, and this popular keto milk chocolate.
However, I've always loved the milky creaminess of white chocolate. There is a white chocolate praline called Raffaello which was my particular weakness...needless to say, it unfortunately is not very healthy. So, after I started a low carb diet about 7 years ago, I did try to find a sugar free white chocolate bar. But there just does not seem to be one, not then and not now.
Time for a homemade keto white chocolate recipe!
Some people say that white chocolate does not really deserve its name, because it does not contain any cocoa mass or cocoa powder. Of course, I disagree. After all, the main ingredient in white chocolate is cacao butter (also called cocoa butter).
Jump to:
What is cacao butter?
Cacao butter is the oil that's extracted from cacao beans. It is golden when melted and hardens into a cream-coloured solid at room temperature. Recent research shows that cacao butter even has antioxidant and inflammatory effects. And apart from being the main ingredient in chocolate, it is great for moisturising your skin. Try rubbing a bit into your hands... it feels wonderful.
I always enjoy the process of creating a new recipe, especially when it's something I've never done before. Regular white chocolate has only 4 main ingredients: cocoa butter, sugar, milk and vanilla to add flavour. Most brands also add lecithin as an emulsifier, something I decided to leave out because my other chocolate recipes worked fine without.
Altogether, it's not difficult at all to make this basic recipe sugar free by simply using a sugar alternative instead of the sugar. Let's get straight to it!
How to make sugar free white chocolate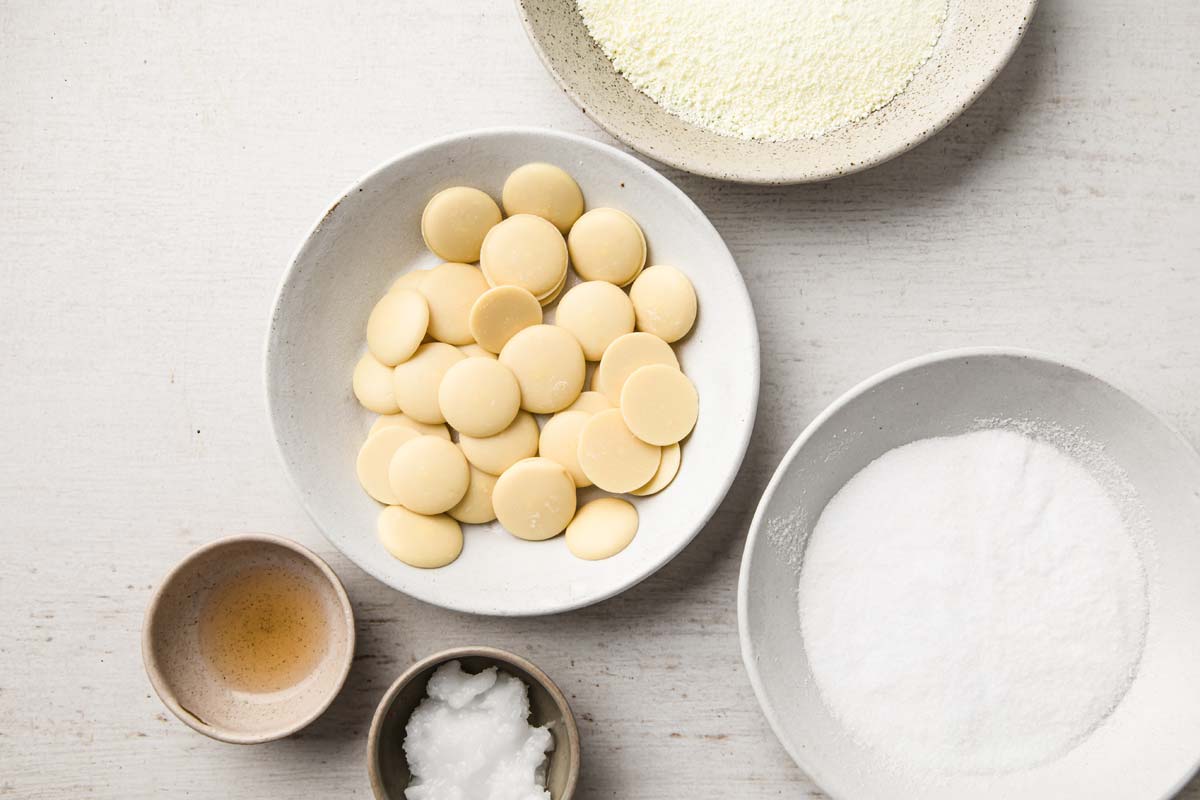 Here are the ingredients I'm using - cacao butter, allulose, milk powder, vanilla extract and coconut oil. More details about them later!
Note - I like to buy cacao butter drops because they are easy to measure. But if you can only get it in chunks, simply chop it into 1 cm cubes before melting.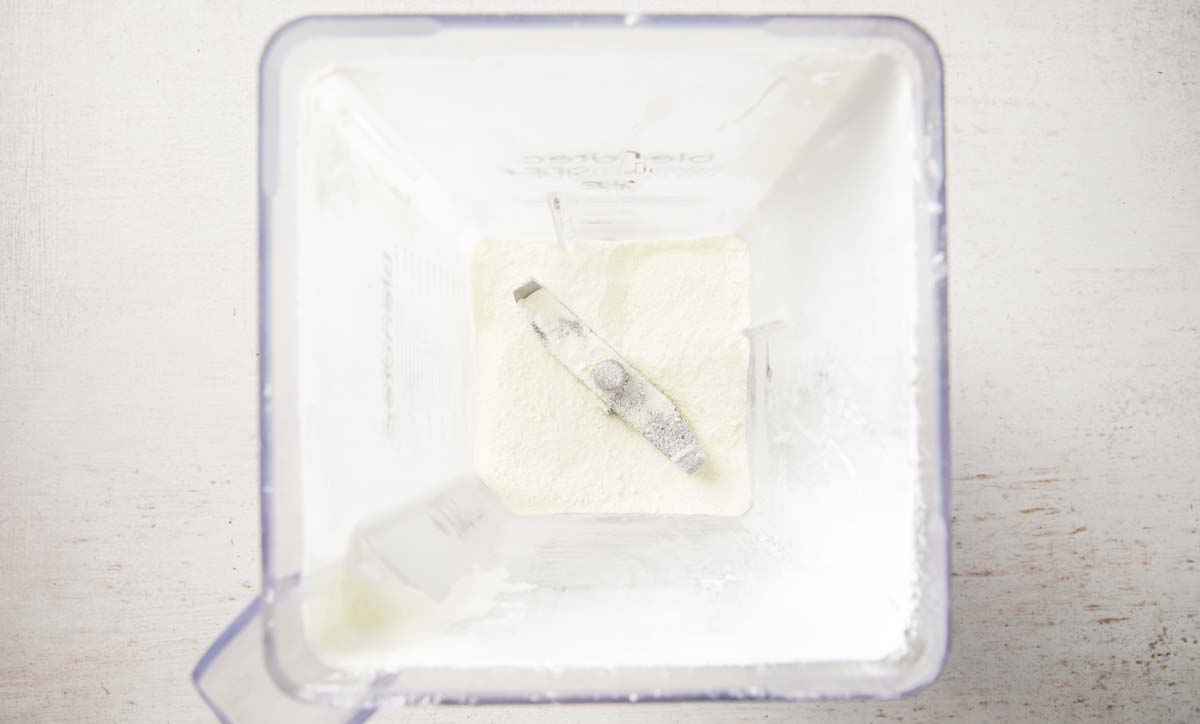 1.) Blitz the allulose and milk powder in a blender until fine. This helps it to dissolve better.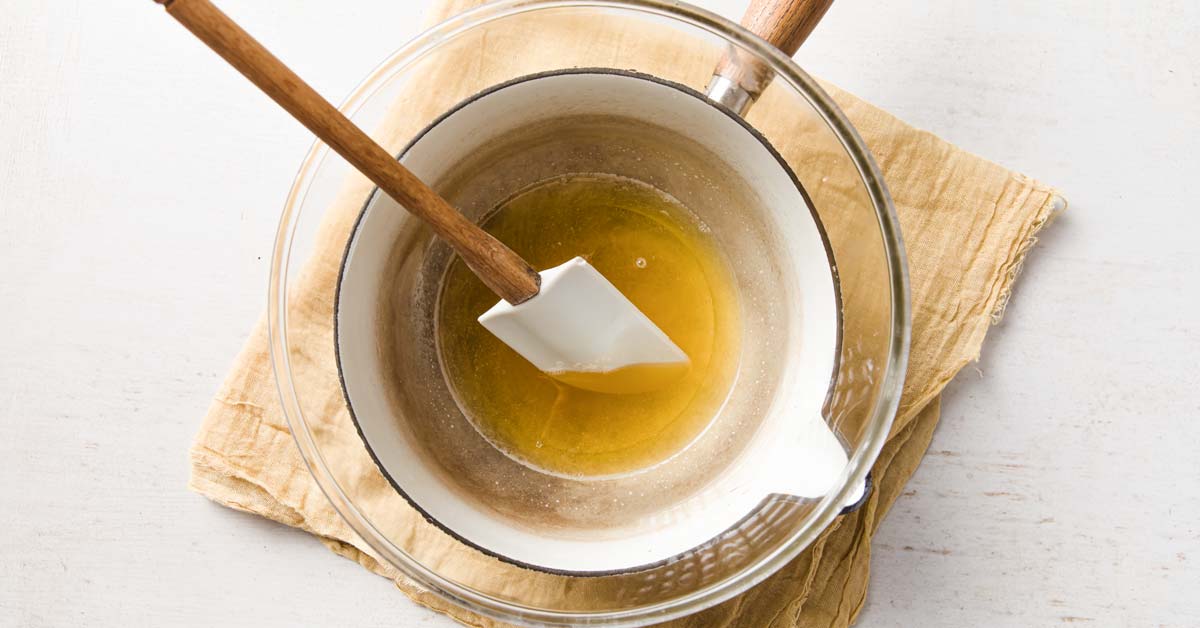 2.) Place the cacao butter and coconut oil in a heat-proof bowl over a pan filled with 1 inch of hot water. Simmer on a low heat until melted.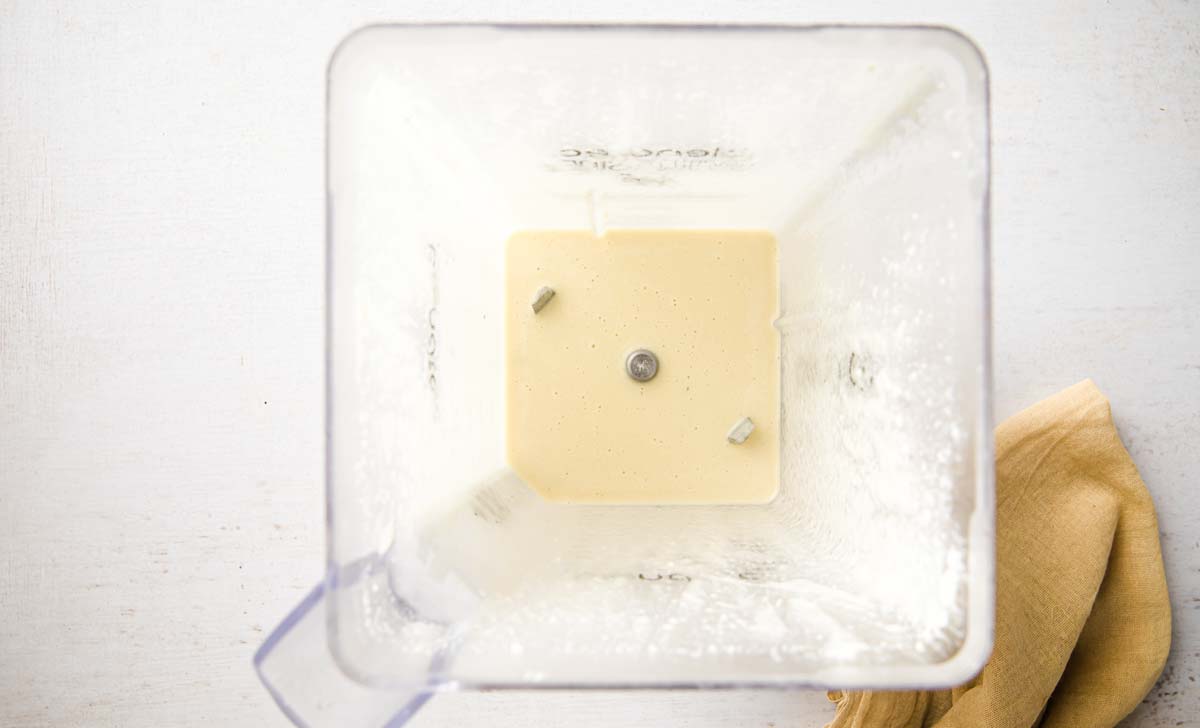 3.) Remove the bowl from the pan. Add the milk powder, allulose, vanilla and salt. Stir to combine, then blend with a stick blender until smooth, or use the high speed blender again, like I did.
Note: The mix will go thick at first when you stir. But keep blending and it will thin down to a pourable chocolate consistency.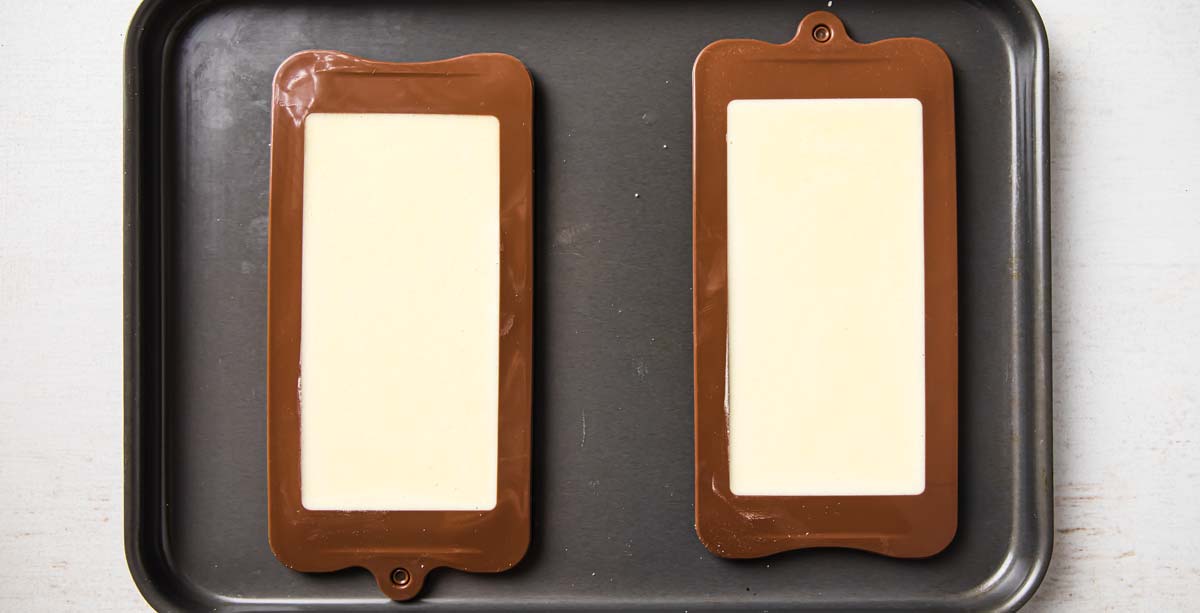 4.) Pour the sugar free white chocolate into your silicone moulds. I find it helpful to put the moulds on a baking tray so you can move them easily.
Set the chocolate in the fridge for about 15 - 30 minutes, or until solid.
Ingredients
We have discussed the cocoa butter in detail already. Here is everything you need to know about the other ingredients:
Whole Milk powder versus Heavy Cream powder
There are three different options here: you can use whole milk powder like I did. Alternatively, use either heavy cream powder or coconut milk powder if you would like a dairy free white chocolate.
Here is how they compare in terms of carbs (measured by the total amount we're using in this recipe):
60g milk powder has 23g net carbs
60g coconut milk powder 14.5g net carbs
60g heavy cream powder has 6g net carbs
As you can see, milk powder is much higher in carbs than heavy cream powder or the dairy free coconut milk powder. However, calculated per portion this sugar free chocolate contains 2.9g net carbs which I think is perfectly acceptable.
The benefit of using milk powder is that it is widely available and also cheap. I recommend to blitz it to a fine powder in a food processor before using!
I have not been able to source heavy cream powder here in the UK. But it is available on Amazon and in large stores in the US. People who have used it in keto white chocolate have said that it is, well, creamier. Which sounds entirely logical to me! By using the heavy cream powder in this recipe you can reduce the net carbs to an incredible 0.75g per portion.
With the coconut milk powder the chocolate takes on a pleasant mild coconut taste. As you can see above, the net carbs are also lower than with dairy milk powder.
Sugar free sweetener
In my previous chocolate recipes I have used powdered erythritol. However, since I've tried allulose, I'm a convert. Allulose is not a sugar alcohol like erythritol, but a "rare sugar" - a zero carb sweetener that has no glycemic impact on blood sugar.
Allulose has the benefit that it dissolves just like sugar does. Where powdered erythritol will re-crystallise and causes an ever so slightly gritty texture, allulose stays wonderfully smooth. It is perfect for any recipes where a smooth result is essential, such as Low Carb Keto Chocolate Ice Cream or Vegan Keto Caramel Sauce.
Don't get me wrong, powdered erythritol is a perfectly acceptable choice and if that's what you have at home, go for it. Allulose is more expensive than erythritol and not widely available everywhere (see product links in the recipe card).
I have tried making sugar free chocolate with xylitol, but found that it does not set as well. Also, be aware that xylitol is toxic to dogs.
Stevia could be an option here, if you don't mind the metallic aftertaste of stevia drops. Personally, I'm not a huge fan.
Coconut oil
Coconut oil is not a 100% essential ingredient in keto white chocolate, but I did find that it helps with a smooth consistency.
Vanilla and salt 
It's all about quality here. For a luxury version, definitely use vanilla beans. This means you split open a vanilla bean lengthwise and scrape out the seeds. The taste is just incredible. Another - equally not cheap - way is to use vanilla powder, which is dried vanilla bean seeds.
For a cheap-as-chips day to day variant, vanilla essence works just as well.
In my opinion, don't leave out the salt. It adds more depth to the flavour.
Is a stabilizer necessary?
I try not to buy expensive ingredients that I rarely use, so I left out the sunflower or soy lecithin that's a common ingredient in both sweetened and unsweetened white chocolate. I had a good result without, but ¼ teaspoon lecithin may increase smoothness and will help keep the chocolate stable when you want it tempered to use it in baking.
A general useful tip: Keep all utensils dry!!! Water can make chocolate seize. This means use a dry food processor, dry bowls, dry mixing spoons and silicone moulds.
Sugar free white chocolate chips
If you're in the US, Lily's is a good Keto option for regular (chocolatey) chocolate chips. However, keto white chocolate chips do not seem to exist anywhere. Luckily, it is really easy to turn this recipe into white chocolate chips!
Simply use the same method I use for these sugar free chocolate chips. You pour the melted chocolate into a pyramid silicone baking mat. These mats are actually sold for fat-free roasting. This kitchen hack gives them an awesome second use!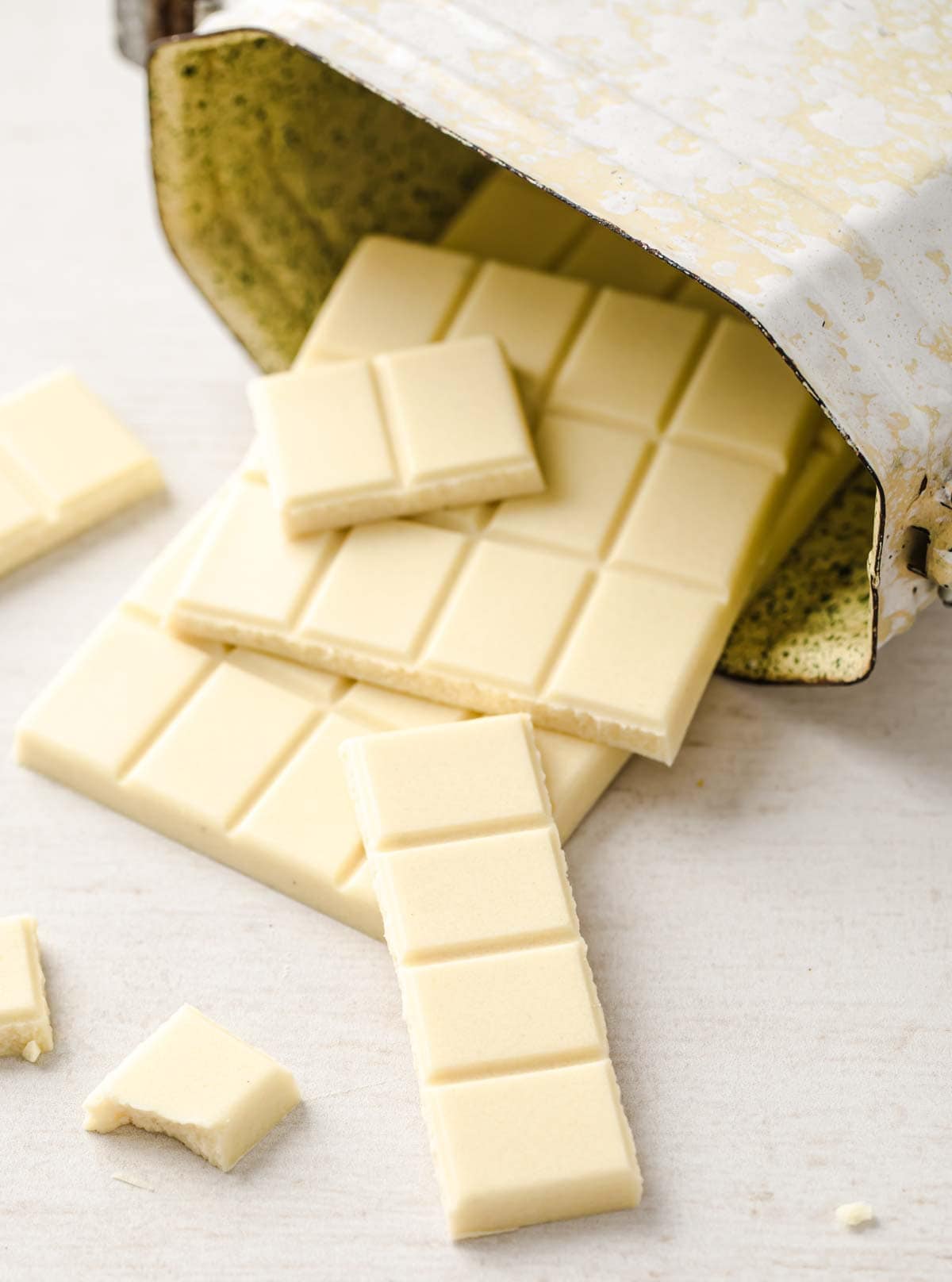 Flavor ideas
Cinnamon - add 1 teaspoon of cinnamon when you add the vanilla extract for a nice bit of spice
Cookies and cream - stir through some crushed keto cookies before pouring into moulds
Chocolate chip - Stir through some cacao nibs or chocolate chips before pouring into moulds
Berry - Stir through some freeze dried berries (raspberries or strawberries would be nice) before pouring into moulds
Nutty - add your favourite chopped nuts and seeds. Roast the nuts and seeds and allow to cool first for extra taste.
Storage
You could keep this chocolate at room temperature in a cool place, but due to the additional coconut oil it will be slightly softer than shop-bought chocolate.
I recommend to store your chocolate bars in an airtight container in the fridge for up to one month.
Alternatively, freeze for up to 3 months.
Related recipes
Tried this recipe? Give it a star rating below!
★ STAY IN TOUCH on FACEBOOK, PINTEREST and INSTAGRAM  for more great food and join my NEWSLETTER for the latest updates and a FREE EBOOK.★ 
Recipe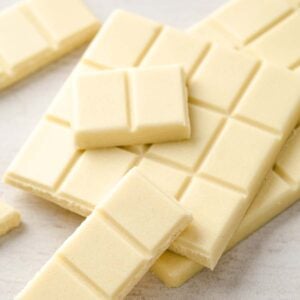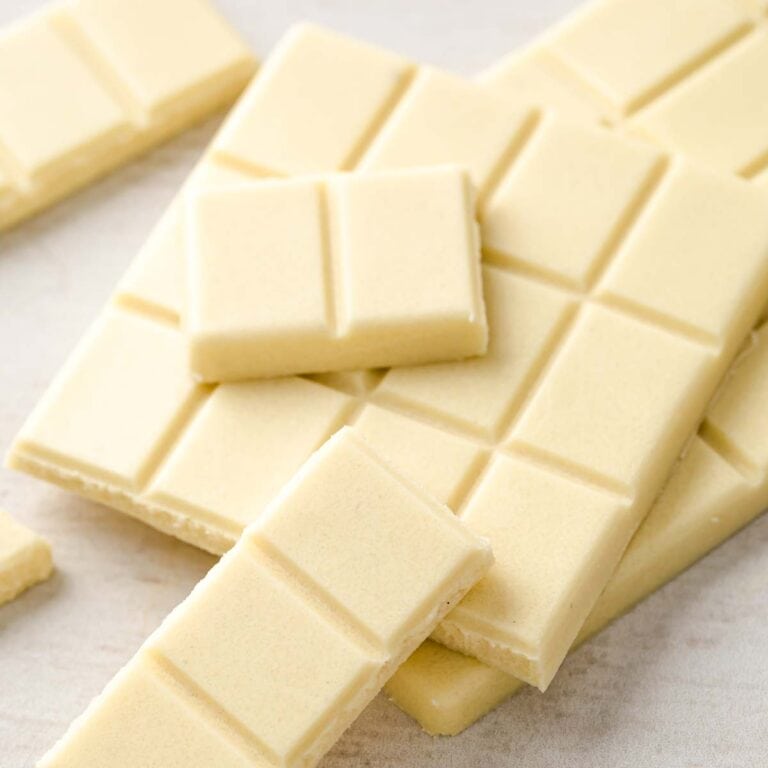 Keto Sugar Free White Chocolate
from Sugar Free Londoner
Milky and creamy, this sugar free white chocolate tastes just as wonderful as the sugary original. It's really simple to put together and ready to eat in just 25 minutes. No gritty taste and 2.9g net carbs per portion.
Note: The servings slider only changes the first amount in each line and not any subsequent amounts. Please make your own calculations where necessary.
Equipment
silicone chocolate moulds
Ingredients
3

oz / 85g

cacao butter

½

cup / 60g

milk powder

or heavy cream powder or coconut milk powder

¼

cup / 40g

allulose

powdered erythritol***

2

tablespoon

coconut oil

1

teaspoon

sugar free vanilla extract or ½ teaspoon vanilla powder

Pinch

of salt

optional
Instructions
Blitz the allulose and milk powder in a blender until fine. I did separately but you could blitz together.

Place the cacao butter (chop into 1cm cubes first if not using drops) and coconut oil in a heat proof bowl over a pan filled with 1 inch of hot water. Simmer on a low heat until melted.

Remove the bowl from the pan. Add the milk powder, allulose, vanilla and salt. Stir to combine then blend with a stick blender until smooth. (Note it will go thick at first when you stir but keep blending and it will thin down to a pourable chocolate consistency.)

Pour the Sugar Free White Chocolate into your silicone moulds. I find it helpful to put the moulds on a baking tray. Set in the fridge for about 15 - 30 minutes, or until solid. Once set, remove from the moulds and enjoy.
Notes
Serves 8 - makes 2 bars / 48 squares (6 squares per serve)
Net Carbs using milk powder: 2.9 g per serve.
Note: By using heavy cream powder instead of milk powder the net carbs reduce to an incredible 0.75g per portion.
Storage: Fridge in an airtight container for 1 month or freezer for 3 months
***Allulose is the perfect sweetener for homemade sugar free white chocolate because it dissolves easily and does not re-crystallise. If you cannot source allulose, use powdered (not granulated!) erythritol instead. 
In the UK and Europe, you can buy allulose at mydiet-shop.co.uk
Nutrition
Calories:
163
kcal
Total Carbohydrates:
2.9
g
Protein:
2
g
Fat:
55.1
g
Saturated Fat:
10.4
g
Sugar:
2.9
g
This post contains affiliate links. If you click on one of these links and purchase a product, I may earn a small commission, at no extra cost to you. Thank you for supporting Sugar Free Londoner.