The creaminess of this keto oatmeal will blow you away! This warming bowl of coconut flour porridge is on your breakfast table in under 5 minutes. It tastes just as good as "real" oatmeal, but with a fraction of the carbs. Lots of substitutions and topping ideas in the post!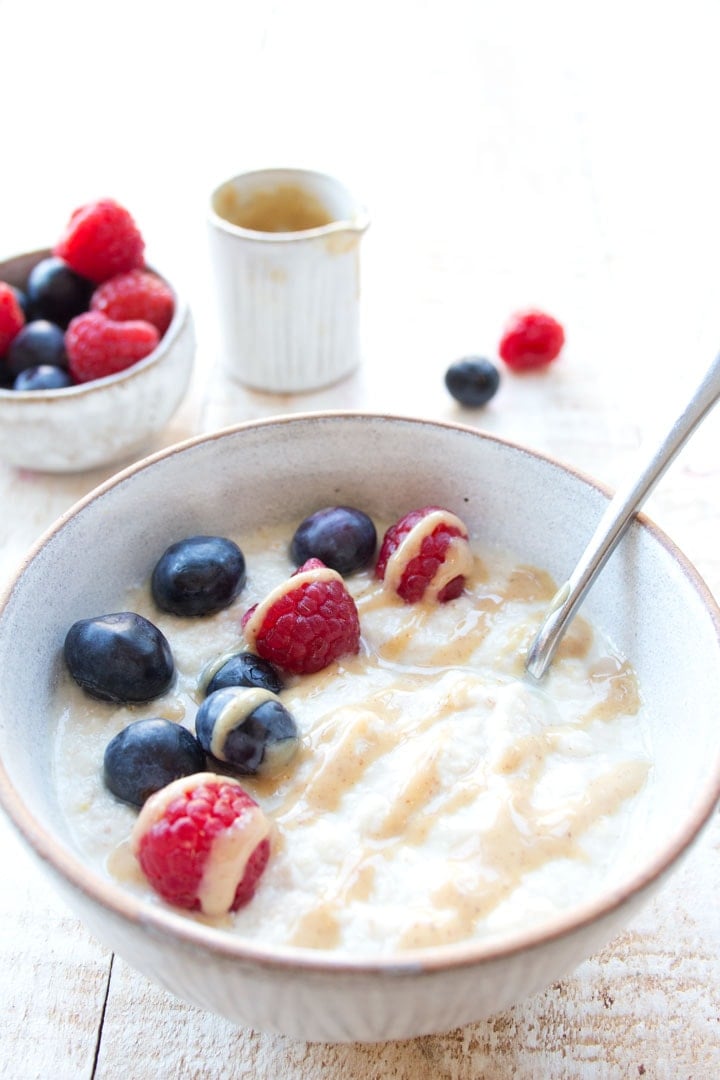 Oatmeal or porridge used to be my go-to breakfast. Its comforting blandness just perfect for sleepy taste buds. Alas, "real" oatmeal is packed with carbs.
What's a low carb substitute for oatmeal? 
There's a few! Chia seeds, ground flaxseed, hemp hearts, sesame flour and almond flour all make wonderful warm or cold porridge alternatives.
I already have a number of great recipes on my website - check out this Creamy Keto Low Carb Porridge (with almond flour), my Keto Overnight Oats (hemp hearts) or this Keto Chia Pudding.
Today I'm posting an absolute favourite of mine: a "noatmeal" made with coconut flour!
Coconut flour is packed with fibre and heart-healthy fats. A little goes a long way because it is twice as absorbent than almond flour. I always find that one pack lasts me forever!
This low carb oatmeal is creamy and filling. It will set you up for the day and will keep you satisfied until lunch.
I've added a few other ingredients to balance the flavour and make this recipe extra yum.
At the end of the post are substitution ideas - the coconut flour is really the only essential ingredient. Play around with the recipe, jazz it up with toppings and enjoy!
How to make keto oatmeal with coconut flour: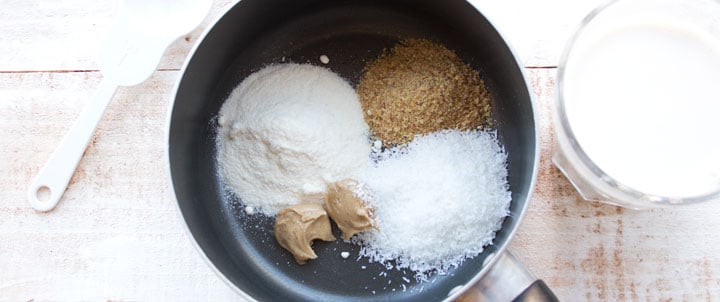 1.) Put all ingredients in a saucepan and mix.
Note: I made this recipe twice - the first time with peanut butter (in the image above) and then with almond butter. Both taste equally GREAT. Just be aware that using peanut butter increases the calories to 293, net carbs remain the same.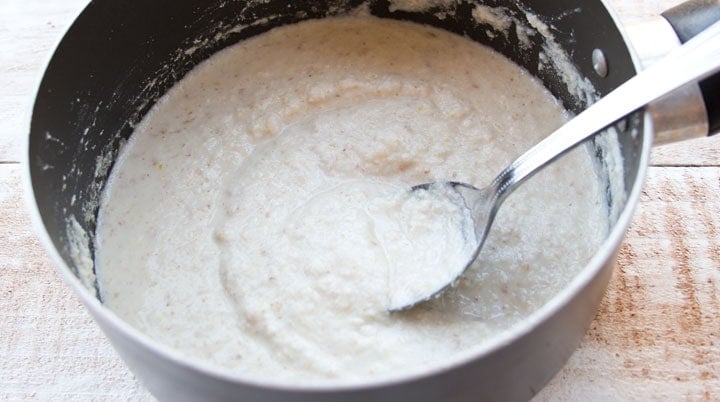 2.) Cook on a medium heat for about 2 minutes, stirring continuously. Then take off the heat and serve!
The longer you heat your keto oatmeal, the firmer it will become. It's the nature of both flaxmeal and coconut flour to absorb liquid and thicken.
In case you're finding it too thick, simply thin it with a splash of nut milk!
How to cook keto oatmeal in the microwave
If you want to use a microwave, combine everything and heat for 60 seconds.
Stir and microwave another 30 seconds. Then let sit for 30 seconds so the coconut flour and flax can expand. Loosen with a splash of nut milk if necessary.
Topping ideas
Berries - fresh or frozen. Try raspberries, blueberries or strawberries and blackberries. Use fresh if you can hold of them, but frozen also works well.
Berry Coulis. To take it up a notch you could make a simple berry coulis by blending berries and an optional teaspoon of sweetener. If you're using raspberries you can simply mash them with a fork! Option to add a pinch of ground chia seeds or xanthan gum to thicken.
Sugar Free Jam. Check out my Sugar Free Strawberry Jam  or this Sugar Free Blueberry Jam. When you're reducing the liquid in the fruit by cooking you're getting a more intense berry taste.
Nuts or seeds. Anything from coconut flakes to chopped hazelnuts, almonds, pecans or walnuts or pumpkin / sunflower seeds. Dry-roast them over a low heat for extra flavour.
Nut butters. Almond butter, hazelnut or walnut butter would be lovely in this. Peanut butter is another fave.
To make your nut butters pourable as I did in my image, simply mix with a little melted coconut oil.
Sweeteners. I did not add any. But you could use 1 tsp-1 tablespoon granulated erythritol if you prefer a sweet porridge. A brown sugar alternative such as by Lakanto or Sukrin would work well. Or use a sugar free syrup - I like this one. (Amazon affiliate links)
Last but not least, add a pinch of salt or ½ teaspoon vanilla extract if desired.
Substitutions 
I used golden flaxseed in the recipe, but regular will work too. Regular will make the end product look a little darker and more rustic.
You can replace the ground flax with 1 tsp psyllium husks or ½ teaspoon psyllium powder.
The desiccated coconut gives a bit of bite and substance. Use 1 tbsp almond flour or sesame seed flour if you don't have it available. Hemp hearts would also be a good 1:1 sub.
Don't have almond butter or peanut butter? Try adding butter, cream or coconut cream instead. This will lend the creaminess that makes this keto oatmeal taste like, well, oatmeal.
Any nut milk works. Or use water and add a splash of double / heavy cream instead. Using regular milk is also possible, but it will increase the carbs due to its natural sugar content (in the lactose).
Some people (like my husband) like to stir in an egg at the end to increase the protein content. You could equally add 1 tablespoon of protein powder. 
Before I go another quick tip - if you love oatmeal, don't miss my Keto Sugar Free Oatmeal Cookies.
More keto breakfast ideas: 
Tried this recipe? Give it a star rating below!
★ STAY IN TOUCH on FACEBOOK, PINTEREST and INSTAGRAM  for more great food and join my NEWSLETTER for the latest updates and a FREE EBOOK.★ 
Recipe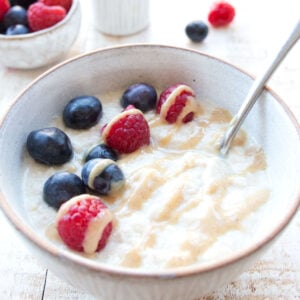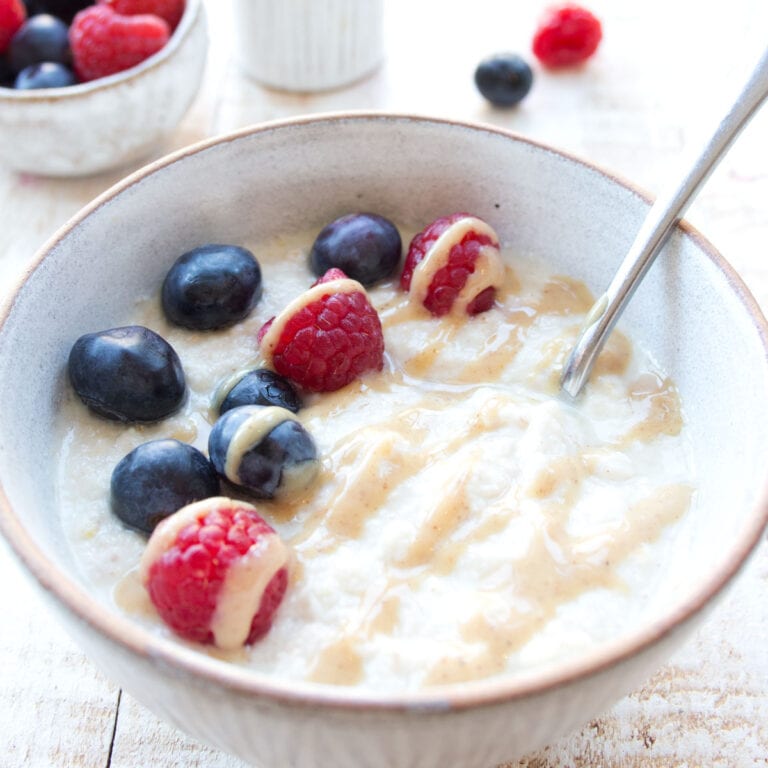 Keto Coconut Flour Oatmeal
from Sugar Free Londoner
Ever heard of noatmeal? It's a keto-friendly oatmeal using low carb substitutes instead of oats. This coconut flour porridge is deliciously creamy and super easy to make, using low carb pantry staples.
Note: The servings slider only changes the first amount in each line and not any subsequent amounts. Please make your own calculations where necessary.
Instructions
Add all ingredients to a saucepan and cook for 2 minutes on a medium heat while stirring continuously. Cooking for longer will yield a firmer oatmeal.

Serve with toppings of your choice.
Notes
4.1g net carbs per portion.
Nutrition is calculated without toppings. 
If you want to use a microwave, combine everything and heat for circa 60 seconds. Stir an then let sit for a minute fo the coconut flour and flax can expand. 
Topping ideas: desiccated coconut, berries, chopped nuts, drizzle of almond butter or other nut or seed butters. 
Add a pinch of salt if desired.
Sweeteners: I did not add any. But you could use 1 tsp-1 tablespoon granulated erythritol if you prefer a sweet porridge. A brown sugar alternative such as by Lakanto or Sukrin would work well. Or use a sugar free syrup - I like this one. 
Calories from carbs 9%, protein 20%, fat 71%
Nutrition
Calories:
231
kcal
Total Carbohydrates:
12.6
g
Protein:
9.3
g
Fat:
14.2
g
Saturated Fat:
4.4
g
Fiber:
8.6
g
Sugar:
2.9
g
This post contains affiliate links. If you click on one of these links and purchase a product, I may earn a small commission, at no extra cost to you. Thank you for supporting Sugar Free Londoner.