Easy to make and intensely delicious: Prepare this coffee chia breakfast pudding in advance and enjoy it the next morning. A sugar free, low carb, vegan and gluten free breakfast.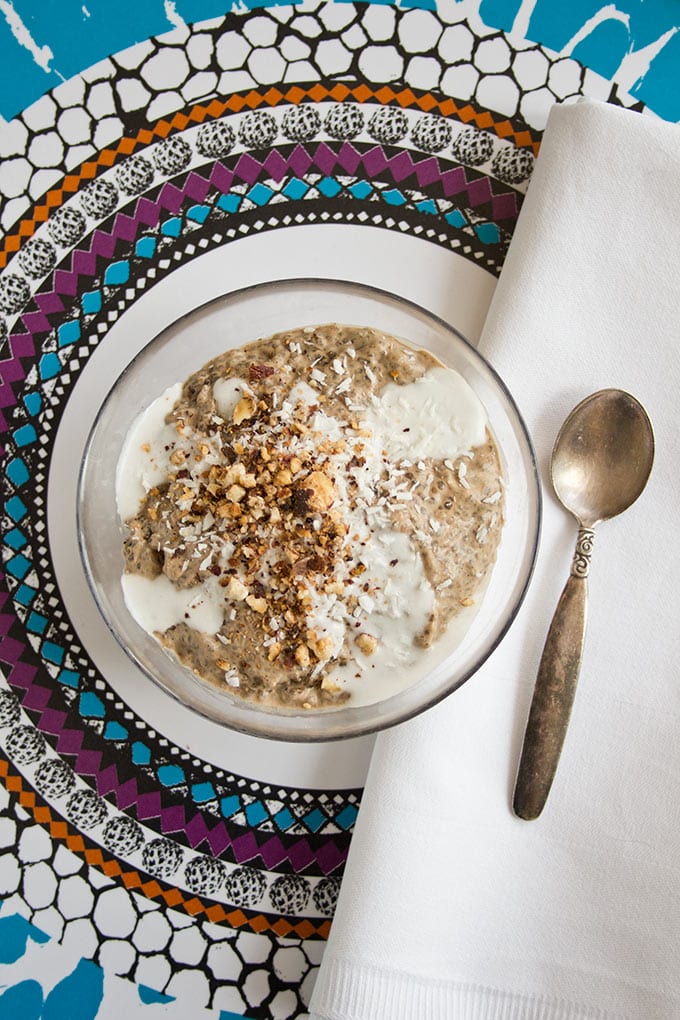 Breakfasts. I have said it before. They need to be easy! Because, hand on heart, who wants to sweat over complicated recipes first thing in the morning?
The understandable need to let your brain wake up slowly is one of the reasons that breakfast cereals have been doing so well. Get out the pack, pour some in a bowl, add milk. Done.
The problem with Kellogg's and Co is though that they are made from highly processed grains and most of the time are also packed with added sugars. All they do is send your blood sugar sky-high and dump you shortly after. In short, not a good start to the day.
A healthy breakfast includes protein, fibre and healthy fat that gives you energy and makes you feel full. If you're following a Keto diet, you might even prefer to keep to a butter coffee. But if you opt for shop-bought muffins, cereal bars or toast with margerine, you're actually better off having no breakfast at all.
If I do not have my peanut butter granola in the cupboard, which is a delicious mix of cinnamon spiced nuts and seeds which I'll have with plain yoghurt and fruit, my mornings normally start with eggs. I'll have them with one or more of the following: avocado, cheese, spinach, asparagus, salmon, ham, bacon, herbs, tomato. Alternatively, have any leftovers from last night's dinner.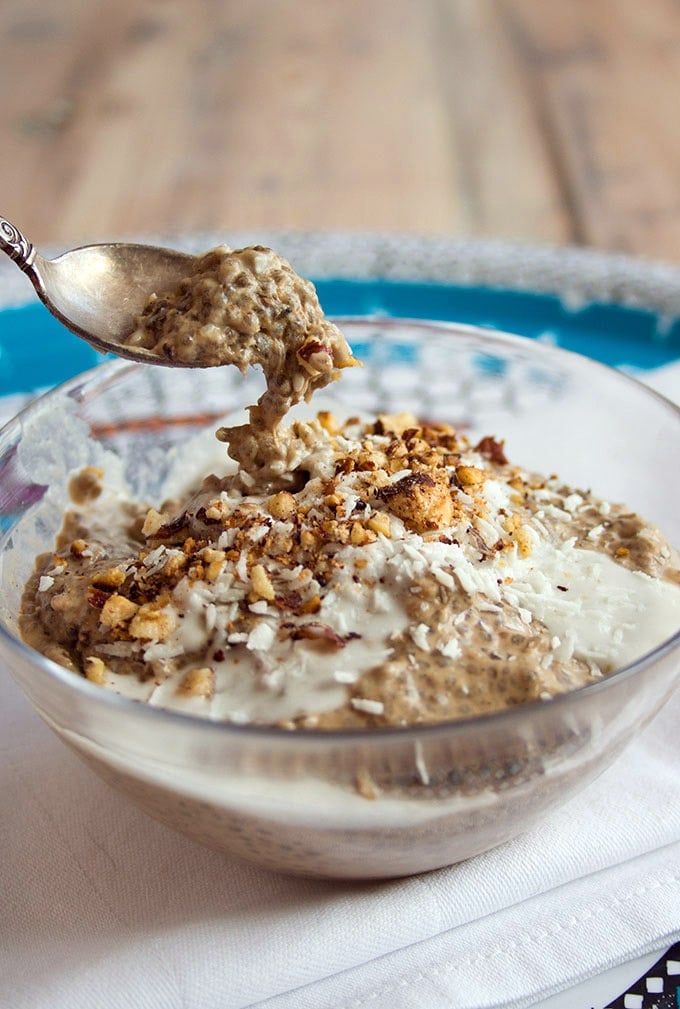 This coffee chia breakfast pudding is the latest addition to my morning repertoire. I love it, guys!
I bought my first pack of chia seeds last week, having resisted for no better reason that I thought I don't need to buy into any expensive food craze. Until I realised that chia seeds actually are not a faddy food but absolutely delicious and highly nutritious.
When you consider that 2-3 tablespoons of seeds make one portion (the seeds absorb up to 12 times their weight in liquid), they are not expensive either.
I have sung praise of the humble chia seed in my cherry chia frozen yoghurt post last week. The beauty of chia is its very high fibre content - one ounce (28 grams) of chia seeds provides an impressive 11 grams of fibre per serving.
What's more, the actual carb content is only one gram per ounce, which is very low.
You want an easy, delicious and nutritious start to the day? Then spend 3 minutes mixing this coffee chia breakfast pudding and put it in the fridge.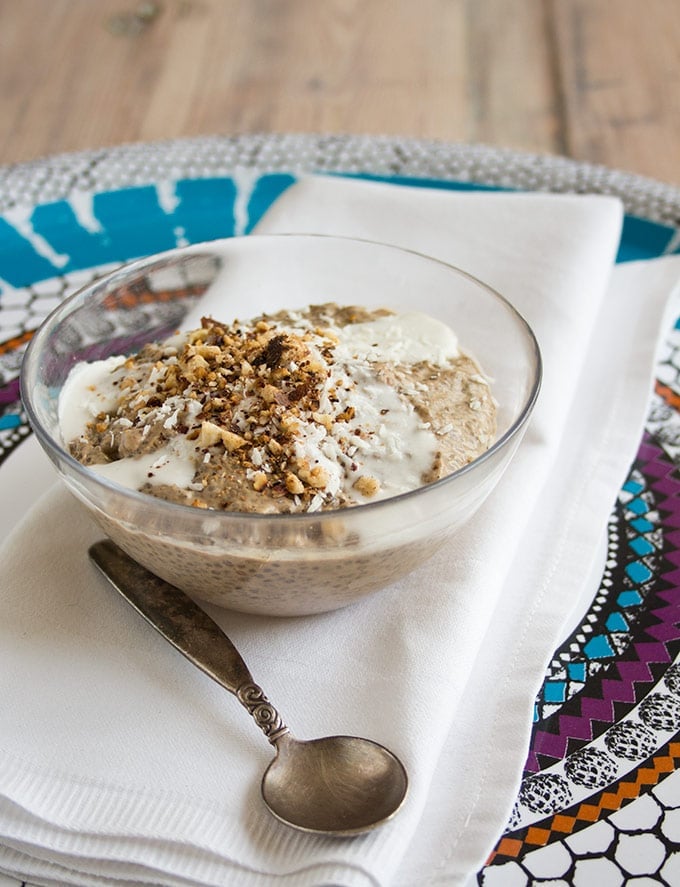 In the morning, all you need to do is eat it. By all means, decorate it with some nuts and coconut milk if you like to please your eyes. Friends, I did it for the photo, but without a camera around I'd enjoy it just as much without.
And the best thing is, you don't even have to make coffee. There's a full cup in your bowl already. Coffee Chia Breakfast Pudding rules!
Is that a win-win or what?!
Love chia? Don't miss my Creamy Keto Chia Pudding  - it has 3 delicious recipe variations!
If you're a coffee lover, be sure to also check out my Keto Coffee Smoothie.
★ Tried this recipe? Give it a star rating below!★
★ STAY IN TOUCH on FACEBOOK, PINTEREST and INSTAGRAM  for more great food and join my NEWSLETTER for the latest updates and a FREE EBOOK.★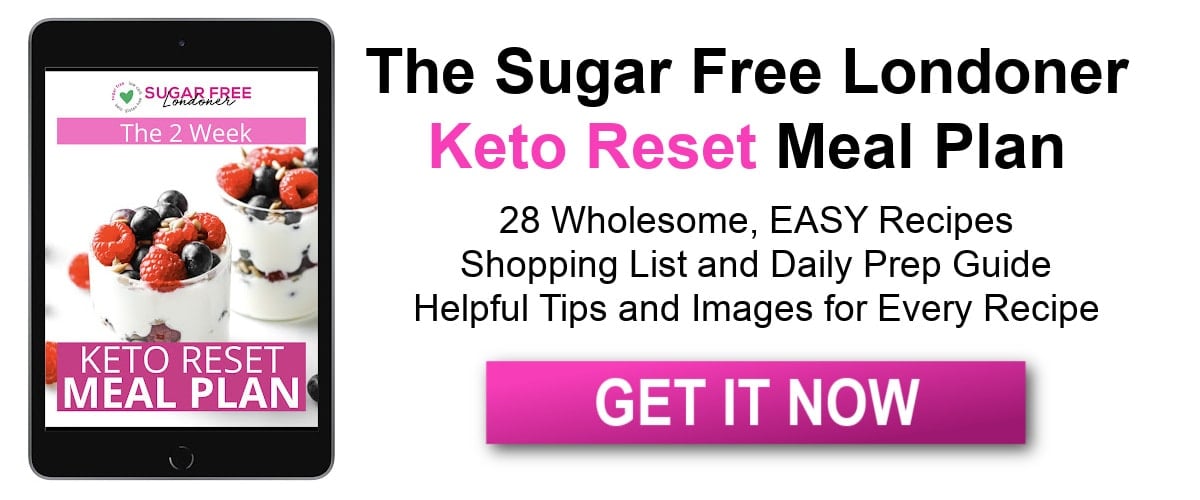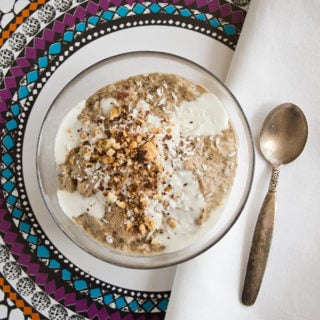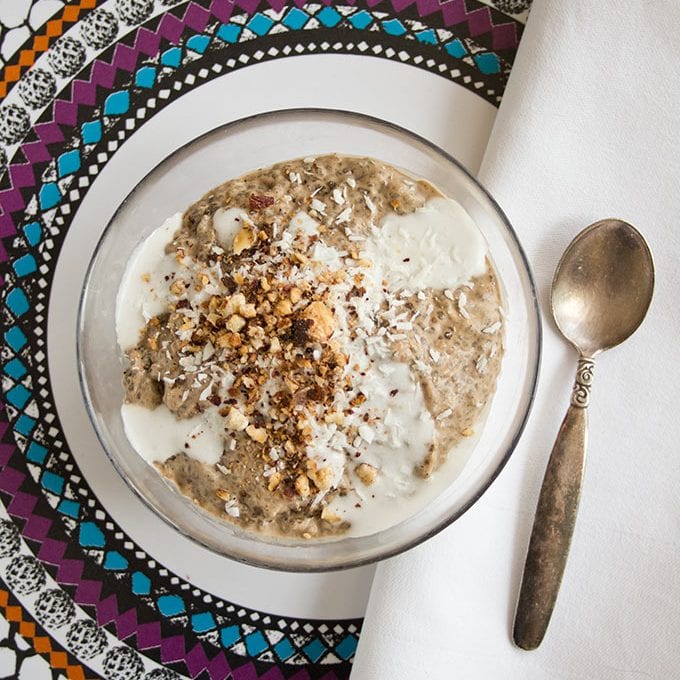 Coffee Chia Breakfast Pudding
from Sugar Free Londoner
Easy to make and intensely delicious: Prepare this coffee chia breakfast pudding in advance and enjoy it the next morning. A sugar free, low carb, vegan, gluten free and paleo-friendly breakfast.
Note: The servings slider only changes the first amount in each line and not any subsequent amounts. Please make your own calculations where necessary. ***As an Amazon Associate I earn from qualifying purchases.
Instructions
Put all ingredients in a bowl and stir.

Cover and refrigerate over night.
Notes
You could add 1 tablespoon of cocoa powder to turn your breakfast pudding into a mocha chia pudding!
Nutrition
Calories:
282
kcal
Total Carbohydrates:
12.6
g
Protein:
5.9
g
Fat:
24
g
Fiber:
7.6
g
Sugar:
1.3
g
This post contains affiliate links. If you click on one of these links and purchase a product, I may earn a small commission, at no extra cost to you. Thank you for supporting Sugar Free Londoner.