You only need 5 ingredients for this sugar free, keto bounty bar chocolate bark! This easy sugar free dessert is a simple copycat version of Bounty Bars, only without the sugar rush. We're talking luscious dark chocolate with a soft and creamy coconut filling. Only 0.8g net carbs per generous square.
Let's talk chocolate bars. Which one pushes your buttons?
When I was a kid growing up in Germany, I used to love Bounty Bars.
Not only because I liked the taste of coconut (and I still do), but also because of the wrapper, which I thought was just wonderfully exotic. Bounty Bars made me think of summer, sunshine, tropical islands and dancing Hula on the beach.
If you consider that the furthest away from Germany I had made it back then was Denmark, you're basically talking paradise.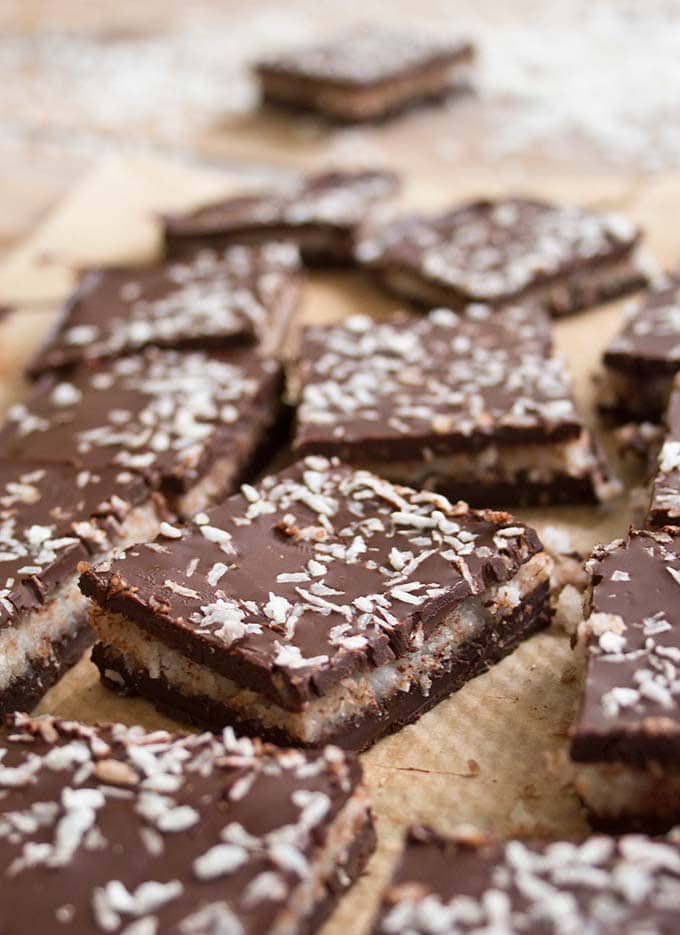 I haven't had a Bounty Bar in yonks. But when I waited in the supermarket checkout queue the other day, there they were, in all their Pacific-blue glory. And even though I know they would probably taste like sweetened soap, I still fancied one, for the sake of old sweet memories.
Then I had a much better idea. I'd just make my own sugar free keto bounty bars.
And then I had an idea I liked even more.
I'd make the lazy cheat's version of Bounty Bars. The one that does not involve laborious dipping of coconut shapes into melted chocolate.
Hello, keto bounty bar chocolate bark!
Over the years I have made my fair share of sugar free sweets, from copycat sugar free chocolate bars and truffles to keto fat bombs and even sugar free gummy bears.
However, I've got to say this: if you like coconut, then this Keto Bounty Bar Chocolate Bark is just HEAVEN. The crunchy dark chocolate and the soft coconut filling are just perfect partners. Plus, it's SO EASY to make.
All you need are 5 ingredients, a lil' bit of patience (while your bark cools and firms up in the fridge) and a TEENY TINY bit of willpower to not scoff all of it in one sitting.
So. Let's get down to the nitty-gritty and talk recipe.
Sugar Free CHOCOLATE.
I used 100% unsweetened chocolate, which I sweetened with liquid stevia. OMG what a taste EXPLOSION! My current favourite is caramel-flavoured stevia, because I think it tastes great, but regular stevia would do the trick, too. You could also use powdered erythritol to sweeten.
Granulated sweetener is not a good idea because it would be too heavy and sink to the bottom of your chocolate layer.
If you're after a milk chocolate taste, you could source a ready-made sugar free chocolate bar - there are varieties sweetened with stevia or erythritol. Alternatively, make my keto milk chocolate.
DESICCATED COCONUT.
Tastes amazing and is fantastically healthy. Make sure you buy unsweetened coconut and not the sweetened version. This is what I did accidentally - a super-sized packet, no less - and almost choked on when I tasted my mix. Guys, ⅓ was icing sugar. It literally made my teeth curl.
Hard to say if I'd have found this yum before I went sugar free. Coconut has quite a bit of natural sweetness, so you don't actually need oodles of sweetener.
COCONUT CREAM AND COCONUT OIL.
One long word: Medium-Chain Triglycerides!! These superstar fatty acids have antibacterial and antiviral properties, support your immune system and are heart-healthy. Coconut cream and coconut oil help make the filling taste just as creamy, rich and irresistible as the filling of the original Bounty Bar - only better :).
I used the firm part of a can of coconut milk. The leftovers and the liquid part went into a red curry with cauliflower rice later that day.
PATIENCE.
Just a little bit of patience.... until the chocolate has fully firmed up in the fridge. Catch up on news, tidy up your eyebrows, have a nap... do ANYTHING to not touch your bark before it's hardened properly, especially if you plan to break it into generous Ottolenghi-like pieces as opposed to cutting it.
I have to admit, it's difficult, and my bark sported a couple of telltale fingerprints after I wielded my knife. Can you tell in the photo below?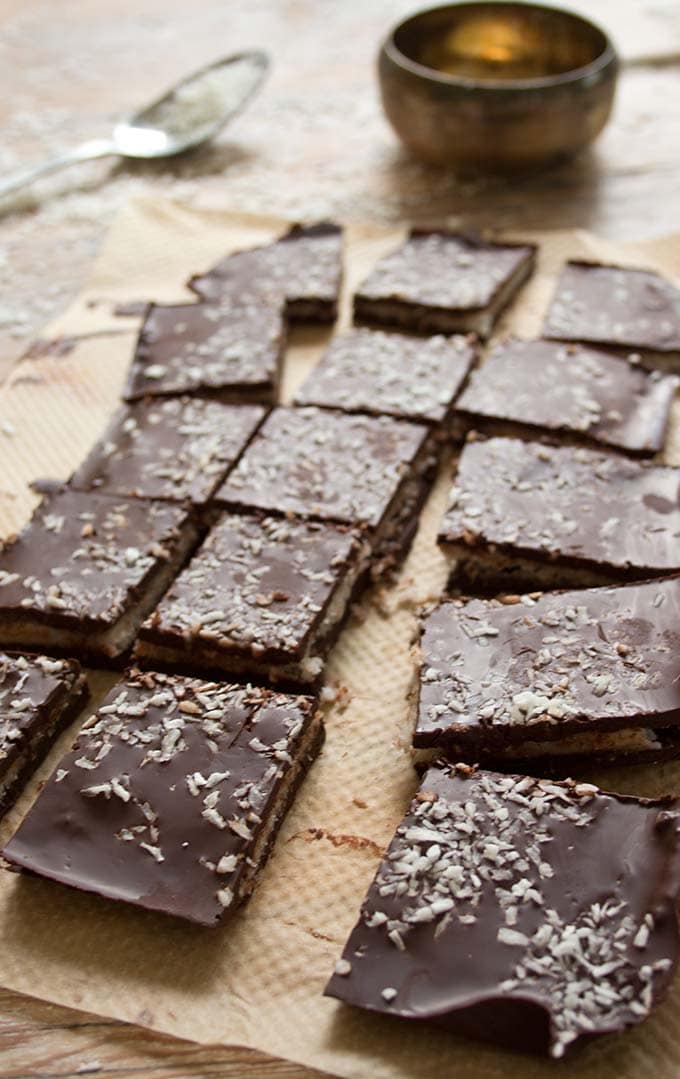 Note: I cut my keto bounty bar chocolate bark into 15 pieces, which actually were rather generous in size. You could easily cut it into 20 pieces and still feel satisfied, especially if you are using 100% unsweetened chocolate which has a very intense taste.
How to store keto bounty bars
Unless it's high summer, it's totally possible to store your keto bounty bar chocolate bark at room temperature. I always store it in the fridge though because I just prefer it cool. Store for up to 1 week.
This sugar free chocolate bark is also great for freezing and my husband loves it straight from the freezer. Freeze for up to 3 months.
Enjoy!
Tried this recipe? Give it a star rating below!
★ STAY IN TOUCH on FACEBOOK, PINTEREST and INSTAGRAM  for more great food and join my NEWSLETTER for the latest updates and a FREE EBOOK.★ 
Recipe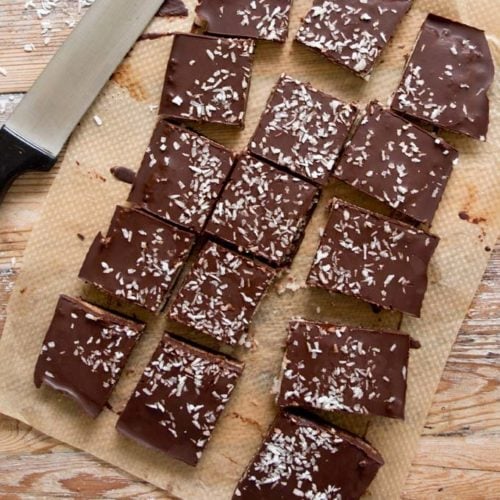 Keto Bounty Bar Chocolate Bark
from Sugar Free Londoner
Sugar free sweets don't come easier than this: This keto bounty bar chocolate bark requires just 5 minutes of prep and only 5 ingredients. The perfect keto treat for lovers of coconut!
Note: The servings slider only changes the first amount in each line and not any subsequent amounts. Please make your own calculations where necessary.
Instructions
Melt half of the chocolate. I did this in a pot over a low heat, but you can use a microwave, too. If you're using unsweetened sugar free chocolate, sweeten with stevia drops to your liking (around 12 drops per 100g).

Line a small casserole dish (mine was 10x7 inch) with baking paper. Pour in the chocolate and spread evenly.

Place in the fridge to harden.

For the filling, mix the desiccated coconut with the coconut cream, coconut oil and sweetener. This is best done in a food processor, but you could do it with a stick blender, too. You can buy canned coconut cream - or use full fat coconut milk and only use the creamy part, not the liquid part.

Spread the filling over the hardened chocolate base and press down. I ended up using only around half of the filling. I think next time I'll use more to make my bark less chocolatey and more coco-nutty.

Melt the second half of chocolate and pour over the top. Sprinkle some coconut on the top.

Refrigerate until set, then cut into 15-20 pieces.
Notes
I had around half of the coconut filling left over, but decided not to change the recipe because it would be tricky to blend only a tiny amount in a food processor. You could make little bliss balls and roll them in cocoa powder, for example. Or use more than half the filling and make your bark more coconutty - I think this is what I'll do next time.
I calculated the nutrition facts with half the coconut filling.
If you wanted, you could also make "proper" low carb Bounty Bars instead of bark - just form little bars and dip in chocolate instead! In this case, 100g/3.5 oz of chocolate would suffice
I used 100% unsweetened chocolate - I discovered a brand called Montezuma at my local Sainsbury's. Sweeten it to your liking with liquid stevia. You could also use ready-made sugar free chocolate such as by Lily's or ChocZero. 
Nutrition
Calories:
106
kcal
Total Carbohydrates:
1.2
g
Protein:
2.2
g
Fat:
9.7
g
Saturated Fat:
6.7
g
Polyunsaturated Fat:
0.1
g
Monounsaturated Fat:
0.1
g
Sodium:
1.5
mg
Potassium:
0.5
mg
Fiber:
0.4
g
Sugar:
0.3
g
This post contains Amazon Affiliate links. Thank you for supporting Sugar Free Londoner.