You only need 4 ingredients to make these totally scrumptious coconut almond butter bars! The recipe is low carb, gluten and sugar free. With only 3 net carbs per bar it is also suitable for the keto diet.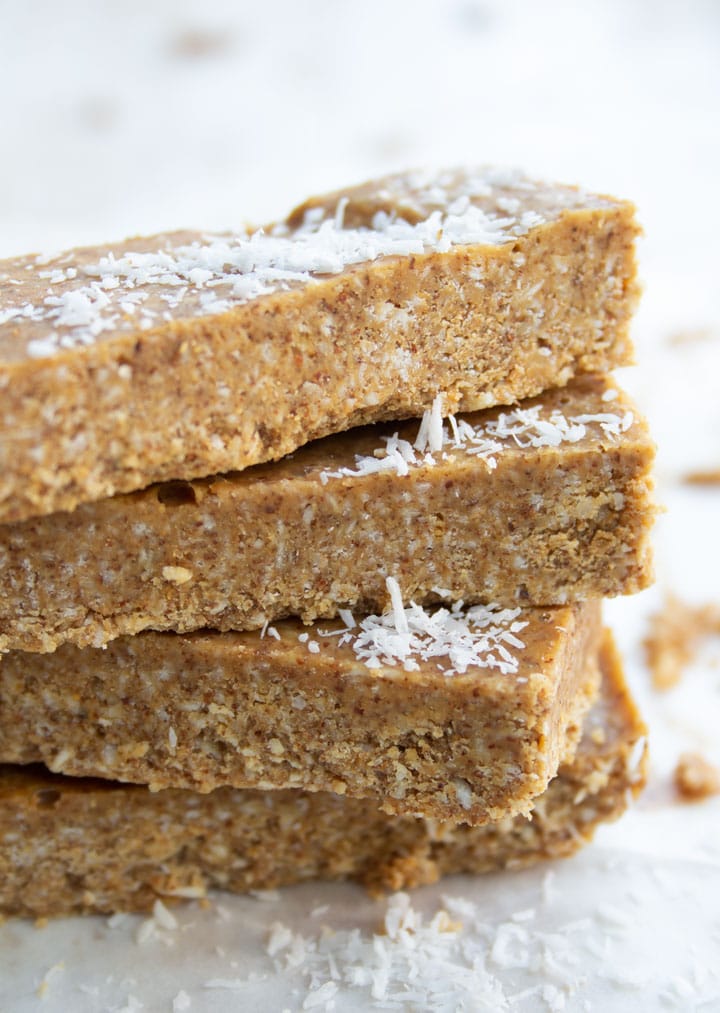 As you all know, I'm a big fan of keeping things simple and reducing ingredients to the minimum. These coconut almond butter bars are the perfect example!
The recipe is from the 5 Ingredient Keto cookbook by my good friend Lisa from Low Carb Yum. The cookbook is packed with 120 recipes made with 5 ingredients or less that will save you time and stress. From breakfast to dinner, Lisa's got you covered.
To my readers in the UK: The book is available on Amazon UK on on Kindle (aff link) and as a paperback from May 1st.
I love that these keto bars come together with only 4 ingredients and don't require any baking. Simply chill them in the fridge or freezer until they're set!
The recipe makes 8 bars. I'd say one bar makes a satisfying and filling breakfast or snack if you're hungry. Or cut into 16 squares and make coconut almond butter fat bombs!
How to make coconut almond butter bars - step by step: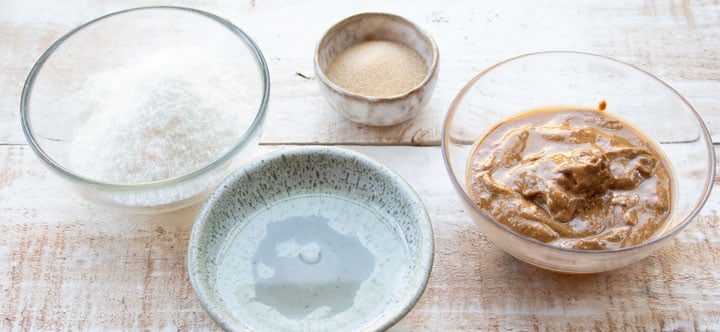 1.) Here are your ingredients - desiccated coconut, melted coconut oil, granulated erythritol (I used Lakanto Golden), almond butter.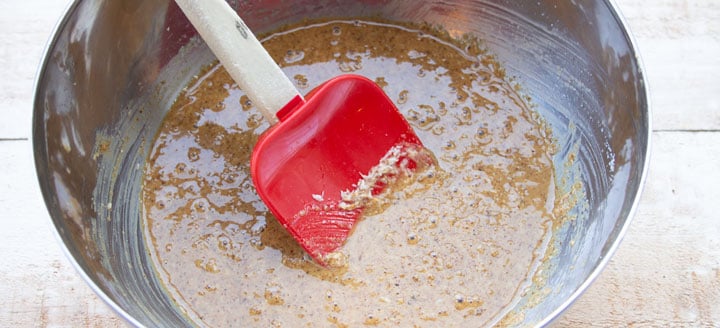 2.) Simply stir them together in a bowl....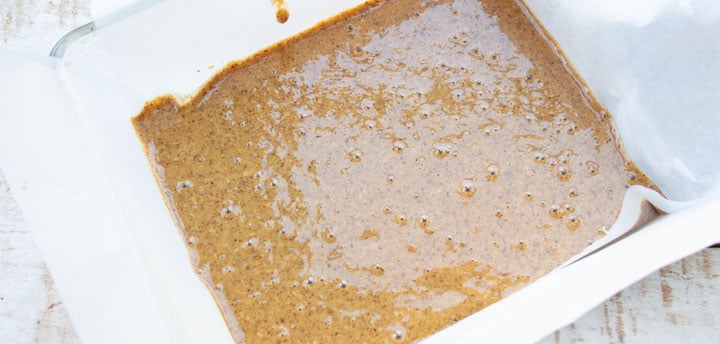 3.) ...and fill into a 8 x 8 inch pan lined with parchment paper.
Note: I used a 7 x 9 inch casserole pan because I don't own a 8x8 inch square pan. As I did not want my bars to be too flat I built a barrier with aluminium paper which I placed at one end of the pan to stop the mix from spreading.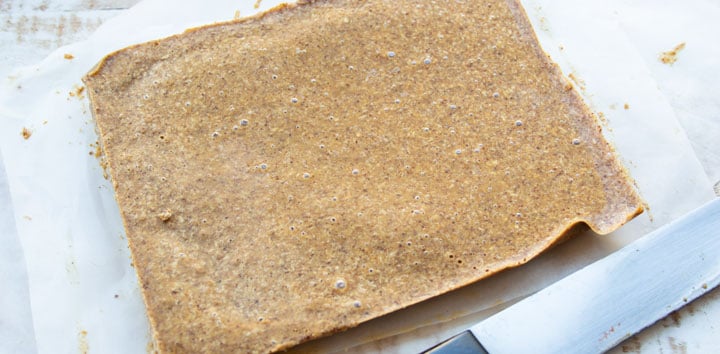 4.) After around 25 minutes in the freezer your mix is solid. Remove it and...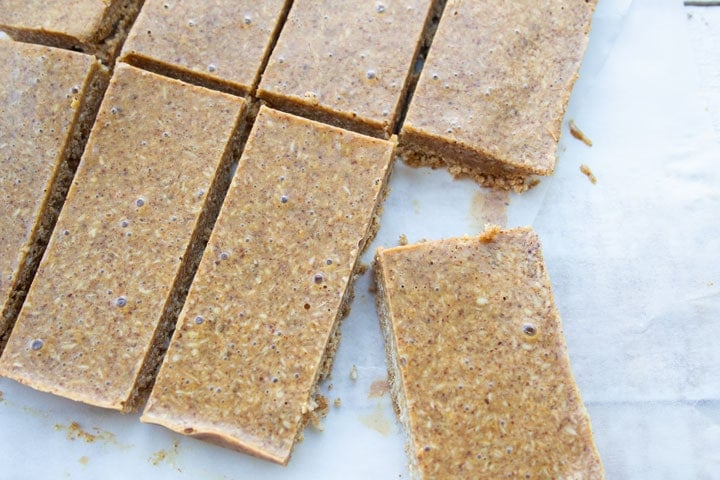 5.) ...cut it into 8 slices (or 16 squares, if you prefer!).
Tip: To achieve razor-sharp edges, use a sharp knife without a serrated blade. Also, it helps to warm and wet your knife under hot water before cutting.
Recipe Variations
Lisa suggests to replace the coconut with nuts or chocolate chips to change things up. My sugar free chocolate chips would work great here!
Don't have almond butter? The recipe would work with any nut butter or peanut butter.
You could also add a couple of scoops of protein powder to increase the protein content.
Or why not try adding 1-2 tablespoon of cocoa powder to turn them into chocolatey bars?
In terms of spices, I can imagine that 1 teaspoon cinnamon would be lovely in them, or pumpkin spice / mixed spice, if you're in an autumn frame of mind.
To jazz them up even further, drizzle with melted chocolate!
How to store your almond butter bars
You need to store these bars in the fridge or in the freezer, because they go soft at room temperature.
I prefer to keep them in the freezer. Due to their high fat content, they do not freeze solid and can be eaten straight away. But if you prefer a slightly softer bar, just leave it on the counter for 5 minutes before eating!
You can store them for a couple of weeks in the fridge or 3 months in the freezer.
Here are more low carb snack bars for you: 
Tried this recipe? Give it a star rating below!
★ STAY IN TOUCH on FACEBOOK, PINTEREST and INSTAGRAM  for more great food and join my NEWSLETTER for the latest updates and a FREE EBOOK.★ 
Recipe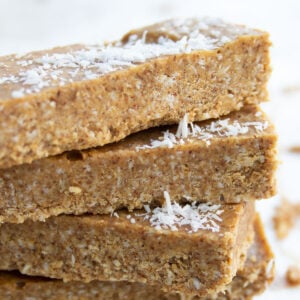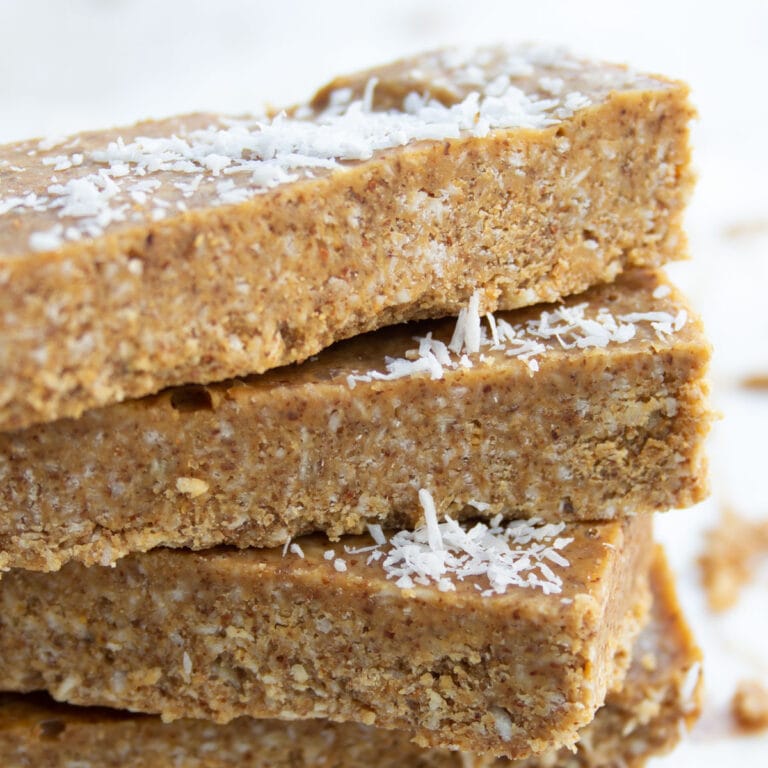 Lisa's Coconut Almond Butter Bars
from Sugar Free Londoner
These low carb almond butter bars make a nutritious breakfast that will keep you going until lunchtime. Or enjoy one of these Keto bars as a high fat snack when you need a pick-me-up! The recipe is super simple and no bake - just chill them in the freezer until they're firm!
Note: The servings slider only changes the first amount in each line and not any subsequent amounts. Please make your own calculations where necessary.
Instructions
Line an 8 × 8-inch baking pan with parchment paper.

Combine the almond butter, shredded coconut, coconut oil, and sweetener in a large bowl. Spread the mixture into the prepared pan.

Refrigerate or freeze until solid. Slice into 8 bars.
Notes
Net carbs: 3g per bar. The total carbs in the nutrition panel include 4g sugar (polyols) from the erythritol which are not absorbed by our bodies and therefore effectively zero carb.
Store the bars in the freezer - they become soft at room temperature. Due to their high fat content they are perfect to eat straight from frozen.
Macros: 4% carbs, 7% protein, 89% fat
The recipe is from the 5 Ingredient Keto cookbook by my friend Lisa from Low Carb Yum.
Nutrition
Calories:
327
kcal
Total Carbohydrates:
10
g
Protein:
6
g
Fat:
32
g
Fiber:
3
g
This post contains affiliate links. If you click on one of these links and purchase a product, I may earn a small commission, at no extra cost to you. Thank you for supporting Sugar Free Londoner.