Sweet craving? These soft, chewy Keto coconut bars are healthy dessert heaven. NO-BAKE and made with only 5 ingredients, you'll never guess these decadent-tasting candy bars are low in carbs and sugar free!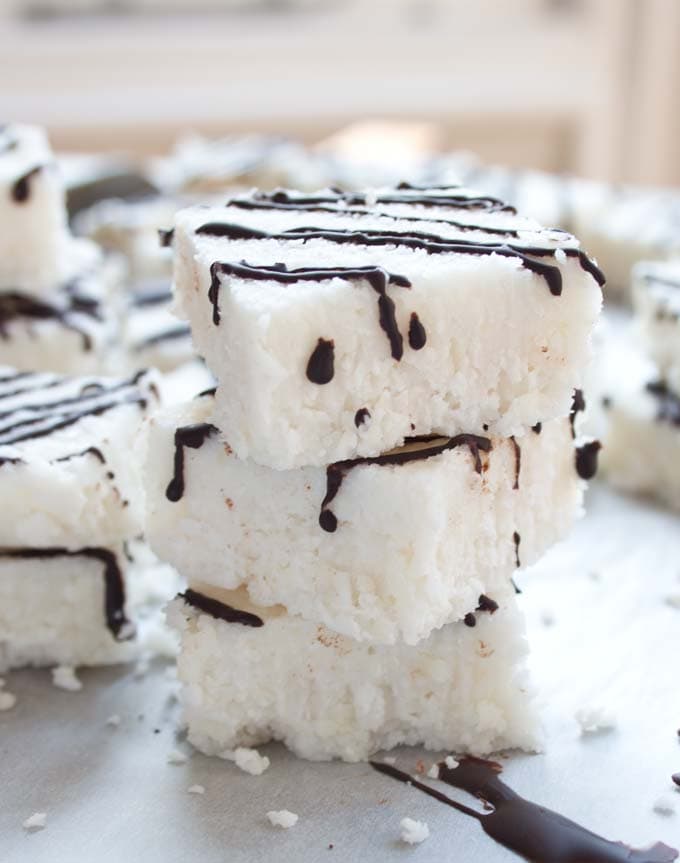 I'm a big fan of easy sugar free sweets, and this recipe ticks all my boxes. It does not require any baking, it comes together with only 5 ingredients and most importantly, it is intensely, supremely satisfying. Once you sink your teeth into a chewy coconut bar you'll know exactly what I'm talking about!
Essentially, no bake coconut bars are just like a Bounty bar (I think there's a version over in the US called Mound bar) – but without the fussy chocolate covering (and all the sugar). The filling is the best part anyway, so why not get straight to it 😉
Are these no bake coconut bars healthy?
Amazingly, yes! They contain lots of good fat and only 1.3 grams of sugars per bar!
These Keto bars are a triple coconut whammy. The recipe calls for desiccated coconut, coconut cream AND coconut oil. Coconut is a dream ingredient for anyone who's following a low carb or Keto diet. Desiccated coconut, for example, is rich in essential nutrients and high in fibre. Coconut is also high in saturated fats, which means it's very satiating. Coconut oil is an ingredient in many Keto fat bomb recipes, including my chocolate walnut fat bombs.
Regular coconut bar recipes often contain condensed milk. Condensed milk is a mixture of milk and sugar, which is simmered until it is reduced by about 1/3 and thickens. I used the coconut cream instead, which has a similar texture, but is low in carbs. I actually have a recipe for sugar free condensed milk on my website, which would also be great in this recipe. But for all of you who want a quick result, coconut cream works a treat.
How to make coconut bars – step by step: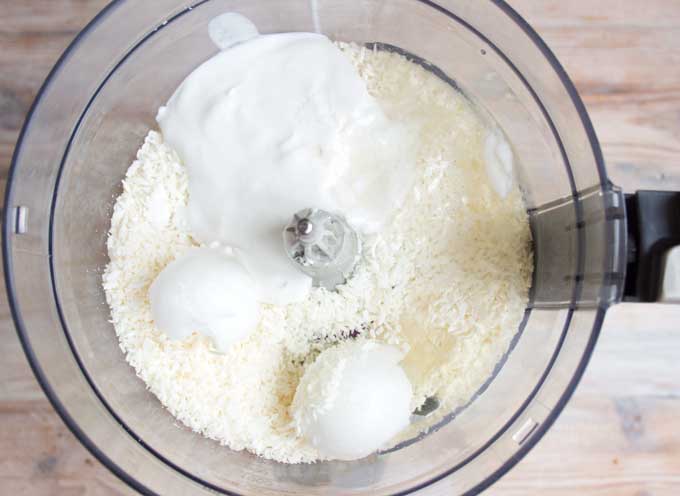 1.) Place all ingredients except the chocolate in a food processor or stand mixer and blend away until the coconut shreds are considerably smaller than they were at the beginning. You could use a stick blender and a tall jug as well, it'll just take a little longer.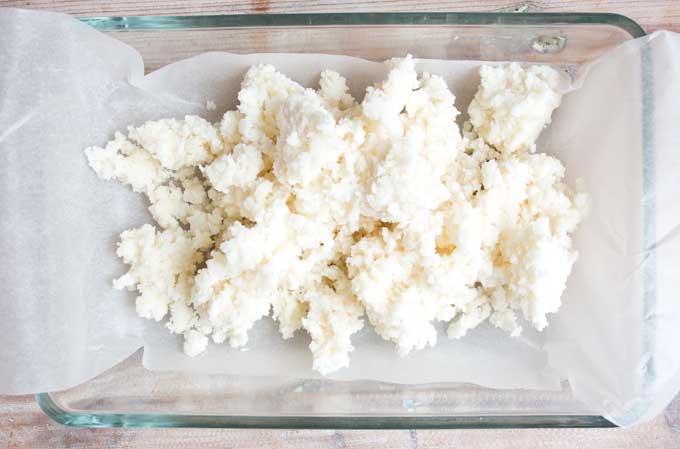 2.) Line a tray with parchment paper and fill in the sticky mixture. Take this opportunity to steal a couple of bites 🙂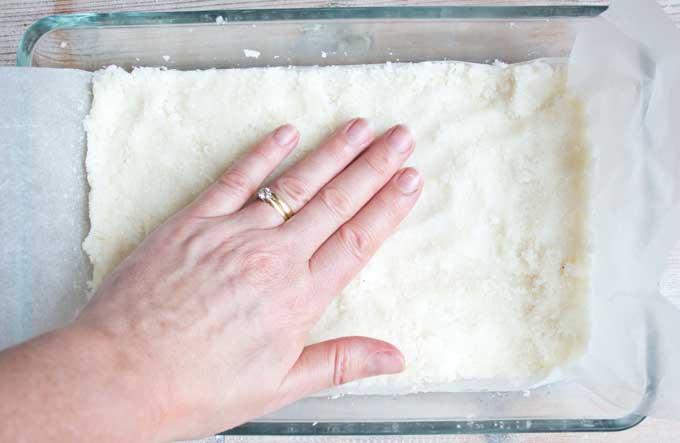 3.) Press the coconut filling down firmly with your hand until there are no air bubbles left. This way your bars don't fall apart later.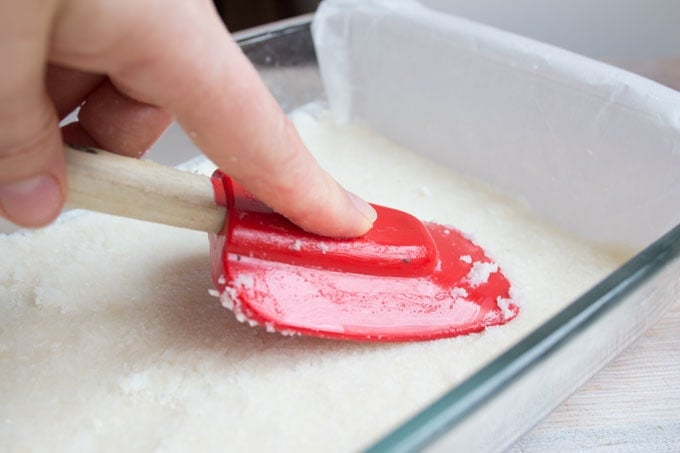 4.) Optional – smoothen the top with a spatula.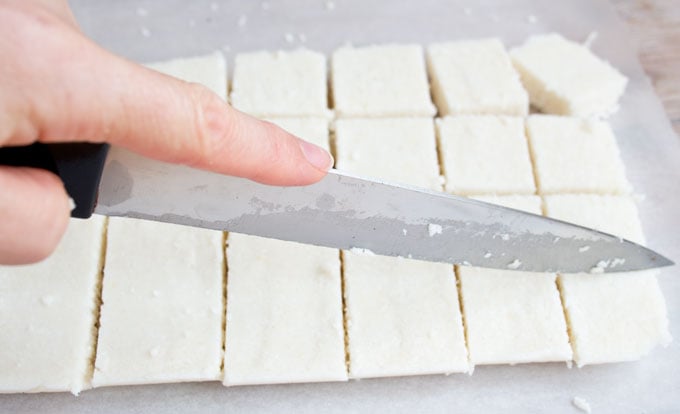 5.) Place the tray in the fridge for 15 minutes so it firms up before cutting. The blades of the food processor warm up the coconut mix, which makes it too soft to cut straight away. I cut my mix into 24 squares. I decided to cut BEFORE drizzling with chocolate because I did not want the chocolate to splinter off when cutting.
TIP: Wet your knife before you cut and clean it after each cut to remove any coconut shreds that got stuck on it.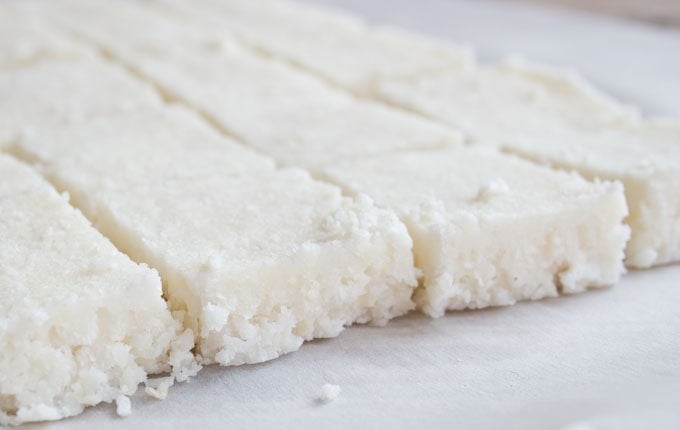 6.) Take a moment to admire your coconut squares, looking all pristine and perfect in innocent white 🙂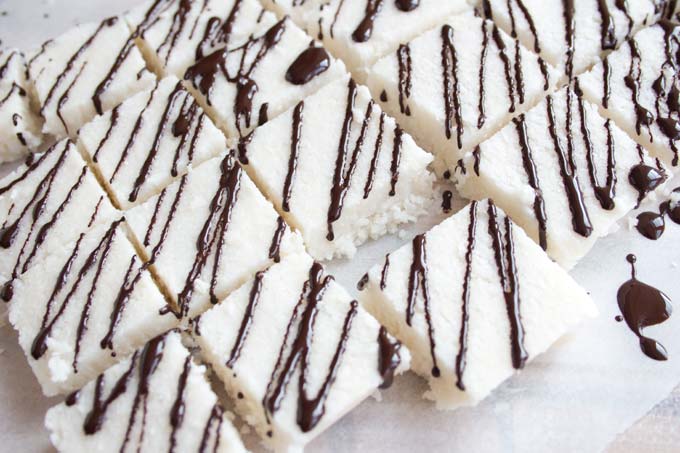 7.) Now it's time to decorate: Melt dark or sugar free chocolate with 30 second bursts in the microwave or in a water bath (you place a bowl with chocolate into a larger bowl half-filled with boiled water). Pour the chocolate into a sturdy plastic bag and pierce a hole into the bottom with a needle. Drizzle the chocolate over the coconut bars and return to the fridge until chocolate has set.
BAKER'S NOTES
I used the clear Sukrin Sugar Free Fibre Syrup in this recipe. You can replace it with any other sugar free syrup available where you are. If you're after a Paleo coconut bar, you could even go for maple syrup.
You can go for 1/2 cup of powdered erythritol instead of the sugar free syrup. In this case, increase the coconut cream by 1/2 cup.
I don't like my sweets too sweet. If you prefer your coconut bars a little sweeter, don't hesitate to add a few drops of liquid stevia. Vanilla or coconut flavour would work well. 4 drops are equivalent to 1 tsp of sugar. Add only a few drops at a time so your mix doesn't end up too sweet!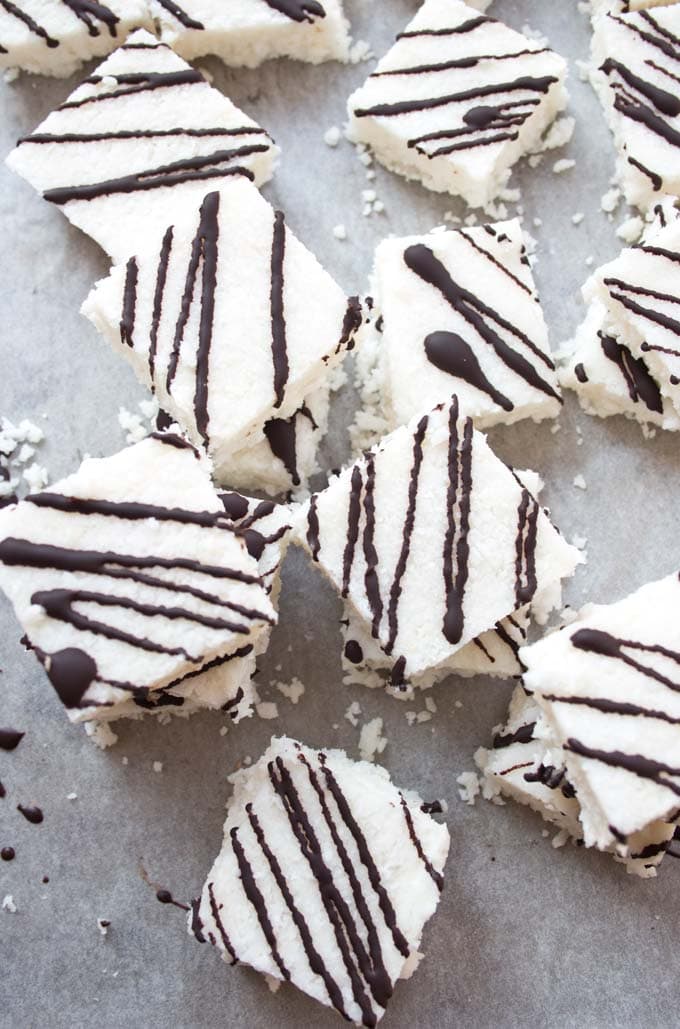 Let's talk chocolate.
The coconut bars you see in the photos are drizzled with a dark chocolate containing 90% cocoa solids. It is very low in sugar – less than 1/2 teaspoon for the entire amount used in the coconut bars. A chocolate with 85% cocoa solids would still be a good option. Or you can even go for sugar free chocolate, which is sweetened with stevia. They are more pricey, but this way you could even have a milk chocolate topping. In the US, Lily's is a good option, and in the UK there is a brand called Nicks.
You can easily turn your Keto bars into homemade bounty bars by cutting the coconut mix into rectangular shapes and dipping it into a bowl with melted chocolate. Handle the coconut shapes with 2 spoons so you don't get messy hands!
Coconut bars freeze well – they even taste great frozen! You can store them in the fridge or even in an airtight jar at room temperature. Enjoy!
 Tried this recipe? Give it a star rating below! 
★ STAY IN TOUCH on FACEBOOK, PINTEREST and INSTAGRAM for more great food and join my NEWSLETTER for the latest updates.★
Keto No Bake Coconut Bars
Sweet craving? These soft, chewy coconut bars are healthy dessert heaven. NO-BAKE and made with only 5 ingredients, you'll never guess these decadent-tasting candy bars are low carb, Keto and sugar free!
Print
Pin
Rate
As an Amazon Associate I earn from qualifying purchases.
Instructions
Blend all ingredients in a high speed blender or with an electric mixer until and you have a moist, sticky mix. The coconut shreds should be MUCH smaller than they were before blending.

Line a 8x5 inch pan with parchment paper and fill in the coconut mix. Press down with your hands until it's nice and firm. Smooth the top with a spatula.

Place in the fridge for 15 minutes. Then remove and cut into pieces.

Heat the chocolate in the microwave (30 second bursts) or in a water bath (place the bowl with chocolate into a larger bowl half-filled with boiled water. The heat gently melts the chocolate).

Fill melted chocolate into a plastic bag and pierce a hole with a needle. Drizzle the coconut bars with the chocolate.

Return to the fridge for 10 minutes so the chocolate firms up.
Notes
Nutrition is calculated per 1 coconut bar using chocolate with 90% cocoa solids. 
Nutrition
Serving:
20
g
|
Calories:
115
kcal
|
Carbohydrates:
7
g
|
Protein:
0.8
g
|
Fat:
10.7
g
|
Saturated Fat:
8.4
g
|
Fiber:
5.5
g
|
Sugar:
1.2
g
This post contains affiliate links. If you click on one of these links and purchase a product, I may earn a small commission, at no extra cost to you. Thank you for supporting Sugar Free Londoner.