Have you ever wondered how many grams are in a cup? This guide helps you convert measurements of common cooking and baking ingredients from cups to grams. It includes handy conversion charts so you can see the ingredient amounts at a glance.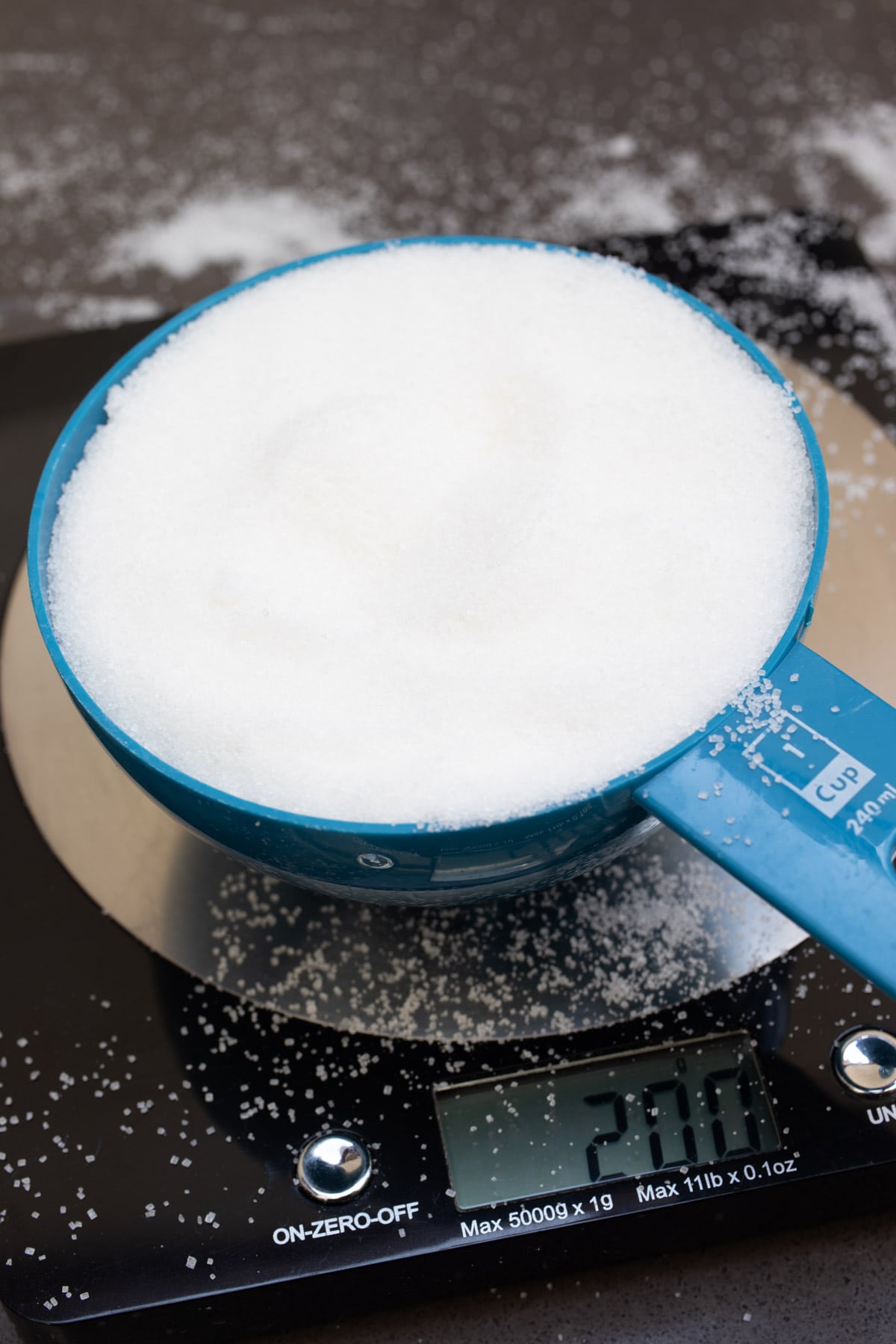 I am sure you have been there, too. You are following a recipe online that lists ingredients in cups, tablespoons and teaspoons.
And the result is... underwhelming.
Most often, the reason for this is that measuring ingredients in cups is a lot less accurate than measuring them by weight (grams). Especially in baking, it is very important to use precise amounts.
Think about it: You can gently scoop flour into a cup. Or, you can compact it by pressing it down. If a cup is packed, it will hold a lot more flour.
Or, you may not be aware that a cup is a standard unit of measure and not your favourite tea cup!
Luckily, it is easy to level up your baking game by simply converting cups into grams.
Let's get into the details about cups to grams conversions.
Jump to:
Metric System and US Customary System
There are two main systems for measuring volume and weight used in the world today. 
One is the United States Customary System, which is mainly used in the United States. The other one is the Metric System (also called SI System or International System of Units), which is used in most other countries.
The Metric System measures weight in grams and kilos.
The US Customary System, which is derived from the British Imperial System, measures in cups, tablespoons (tbsp) and teaspoons (tsp). Sometimes, weight or mass is also measured in ounces (oz).
What Is A Gram?
1 gram (originally called gramme) is equal to one-thousandth of a kilogram. Also, there are 1000 milligrams in a gram.
Grams can be used to measure both solid and liquid ingredients.
The best way to measure grams is with digital kitchen scales.
What Is A Cup?
There are different types of cups: The US measuring cup, the Metric cup, the British cup and, of course, your favourite coffee cup.
In the United States, a standard 1-cup measuring cup has a defined size. It is equal to 16 tablespoons, ½ pint, ¼ quart or 8 fluid ounces.
A US cup is exactly 236.588 ml, which is rounded up to 240 ml or 240 grams (if measuring liquids in weight).
The cups you use to drink coffee or tea can have all kinds of sizes. Using these for measuring will most likely not be accurate. My coffee cup is huge!
The standard volume of a British or Metric cup is 250 ml (or 240 g). However, recipes in the UK, Europe, Australia, Canada, New Zealand and other countries generally use grams instead of cups.
When we refer to cups on Sugar Free Londoner, we ALWAYS mean US measuring cups.
Grams To Cups Conversion Chart (Liquids)
This table shows at a glance how many grams are in a cup when measuring liquids.
Most liquids have the same (or very similar) weight. This includes water, tea, coffee, juice, broth and any other clear or mostly clear liquid.
It makes it easy that for these liquids, grams and ml are interchangeable:
1 cup = 240g = 240ml.
Note that smaller amounts than ¼ cup are usually measured in tablespoons. Find out here how many ml in a tablespoon.
| Cups (US) | Grams | Ounces |
| --- | --- | --- |
| ⅛ cup | 30 g | 1 oz |
| ¼ cup | 60 g | 2 oz |
| ⅓ cup | 80 g | 2.7 oz |
| ½ cup | 120 g | 4 oz |
| ¾ cup | 180 g | 5.6 oz |
| 1 cup | 240 g | 8 oz |
| 2 cups | 480 g | 16 oz |
| 3 cups | 720 g | 24 oz |
| 4 cups | 960 g | 32 oz |
| 5 cups | 1200g | 40 oz |
Grams and oz are rounded.
Dry Ingredients 1 Cup To Grams
Here are common dry ingredients that are often used in baking. As you can see, their weight differs according to their density.
| Ingredient | Cups (US) | Grams |
| --- | --- | --- |
| Wheat Flour | 1 cup | 120g |
| Almond Flour | 1 cup | 100g |
| Coconut Flour | 1 cup | 120g |
| Ground Flaxseed | 1 cup | 120g |
| Cocoa Powder | 1 cup | 86g |
| Granulated Sugar or Sweetener | 1 cup | 200g |
| Powdered Sweetener | 1 cup | 160g |
| Pumpkin Seeds | 1 cup | 129g |
| Sunflower Seeds | 1 cup | 140g |
| Chocolate Chips | 1 cup | 175g |
Wet Ingredients 1 Cup In Grams
This table shows common wet ingredients often used in baking.
| Ingredient | Cups (US) | Grams |
| --- | --- | --- |
| Butter | 1 cup | 227g |
| Peanut Butter | 1 cup | 260g |
| Yogurt | 1 cup | 250g |
| Heavy Cream | 1 cup | 240g |
| Olive Oil | 1 cup | 216g |
| Honey, Syrups | 1 cup | 339g |
| Cream Cheese | 1 cup | 240g |
Expert Tips For Measuring With a Cup
When recipes require using cups and you don't have kitchen scales, use the following tips:
Flours and other dry ingredients: If necessary, stir the ingredient first to break up any clumps. Then, spoon or pour it directly into the cup. Do not use the cup to scoop - this can cause the ingredient to compact. Then, level the top with a knife so the ingredient is even with the top edge of the cup.
Liquid ingredients: If available, use liquid measuring cups. These have a spout at the top to make pouring easier. Check the cup at eye level to ensure the liquid is at the same level as the measuring mark. If using dry measuring cups, fill the cup to the brim.
Semi-liquid ingredients: Yogurt, peanut butter and other "wet ingredients" should be scooped or spooned into a dry measuring cup. Level with a knife.
FAQs
How many grams in a cup of water?
One cup of water weighs 240 grams.
How many grams in a cup of milk?
One cup of milk weighs 240 grams.
How many grams in a cup of butter?
One cup of butter weighs 227 grams.
How many grams in a cup of oats?
One cup of rolled, uncooked oats weighs 81 grams.
How many grams in a cup of rice?
One cup of uncooked rice weighs 195 grams. 1 cup of cooked rice weighs 158 grams.
How many grams in a cup of flour?
One cup of all purpose flour is 125 grams. However, it is important to spoon the flour into the measuring cup rather than use the cup as a scoop. Also, make sure you don't pack it or you could end up with 50% more flour.
Why Use Grams Instead Of Cups?
The issue with measuring cups is that you can get inconsistent amounts. This is not much of a problem when you are cooking dinner and adding twice as many vegetables.
In baking, however, precise amounts are essential. If you use too much flour, your cakes, bread or cookies are going to be dry.
If you are a keen cook or want to get serious about baking, we recommend measuring with kitchen scales and converting cups into grams.
However, here on Sugar Free Londoner, we always list grams alongside cups so everyone in the world can make our recipes.