Here is a collection of the best sugar free cookie recipes! Includes a detailed guide on how to bake delicious cookies that are suitable for diabetics or anyone on a low-carb or keto diet.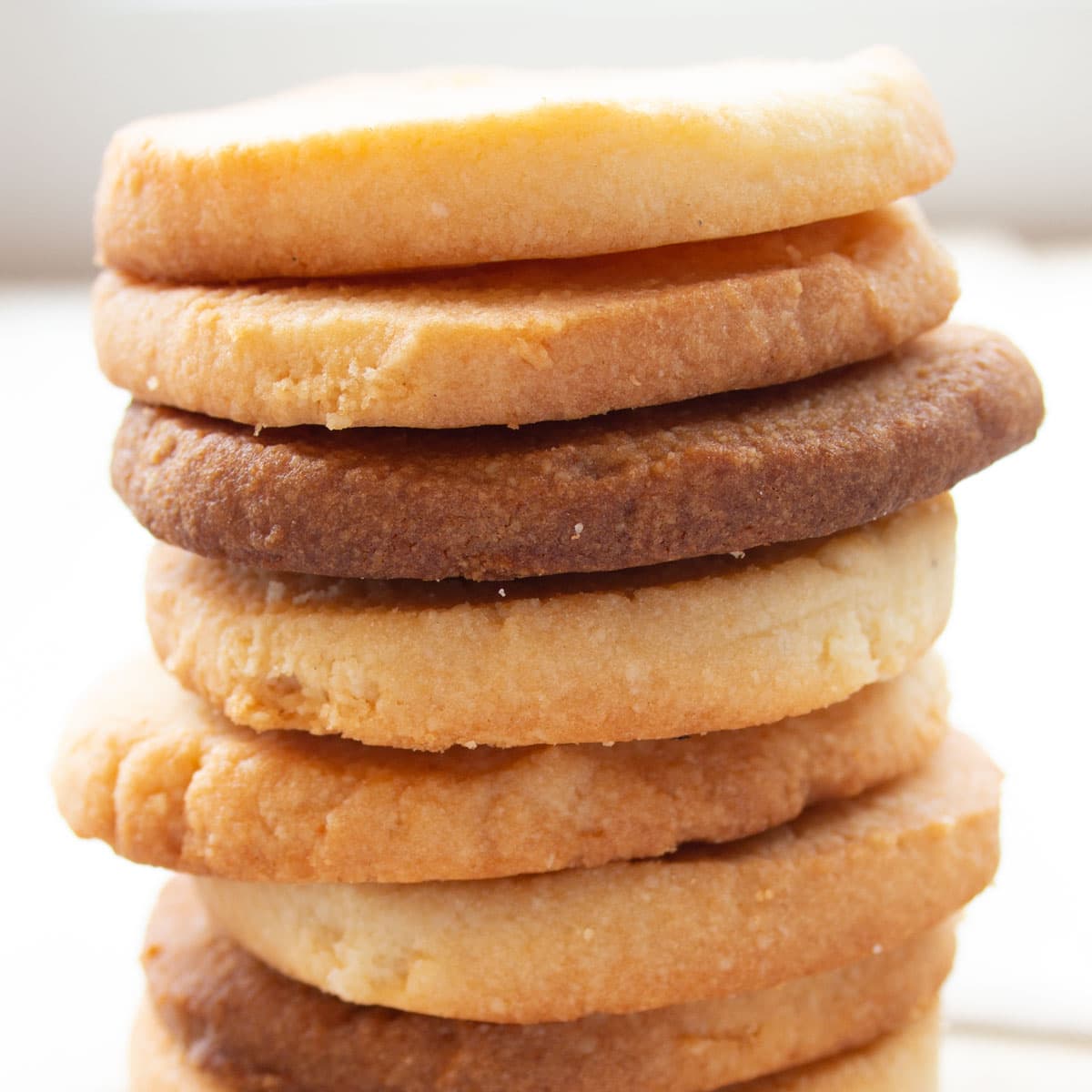 Can you bake cookies without sugar? Absolutely! I have been following a sugar free diet for many years and cookies are my favourite sweet treat.
All cookie recipes in this post are not only free of refined sugar, but also free of any sweeteners that raise blood sugar levels, such as honey, maple syrup or coconut sugar. This means you can enjoy them without worrying about an insulin spike that will give you a boost of energy, followed by a crash that leaves you craving more.
This post answers all questions about how to make the perfect grain free, gluten-free and keto friendly cookies: which low carb flours to use, the best sweeteners, how to get your cookies crispy or soft, how to make them egg free or dairy free.
But first up, here is my sugar free cookie selection!
Jump to:
Easy Sugar Free Cookie Recipes
Sugar Free Crescent Cookies
Irresistibly delicate and powdery, these Vanillekipferl are crescent-shaped almond flour cookies with a dusting of powdered sugar free sweetener. 
Sugar Free Vanillekipferl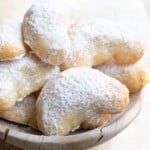 Soul-Satisfying Keto Chocolate Cookies
This sugar free chocolate cookie recipe is so simple that you can stir it together with a fork. Sink your teeth into these soft, chewy chocolatey cookies and enjoy! 
Keto Chocolate Cookies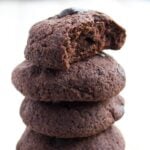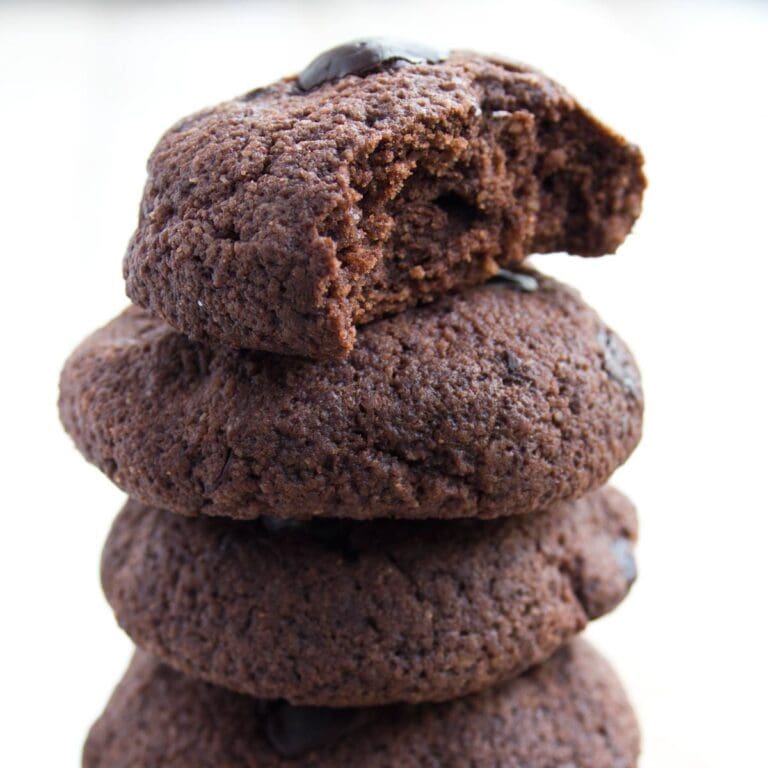 Sugar Free Peanut Butter Cookies
These flourless peanut butter cookies are ready in no time at all! All you need for this super simple cookie recipe are 4 ingredients. 
Keto Peanut Butter Cookies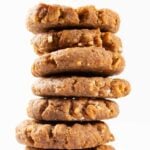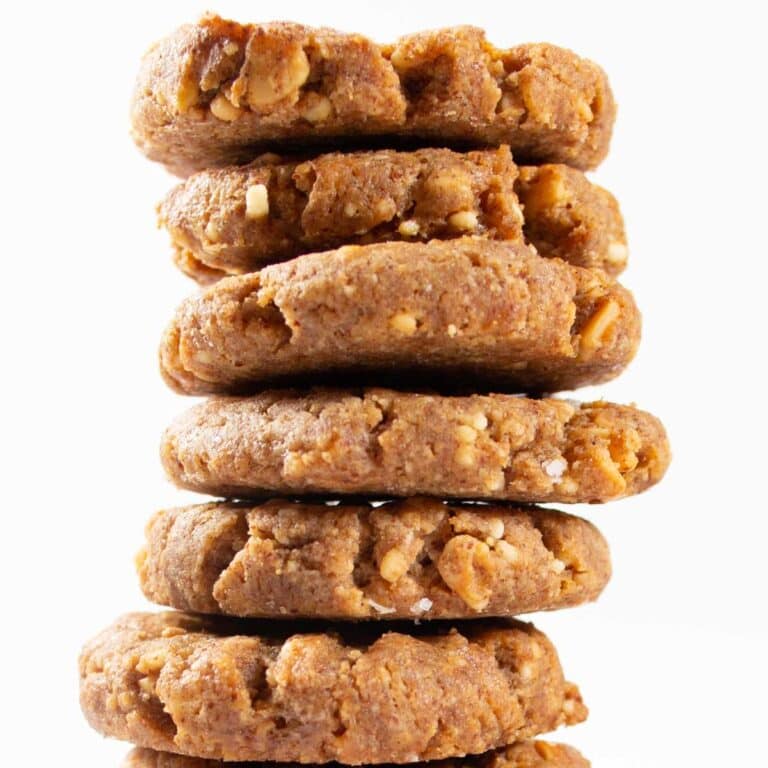 Sugar Free Nutella Cookies
You only need 5 ingredients to make these healthy Nutella cookies! They are crunchy on the outside, soft in the centre and only 1.1g net carbs per cookie.
Healthy Nutella Cookies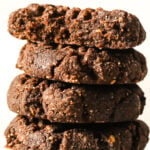 3 Ingredient Almond Butter Cookies
You would never think this almond butter cookie recipe contains just 3 ingredients...and that it is sugar free, gluten-free and keto friendly!
Almond Butter Cookies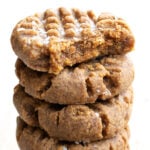 Sugar Free Butter Cookies
These cookies are all the name suggests - buttery! It's a super easy cookie recipe that can be piped for a pretty shape for spritz cookies or simply formed into regular round cookies.
Sugar Free Butter Cookies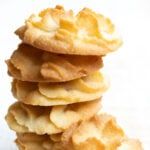 Sugar Free Gingerbread Cookies
Get into the holiday spirit with these cute sugar free gingerbread cookies! They have a gluten free hazelnut flour dough and are spiced with cinnamon, ginger and nutmeg. I've decorated them with sugar free icing. Great as an edible gift!
Sugar Free Gingerbread Cookies
Sugar Free Meringue Cookies
With all my tips and tricks in the post, making beautiful (and tasty!) sugar free meringue cookies is easy! If you have a piping bag, they'll look super professional. But you can also make meringue heaps with a spoon and the end result will taste just as good.
Sugar Free Meringues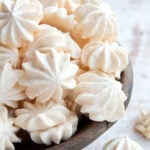 Sugar Free Oatmeal Cookies
Slightly soft and chewy but with texture and crunch: these sugar free oatmeal cookies are my keto take on the real deal. Naturally, they don't actually contain oats, but some clever substitutions. Only 2.1g net carbs per cookie!
Sugar Free Oatmeal Cookies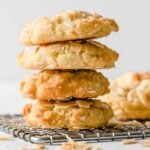 Chocolate Avocado Cookies
Bursting with healthy fats and good mood food raw cacao, these chocolate avocado cookies are the perfect solution for your chocolate cravings. You'll love the soft and chewy texture and the cheeky drizzle of dark chocolate! 
Chocolate Avocado Cookies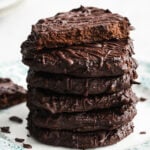 Coconut Flour Peanut Butter Cookies
These super simple sugar free peanut butter cookies with coconut flour can be whipped up in just 15 minutes! They will kick your snack cravings while keeping your blood sugar levels in check.
Coconut Flour Peanut Butter Cookies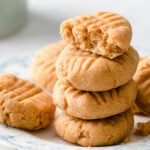 The Best Keto Coconut Flour Cookies
These coconut flour cookies are super simple and wonderfully buttery and soft. You only need 5 ingredients, which you stir together with a fork! It's one of our everyday sweet treats. 
Coconut Flour Cookies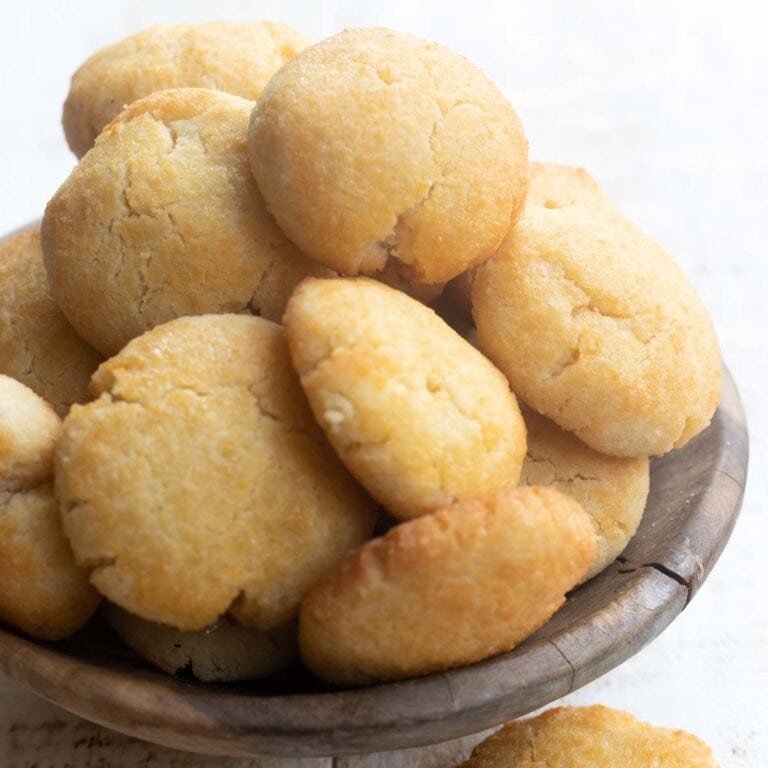 Keto Oreos
Sugar-free, low carb and gluten-free, these healthy Oreo copycat cookies have a great crunch and take less than 30 minutes to make. 
Keto Oreos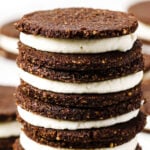 Chocolate Coconut Haystacks
Chocolate coconut haystacks are simple no-bake cookies that require only 4 basic ingredients.
Coconut Haystacks
Expert Tips
Here are some expert tips that ensure your sugar free cookie recipes turn out perfectly:
Use parchment paper. Always line the cookie sheet with parchment paper. This ensures the cookies do not stick.
Check your oven. If you bake in a conventional oven, most cookies need to bake at 180 Celsius or 350 Fahrenheit. In a fan-assisted oven, the temperature reduces to 160 C or 320 F.
Let them cool. Cookies are very fragile when hot. Let them come to room temperature before touching them. They firm up as they cool.
Sugar Free Cookie FAQs
Below I am answering questions I often get about sugar-free cookie baking.
Which sweetener is best for sugar free cookies?
While honey, maple syrup and coconut sugar are not table sugar, they still raise blood sugar levels. I recommend to use erythritol for crispy cookies and allulose or xylitol for soft cookies.
What are the best flours to use?
Wheat flour raises blood sugar levels. That's why I recommend almond flour or coconut flour. Other nut flours such as hazelnut, pecan or walnut will lend their own interesting flavour notes. Nut-free options include sesame flour or sunflower seed flour.
How do you make soft cookies?
Bake them for a shorter period of time. Or make them bigger and thicker.
How do you make crispy cookies?
Flatten the cookies more when you put them on the baking pan. Also, form smaller cookies and bake them in the oven for longer.
How do you roll out sugar free cookie dough?
Low carb flours do not contain gluten. That's why it is more fragile than cookies made with wheat. The trick is to roll cookie dough out between two sheets of parchment paper. Then, cool it in the freezer for 15 minutes. This makes cutting out shapes easier.
I hope you found this guide on sugar free cookies informative. If you have any more questions, let me know in the comments!