Are you up for a low carb cereal treat? This super crunchy Keto cereal recipe is a sugar free take on the popular cinnamon toast crunch. This version is gluten free, grain free and tastes delicious. Only 2.8g net carbs per portion!
For many people it's difficult to wave good-bye to breakfast cereals. But when you're on a low carb diet or on the keto diet, regular cereal is one of the things that need to go.
Whether it's Kellogg's or Nestle, cereal is generally made from grains, and grains are high in carbs.
I'm not even going to get started on the high added sugar content of breakfast cereals. Don't believe a moment when it says it's "healthy" on the box. Instead, check the nutrition facts and find out for yourself.
The truth is, the only healthy thing about breakfast cereal is the bank balance of the companies who make it. And maybe the cardboard box itself.
Time for the good news. It is really simple to make low carb cereals at home! You replace the grains with nuts and seeds. Then, add a bit of erythritol or your favourite sweetener and let it crisp up in the oven.
Strictly speaking, the term "cereal" is misleading. We're talking about the "cereal experience" here, and that's just as good.
Knowing that I am not filling up on junk right at the start of your day and keeping my blood sugar levels stable feels great!
How to make cinnamon toast crunch Keto cereal - step by step: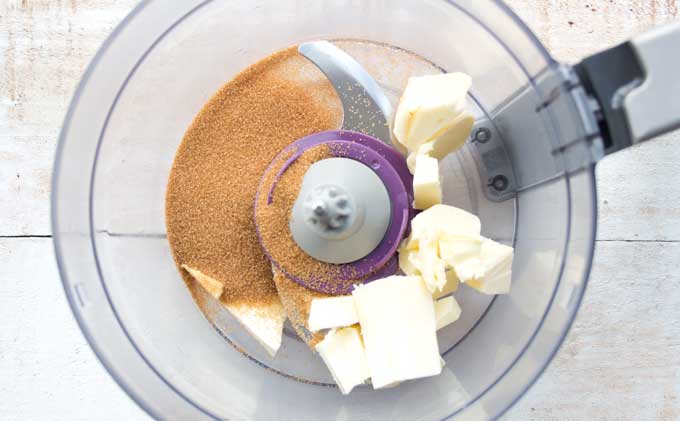 1.) Put cold chopped butter and granulated erythritol into a food processor and blend. I like using a brown sugar alternative in this recipe, Check out NKD Living in the UK or Lakanto in the US.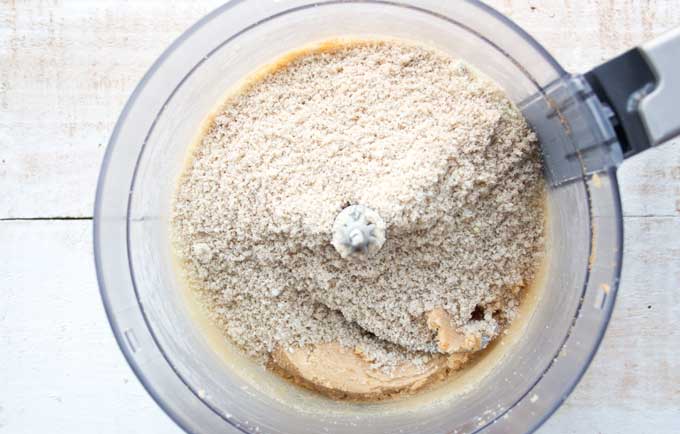 2.) Mix your dry ingredients and add them.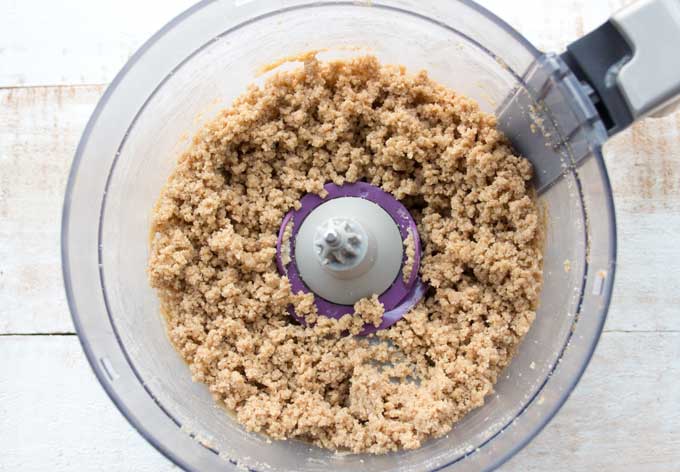 3.) This is what Keto cereal dough should look like - crumbly and moist.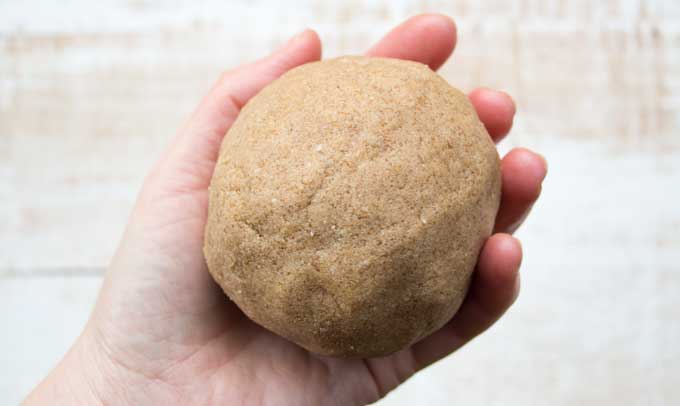 4.) Now you scoop it up and form a ball with your hands. Place it between 2 sheets of parchment paper.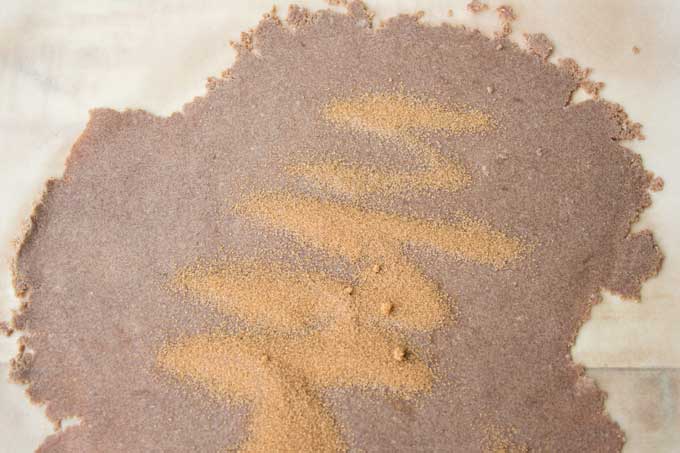 5.) Roll out the dough! The parchment paper prevents your rolling pin from sticking.
Scatter some more cinnamon and erythritol on top and press it in with your hands. This way it won't fall off after baking.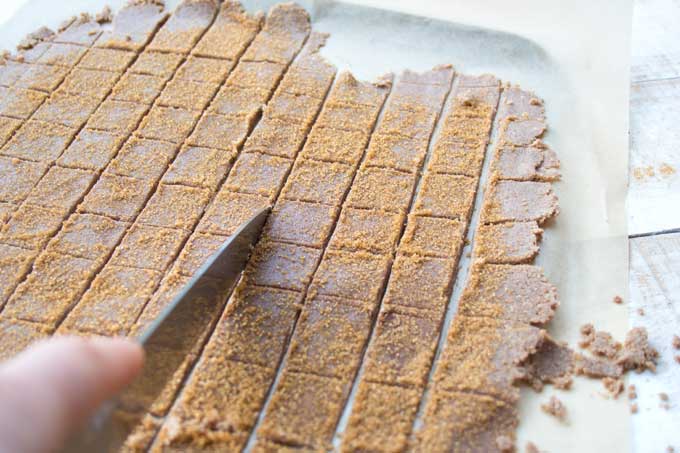 6.) Now you cut the dough into cute little cinnamon toast crunch squares. Last, prick each square with a fork to prevent unnecessarily large air bubbles.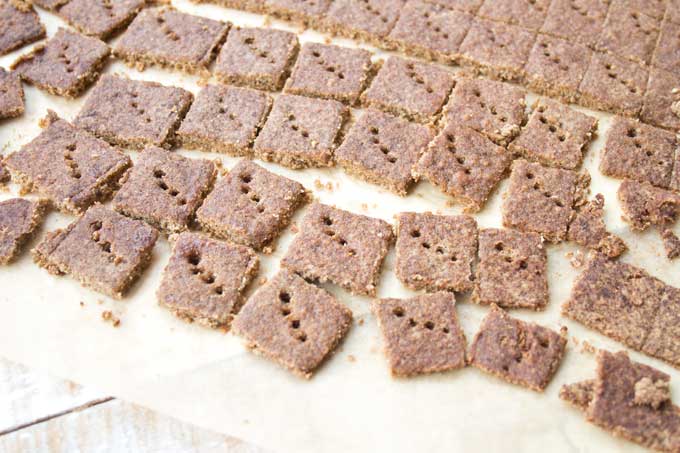 7.) Hello, Keto cinnamon crunch! Wait until the cereal is cooled completely. Then, break it into squares.
Tips and tricks to nail this low carb cereal
Roll out the dough nice and thin. This will give a better crunch.
Watch it closely while it's in the oven. Check after 10 minutes and rotate the baking sheet if the back is getting too brown.
Moving the sheet to the lowest shelf can also help. The oven time will vary depending on how thin your "cereal" dough is rolled out.
When you cut the dough, make the incisions wide. This way the squares, which will puff up a little, are easy to separate post-baking. You could also use a ruler to do this as it has a wider edge.
Be patient! All low carb cereals are soft and fragile when fresh out of the oven. They firm up and become crunchy once they're cold, and this cinnamon crunch is no different.
Don't even think about touching it while it's still warm - unless you want to sneak a little taste.
Recipe notes and variations
Some Keto cereal recipes use egg whites. I liked the idea of the protein powder instead. It gives the same protein kick without having to beat egg whites first.
The psyllium husk powder increases the crunch in this recipe. If you have psyllium husks, you must double the amount. Psyllium husks look like powder at first glance. But when you look closely, they resemble little sticks.
You can use ground flaxseed instead of the psyllium. In this case, double the quantity as it's less fine than the psyllium powder.
Xanthan gum is important for binding. You can replace it with guar gum.
Golden/brown erythritol works well in this recipe, but any granulated sweetener is fine. If you use a different sweetener than erythritol, check the pack and make sure it's a 1:1 sugar replacement. Some granulated sweeteners are twice as sweet as sugar.
Disclaimer: This recipe contains more erythritol than most of my sweet recipes. Therefore, you do notice that slightly cooling sensation erythritol delivers. But if you want that cinnamon toast crunch cereal experience, it's gotta be sweet and it's gotta have that sugary crunch.
If you can't be bothered with cutting squares, don't. You can simply break it into bite-sized pieces post-baking!
This recipe is rich and buttery, that's why your portions don't need to be large. Serve it with your favourite nut milk or some Greek yogurt. A few squares would also make a nice sweet treat with a cup of coffee or tea.
Check out my other keto cereal recipes: 
I also love this Chocolate Hazelnut Granola by All Day I Dream about Food!
Tried this recipe? Give it a star rating below!
★ STAY IN TOUCH on FACEBOOK, PINTEREST and INSTAGRAM  for more great food and join my NEWSLETTER for the latest updates and a FREE EBOOK.★ 
Recipe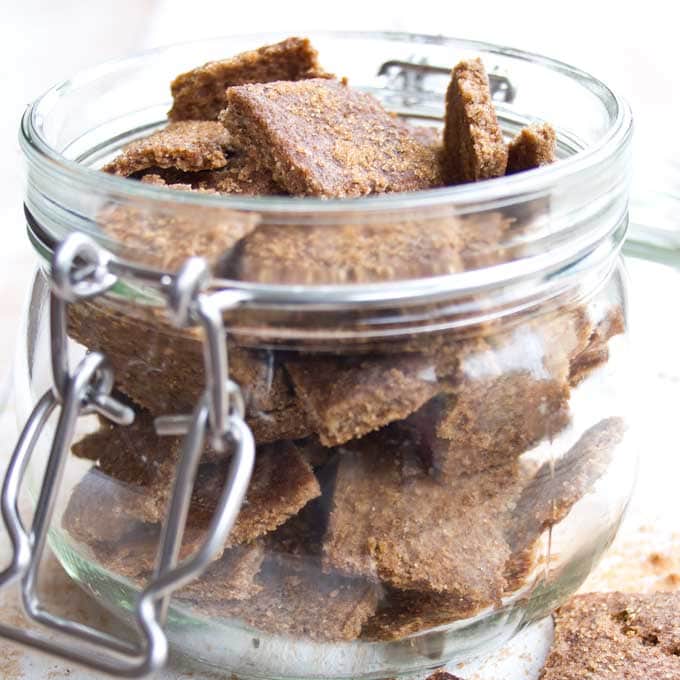 Keto Cinnamon Crunch Cereal Recipe
from Sugar Free Londoner
This Keto cereal recipe is for everyone who's secretly missing Cinnamon Toast Crunch (aka "Curiously Cinnamon" in the UK) for breakfast. There's not a shred of wheat in this awesomely crunchy low carb cereal - and none of the sugar. Enjoy your cinnamon crunch without all the carbs! 
Note: The servings slider only changes the first amount in each line and not any subsequent amounts. Please make your own calculations where necessary.
Instructions
Preheat the oven to 170 Celsius / 340 Fahrenheit.

Cut the butter into small pieces and whizz in a food processor together with the erythritol until creamy.

Mix the dry ingredients in a bowl and add to the butter/sweetener mix. Blend until your dough resembles moist crumbles.

Form the dough into a ball and roll out thinly between 2 sheets of baking paper. This prevents the dough from sticking to your rolling pin.

Peel off the top layer of baking/parchment paper and sprinkle the the dough with a topping made from more cinnamon and erythritol. Press the topping onto the dough with your hands.

Cut into squares with a knife and prick each square with a fork to prevent large air bubbles.

Bake for 10-12 minutes or until browned.

Let the cereal cool COMPLETELY before you break it into squares. It is VERY soft when hot but will be crunchy once it's cold.
Notes
The baking time will depend on how thick or thin you have rolled out your dough. Rotate the baking sheet if the back browns too quickly. 
You can replace the psyllium husk with double the amount of ground flax seed. 
The xanthan gum is optional, but it does give the dough extra crunch. 
If you are using an electric mixer and not a food processor, it may be easier to mix the dough when the butter is at room temperature. In this case, wrap the dough in cling film and chill it for 30 minutes before you roll it out. 
One portion is a heaped ⅓ cup or ca 40g. 
Nutrition
Calories:
236
kcal
Total Carbohydrates:
6.9
g
Protein:
8.8
g
Fat:
20
g
Fiber:
4.1
g
Sugar:
1
g
This post contains affiliate links. If you click on one of these links and purchase a product, I may earn a small commission, at no extra cost to you. Thank you for supporting Sugar Free Londoner.