Soft and simply irresistible: these Keto pretzels take snacking to the next level. They are made with the famous Fathead dough - their secret ingredient is mozzarella!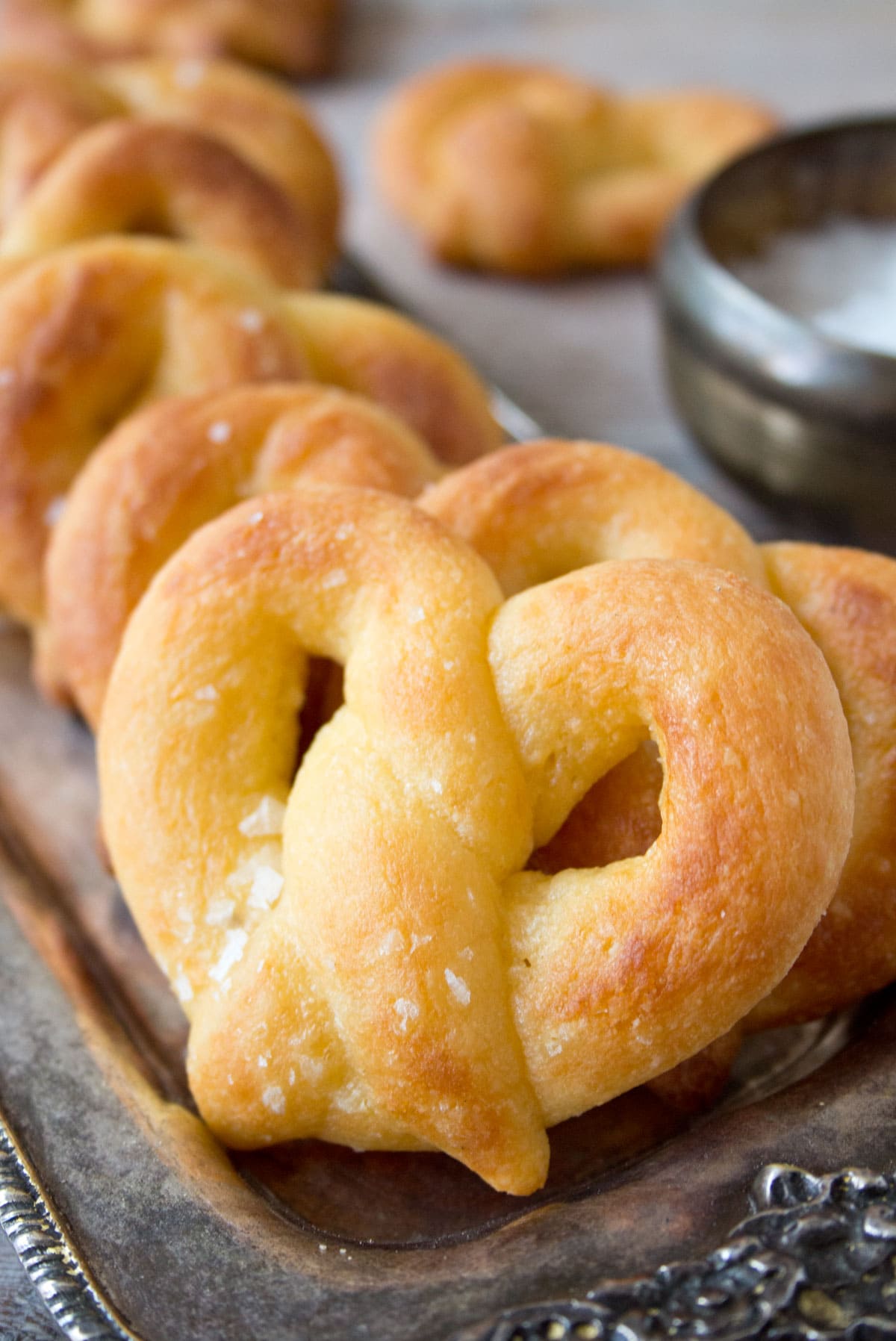 "Absolutely delicious! I added some Parmesan cheese on top before baking and they came out incredible. 100/10 recommend." (Mary)
Pretzels are a highlight in any German bakery. All throughout my childhood, I would ask my mum to buy me one whenever we went shopping for bread in my hometown Hamburg.
I love pretzels as much today as I did back then - even though I left Germany over 20 years ago. But of course, these days I stay away from regular pretzels. Instead, I make these low carb pretzels. They taste just as delicious as the original and keep my blood sugar levels stable at the same time.
This recipe has been on my website since 2016 and my family asks for it regularly. Last week, we shared a batch while my mum was visiting. She was impressed with how similar the texture of these pretzels is to the German original!
I used the opportunity to republish the post with more recipe tips and better images. The recipe itself has not changed, it was perfect all along.
Jump to:
Why This Recipe Works
It is fun. The ingredients for this soft keto pretzel recipe are unusual. Who would have thought you could make a dough with mozzarella cheese? Well, ever since I created these keto cinnamon rolls and my low carb pizza, I know better.
And anyhow, this is what eating low carb is all about: Being open-minded and ready to try alternatives that allow you to enjoy your favourite foods without regrets.
It is satisfying. My pretzels have a soft and chewy texture and are topped with sea salt flakes. They are gluten-free, finger-licking good, and also pretty filling!
Last but not least, the recipe takes only 35 minutes from start to finish. If you made pretzel sticks with it, a batch ready in just 25 minutes. Either way, the nutrition is a super low 1.6g net carbs per serve.
Ingredients
You only need a handful of ingredients:
Shredded Mozzarella - I use the pre-shredded mozzarella from the supermarket. This contains a small amount of starch. If this is an issue, grate it from a mozzarella block instead. The white, soft mozzarella for salads does not work. It is too watery.
Cream Cheese - Must be full fat.
Egg - Helps make the dough fluffy.
Almond Flour - Both extra-fine almond flour and ground almonds work. Use an additional 2 tablespoons if your almond flour is not extra-fine.
Baking powder - Check that it is fresh to ensure a good rise.
Coarse sea salt - For sprinkling over the pretzels.
See the recipe card for full information on ingredients and quantities.
Instructions
Let me show you how easy it is to make low carb pretzels. Here are the basic steps, illustrated with photos. For a detailed method and nutrition info, scroll down to the recipe card at the bottom of the post.
You don't need a blender for this recipe. Simply mix the dough with a fork!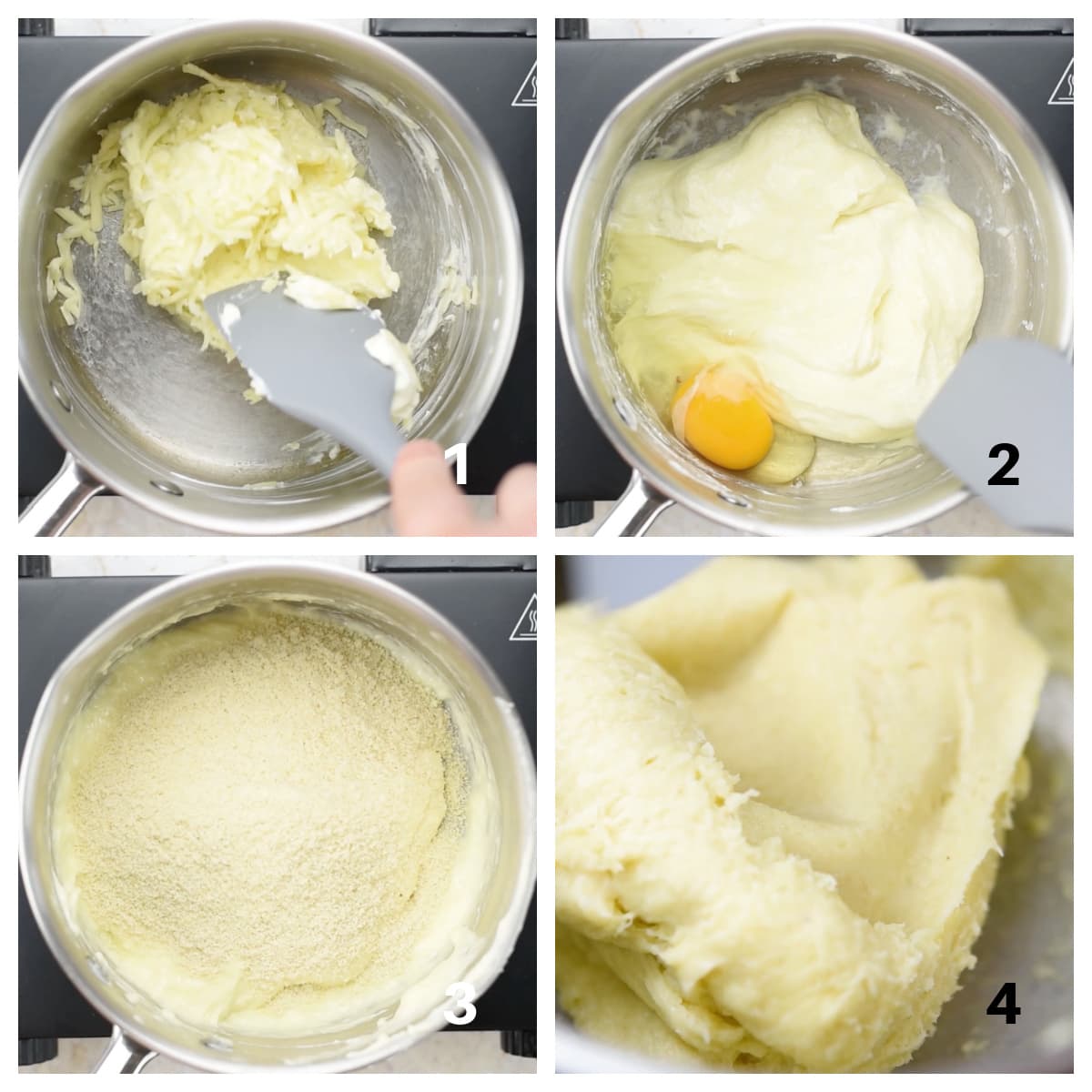 STEP 1
Melt the shredded mozzarella cheese and the cream cheese in a non-stick saucepan on the stovetop over low heat. Stir regularly. Or, melt it in the microwave.
STEP 2
Take the pot off the stove and stir the egg into the warm mozzarella until fully combined.
STEP 3
Add the almond flour and continue mixing until a smooth dough forms.
STEP 4
Knead the pretzel dough with your hands if necessary and form a ball.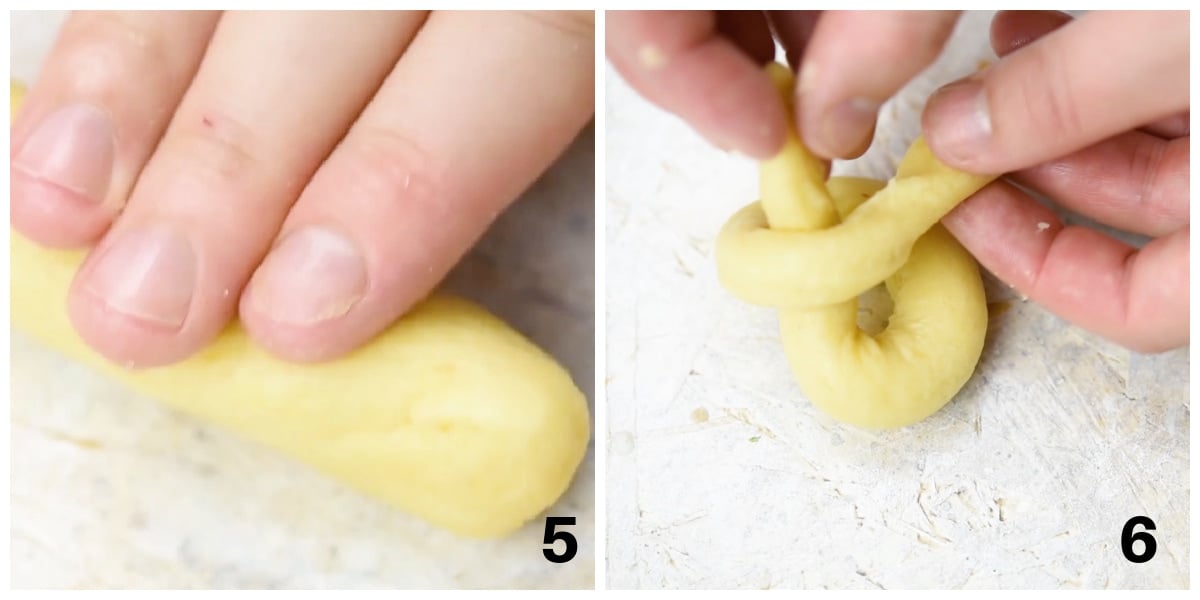 STEP 5
Pinch off a piece of dough and stretch/roll it in your hands until it is about 20 centimetres long.
STEP 6
Form a pretzel shape and put it on a baking sheet lined with parchment paper. Continue until all dough has been used up. Sprinkle the pretzels with sea salt. Then, bake them in the preheated oven until golden.
Expert Tips
I have made many recipes with mozzarella dough over the years. Here is what you need to know:
#1 The dough can be sticky. Oiling your hands makes it easy to work with. I used light olive oil, but any neutral-tasting oil works.
#2 As the dough cools, it firms up. Warming it back up makes it soft again and easier to handle. I put it in the microwave for 10 seconds. Or, gently heat it on the stovetop.
Variations
Here are some ideas on how you can jazz up the recipe and add different flavours:
Spicy: Add chopped jalapenos directly into the dough.
Cheesy: Sprinkle the tops of the pretzels with grated parmesan cheese before baking.
Yeast pretzels: You can add a sprinkle of instant active yeast to the dough. This will add yeast flavor. However, the yeast is not necessary for the texture of the pretzels.
Cinnamon "sugar": Omit the salt and roll the pretzels in a mix of cinnamon and granulated sweetener.
Recipe FAQs
What can I use instead of almond flour?
To make the recipe nut free, replace the almond flour with a blend of sunflower seed flour and sesame seed flour.
Does the recipe work with coconut flour?
I have not tried it myself. However, the best ratio for converting almond flour recipes to coconut flour is to use 3 times less coconut flour. For these pretzels, this means adding ¼ cup or 30 grams of coconut flour.
Can I bake them in an air fryer?
Yes. Line the air fryer basket with parchment paper and preheat it to 160C / 320F. Then, air fry for 17 minutes or until the pretzels are golden brown.
Can I use a different cheese?
No. The recipe only works with mozzarella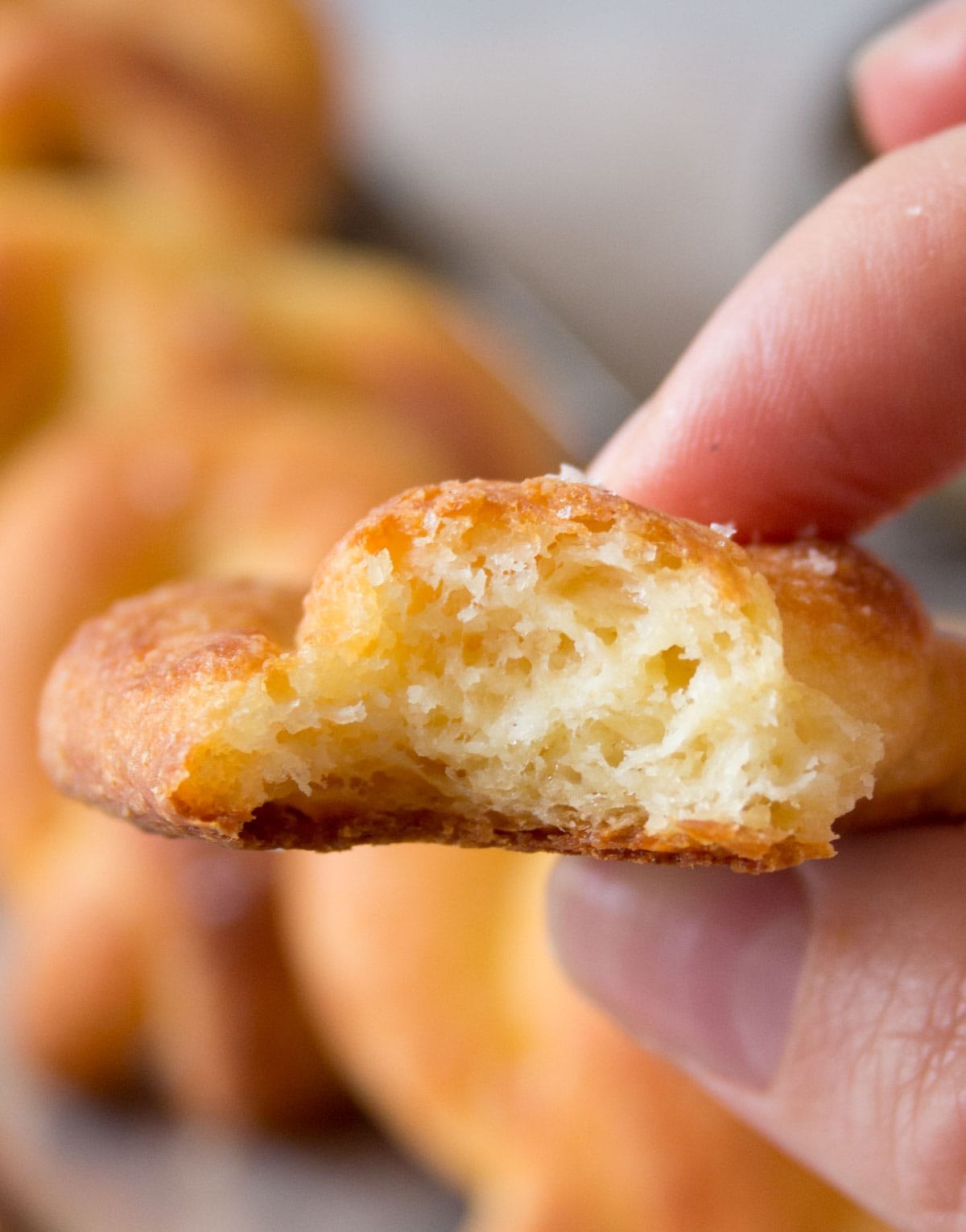 Serving Suggestion
We eat keto pretzels all on their own, without toppings or dips - just like you do in Germany.
If you'd like to serve it with a cheese sauce, make my keto béchamel! Or, make a simple sugar-free honey mustard sauce by mixing 2 parts keto mayonnaise with 1 part mustard and 1 part sugar-free syrup.
Storage And Meal Prep
You can mix the dough up to 2 days ahead. Store it in the refrigerator as a dough ball or as pretzel shapes. Then, let it come to room temperature before baking.
Refrigerator: Store any leftover pretzels in an airtight container in the fridge for up to 1 week.
Freezer: It is possible to freeze low-carb pretzels for up to 3 months. I defrost mine overnight.
Reheating: Reheat individual pretzels in the microwave for 10 seconds. Reheat multiple pretzels in the oven or in the air fryer for 3-5 minutes at 180C or 350F.
More Fathead Dough Recipes
Here are more recipes that use mozzarella dough. It is so versatile! Take your pick:
Tried this recipe? Give it a star rating below!
★ STAY IN TOUCH on FACEBOOK, PINTEREST and INSTAGRAM  for more great food and join my NEWSLETTER for the latest updates and a FREE EBOOK.★ 
Recipe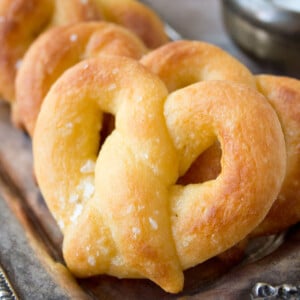 Soft And Chewy Keto Pretzels
from Sugar Free Londoner
Chewy, soft Keto pretzels that taste just as good as the real thing - only without the carb load! These pretzels are made with mozzarella dough, which is an absolute game-changer in low carb baking.
Note: The servings slider only changes the first amount in each line and not any subsequent amounts. Please make your own calculations where necessary.
Ingredients
1 ½

cups

pre-shredded mozzarella

175g

2

tablespoon

full fat cream cheese

1

egg

¾

cup

almond flour

80g. Add 2 additional tablespoons if using ground almonds/almond meal

½

teaspoon

baking powder

pinch

of coarse sea salt
Instructions
Heat the oven to 180 degrees Celsius / 356 Fahrenheit (electric) or 160C / 320F fan-assisted. Line a baking sheet with parchment paper.

Melt the mozzarella and the cream cheese. I did this in a pan over very low heat, stirring constantly once the melting process starts. Or, heat in the microwave for 1 minute.

If you do this on the stove, turn off the heat once the cheese is fully melted. Add the egg to the warm dough and stir until combined. If your egg is straight from the fridge, you might have to heat the mixture gently.

Add the ground almonds/almond flour and baking powder and stir until combined. You should end up with a big mozzarella ball that looks just like dough.

Pinch off a piece of dough (around 30g) and stretch/roll it in your hands until it is about 20 cm long. If the dough is too sticky, oil your hands lightly.

Form it into a pretzel shape and place it on the lined baking sheet. My dough made 10 pretzels.

Sprinkle with sea salt and bake for 17 minutes or until nicely browned. Rotate the baking sheet halfway through in case the pretzels at the back of the oven brown more quickly.
Notes
1.6g net carbs per pretzel. Makes 10 pretzels.
This recipe works with almond flour just as well as with ground almonds. The choice is yours!
The dough needs to be warm when you handle it. The mozzarella should not be bubbling - you need to be able to touch it with your hands without burning yourself.
When it's too cold to work with, just heat it gently.
The pretzels taste best straight out of the oven. If you have leftovers, store them in an airtight container in the fridge for up to 1 week. Reheat in the microwave or in the oven.
Nutrition
Calories:
113
kcal
Total Carbohydrates:
2.4
g
Protein:
8.5
g
Fat:
8.4
g
Cholesterol:
28
mg
Sodium:
119
mg
Potassium:
10
mg
Fiber:
0.8
g
Sugar:
0.4
g