Soft and simply irresistible: low carb, grain free pretzels take snacking to the next level. These pretzels are made with the famous Fat Head dough – their secret ingredient is mozzarella!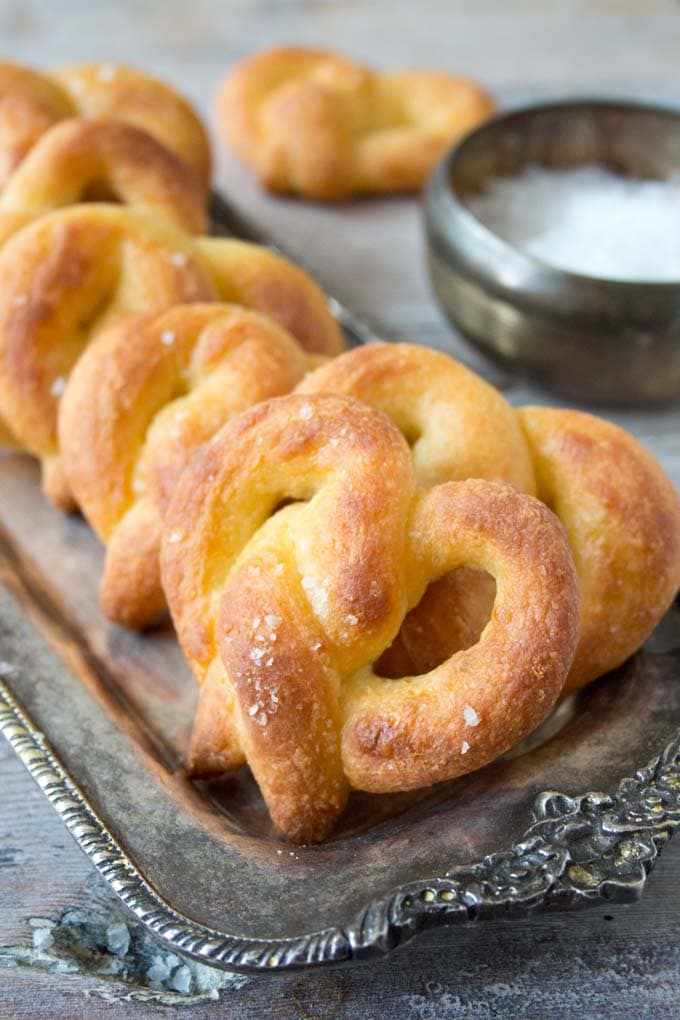 I am German, and therefore hardwired to like pretzels. Everybody knows that in Bavaria babies are basically born with a pretzel in their hand. But even up north, where I come from, they are one of the highlights in any bakery. You can always find them on the top of the counter, dangling seductively on their little wooden stand, just out of reach for little hands.
MY LATEST VIDEOS
Pretzel benefits: They are easy to hold. The perfect mixture of chewy and crunchy. Kind of fun because of their shape and just a great snack.
But. Not low carb, friends!
My low carb grain free pretzel mission started about a year ago when I attempted to make a low carb version with almond and coconut flour. The result looked quite cute and tasted nice and crumbly, but…well, it was just not the soft, chewy taste experience I was after. It was simply a cookie in pretzel form.
Now, it's time to throw pizza crust into the mix. The pizza problem – how to replace the doughy, crunchy wheat crust with something low carb – has been solved successfully with fat head pizza. I have traced the recipe as far back as I could. The first mention I found is here on cookyscreations, in June 2012.
The idea was then re-named and made famous by the guys from the Fat Head Movie – see here. Fat head pizza dough tastes deliciously doughy and is a more than decent alternative to pizza. The only drawback is perhaps that it is incredibly filling. It is therefore almost impossible to eat a whole pizza.
Mozzarella, the secret ingredient in fat head pizza dough, is the solution for successful low carb grain free pretzels!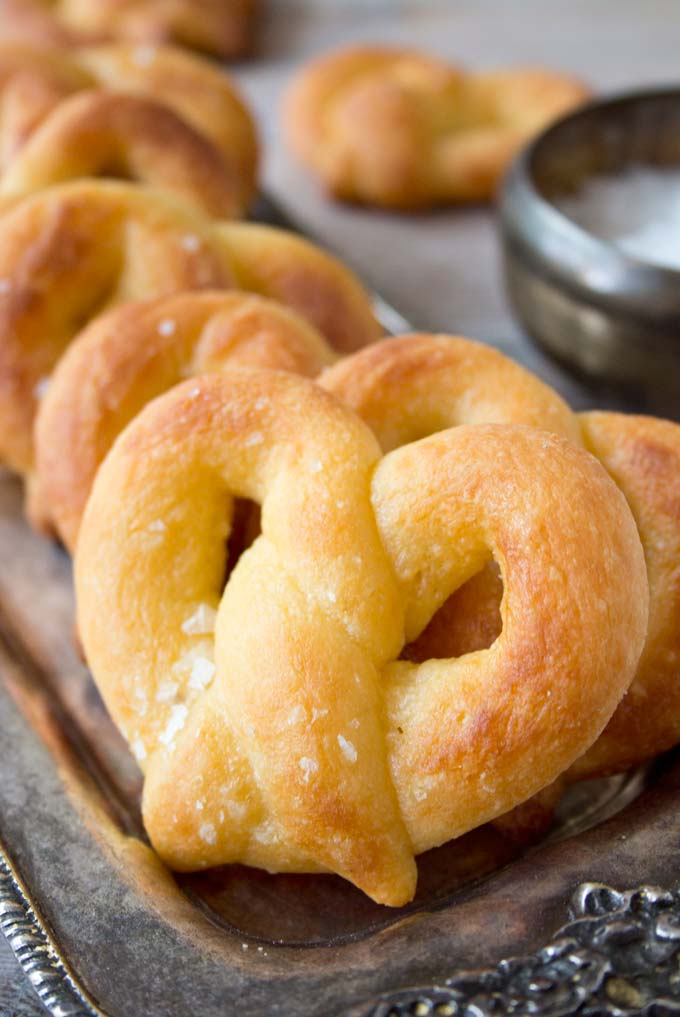 My avid readers may notice that this post is a revamp of an older recipe – I decided to improve on the recipe and take new pictures at the same time.
In my original version I used only very little almond flour and also added flaxseed (I had a serious flaxseed phase then and felt the need to add it to almost anything).
This time I decided to go back to the roots. Since my first round of grain free pretzels I have made the most delicious keto cinnamon rolls using the original Fat Head dough. They are the BOMB – chewy, tasty and just the right side of sweet, topped with a cream cheese frosting. Inspired by them, I knew I had to go back and tinker with this pretzel recipe.
You know that moment when you feel the urge to bake? Well, if you're a food nerd like me, you probably do. It needs to happen straight away, right?
Normal people, keep on reading.
When I decided to revamp my pretzel recipe, I realised I had run out of an essential ingredient. Almond flour! Here in the UK, almond flour is not THAT easy to get hold of. You can get it from large supermarkets, well-stocked health food stores and, of course, you can order it online. But when a food nerd feels the need to bake, there is no time to make your way to a large supermarket or, worse, wait until your online delivery arrives in a few days time.
It's a dilemma that can only be solved by a clever substitution!
I was not sure if it would work, but friends, I am so pleased to tell you that you can replace the almond flour in the recipe with blanched ground almonds 1:1. Almond flour is much more finely ground than ground almonds, and the brand I normally use is fat-reduced as well, which makes it even lighter. However, ground almonds are widely available in the baking section of smaller supermarkets and also way cheaper.
I really hope you try these grain free pretzels with my adapted Fat Head dough! The dough is just as tasty and fluffy as the one I made for my cinnamon rolls.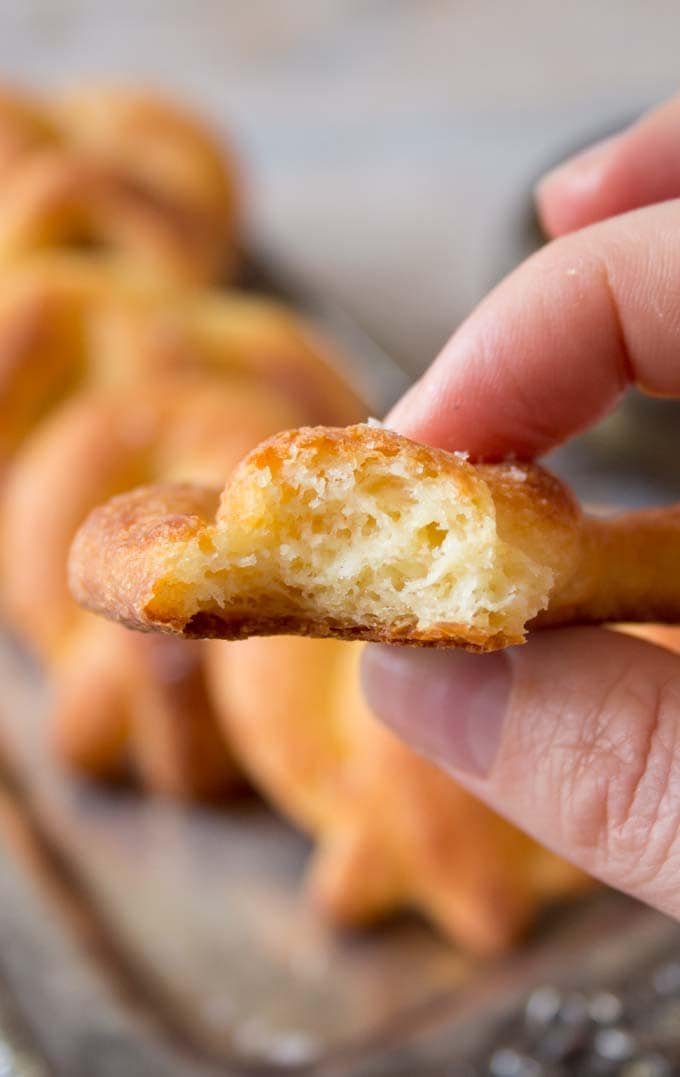 Just check out the picture above. Doesn't it look so good you want to take another bite?
Let me tell you. We did. Until they were all gone 🙂
Note to self: Make a double portion next time.
★ Tried this recipe? Give it a star rating below!★
★ STAY IN TOUCH on FACEBOOK, PINTEREST and INSTAGRAM for more great food and join my NEWSLETTER for the latest updates and a FREE EBOOK.★
Genius Grain Free Pretzels
Soft and simply irresistible: low carb, grain free pretzels take snacking to the next level.
Ingredients
1 1/2

cups

pre-shredded mozzarella

2

tbsp

full fat cream cheese

1

egg

3/4

cup / 80g

almond flour

or ground almonds

1/2

tsp

baking powder

pinch

of coarse sea salt
Instructions
Heat the oven to 180 degrees Celsius / 356 Fahrenheit.

Melt the mozzarella and the cream cheese. I did this in a pan on a very low heat, stirring constantly once the melting process starts. If you have a microwave, 1 minute should do the trick.

If you do this on the stove, turn off the heat once the cheese is fully melted. Add the egg to the warm dough and stir until combined. If your egg is straight from the fridge, you might have to heat the mixture gently.

Add the ground almonds and baking powder and stir until combined. You should end up with a big mozzarella ball that looks just like dough.

Pinch off a piece of dough (ca 30g) and stretch/roll it in your hands until it is about 20 cm long. If the dough is too sticky, you can try oiling your hands.

Form it into a pretzel shape and place on a baking sheet. My dough made 10 pretzels.

Sprinkle with sea salt and bake for circa 17 minutes or until nicely browned. You might want to rotate the baking sheet half way through.
Recipe Notes
This recipe works with almond flour just as well as with ground almonds. The choice is yours!
The dough needs to be warm when you handle it. The mozzarella should not be bubbling - you need to be able to touch it with your hands without burning yourself.
When it's too cold to work with, just heat it gently.
The pretzels taste best straight out of the oven. If you have leftovers, store them in an airtight container.
Nutrition Facts
Genius Grain Free Pretzels
Amount Per Serving
Calories 113
Calories from Fat 76
% Daily Value*
Total Fat 8.4g 13%
Cholesterol 28mg 9%
Sodium 119mg 5%
Potassium 10mg 0%
Total Carbohydrates 2.4g 1%
Protein 8.5g 17%
* Percent Daily Values are based on a 2000 calorie diet.
This post contains affiliate links. If you click on one of these links and purchase a product, I may earn a small commission, at no extra cost to you. Thank you for supporting Sugar Free Londoner.