These moist Keto chocolate donuts will satisfy the most urgent chocolate craving. A delicious treat that's sugar free, gluten free and low carb.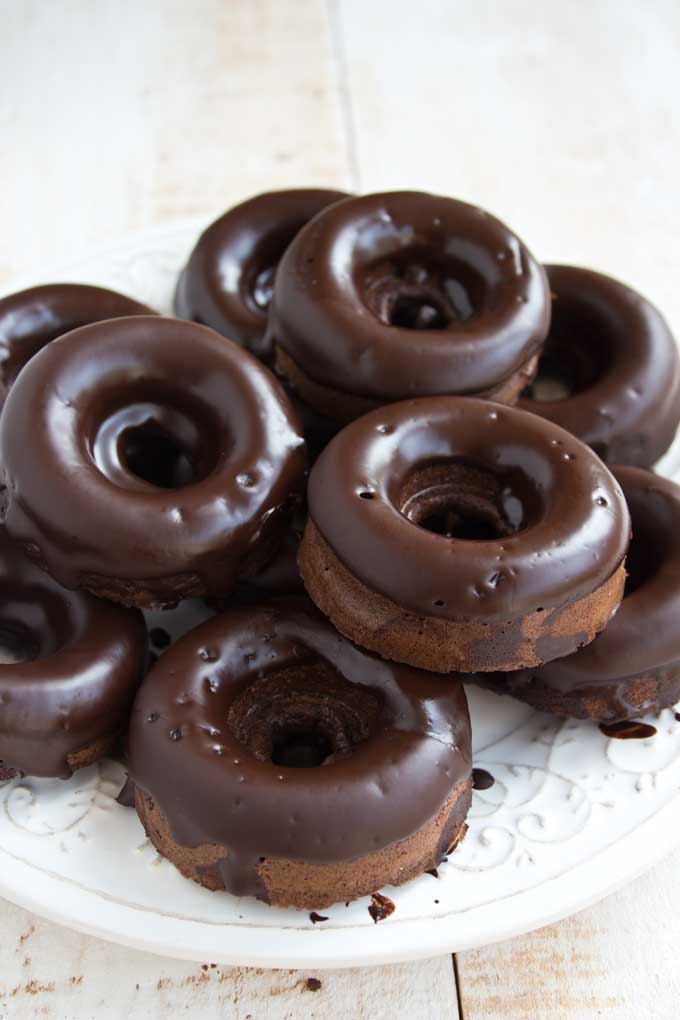 I always LOVE it when I make a dessert that the beloved carb-scoffers around me declare to be their new favourite food. It's right up there with an unexpected day off/an inexplicably youthful appearance when you look in the mirror first thing in the morning.
You've gotta try these Keto chocolate donuts, friends.
Serve them at your next gathering and watch the magic happen. Or even better, keep them for yourself. They're little circles of sugar free happiness!
Chocolate desserts are perfect when you're converting a recipe to make it sugar free. This is because the chocolate taste is so prominent that the individual taste of the natural sweeteners does not come through.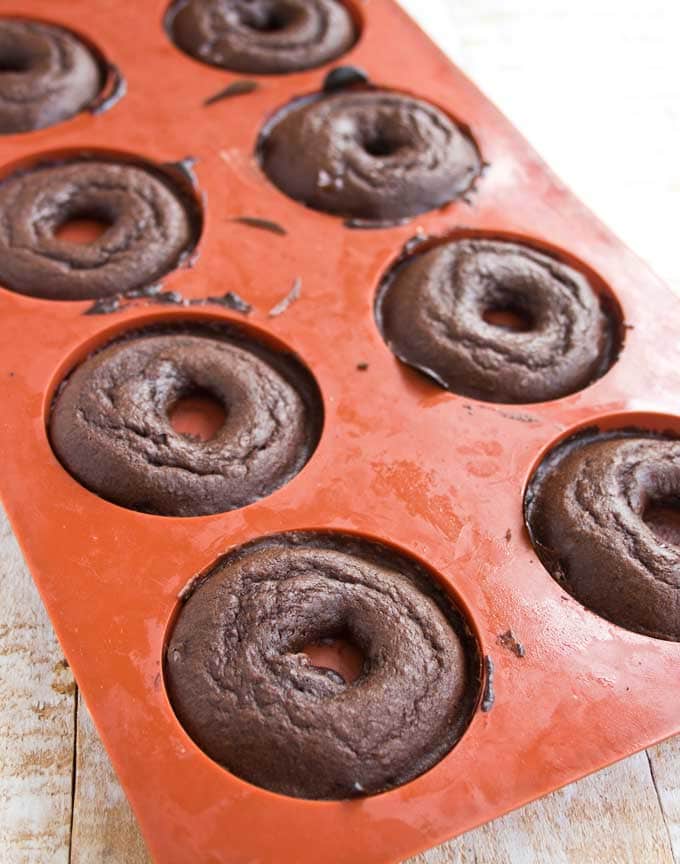 Erythritol and xylitol can have a slightly cooling taste and stevia is a bit metallic - all depending on the brand you use.
Naturally, the longer you use these sweeteners in place of sugar, the less you'll zone in on this. Also, once you stop eating "real" sugar and re-set your tastebuds, you'll find you don't want to sweeten your desserts as much as you used to. Less sweet will become the new "just perfect and totally satisfying".
Logical follow-through: you'll need less of the sweetener, therefore get less of the aftertaste right from the beginning.
So, if you then also choose a recipe that uses a strong-tasting ingredient - think cinnamon, cardamom, lemon.......and chocolate - bingo, you can fool those carb-lovers!
You all know I'm a bit of a chocolate fiend. I adore my fabulously fudgy keto brownies, this really simple low carb chocolate tart and my chocolate walnut fat bombs - I almost always have an emergency batch of those little life-savers in the freezer.
I've adapted the recipe of my sugar free low carb donuts to make these chocolate Keto donuts.
Instead of just using cocoa, I also added melted chocolate for more WOW. Then I increased the amount of double/heavy cream to counteract the additional firmness of the chocolate.
I decided to use unsweetened chocolate in the recipe. I used this UK brand, which is available in my local Sainsbury's. A good alternative for those of you in the US would be this brand, which, as my US based friends tell me, is widely available across the pond.
If you want to use regular dark chocolate, opt for a variety with 90% cocoa solids, such as Lindt. It does contain sugar, but only 7 % per 100g bar. This means one ten-gram square has less than 1 gram of sugar.
Alternatively, you could use sugar free chocolate chips, if you can source them where you are. The ones I just linked to are already sweetened with stevia. If you go for them, halve the amount of powdered erythritol stated in the recipe.
Top tips to make the chocolate glaze:
For the first batch I mixed my chocolate/sweetener with some coconut oil. This worked very well in the sugar free chocolate Fudgesicle recipe I posted last week (yummy chocolatey popsicles dipped in chocolate). However, I found that for the donuts this mix just seemed too liquid.
I ended up just using chocolate on its own - something I have done previously, for example in my almond butter chocolate pralines. For a softer glaze, you could also try adding a tablespoon of double/heavy cream to the mix.
After you have combined the ingredients (chocolate/sweetener/cream), make sure you let the glaze cool down. It should be still liquid, but starting to thicken. That way you get a nice, thick coating.
Double-dip if necessary.
As I have said earlier in the post, our individual sense of what's sweet can vary considerably. I don't like my sweets particularly sweet any more, and the recipe does reflect that.
If you feel you want to add a tablespoon of erythritol here or a few drops of stevia there, please do so. Make sure you taste the batter of your chocolate donuts - which, of course, is always half the fun 🙂
More low carb donut recipes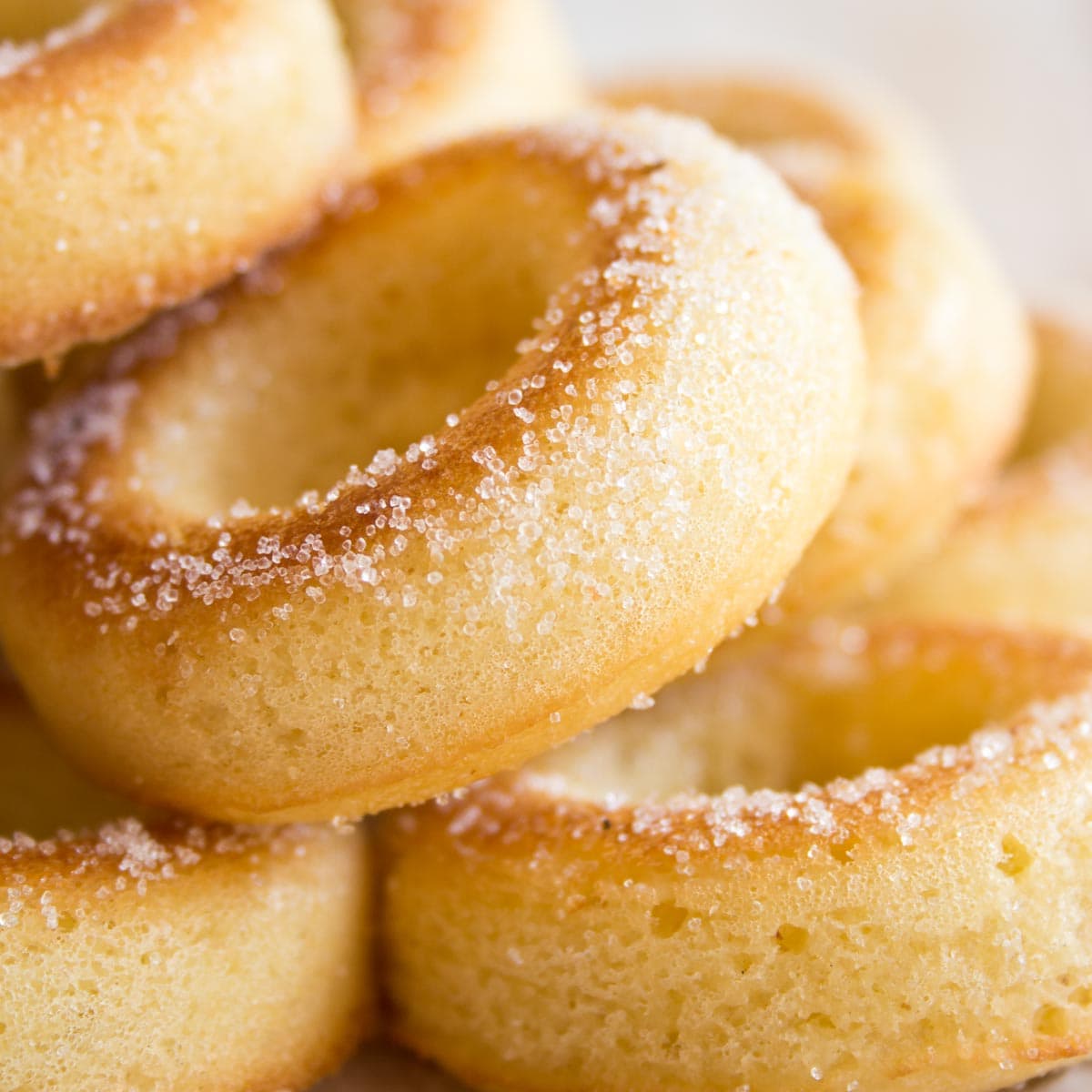 These sugar free donuts have lots of 5 star reviews!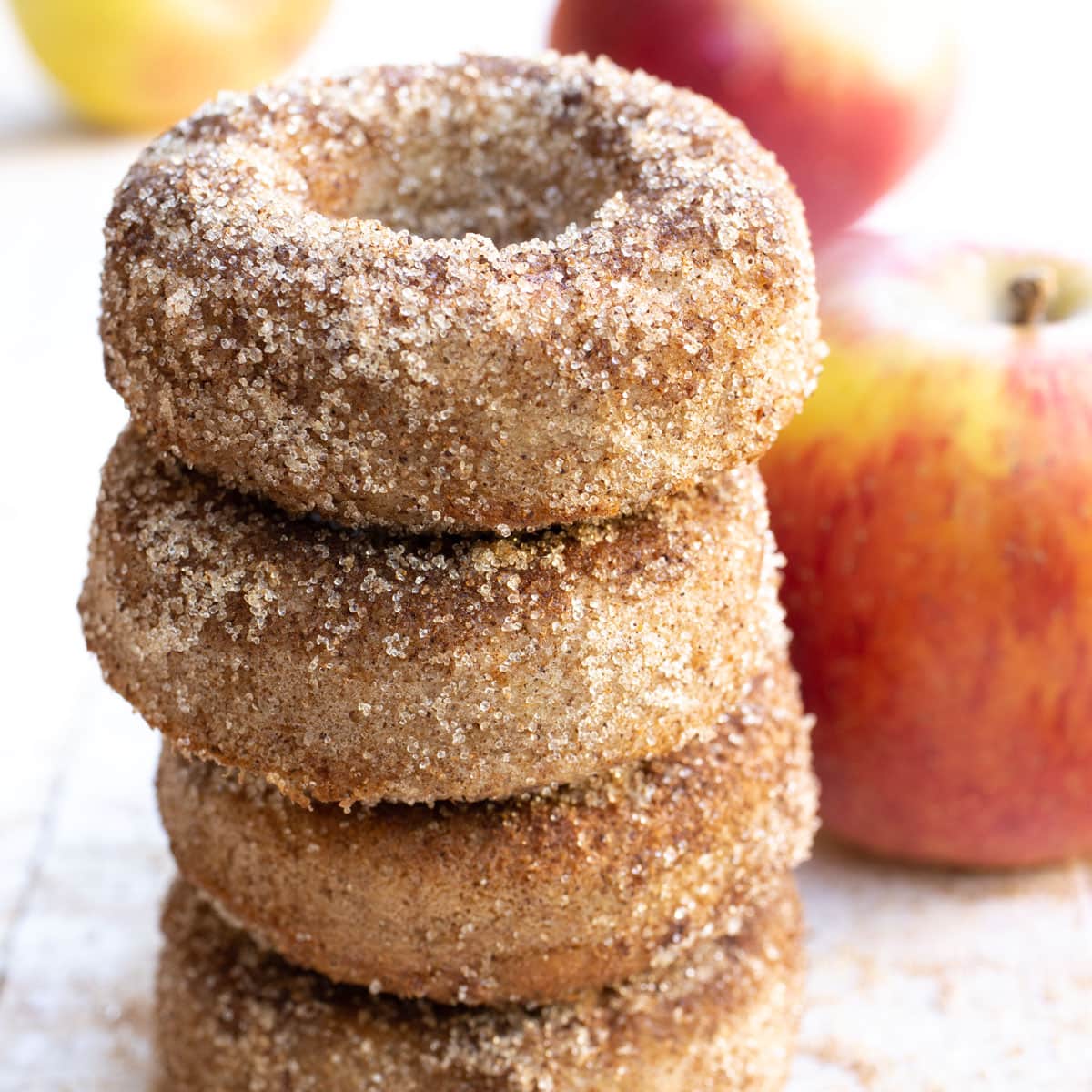 For an autumn treat, try my keto apple cider donuts.
★ STAY IN TOUCH on FACEBOOK, PINTEREST and INSTAGRAM for more great food and join my NEWSLETTER for the latest updates.★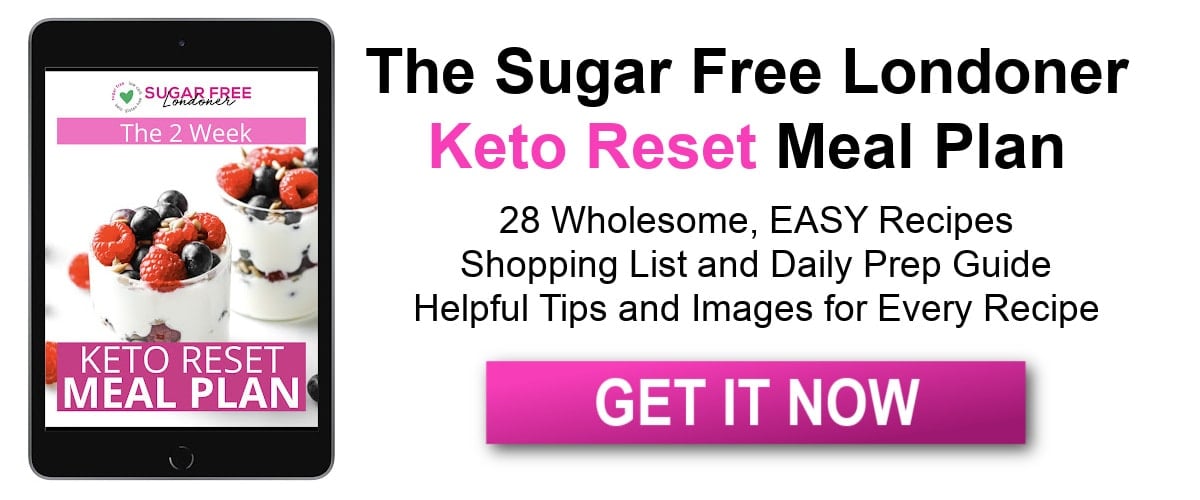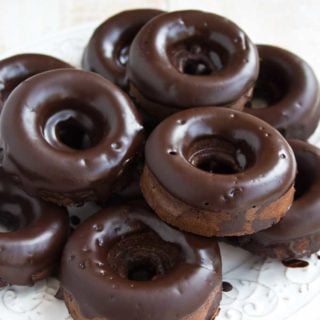 Keto Chocolate Donuts
from Sugar Free Londoner
These moist Keto chocolate donuts will satisfy the most urgent chocolate craving. A delicious treat that's sugar free, gluten free and low carb.
Note: The servings slider only changes the first amount in each line and not any subsequent amounts. Please make your own calculations where necessary. ***As an Amazon Associate I earn from qualifying purchases.
Instructions
Preheat your oven to 175 Celsius / 350 Fahrenheit

In a bowl or a food processor, blend the very soft butter, cream and sweetener. Then add the eggs and vanilla and mix until well-combined. Last, add the melted unsweetened chocolate, cocoa powder, almond flour and baking powder. Blend until you have a smooth batter.

Spoon batter into a well-greased donut pan. I used a silicone mini donut pan. Make sure you do not overfill and lose that all-important hole!

Bake 13-15 minutes or until done.

Melt the chocolate in a water-bath (place a smaller bowl with the chocolate inside a larger bowl which you have filled with boiling water. The heat will gently melt the chocolate). Add stevia to achieve the desired sweetness. Wait until it has cooled down a little.

Dip the cooled donuts into the chocolate (double-dip if you want a thicker glaze) and place in the fridge until the chocolate coating has set.
Notes
My donuts had a diameter of 6 cm and weighed around 25g each. Small and perfectly formed 🙂
The nutrition is calculated per donut. 
If you have a full size donut pan, you might end up with around 8 donuts. You'll also need to increase the baking time by up to 5 minutes. 
The kind of chocolate you use will impact on the amount of sweetener you need. See my thoughts about this in the post 🙂  
NOTE: The glaze hardens fully. If you're after a softer glaze, add 1 tablespoon double/heavy cream. 
Nutrition
Serving:
25
grams
Calories:
122
kcal
Total Carbohydrates:
4.1
g
Protein:
4.2
g
Fat:
11.5
g
Saturated Fat:
4.9
g
Fiber:
2.1
g
Sugar:
0.5
g
This post contains Amazon affiliate links. If you click on one to these links, I may earn a small commission, at no extra cost to you. Thank you for supporting Sugar Free Londoner.