Keto blueberry scones are such an easy treat for breakfast or brunch! These buttery, crumbly almond flour scones are bursting with fresh blueberries. They are on the table in only 30 minutes and contain just 3.9g net carbs.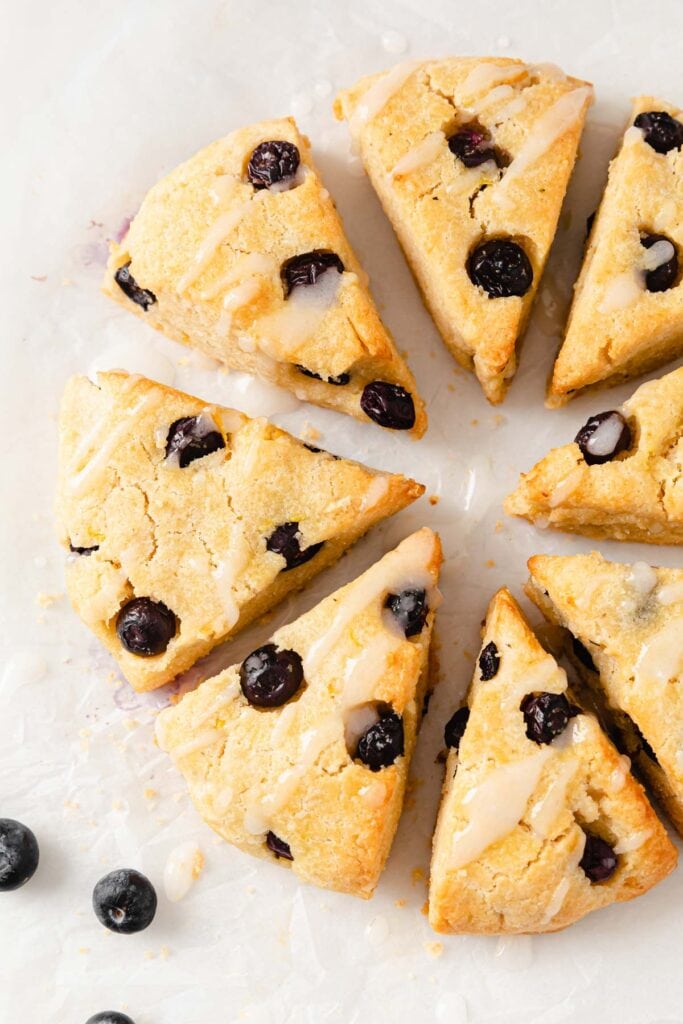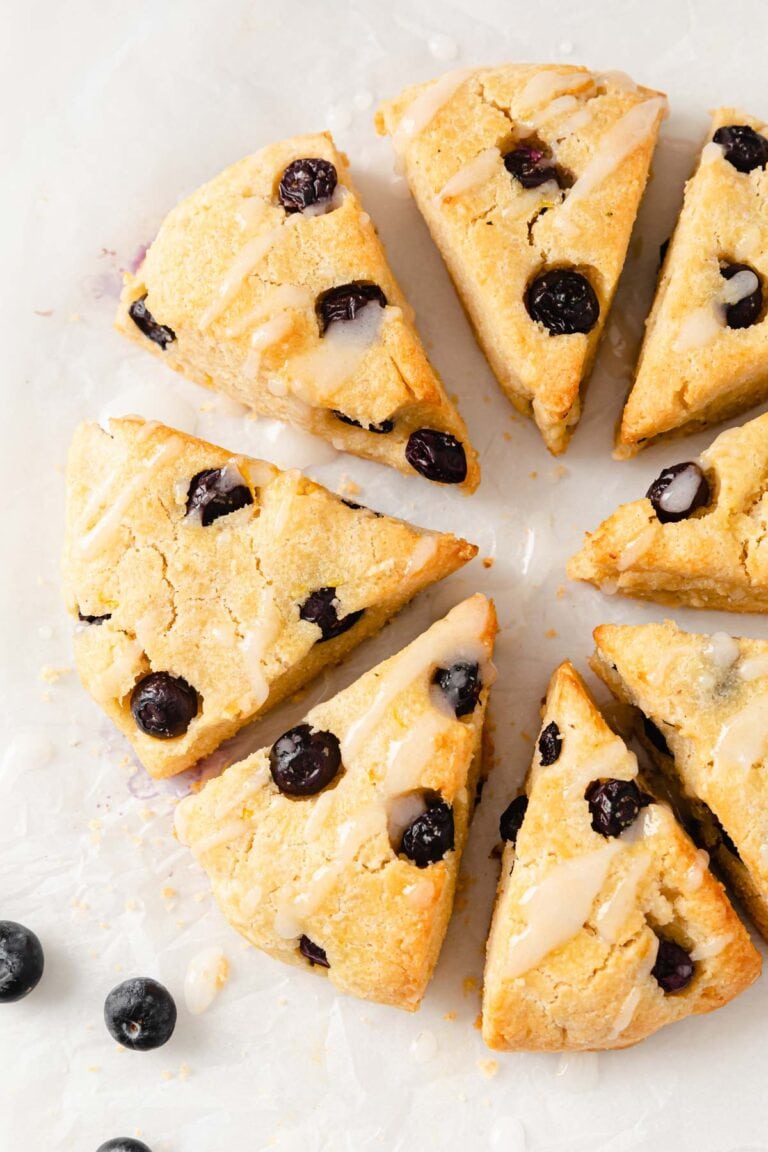 I love everything about baking. Watching the dough come together in the mixer. Forming shapes with my hands and seeing my bakes rise and turn golden in the oven. That gorgeous smell filling my kitchen. And don't get me started about the eating part!
Having lived in the birthplace of scones (England) for over 25 years, scones were one of the first gluten free low carb recipes I made. My Almond Flour Keto Scones are buttery and crumbly, just like good scones should be. You slice them in half and enjoy them with clotted cream and jam the English way.
This recipe uses the same almond flour base. But instead of round discs their shape is triangular. Remember the American style scones they sell at Starbucks? My low carb lemon blueberry scones will take you right back down memory lane - a rich yet light base with fruity blueberry bursts and topped with a zingy, sweet lemon glaze. Divine!
Keto blueberry scones ingredients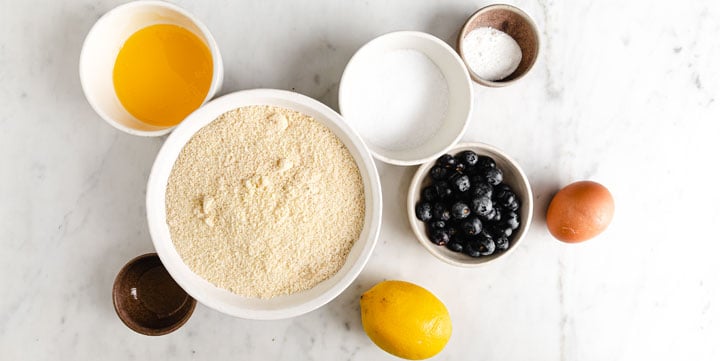 Almond flour - I'm using what we here in the UK call ground almonds. This is equivalent to regular almond flour in the US. If you're using superfine almond flour, reduce the amount to 200 grams / 2 cup almond flour.
Butter
Granulated sweetener - this should be a 1:1 sugar alternative.
Egg - make sure it's room temperature.
Baking powder
Vanilla extract
Lemon - we're using the zest for the dough and the lemon juice for the glaze.
Blueberries - both fresh or frozen blueberries work.
Are blueberries keto?
Berries - including blueberries - are among the most popular fruit among people following a keto diet. They are packed with antioxidants and high in vitamin C. Read this article to find out all about the health benefits of blueberries!
I love blueberries and enjoy some every week in my Perfect Low Carb Keto Blueberry Smoothie, on keto granola or with low carb pancakes. I even have a recipe for delicious sugar free blueberry jam!
Blueberry carb count
There are 12 net carbs in 100 grams of blueberries. This keto blueberry lemon scones recipe uses 75 grams, spread between 8 servings. This keeps the net carb count per scone at just 3.9g.
How to make almond flour blueberry scones
Mix together the melted butter, lemon zest, vanilla and egg.
Stir the dry ingredients (almond flour, erythritol, baking powder) into the wet until a dough forms, or use an electric mixer. Fold through the blueberries with a spatula.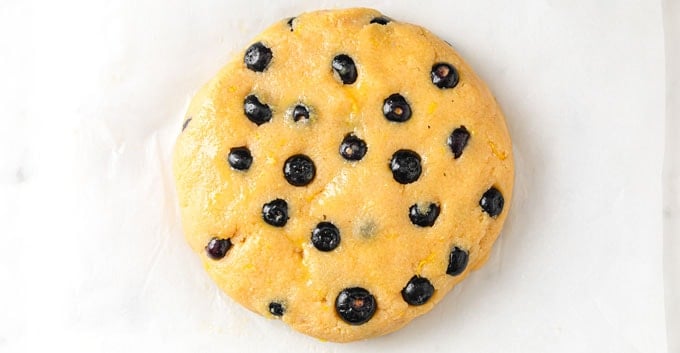 Form a dough ball and place onto a baking sheet lined with parchment paper. Flatten into a disc shape, about 1 inch thick and 6 inches in diameter.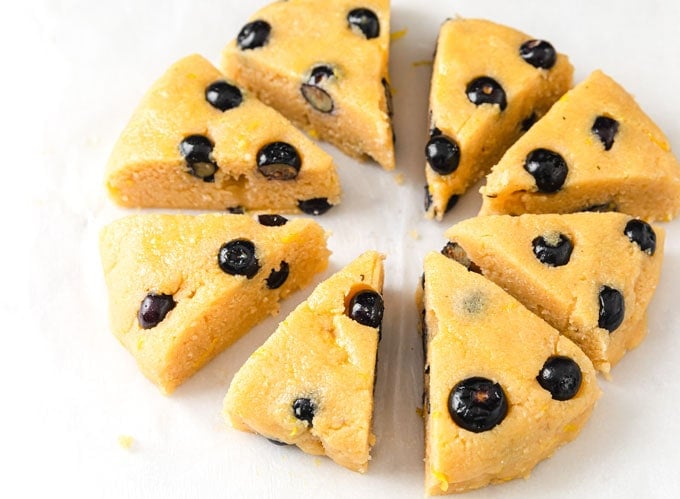 Cut into wedges. Move them apart a little and brush the tops with beaten egg. Bake for 20 - 22 minutes until golden.
Let the scones cool completely so they can firm up. Almond flour baked goods are very fragile when straight out of the oven. Once cooled, mix together the powdered erythritol or allulose with a teaspoon of lemon juice to make the glaze. Drizzle over the scones and enjoy!
Low carb scones variations
Here are some ideas how you can customise this recipe to suit your dietary needs or to simply change them up a bit.
Dairy free scones
To make these low carb blueberry scones dairy free, replace the butter with coconut oil.
Can I use coconut flour instead?
I have not yet tried to make coconut flour scones. Generally, you would need to reduce the amount of flour used to ⅓. I would probably also add an additional egg, because coconut flour is drier and gives a more brittle result.
If you're after a delicious coconut flour recipe, I can recommend my Keto Coconut Flour Muffins with Blueberries.
Don't have blueberries? Use raspberries, cranberries or strawberries instead. Or try swapping the berries for sugar free chocolate! In this case, don't forget to change up the lemon glaze as well. Use almond milk or heavy cream and a dash of vanilla extract to make a vanilla glaze.
How to store keto scones
All low carb keto scones can be stored in an airtight container on the counter for 3 days or in the fridge for 5 days.
Can you freeze them?
Absolutely. I like to make a double batch of blueberry keto scones and freeze some in a freezer bag for later. You can store them in the freezer for 3 months.
Thaw them overnight on the counter to let them come to room temperature. In the morning, reheat them in the oven at 180 C / 350 degree F for 5 minutes so they can crisp up.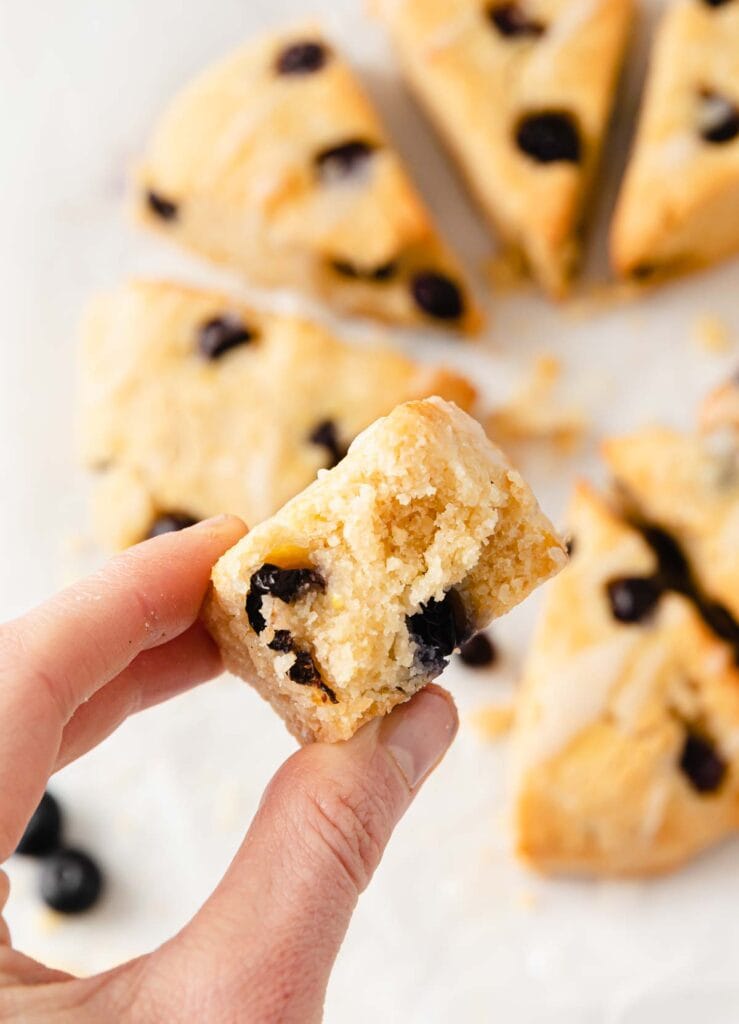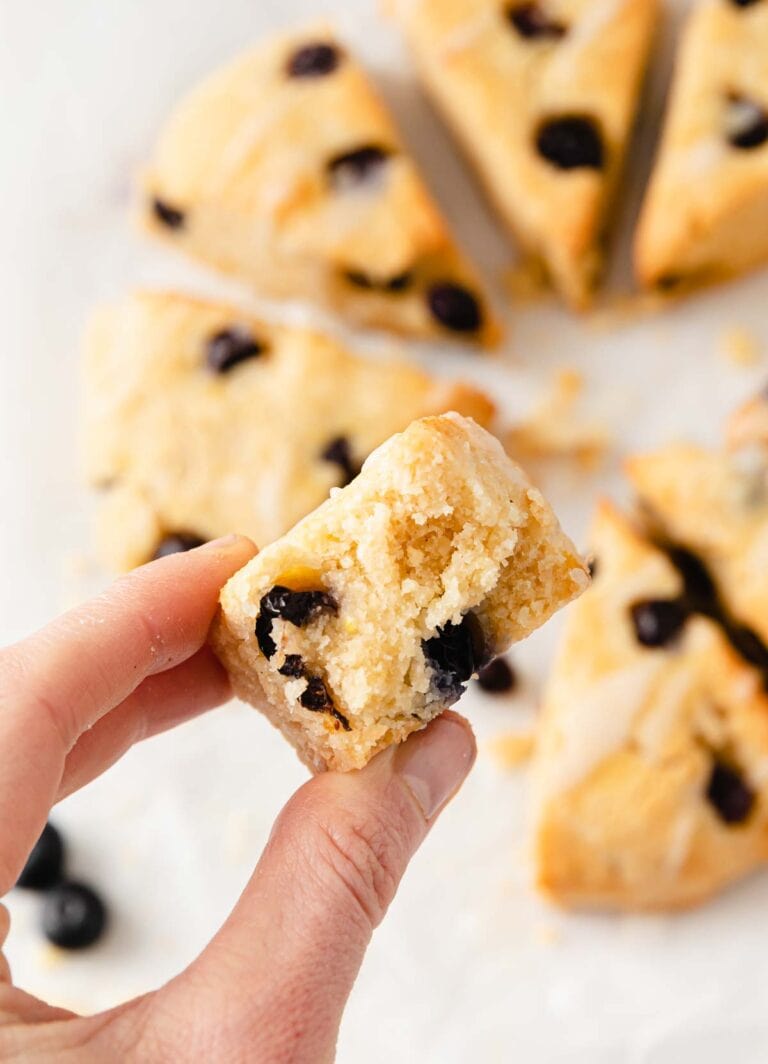 More keto breakfast baked goods
I have a ton of keto breakfast recipes on my site and I've even published a cookbook about keto bread recipes that is getting rave reviews! Here are some yummy breakfast baked goods that I'm sure you'll love:
Almond Flour Keto Scones - Perfect for a weekend brunch. The classic English scones made keto friendly.
Speedy Savoury Scones - We love these filled with crispy bacon, a fried egg, tomato and crunchy lettuce.
Best Keto Bagels - This almond flour fathead dough recipe is a revelation! Chewy and soft, this is keto breakfast at its best.
Low Carb Sugar Free Banana Bread - Keto banana bread with real banana that's only 4.4g net carbs per slice! No nasty extracts here. This is one of the most popular recipe on my website for a good reason!
Keto Cinnamon Rolls - An absolute must if you're on a ketogenic or low carb diet. This fathead dough recipe is crazy good and just so satisfying.
Tried this recipe? Give it a star rating below!
★ STAY IN TOUCH on FACEBOOK, PINTEREST and INSTAGRAM for more great food and join my NEWSLETTER for the latest updates and a FREE EBOOK.★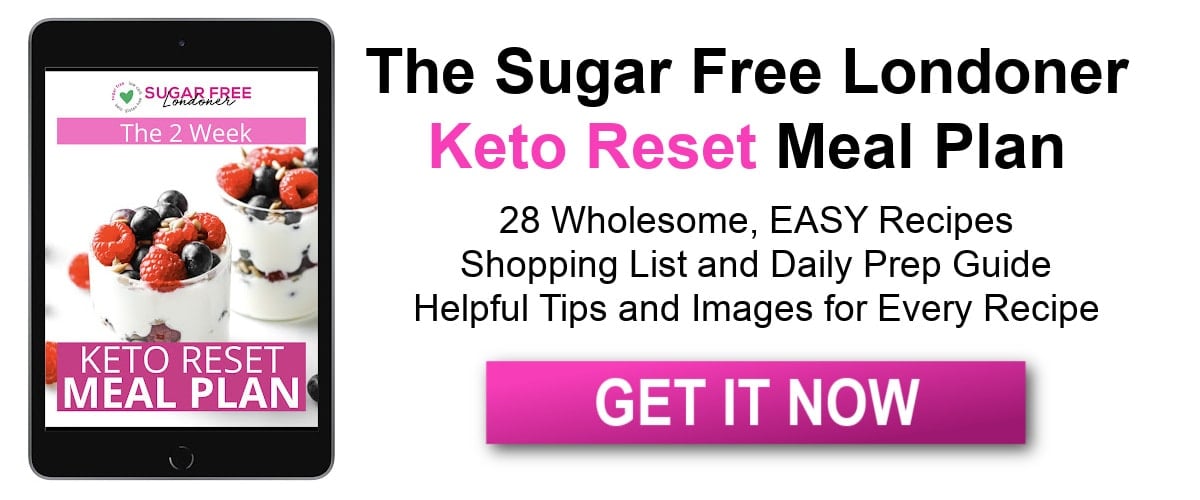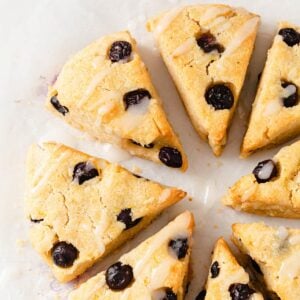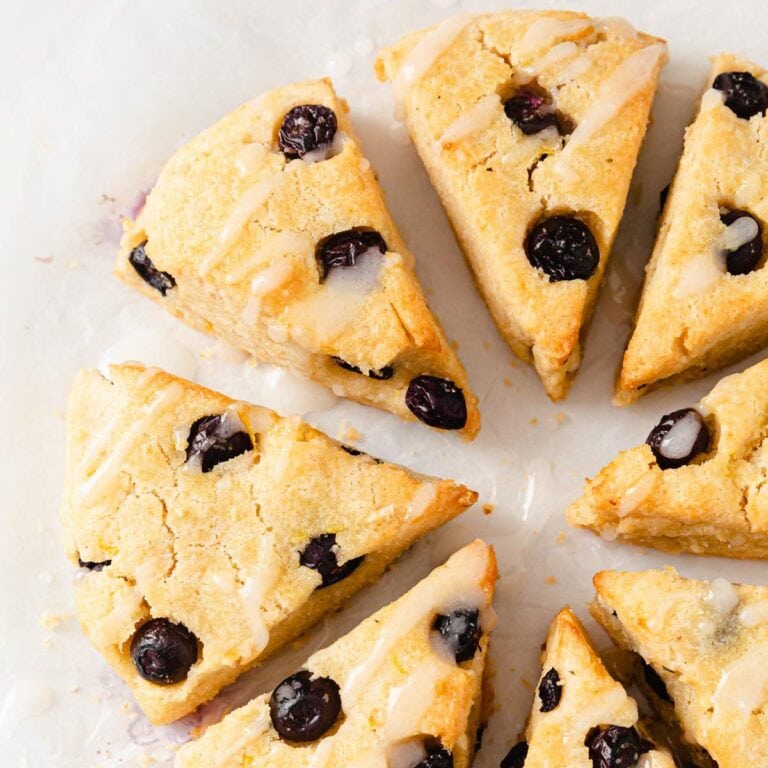 Keto Blueberry Scones
from Sugar Free Londoner
These Keto Blueberry Scones are a sugar free, gluten free classic you'll fall back on time and time again. The whole family will enjoy these keto scones, whether they follow a low-carb diet or not. Moist, crumbly and topped with a zingy sugar free lemon icing, each scone has only 3.9g net carbs.
Note: The servings slider only changes the first amount in each line and not any subsequent amounts. Please make your own calculations where necessary. ***As an Amazon Associate I earn from qualifying purchases.
Ingredients
2 ¼

cup/ 225g

almond flour or ground almonds

¼

cup / 45g

granulated sweetener

1 ½

teaspoon

baking powder

¼

cup / 60g

butter

melted

Zest of 1 lemon

1

teaspoon

vanilla extract

1

egg

large, room temperature

½

cup

blueberries

75g

1

egg

beaten, for brushing the tops (only used ⅓)
Instructions
Preheat the oven to 180 Celsius / 350 Fahrenheit.

Combine the dry ingredients - almond flour, erythritol, baking powder - in a bowl.

In a separate bowl, mix together the melted butter, lemon zest, vanilla and egg. Stir into the dry ingredients until a dough forms, or use an electric mixer. Fold through the blueberries with a spatula.

Form a dough ball and place onto a baking pan lined with parchment paper. Flatten into a disc shape, about 1 inch thick. Cut into wedges. Move them apart a little and brush the tops with beaten egg.

Bake for 20 - 22 minutes until golden. Let cool completely in the pan - these scones are fragile when hot but they firm up as they cool down.

For the glaze, whisk everything together in a small bowl using a balloon whisk until smooth.

Drizzle lemon glaze over cooled scones.
Notes
3.9g net carbs per scone. Makes 8 scones. 
If using super fine almond flour, reduce the amount to 2 cup / 200 grams. 
Storage: Fridge up to 5 days or freezer up to 3 months. 
Nutrition
Calories:
237
kcal
Total Carbohydrates:
7
g
Protein:
7
g
Fat:
21.5
g
Saturated Fat:
5.1
g
Fiber:
3.1
g
Sugar:
2.3
g
This post contains affiliate links. If you click on one of these links and purchase a product, I may earn a small commission, at no extra cost to you. Thank you for supporting Sugar Free Londoner.