How cute are these triple berry keto gummy bears? Not only are they super fun, they're also really healthy! In fact, they are probably one of the healthiest sweets ever. The recipe is low carb and Paleo and what's more, these fruity homemade gummies are sweetener free, too!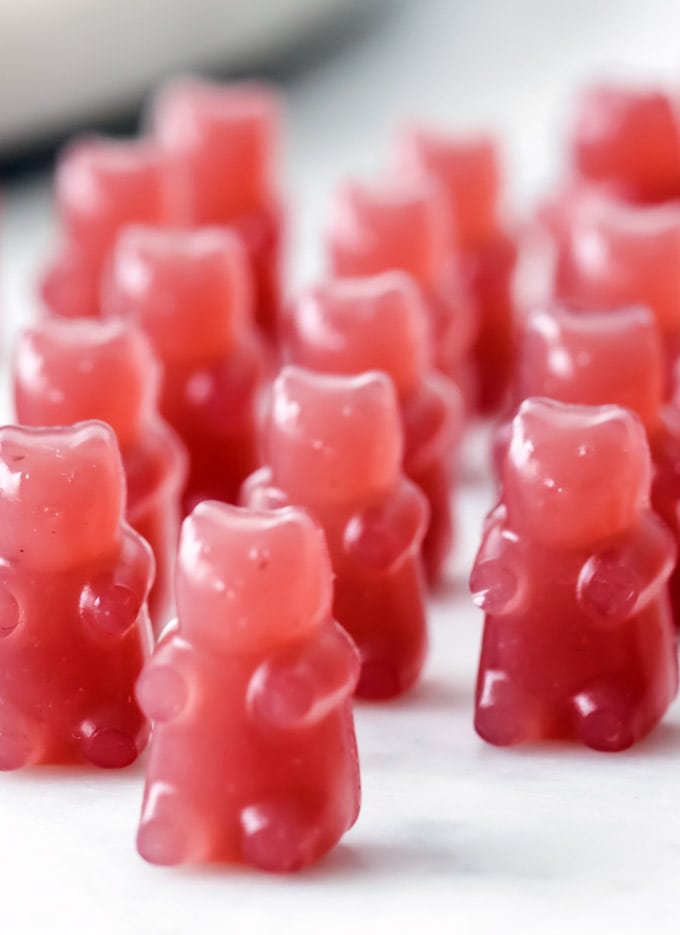 What's your Haribo memory? Whether you used to share your sweeties with your best friend or whether you rather enjoyed them by yourself - gummy bears and gummies in all shapes and forms are part of the fabric of our childhood.
There have been sugar free versions on the market, which have caused people all kinds of gastro problems. The reason were artificial sweeteners that our systems just do not tolerate. Your body will always let you know what's good for you - and what isn't...
Time for triple berry homemade gummies, guys!
These fruity little guys are a wonderful combination of fresh berry juice and grass-fed gelatin.
Strawberries, raspberries and blackberries are all low in carbs and keto-friendly.
Good quality grass-fed gelatin has LOADS of healthful properties thanks to the collagen it contains, from improving your gut health to radiant skin. Do not confuse grass-fed gelatin with Jello, which is full of artificial additives. Read more about the benefits of gelatin here.
How to make keto gummy bears - step by step: 
1.) Place the gelatin into a bowl. Add the water, stir and allow to bloom.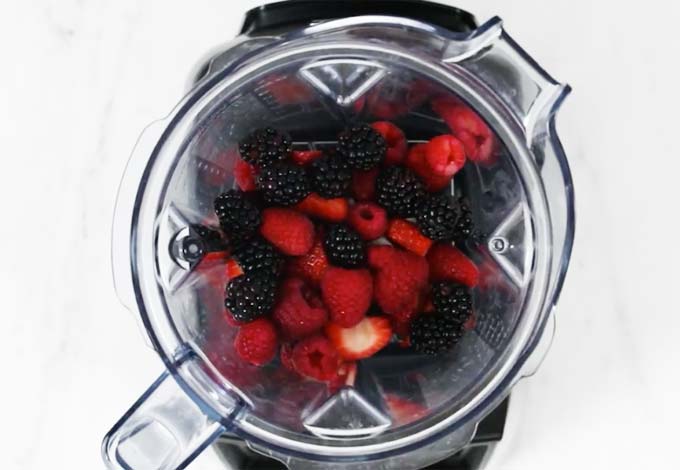 2.) Mix strawberries, raspberries and blackberries in a high speed blender until smooth.
Tip: If you don't have a high speed blender, you could use the attachment of a stick blender. You may have to do this in several batches, but this will yield the same smooth result.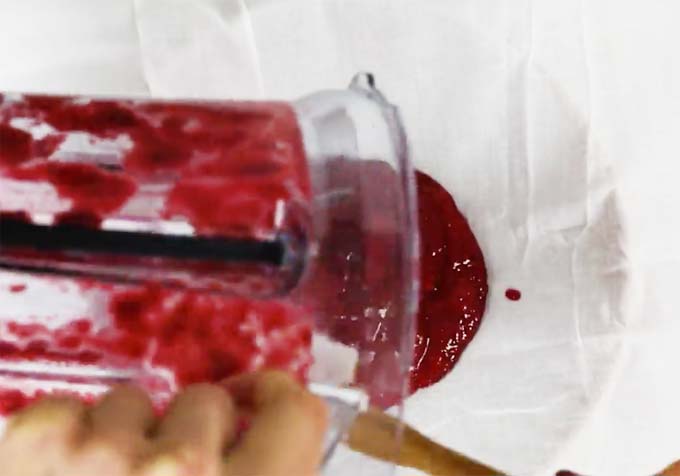 3.) Pour the berry mix onto a muslin cloth which you have placed over a bowl.
Muslin cloths are quite useful in the kitchen, I have this one. I also use it to squeeze liquid out of steamed cauliflower and courgette when I make fritters and to make labneh (yoghurt cheese) - yum.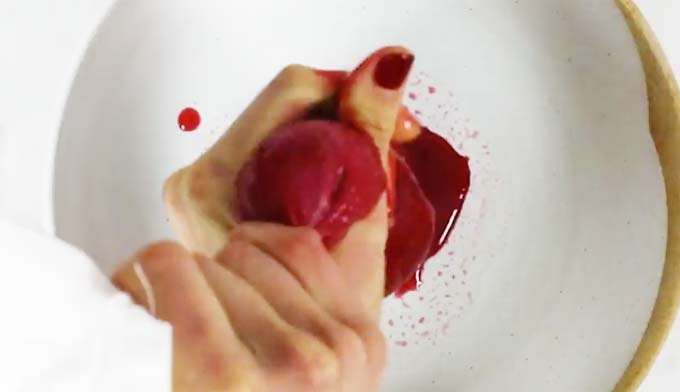 4.) Gather the cloth together and squeeeeze all the berry juice out. Discard the pith.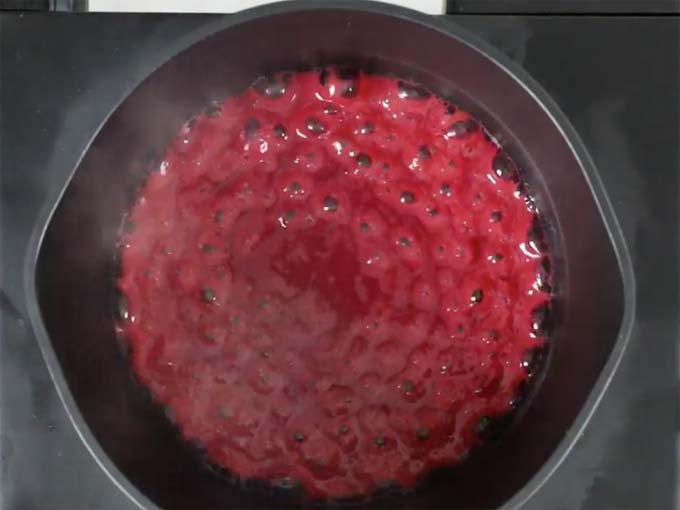 5.) Warm half the juice in a pan on a low heat, until it starts to bubble. Add the gelatin and stir until combined.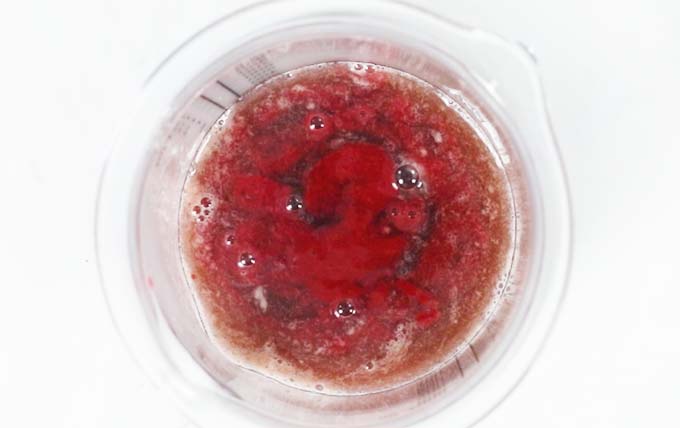 6.) Pour the mix into a jug and add the second half of the berry juice. Stir.
The reason for heating only half the juice is that it loses its vibrant colour when warmed. Can you see how the cold juice in the middle of the jug is much redder than the rest? We want our keto gummies to be as colourful as possible!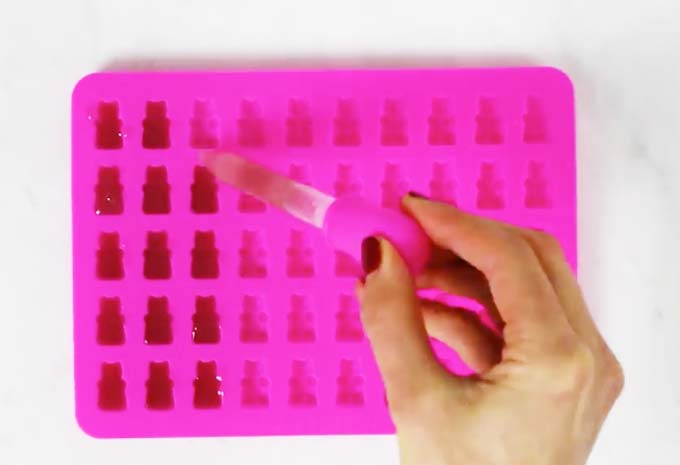 7.) Using a pipette, fill each cavity with the berry-gelatin mix. Then cool in the fridge for 2 hours until set.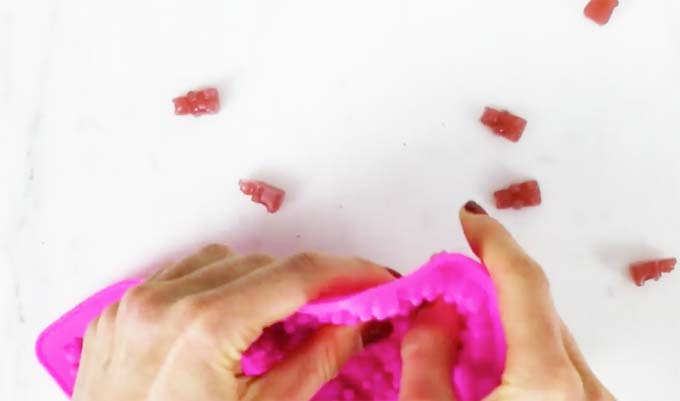 8. Release your fruity homemade gummy bears from the mould and enjoy!
Tips and recipe variations for yummy Keto gummy bears
Personally, I think these gummies don't need any extra sweetness. They don't taste like Haribo, they're so much better. They're fruity, slightly zingy and just little bursts of goodness.
If you have more of a sweet tooth than me, do feel free to add 1-2 teaspoon of powdered erythritol or 4 drops of liquid stevia when you add the gelatin to the warmed berry juice.
The ripeness and quality of your berries will have a huge impact on how fruity and how sweet the end result is. Fresh berries will always taste better than previously frozen berries.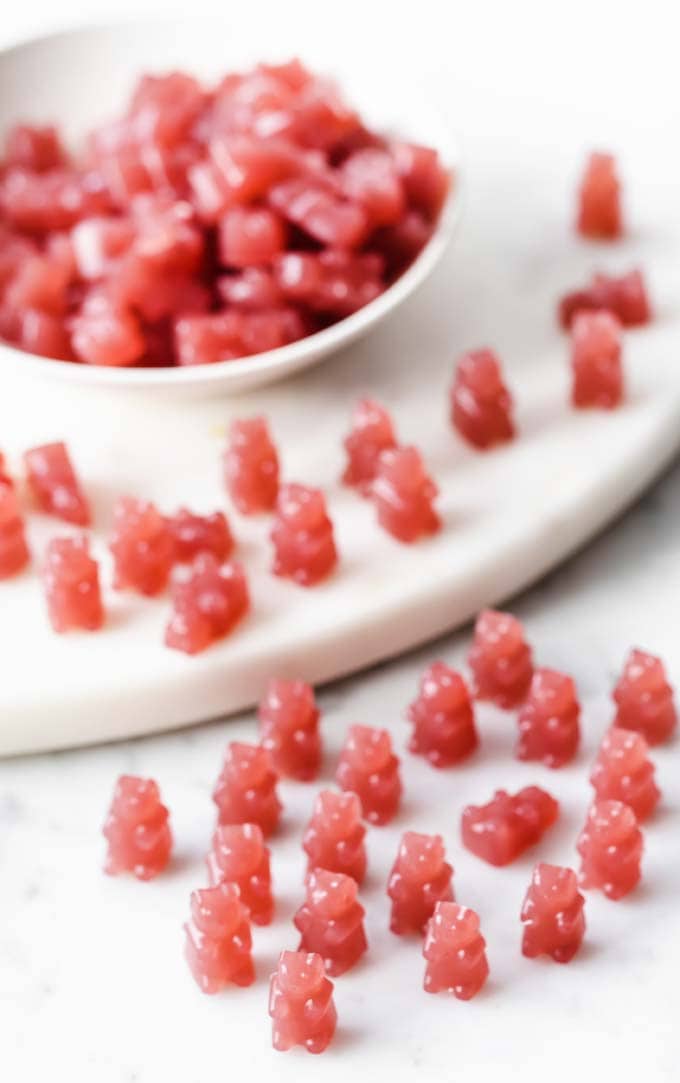 Get creative and experiment with ratio of different berries too. It changes the colour. For example, if you want more of a purple gummy bear, add more blackberries and less raspberries. Just be mindful this will alter the net carb content slightly.
You can also add other pairing flavours like lemon, lime or vanilla and cinnamon. One benefit of adding lemon or lime is that the acid in either will extend the shelf life of your gummies - it prevents the growth of bacteria.
Try these sugar free versions of popular sweets: 
Tried this recipe? Give it a star rating below!
★ STAY IN TOUCH on FACEBOOK, PINTEREST and INSTAGRAM  for more great food and join my NEWSLETTER for the latest updates and a FREE EBOOK.★ 
Recipe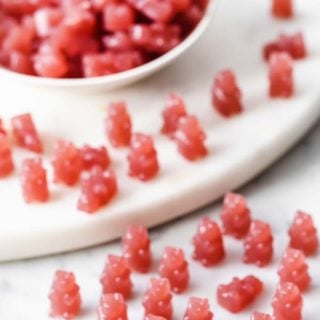 Triple Berry Keto Gummy Bears
from Sugar Free Londoner
Move over, Haribo! These homemade Keto gummy bears are a super healthy sugar free treat. The whole family will love these little guys! Low carb and Paleo.
Note: The servings slider only changes the first amount in each line and not any subsequent amounts. Please make your own calculations where necessary.
Instructions
[Place the gelatin into a bowl. Add the water and allow to bloom whilst you make the berry juice.

Add the strawberries, raspberries and blackberries to a high speed blender and blitz until smooth.

Pour into a muslin cloth and squeeze out the juice. Discard the pith.

Pour half the juice into a pan and warm on a low heat.

Add the bloomed gelatin and mix until it dissolves.

Remove from the heat and add the rest of the juice. (Adding the juice in two parts ensures the gummy bears keep their colour.) Skim off any foam with a spoon. (TASTE the mix at this point. If you feel it needs a bit of extra sweetness, stir in 1-2 teaspoon of powdered erythritol).

Place your silicone jelly mould onto a flat surface and carefully add the triple berry gelatin juice to each gummy bear using a pipette.

Place in the fridge for 2 hours to set.
Notes
I calculated the nutrition on the basis of 15 portions. My gummy bear molds yielded 150 cute little bears - 10 per portion - but the amount of bears will depend on your moulds.  You can store your homemade gummies in the fridge for up to 3 days.  We liked these gummies sweetener-free. The sweetness of the gummies will depend on the ripeness and quality of your fruit. Simply add some powdered erythritol if you feel the gummy bear juice needs it.  Other optional add-ins: ½ teaspoon vanilla powder or extract, ½ teaspoon cinnamon, juice of ½ lemon or juice of 1 lime (the acid in the lemon/lime will increase the storage time to well over 1 week)  
Nutrition
Calories:
17.5
kcal
Total Carbohydrates:
1.8
g
Protein:
2.5
g
Fat:
0.1
g
Fiber:
0.8
g
Sugar:
0.8
g
This post contains affiliate links. If you click on one of these links and purchase a product, I may earn a small commission, at no extra cost to you. Thank you for supporting Sugar Free Londoner.