Low carb homemade Twix bars are a healthy version of an all time favourite candy. Enjoy a decadent treat without the sugar rush.
Perfection, my friends, is overrated.
Imperfection is where it's at!
Why, might you ask?
It's simple. Perfection is the opposite of fun. The way to the top of the pile is littered with failure, disappointment, nervous cramped stomachs and sweaty armpits.
If you strive for perfection, you are telling yourself that anything less is not good enough. What a depressingly negative outlook on life.
And anyway - will you enjoy life more if you looked like a supermodel? Will you have more fun if you have a home straight off the pages of the Architectural Digest? Are you going to feel true inner peace if Anna Wintour is jealous of your wardrobe? Will your existence be greatly improved if your kids win all the gold medals at school sports day? If your face is forever wrinkle-free?
There you go. Imperfection is about being open-minded and relaxed. It's about being able to think out of the box. About enjoying all aspects of life and embracing the journey.
Friends, let's be proud all our idiosyncrasies and peculiarities. Let's be happy about who and what we are, because that's what makes us unique, interesting, special - quite simply, perfect in our imperfection.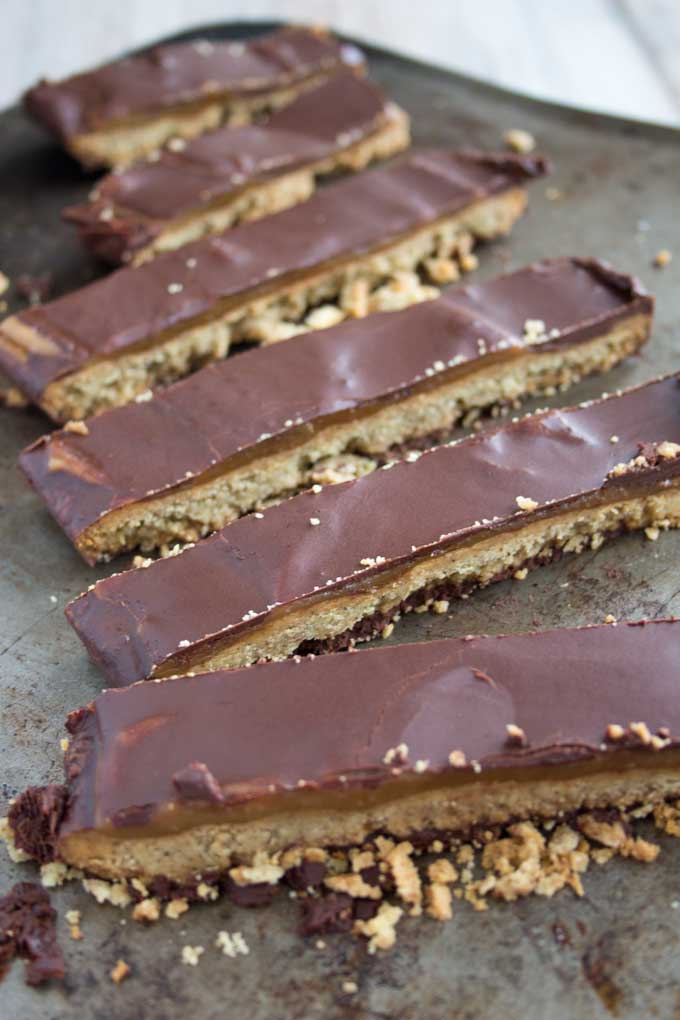 And for goodness sake, let's chill out in the kitchen! As long as a dish tastes amazing, is it really important how perfect it looks?
Now you get my drift. I'm looking for some open-minded thinking here.
Friends, these low carb homemade Twix bars would not pass the perfection test in terms of presentation.
But they taste so good!
I had just made this 2 ingredient sugar free caramel sauce and was keen to incorporate it into a dish.
Low carb homemade Twix bars seemed like the perfect candidate!
In the recipe description below, I am putting forward two different ways to spread out the almond dough. If you roll it out between 2 sheets of baking paper, you'll get it looking perfectly smooth and straight, which will most certainly result in a more handsome Twix.
As you can see, I just pressed the dough into a casserole dish lined with baking paper. When I poured over the chocolate topping, the chocolate ran over and around the irregular sides and some settled underneath the almond base (which incidentally made it look more like a "real" Twix bar!).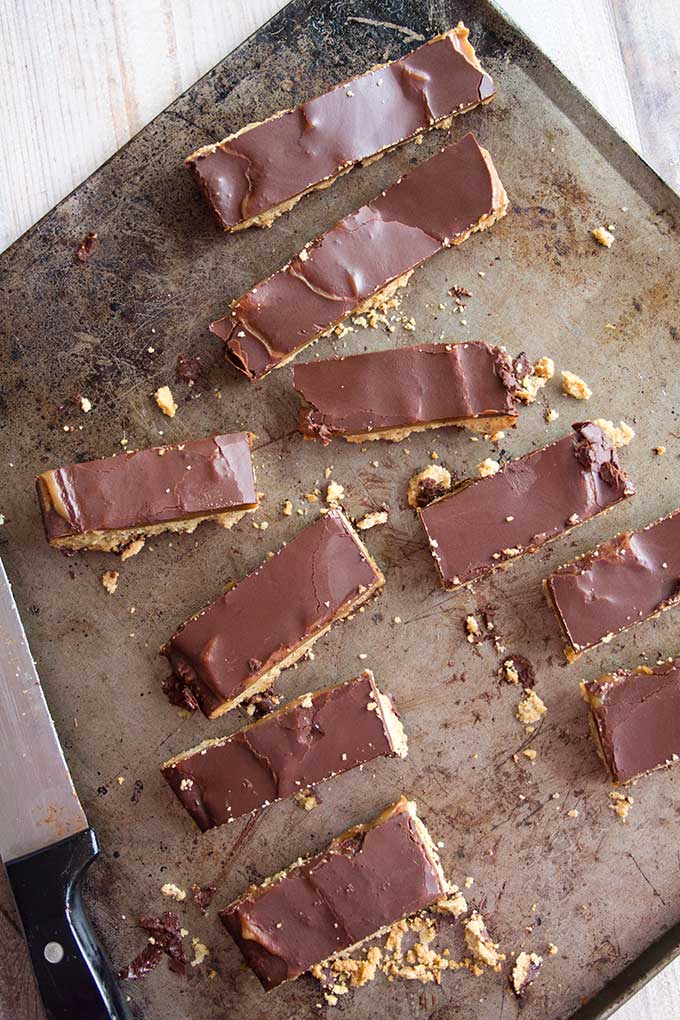 To make your low carb homemade Twix bars look 100% professional, you'd need to use a silicone mold like this. Pour some of the chocolate at the bottom, cut the baked almond base into the correct size, add the caramel and finish off with chocolate.
Not difficult, a little more time-consuming but thankfully, absolutely not necessary. Because we're all about the taste, right?
Once you bite into your very own healthy homemade perfectly imperfect Twix, you'll know you're in your happy place.
Enjoy!
Storage
Low carb Twix bars are best stored in the fridge. They stay fresh for around 1 week.
It is also possible to freeze the bars. I pre-slice them and freeze them on a tray. Once they are frozen, I transfer them to a freezer bag. This way, they do not sick together.
More Keto Copycat Recipes
Here are more popular candy recipes and sweets that I have keto-fied:
Tried this recipe? Give it a star rating below!
★ STAY IN TOUCH on FACEBOOK, PINTEREST and INSTAGRAM  for more great food and join my NEWSLETTER for the latest updates and a FREE EBOOK.★ 
Recipe
Low Carb Homemade Twix Bars
from Sugar Free Londoner
A healthy version of an all time candy favourite: low carb homemade twix bars! Enjoy the pleasure of a decadent treat without the sugar rush.
Note: The servings slider only changes the first amount in each line and not any subsequent amounts. Please make your own calculations where necessary.
Ingredients
For the shortbread base

2

cups / 200g

almond flour

(to my UK readers - ground almonds work fine here)

1

medium egg

1

teaspoon

vanilla essence or vanilla bean powder

For the caramel

1

cup

240ml coconut milk (full fat, from a can)

4

tablespoon

Sukrin Fibre Syrup

pinch

of salt

For the chocolate topping

¼

cup / 60g

coconut oil

¼

cup / 20g

cacao powder

1

tablespoon

Sukrin Fibre Syrup

alternatively: 80g (⅓ cup melted chocolate, at least 85% cocoa solids
Instructions
Preheat the oven to 180 Celsius/350 Fahrenheit.

First, make the shortbread base. Simply mix the almond flour with the egg and vanilla. Either roll out the dough between 2 sheets of baking paper or line a 9x6 inch pan with baking paper and press the dough down evenly.

Bake for ca 25 minutes or until lightly browned

Next, make the caramel. Bring the coconut milk and fibre syrup to the boil. Turn the heat down and let it bubble away gently until it has reduced by half.

When the shortbread is done, remove it from the oven and let it cool down.

Spread over the caramel and place in the fridge for 10 minutes until it has firmed up.

Now make the chocolate topping - either heat coconut oil in a pan until liquid and add the cacao powder plus 1 tablespoon of fibre syrup. Alternatively, melt 80g of dark chocolate (minimum 85% cocoa solids or higher).

Pour the melted chocolate over the caramel layer and let it firm up in the fridge.

Cut into bars and enjoy!
Notes
If you want to use a full can of coconut milk (normally 400ml), increase the amount of fibre syrup to 7 tbsp. You'll have some leftovers for waffles/ice cream or pancakes. Just put it into an air tight container and keep it in the fridge.
These bars are quite dense and filling. I found that a good size was around 25g. Therefore, my bars ended up smaller than your regular shop-bought Twix.
I have calculated the nutritional info according to a 25g bar.
Nutrition
Calories:
134
kcal
Total Carbohydrates:
8.9
g
Protein:
5.3
g
Fat:
10.7
g
Cholesterol:
10.2
mg
Fiber:
6.2
g
Sugar:
1.1
g
(This post may contain affiliate links. When you click on a link like this and purchase a product, I receive a small commission – at no extra cost to you. This money helps me with the running costs of my site.)