Ditch all the added sugar by making your own homemade sugar free strawberry jam! This simple recipe makes incredibly fruity jam that is suitable for low carb and Keto diets. No pectin!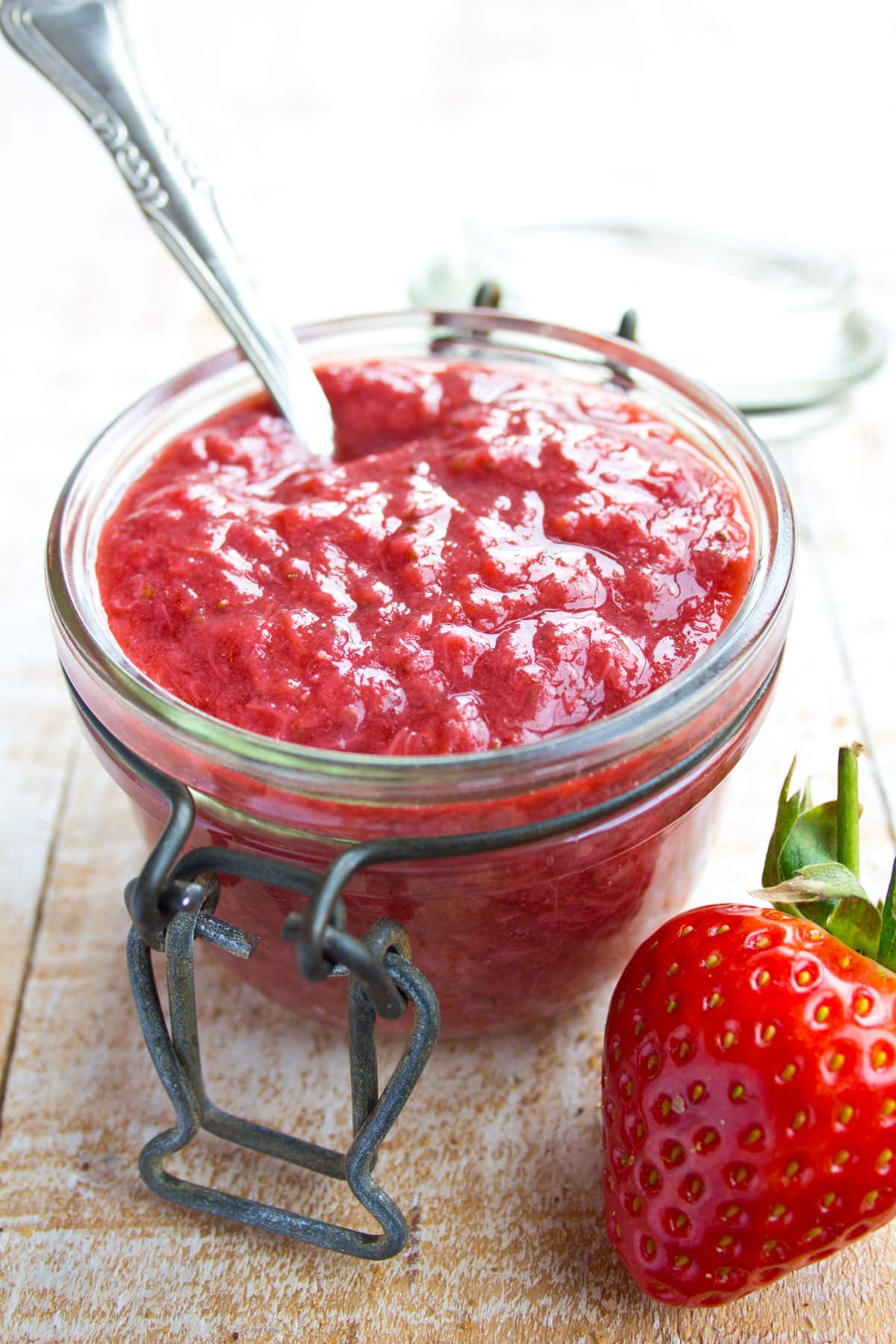 Did you know that traditional jam recipes use sugar and fruit on a 1:1 basis? I have always wondered why this is necessary. Ripe fruit contain so much natural sweetness in form of fructose!
The sugar is supposed to help with the gelling of the fruit, making the jam nice and thick. It also acts as a preservative. Oh, and it's a really cheap ingredient, adding to the profit of jam companies.
I've been making sugar free jam ever since I started eating low carb. Guys, it's so simple. All you need is quality fruit, which you simmer gently until enough liquid has evaporated.
Then you add a bit of extra sweetness such as erythritol, stevia or Swerve (if necessary) and a little bit of thickener such as chia seeds, gelatin or xanthan gum (if necessary). That's it!
Jump to:
How to make sugar free strawberry jam - step by step: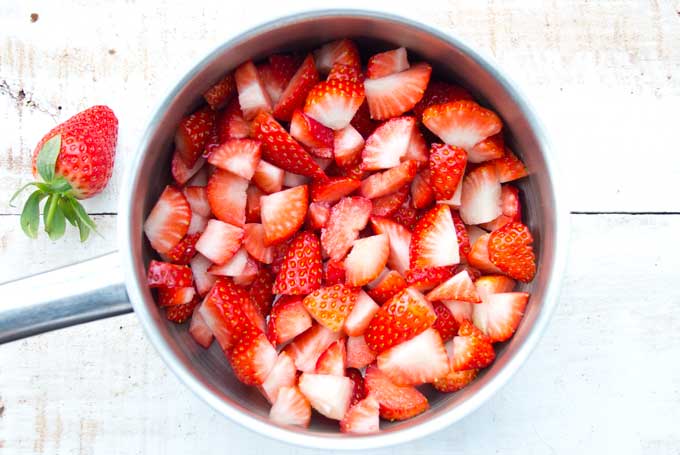 STEP 1
Chop your strawberries and place them in a saucepan. Add 2 tablespoon of water (3 if your saucepan is large). This is so the strawberries don't burn whilst you soften them.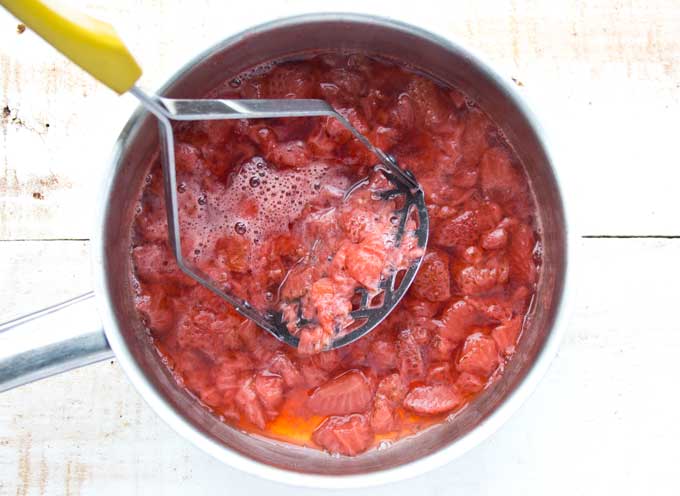 STEP 2
Bring to the boil, lid on, then turn the heat to medium and let it bubble away for around 15 minutes. Now your strawberries look like in the image above. They are soft and have begun to release their own liquid. Mash with a potato masher.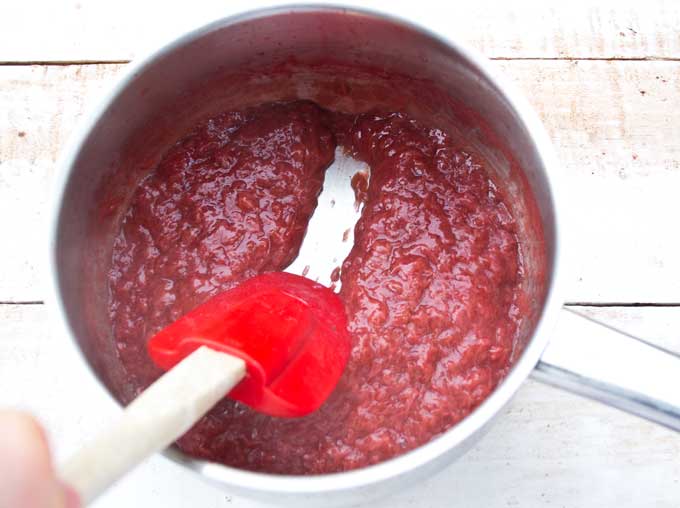 STEP 3
Continue simmering the strawberry puree over a low heat for another 30 minutes until the mixture is reduced by half. As the liquid evaporates, the bubbles become smaller.
Stir continuously towards the end using a spatula, making sure the jam does not burn. Once the mixture has the texture of jam, you're done!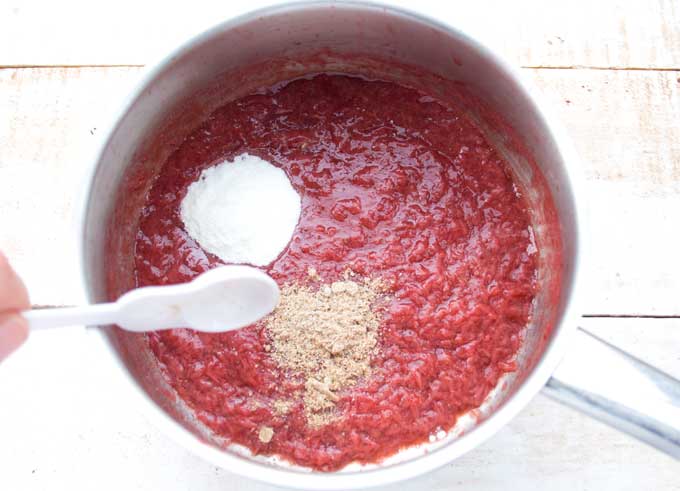 STEP 4
Taste the jam. If the strawberries do not contain enough natural sweetness, add up to 1 tablespoon of powdered erythritol or another sweetener of your choice. Instead of pectin, use 1 teaspoon of ground chia seeds to fully set the jam.
Fill into a sterilised container and store in the fridge.
Expert Tip
This strawberry jam recipe only contains 1.4 grams of fruit sugar per serving (1 tablespoon), which won't spike your insulin levels like regular jam. To keep your blood sugar levels stable do make sure you eat it as part of a meal.
This recipe made 200 grams of strawberry jam, which is just under 1 cup.
How long will sugar free jam last? 
If you store it in the fridge, it should be good for at least one week. However, if you have a family, it will probably disappear much quicker.
To increase the shelf life of this jam you can add 1 teaspoon of lemon juice during cooking. The acids does not only help with the gelling of the jam, it also prevents the growth of bacteria during storage (source). This way, you can easily keep it in the fridge for 3-4 weeks.
Can I make it without sweetener?
If you use REALLY RIPE fruit and reduce the liquid as much as possible, you may not even need additional sweetener. I made this recipe in February. The strawberries available right now are imported and a far cry from the amazing local varieties we can buy here in the UK during strawberry season in June and July.
Using the lemon juice, however, will mean you'll most probably have to add a spoonful of sweetener such as powdered erythritol, Swerve or stevia.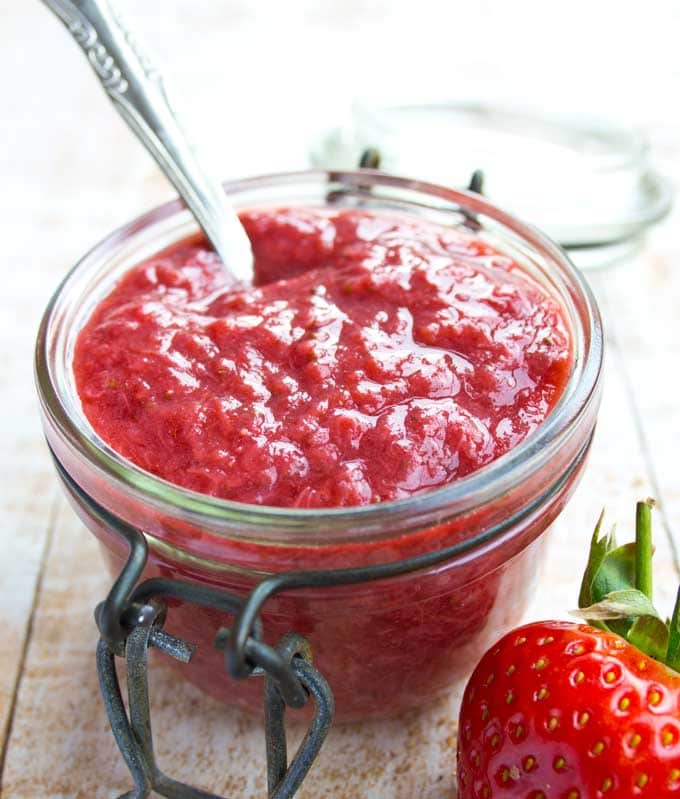 How to make sugar free strawberry jam set without pectin
In this recipe I chose to set the jam with ground white chia seeds. You can either grind them with a pestle and mortar, or you take a whole bunch and blitz them to a fine powder in a food processor or in the attachment of a stick blender. Fill it into an airtight jar and use it to thicken sauces and anything else that needs thickening!
You could also use whole chia seeds to thicken low carb jam, as long as you don't mind the gloopy bobbles. The jam will taste the same, but some people don't like the texture. If you use whole chia seeds, I recommend doubling the amount to 1 tbsp.
Other pectin-free options for thickening jam are gelatin and xanthan gum - even sugar-free jell0.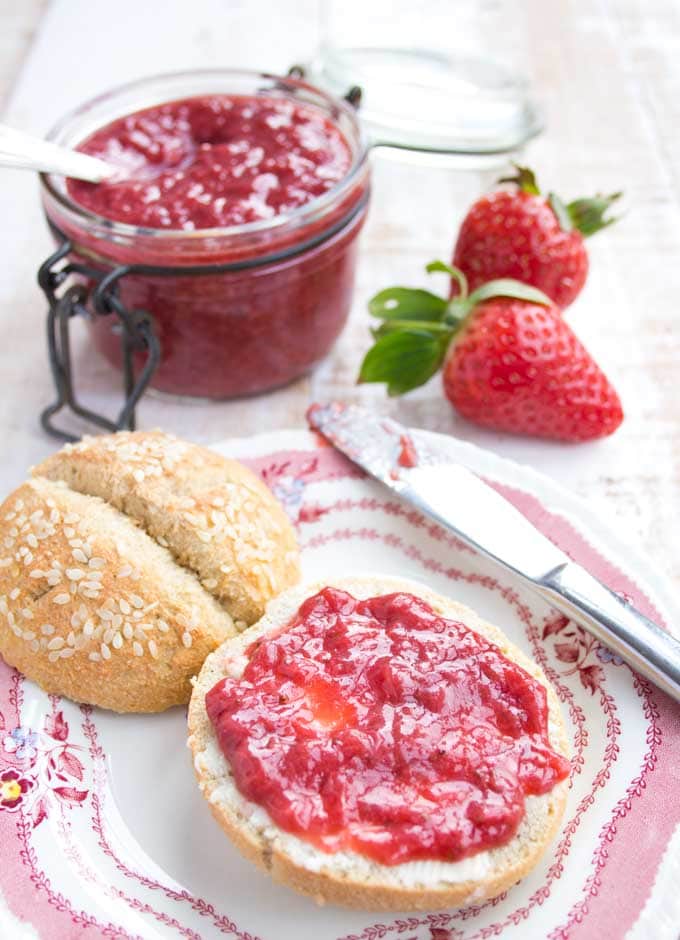 Serving Suggestion
We had it for breakfast with these keto buns (see photo above) and with some Greek yoghurt. If you want to make a quick low carb bread for your deliciously healthy strawberry jam, try these microwave English muffins. It would also be awesome with keto scones or as the filling of a Victoria sponge cake.
I'm also using this jam in my sugar free strawberry shortcake trifle pots - one of my favourite summer dessert recipes!
More Sugar Free Jams And Spreads
Tried this recipe? Give it a star rating below!
★ STAY IN TOUCH on FACEBOOK, PINTEREST and INSTAGRAM  for more great food and join my NEWSLETTER for the latest updates and a FREE EBOOK.★ 
Recipe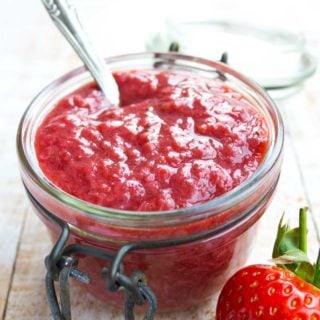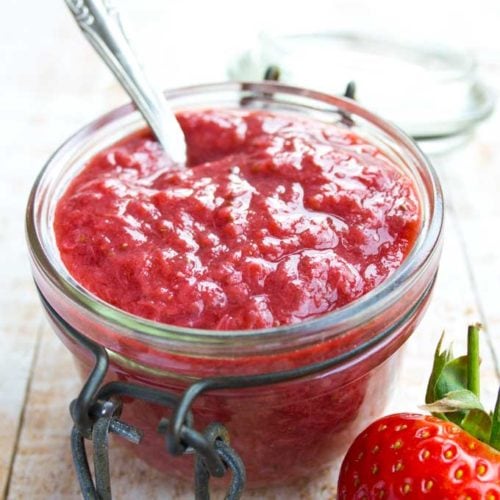 Sugar Free Strawberry Jam
from Sugar Free Londoner
Making sugar free strawberry jam is easy-peasy! This recipe is so fruity and naturally sweet you'll wonder why you ever bought jam in a store. Bring on breakfast!
Note: The servings slider only changes the first amount in each line and not any subsequent amounts. Please make your own calculations where necessary.
Ingredients
400

g / 14 oz

strawberries, diced

2

tablespoon

water

1

teaspoon

chia seeds

ground

1

teaspoon

lemon juice

optional

1

tablespoon

powdered sweetener

optional
Instructions
Chop the strawberries and place them in a saucepan together with the water.

Bring to the boil (lid on), then turn down the heat medium and let it bubble away for 15 minutes. Only add the lemon juice if you want to store the jam for longer than 1 week - it prevents the growth of bacteria.

Mash the strawberries with a potato masher (or with a fork), then continue to cook on low-medium for another 30 minutes until reduced by half. You want it to bubble peacefully. Bubbles will become smaller as the liquid evaporates. Stir regularly with a spatula to prevent the jam from burning. Towards the end of cooking, stir constantly.

Taste. If necessary, sweeten with 1 tablespoon of powdered erythritol.

Add the ground chia seeds and stir. Cool and fill into a sterilised jar. Store in the fridge.
Notes
The amount of sweetener needed depends on the ripeness your strawberries. I made this recipe when strawberries were out of season, that's why I decided to add 1 tablespoon of sweetener. If yours are sweet from the get-go, you may be able to omit the sweetener altogether.
I prefer to use ground chia seeds for this jam so I don't get any gloopy chia seeds in it. I simply ground a whole bunch of chia seeds in my food processor until they resembled a powder. They're great for thickening anything in low carb cooking, including sauces. 
The exact cooking time will depend on the saucepan you use and how hot your stove is. Simply cook until the jam is thick. The thicker it is, the more natural sweetness it will have.  
My 400g (14.2oz) of strawberries made 200g (6.7oz / scant cup) of jam. 
I calculated 1 tablespoon = 14g as one portion/serving.  
Nutrition
Calories:
10
kcal
Total Carbohydrates:
2.2
g
Protein:
0.3
g
Fat:
0.3
g
Fiber:
0.9
g
Sugar:
1.4
g