This easy keto peanut butter fudge is rich, creamy and sweet. It takes only 5 minutes to prepare and requires just 4 ingredients. The best part is that one square is 0 net carbs.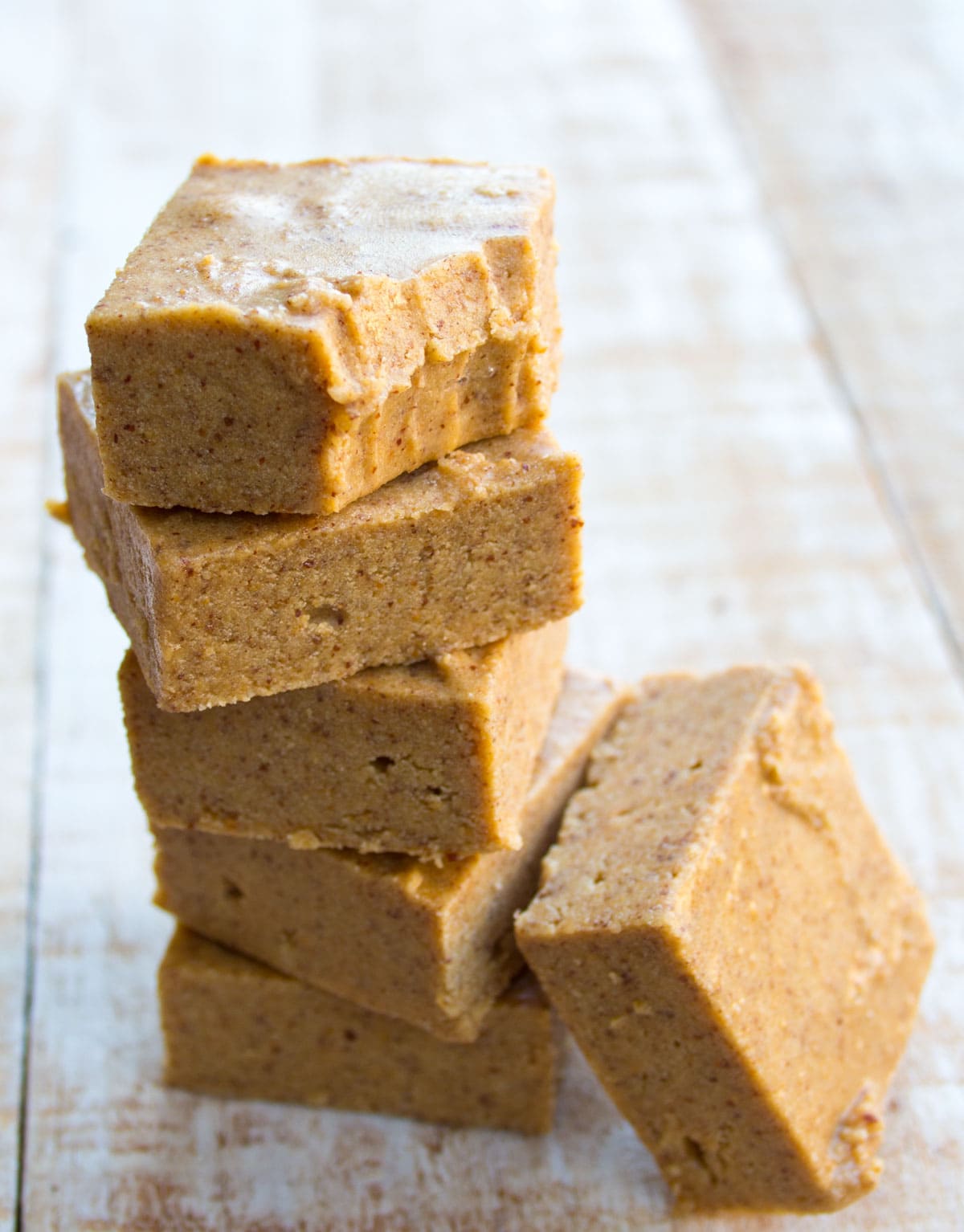 This sugar free peanut butter fudge recipe has been on my blog for several years and it is a reader favourite. It used to be called keto fudge.
But, I have just moved it to this new URL. And the keto fudge you will find at the original URL is proper chocolate fudge.
Now, everything is in the correct place!
The best part of updating an old post is that I get to make the recipe again. This way, I can refresh my memory about the process and add more details, tips and tricks.
And I get to enjoy a batch of what I think is a sensational keto snack!
Traditionally, fudge is made with condensed milk. And I do have a sugar-free condensed milk recipe on my website.
But, this keto-friendly peanut butter fudge is a no-cook recipe, just like my Cacao Nut Butter Fat Bombs. You simply stir the ingredients together and chill them until firm. It is such an easy treat.
Jump to:
🌟 Why You'll Love This Recipe
Ultra-creamy texture
Rich peanut butter flavor
Naturally gluten-free and high in protein
Easy and quick - No need to cook, 5 minutes prep
Only 4 ingredients
0.6g net carbs per square
Ingredients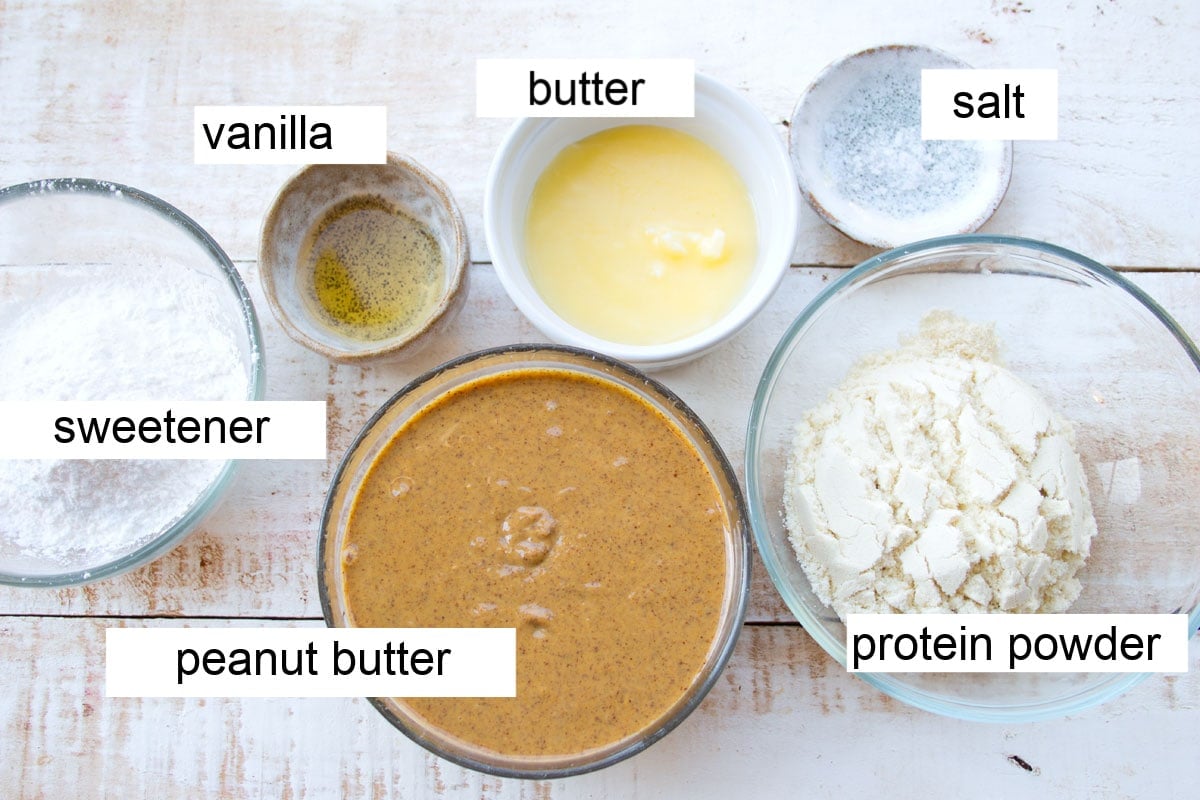 Here are the ingredients you'll need:
Peanut Butter - I used smooth peanut butter. Stir it first to make sure it is soft and creamy. Crunchy peanut butter also works.
Butter - Butter helps to set the fudge. It also makes it taste even more decadent. You can use salted or unsalted butter.
Powdered Sweetener - Allulose is the best sweetener for this fudge recipe because it does not re-crystallise as it cools.
Protein Powder - I like to use unflavoured whey protein powder.
Vanilla extract and sea salt - These are optional. However, I recommend using both because they enhance the flavour.
See the recipe card for full information on ingredients and quantities.
Variations
You can replace the whey protein powder with any other unflavoured protein powder. The flavoured ones often contain sugars.
Collagen protein powder also works well.
Alternatively, use 2-3 tablespoons of coconut flour to thicken the fudge instead of using protein powder. I tested this in my Low Carb Peanut Butter Protein Bars.
You could also use 5-6 tablespoons of almond flour.
Please be aware that using low carb flour instead of protein powder will make the peanut butter fudge texture a little more gritty.
Instructions
It is very simple to make a keto peanut butter fudge. Here are the basic steps.
For the full recipe, scroll down to the recipe card.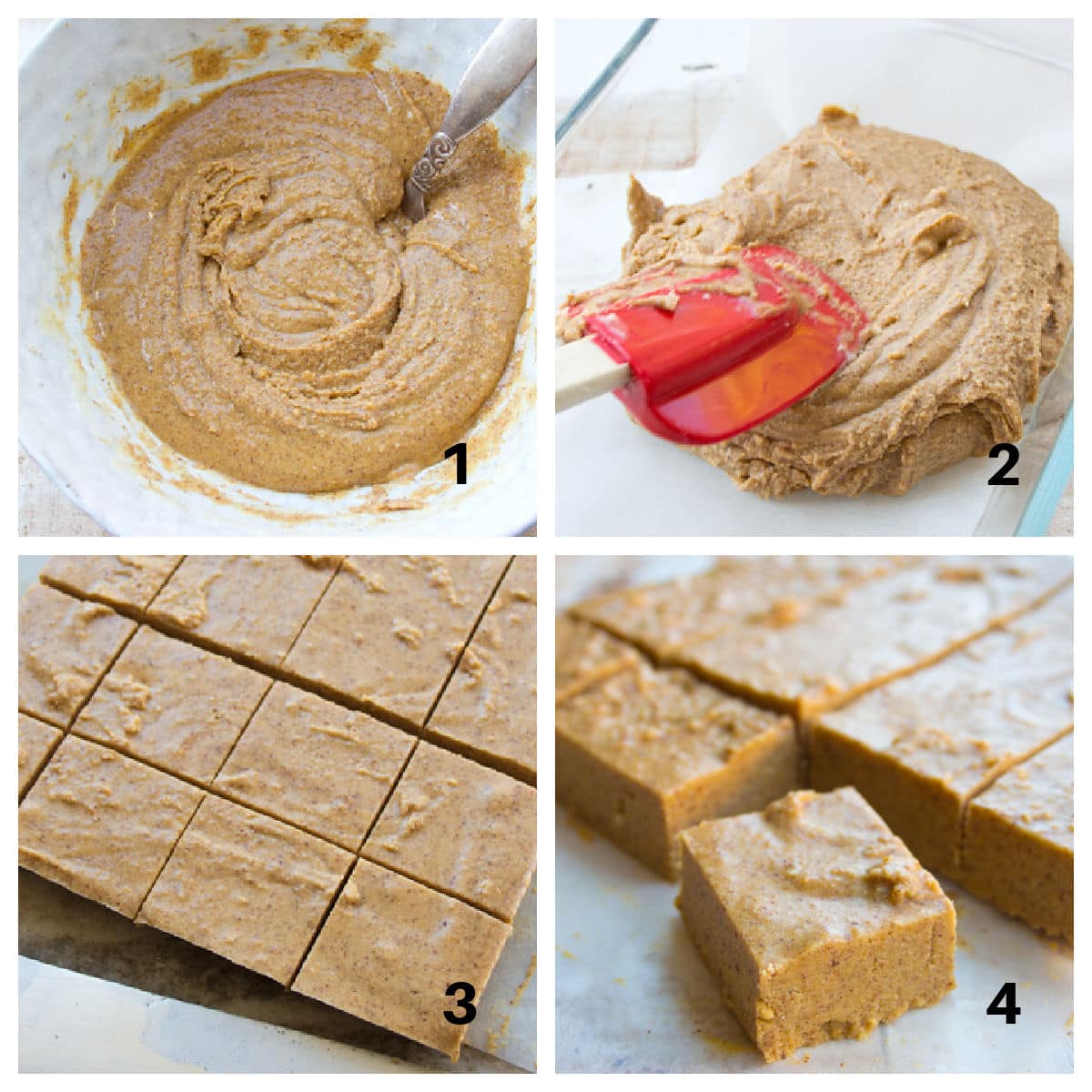 Step 1: Melt the butter in the microwave. Put all ingredients into a mixing bowl bowl and stir with a fork until a smooth batter forms.
Step 2: Line a 5x7 inch tray with parchment paper and spread the fudge mixture into the pan. Level the top with a spatula.
Step 3: Freeze the fudge until set. Then, cut it into 1.5-inch squares with a sharp knife.
Step 4: Enjoy!
Top Tips
Allulose is the best sweetener for this low-carb fudge recipe because it melts just like sugar. Alternatively, I recommend that you use a powdered sweetener. Don't use a granulated sweetener or the end result will be gritty.
My tray was actually larger than 5x7 inches. I used a scrunched-up piece of aluminium foil as a barrier underneath the parchment paper. This way, I managed to only use ⅔ of my tray without the fudge spreading.
You can also use a loaf pan.
Heat the knife blade under hot water before cutting. This way you will get sharp edges as the knife will glide through the fudge. Clean the blade between cuts.
Substitutions
You can make this fudge with any nut or seed butter. Almond butter would work well, and sunflower seed butter would be a good alternative too.
Chocolate fans can turn this fudge chocolatey by adding 2 tablespoons of cocoa powder. Or, check out my Keto Chocolate Peanut Butter Fudge. It includes LOTS of melted chocolate and tastes divine.
You could also add spices such as 1-2 teaspoons of cinnamon or cardamom. If you are feeling like autumnal flavours, add a little pumpkin spice.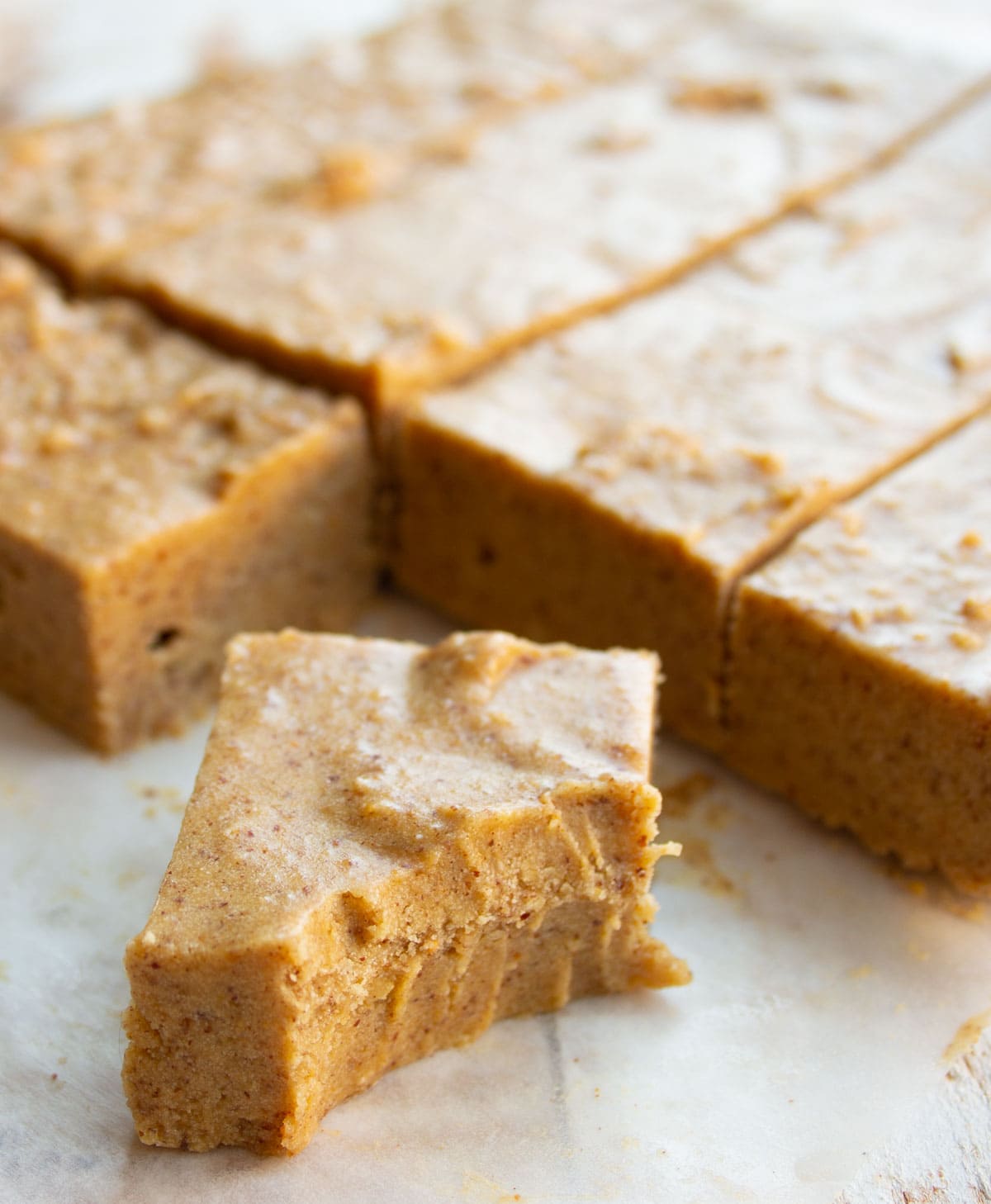 Toppings
You can sprinkle coarse sea salt flakes over the fudge. Or, top it with chopped peanuts.
Another idea is to drizzle the fudge with melted sugar-free chocolate or stir sugar-free chocolate chips into the batter.
Recipe FAQs
Is peanut butter acceptable on keto?
Yes. Peanut butter is low in carbs, similar to nuts. There are many natural peanut butter brands on the market. Always check the label. Some brands are not keto-friendly because they add sugar to the peanut butter.
How many carbs are in keto peanut butter fudge?
This keto peanut butter fudge recipe contains only 0.6g net carbs per square.
How can I make dairy-free peanut butter fudge?
Do make a dairy-free fudge, replace the butter in the recipe with coconut oil.
How do I store sugar free peanut butter fudge?
Store the peanut butter in an airtight container in the freezer for up to 3 months. You can eat it straight from the freezer. I don't recommend storing it in the fridge.
Related Recipes
Here are more easy keto desserts with peanut butter:
Tried this recipe? Give it a star rating below!
★ STAY IN TOUCH on FACEBOOK, PINTEREST and INSTAGRAM  for more great food and join my NEWSLETTER for the latest updates and a FREE EBOOK.★ 
Recipe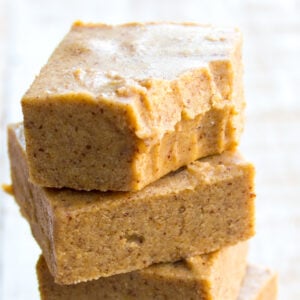 Keto Peanut Butter Fudge
from Sugar Free Londoner
Peanut butter lovers are in for a treat with this suuuper creamy keto peanut butter fudge! It's the perfect low-carb snack for those moments when you're craving a sweet little something. Easy and quick to make and crazy delicious.
Note: The servings slider only changes the first amount in each line and not any subsequent amounts. Please make your own calculations where necessary.
Instructions
Melt the butter and stir all ingredients together with a fork.

Line a 5x7 inch tray with parchment and pour in the mix.

Freeze 40 minutes or until set.

Cut into 1.5-inch squares using a sharp knife. Store in the freezer.
Notes
Makes 16 fudge squares weighing 20g each.
Net carbs: 0.6g net carbs per 1.5-inch square.
Tip: My tray was actually larger than 5x7 inches. I simply used a scrunched-up piece of aluminium foil and used it as a barrier underneath the parchment paper. This way, I managed to only use ⅔ of my tray without the fudge spreading.
This fudge is ready to eat straight from the freezer. If you wish, let it sit on the counter for 5 minutes to soften. 
Outside the US you can order allulose via iherb.com.
Nutrition
Serving:
20
g
Calories:
139
kcal
Total Carbohydrates:
1.9
g
Protein:
6.9
g
Fat:
11.3
g
Saturated Fat:
3.7
g
Fiber:
1.4
g
Sugar:
1
g