A sugar free fudge that ticks all the boxes! This Keto chocolate peanut butter fudge is insanely creamy and has only four ingredients. Low carb and suitable for diabetics.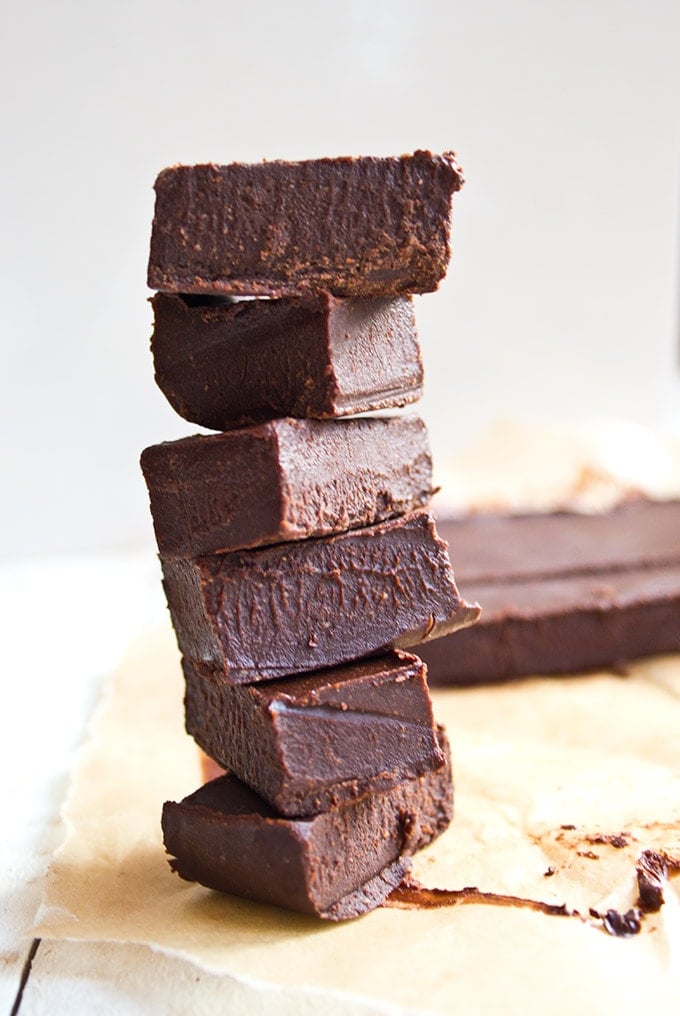 We all need a treat sometimes. And when that treat need hits, you don't want complicated recipes with tons of ingredients. You want something EASY. Something QUICK. Something that does not involve the oven. Yes, we're talking sugar free fudge here - rich, satisfying and totally irresistible.
I'm a big fan of both chocolate and peanut butter. Logically, combining these two ingredients makes the end result TWICE as amazing. On a cold November day like this a square of Keto chocolate peanut butter fudge will lift your spirits instantly. In fact, you'll be thinking to yourself: November? Love this time of year!
Of course, sugar free fudge is not JUST a November treat. I can confirm it tastes equally amazing when it's warm and sunny outside 🙂
Traditional fudge is made with condensed milk. Whilst I have an amazing sugar free condensed milk recipe on my website, this chocolate peanut butter fudge recipe contains grass-fed butter to make it extra creamy.
This recipe is a Keto fat bomb like no other, my friends. Rich, chocolatey, nutty fat-fuelled goodness! (And, by the way, if you're having a peanut butter kind of day, do also check out my straight-up peanut butter keto fudge!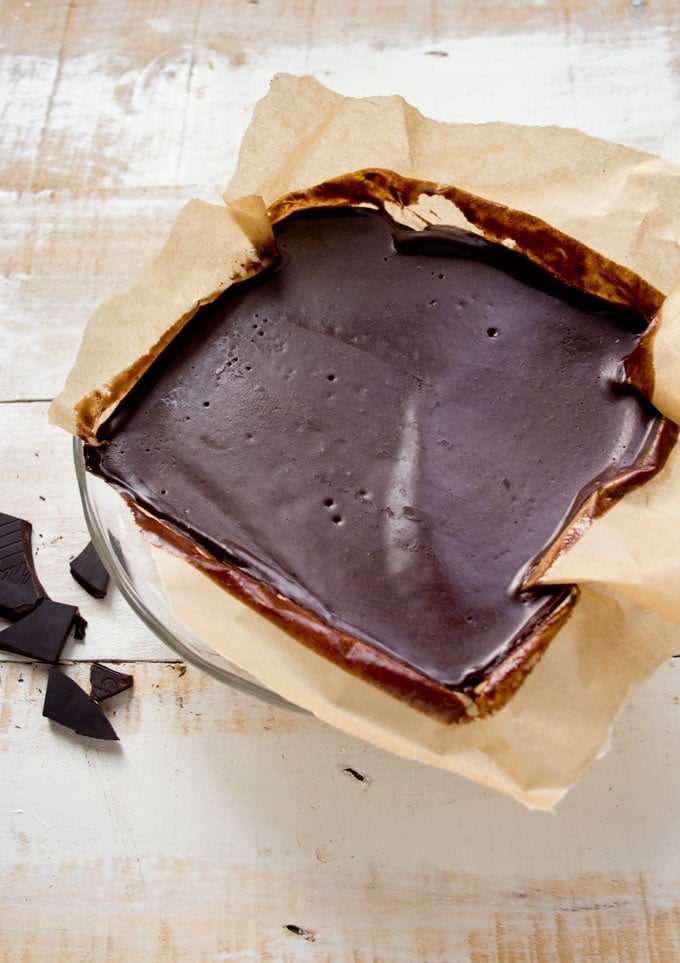 How to make Keto chocolate peanut butter fudge in 3 simple steps: 
1.) Melt the butter and the chocolate - on the stove over a low heat or in the microwave in 30 second bursts.
2.) Stir in the peanut butter and powdered sweetener.
3.) Pour into a small container lined with parchment paper and freeze until set.
That's it!
Tips and tricks for a perfect sugar free fudge: 
Check the label when you buy peanut butter! It should only contain one ingredient - peanuts. Supermarket brands often add unnecessary fillers such as palm oil or (gasp) sugar. Here in the UK I use the Meridian brand. In the US, this brand is popular. Alternatively, make your own peanut butter using the steps in this post.
A quick word about chocolate: I used the 90 % dark chocolate by Lindt. It contains only 7 grams of sugar per 100g bar. Considering you use one bar to make the 30 fudge pieces, it's fine by my book.
If you decide to use unsweetened chocolate, make sure you increase the amount of sweetener accordingly. Another option is using sugar free chocolate such as Lily's in the US or Balance in the UK.
Be sure to use powdered sweetener rather than granulated sweetener to avoid ending up with gritty fudge. And definitely taste the mix and add more sweetness if you feel you need it. I don't have much of a sweet tooth any more 🙂
Recipe Variations
Keto chocolate peanut butter fudge can be made with smooth or crunchy peanut butter. Or give it a go with almond butter (and just rename it).
You could add a pinch of salt for an extra kick.
During the colder months, adding some cinnamon or cardamom will give your sugar free fudge a festive note.
Storage 
You can keep this fudge in the fridge or in the freezer ready for when you feel the need for a tasty, guilt-free pick-me-up.
I love to have a freezer full with useful (=prepared) dishes for those days when you are after a quick fix, so that's where my fudge lives. It tastes fantastic frozen as well as thawed, which brings out its full glorious creaminess.
Because of its high fat content, the fudge is incredibly satisfying. I cut it into 30 squares. One square contains less than 1 net carb. I'd say 2 squares is a generous portion (or maybe that's just me being greedy ;)).
Don't miss these easy sugar free chocolate and peanut butter recipes: 
★ STAY IN TOUCH on FACEBOOK, PINTEREST and INSTAGRAM  for more great food and join my NEWSLETTER for the latest updates and a FREE EBOOK.★ 
Tried this recipe? Give it a star rating below!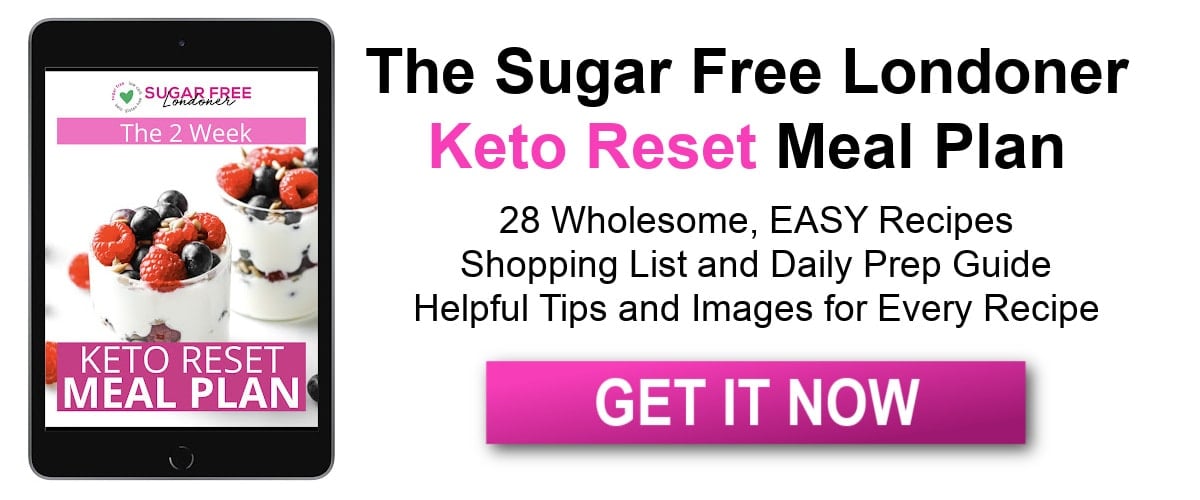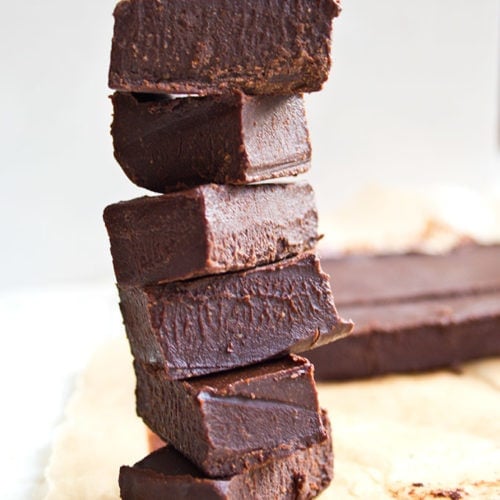 Keto Chocolate Peanut Butter Fudge (Sugar Free Fudge Recipe)
from Sugar Free Londoner
Looking for an easy and quick treat? This Keto chocolate peanut butter fudge is finger-licking good. Even better, it's sugar free!
Note: The servings slider only changes the first amount in each line and not any subsequent amounts. Please make your own calculations where necessary. ***As an Amazon Associate I earn from qualifying purchases.
Instructions
Melt the butter and chocolate in a saucepan over low heat or in the microwave (in 30 second bursts).

Remove from the stove / microwave. Stir in the peanut butter and add the sweetener to taste.

Pour into a small container lined with parchment paper.

Place in the freezer for ca 30 minutes until set.

Cut into 30 squares.
Notes
You should choose chocolate with at least 85% cocoa solids to minimise the sugar content. I like 90% chocolate.
Store in either fridge or freezer and be perfectly prepared for the next time you need a treat!
Nutrition
Calories:
80
kcal
Total Carbohydrates:
1.94
g
Protein:
2.4
g
Fat:
7.1
g
Cholesterol:
7.1
mg
Fiber:
1.1
g
Sugar:
0.7
g
This recipe was first published in November 2016. The post was updated with more details and tips in November 2018.
This post contains affiliate links. If you click on one of these links and purchase a product, I may earn a small commission, at no extra cost to you. Thank you for supporting Sugar Free Londoner.