Cacao nut butter fat bombs are a great way to satisfy a sweet craving. They are packed with healthy fats and a delicious source of energy.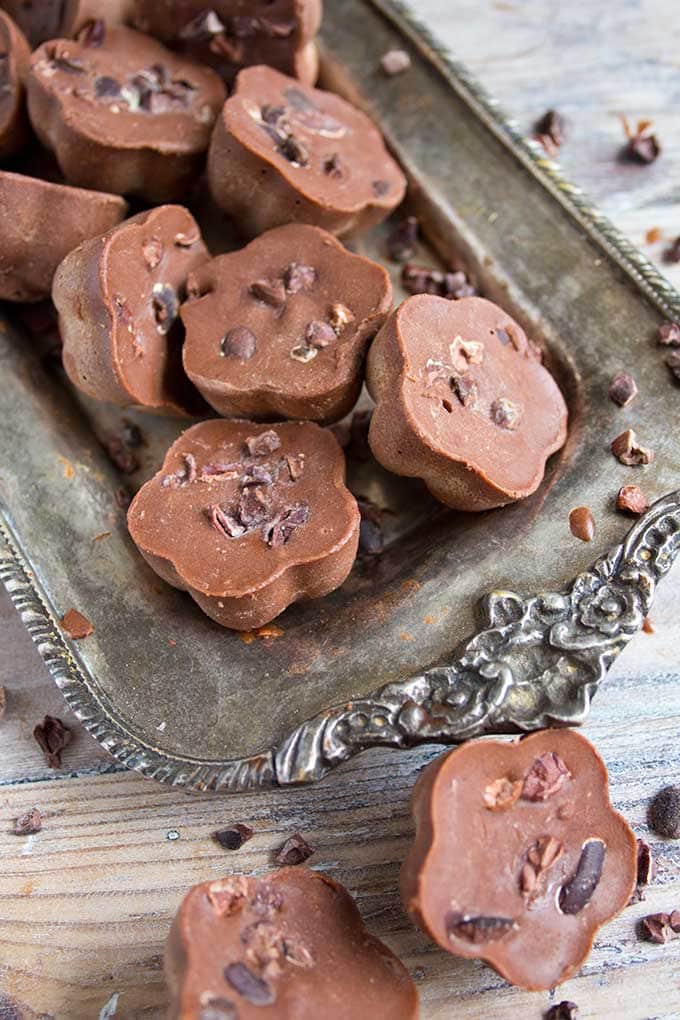 Have you heard of fat bombs?
There was a time when these two little words were feared by anyone trying to keep their weight down. "I"m not having Carbonara sauce, that's a real fat bomb!" "Take away that pork belly/those peanuts/the oil-drenched xyz! The last thing I need is a fat bomb!"
Not the kind of fat bomb I'm talking about! (Even though I love anything drenched in olive oil).
Fat bombs are wonderful little morsels you treat yourself with when you feel like a little energy boost. They are the secret weapon for anyone on a low carb or ketogenic diet.
Like these delicious Cacao nut butter fat bombs!
I have to admit, when I first heard about fat bombs, the idea of eating something by that name did not entice me at all. Why would anyone want to eat a bite of pure fat? Wouldn't that make you, well, fat?
Turns out, the opposite is true. If you cut out the sugar and white carbs and follow a low carb diet, healthy fats such as olive oil, coconut oil, avocado or nuts are a fantastic source of energy for your body. Eating fat AND sugar together is the lethal combination that WILL make you put on weight. Fat alongside fibre and protein? Happy days.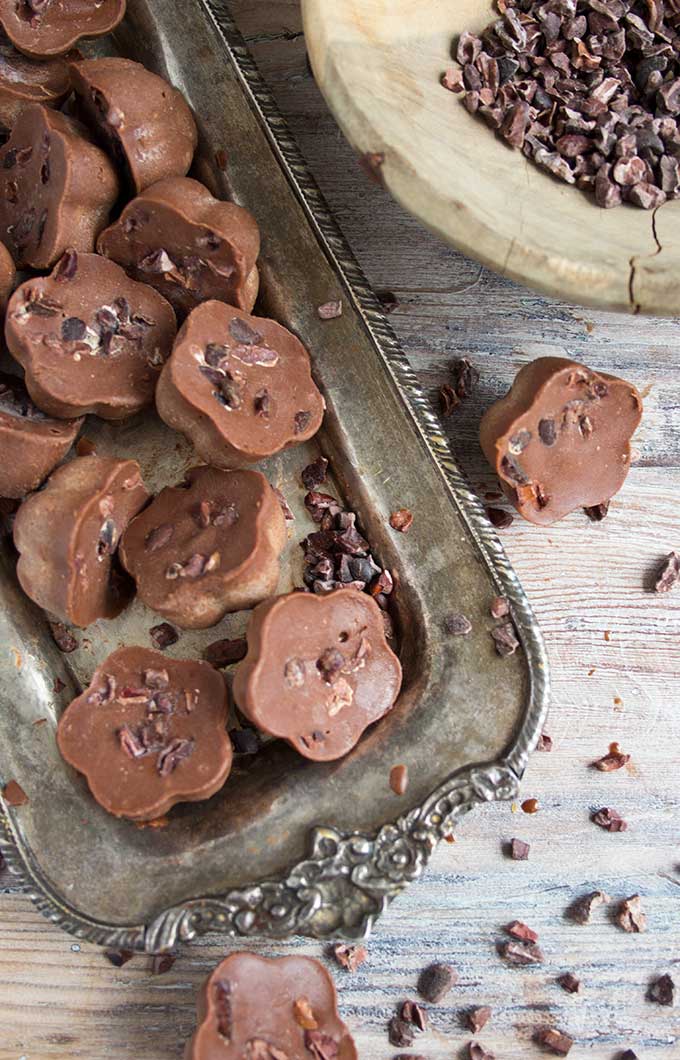 Ingredients
1.  Cacao.
I used cacao powder over cocoa. Cacao is made by cold-pressing the cacao beans, while cocoa is produced by roasting them. This minimal processing preserves all the incredible health benefits of cacao. It's rich in nutrients - one of the best plant-based sources of magnesium and iron - and contains 40 times more antioxidants than blueberries. It's also known to be a mood enhancer, regulates insulin levels and lowers blood pressure. The downside is that it is a bit more pricey than cocoa powder, but one pack lasts ages... and it tastes great.
2. Coconut oil.
I know. I have waxed lyrical about coconut oil before. It is one of the richest sources of saturated fats, but cannot be compared to, say, pork fat. The fatty acids in coconut oil are medium chain triglycerides (MCTs), which are metabolised differently by the body - they are converted into immediately available energy rather than being stored long-term. When you buy coconut oil, choose an organic, virgin oil and not the refined stuff.
3. Nut butter.
Whether it's peanut butter, almond butter or walnut butter - nut butters do not only taste great, but are packed with nutrients. Make sure you get a nut butter which contains the only ingredient it truly needs: nuts. No palm oil, no sugar, no salt. In the UK, brands like Biona and Meridian are good options.
Variations
You can play around with the amount of cacao powder - I like an intense chocolate taste, so used 3 tablespoon of cacao for my fat bombs. You could start with 2 tablespoons and take it from there. If you use cinnamon as well, using less cacao will bring out the taste of the cinnamon.
Also entirely optional is the type of nut butter you use. I had almond butter in my cupboard - but if you don't, just use peanut butter, walnut butter or even tahini (in the case of tahini, you might want to decrease the amount as I find it's quite strong in taste).
I don't like my sweets very sweet - therefore, one teaspoon of sweetener is plenty for me. Taste your mix and adjust to your liking!
A quick word about the cream: I have made several versions of these cacao nut butter bombs, using mascarpone (very nice) and cream cheese (not convinced) instead of cream. In another try I used only coconut oil and no cream, which tasted good to me, but did not go down too well with the rest of the family. I guess the cream makes it taste more like dark chocolate you can buy in shops.
More Fat Bomb Recipes
If you like the idea of little yummy morsels, you could also try keto chocolate peanut butter fudge, the keto peanut butter fudge or my matcha latte chocolates.
★ Tried this recipe? Give it a star rating below!★
★ STAY IN TOUCH on FACEBOOK, PINTEREST and INSTAGRAM for more great food and join my NEWSLETTER for the latest updates and a FREE EBOOK.★
Recipe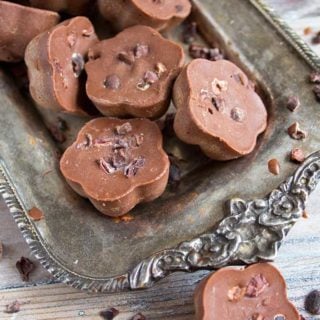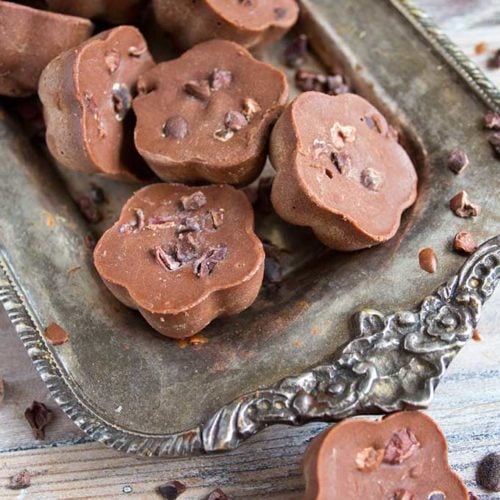 Cacao Nut Butter Bombs
from Sugar Free Londoner
Cacao nut butter fat bombs are a great way to satisfy a sweet craving. They are packed with healthy fats and a delicious source of energy.
Note: The servings slider only changes the first amount in each line and not any subsequent amounts. Please make your own calculations where necessary.
Ingredients
¼

cup / 60 ml

coconut oil

¼

cup / 60 ml

double cream aka heavy cream

2-3

tablespoon

cacao powder

unsweetened

3

tablespoon

unsweetened nut butter

I used almond butter

4

drops

stevia

or sweetener of choice

1

teaspoon

cinnamon

optional

1

tablespoon

cacao nibs or chopped nuts

to decorate
Instructions
Melt the coconut oil in a pan or in the microwave.

Add the rest of the ingredients and mix well.

Pour the mixture into moulds or an ice cube tray.

Place in the freezer for 10 minutes until the top is set.

Sprinkle over the cacao nibs or chopped nuts.

Return to the freezer until set.

Press out of moulds and store in the fridge or, like I do, in the freezer.
Notes
My mix made 16 fat bombs at 9g each. I'd say they can be eaten in 2-3 bites. How many your mix yields will depend on the size of your moulds.
If you do not have a silicone mould, you can line a tray with baking paper and pour the mix in there. I have done this with my peanut butter freezer fudge (link is in the text above). When the mix has firmed up, you just cut into small squares.
Nutrition
Calories:
61
kcal
Total Carbohydrates:
1
g
Protein:
0.6
g
Fat:
6.1
g
Saturated Fat:
4.3
g
Polyunsaturated Fat:
0.1
g
Monounsaturated Fat:
0.4
g
Cholesterol:
5.1
mg
Sodium:
2.1
mg
Potassium:
2.8
mg
Fiber:
0.3
g
Sugar:
0.1
g