This avocado chicken salad without mayo is tasty, creamy and packed with flavour. It is a quick lunch recipe that we make all the time.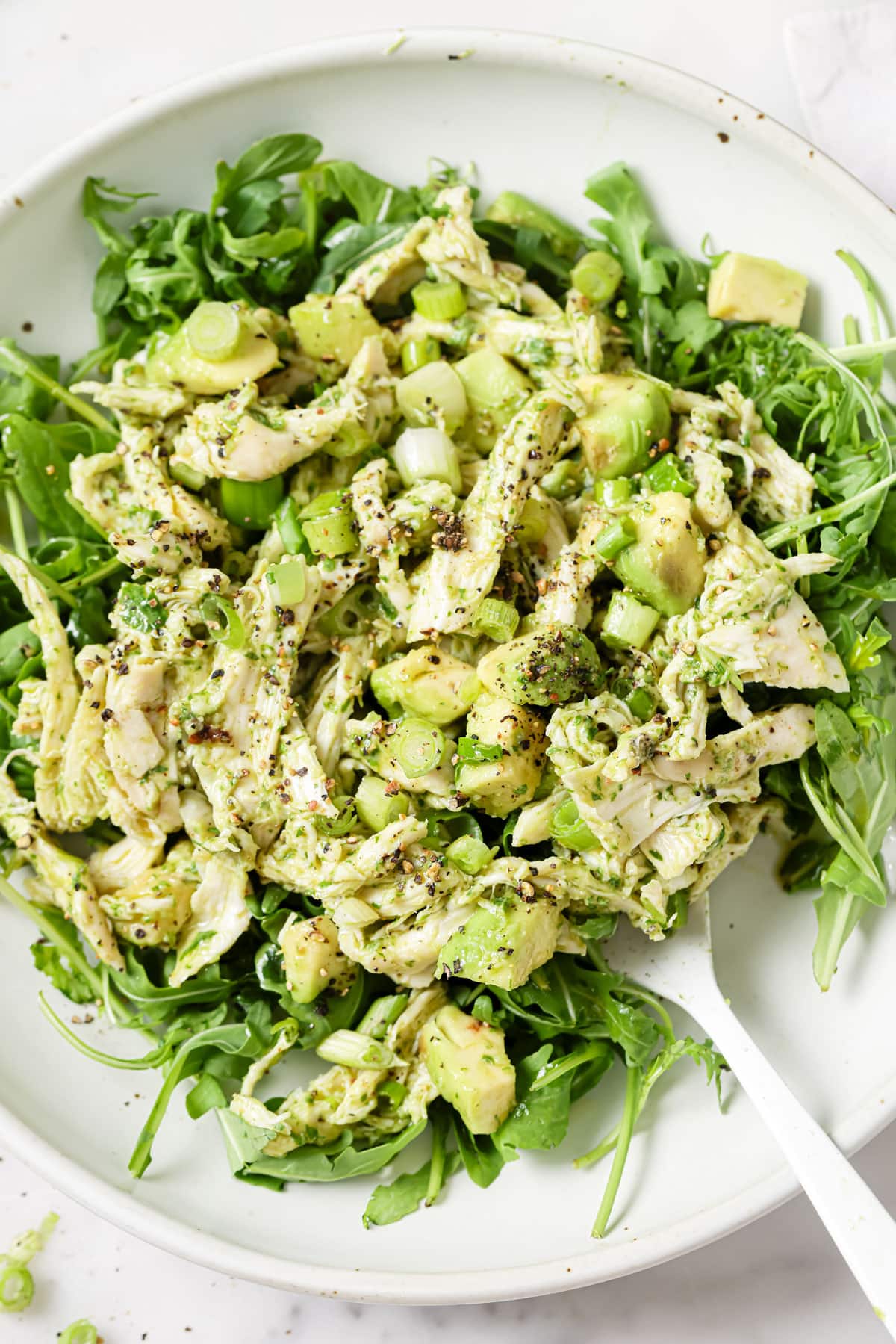 Chicken salad is one of my go-to easy lunches. I love this classic keto chicken salad, and we often make Caesar salad which I top with sliced chicken breast.
But my oh my, this chicken avocado salad has taken our entire family by storm. I have made it every single week in the last month and we just can't get enough of it.
Basically, it is the perfect simple summer meal. It comes together in minutes, it has an ultra-creamy avocado dressing and it is wonderfully satisfying and filling yet light and fresh.
Jump to:
Why This Recipe Works
Mayo-free. Lots of people don't like mayo in their salad, and I get it. Especially if it isn't homemade, salads dressed with mayonnaise can sit in your tummy like a rock.
You are going to love that this salad is just as creamy WITHOUT any mayo. This is because we're adding part of the avocado directly into the dressing.
Healthy. This is the part where I get really excited. Avocado is packed with heart-healthy fats, antioxidants and over 20 vitamins and minerals. Add to this the lean protein from the chicken and you've got yourself a balanced and nourishing meal.
(By the way, If you look in my fridge, you'll always find a few avocados there. I eat them literally every day - smashed on toast, as an avocado smoothie and sometimes even hidden in chocolate cake!)
Versatile. This salad fits into many diets as it is paleo, low carb, keto friendly, gluten-free and dairy-free. You can enjoy it on a slice of bread or a bed of lettuce. Also, the recipe can be used as a starting point for so many flavour variations. Keep reading, because I am listing tons of ideas further down.
Ingredients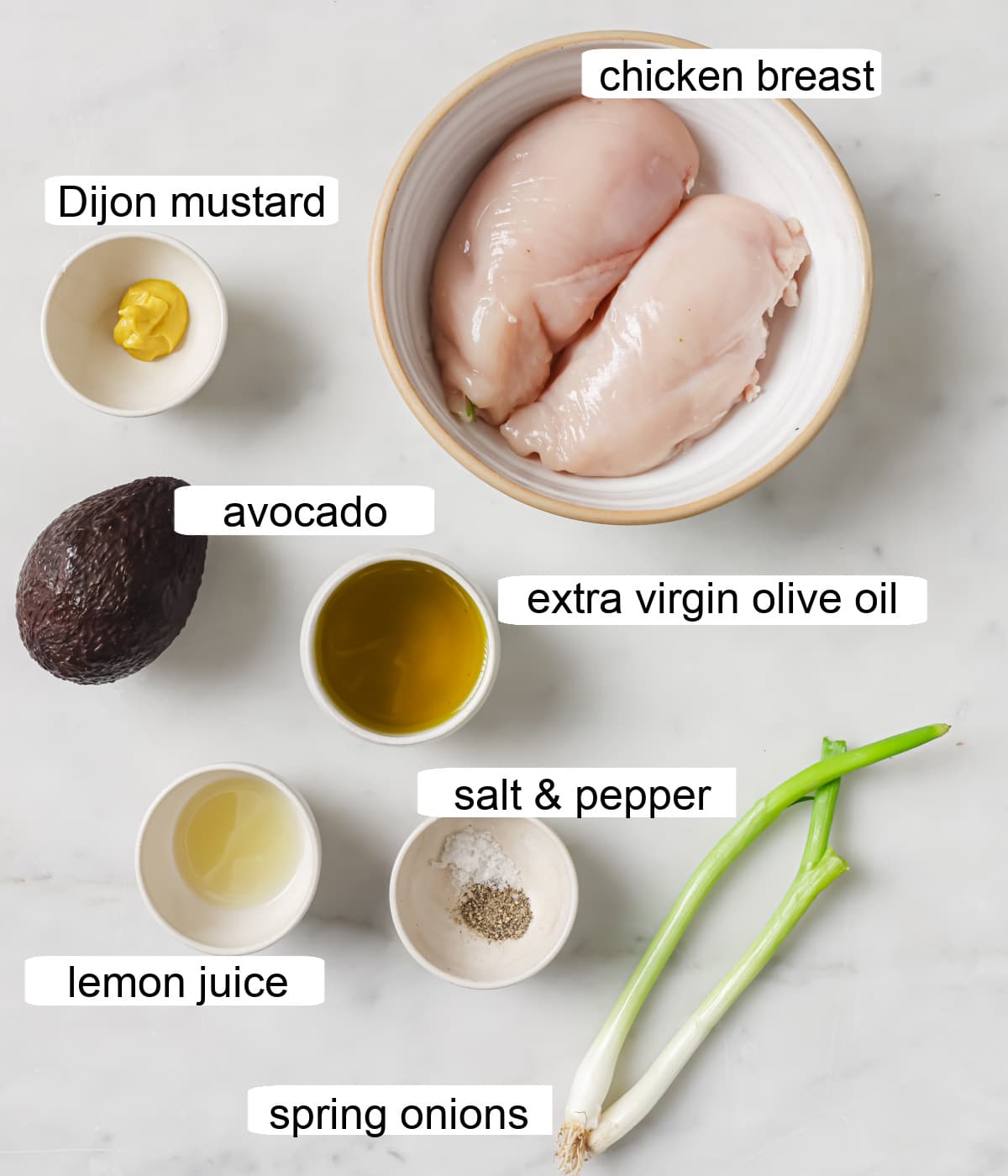 Here are the ingredients I used:
Chicken - I roasted 2 breasts in the oven and then shredded them. I think chicken breast gets the best flavour that way. But if you want to save time, you can also get a rotisserie chicken. Or, use the leftovers from last night's roast chicken dinner!
Avocado - Choose a ripe one. I stay away from the ripen-at-home avocados because they often go from hard to brown. When you pick it up in the store, the skin should give a little when you press it. The avocado flesh must be light green, without any dark spots.
Spring Onions - Also called scallions. I love adding them to salads because they add a nice crunch and so much flavour.
I have kept the dressing deliberately simple: extra virgin olive oil, lemon juice, salt, pepper and a little Dijon mustard to add a nice kick.
See the recipe card for full information on ingredients and quantities.
Instructions
This is how I make avocado chicken salad, in 3 simple steps.
Step 1
Shred the chicken using two forks. Peel and pit the avocado, then chop it. We are using ¾ of the avocado in the salad and ¼ avocado in the dressing. Finely chop the spring onions.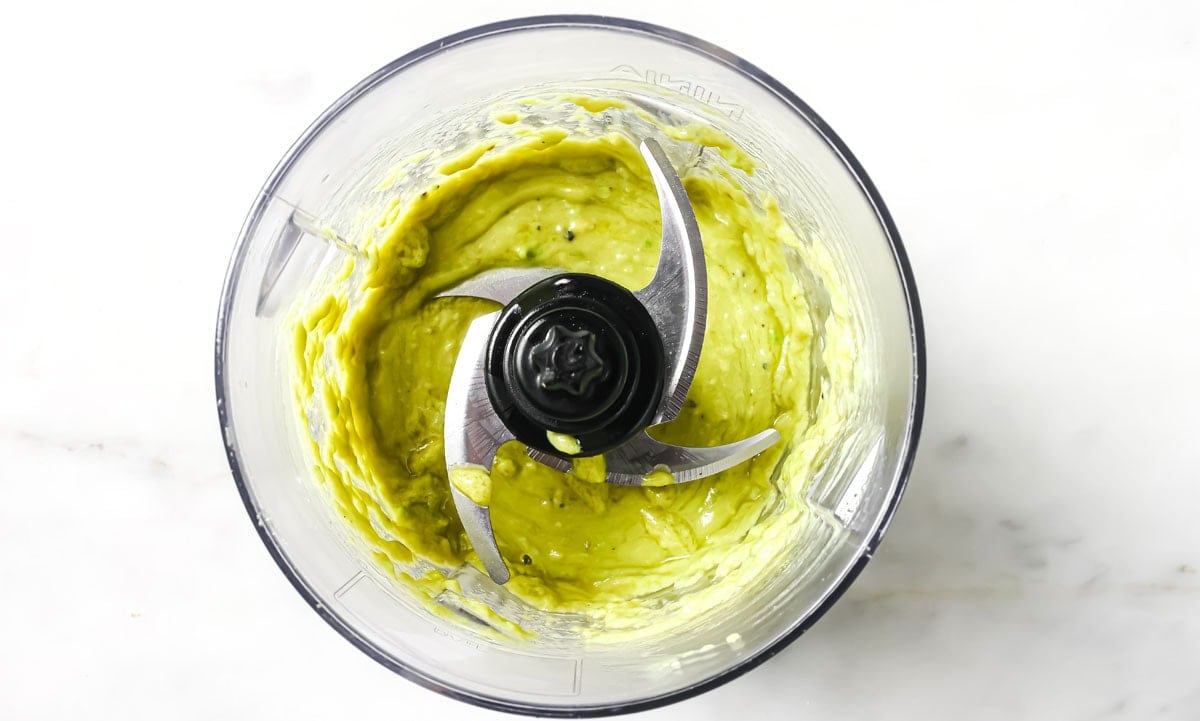 Step 2
Add the dressing ingredients to a small blender and blend until smooth and creamy. If the dressing is too thick, feel free to add a splash of water to thin it out.
You could also use a tall, narrow jug and an immersion blender. Note that a large blender will not work because the amount is too small.
Or, simply use a fork to mash the avocado. The dressing will not be completely smooth, but this also tastes really nice. I have tried it out and it looks like this: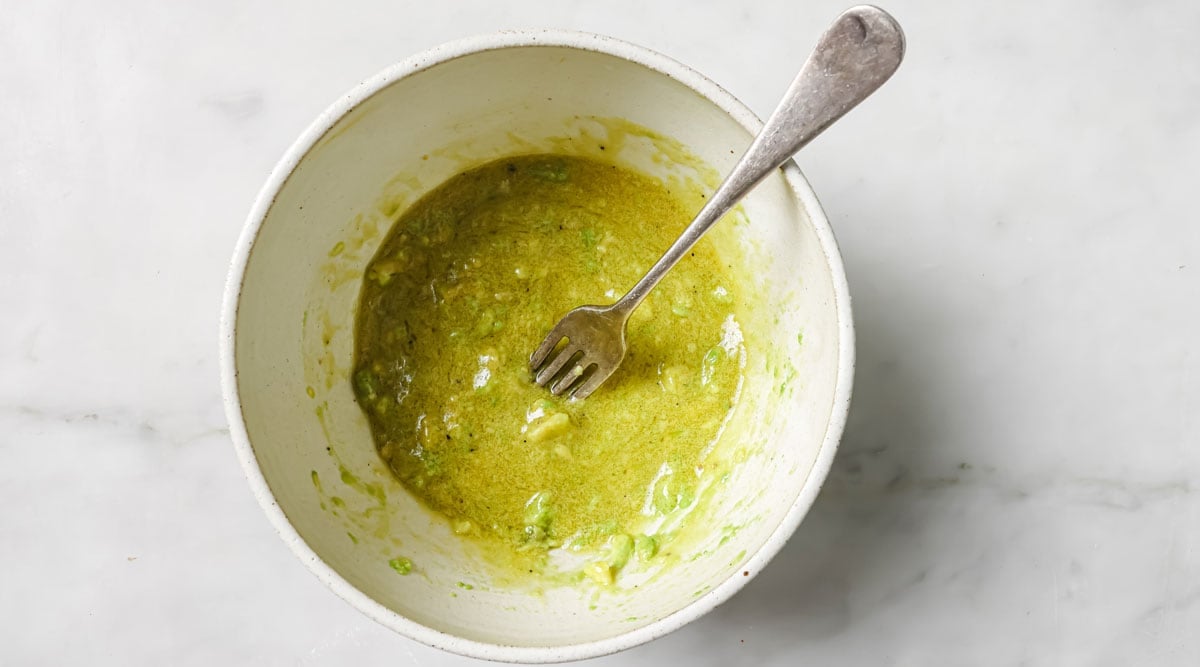 Step 3
Toss the shredded chicken, diced avocado and spring onions in a large bowl with the dressing and serve.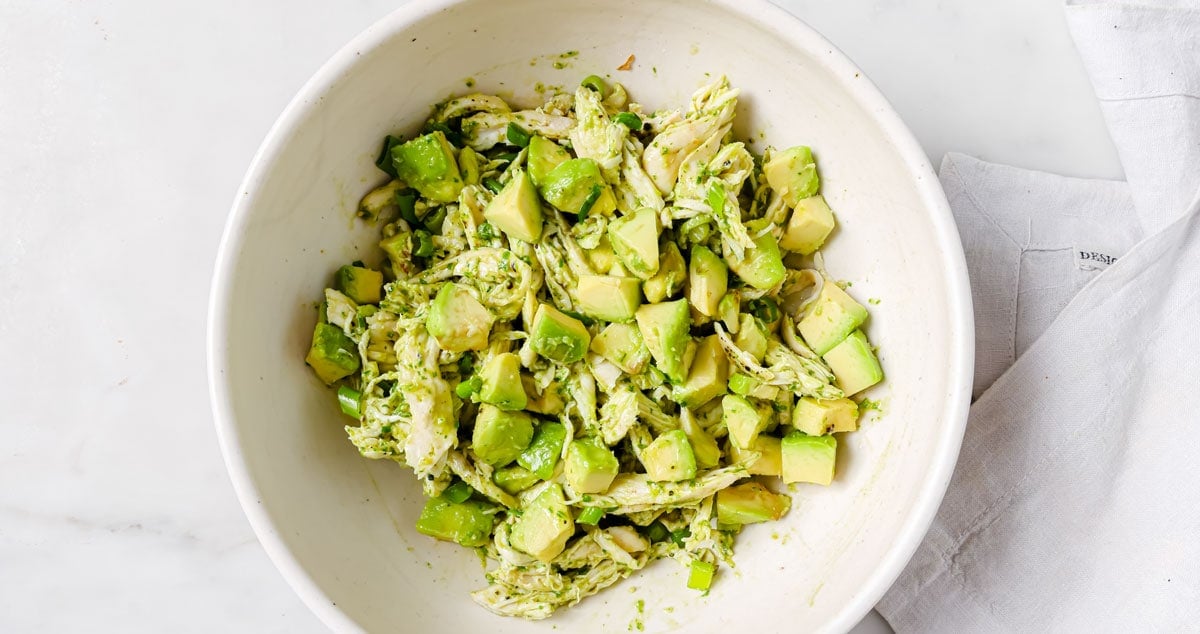 Expert Tip
If you want to make the chicken breast from scratch, preheat the oven to 200C / 400F electric or 180C / 350F fan and line a baking tray with parchment paper.
Rub the chicken with olive oil and season with salt and pepper on both sides. Roast it in the oven for about 25 minutes or until it is cooked through, then let it cool.
Variations
As I mentioned above, this recipe can be jazzed up in so many ways (even though it is perfect the way it is!).
Crunch: For a bit of crunch, throw in finely chopped celery or swap out the scallions with red onions. Toasted pine nuts and bacon also go really well.
Green goddess: I love adding fresh herbs to salads and I have changed the flavour of the dressing by adding dill, parsley, cilantro and basil. Grating in a little lemon zest is equally delicious.
Spicy or mellow: For a fiery kick, add jalapeños, a sprinkle of chilli flakes or blend a small garlic clove into the dressing. To mellow the dressing, add a tablespoon of Greek yoghurt. Let yourself be led by the mood of the day.
Colour pop: I am a firm believer that life is all about variety. I have added sliced radishes, sweetcorn and finely cubed red peppers to the base recipe - all delicious.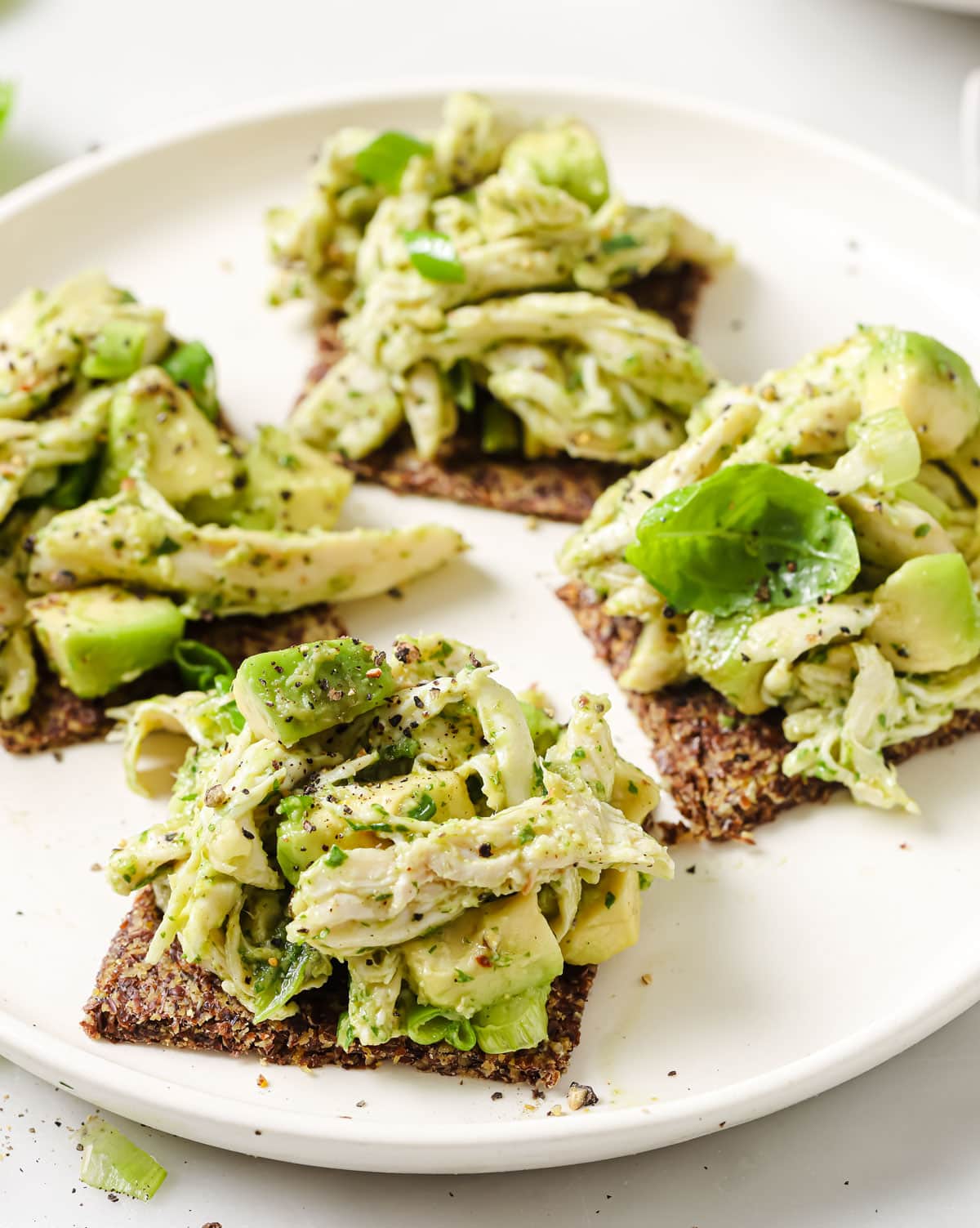 Serving Suggestion
One of the easiest ways to serve this avocado salad with chicken is as a sandwich, layered between two slices of bread. It is also delicious stuffed in this low carb pitta bread or on flaxseed crackers like in the image above.
My kids loved it when I filled the salad into hollowed bell peppers. They thought it was fun to eat that way (and I was pleased because = more vegetables!)
For a lighter option, serve it on a bed of lettuce of your choice. I am always a big fan of peppery arugula salad.
You could even serve this salad as part of a healthy party spread by presenting it on little gem lettuce leaves or on cucumber slices.
Storage And Meal Prep
Avocado chicken salad is best enjoyed straight away. However, it does stay fresh in the fridge for up to 2 days. After that, the avocado starts browning and softening.
I always store it in a bowl rather than an airtight container. That way, I can cover it tightly with clingfilm so that none of the salad is exposed to air. This slows the oxidation process.
If you want to prepare the salad for lunch the next day, you can cook the chicken breast and make the avocado dressing ahead.
I simply cut off a quarter of the avocado to use for the dressing and drizzle a little lemon juice on the cut side of the remaining ¾ avocado so it does not go brown before wrapping it in clingfilm.
More Easy Salad Recipes
Here are more hearty salad recipes to try:
Tried this recipe? Give it a star rating below!
★ STAY IN TOUCH on FACEBOOK, PINTEREST and INSTAGRAM  for more great food and join my NEWSLETTER for the latest updates and a FREE EBOOK.★ 
Recipe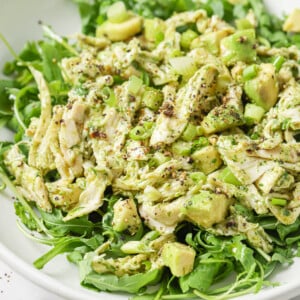 Creamy Avocado Chicken Salad
from Sugar Free Londoner
Chicken avocado salad is a healthy lunch recipe that you can prepare in only 5 minutes. It is a nutritious and flavourful meal that is packed with healthy fats and lean protein.
Note: The servings slider only changes the first amount in each line and not any subsequent amounts. Please make your own calculations where necessary.
Ingredients
2

cooked chicken breasts

160g / 5.6oz each

1

large avocado

180g without stone, diced. We are using ¼ of the avocado in the dressing.

2

spring onions

scallions, finely chopped (30g / 1 oz)
Dressing
2

tablespoon

olive oil

extra virgin

1

teaspoon

Dijon mustard

1

tablespoon

lemon juice

or lime juice

⅛

teaspoon

salt

⅛

teaspoon

black pepper
Instructions
Preparations
Shred the chicken with two forks and finely chop the spring onion.

Peel and pit the avocado, then chop it. We are using ¾ of the avocado in the salad and ¼ avocado in the dressing.
Dressing
Add the dressing ingredients to a small blender and blend until smooth. Alternatively, use a stick blender, or mash in a shallow bowl with a fork. Option to add a splash of water to thin out the dressing to your liking, or add more lemon juice to taste.
Assembly
Toss the shredded chicken, diced avocado and spring onions in a large bowl with the dressing. Serve the salad on top of bread, crackers or on a bed of lettuce.
Notes
2.8g net carbs per portion. Makes 2 portions.
Serving suggestions: As a sandwich filling, in pita bread, on a bed of lettuce, on crackers or cucumber slices, filled into hollowed out tomatoes or bell peppers.  
Best enjoyed straight away. The salad stays fresh in the fridge for up to 2 days. After that, the avocado starts browning and softening. Cover it tightly with clingfilm pressed directly on the salad so it does not get exposed to air.
Nutrition
Calories:
463
kcal
Total Carbohydrates:
9.3
g
Protein:
38.2
g
Fat:
31
g
Saturated Fat:
4.7
g
Fiber:
6.5
g
Sugar:
1.1
g