Strawberry mascarpone tart is a deliciously creamy low carb and keto dessert. The velvety whipped mascarpone filling is set off perfectly by the crisp coconut flour tart crust.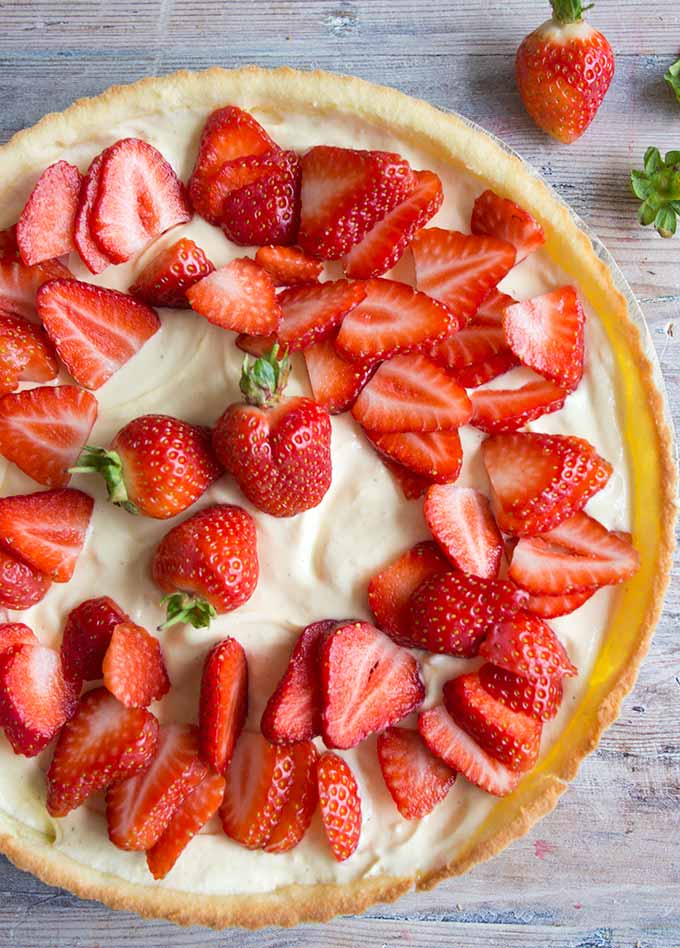 Find the recipe card with ingredients and instructions at the bottom of the page. Don't miss the extra tips in the post! 
Friends, this recipe has been a long time coming. I am a huge fan of strawberries and have been buying punnets of these little red happiness-inducers ever since the British strawberry season kicked off in June.
It's been strawberry mascarpone tart time over here for WEEKS!
Before this particular strawberry mascarpone tart graced our table (not for very long as it was wolfed down at terrifying speed), there have been at least four previous incarnations, using different pie/tart crusts.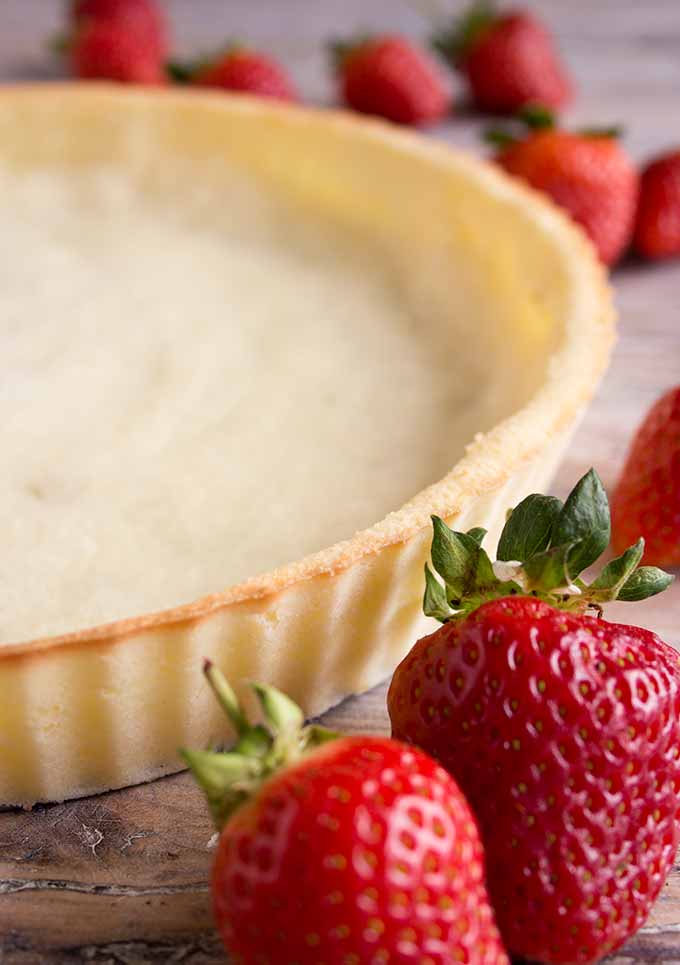 I first made it with the base from my low carb chocolate tart, which is a combination of almond flour and shredded coconut. It is so simple to put together – and all you need to do is press the dough directly into the baking tin you're using.
After that, I experimented with a dough made of almond flour only, which also ended up crispy/flaky in the most pleasing way. The recipe for the almond base is actually an adaptation of my Paleo almond crackers, which I tweaked from savoury to sweet by swapping out the salt and cheese and adding vanilla and a touch of sweetener.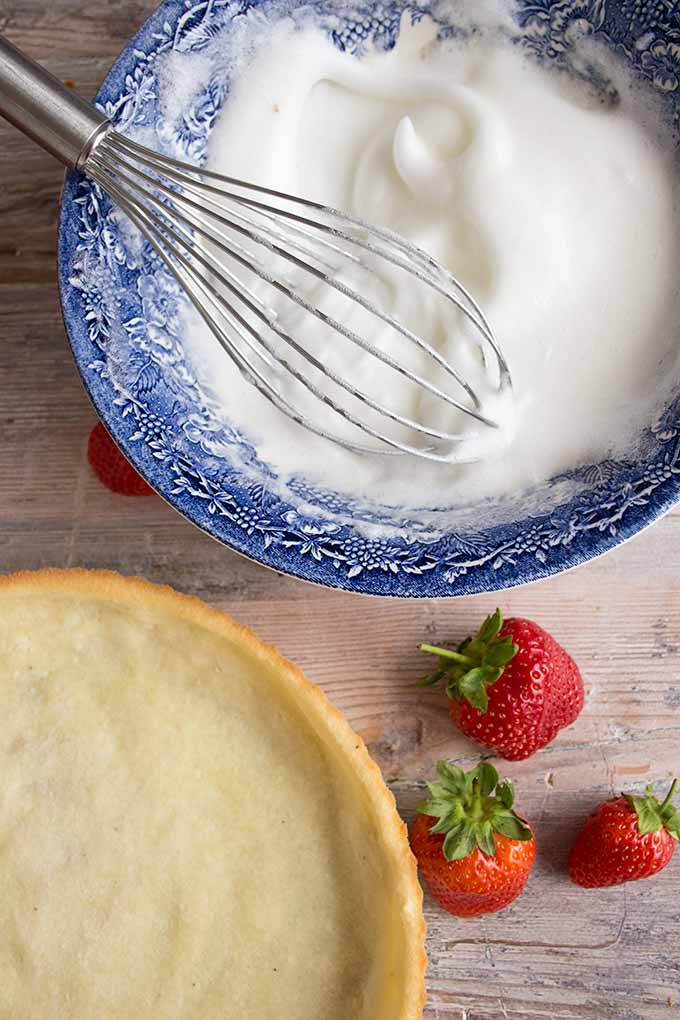 This time round I decided to make a coconut flour tart base – I'm having a bit of a coconut phase at the moment! I've been making coconut flour porridge (so satisfying with cinnamon and cardamom). I drink my coffee with a spoonful of coconut oil (a cup of that and you don't feel hungry until lunch). And I've been opening tins of coconut cream for curries, chia puddings and my favourite speedy dessert, strawberry coconut mousse, at an alarming rate.
The secret to this coconut flour crust is to roll it out really thinly between two sheets of baking paper. The thinner, the crispier!
You might find that you want to add a little more coconut flour to make your dough easier to handle (coconut flours can differ). Another option to make the dough easier to roll is to cool it down in the fridge before. This might be a good idea if it's a hot day and you live in a country where houses aren't air-conditioned.
I used a greased regular pie pan with a drop-out bottom to bake this crust and was amazed how easily I could lift out the baked result.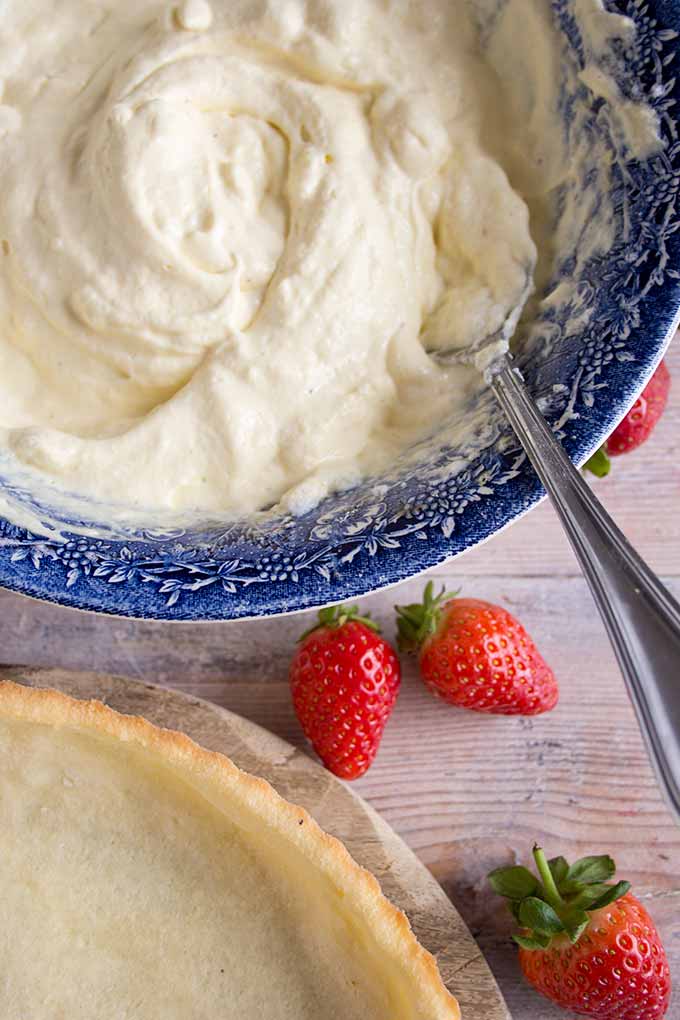 While the tart crust is in the oven, you can get going with the filling. Instead of choosing a cream-based filling, I opted for the traditional Italian option: mascarpone, a delicious cream cheese commonly used in Tiramisu, mixed with egg yolks and beaten egg whites for dreamy-light fluffiness.
I used to despair trying to get egg whites to form stiff peaks. It just never worked. Until I started to follow these rules:
ALWAYS use a metal or a porcelain bowl.
Your bowl has to be clean, dry and grease-free.
Separate the eggs properly. ONLY egg whites belong in your bowl!
Use fresh and cold eggs. They will give the smallest, strongest and most stable and uniform bubbles.
Don't try using a stick blender. Don't try using a food processor. Egg whites do not like ANYTHING plastic.
Either beat your eggs with a hand-held mixer with removable chrome beaters or use an old-fashioned whisk (which is what I used). For the latter option, you'll need some elbow grease and 2 minutes of patience. You'll eventually get there. Promise!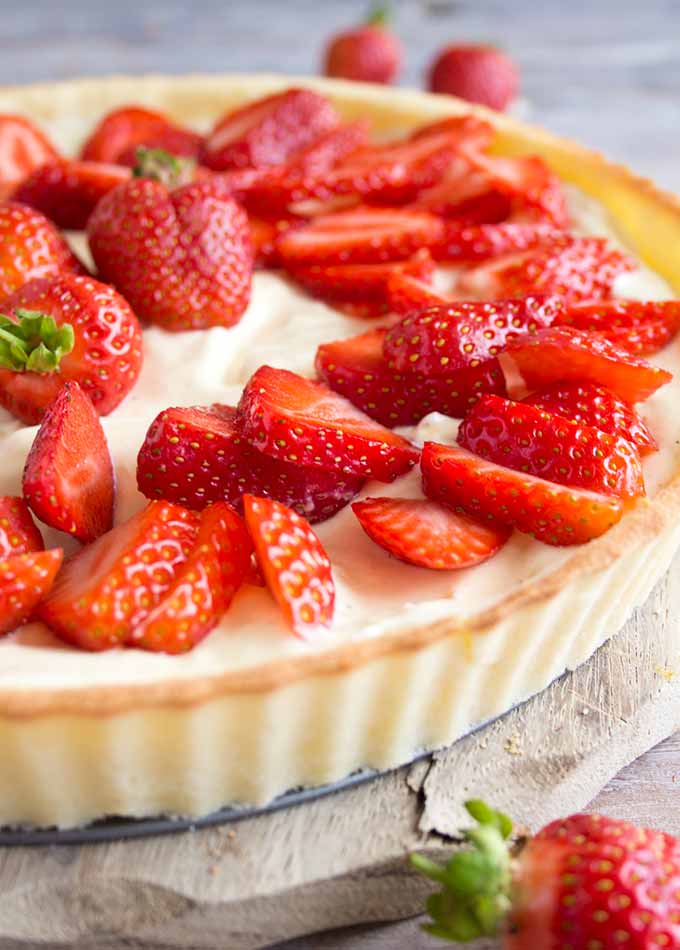 After that it's plain sailing. You fill your coconut crust with the mascarpone cream and let it cool in the fridge. Just before serving, decorate with strawberries to your liking.
There is some serious cake decorating talent in the food blogger scene. This obviously puts my thrown-on sliced berry style to shame. Have you got it in you? There is scope to make this strawberry mascarpone tart so beautiful you'd be sad to cut it into pieces.
In the end though, there is little difference between perfection or artful disarray. Because it's all about the taste, right?
Strawberry Mascarpone Tart
Ingredients
For the coconut base:

120g (1/2 cup) good quality coconut oil
100g (3/4 cup plus 2 tbsp) coconut flour
2 eggs
1 tsp vanilla extract
optional: 1 tsp sweetener (such as powdered erythritol ) or 4 drops liquid stevia (equivalent to 1 tsp of sugar)

For the mascarpone cream:

250g (8.8 ounce/1 very generous cup) mascarpone
2 eggs, separated
1 tsp vanilla extract
1-2 tbsp sweetener of choice (I used Sukrin)
200g (1 cup) strawberries
Instructions
Preheat your oven to 180 Celsius/360 Fahrenheit.
Blend your eggs with the coconut oil, vanilla and sweetener, if using. I used my food processor, bit this can be done with a stick blender.
Sift in the coconut flour and combine.
Your dough should be soft, but not too sticky. If needed, add a little more coconut flour to get the right consistency. You can also stick the dough in the fridge for 10 minutes to cool it down - this will also make it easier to roll out.
You now have 2 options: Either roll out the dough between 2 sheets of baking paper. Or press it directly into a pie form that you have greased well with coconut oil.
Bake for around 10 minutes or until lightly browned at the edges.
Now make your filling: Separate the eggs and beat the egg whites in a clean!! and dry!! porcelain or metal bowl with a hand-held or electric metal whisk. As you can see in the picture, I used an old school whisk and around 2 minutes of muscle power. You can do it too! Don't even think about stopping until stiff peaks form 🙂
Combine the mascarpone and the egg yolks, then add the vanilla and sweetener.
Gently fold in the stiff egg whites.
Once the tart base has cooled down, add the mascarpone mix.
Cool in the fridge until serving (at least 1/2 hour).
Just before serving, add the strawberries - sliced, halved or whole, however you prefer.
Optional: decorate with mint leaves! (I meant to do this and forgot! Plenty of fresh mint tea for me now)
7.6.7
349
https://sugarfreelondoner.com/strawberry-mascarpone-tart/