Low carb gingerbread cupcakes with a sugar-free salted caramel icing - a finger-licking-good treat suitable for sugar free, gluten free and low carb diets as well as diabetics. Careful... these are addictive!
Gingerbread cupcakes? With lashings of salted caramel frosting? Ooooooh, yessssss. Im going for full-on decadence with this one. It's November. Too early for Christmas parties and too late for Ibiza. It's grey and windy outside. My bed is calling me from around 3.30 pm onwards. I'm in full-on hibernation mode and I need some serious cheering up. Are you feeling my pain?
Enter these low carb gingerbread cupcakes!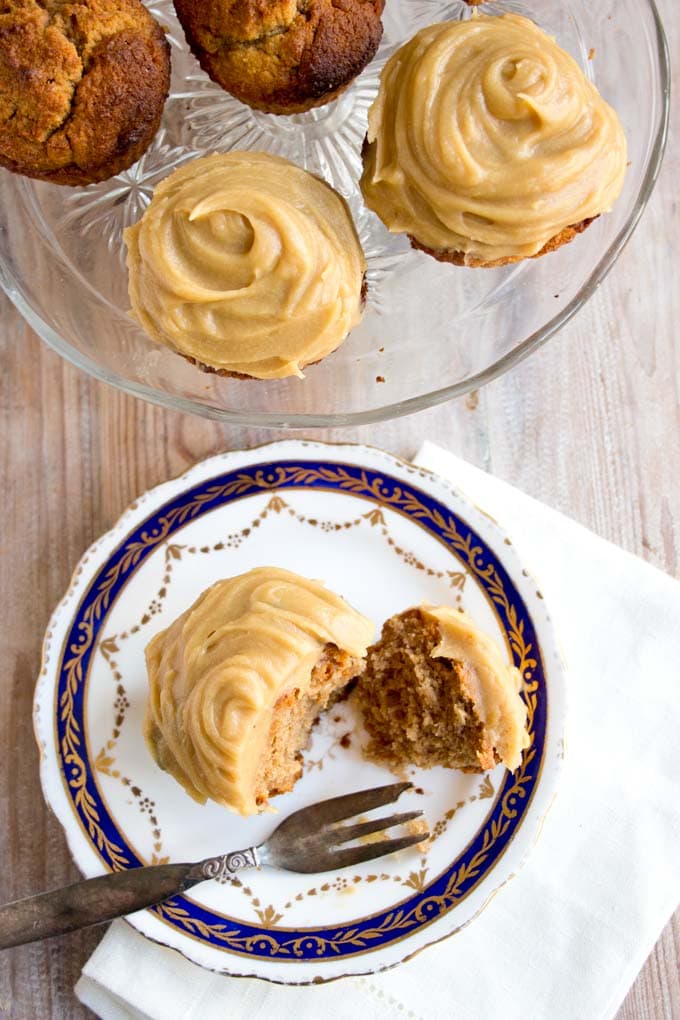 First, the spices. Ginger, cinnamon and nutmeg. Think of all those wonderful festive scents that will waft around your kitchen while these babies are in the oven! And while the cupcakes taste wonderfully moist, soft and totally satisfying on their own with that extra kick the spices lend, the frosting turns it up another notch.
Salted caramel frosting! So addictive you could eat it with a spoon. I did, actually, under the pretence that I had to taste whether it was JUST RIGHT. Amazingly, it just kept getting righter. I did it for you, dear reader, in the name of recipe testing. My job does have its perks.
This is the best salted caramel frosting I've ever repeatedly tasted, and it made my gloomy November day.
How do you make these addictively good gingerbread cupcakes?
I used a mixture of almond and coconut flour for this recipe. The combination gives a nice fluffy cupcake consistency and you cannot taste the coconut flour, which some people do not like.
When I did a second batch, I started to run out of almond flour, so replaced 50% of the almond flour stated in the ingredients with blanched ground almonds. This also worked fine.
The coconut flour versus almond flour debate keeps on raging and there are many people who love one and hate the other. I actually like both, and use them all the time. If you are camp coconut flour, check out these sugar free chocolate feast muffins or these coconut blueberry muffins. If you root for almond flour (or ground almonds), these grain free English scones could make you very happy.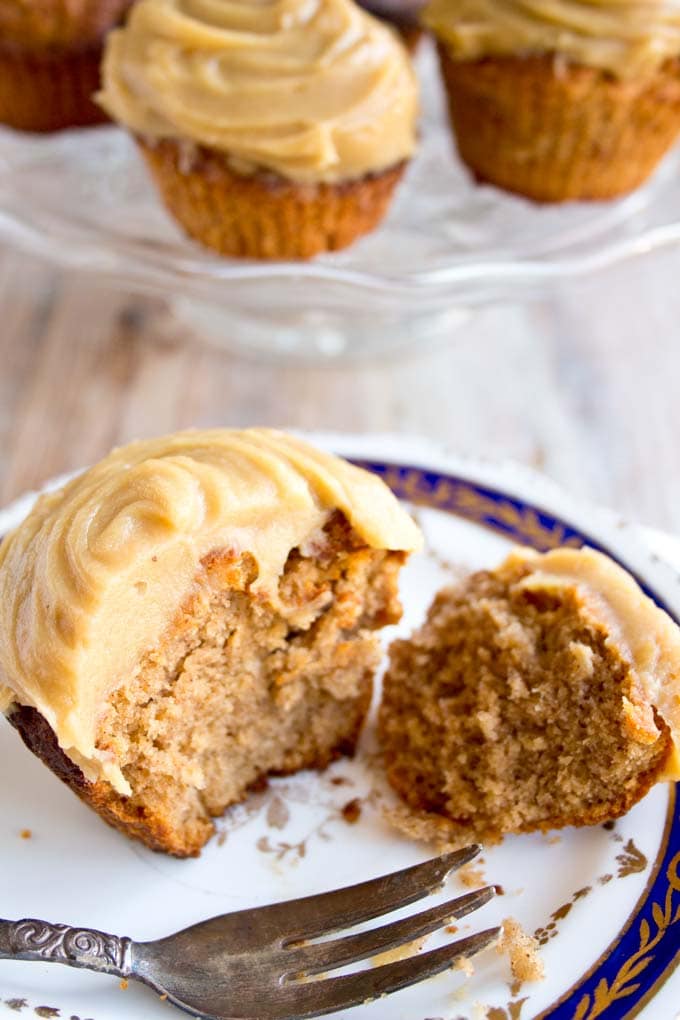 I decided to use two different sweeteners in this recipe - a brown sugar alternative and a sugar free syrup. That's because I wanted to re-create the rich treacle/golden syrup taste regular gingerbread has.
If you do not have a sugar free syrup to hand, you could replace it with more granulated sweetener (ideally a brown sugar alternative), but in this case I think you should add a couple of tablespoons of liquid such as strong coffee or chai tea to get the dry/wet ratio right.
On another note, I saw on Amazon that you can buy treacle/molasses flavour concentrates, which I'm keen to use next time. Anyone ever try one of these? Let me know in the comments. I'm sure they would be a great addition to the recipe.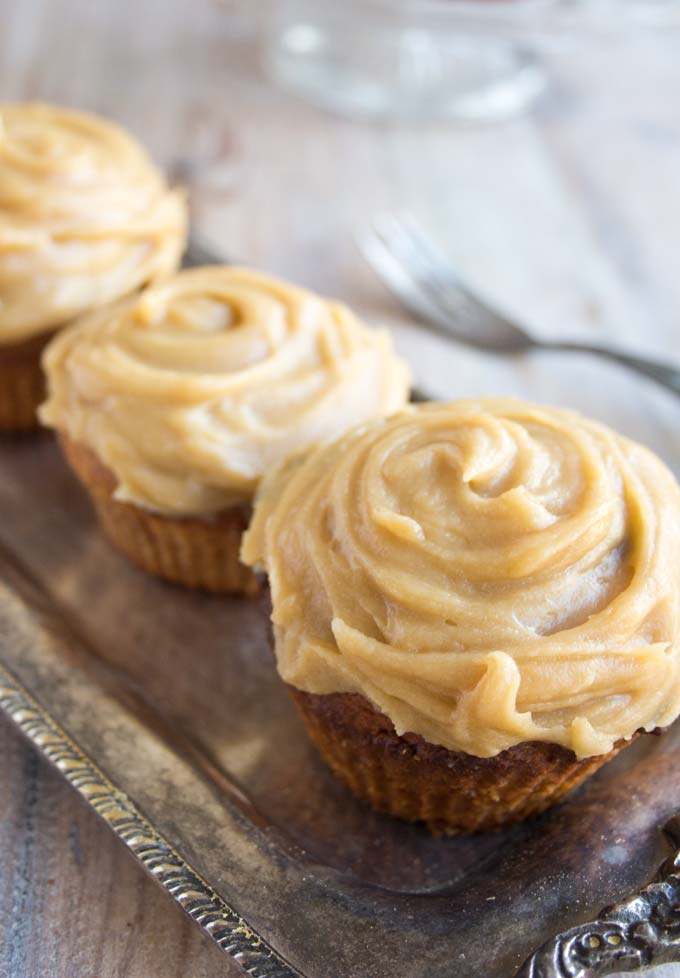 Basically, I've made it even naughtier and creamier by using butter and cream.
When you bite into your very own low carb gingerbread cupcakes, you'll know what a good idea it was to lather it on top. The moment those mellow caramel notes and the spicy kick of the ginger and nutmeg start mingling in your mouth will be like a ray of glorious sunshine on a gloomy winter day. Bring on more rubbish weather, please!
★ Tried this recipe? Give it a star rating below!★
★ STAY IN TOUCH on FACEBOOK, PINTEREST and INSTAGRAM  for more great food and join my NEWSLETTER for the latest updates and a FREE EBOOK.★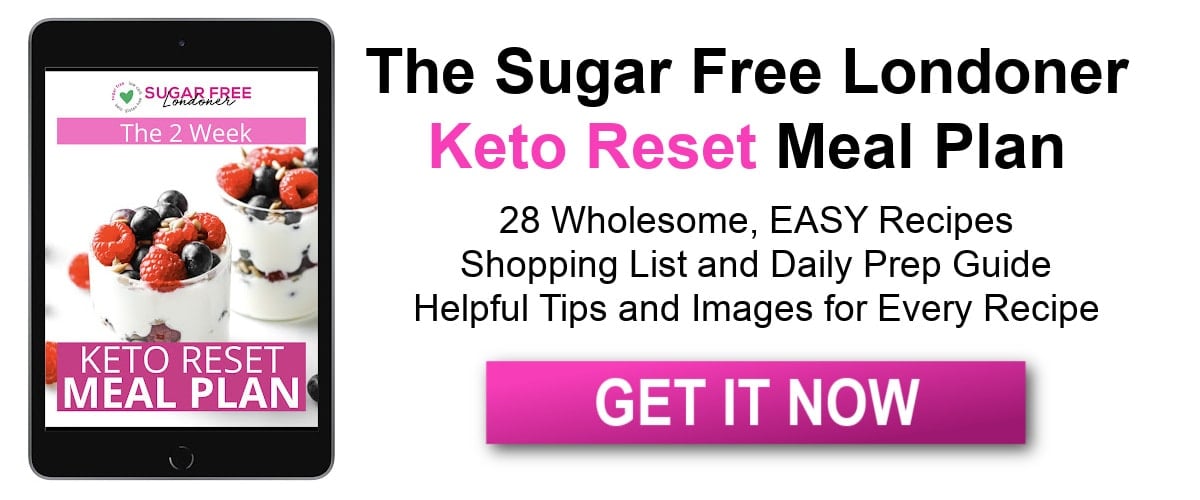 Low Carb Gingerbread Cupcakes (Sugar Free)
from Sugar Free Londoner
Low carb gingerbread cupcakes with a sugar-free salted caramel frosting - a finger-licking-good treat suitable for sugar free, gluten free and low carb diets as well as diabetics.
Note: The servings slider only changes the first amount in each line and not any subsequent amounts. Please make your own calculations where necessary. ***As an Amazon Associate I earn from qualifying purchases.
Instructions
Preheat your oven to 175 Celsius / 350 Fahrenheit.

In a food processor or with a blender, mix the butter, granulated sweetener and sugar free syrup.

Add the eggs and blend.

Add the dry ingredients and spices and blend until smooth.

Fill into 8 paper or silicone cups (I used silicone cups which I greased with butter, just in case) and place in a muffin/cupcake pan. My batter was quite thick - it softens as it heats.

Bake ca 20 minutes.

To prepare the frosting, heat the cream with the fibre syrup in a small pot and let it bubble over a medium heat until it reduces - around 5-10 minutes.

Stir in the brown sugar replacement, add a pinch of salt and let the mixture cool. Keep stirring from time to time.

Once the caramel is only lukewarm, whisk it into the softened butter.

Let the cupcakes cool completely before you decorate with the caramel frosting.
Notes
I had the oven on 190 Celsius in the beginning, that's why my cupcakes browned a little too much on the top. I reduced the heat to 175 Celsius as soon as I noticed. If you set your oven to 175/350 Fahrenheit, yours should come out perfectly.
Nutrition
Calories:
398
kcal
Total Carbohydrates:
19.1
g
Protein:
6.1
g
Fat:
37.5
g
Cholesterol:
142
mg
Sodium:
31
mg
Potassium:
39
mg
Fiber:
15.3
g
Sugar:
1.8
g
(This post contains affiliate links. If you click on one of these links, I may earn a small commission - at no cost to you. The money helps me with the running costs of this site. Thank you for supporting Sugar Free Londoner.)