It is simple to make tasty, crunchy keto muesli at home! You can prepare a big batch in minutes. This low carb breakfast cereal is filling, healthy and nutritious.
This low carb muesli is one of the most useful recipes ever. Because it does not only taste delicious, but it will also it save you money.
Whenever I check how much keto or paleo muesli costs in the stores, I gasp at the price. They cost a fortune! Also, shop-bought keto cereal tends to be way too sweet for my liking.
I am a breakfast cereal lover. Give me an almond milk matcha latte and a bowl of something crunchy and I'm happy.
I love my keto granola, these easy low carb granola bars or my sugar-free version of cinnamon crunch cereal. I am so happy that this keto muesli is now completing the list.
Muesli is the simple, no-nonsense version of granola. It is easier, quicker and just as satisfying. I'm talking about muesli without oats and no added sugar, of course!
My recipe consists of nutritious nuts, seeds and coconut. It is so easy and quick to put together. Feel free to double or triple the recipe!
I don't only eat it for breakfast, by the way. It also makes a wonderful snack, on its own or with a little yogurt.
Jump to:
🌟 Why You'll Love This Recipe
Nutty flavor, with a hint of cinnamon
Crunchy texture
Grain-free and naturally gluten-free
Cheaper than store-bought low carb muesli!
Packed with healthy fats, high in fiber and nutrients
Filling and satisfying breakfast - will keep you going until lunch
Quick - prep a batch in minutes
only 2.6g net carbs per portion
Ingredients
Here are the ingredients you'll need: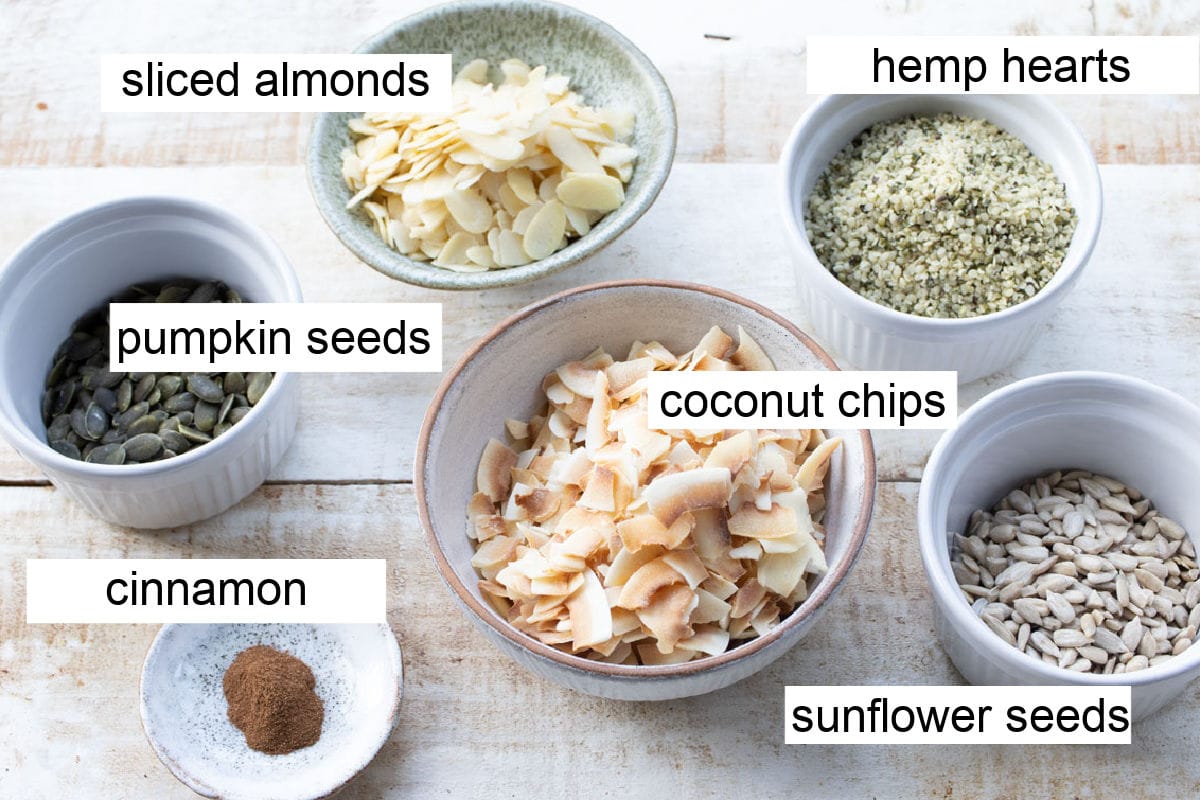 Coconut chips - I bought mine toasted as they have a better flavor. Raw coconut flakes work as well.
Sliced almonds - or any other nuts of your choice
Hemp seeds - High in protein, also called hemp hearts. I did not toast these because they burn quickly. If you like, add them to the pan towards the end.
Sunflower seeds
Pumpkin seeds
Ground cinnamon
Instructions
This is a really simple recipe. The one trick is toasting the seeds and the almonds. This increase the flavor immensely.
Step 1: Toast the sunflower seeds, pumpkin seeds and flaked almonds in a dry frying pan over a low heat. Stir regularly until golden brown and the pumpkin seeds begin to pop. Let cool.
Step 2: Put all ingredients into a bowl and stir to combine. Then, fill into a mason jar or airtight container and store at room temperature until ready to use.
FAQ
Is muesli keto friendly?
Regular muesli is not keto friendly. It contains oats as well as raisins and other dried fruit, which are high in sugar and carbs. But you can make a keto muesli with nuts and seeds.
Can I add sweetener?
Of course. I don't think it is necessary to add sweetener to the muesli mixture itself. Just sprinkle over a little erythritol or monk fruit sweetener before eating.
Do I need to toast the muesli?
No. The nuts and seeds can be used raw. However, toasting does enhance the taste and I recommend it.
Can I toast the seeds in the oven?
Yes. Spread them out on a baking tray lined with parchment paper and bake for around 7 minutes at 350F or 180C, until golden.
Substitutions
Feel free to change up the muesli by using anything suitable you may find in your cupboard. Here are some ideas:
Nuts: Walnuts, chopped almonds, pecans, hazelnuts
Seeds: Sesame seeds, flax seeds, chia seeds
Shredded coconut (desiccated coconut)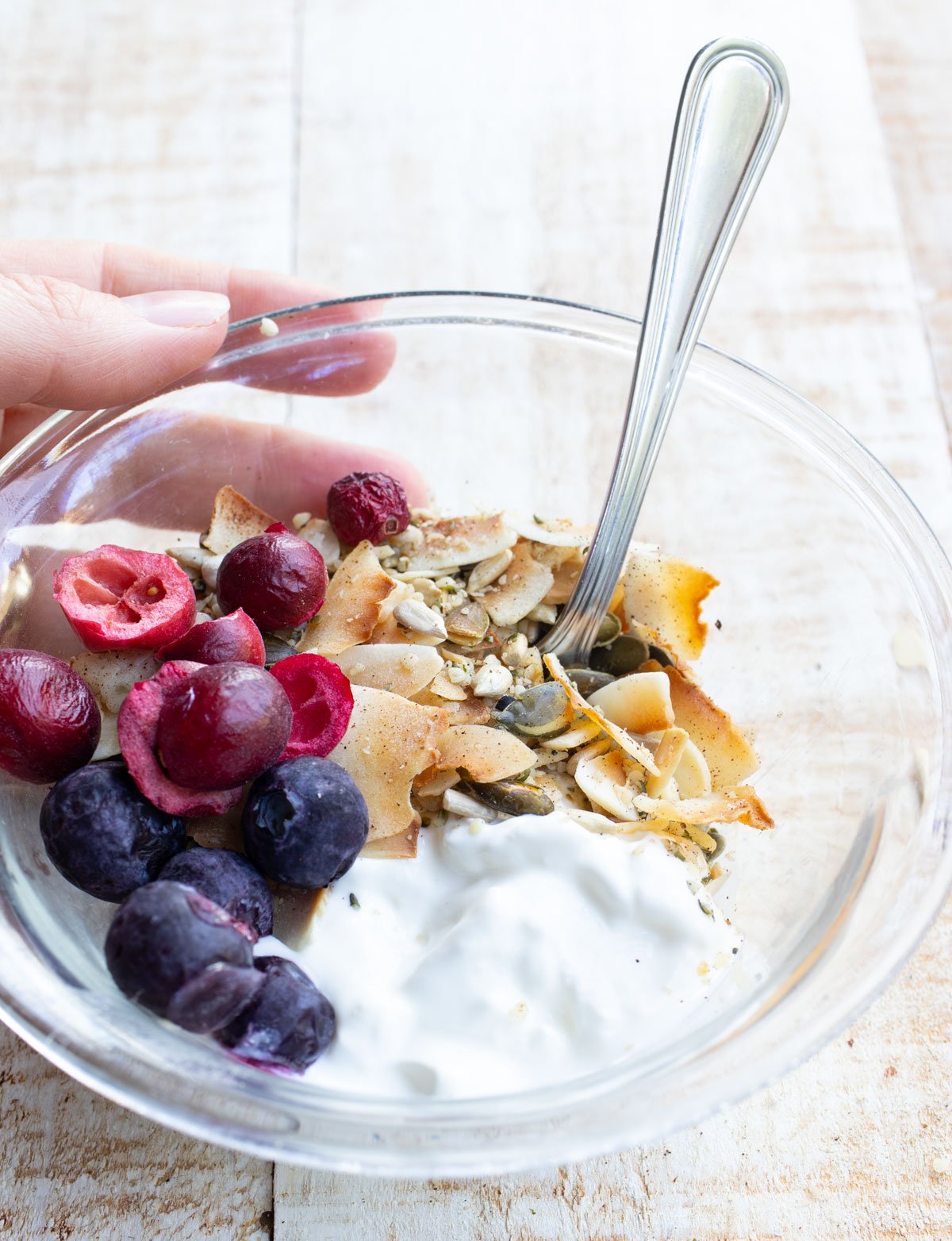 How to serve
I like to eat muesli with unsweetened almond milk. You can also serve it with Greek yogurt or kefir.
If you like, add some berries on top. Raspberries, chopped strawberries or blackberries are great low carb fruit options. I added fresh blueberries and freeze-dried cranberries.
Another idea is to sprinkle over some freeze-dried raspberries or blueberries.
Or, add sugar-free dried cranberries or dried barberries (as a lower carb replacement for raisins).
Keto muesli also tastes great all on its own - like a healthy trail mix. If you are on the go, simply put a portion in a ziplock bag. It is a great snack or quick breakfast while travelling or commuting.
Storage
Store in a mason jar or any airtight container in the kitchen cupboard. It stays fresh for around 3 months.
Option to store it in the fridge if you prefer.
More keto breakfast ideas
Here is more inspiration, from low carb granola to porridge.
Tried this recipe? Give it a star rating below!
★ STAY IN TOUCH on FACEBOOK, PINTEREST and INSTAGRAM for more great food and join my NEWSLETTER for the latest updates and a FREE EBOOK.★
Recipe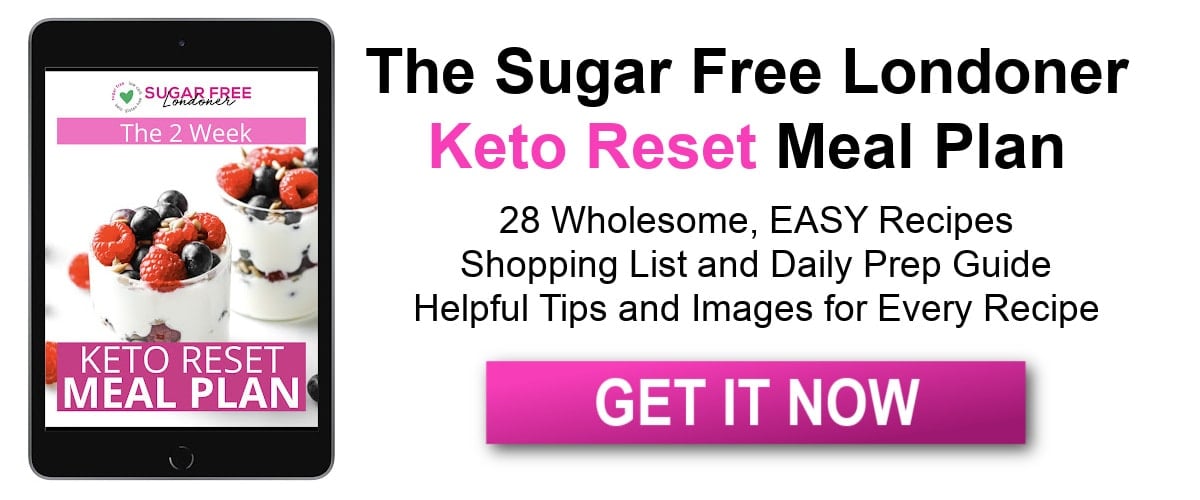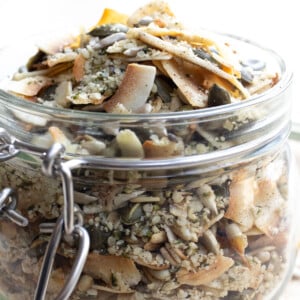 Low Carb Keto Muesli
from Sugar Free Londoner
Save big bucks by making this easy keto muesli recipe at home! It is crunchy, nutritious and ready in minutes. Only 2.6g net carbs per portion.
Note: The servings slider only changes the first amount in each line and not any subsequent amounts. Please make your own calculations where necessary. ***As an Amazon Associate I earn from qualifying purchases.
Instructions
Toast the sunflower seeds, pumpkin seeds and flaked almonds in a dry frying pan over a low heat. Stir regularly until golden brown and the pumpkin seeds begin to pop. Let cool.

Put all ingredients into a bowl and stir to combine. Then, fill into a mason jar or airtight container and store until ready to use.
Notes
2.6g net carbs per portion. Makes 6 portions of ⅓ cup (45g) each. Nutrition is calculated without milk or toppings. 
Eat with unsweetened almond milk or yogurt. Option to top with berries. Or, fill into a ziplock bag for snacking on the go. 
Store in the kitchen cupboard in an airtight container for up to 3 months. 
Nutrition
Calories:
247
kcal
Total Carbohydrates:
6.7
g
Protein:
9.5
g
Fat:
22.1
g
Saturated Fat:
7.4
g
Fiber:
4.1
g
Sugar:
1.5
g
This post contains affiliate links. If you click on one of these links and purchase a product, I may earn a small commission, at no extra cost to you. Thank you for supporting Sugar Free Londoner.