The humble scrambled egg gets an asian-style makeover that will knock your socks off: Vietnamese eggs are a true taste revelation. The secret ingredient is fish sauce!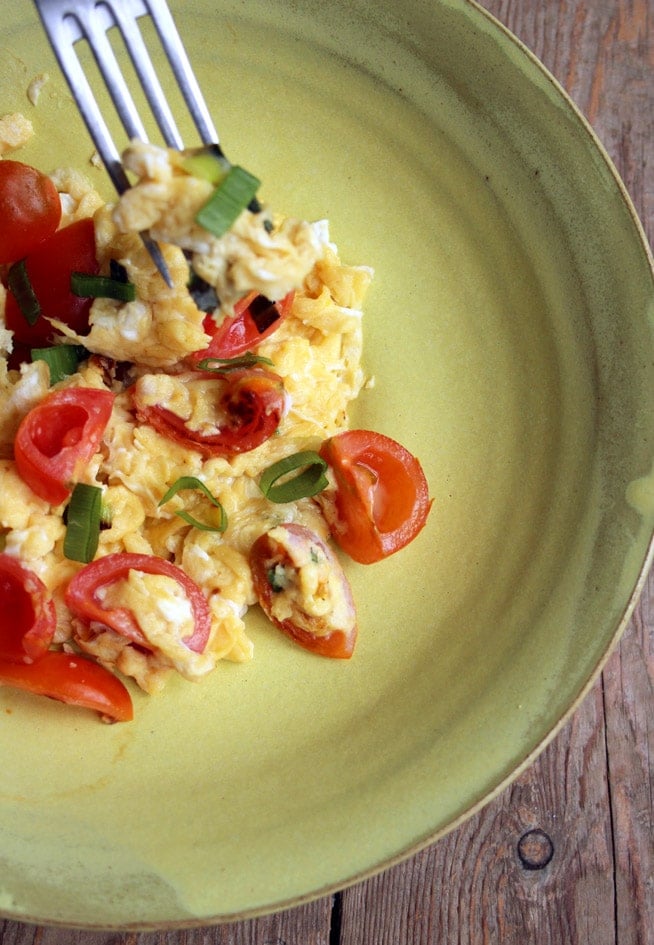 Eggs are my favourite breakfast choice and I rotate the different ways of preparing eggs so they never get boring:
Soft-boiled eggs with asparagus or cheese soldiers
Fried eggs - so crispy, so lovely, so messy
Omelettes! I love this egg white omelette, which is packed with veggies chorizo, ham
Poached eggs with avocado on low carb rolls
Now I have a new egg passion: Vietnamese scrambled eggs.
My friends, adding fish sauce to scrambled eggs makes the taste go "off the scale"! The saltiness of the fish sauce adds a new dimension to this dish that you have not thought possible.
The result is definitely not fishy as you might imagine. It's rich, complex and simply... "oompf".
Jump to:
Is this an authentic Vietnamese egg recipe?
Definitely not! I have my Australian friend Wendy to thank for this recipe. She's an adventurous one when it comes to tweaking dishes. And after she waxed lyrical about fish sauce in eggs, I just had to give it a try.
Adding tomatoes for that lovely tangy flavour and spring onions plus a little ginger to the mix makes this dish a perfectly quick, easy and protein-rich lunch as well.
Ingredients
Here are the ingredients I used:
Eggs - I always use large eggs in my recipes, this one included.
Fish sauce - This is a popular sauce in Thai and Vietnamese cuisine. You can find it in the international section of most supermarkets.
Ginger - Fresh ginger, finely diced, adds a spicy kick.
Scallions - Also called spring onions. I use both the white and the green parts, chopped into fine slices. You can also add an optional shallot.
Cherry tomatoes - Quartered. It is important to de-seed them. This way, they don't make the scrambled eggs watery.
Pepper - Grind black pepper into the egg mix. There is no need to use salt as the fish sauce is salty already.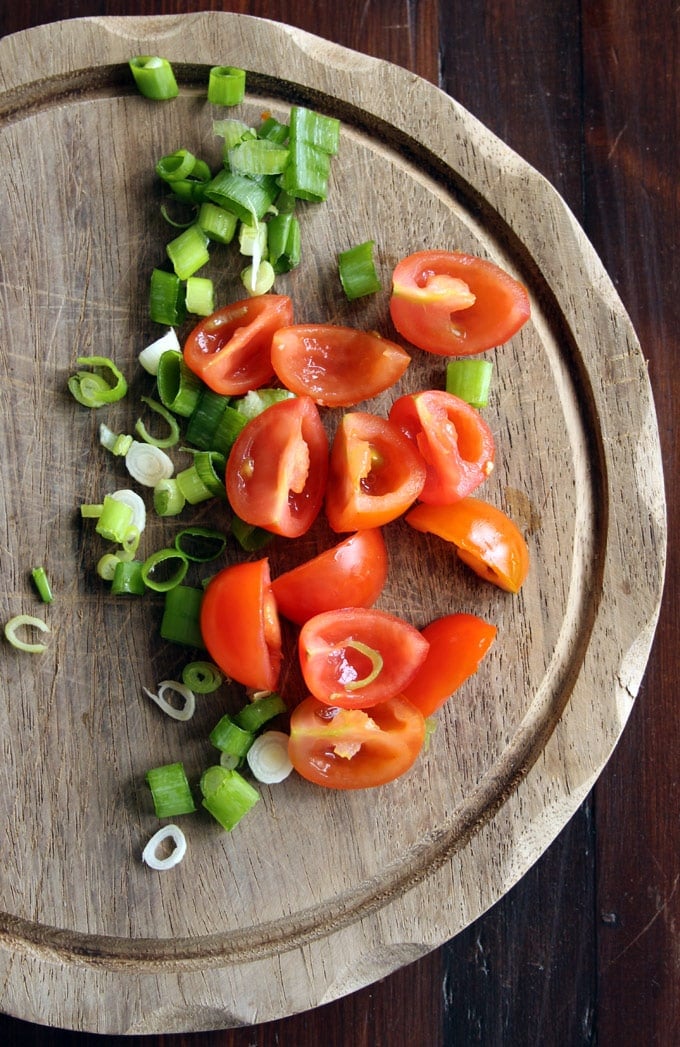 See the recipe card for full information on ingredients and quantities.
Instructions
It is really simple to make Vietnamese style scrambled eggs. Here are the basic steps:
Step 1: Heat oil in a non-stick frying pan. Gently fry the chopped onions and finely minced ginger on low heat until softened, 3-4 minutes.
Step 2: Add the deseeded, quartered tomatoes and cook for a further minute.
Step 3: Whisk the eggs and fish sauce in a bowl. Grind a little pepper in, then add the egg mixture into the pan with the vegetables.
Step 4: On a very low heat, move the mixture around gently and continuously until the egg has a creamy consistency. Take off the heat just before it has fully set and serve immediately.
Expert Tip
The most important thing with this dish is to take your time. The spring onions need to be sauteed on low heat, which brings out their sweetness. The beaten egg mixture should also be cooked slowly and moved around gently with a spatula. Don't miss my post on Keto Scrambled Eggs where I do a deep-dive on the art of scrambling eggs!
If you cook eggs on a low heat and continuously move it around the pan, it will become incredible creamy. Then, take it off the heat JUST BEFORE it has fully set. It will continue to cook in the pan until you serve it.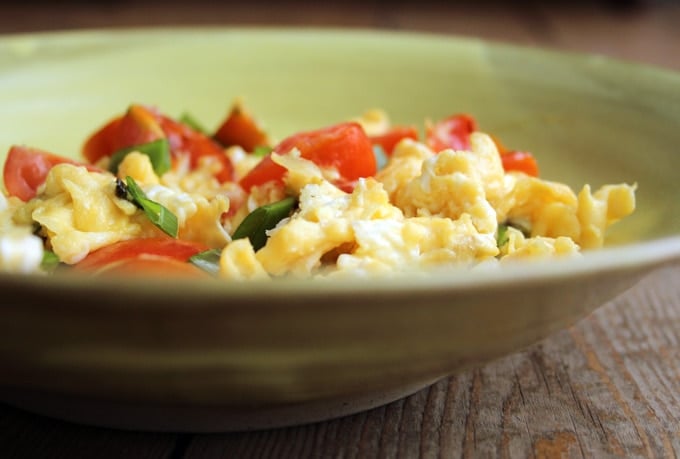 Variations
Here are add-ins that work well in Vietnamese eggs:
Mushrooms. These can be sliced button mushrooms or dried mushrooms which you have soaked in water for 15 minutes to re-hydrate.
Green peppers - fry these together with the tomatoes
Glass noodles, tofu or ground pork - All of these must be cooked separately before you add them to the eggs.
Recipe FAQs
Can I make an omelette with this recipe?
Of course. Feel free to make a Vietnamese omelette (or omelet) by letting the egg set without scrambling it. Cook the underside until golden, then flip the omelette and cook the other side.
How do I serve Vietnamese eggs?
You can serve the scrambled eggs all on their own or with a green side salad. For a larger meal, serve this dish in a sandwich or alongside rice, cauliflower fried rice, meat of your choice and vegetables.
Storage
You can store my Vietnamese-style scrambled eggs in an airtight container in the fridge for up to 2 days. This dish is not suitable for freezing.
Parting Thoughts
Vietnamese scrambled eggs might not be the right thing for everyone at seven o'clock in the morning. I totally understand that some tastebuds need to be woken gently.
That's why I would recommend giving this truly incredible flavour combo a try at a sensible time of day when you are ready for a bit of an adventure.
More Egg Recipes To Try
Below are some more creative and fun ways to serve eggs:
★ Tried this recipe? Give it a star rating below!★
★ STAY IN TOUCH on FACEBOOK, PINTEREST and INSTAGRAM for more great food and join my NEWSLETTER for the latest updates and a FREE EBOOK.★
Recipe
Vietnamese Scrambled Eggs with Fish Sauce
from Sugar Free Londoner
The humble scrambled egg turns into a taste revelation with the addition of fish sauce.
Note: The servings slider only changes the first amount in each line and not any subsequent amounts. Please make your own calculations where necessary.
Ingredients
4

large eggs

2

teaspoons

of fish sauce

1

cm

ginger

chopped

2

spring onions

cut into rings

1

shallot

chopped (optional)

6

cherry tomatoes

deseeded and quartered

black pepper

oil

for frying
Instructions
Heat oil in a pan. Gently fry your onions and ginger on a low heat until softened (about 3-5 minutes).

Add the deseeded tomatoes (the seeds would make the dish watery) and cook for 1 minute.

Whisk the eggs and fish sauce in a bowl and add to the pan.

On a very low heat, move the mixture around gently until the egg has a creamy consistency. Take off the heat just before it has fully set.
Notes
You can sub the tomatoes for green or red peppers, chopped green beans or spinach. 
Nutrition
Serving:
143
g
Calories:
161
kcal
Total Carbohydrates:
3.2
g
Fat:
5
g
Fiber:
0.8
g
Sugar:
2.1
g