Sesame Flax Crackers are super-crispy, grain free and high in protein. They're great with dips!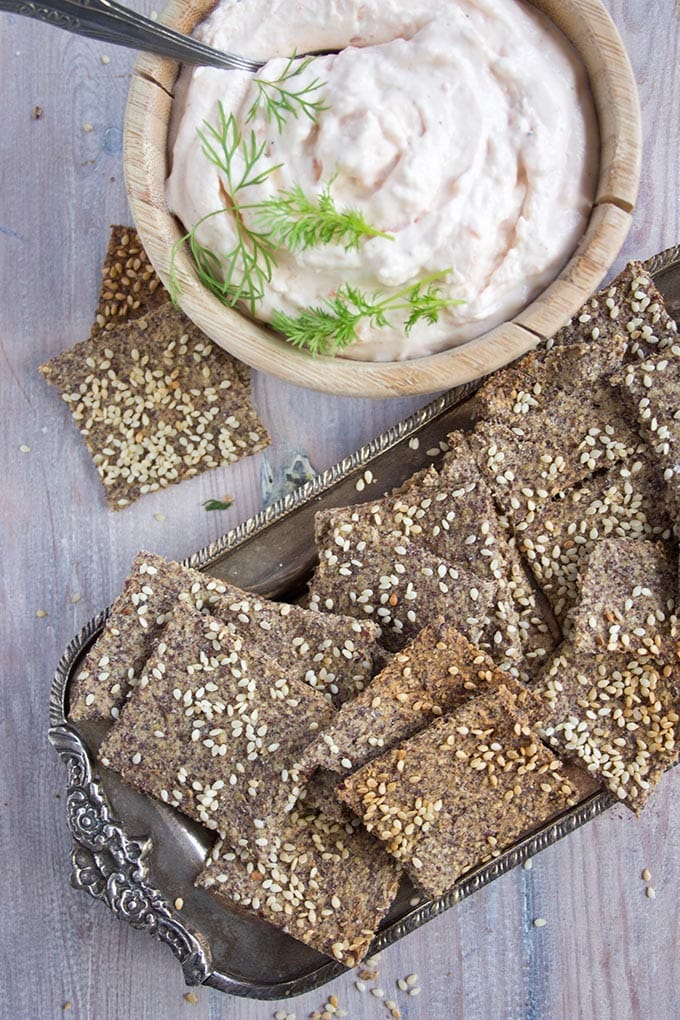 I know. Crackers aren't sexy food. Eating crackers is like walking around in welly boots AND pulling the hood of your jacket over your head when it's drizzling. Or like putting on your reading glasses when you reach for the restaurant menu instead of squinting. It's about feeling good in a sensible kind of way.
Think of these sesame flax crackers as the clever sister of soft, pillowy pitta bread or fancy focaccia. They are brains over arm candy, friends. And what do you get when you make a smart choice? Quality time instead of quick pleasure!
MY LATEST VIDEOS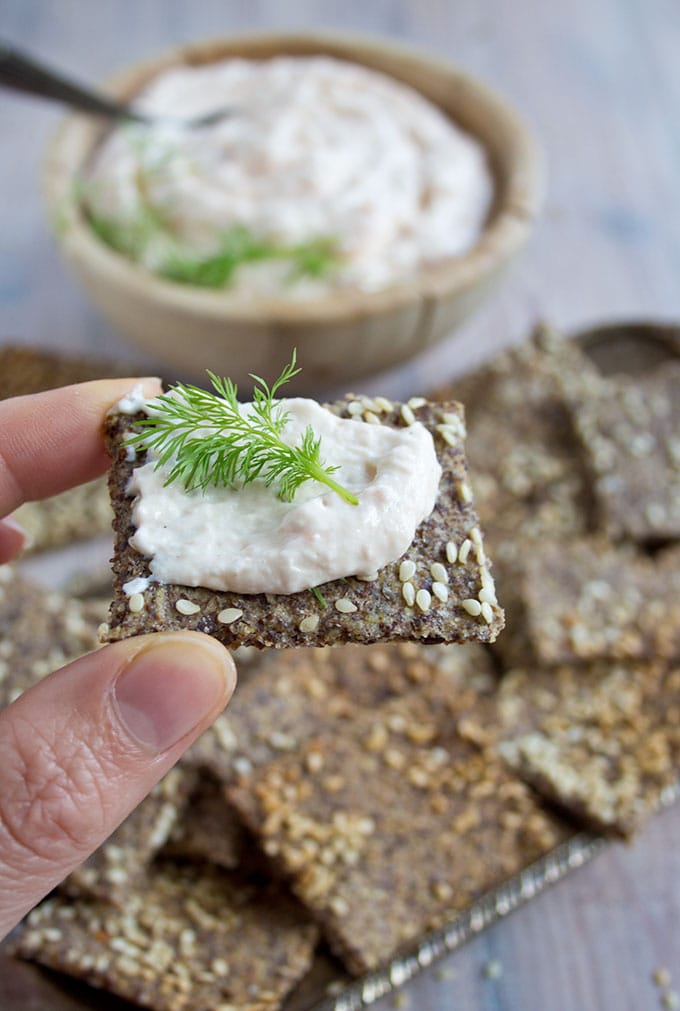 This is a no-nonsense recipe with ingredients that will make every cell of your body rejoice.
It calls for flax seed (which is so good for your gut it would take forever to list all the reasons) and sesame flour, which is low in carbohydrates, high in fibre and protein and has a low Glycemic Index. I used Sukrin sesame flour, which is cold pressed and contains only 1/3 of the fat of sesame seeds.
Most wheat free/low carb cracker recipes are made with almond flour like these Salt and Pepper Crackers by Elana's Pantry or coconut flour such as my Cheese Thyme Crackers. Frankly, I had run out of almond flour, which is such a versatile ingredient in wheat free baking, and have always loved the taste of sesame in crackers.
Apart from being sensationally healthy, it is also kind of fun to make your own sesame flax crackers.
Remember those times when you baked cakes with wet sand or let mud squelch through your fingers? Spreading the sticky dough until it's cracker-thin takes you right back in time.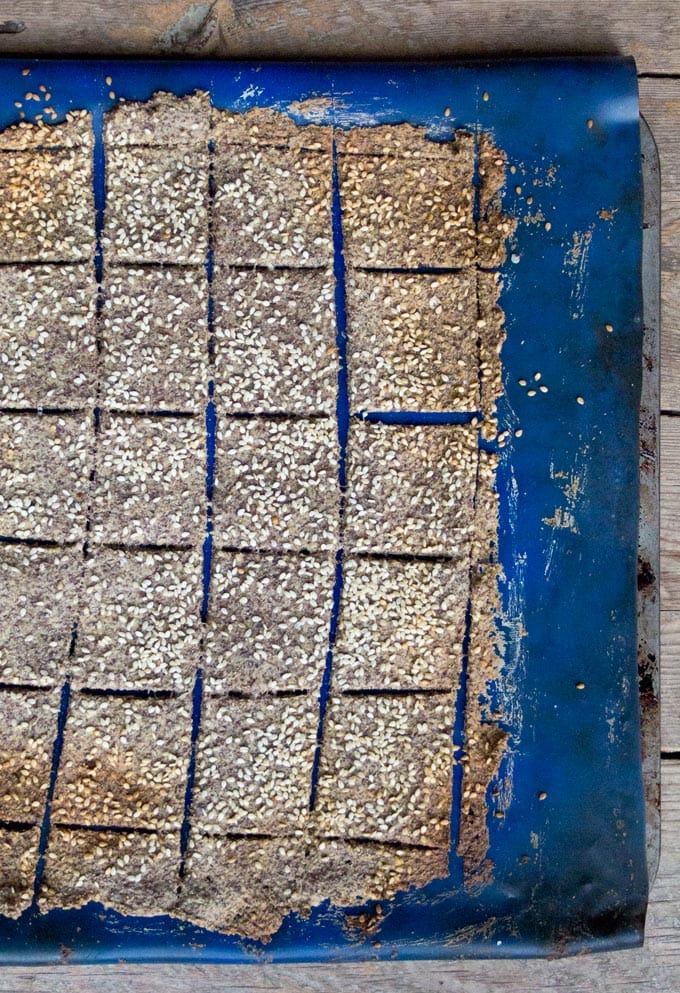 The silicone mat you can see in the picture may not be the most handsome kitchen item, but certainly one of the most useful. Invest in a good quality one like this one – mine just did not last very long and I've had to replace it since. If you haven't got one, you should use non-stick baking paper and oil it for good measure to ensure you can release the crackers afterwards without breaking them.
We had the crackers as an appetiser with a smoked salmon taramasalata (love this tongue twister word – have you ever tried saying taramasalata three times in a row, really fast? It is virtually impossible, even before your first glass of wine). My taramasalata recipe is barely adapted from this one on the BBC Good Food website. I blitzed 100g smoked salmon, 200g cream cheese and 100g creme fraiche in the food processor with a generous amount of black pepper and served it with fresh dill.
If you try out this recipe, let me know!
I'd love to hear from you. Write me a comment on the blog or tag me on Instagram. And don't forget to like my page on Facebook to get many more great recipe ideas.
(This post contains affiliate links.)

Easy Sesame Flax Crackers
Sesame Flax Crackers are super-crispy, grain free and high in protein. Great with dips!
Ingredients
1/2

cup

sesame flour

1/2

cup

flaxseed

half a cup of water

sea salt

pepper

optional

sesame seeds

for sprinkling
Instructions
Mix all ingredients except for sesame seeds in a bowl

Spread thinly on a silicone mat or well-oiled baking paper

Sprinkle over sesame seeds

Pre-cut into squares with a knife or pizza cutter

Bake at 180 degrees Celsius for ca 20 minutes or until the edges are beginning to brown
Nutrition Facts
Easy Sesame Flax Crackers
Amount Per Serving
Calories 24
Calories from Fat 15
% Daily Value*
Total Fat 1.7g 3%
Total Carbohydrates 1g 0%
* Percent Daily Values are based on a 2000 calorie diet.