A delicious and easy keto treat that is bursting with antioxidants: Sugar free matcha latte chocolates.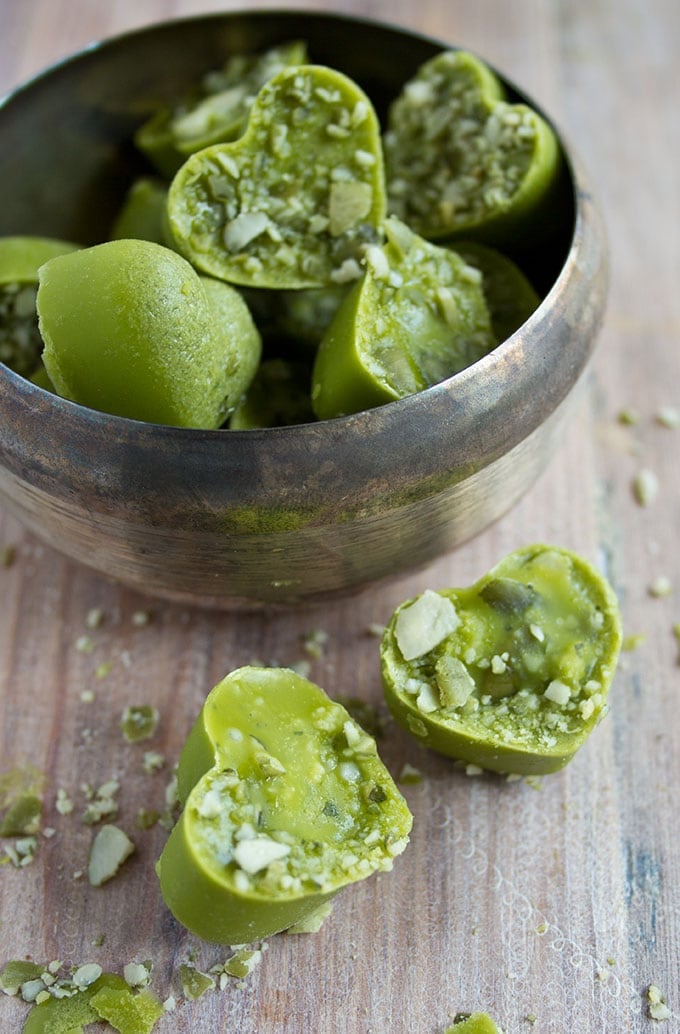 Have I told you recently how much I adore Matcha? I haven't, friends, because I just checked. It's been over four months since I posted my matcha pistachio yoghurt bark! There are some more matcha ideas on my Instagram, but I am sure you'll agree with me: you can never get enough of a good thing.
You know those mornings when you've had your coffee and it has not made life look brighter? Those mornings a second cup or even a third will not make a dent either. Quite the opposite – you'll just end up feeling queasy. Those are the mornings you should either go back to bed or have a matcha tea.
Matcha…
is packed with antioxidants
has anti-ageing and detoxifying properties
increases energy levels and focus
regulates blood sugar levels ad lowers cholesterol
aids weight loss
detoxifies
strengthens the immune system
tastes great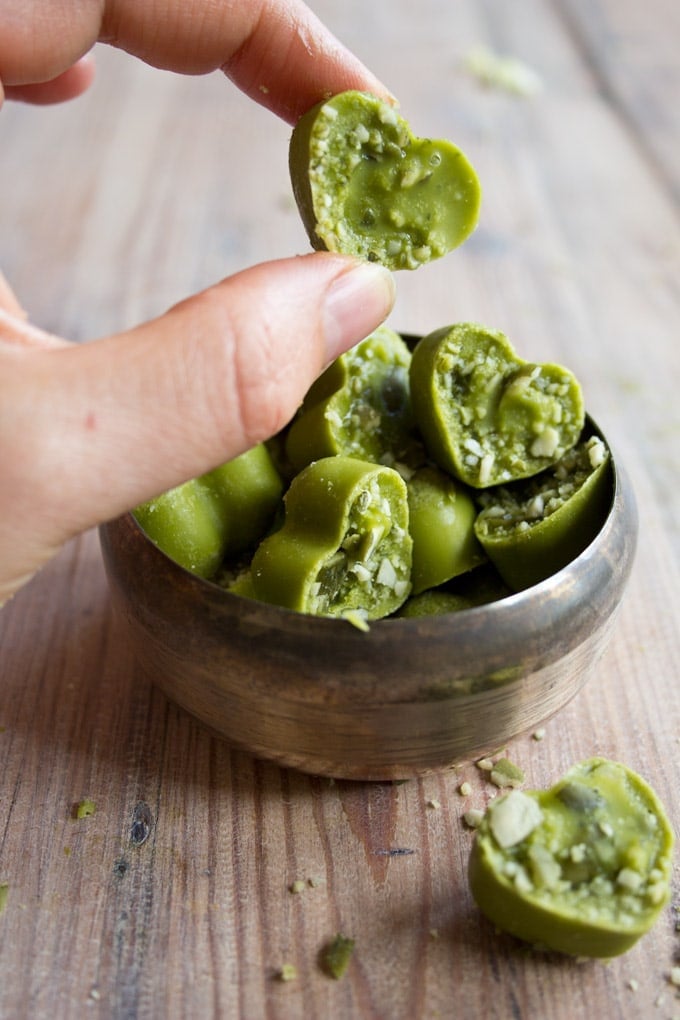 According to this article, one serving of matcha delivers the same benefits as 10 cups of regular green tea. And what do we need once we reach middle age? Exactly. We need all the benefits we can get! And why not make it even more enjoyable by combining two most wonderful things: matcha and chocolate.
I called these little beauties matcha latte chocolates, because
I was inspired by the matcha latte I had this morning
they are white chocolates with a splash of extra milk and matcha powder.
All you need to do is get hold of some cacao butter – and some matcha tea powder, of course. Supermarkets like Waitrose sell it in the UK, otherwise health shops or Amazon are a good place to look. Raw cacao butter is admittedly not cheap, but it tastes incredibly creamy and is stuffed with heart-healthy omega 6 and omega 9 fatty acids.
To make my matcha latte chocolates sugar free yet deliciously sweet, I used powdered erythritol. If you have granulated erythritol, it's really important that you blitz it in your blender until it is powdered. Erythritol has a much higher melting point than sugar and will not dissolve as easily. If you omit this step, you'll end up with crunchy chocolates. To make your life really easy, you could get yourself a product such as Sukrin Icing, which is what I used.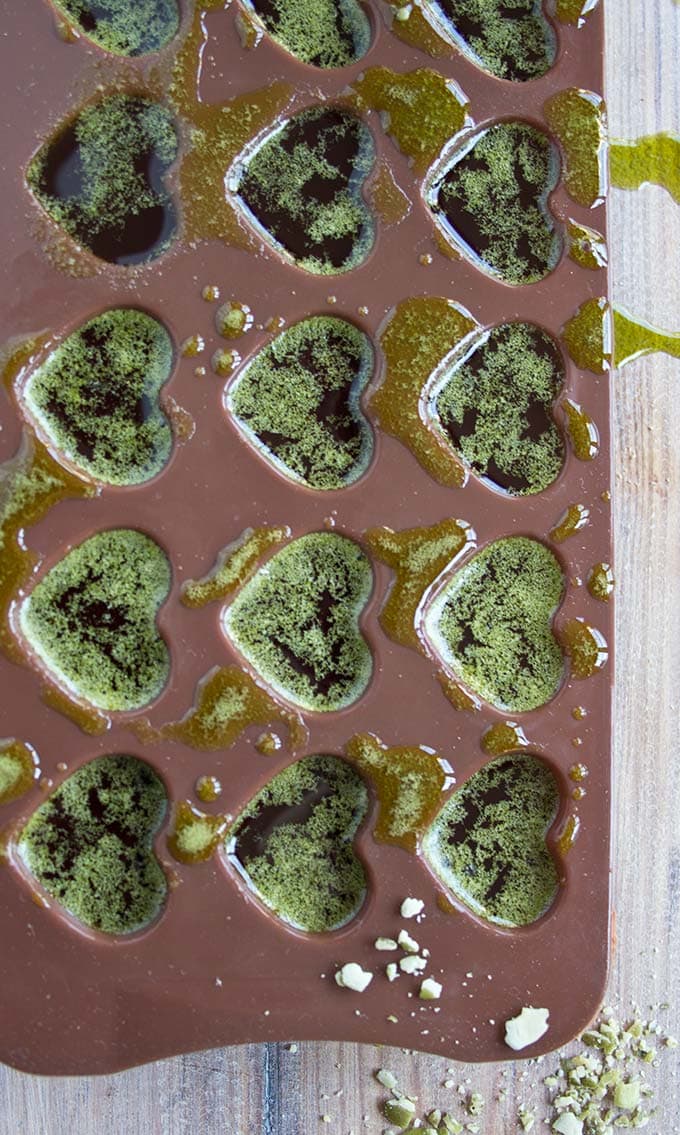 Matcha Latte Chocolates are the perfect partners for your afternoon coffee – or, in fact, a matcha tea or latte. Like I said – the more antioxidants, the better.
If you try out this recipe, let me know! I'd love to hear from you. Write me a comment on the blog or tag me on Instagram. And don't forget to like my page on Facebook to get many more great recipe ideas.
(This post contains affiliate links.)
Sugar Free Londoner
Yields 15 5g pralines
Sugar Free Matcha Latte Chocolates
A delicious and easy keto treat that is bursting with antioxidants: Sugar free matcha latte chocolates.
5 minPrep Time
25 minCook Time
30 minTotal Time
5 based on 2 review(s)
Ingredients
75 g (1/3 cup) cacao butter
1 tbsp powdered erythritol (I used Sukrin) or more to taste
1 tsp heavy (double) cream
1/2 tsp vanilla powder or content of 1 vanilla pod
1/2 tsp matcha powder
10 g (small handful) of pumpkin seeds, chopped (optional)
Instructions
Warm the cacao butter in a bain-marie (a bowl sitting in hot water) until liquid. You could do this step in a microwave or in a small pot over a very low heat as well if you prefer.
Stir in all the ingredients until well combined and pour into a silicone chocolate mould.
Place in the freezer for 5 minutes. If using the chopped pumpkin seeds, remove the tray and press these on the slightly set chocolate tops now. Pistachios would also work well.
Return to the freezer for another 20 minutes until set.
Best kept in the fridge, though they will stay firm at room temperature as well.
7.6.7
281
https://sugarfreelondoner.com/sugar-free-matcha-latte-chocolates/