What's better than home made, sugar free nut-ella? No bake nut-ella bars, naturally. Packed with hazelnuts, seeds and a generous helping of happiness-inducing dark chocolate.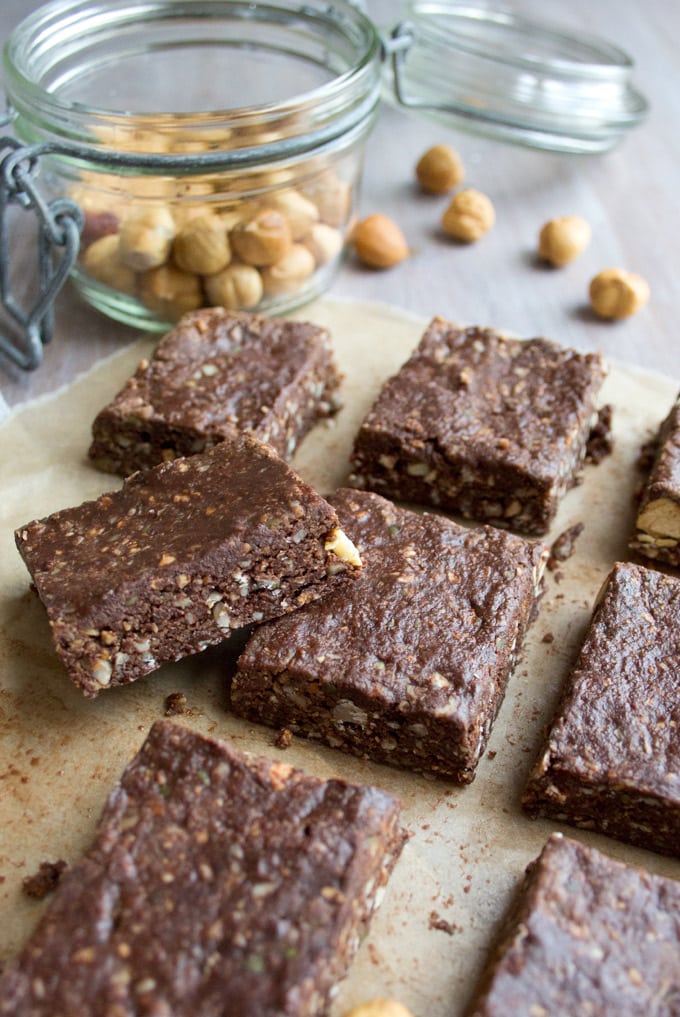 I am all for no bake recipes. Simply, less can go wrong. You can't burn it. You can't undercook it. You just do your mixing magic, and the fridge or freezer does the rest.  Matcha Pistachio Yoghurt Bark? Check. No Bake Coconutty Pies? Check. Those are amongst my most popular recipes on Instagram (check me out over there at @sugarfree_londoner!), because sensible people like an easy life. When you have to juggle job, house, several hungry, often irrational family members – depending on age – plus all the other things life throws at you, sometimes there no head space for baking.
Think about it. Hover next to the oven…. or have a bath, right now? Yes, with candles. Nervously poking knives into your cake, only to pull it out all doughy, armpits slowly getting sweaty… or putting your feet up in the lounge with a glass of ice cold Chardonnay? You get the drift. Easy means happy!
These no bake nut-ella bars are your new dirty clean-eating secret. They are
finger-licking moreish
chocolatey
packed with nuts and seeds
dense
nutritious
filling
just on the right side of sweet
perfect as a dessert or an afternoon pick-me-up with a cup of tea
I decided to make these bars after finding myself eating our home made sugar free nut-ella straight from the jar. Which tastes great, incredibly great, actually, but just did not seem very refined. I briefly considered chocolate muffins with nut-ella filling, but the bath was calling. Or the sofa. Or both. It was definitely something involving a glass of chilled wine.
I promise you, these bars will take you no time to throw together. Time to spread some nut-ella love, friends! Or… keep the lovin' all to yourself. Which I tried. And failed. Kids have a keen eye for extra special treats!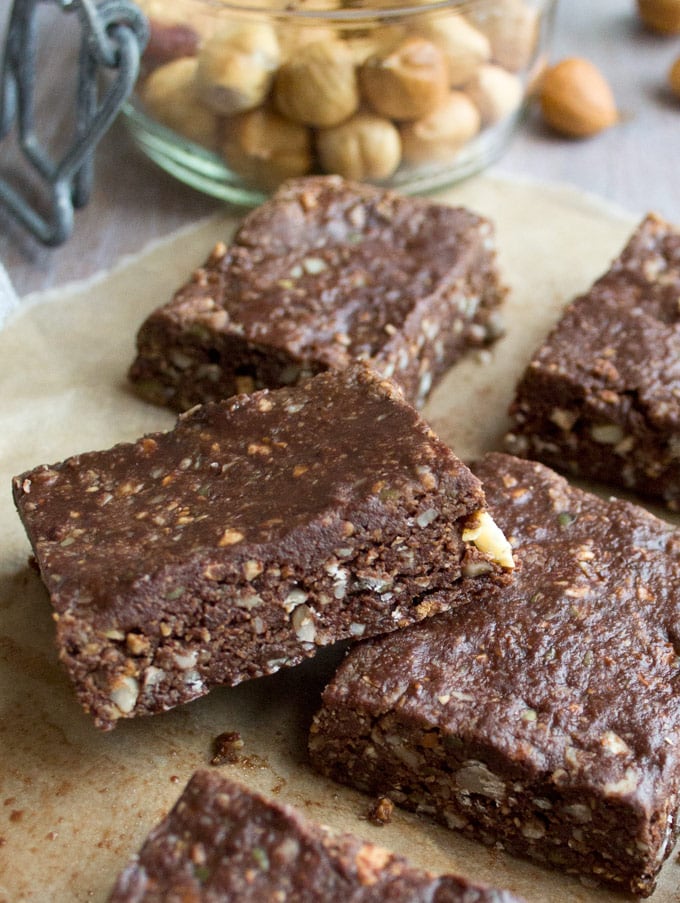 No Bake Nut-ella Bars
Your new dirty clean-eating secret: No bake nut-ella bars. Packed with hazelnuts, seeds and a generous helping of happiness-inducing dark chocolate.
Ingredients
1

cup

home made sugar free nut-ella

see link for recipe in the copy

1

cup

hazelnuts

ground

handful of pumpkin seeds

handful of sunflower seeds

50

g

dark chocolate

melted
Instructions
Place your hazelnuts in the food processor and blend the hell out of them. If you have used all your hazelnuts for the nut-ella, almonds will also do.

Melt the dark chocolate in a pan or in the microwave. I used a variety with 90% cocoa.

Add the pumpkin and sunflower seeds, the nut-ella and the melted chocolate and blend to combine. If you wish, stir in some more hazelnuts at the end for extra crunch.

If you use very dark chocolate, you might find you want to adjust your sweetener. Add a pinch of stevia or sweetener of choice.

Spread the mixture on a baking sheet - it should be sticky and quite firm. I just formed it into a rectangle of sort and pressed it down until it was about 2cm thick.

Cover with cling film and refrigerate about 30 minutes or until set.

Cut into bars and enjoy
Nutrition Facts
No Bake Nut-ella Bars
Amount Per Serving
Calories 510
% Daily Value*
Total Carbohydrates 12.8g 4%
* Percent Daily Values are based on a 2000 calorie diet.