Sugar free cookies are my favourite sweet treat. They are simple and quick to make, keep well and are easy to transport. Even better, they taste delicious, come in countless wonderful variations AND have a handy in-built portion control!
This post answers all questions about how to make the perfect grain free, low carb and keto cookies: which low carb flours to use, the best sweeteners, how to get your cookies crispy or soft, how to make them egg free or dairy free - you name it. Plus, I've gathered together a selection of 80 delicious sugar free cookie recipes. Which one of these gluten free, low carb recipes will you try first?
UPDATE - I love cookie baking so much that I have written an entire cookbook about it! Check out the keto cookies cookbook here. It includes 35 delicious cookie recipes - 20 of them are exclusive to the book!
Best flours for low carb cookies
I want my cookies to be not only sugar free, but also low in carbohydrates, to avoid the blood sugar spike from the carbs in regular flour. Therefore, I only use grain free flours in my baking.
The most popular low carb flours for cookies are either almond flour or coconut flour - or a mixture of the two as they complement each other well. Other nut flours such as hazelnut, pecan or walnut will lend their own interesting flavour notes. Check out the section for nutty cookies at the end of the post!
Nut free options include sesame flour or sunflower seed flour, which both are a 1:1 almond flour replacement for people with nut allergies. You can easily grind these at home with a food processor.
Almond meal vs finely ground almond flour
This depends one the type of cookie you're after - both types work exceedingly well. Coarse almond flour or almond meal (or ground almonds in the UK) will result in a more rustic cookie. Super-fine almond flour is perfect for shortbread-type cookies with a finer, more even and, dare I say, elegant texture.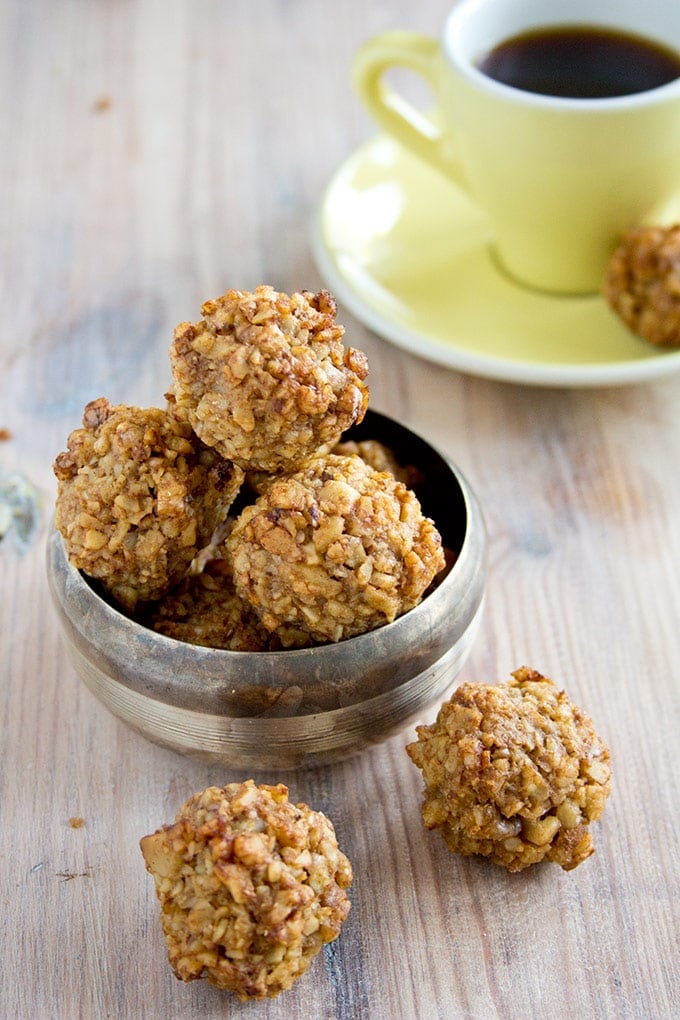 Dairy free cookies
Most cookies contain a LOT of butter, which, in my opinion, is one of the reasons why they taste so good. If you want to sub out the butter in a cookie recipe, I'd go for coconut oil as it's the closest substitution in terms of consistency. You may need a little less oil as it is pure fat.
However, there are recipes that use nut butter instead of butter such as these almond butter brownie cookies.
Of course, no sugar free cookies selection would be complete without sugar free peanut butter cookies! I always recommend to use natural peanut butter that is free of added sugars.
And some recipes omit the butter altogether, such as the Italian Walnut Kisses in the image above.
Fudgy-soft vs crispy
There is one simple, golden rule when it comes to crispy cookies by not changing the recipe. The more you flatten your cookies and the longer you keep them in the oven the more crunch they will have.
Rotate the baking sheet during cooking in case the cookies at the back brown quicker than the ones in the front.
In turn, your cookies will be soft and fudgy if they are thicker and kept in the oven for shorter. I have tested this with my peanut butter cookies - they can be cakey or crispy, or even a bit of both (soft inside, crunchy outside), depending on shape and oven time.
One interesting way to make super-duper crispy cookies is by simply omitting butter or fat altogether and only using nut flour or ground nuts, one or 2 stiff egg whites and sweetener, like these keto hazelnut cookies (below).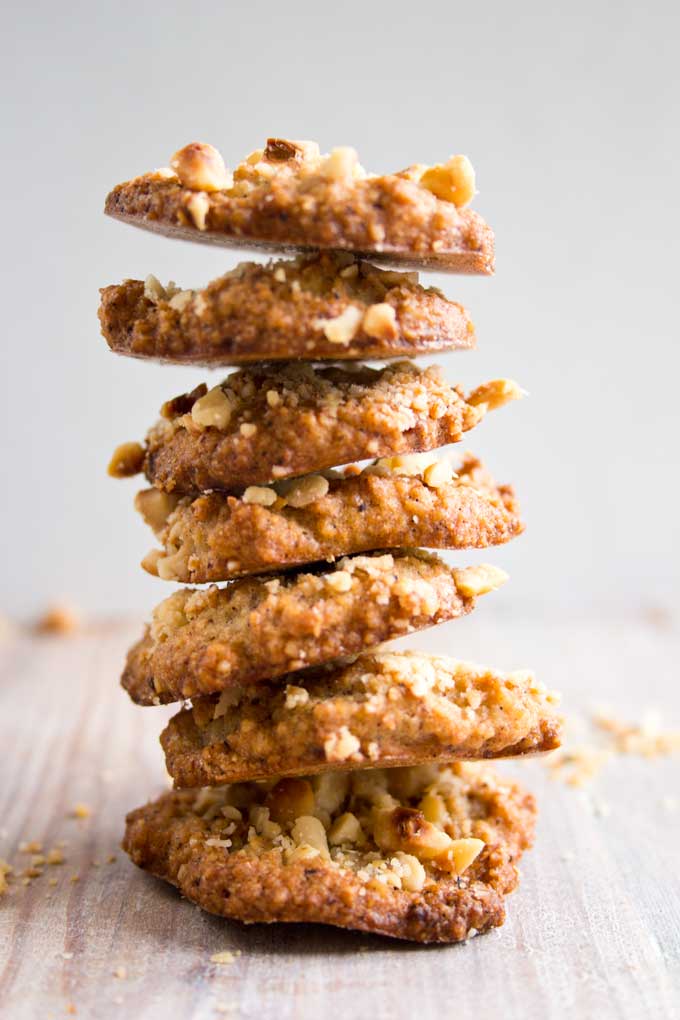 How to roll out low carb cookie dough
Low carb dough can be difficult to work with because grain free flours are gluten free and therefore more fragile. Fear not - there's a fail-safe hack!
If you want to make cut-out cookies, simply roll out your dough between two sheets of parchment paper and then place the whole lot into the freezer for about 15 minutes. It will be super easy to use your cookie cutter afterwards!
If the dough got too frozen and cracks, simply wait a little until it's the right temperature to work with.
The same rule goes for cookies that you want to slice: Roll the dough in cling film into a log and place it in the freezer for 15 minutes or in the fridge for at least 30 minutes. You'll be able to cut perfect rounds, without a sticky knife.
Which sweetener works best?
My go-to low carb sweetener is erythritol. This sugar alcohol is not absorbed by our bodies, therefore it does not add to the net carbs of the cookie.
I use it either pure or as a blend with stevia such as by SoNourished (Amazon Affiliate link) or with monk fruit such as by Lakanto (Affiliate link).
Brown sugar erythritol (Lakanto Golden or Sukrin Gold are good options) also work a treat with cookie recipes, especially when warmer notes such as cinnamon, ginger or nutmeg are part of the recipe.
Stevia drops are always an option, if you mix the dough REALLY well and don't mind the metallic aftertaste. If I use stevia drops, it's only in addition to erythritol, like in this shortbread (image below).
This way, I get less of the cooling taste erythritol delivers and don't notice the bitter/metallic stevia taste.
I have found that xylitol keeps cookies softer, so if you're after a crispy result, definitely stick to erythritol.
Also be aware that xylitol is extremely toxic to dogs - so if you have a pup around the house, you may want to look for other alternatives.
Eggless cookies 
Guys, cookie recipes are so versatile and so forgiving, there is a recipe for literally every allergy. If you can't have or don't like eggs, simply make a shortbread cookie! The traditional recipe for shortbread is one part sugar (or sweetener), 2 parts butter and 3 parts flour. That's all you need! You can see a variation of this in my recipe for sugar cookies.
Are you ready to browse for your next sugar free cookies baking session? I've compiled 80 yummy recipes by low carb and keto bloggers, sorted by type. Let me know in the comments which one is your personal favourite!
Thumbprint Cookies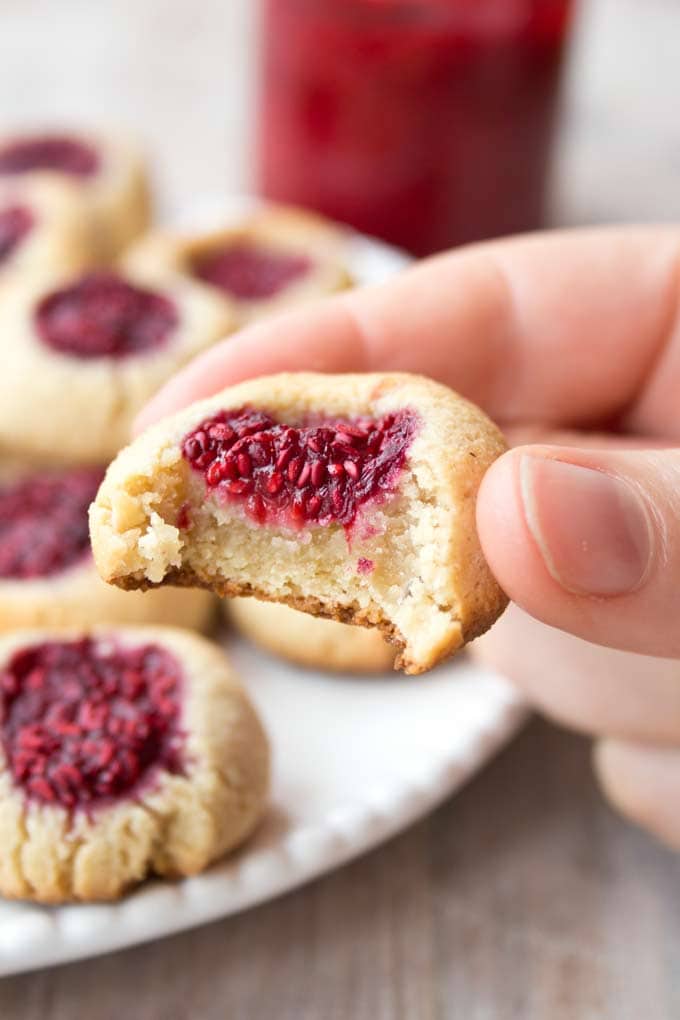 Christmas and Holiday Cookies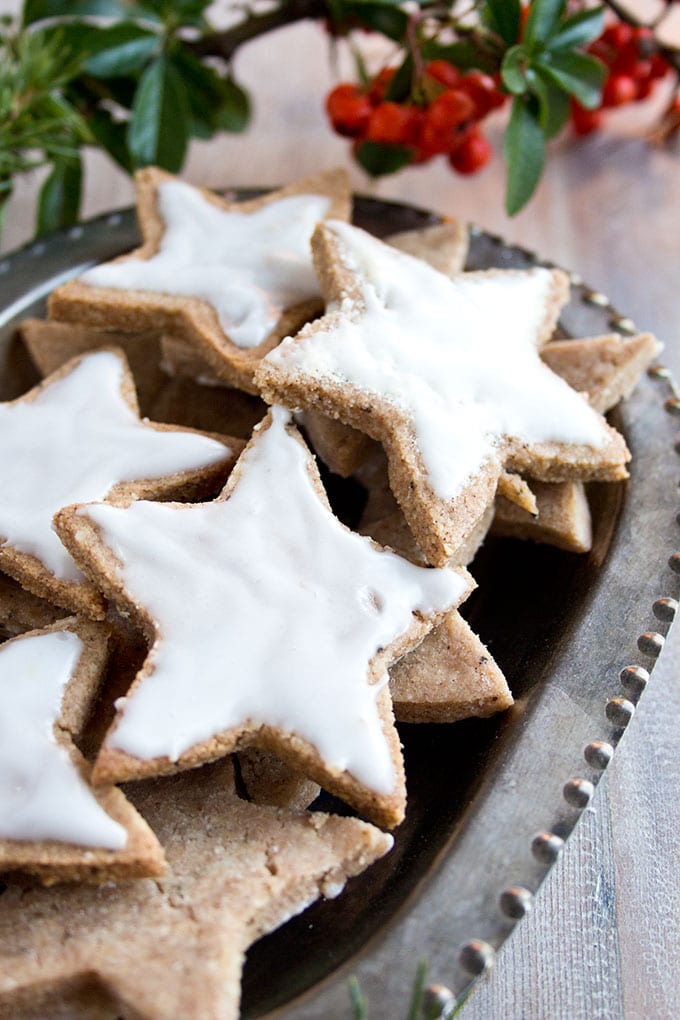 Chocolate Chip Cookies
Nutty Cookies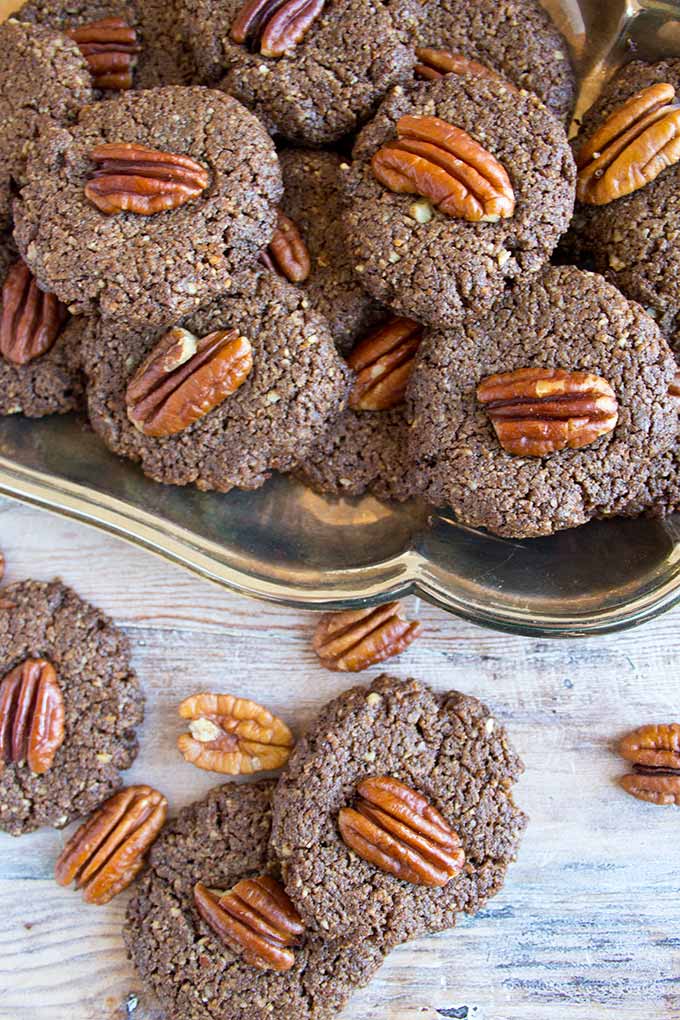 Fruity Cookies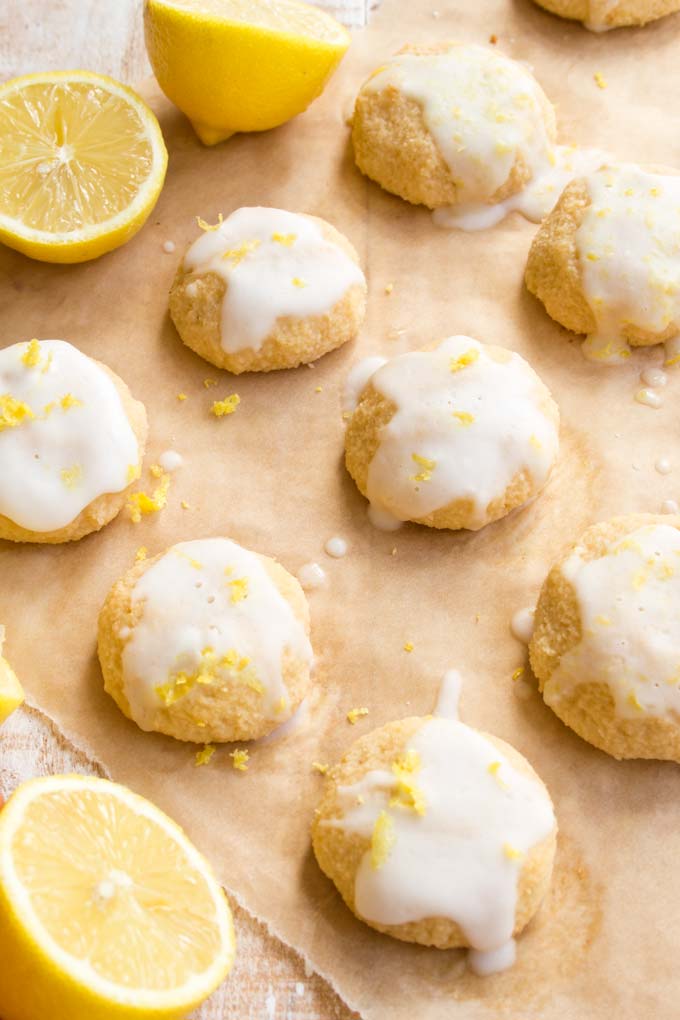 No Bake Cookies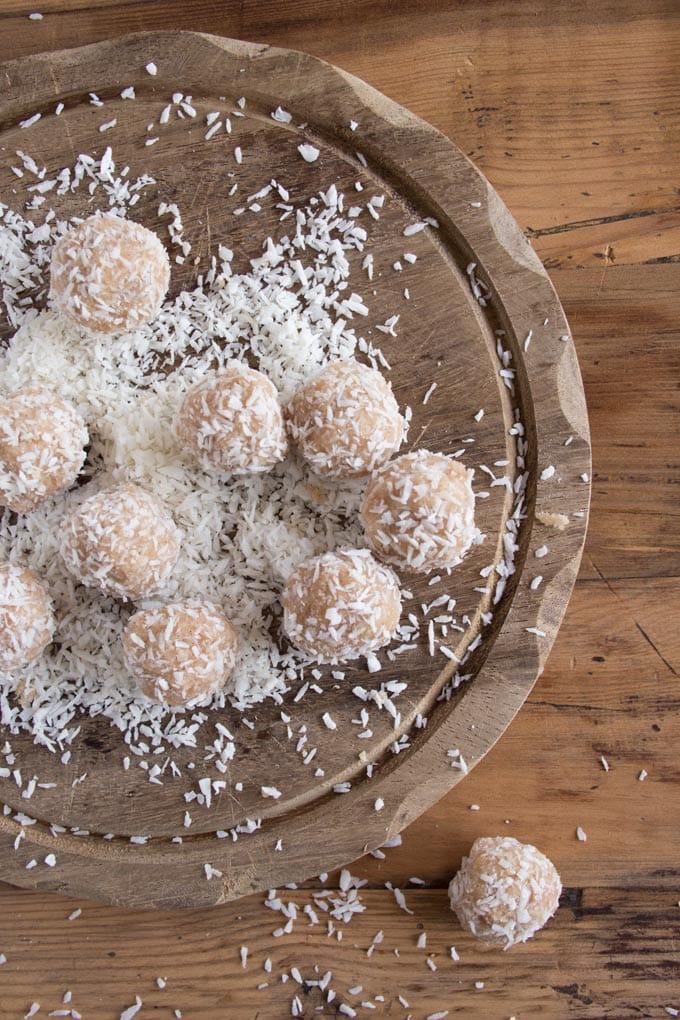 Shortbread Cookies
Chocolate Cookies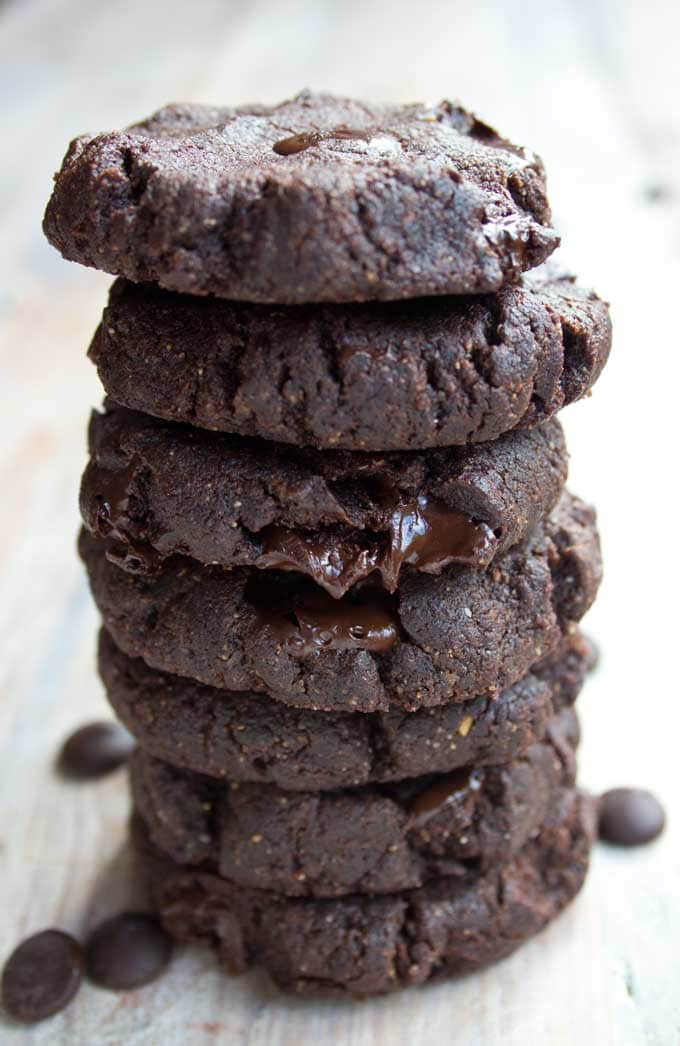 Breakfast Cookies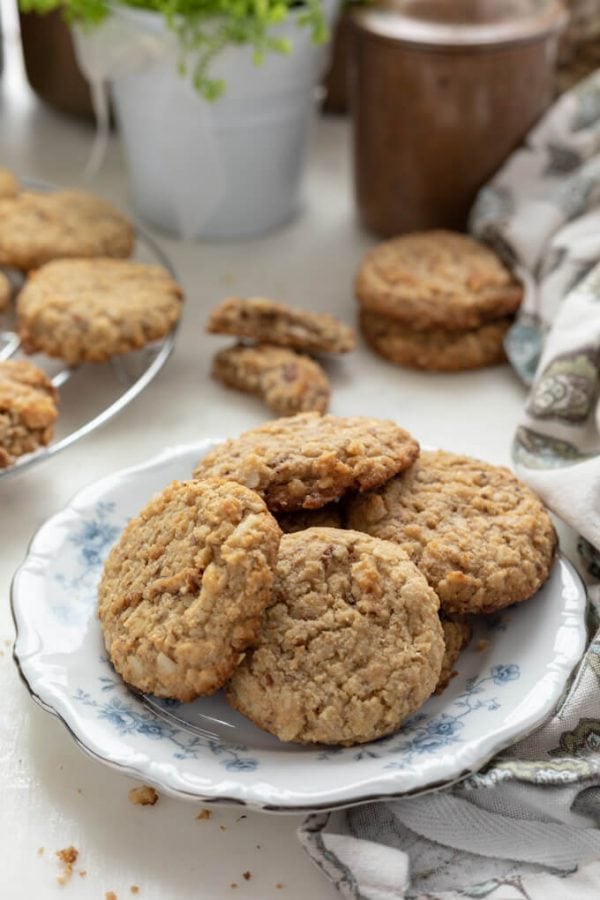 This post contains affiliate links. If you click on one of these links and purchase a product, I may earn a small commission, at no extra cost to you. Thank you for supporting Sugar Free Londoner.