These keto blondies are absolutely heavenly! They are super moist yet light and airy - and require only five minutes prep. A keto peanut butter dessert for the whole family, low carb or not!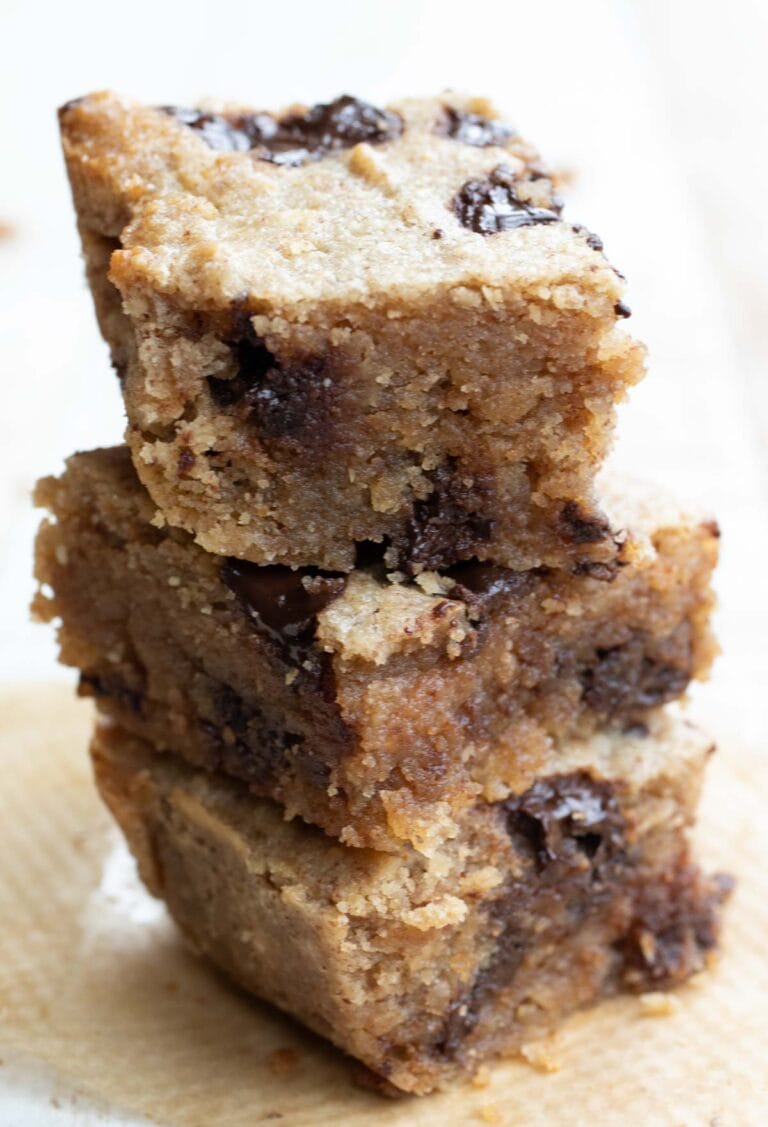 My friends, this keto peanut butter blondies recipe deserves a place in the hall of fame for sugar free desserts. It is that good!
I'm a huge fan of easy baking, and these blondies tick all the boxes. Staple kitchen pantry ingredients, no special equipment needed (one bowl and a fork, that's it!) and only five minutes prep.
And the taste! Ultra buttery and oozing peanut butter flavour, studded with chocolate chips... I'm salivating all over again. Basically, keto blondies are the blonde counterpart to my fabulously fudgy keto brownies. Equally irresistible!
Is peanut butter keto?
This is a question I get asked a lot. The answer is yes - peanut butter is totally fine on the keto diet!
Peanut is a legume, which we normally avoid on keto. However, peanuts are higher in fat than other beans, and low in carbs. Nutritionally, they are actually very similar to nuts, such as almonds. They are also gluten free. Read more here about the nutritional benefits of peanut butter!
However, not all peanut butter brands are keto friendly. You'll find that many add sugar to their product. Be sure to always read the label and choose a brand that contains just one ingredient - peanuts. Alternatively, make your own peanut butter.
Now, let's get straight to the recipe!
How to make keto blondies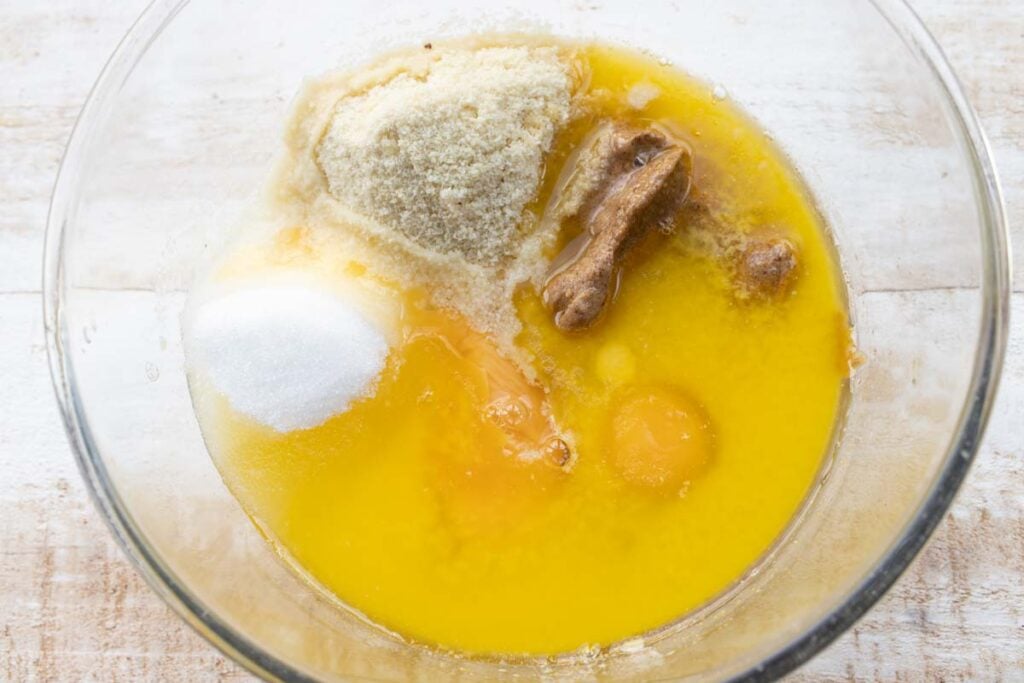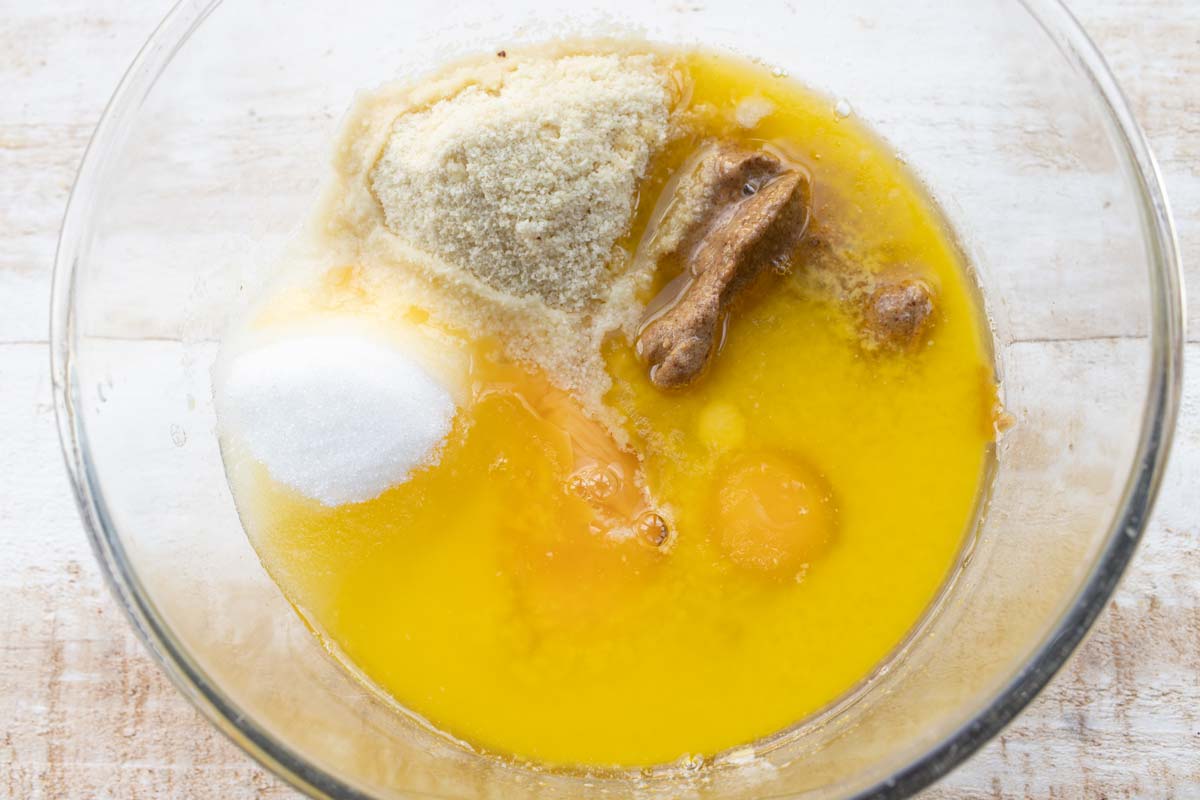 Melt the butter in the microwave (1 minute on high) and simply add all ingredients except the chocolate chips to a mixing bowl.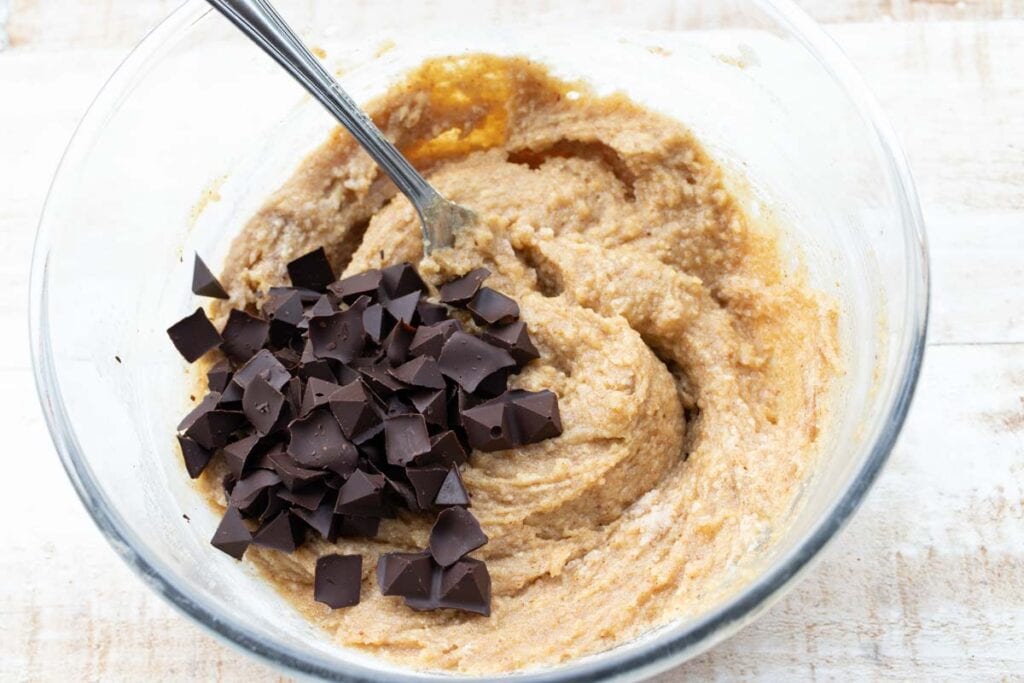 Now, stir until you have a smooth batter. Then, add the chocolate chips, holding some back to scatter over the top later.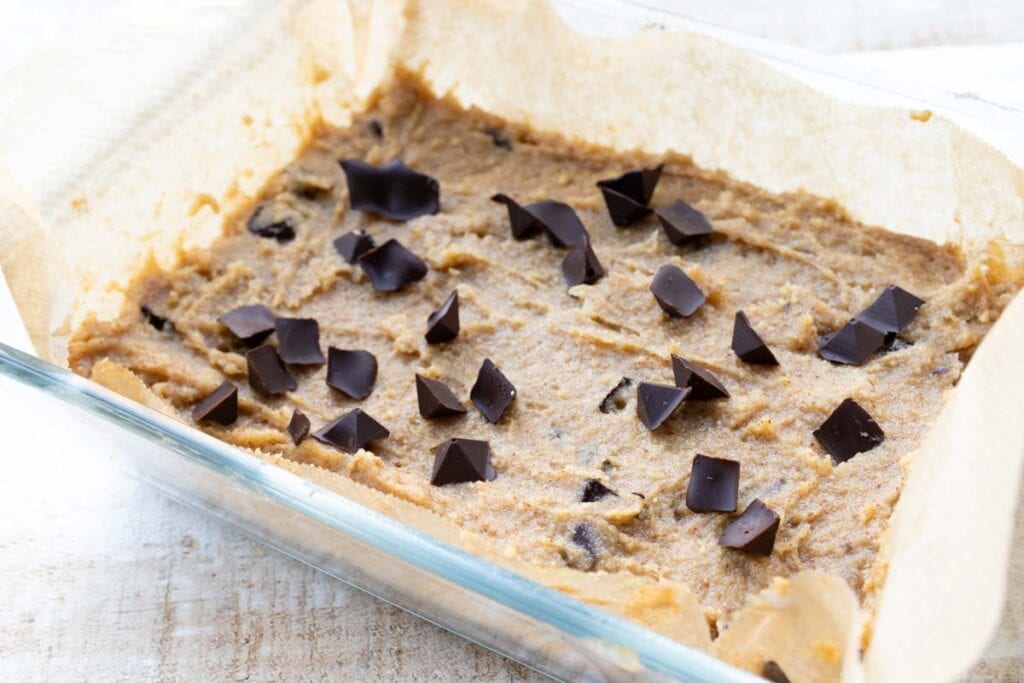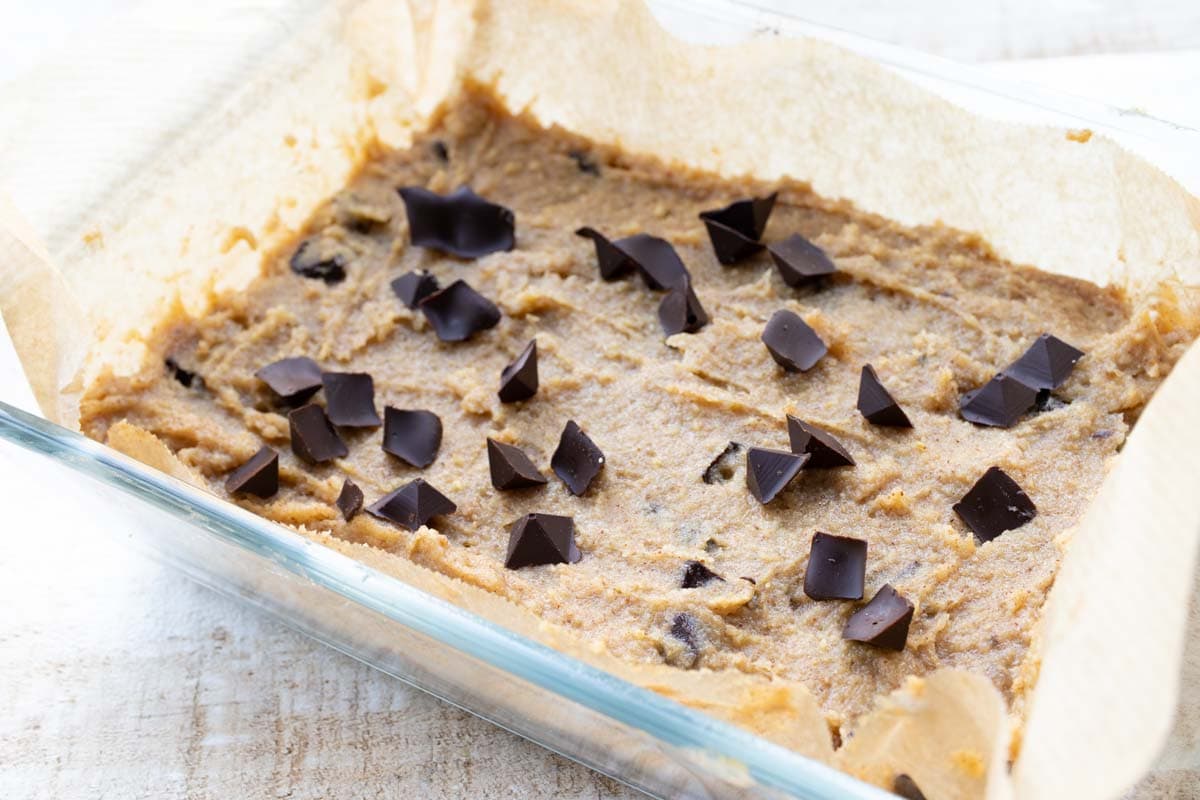 Next, you fill the batter into your prepared dish (mine measured 8 x 6 inch) and scatter the remaining chocolate chips over the top.
How long to bake Keto peanut butter blondies
This is probably the most important thing about this recipe: Don't over-bake your low carb blondies! You WANT them to be slightly under-baked and on the fudgy side. That's how they taste best.
I baked mine for 20 minutes. After that, the top was golden and set, but the middle was still jiggly, a bit like a baked cheesecake. It looked like this: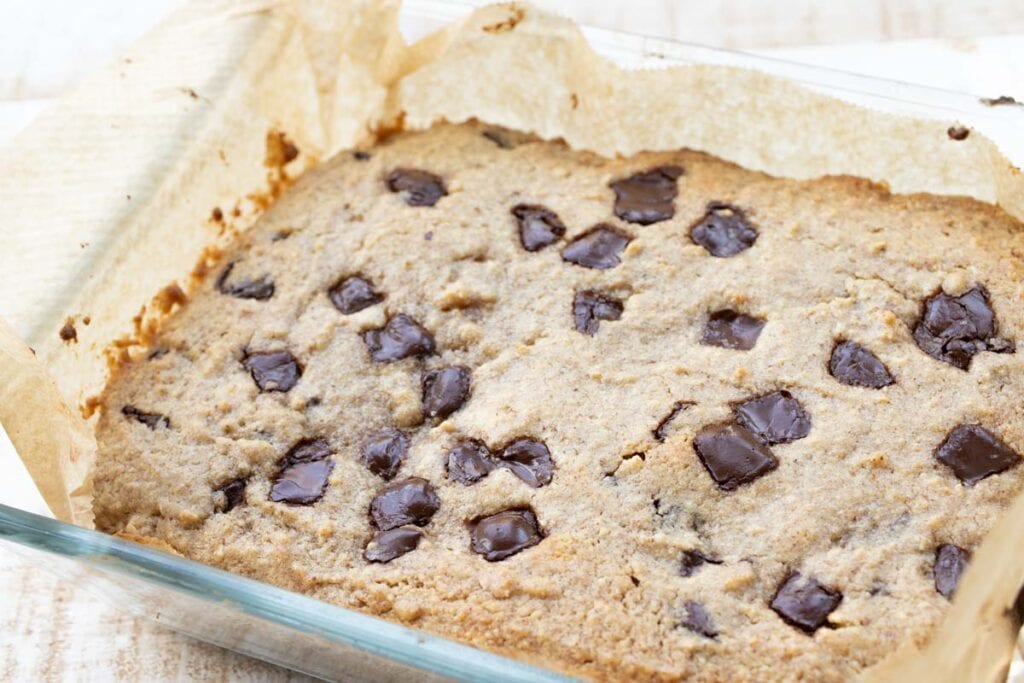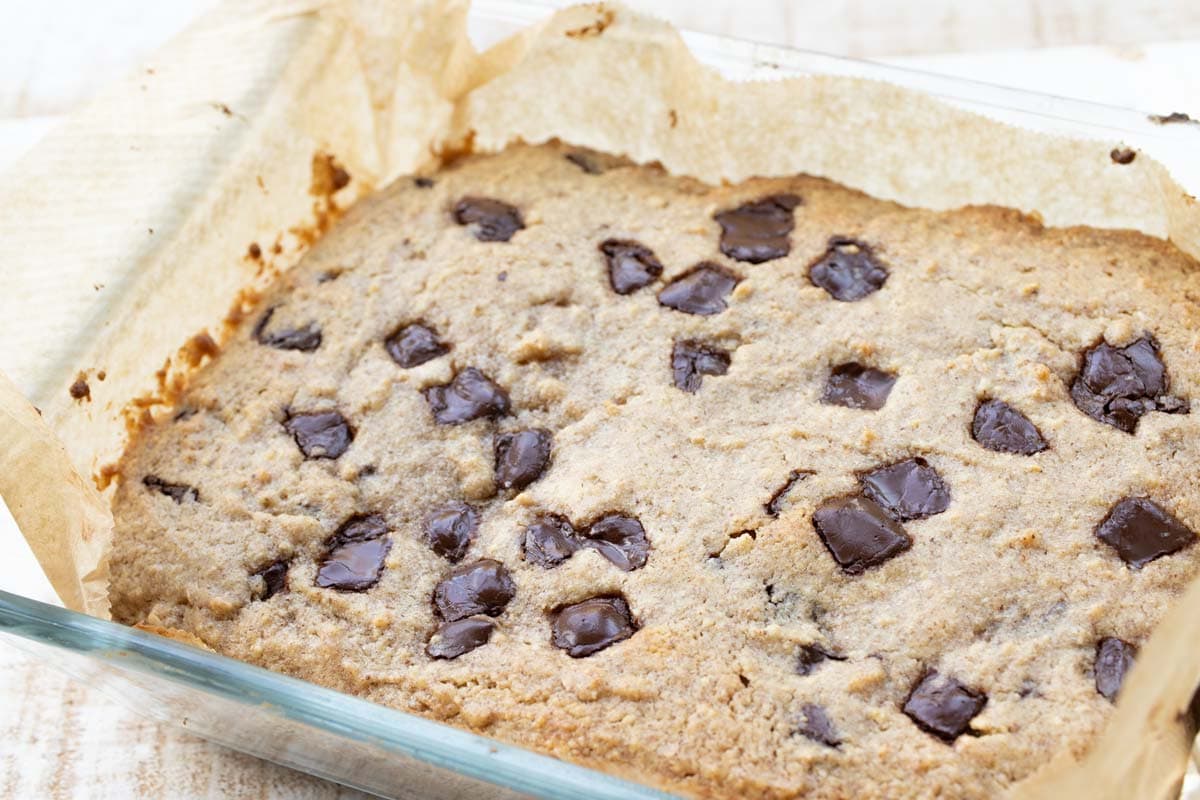 Definitely wait until they have fully cooled before cutting! They will firm up as they cool.
Keto blondies tips
Sugar free chocolate
If you can get hold of sugar free chocolate chips such as Lily's (available in the US), that's great. I simply made my own chocolate chips using 90% Lindt chocolate. I melted the chocolate and then used a pyramid silicone baking mat (Amazon aff link).
You could even make your own sugar free chocolate chips from scratch! This post explains exactly how the silicone baking mat is used, with step by step pictures.
Low carb sweetener
I used a granulated monk fruit erythritol mix in this recipe. A golden erythritol would also be great here. You can replace the erythritol with either xylitol or allulose as well. I suspect that with allulose the blondies would be even softer.
Always taste the batter before baking and adjust the sweetener. I don't have much of a sweet tooth, so you may prefer it a little sweeter!
Peanut butter
Even though these are keto peanut butter blondies, you can totally replace the peanut butter with any nut butter of your choice, such as almond butter. Just make sure it's nice and soft (that counts for the peanut butter as well). You don't want the last hard dregs from the bottom of the pot.
Dairy free keto blondies
To make this recipe dairy free, replace the butter with coconut oil.
Coconut flour blondies
I often get asked how to sub out almond flour in recipes. You can try to replace the almond flour with ⅓ cup / 40g coconut flour and add an additional egg. Coconut flour bakes up more brittle than almond flour and I think it will need the additional binder.
How to store sugar free blondies
Store the blondies in an airtight cake tin on the counter for up to 3 days and in the fridge for up to 1 week. Alternatively, freeze for up to 6 months.
More keto blondies and brownies
Tried this recipe? Give it a star rating below!
★ STAY IN TOUCH on FACEBOOK, PINTEREST and INSTAGRAM for more great food and join my NEWSLETTER for the latest updates and a FREE EBOOK.★
Recipe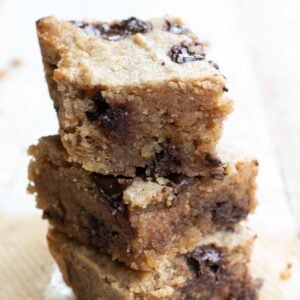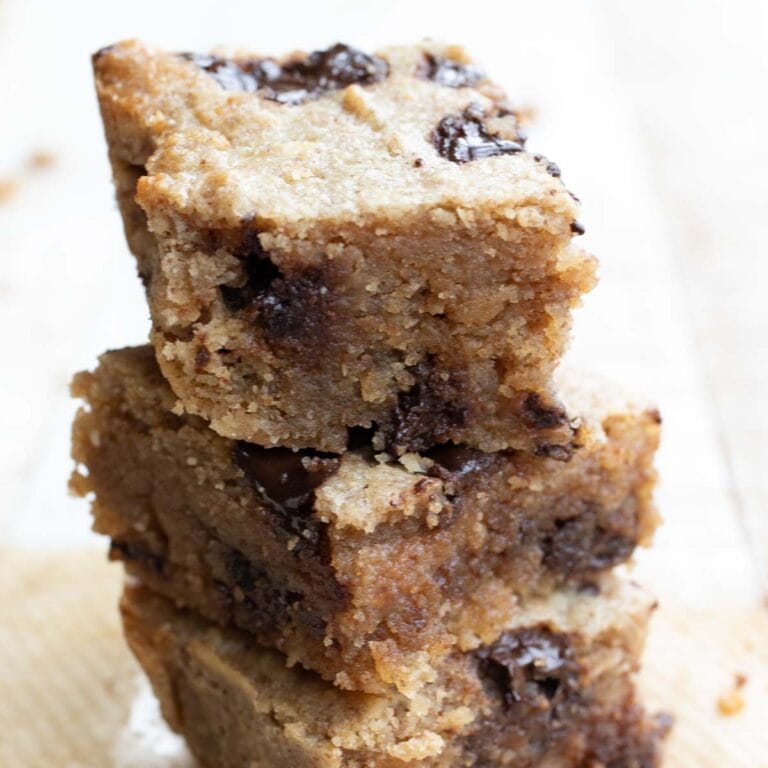 Best Keto Peanut Butter Blondies
from Sugar Free Londoner
These keto blondies have it all - they are ridiculously soft and moist, studded with chocolate chips and packed with gorgeous peanut butter flavour. Even better, you simply stir them together with a fork - no other equipment needed! And last but not least, they are only 2.3g net carbs per serving.
Note: The servings slider only changes the first amount in each line and not any subsequent amounts. Please make your own calculations where necessary.
Instructions
Preheat the oven to 180 C / 350 F and line a rectangular oven proof dish with parchment paper (Mine was 20 x 15 cm / 8 x 6 inch).

Melt the butter and put all ingredients except for the chocolate chips in a bowl. Stir together with a fork. Then, stir through the chocolate chips, holding a few back to scatter over the top.

Fill the batter into the oven proof dish and scatter the remaining chocolate chips over the top.

Bake for 20 minutes or until lightly golden on top. The centre should still be soft and jiggly.

Let cool fully before cutting.
Notes
2.3g net carbs per blondie. Makes 12 peanut butter blondie squares.
Nutrition calculated with Lily's sugar free chocolate chips. If you use 90% chocolate instead, it's 2.5g net carbs per portion. 
Don't over-bake! Keto blondies should still be jiggly in the middle when you take them out of the oven. 
Store in an airtight container at room temperature for 3 days or in the fridge for up to 1 week. Freeze for up to 6 months.   
Nutrition
Serving:
50
g
Calories:
210
kcal
Total Carbohydrates:
4.9
g
Protein:
5.8
g
Fat:
19.7
g
Saturated Fat:
7.2
g
Fiber:
2.5
g
Sugar:
0.8
g
This post contains affiliate links. If you click on one of these links and purchase a product, I may earn a small commission, at no extra cost to you. Thank you for supporting Sugar Free Londoner.