An insanely fruity and refreshing sugar free frozen yoghurt: Crown your meal with a Raspberry Chia Coconut Froyo.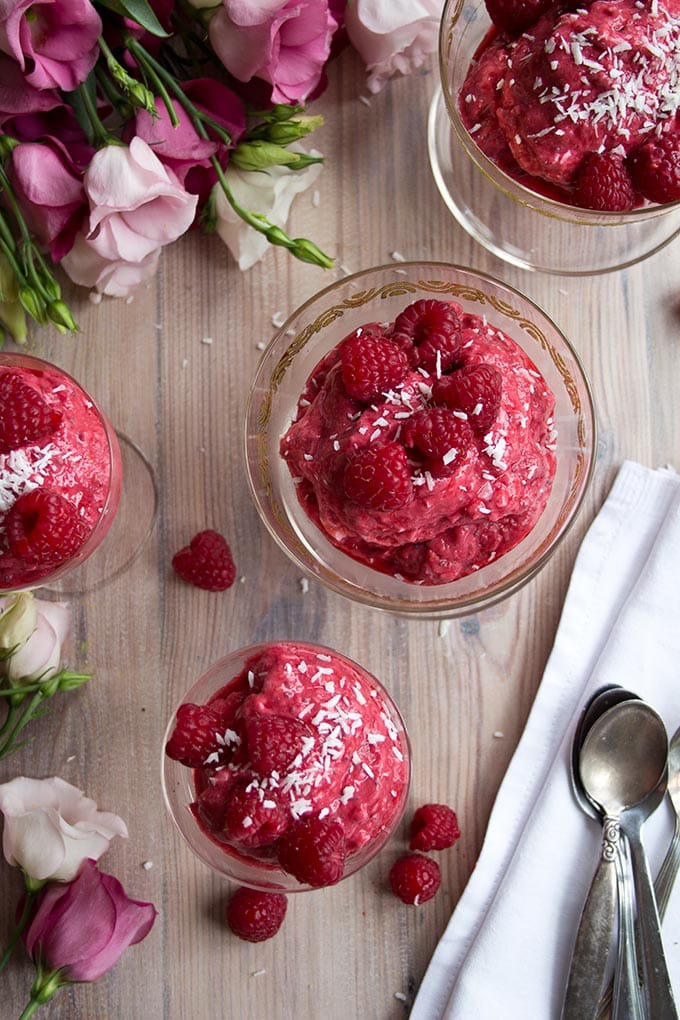 Are you wondering why these pictures look so wonderfully pink and flowery and kitsch? There is a simple reason, friends. I've got wedding on my mind! And love, true love. The real thing; the one that'll last forever.
My avid readers will know that I am not dreaming to get hitched myself - that already happened 2 children and a lot of years ago. No, I've just been to the most beautiful wedding on the shores of Lake Como in Italy. We're talking a ceremony in the mild afternoon sun, held (in English) by an Italian with the most velvety voice and seductive accent ever. A stunning bride in a long lace dress. A handsome groom who arrived by speedboat. Vistas over the lake (impossibly blue) and the mountains beyond (deepest green). Love songs, garlands, flower bouquets. In short, I was in romance heaven.
I have a confession to make. I love crying at weddings. I'm the person in the back dabbing my eyes with a handkerchief, getting swept away on a wave of love. Such a shame weddings don't happen more often!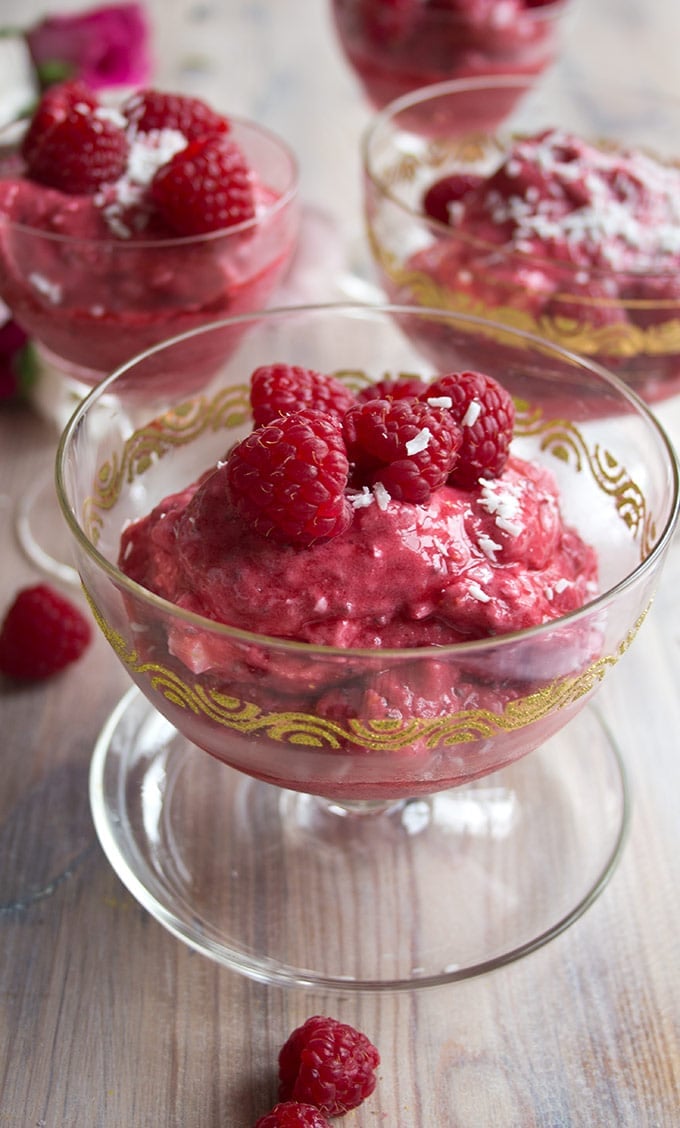 At this one I managed to shed tiny happy tears THREE TIMES! Joke aside, other people's weddings are a wonderful opportunity to let yourself be overwhelmed by those big feelings and share the joy of  the bride and groom without all the hard work and stress beforehand. It lets you relive your own wedding if you've had one already. It lets you sit there in your finery and remember why you married yourself, with a little squeeze of your partner's hand during the ceremony, not minding that it's rather sweaty due to the aforementioned sunny afternoon. Everyday life? What's that. Love is in the air! Real, deep romantic love.
I did not come home and decorated my house with pink roses, sobbing that the dream was over. You've got to trust me on that one, the flowers were a gift from a girlfriend who came over for dinner. They just seemed the perfect colour match for my Raspberry Chia Coconut Froyo. I swear.
Now, let's talk food. Raspberries. Aren't they brilliant little things? I always have a bag in the freezer, to add a handful to my yoghurt or granola in the morning (check out the Peanut Butter Granola). You can make the most incredible sugar free jam with them - such as this Raw Raspberry Vanilla Chia Jam. Create delicious desserts, such as this Raspberry Coconut Fool. And last but not least, the most simple and intensely fruity frozen yoghurt. This dish is so easy it almost makes itself. All you need is a blender, friends and you're ready to go.
You can make this Raspberry Chia Coconut Froyo with regular full fat plain yoghurt if you wish, but this time I decided yo use plain coconut yoghurt (note: this is not coconut flavoured yoghurt, which normally is a sugar trap, but yoghurt actually made FROM coconut, with no added sugars) to add another layer of taste.
I could not resist to indulge in my newly found passion for chia seeds and added a few tablespoons for extra crunch and nutritional goodness. For more info on chia seeds read my post on this Cherry Chia Frozen Yoghurt, where I go into detail about their health benefits.
Raspberries are rather intense and tart on their own, so I added 2 tablespoons of erythritol, which is a natural sweetener made from corn. You could use stevia or xylitol instead, or a banana (very ripe), though this would alter the taste a little.
Enjoy the last glorious days of summer! And never stop believing in true love.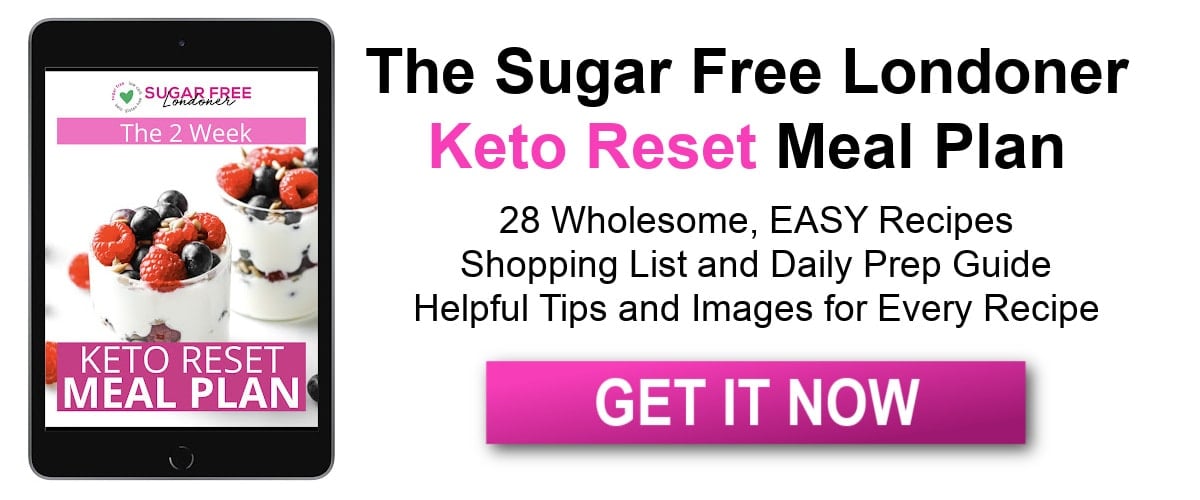 Raspberry Chia Coconut Froyo
from Sugar Free Londoner
A

fruity and refreshing sugar free frozen yoghurt: Crown your meal with a Raspberry Chia Coconut Froyo.
Note: The servings slider only changes the first amount in each line and not any subsequent amounts. Please make your own calculations where necessary. ***As an Amazon Associate I earn from qualifying purchases.
Instructions
Stir the chia seeds into the coconut yoghurt and wait 10 minutes until they have absorbed some of the liquid

Add the frozen raspberries and sweetener and blend until combined

Serve straight away
Nutrition
Calories:
220
kcal
Total Carbohydrates:
18
g
Protein:
5.4
g
Fat:
18
g
Fiber:
10
g