We're knee-deep in autumn, which means it's time for keto pumpkin recipes! This post is packed with 55 fabulous sweet and savoury pumpkin favorites. There's easy low carb pumpkin breakfast recipes, delicious mains, snacks and even drinks. And of course, I've included lots of sugar free pumpkin desserts, from cakes to muffins to cookies.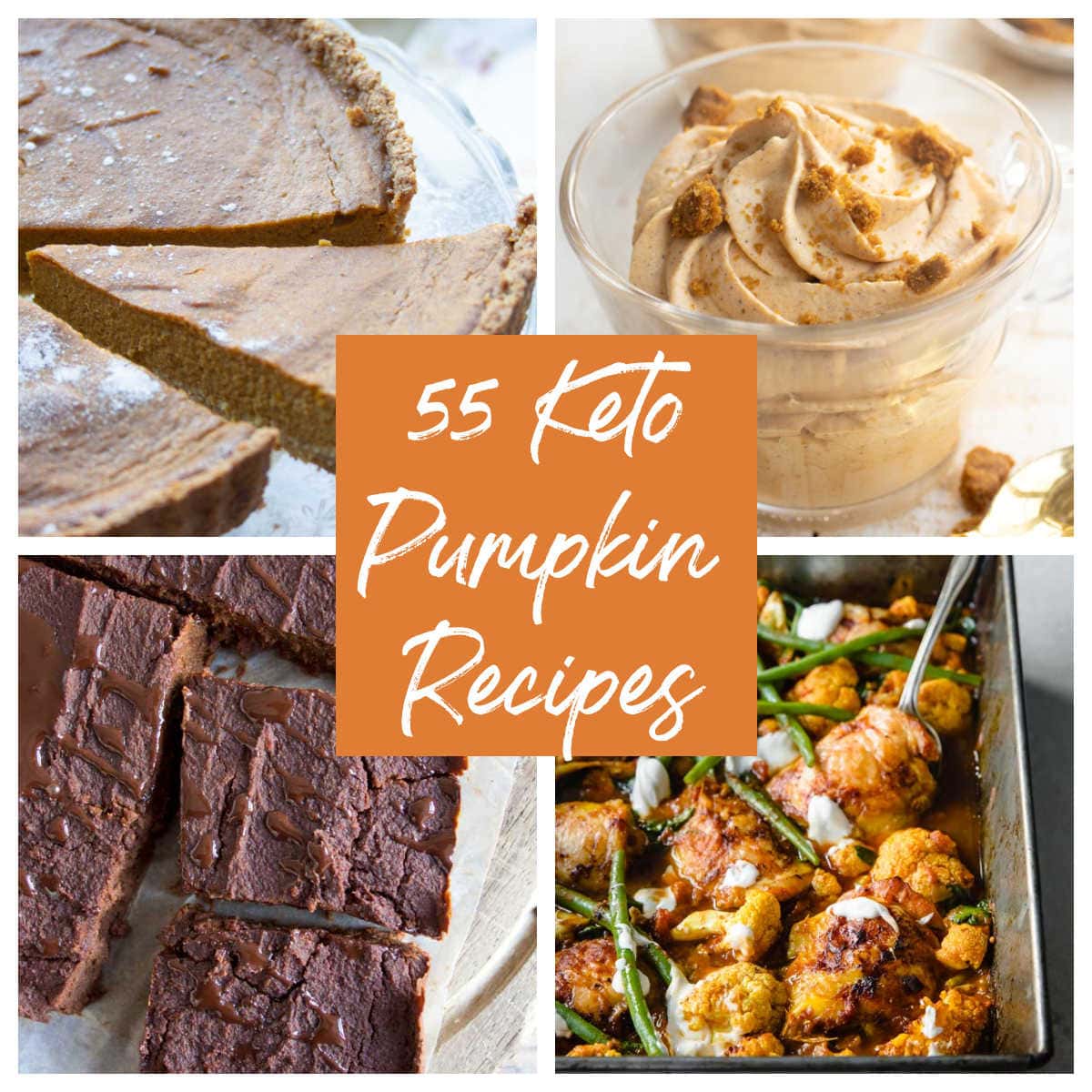 Let's clarify something first:
Is pumpkin keto friendly?
Yes, it is! Depending on the type, pumpkin ranges from 4 to 12 grams of carbs per 100 grams. The regular pumpkin contains 9g net carbs per cup (240g). Considering you probably won't eat that much in a portion, it's a great vegetable for a low carb and a keto diet.
Pumpkin is also super nutritious. It is high in beta carotene, which is good for your eyesight. Also, it is high in antioxidants.
The best pumpkin types
Butternut squash is the most common. It is sweet tasting and relatively high in carbs with 12g net carbs per 100g. I love it, but take care to keep the amount low. 
Other good options are the Muscat squash (4g/100g) and the Hokkaido squash (7g/100g). Spaghetti squash (7g/100g) makes a fantastic pasta sub and I've included some great recipe here.
Spaghetti squash is still tricky to find in some countries. Ocado stocks it during autumn and winter. Or ask your greengrocer 🙂 
How to cook pumpkin
I always stock up on canned pumpkin puree when autumn comes around. But if you can't get hold of it where you live or the recipe requires fresh pumpkin, make sure that it is deep orange in colour with no marks or soft parts.
Here's how to make homemade pumpkin puree:
1 Preheat your oven to 180°C/350°F
2 Cut the pumpkin into two halves, remove the seeds and place flesh down on a baking tray lined with parchment paper
3 Bake for 35-50 minutes (depending on the size) or until soft 
4 Leave it to cool, then scoop out the flesh and mash it into a puree
Homemade pumpkin spice
Want to make delicious keto pumpkin desserts and run out of pumpkin spice? Simply make your own with this spice mix:
2 tablespoon ground cinnamon

2 teaspoon ground ginger

1 teaspoon ground cloves

1 teaspoon ground allspice

½ teaspoon ground nutmeg
Keto Pumpkin Recipes on Sugar Free Londoner
Let's start with a collection of all low carb pumpkin recipes on this website. You can tell that I like pumpkin, right??? First, the ultimate classic:
Low Carb Sugar Free Pumpkin Pie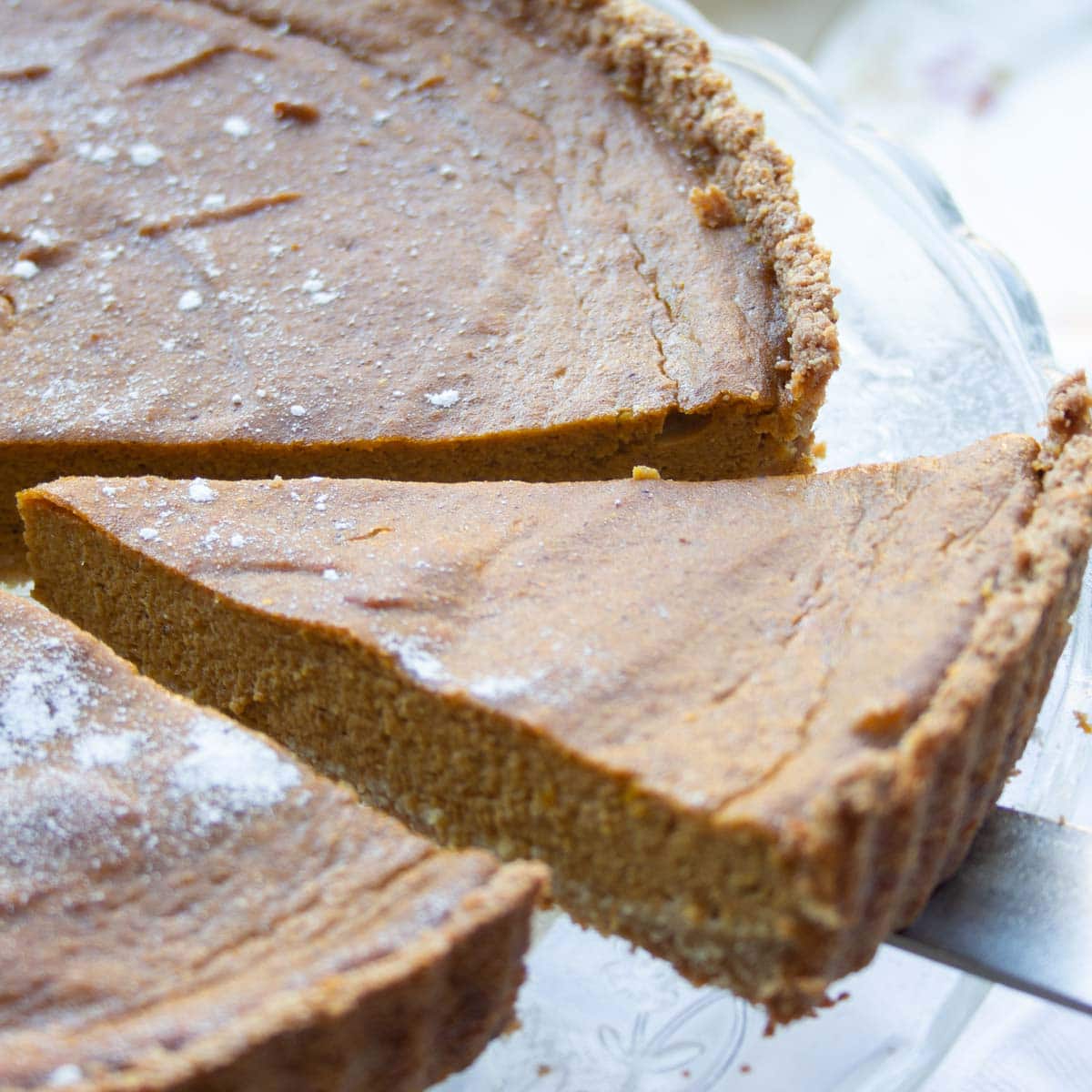 I fell in love with pumpkin pie when I lived in the US as an exchange student. I'm so happy to have a sugar free version to enjoy.
Sweet recipes
Fluffy Low Carb Keto Pumpkin Mousse
Like a cheesecake in a bowl that's ready in just 5 minutes!
This is my go-to low carb porridge recipe in autumn and winter. Creamy, satisfying and filling.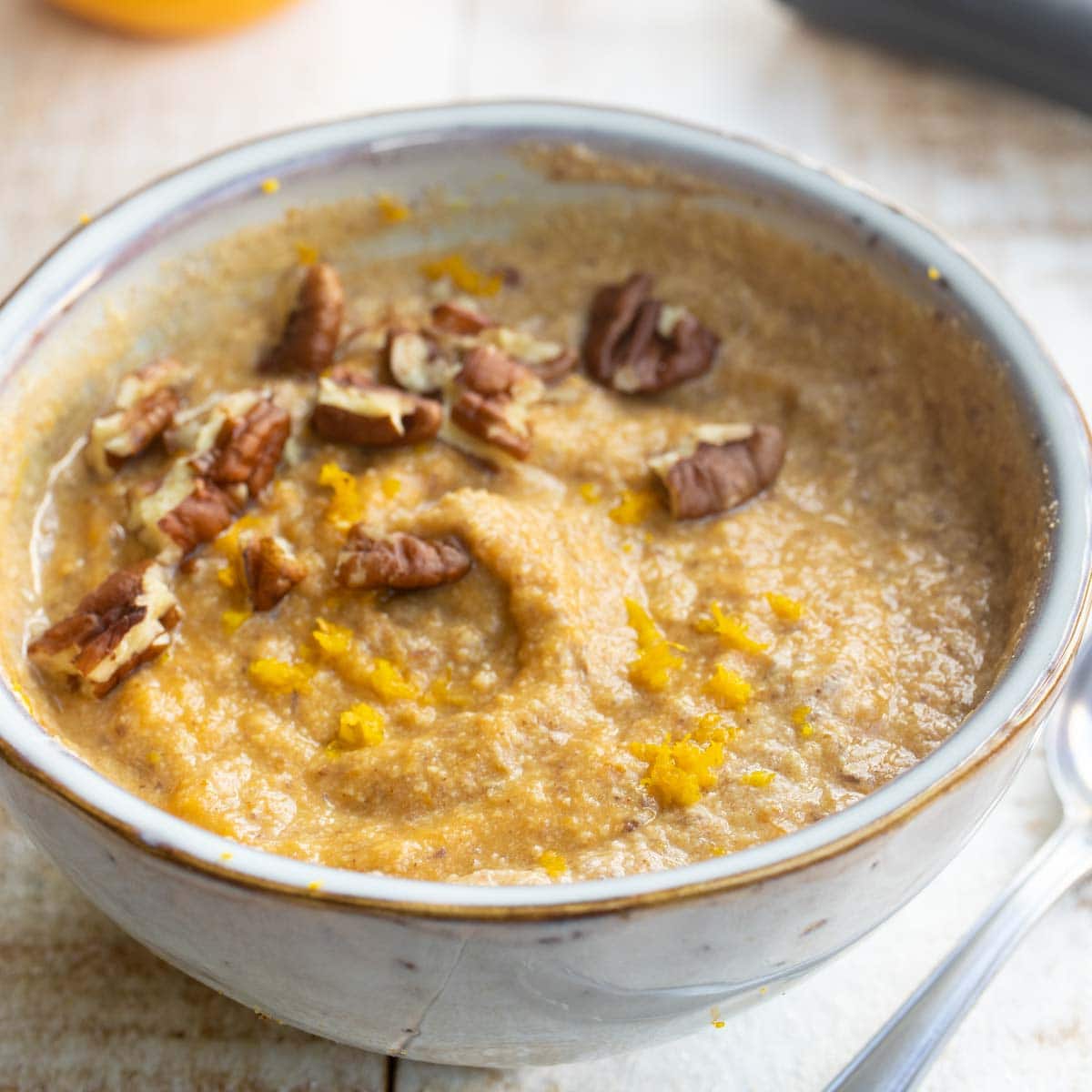 Keto Pumpkin Muffins with Coconut Flour
A great everyday pumpkin muffin for everyone who prefers coconut flour over almond flour.
Keto Pumpkin Cheesecake Muffins
I've taken the pumpkin muffin recipe and upgraded it with a cheesecake swirl. So moist and so good!
Healthy Pumpkin Bars with Cream Cheese Frosting
Because cream cheese frosting and pumpkin are a dream team, these deliciously spiced pumpkin bars are everything you want in a keto dessert. Pure sa-tis-fac-tion!
I've made this cake multiple times for guests. And when I went on a yoga retreat a couple years back (only one I've ever been to but it was fun!), the resident chef baked and served it to everyone in the group. They couldn't believe it it sugar free and low carb!
Low Carb Chocolate Pumpkin Mug Cake
I'm a sucker for mug cakes because I LOVE that you can make them in 5 minutes from start to finish. I'm a mum, I run a business - there are never enough hours in the day. If you make this cake in a dessert bowl, you can invert it onto a plate and share. That's our October date night!
Fudgy Sugar Free Pumpkin Brownies
This was the first keto pumpkin recipe I posted on the blog. Back then, canned pumpkin was difficult to get hold of, even in autumn. I got my can in a little shop that stocks US brands for expats. It's super duper fudgy.

Savoury recipes
A family favourite in our house. This curry chicken dish became a pumpkin dish by accident. I discovered that adding pumpkin puree to the sauce made it taste amazing.
My kids love these chips. You slice the squash very thinly and they will become super crisp.
Keto Pumpkin Recipes by other bloggers
There are so many delicious and creative keto pumpkin recipes online. I have picked some of the best ideas by my blogger colleagues.
Breakfast Recipes 
Pumpkin Cheesecake Breakfast Pockets by Keto Diet App
Keto Pumpkin Pancakes by Kasey Trenum
Pumpkin Breakfast Bars by All Day I Dream About Food
Pecan Pumpkin Breakfast Cookies by My Life Cookbook
Pumpkin Pie Chia Pudding by Low Carb Yum
Pumpkin Noatmeal by That Low Carb Life
Keto Pumpkin Bread by Wholesome Yum
Pumpkin Spice Cream Cheese Danish by Keen For Keto
Mains
Pumpkin adds flavour to soups and sauces and can even be the main star of a dish. If you can get hold of spaghetti squash, try it as an alternative to pasta and potatoes.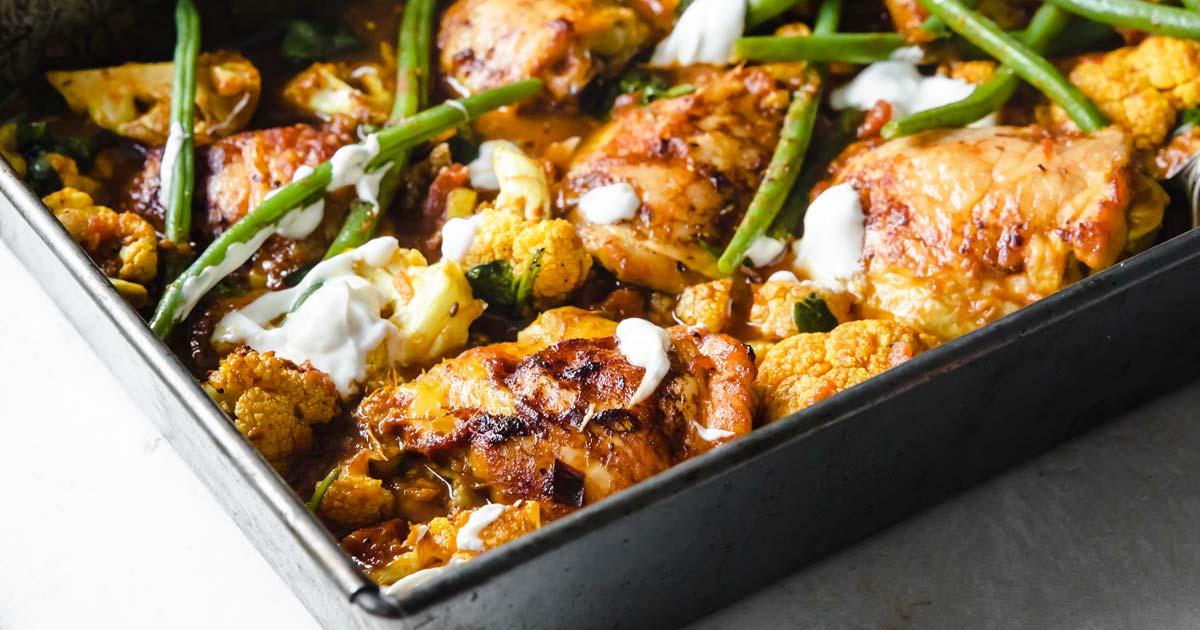 Keto Pumpkin Soup by Joy Filled Eats
Keto Pumpkin and Beef Skillet Ragu by Keto Diet App
Savoury Pumpkin Casserole by Low Carb Yum
Low Carb Cabbage Soup With Pumpkin by Sweet As Honey
Pumpkin Chicken Meatballs by Divalicious Recipes
Southwestern Pumpkin Cheddar Soup by All Day I Dream About Food
Pumpkin Cauliflower Risotto by Divalicious Recipes
Spaghetti Squash Alfredo by Peace Love And Low Carb
Low Carb Pumpkin Cauliflower Mash by Sugar Free Mom
Keto Spaghetti Casserole by Joy Filled Eats
Low Carb Lasagna Stuffed Spaghetti Squash by Hey Keto Mama
Keto Pumpkin Snacks
I know we shouldn't snack. But I still do - I'm only human. Sometimes you just need a little pick-me-up, right? Here are some keto pumpkin recipes to satisfy snack cravings.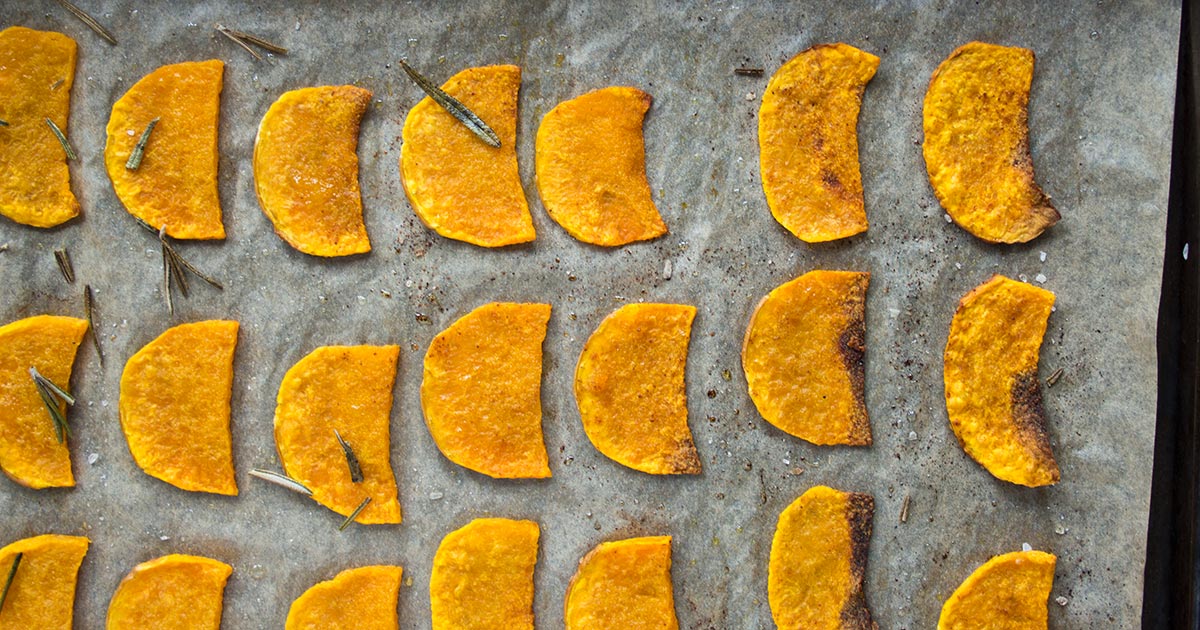 Masala Spiced Pumpkin Seeds Recipe by Ketogasm
Easy Pumpkin Fudge by Low Carb Yum
Pumpkin Energy Bites by My Montana Kitchen
Pumpkin Sticks by Divalicious Recipes
Baked Pumpkin Chips by Kirbie's Cravings
Sugar Free Pumpkin Dessert Recipes
Pumpkin is made to be used in desserts. It works for everything from cakes to cheesecakes to muffins - even ice cream.
Keto Pumpkin Chaffles by Kirbie's Cravings
Low Carb Pumpkin Tiramisu by All Day I Dream About Food
Candied Pecan Pumpkin Ice Cream by Simply So Healthy
Keto Pumpkin Mug Cake by Sweet As Honey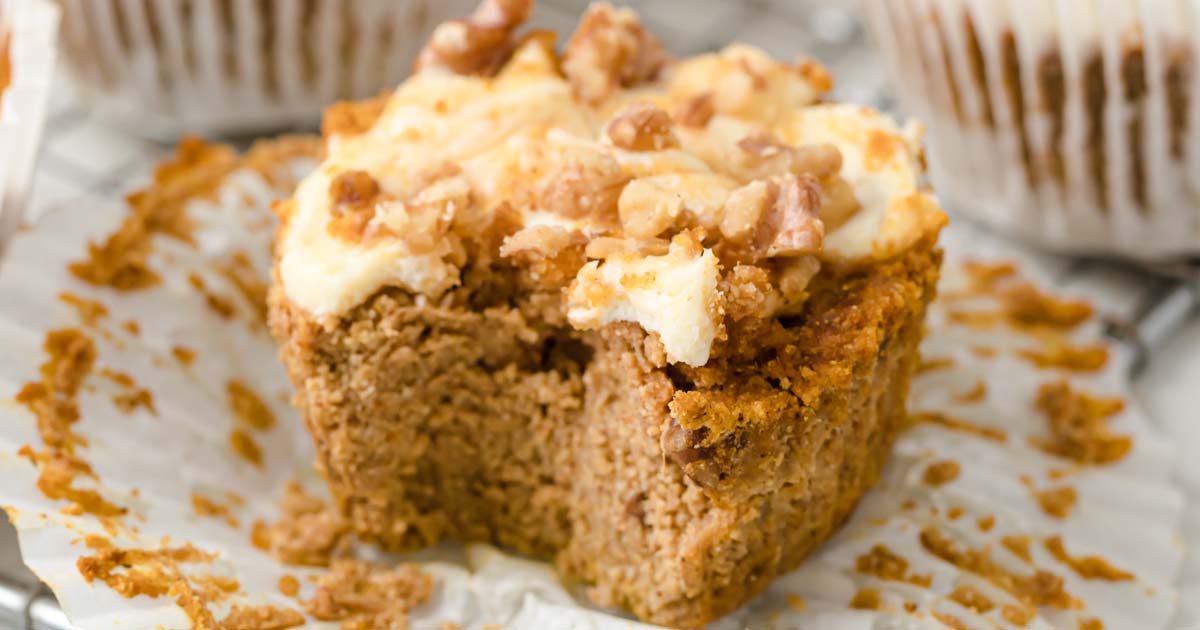 Pumpkin Chocolate Marbled Cheesecake by I Breathe I'm Hungry
Keto Pumpkin Chocolate Chip Cookies by Fat For Weightloss
Chocolate Pumpkin Bread by Sugar Free Mom
Pumpkin Pie Chocolate Fat Bombs by Keto Diet App
Chocolate Pumpkin Sex in a Pan by All Day I Dream About Food
Cookies
What works in desserts ALWAYS works in cookies! Check out these scrumptious morsels:
Pumpkin Pie Snowball Cookies by Beauty And The Foodie
Pumpkin Fluff Fat Bombs by Kasey Trenum
Keto Pumpkin Twists by Sugar Free Mom
Pumpkin Cream Cheese Cookies by Divalicious Recipes
Keto Pumpkin Snickerdoodle Cookies by Ruled Me
Pumpkin Cookie Balls by Maria Mind Body Health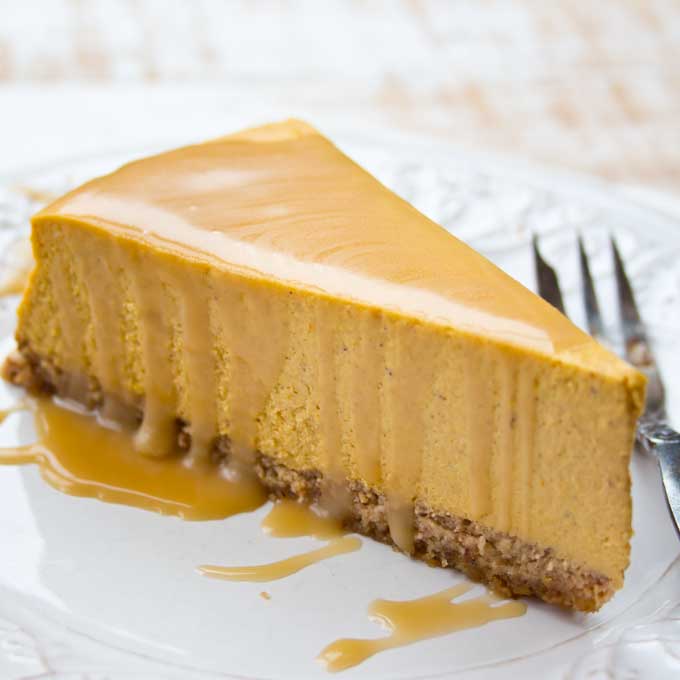 Low Carb Pumpkin Drinks
I make a mean Keto Chocolate Milkshake, and sometimes I like to add a tablespoon of pumpkin puree to it to make it even thicker. Try it - it's just so good. Here are some more keto pumpkin recipes to quench your thirst:
Keto Pumpkin Spice Latte by Gnom Gnom
Pumpkin Spice Frappuchino by Trina Krug
Keto Pumpkin Smoothie by Better Than Bread Keto
Pumpkin Pie Martini by Low Carb So Simple
Pumpkin Spice Hot Chocolate by Perfect Keto
Sugar Free Pumpkin Spice Irish Cream by Divalicious Recipes
Are there any other keto pumpkin recipes you think should be included in this list? Let me know in the comments!