Perfect when you long for chips, but don't want to load up on carbs: Butternut squash chips are a tasty, low carb alternative to potato chips.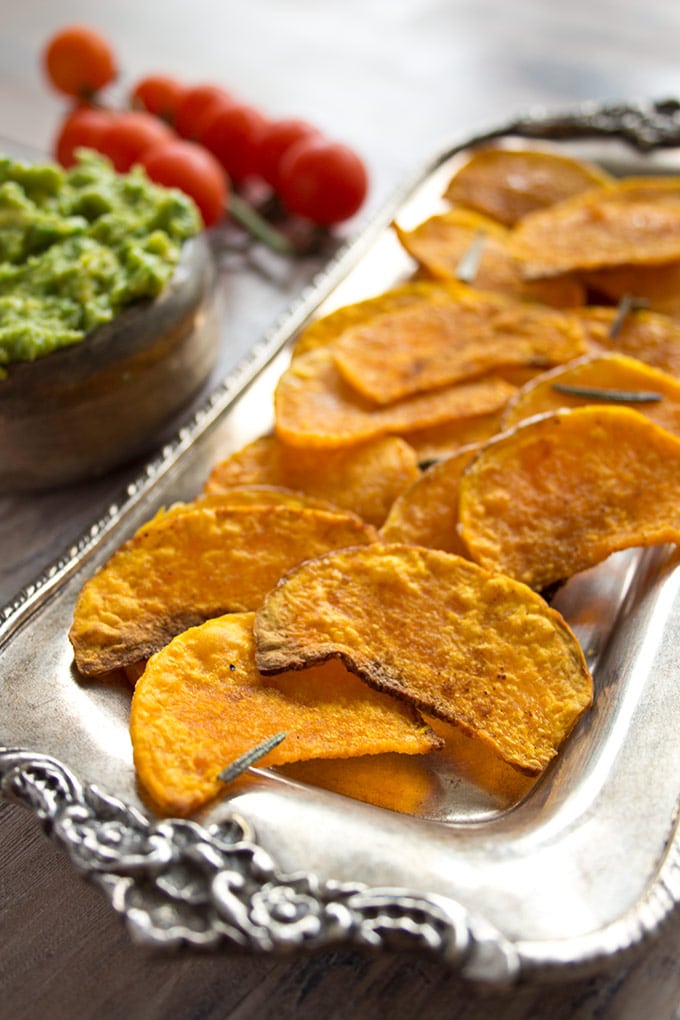 Autumn is on its way and I have comfort on my mind. I'm thinking woolly jumpers and socks (not in bed please! You know who you are!), turning on the fireplace, curling up on the sofa and roasting stuff.
I love making big joints that stay in the oven over night so you end up with super duper tender meat. And I love roasting veggies. Pretty much any vegetable tastes divine when roasted - it really brings out the flavours. From fennel to peppers to red onions, it's just the easiest thing to do. Add salt and oil and herbs and spices and let the magic happen.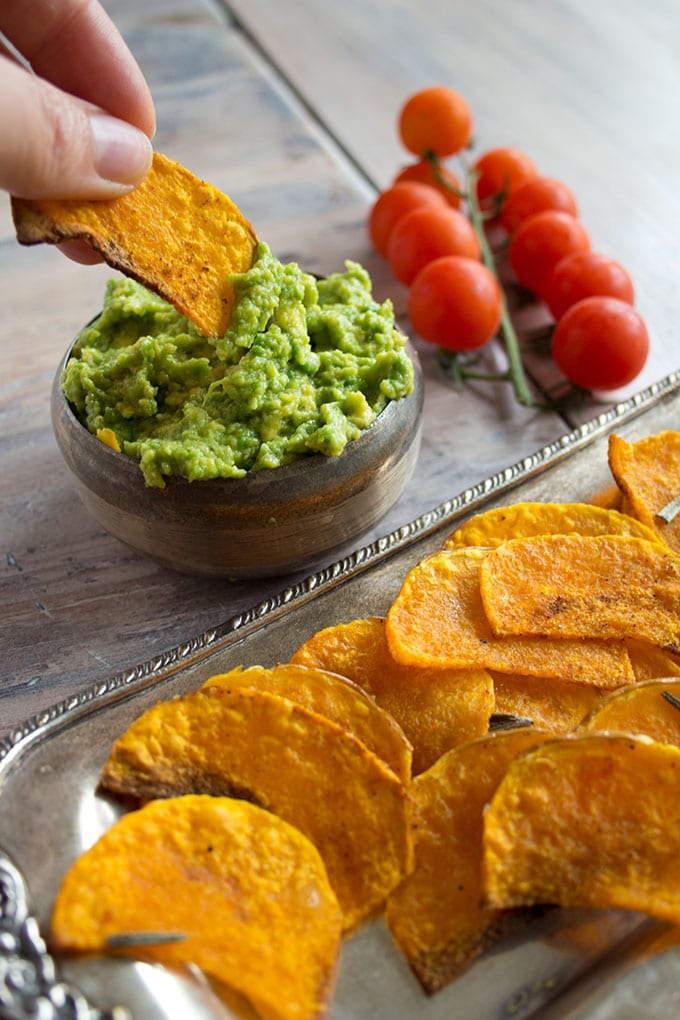 Now, I used to be a BIG fan of roasted potatoes. And of potato crisps, for that matter. But since I'm watching my carb intake, I've been looking for alternatives that are comforting without settling around the waist.
Enter butternut squash chips !
While 100g of potato chips contain almost 50g of net carbs, the same amount of butternut squash chips have only 10g. To put this into perspective for any of you used to cups as opposed to grams, 100g of roasted butternut squash are equivalent to ½ cup.
These crisps are
super easy to make
crunchy
a satisfying snack
sweet and nutty
delicious with a variety of herbs and spices
great for dipping into a quick guacamole (mashed avocado, lime juice, salt, pepper, chopped onions/tomatoes/coriander and chilli if you have it) or a tahini sour cream dip.
Here are my top tips for beautifully crispy butternut squash chips:
It's best to choose a butternut squash with a long, thin neck.
I first tried to slice mine in the food processor and had to halve it to be able to fit it into the opening. The second half I actually sliced by hand, which ended up being much easier.
Be patient and slice your butternut REALLY FINELY and EVENLY!!! This will ensure they're crispy all over.
If your butternut is small enough, you could even leave the slices round.
Whether you want to peel it or not is also entirely up to you. Half of my crisps I baked with their skins on and I found it quite tasty - a little more on the rustic side. One thing less to do and more sofa time for you.
This recipe is so simple that you almost can't pass it off as cooking.
But let me tell you - simple always tastes great!
Looking for more snack ideas that go down well with a glass of something/whilst wearing woolly socks on the sofa? Try my cheese thyme crackers, low carb pretzels or these low carb pizza bites!
Tried this recipe? Give it a star rating below!
★ STAY IN TOUCH on FACEBOOK, PINTEREST and INSTAGRAM for more great food and join my NEWSLETTER for the latest updates and a FREE EBOOK.★
Recipe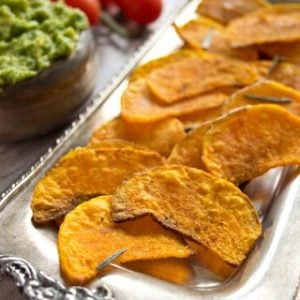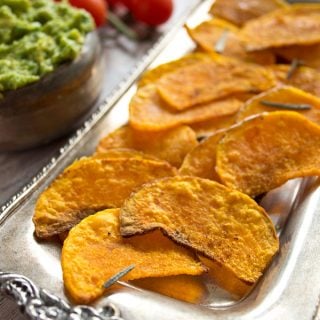 Butternut Squash Chips
from Sugar Free Londoner
A delicious and healthy snack: Butternut squash chips are a tasty, lower carb alternative to potato crisps/chips.
Note: The servings slider only changes the first amount in each line and not any subsequent amounts. Please make your own calculations where necessary.
Ingredients
1

medium butternut squash

preferably with a skinny neck

1

tablespoon

avocado oil

or olive oil

sea salt

to taste

fresh rosemary or thyme sprig

optional: cayenne pepper/paprika
Instructions
Pre-heat oven to 190 Celsius/375 Fahrenheit.

Remove the top of the butternut squash and cut the neck into thin slices. You can do this by hand or with a mandolin slicer. It is not necessary to remove the skins - with the skin on you get s slightly more rustic taste. For larger butternut squash, you might want to halve or even quarter your slices. You're the boss.

In a bowl, rub in the olive oil, making sure that all slices are coated.

Place on a baking sheet lined with baking paper or a silicone baking mat, making sure the slices do not overlap

Season with sea salt and scatter over the rosemary or thyme (or a bit of both). Sprinkle sparingly with cayenne pepper if you'd like a bit of heat. I also seasoned some with paprika, with tasted equally yummy.

Bake for ca 20-25 minutes until the crisps are hardened and browned. THis time will vary depending on how thin your slices are.

Enjoy on their own or with dips
Notes
I actually cut the rest of the squash into slices and baked them as well, after scooping the seeds out in the middle. My kids enjoyed them as "pumpkin wheels" - much more fun to eat than just as boring little squares.
Nutrition
Serving:
60
g
Calories:
83
kcal
Total Carbohydrates:
5.8
g
Protein:
0.5
g
Fat:
7
g
Sodium:
2
mg
Fiber:
1
g
Sugar:
1.1
g