Crispy crunch alert! Try these easy Keto taco shells on your next taco night. We thought they tasted just like real corn tacos. Only 3 ingredients, gluten-free and low-carb!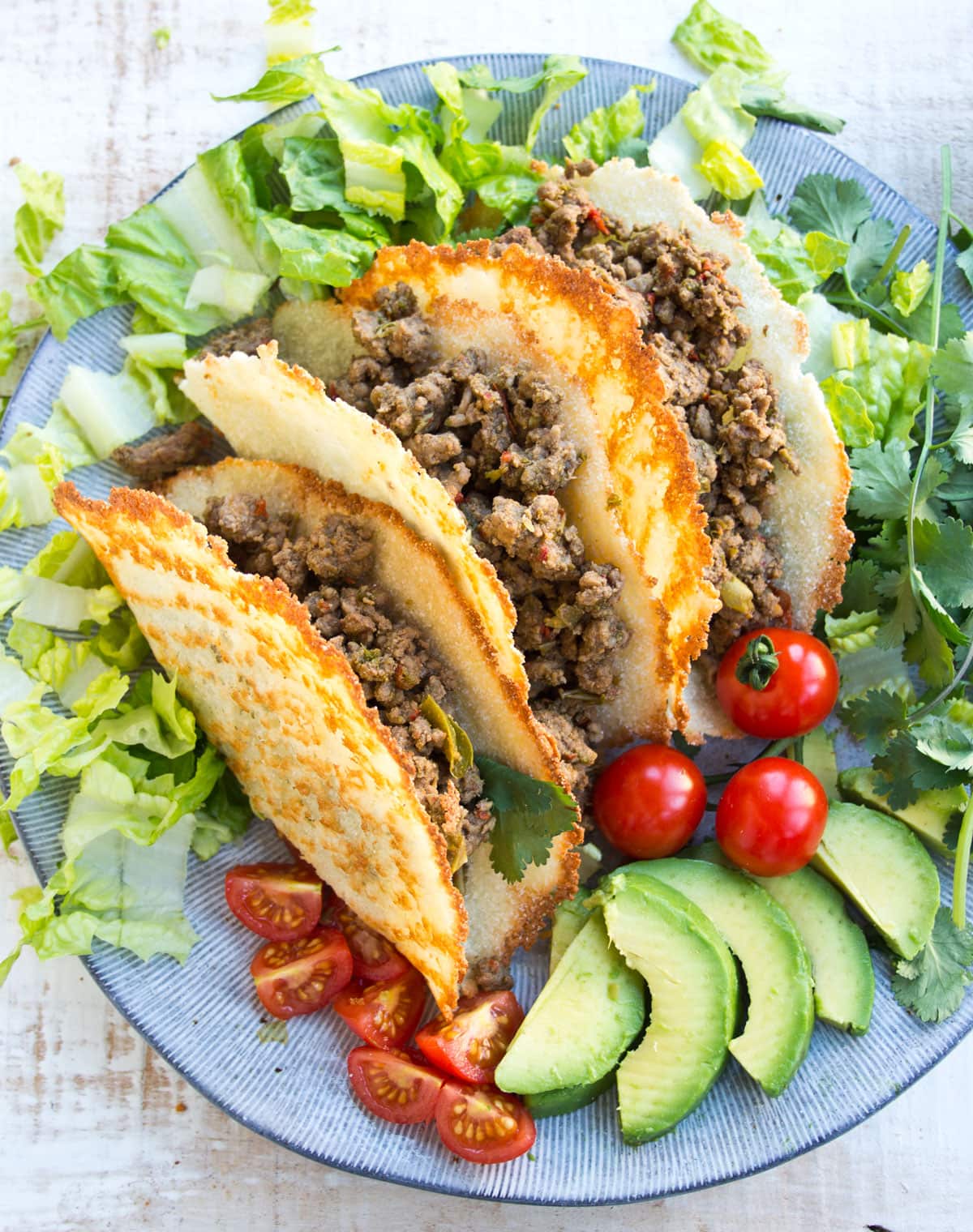 "I tried this recipe tonight and it got 4 thumbs up! 2 from my husband and 2 from me. The perfect amount of crunch and texture, they held together nicely, and the taste was great." (Paula)
I am so excited to share this recipe for extra crunchy, super delicious low carb taco shells. They are SO MUCH CRISPIER than the 100 % keto cheese taco shells that are making the rounds in Ketogenic circles!
Plus, they hold together WAY better. They are the perfect fast food when you are on the keto diet, on par with my keto tortilla chips.
Jump to:
Can you eat corn taco shells on Keto?
Tortillas made from either wheat or corn contain around 45 grams of carbs per 100 grams. One small 6 inch corn tortilla comes in at 12-15 net carbs.
When you're low carb or Keto, you would not want to eat more than one. And considering the doubtful reputation of corn (it spikes blood sugar levels and is often genetically modified), you'd better stay away altogether.
The thing is, EVERYBODY loves tacos. That's why the low-carb community came up with the genius idea to make tacos from cheese.
My Opinion On Cheese Tacos
All you need to do is melt taco-sized circles of grated cheese - cheddar is a favourite - in the oven. As soon as they have browned and then cooled enough, you hang them over the rim of a bowl or pan. This way, the cheese cool sand firms up into a taco shape.
Cheese tacos taste good. But I have always found they are NOT CRISPY ENOUGH. Plus, they feel a bit greasy.
The solution? This keto taco shell recipe! It contains cheese - but also a few other, essential ingredients.
Ingredients
Here are the 3 ingredients you need to make crispy low carb taco shells: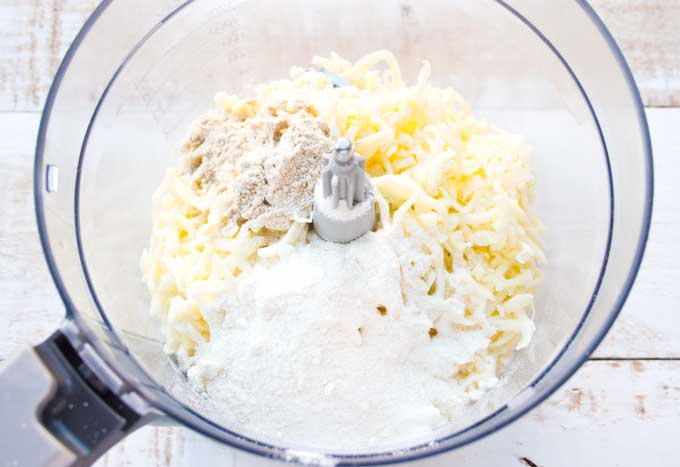 Mozzarella cheese
Coconut flour
Psyllium husk powder
That's it!
The mozzarella binds everything together and makes the tacos sturdy.
And both the coconut flour and the psyllium husk powder absorb any moisture and add crunch. They provide a texture that is similar to real corn tortillas.
See the recipe card for full information on ingredients and quantities.
Step By Step Instructions
It really is super simple to make keto taco shells. Here are the basic steps.
For a detailed method, scroll down to the recipe card.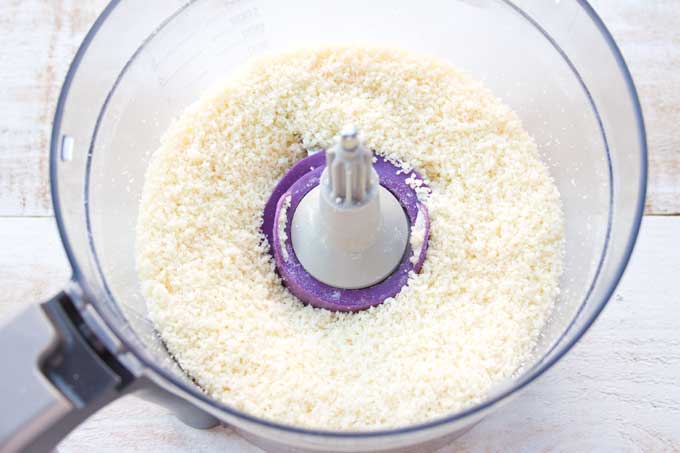 Step 1: Put the mozzarella, psyllium powder and coconut flour into a food processor or bowl. Blend until the mixture resembles small crumbs. Take your time with this so the mozzarella is really fine.
Blending instead of melting the mozzarella as you would in Fathead dough saves you having to roll out the dough!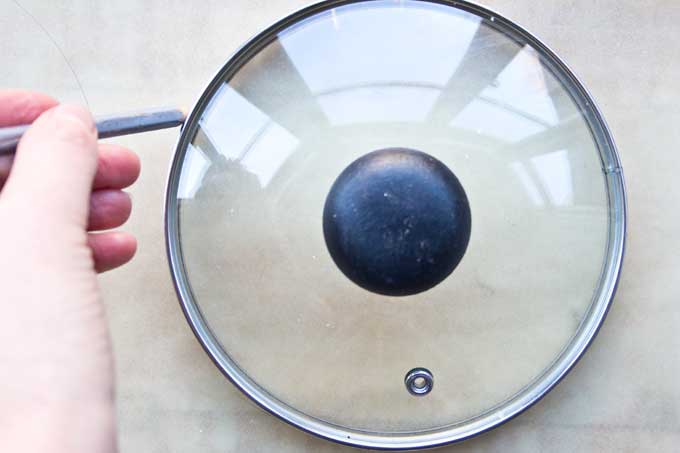 Step 2: Draw seven circles (15 cm / 6-inch diameter each) onto parchment paper using a prop such as a small saucepan lid. And yes - I am left-handed.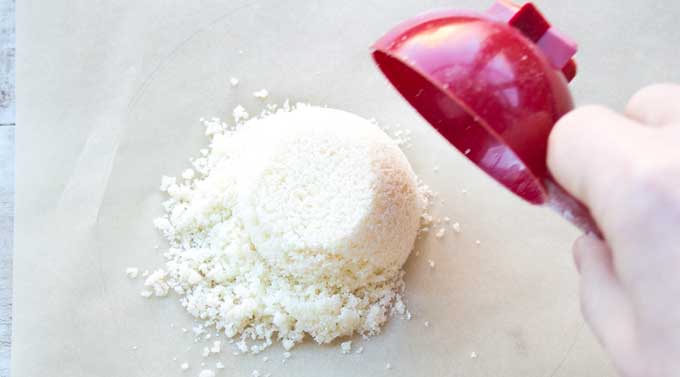 Step 3: Using a ¼ cup, scoop the mix into each of the circles. (Around 34 grams per circle).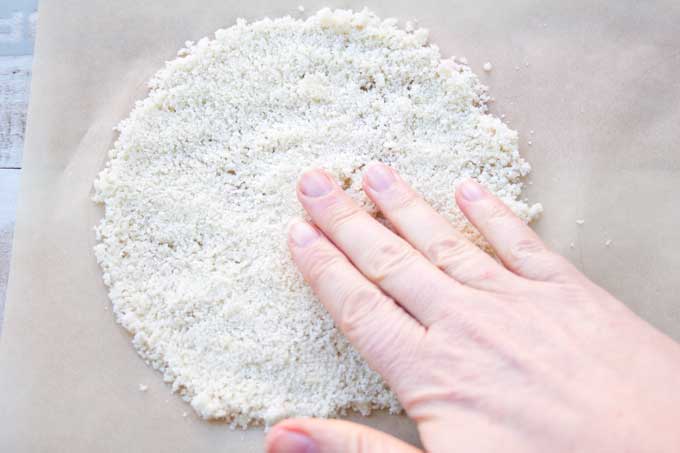 Step 4: Spread out those crumbs within the circle.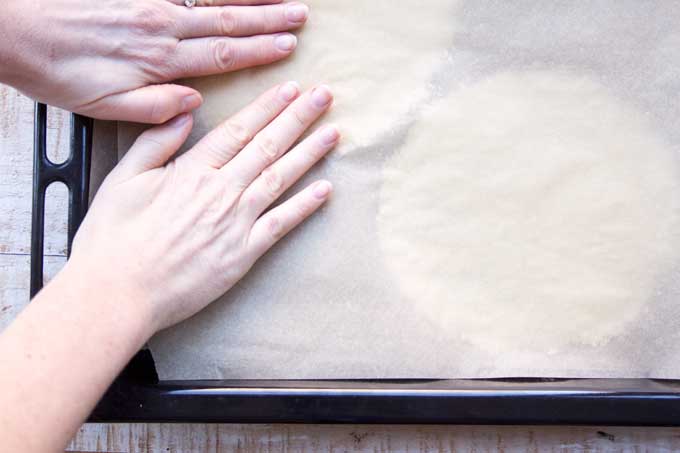 Step 5: Place parchment paper on top and flatten the Keto taco dough with your hands or with a rolling pin. Press down really well!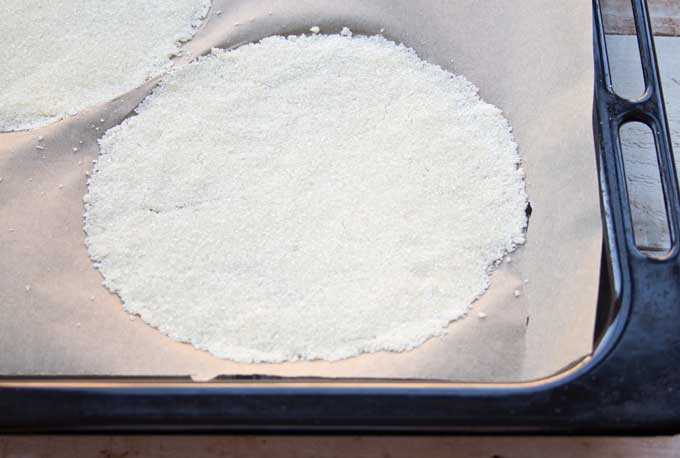 Step 6: ....and when it looks like a uniform circle of dough it can go in the preheated oven.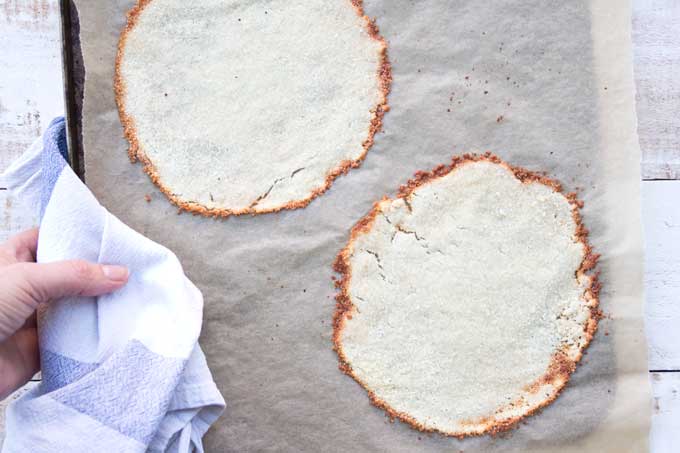 Step 7: Bake the taco shells for around 7 minutes, or until they are golden brown around the edges. The top is still light in colour, but the underside will be browned as well (see image below).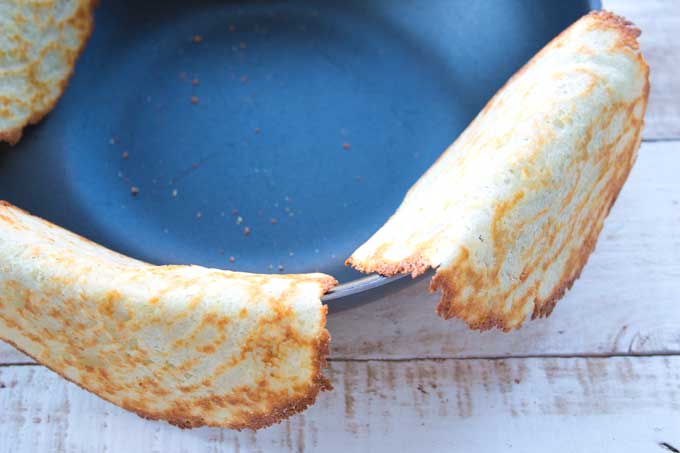 Step 8: Don't wait! Pick up the shells whilst they're still hot and place them over the rim of a large frying pan. Leave them to cool into awesomely crispy shells!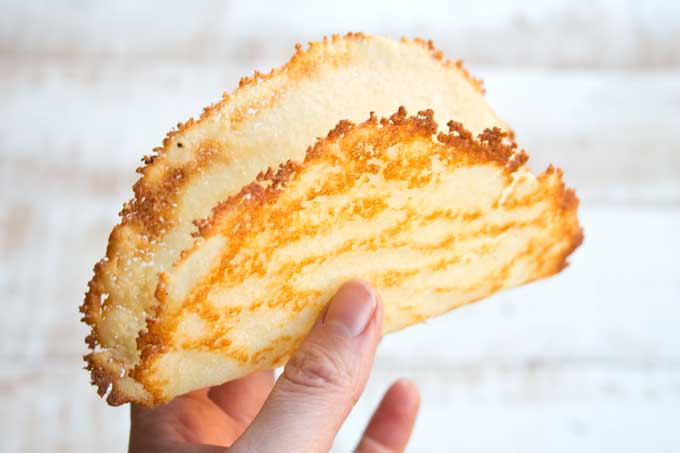 And we are done! What filling would you like in this beauty?
Expert Tip
You have to work quickly! As soon as the tortillas are cool enough to touch - about 10 seconds - and drape them over the pot/large bowl. If you wait too long, as soon as they cool they'll break when you bend them.
Variations
Feel like a bit of spice? Add one teaspoon of cumin and a pinch of chilli to your dough. Garlic powder or onion powder would also match well.
Try a different cheese: I have not tried this myself, but you could use cheddar cheese instead of mozzarella. Cheddar becomes more liquid than mozzarella when hot, so you may have to wait a little longer for the shells to cool before you can lift them.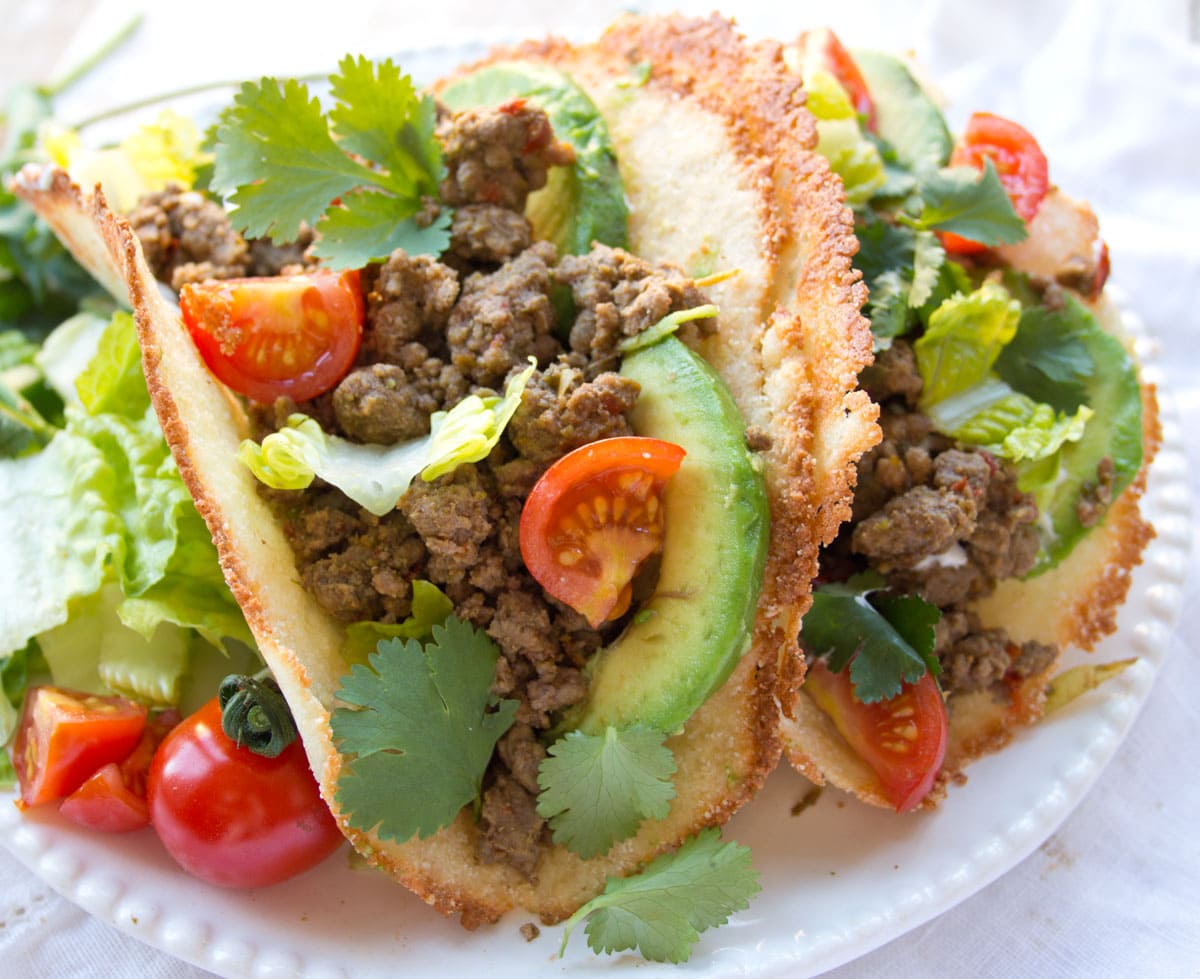 Recipe FAQs
What else can I cool the keto taco shells on?
If you don't have a large pot or bowl, place an oven rack over the sink. Drape the tortillas between the bars of the rack so the sides hang down and form the taco shape. Or, hang them over a spoon or spatula handle.
How can I make these dairy-free?
You can try using dairy-free mozzarella. However, I find that vegan cheeses do not melt as well as dairy cheese. You may need to use more of it and it may change the texture of the shells.
Can I use almond flour instead?
Yes. I would use ¾ cup or 75 grams of almond flour instead of coconut flour.
Can you make them in advance?
These shells are best enjoyed on the same day. That's when they are at their crispiest.
Serving Suggestion
My first suggestion is, of course, taco meat! I have instructions on how to make awesome ground beef for tacos in my keto taco seasoning post. Top with sour cream, tomatoes, avocado, salsa and cilantro.
Tip: If you want to save time, why not make your ground beef or taco meat of choice the day before instead? I find that beef dishes always taste better the day after, once the flavours have had time to mingle and develop.
Here are more keto-friendly filling ideas: How about cheese bacon & this easy guacamole recipe, shredded chicken or a fiesta taco salad with avocado and tomatillo salsa?
Storage
You can store them in an airtight container on the kitchen counter for a day or a few days in the fridge. They will still hold your taco fillings, won't get soggy and taste perfectly fine. However, they do lose some of their crunch.
I do not recommend freezing these taco shells.
Reheating
You can carefully reheat them in the microwave. Give them a quick blast only, because they'll soften and will eventually stick together.
I microwaved one for 10 seconds on one side, then turned it over and gave it another 5 seconds. This warmed up the taco without making it collapse.
Of course, you can also reheat the keto taco shells in the oven by draping them upside down over the bars of an oven rack.
More Keto Mexican Recipes
If you love Mexican food, you'll also like these keto recipes:
Tried this recipe? Give it a star rating below!
★ STAY IN TOUCH on FACEBOOK, PINTEREST and INSTAGRAM for more great food and join my NEWSLETTER for the latest updates and a FREE EBOOK.★
Recipe
Crispy Keto Taco Shells
from Sugar Free Londoner
These are the crispiest low carb Keto taco shells you'll ever taste! They're easy and quick to make and contain only 1.1g net carbs per shell. Load in your favourite taco filling and enjoy on Taco Tuesday!
Note: The servings slider only changes the first amount in each line and not any subsequent amounts. Please make your own calculations where necessary.
Instructions
Preheat the oven to 175 Celsius / 350 Fahrenheit.

Mix all ingredients in a food processor or with an electric mixer until they resemble small crumbs.

Line a baking sheet with parchment paper. Draw circles of 6 inch / 15 cm diameter on the parchment. I traced around a small saucepan lid, but you can use any round object that size.

Scoop ¼ cup of the taco shell mix onto each circle and spread out inside the circle.

Place a second parchment paper on top and press down the dough with your hands or use a rolling pin. Press down well - you want it nice and compacted.

Remove the top parchment paper and bake in the oven for 7 minutes or until the edges of each taco have browned.

Remove from the oven and hang each taco shell over the side of a large saucepan until cooled.
Notes
1.1g net carbs per taco shell. Makes 7 shells. Nutrition is calculated per 1 taco without filling. 
For an extra kick add spices such as cumin or chilli to the mix. 
If you don't have a large pot, place an oven rack over the sink. Drape the tortillas between the bars of the rack so the sides hang down and form the taco shape. 
The recipe works with just mozzarella, but the psyllium and the coconut flour make your keto taco shells extra crispy and super sturdy.
I think 2 tacos filled with cumin spiced ground beef, avocado, tomato, lettuce, coriander/cilantro and sour cream make a filling meal (unless you're a teenager - my son is 15 and he ate 3). 
Nutrition
Serving:
23
g
Calories:
103
kcal
Total Carbohydrates:
3.3
g
Protein:
8
g
Fat:
6.3
g
Saturated Fat:
4.1
g
Fiber:
2.2
g
Sugar:
1.1
g