These keto tortilla chips are crispy, crunchy and perfect for dipping! They taste just as good as the real thing, but with a fraction of the carbs. Low carb tortilla chips are an absolute dream team with guacamole. But they are also great for nachos!!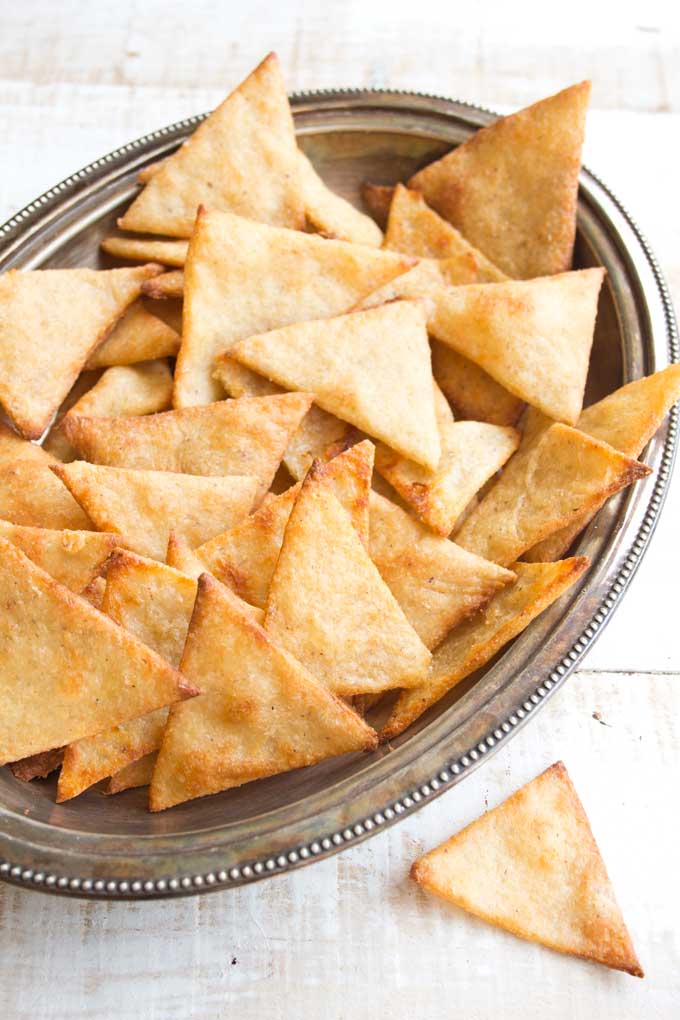 I don't really have a sweet tooth. I have a salty tooth.
Don't get me wrong. Desserts are great, especially anything that contains dark chocolate, like these Keto brownies.
But something that's salty and crispy?
Goosebumps all over, razor-sharp focus.  Get it, hog it, eat it. It's like a primal instinct.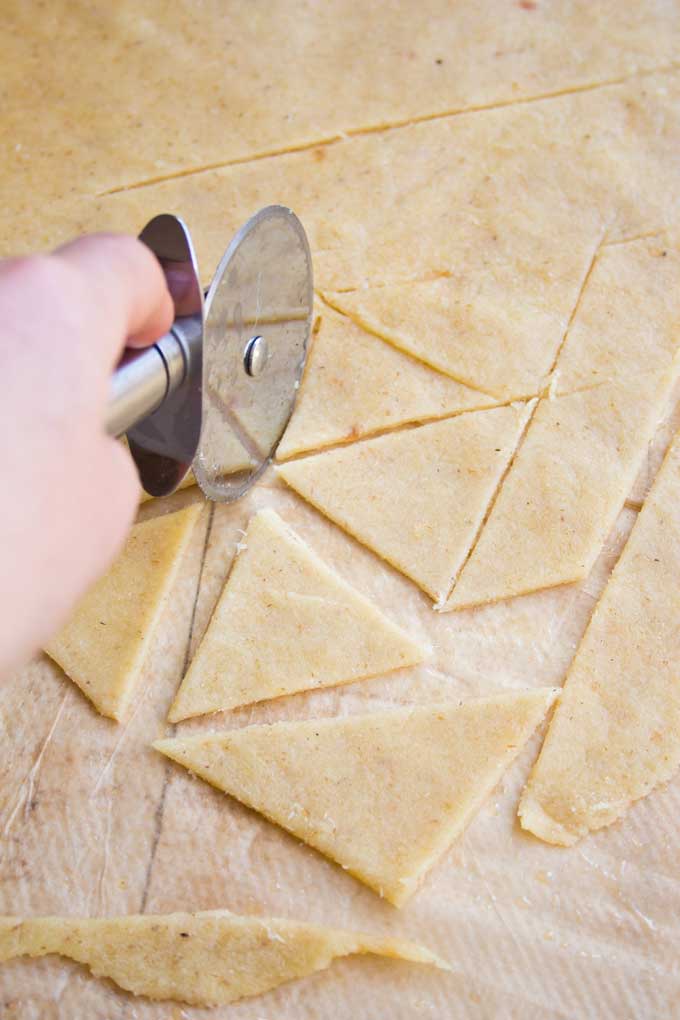 Pre-low carb, I was a big Dorito fan.  When we had a bag around the house, I'd make sure nobody else would find it. It was just too precious to share!
I don't really want to go into detail about all the bad stuff that make Doritos taste so good, from evil artificial flavourings to inflammatory vegetable oils to sugar (!!!), and ruin some great memories. It would be absolutely lovely if processed foods would nourish our bodies and help us look younger every day.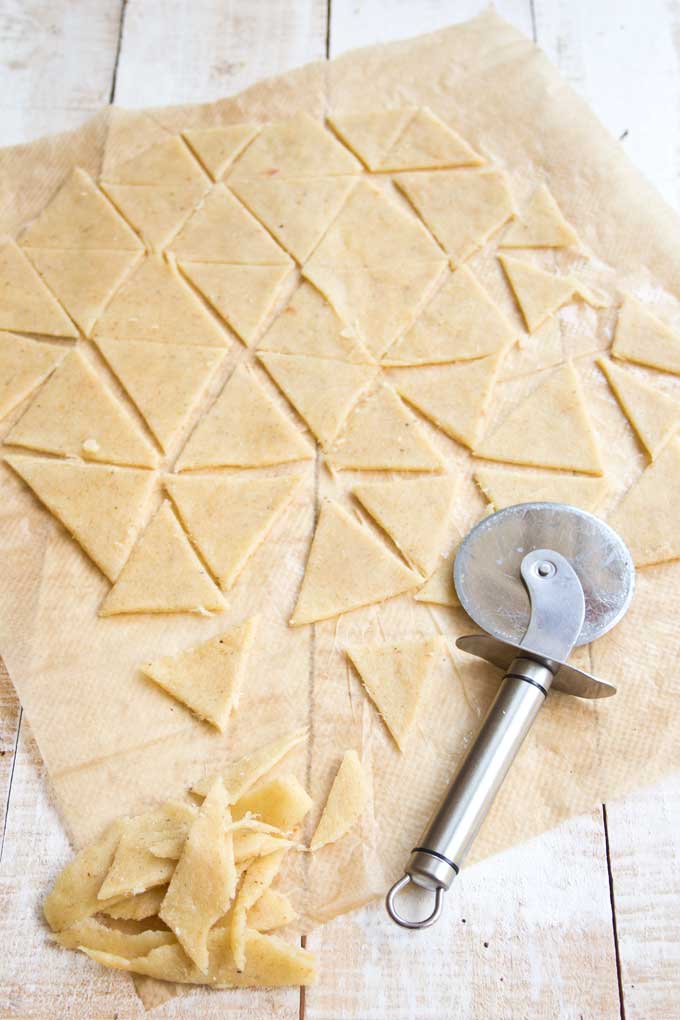 This recipe is an adaptation of the wildly popular Fat Head dough – you can read all about its origins in my post about these grain free pretzels.
Fat Head dough uses mozzarella as a base, which, together with a nut flour such as almond or coconut, produces an absolutely delicious and versatile dough. I'm using it in this Keto Garlic Bread, my Keto Bagels and an ingenious version of it in my crispy low carb Keto taco shells.
The secret to successful keto tortilla chips is to roll the dough out SUPER-THIN.
Roll it, check it, and when you think you're finished, roll it some more. If your dough is not thin, your tortilla chips won't be as crispy.
I've added psyllium husks, which helps bind the dough together and makes the chips crispier.
What is the difference between psyllium husks and psyllium husk powder?
Psyllium husks look like tiny sticks – kind of like a coarse powder. Psyllium husk powder is very, very finely ground and twice as absorbent.
If you choose to use psyllium powder, make sure you use no more than 2 tsp or the dough will become too firm.
Expert tip: Roll the dough out between 2 sheets of baking paper.
It makes life so much easier because nothing can stick!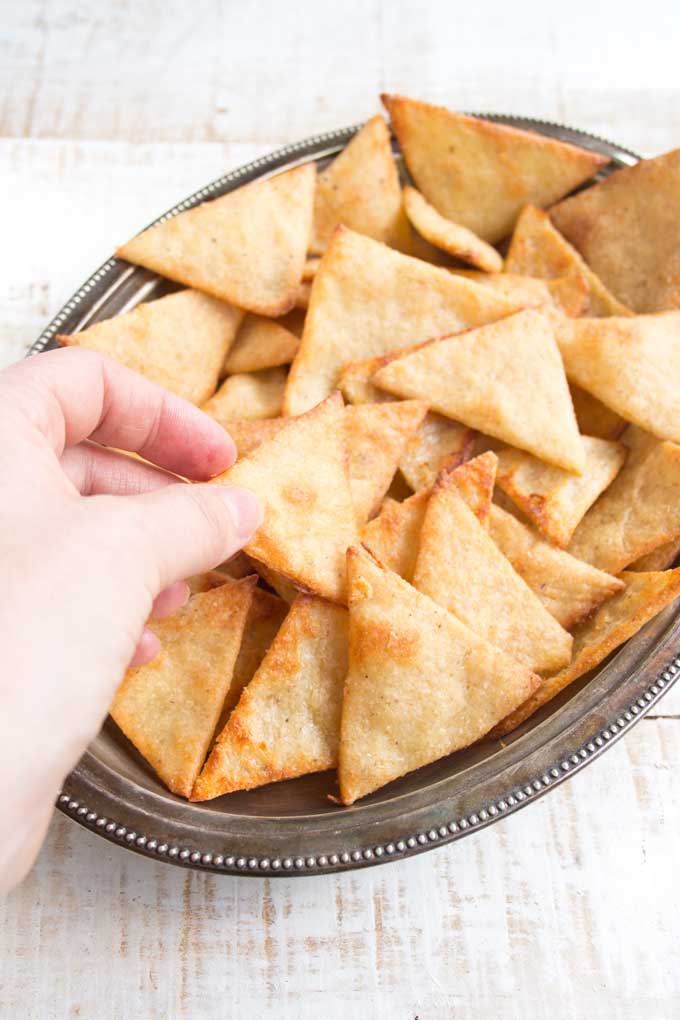 Keto tortilla chips aren't just as good as Doritos.
They actually taste BETTER! They are deliciously crispy, cheesy-spicy (you can adjust the spices to taste – even only a pinch of salt works) and an absolute dream with guacamole.
Next time, I want to use them to make a loaded nachos platter. I'm salivating just thinking about it!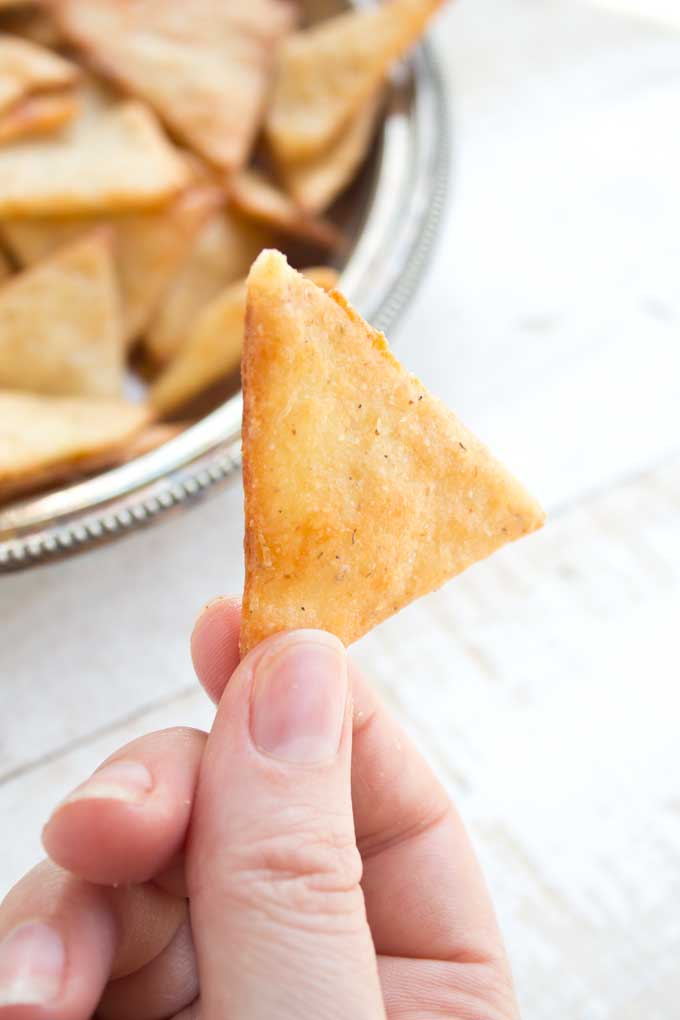 Baker's note: Don't throw out the dough scraps that aren't perfect little triangles! I stuck them in the oven at the end – they taste just as good 🙂
Don't miss these amazing cheesy snack recipes:
And if you are feeling a little hungrier, why not try my 4 Ingredient tortillas! They are very versatile and can be used for quesadillas, burritos or simply as a low carb wrap – just add your favourite filling!
Tried this recipe? Give it a star rating below!
★ STAY IN TOUCH on FACEBOOK, PINTEREST and INSTAGRAM for more great food and join my NEWSLETTER for the latest updates.★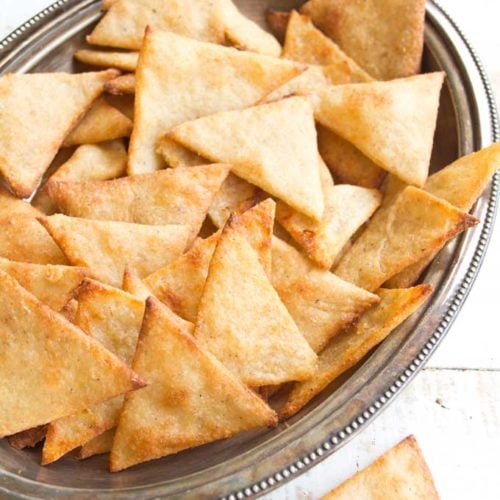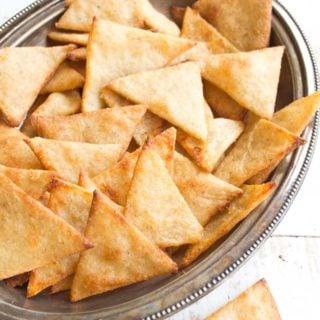 Keto Low Carb Tortilla Chips
You only need 3 main ingredients to make these low carb keto tortilla chips. If you roll them out thinly, they become really crunchy. My kids thought the tasted much better than Doritos 🙂
As an Amazon Associate I earn from qualifying purchases.
Ingredients
200

g / 2 cups

pre-shredded mozzarella

75

g / 3/4 cup

almond flour

ground almonds work well too

2

tbsp

psyllium husk

or 2 tsp psyllium husk powder

pinch

salt

optional:

1/4 tsp each

garlic powder/onion powder/paprika
Instructions
Heat your oven to 180 Celsius / 356 Fahreheit.

Melt the mozzarella in the microwave (ca 90 sec-2 min). Alternatively, heat gently in a non-stick pot.

Add the almond flour/ground almonds and psyllium husk plus the salt and spices, if using. Stir until combined, then knead until you have a smooth dough.

Separate the dough into 2 balls and roll out between 2 sheets of baking/parchment paper. Roll out as thinly as possible! The thinner, the crispier your tortilla chips will turn out.

Cut into triangles (I used a pizza cutter) and spread out on a sheet of baking paper so the tortilla chips don't touch.

Bake 6-8 minutes or until browned on the edges. Baking time will depend on the thickness of your tortilla chips. I baked mine in 2 rounds, plus a third round for the off-cuts.
Notes
My tortilla chips weighed around 5-8 grams each and the batch made around 40 chips. 
I'd say if you have a couple of dips, they would be enough for 8 people as a nibble/appetizer (or 4 people if it's more the main attraction of the evening). 
Nutrition is calculated on the basis of 8 servings (5 tortilla chips per serving).  
If you don't have psyllium husk, use 2 more tbsp of almond flour instead. 
UPDATE >> A reader who made these pre-cut the tortilla chips, but did not separate them by hand. They separated on their own whilst in the oven. I have not tried this myself yet, but will do when I make my next batch! 
Nutrition
Calories:
143
kcal
Total Carbohydrates:
4.8
g
Protein:
8.3
g
Fat:
9.2
g
Fiber:
2.9
g
Sugar:
0.6
g
This post contains affiliate links. If you click on one of these links and purchase a product as a result, I may earn a small commission. This money goes towards the running costs of this website. Thank you for supporting Sugar Free Londoner.