This Keto carrot cake recipe is so quick and easy to make! It's soft, delightfully moist and will fill your kitchen with the gorgeous aroma of warm spices. Top this carrot mug cake with cream cheese frosting and enjoy a delicious low carb dessert that's ready in only 10 minutes!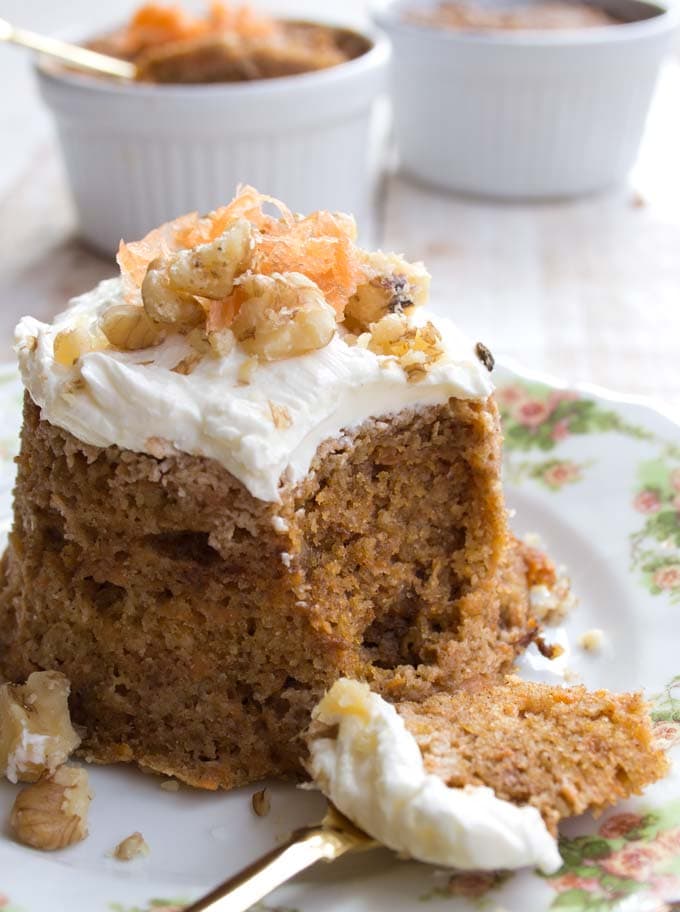 Jump to:
I've gotta say, I love carrot cake. And I love my microwave. I still don't stand in front of it while it's on, just in case. But it has made my life SO MUCH EASIER. Heating stuff? Check. Defrosting stuff? Check. Mug cakes? Check, check, check!!
I've made a bunch of yummy gluten free mug cakes in my microwave which you MUST try (links are at the end of the post), and even this emergency Keto microwave bread which is awesome for cheese toasties.
I did consider making a full size sugar free carrot cake. But let's face it. Most of the time it's just a couple of people in the house, right? And what happens when you have a whole cake and only two people in the house?
Well, you eat the whole cake!
It might take a few days, but eventually it'll be gone. And then you might wish you had only made a carrot mug cake for 2.
Why you'll love it
The great thing about this keto carrot cake is that you can tuck in literally ten minutes after thinking "Hey, I fancy a carrot cake!"
Whether you're following a low carb diet or not, it's just amazing as an afternoon treat or dessert. I can disclose it also makes a very satisfying breakfast 😉
You'll also love to hear that it is just 6.4g net carbs per portion!
Ingredients
Here are the ingredients you'll need for a super healthy microwave carrot cake:
Carrot - finely grated
Egg
Butter
Heavy cream
Almond flour - either super fine almond flour or ground almonds
Walnuts
Powdered Sweetener - I used powdered erythritol, but any powdered sweetener works, from monk fruit sweetener to xylitol, allulose or Splenda
Spices - cinnamon and pumpkin spice mix
Baking powder
Cream cheese (for the frosting)
Instructions
This section contains step-by-step instructions and photos that show how to make this recipe. See the recipe card for full information on ingredients and quantities.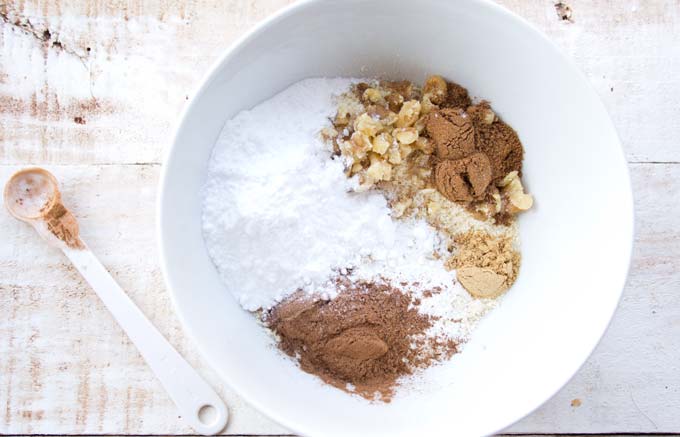 1.) Mix your dry ingredients - almond flour (or almond meal), cinnamon, pumpkin spice, baking powder, powdered erythritol and crushed walnut pieces.
The walnut pieces are optional, but work perfectly taste-wise. You could sub with hazelnuts. If you have time, try dry-roasting them in a pan until gently browned to up the flavour.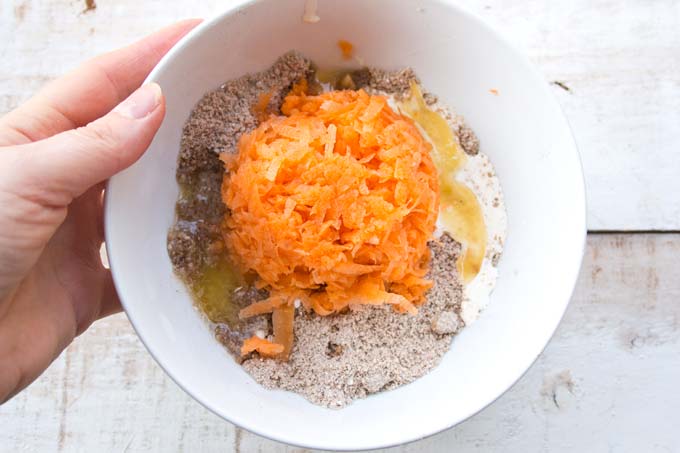 2.) Add the wet ingredients - grated carrot, melted butter and heavy cream.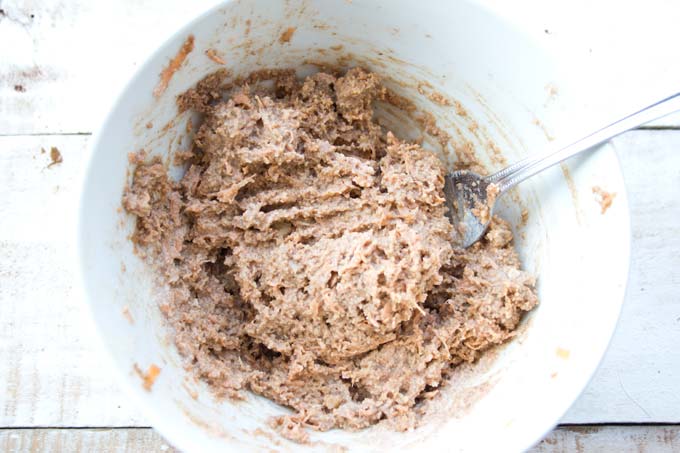 Your batter should be sticky but soft just like in the image above.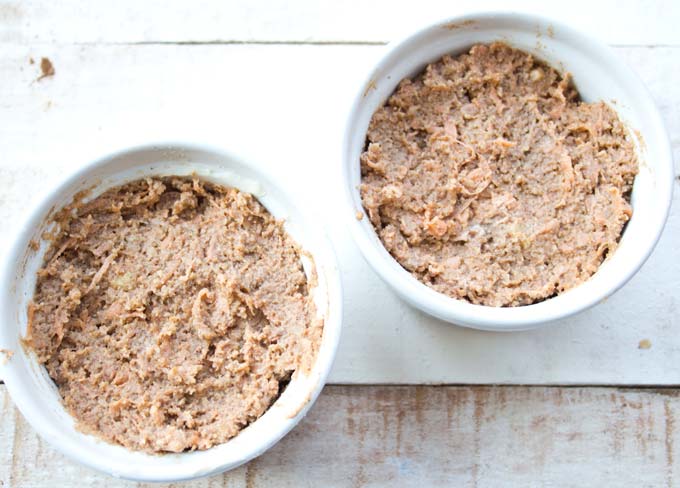 3.) Now you have 2 options. Either fill the carrot cake batter into two well-greased ramekins or microwaveable containers (you could even use cups - this is a mug cake, after all). Or use a larger pyrex bowl and make one larger carrot cake for sharing. I microwaved at 800W for 5 minutes.
4.) Wait until the cake is slightly cooled, then turn upside down onto a plate and top with delicious cream cheese icing. Alternatively, enjoy straight out of the ramekin or mug!
Cooking Methods
Microwave method: I recommend that you microwave the cake at 700-800W. This gives the carrot plenty of time to go nice and soft.
I have also found that if you microwave on high, the cake rises very quickly and might spill over the top of your ramekin. Trust me, you don't want to clean up that mess.
Oven method: If you do not have a microwave, bake your cake at 180 Celsius / 350 Fahrenheit for around 15 minutes or until lightly browned on top. Check with a skewer for doneness.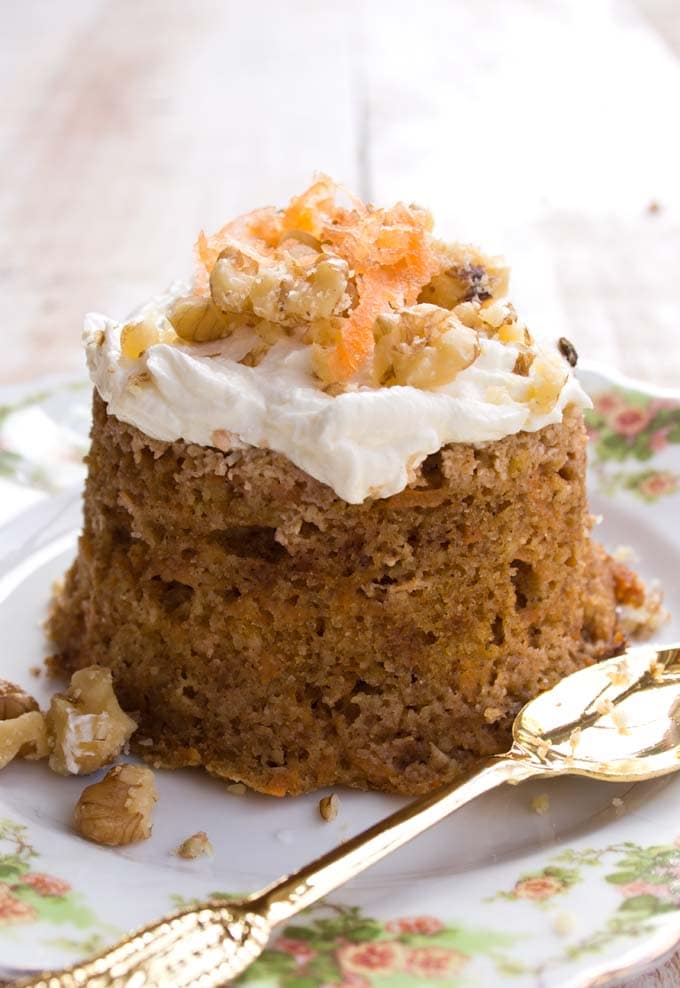 Top tips
Measure with digital scales. It's always best if you can weigh your ingredients using a digital scale. You don't have to spend $$$ on one. Mine was cheap and cheerful and still works perfectly several years on.
If you use measuring cups, make sure you slightly pack the grated carrots.
Use a cup or ramekin that is large enough. The narrower the vessel, the more the cake will rise. Don't fill the batter right to the top or it will overflow while cooking and create a mighty mess.
As mentioned above, follow the recommendation of cooking at a lower power level!
Variations
Egg free carrot mug cake
You CAN make this carrot cake WITHOUT EGG. I discovered this by accident as I FORGOT to add the egg to one of my trial runs. If you choose to omit the egg, add an additional tablespoon of double / heavy cream to achieve a soft consistency.
The cake won't rise as much without egg, and I don't recommend to turn it out onto a plate (this would only work if the cake is fully cooled, but no guarantees there). But if you're happy to enjoy it straight from the ramekin, give it a go - I thought it tasted great.
In the image below you can see the "egg" version on the left and the cake without egg on the right. In case you're wondering about the colour of the left cake, the egg I used had a VERY orange yolk. I might also have had a heavy hand on the cinnamon for the right cake.
FAQs
Which sweetener is best?
I used powdered erythritol to sweeten my keto carrot cake. There are also many blends out there, and erythritol / stevia or erythritol / monk fruit blends are especially popular.
Xylitol or allulose will also work, just make sure you powder it first for a smoother result, especially for the cream cheese frosting.
Can I use coconut flour instead?
Yes. Since coconut flour absorbs more liquid than almond flour, you'll need only ⅓ the amount: Use around 30 grams / ¼ cup of coconut flour.
Storage
Should you have any leftovers, store your carrot mug cake in the fridge for up to 4 days or freeze for up to 3 months.
More mug cake recipes
Tried this recipe? Give it a star rating below!
★ STAY IN TOUCH on FACEBOOK, PINTEREST and INSTAGRAM for more great food and join my NEWSLETTER for the latest updates and a FREE EBOOK.★
Recipe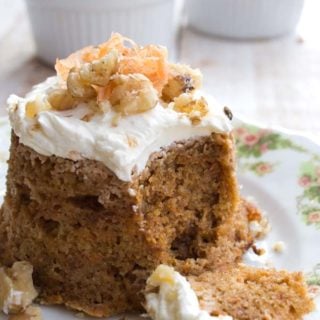 Keto Carrot Mug Cake
from Sugar Free Londoner
A deliciously moist, soft Keto carrot cake with cream cheese frosting! This easy sugar free dessert recipe is ready in only 10 minutes. Low carb & gluten free.
Note: The servings slider only changes the first amount in each line and not any subsequent amounts. Please make your own calculations where necessary.
Ingredients
Carrot Cake
½

cup / 100g

shredded/grated carrot

1

egg

2

tablespoon

butter, melted

1

tablespoon

double cream / heavy cream

¾

cup / 75g

almond flour

or ground almonds

10

g / small handful

walnuts, crushed

2

tablespoon

powdered erythritol

2

teaspoon

cinnamon

1

teaspoon

pumpkin spice / mixed spice

1

teaspoon

baking powder
Instructions
Mix your dry ingredients - almond flour, cinnamon, pumpkin spice, baking powder, powdered erythritol and crushed walnut pieces.

Add the wet ingredients- grated carrot, egg, melted butter, double / heavy cream.

Fill the carrot cake batter into 2 well-greased ramekins (I used melted butter) or 1 pyrex glass bowl and microwave 5 minutes at 800W (or 6 minutes at 700W).

Turn upside down onto a plate and serve with cream cheese frosting (cream cheese mixed with optional powdered erythritol). Decorate with more crushed walnuts and grated carrot. Or eat straight from the ramekin!
Notes
I got best results microwaving the cake at 800 watts - this gives the carrot time to soften sufficiently. It also prevents the cake rising too quickly and spilling over the sides of the ramekin.  
If you want to bake the cake in the oven, try 175 Celsius / 350 Fahrenheit around 15 minutes. I have not tried this myself yet, but it's what I would go for. If you bake it as 1 larger cake rather than 2 ramekins, it may take a little longer. 
You can make this Keto carrot cake WITH AND WITHOUT EGG. If you choose to omit the egg, add an additional 1 tablespoon of double / heavy cream. You won't be able to turn it out onto a plate - just eat it straight from the bowl / mug.
If you don't have pumpkin / mixed spice, sub with ¼ teaspoon ginger, ¼ teaspoon nutmeg and ½ teaspoon cinnamon. 
6.5g net carbs per portion. Nutrition is calculated for 1 serving/portion.
700-800W is equal to a MEDIUM power level. If you're not sure how to set your microwave to a lower power level or to 700-800W, microwave for 2 ½ minutes instead and check if your cake is done. 
Nutrition
Calories:
444
kcal
Total Carbohydrates:
12.7
g
Protein:
12.5
g
Fat:
40.7
g
Fiber:
6.2
g
Sugar:
3.4
g
This post contains affiliate links. If you click on one of these links and purchase a product, I may earn a small commission, at no extra cost to you. Thank you for supporting Sugar Free Londoner.