This easy keto Caesar dressing recipe is the perfect compliment to your Caesar salad. This recipe uses ingredients you probably have on hand and takes minutes to prepare. Give it a try next time you need a quick and easy keto dressing.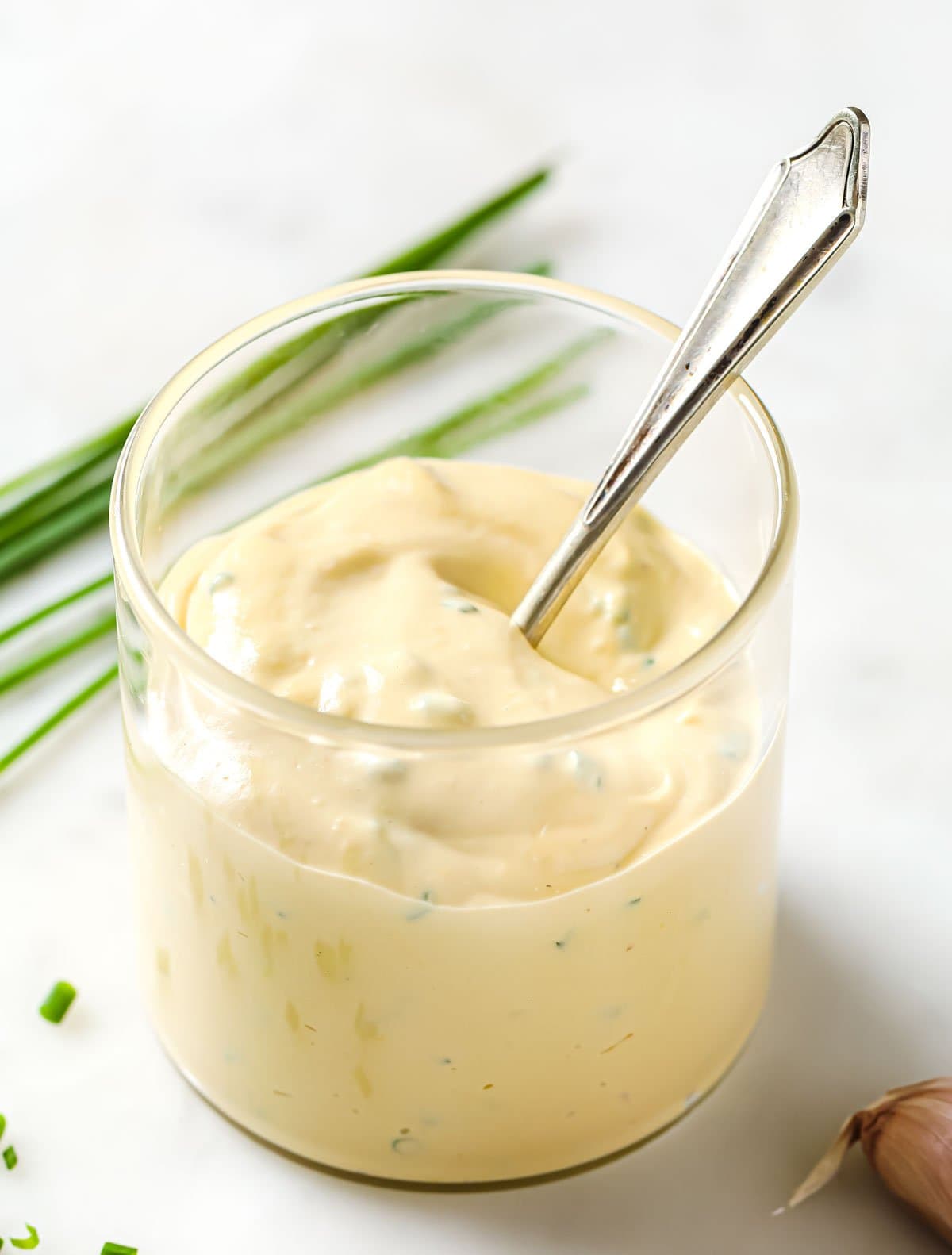 There is nothing like a really good sauce or dressing to lift an entire meal, turning it into something extraordinary. I love a fragrant vinaigrette as much as a classic ranch dressing or a tangy blue cheese dressing.
But once you have tried this low-carb Caesar dressing, you're going to agree with me: It is simply the best!
Jump to:
🌟 Why You'll Love This Recipe
1. Ready in just 10 minutes, requires only 7 ingredients and no preservatives.
2. The flavor is incredible. The zestiness of the lemon combined with the salty anchovies, fresh garlic and parmesan are a real mouth party.
3. So many uses. We love it as a dip, over vegetables and as a spread on burgers and sandwiches. And of course, in my keto Caesar salad!
4. Only 0.8g net carbs!
Is Caesar salad keto?
Caesar salad is a popular meal amongst people who follow a keto diet. As long as you replace the croutons with gluten-free keto croutons (and stick to clean oils and no added sugar in the dressing itself), you can call any Caesar salad a low carb Caesar salad.
However, I have a hard time enjoying Caesar salad in a restaurant these days. Because every time I'm left thinking - my Caesar salad recipe at home tastes better.
I found the recipe a few years back in a newspaper supplement. By now have made it so many times that the amounts are hard-wired into my brain.
The ingredients are very similar to the original Caesar dressing, which was invented by the restaurateur Caesar Cardini, only with a few tweaks.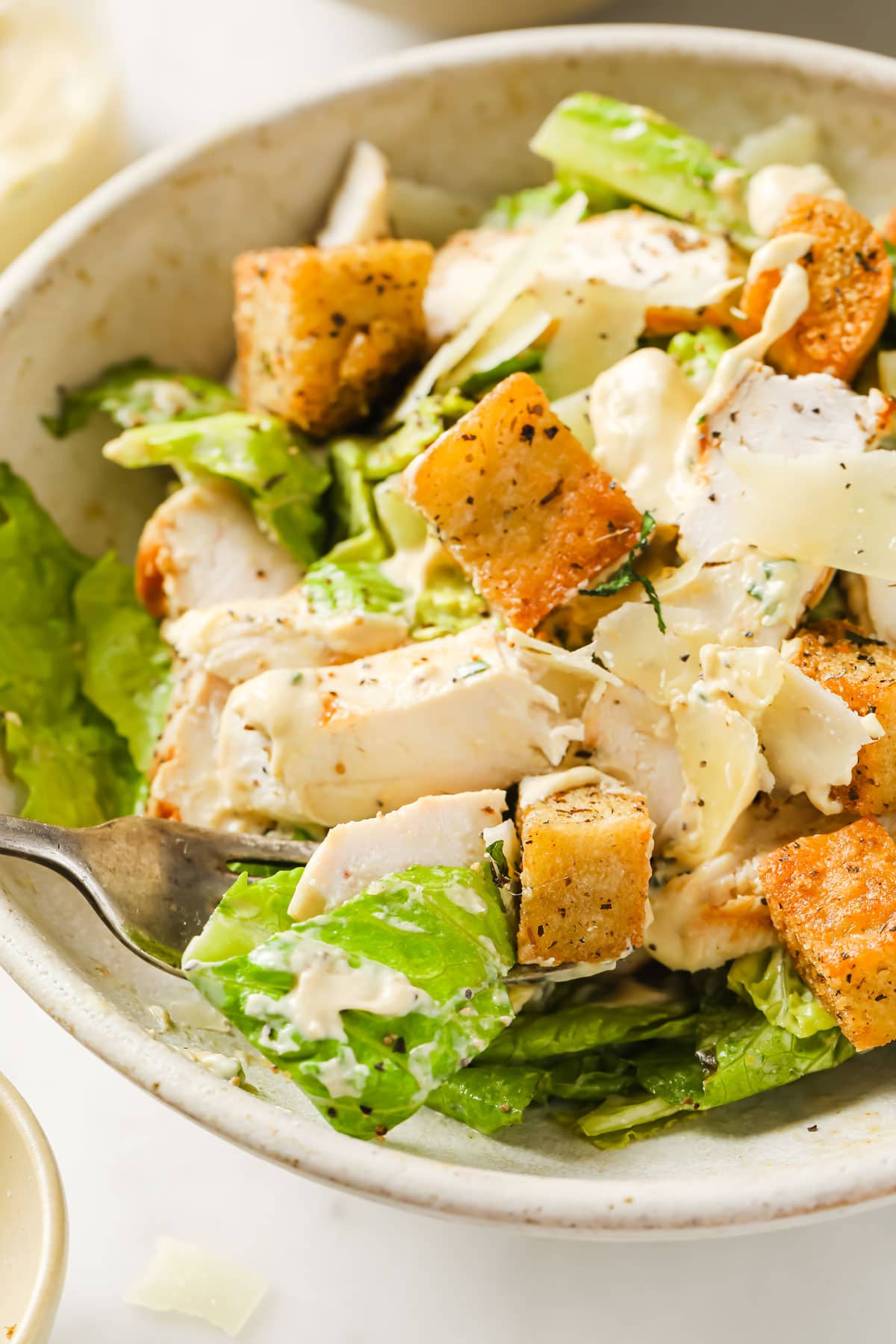 Fun fact: Cardini was an Italian chef who emigrated to the US and then opened a restaurant in Tijuana, Mexico, where he launched the famous Caesar salad.
That is why the US, Italy and Mexico all have claimed to be the birthplace of the dressing!
Ingredients
Here are the ingredients you need for the best ever homemade caesar dressing: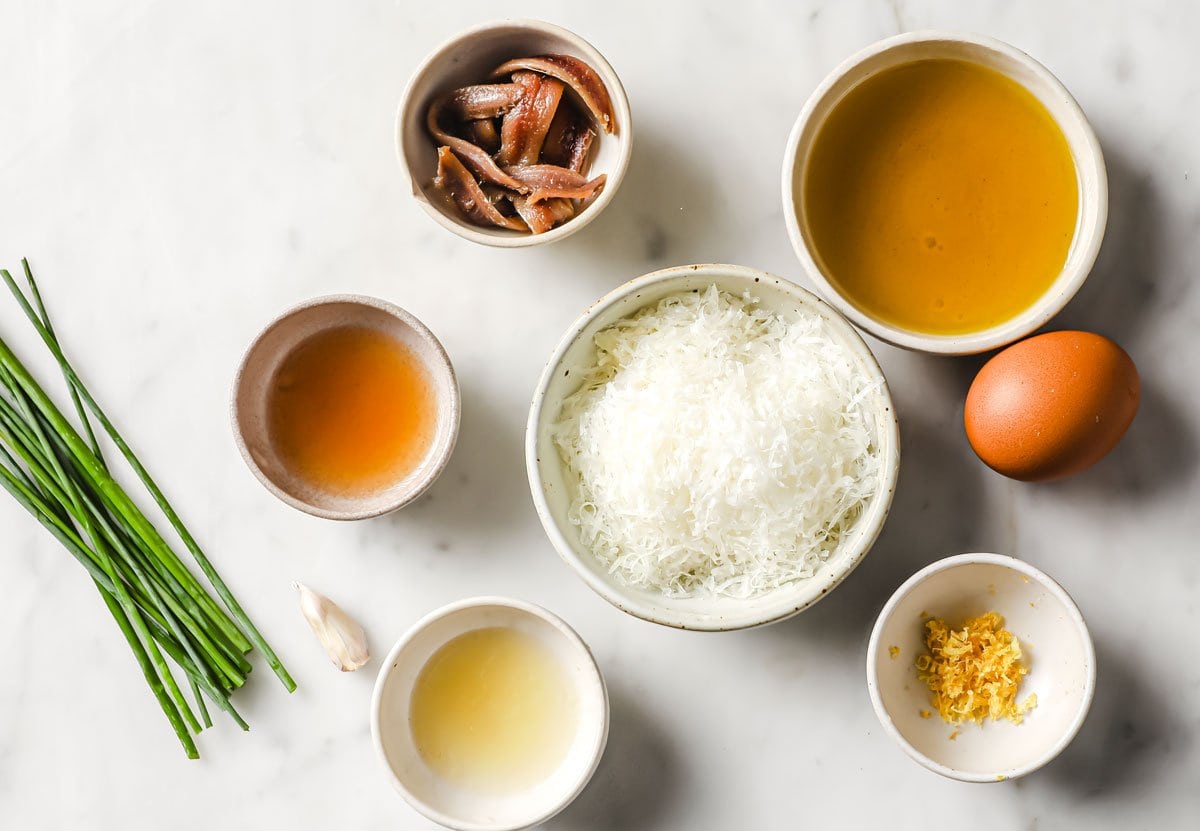 Egg - My secret ingredient. Using an entire soft boiled egg instead of mayonnaise or egg yolks makes the dressing incredibly creamy.
Garlic - I recommending fresh garlic, although you could use ½ teaspoon garlic powder as well.
Anchovies - I promise, they won't taste fishy. Instead, anchovies give a deep, salty flavour. There's no need to add extra salt! You could also use anchovy paste.
Apple cider vinegar - I like it for its mild taste, but white or red wine vinegar are also options.
Lemon - We want both the juice and the zest of ½ lemon.
Parmesan - Use a fine grater for this to avoid clumps.
Extra virgin olive oil - I choose a light olive oil for this recipe.
Instructions
(This section contains step by step instructions and photos that show how to make this recipe. Find the recipe card with ingredient amounts and nutritional information at the bottom of the post.)
Step 1: Soft-boil the egg, then peel it.
Step 2: Put the egg in a food processor bowl together with the garlic, anchovies, apple cider vinegar, lemon juice and lemon zest plus the grated parmesan. Blend, then drizzle in the olive oil with the motor running. (You can also use an immersion blender with attachment).
Step 3: Blend until smooth. Add an optional sprinkle of chopped fresh chives or pepper and use as you wish.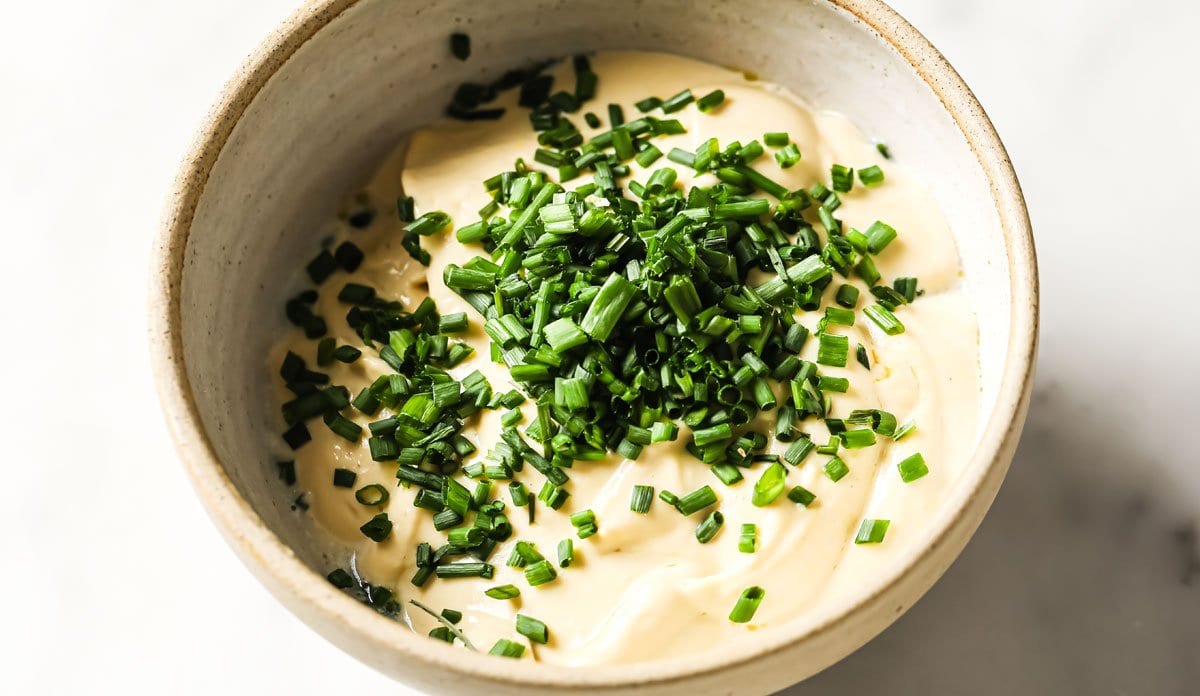 Variations
Eggless Caesar dressing: Replace the egg and the olive oil with ½ cup mayonnaise (120g) and double the amount of grated parmesan cheese. If you're using a ready-made mayo, choose one that is made with avocado oil or olive oil.
Dairy free: Use a dairy-free cheese.
No anchovies: Add salt instead.
Optional add-ins: Dijon mustard, a teaspoon worcestershire sauce or coconut aminos.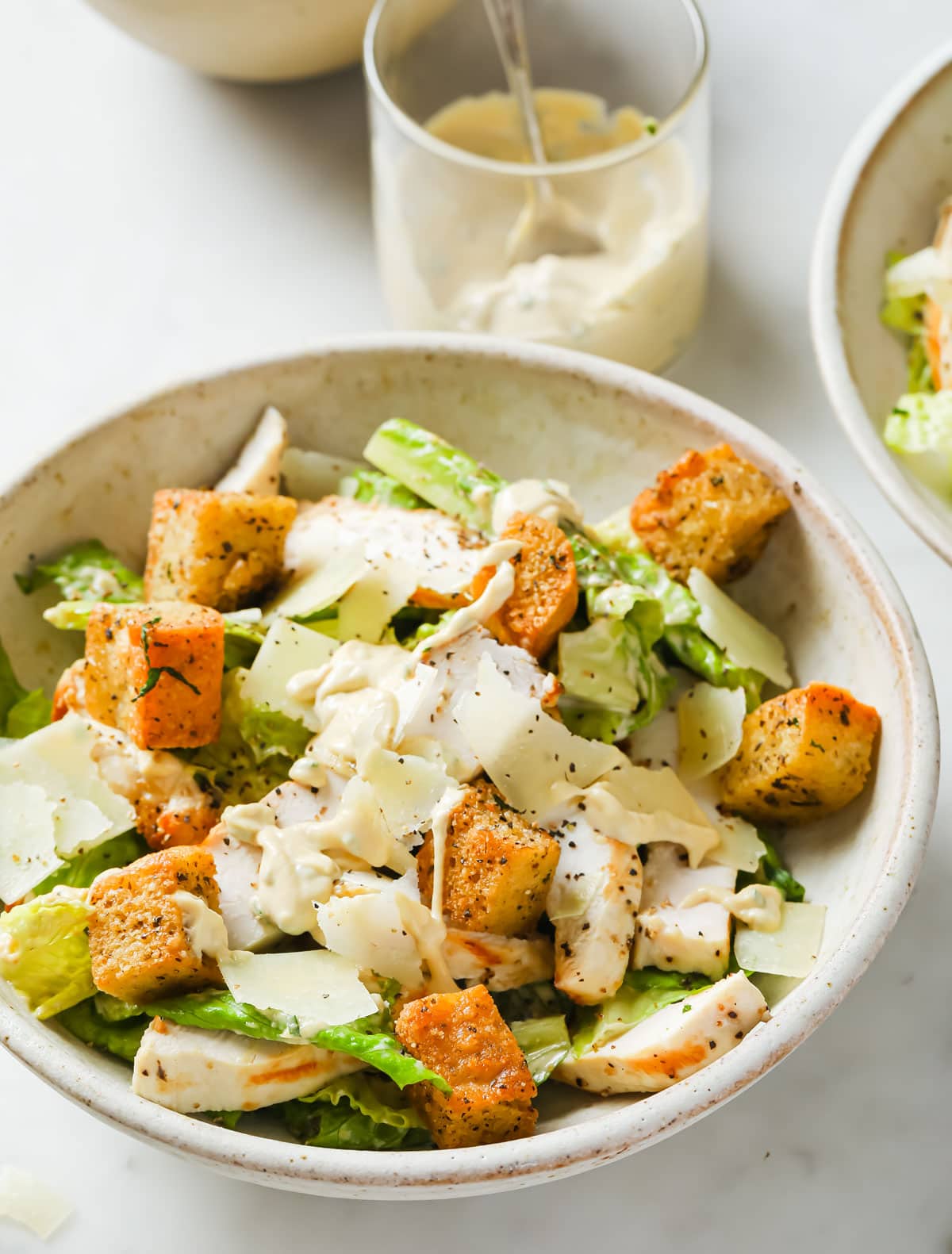 Serve with
Naturally, keto Caesar salad dressing is delicious with any green salad - not just romaine lettuce. Here are a few more ideas:
Enjoy it with crudités or seed crackers
It's lovely with any protein of your choice - for example my healthy chicken nuggets or on grilled chicken
Spread it on burger buns before assembling
Drizzle it over roasted asparagus, broccoli or other vegetables
Use it as a dressing in this coleslaw recipe.
Storage
Refrigerator: This keto salad dressing lasts in the fridge for one week. If you find that it separates a little during this time, simply shake it or whisk it back together.
The recipe is not suitable for freezing. However, this is not a problem as it only takes minutes to make a fresh batch.
Tried this recipe? Give it a star rating below!
★ STAY IN TOUCH on FACEBOOK, PINTEREST and INSTAGRAM for more great food and join my NEWSLETTER for the latest updates and a FREE EBOOK.★
Recipe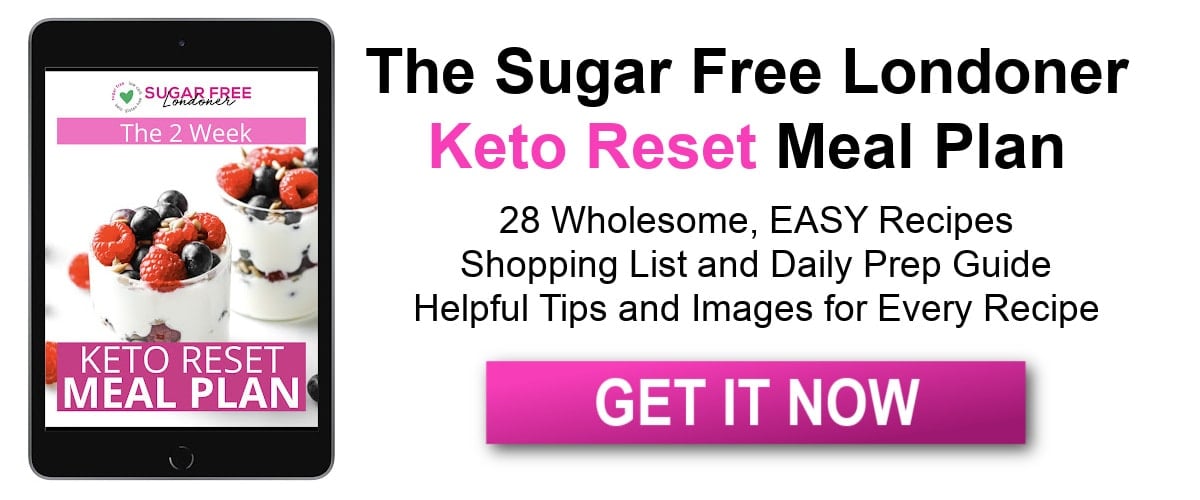 Keto Caesar Dressing
from Sugar Free Londoner
An easy keto caesar dressing recipe that's perfect for drizzling on top of salads, burgers, chicken and more.
Note: The servings slider only changes the first amount in each line and not any subsequent amounts. Please make your own calculations where necessary. ***As an Amazon Associate I earn from qualifying purchases.
Equipment
food processor or immersion blender with attachment
Ingredients
1

egg

large

5

anchovies

canned, in oil

2

tablespoon

apple cider vinegar

2

tablespoon

lemon juice (and zest)

approximately ½ lemon

¼

cup

parmesan

25g, finely grated

1

garlic clove

⅓

cup

extra virgin olive oil

80ml
Instructions
Soft-boil the egg for 6 ½ minutes. Drain and run cold water over the egg, then peel.

Put the egg in a food processor together with the garlic, anchovies, apple cider vinegar, lemon juice and zest plus the grated parmesan. Blend, then drizzle in the olive oil with the motor running.

Blend until smooth. Add an optional sprinkle of chopped fresh chives or pepper.
Notes
0.8g net carbs per serving. Makes 4 servings of 3 generous tablespoons each. (Could be stretched to 6 servings at 2 tablespoons).
Makes 200ml of dressing. Store in an airtight container in the fridge for up to 1 week. 
Serve on Caesar salad, as a dip for crudités, drizzle over roasted vegetables or spread on burger buns and sandwiches. 
Note: If using a Nutribullet, simply add all together and blend, then stir in the chives, if using. 
Nutrition
Serving:
3
tablespoon
Calories:
233
kcal
Total Carbohydrates:
0.9
g
Protein:
5.3
g
Fat:
23.3
g
Saturated Fat:
4.3
g
Sugar:
0.2
g
This post contains affiliate links. If you click on one of these links and purchase a product, I may earn a small commission, at no extra cost to you. Thank you for supporting Sugar Free Londoner.